When I originally planned out this entire month of blogging, I figured that there would be some questions that people would have along the way. I reserved this entire blog post for FAQs and a little Q&A, and if anyone has asked questions along the way I have saved them up and will be answering them today!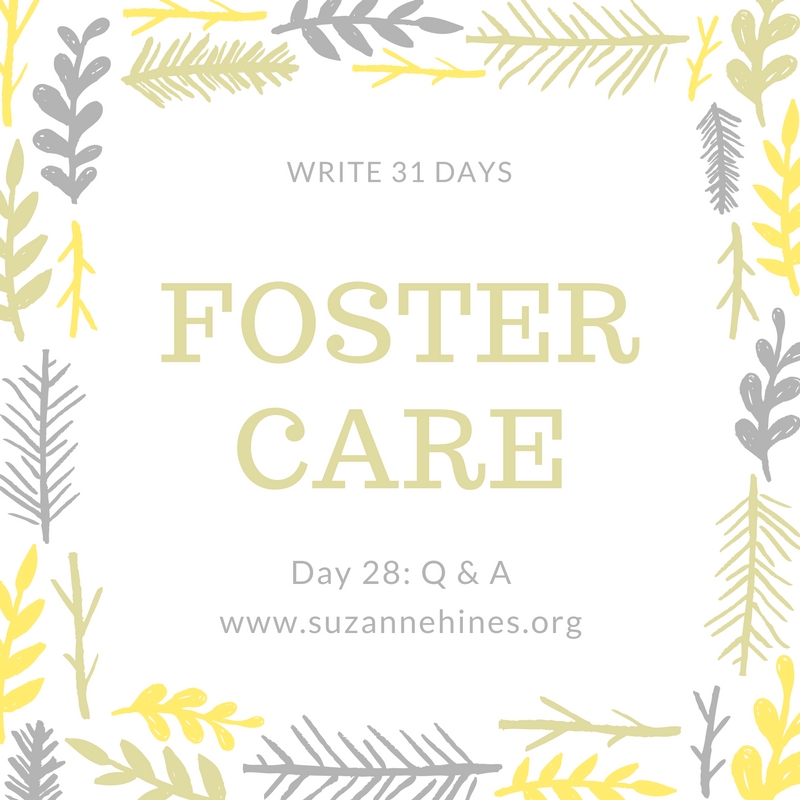 Please remember that I am not an expert, and I barely even have much experience, so if you feel that you have something to add to these questions, please do so in the comments! I will do my best to go back and edit answers that I was not well-informed on.
As always, if you have more questions, you are more than welcome to drop them in the comments or email them to me at [email protected]
We have just a few more days in this series, but I'm pretty much wrapping it up here! I'd love to hear feedback from you on what you have thought of this series and if you found it helpful or not.
Questions?
If you have any questions at all about foster care or adoption from foster care as I go through this series, please don't hesitate to ask. You can leave a comment or send an email. At the end of the series, I will have a Q&A day and will be answering any questions I receive throughout the month.
Previous posts:
Day 1: Introduction
Day 2: Meet the Hines
Day 3: Shop Feature: Karla Storey
Day 4: Why We Chose to Foster
Day 5: The Process
Day 6: The Cast of Characters
Day 7: The Paperwork
Day 8: The Goal is Reunification
Day 9: Reflections
Day 10: Shop Feature: Ransomed Cuffs
Day 11: The Placement
Day 12: The Daily Life
Day 13: The Extra's
Day 14: Bonding
Day 15: The Goodbye
Day 16: Reflection
Day 17: Shop Feature: Together we Rise
Day 18: Finances
Day 19: Rules
Day 20: Foster or Foster to Adopt
Day 21: Public Agency or Private Agency
Day 22: Books/Resources/Blogs
Day 23: Reflections
Day 24: Shop Feature: The Archibald Project
Day 25: How You Can Be Supportive
Day 26: How You Can Be Involved
Day 27: Myths on Why You Can't Do It
Please share and interact!
As a blogger, it means SO much to me if you like, comment and share on these posts! You can share the whole series or just a particular blog post, but your support in that way means the world to me!
#Write31Days
You can find the official #Write31Days and all the other bloggers who are linking up by clicking here.