Well, it has been quite the month! I committed to posting each day about foster care, and I'm happy to say that I have done that! Full disclosure: I actually wrote ALL of these posts before October even hit, but at least I had one publish each day! I do have two days left in this challenge, but one day will be Scripture/Reflection and the other will be my last Shop Feature, so today is the day I wrap it all up!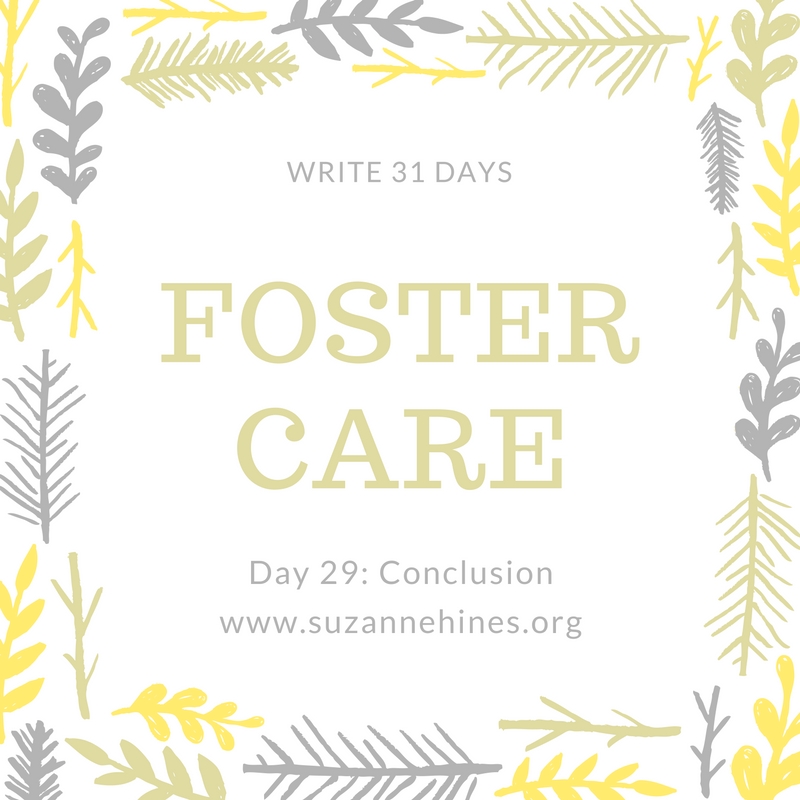 Yesterday I answered the FAQ's, but please remember that if you ever have a question about foster care, I am more than happy to receive it, either here or through email: [email protected] Notice I said that I am happy to "receive" it. I can't promise that I can answer it, but I will do my best to answer it, and I may at least know someone who can answer it for you!
In conclusion, I wanted to thank you for following along. If you read every post, or just a few here and there, it is always appreciated! I put a lot of time into writing this blog, and I hope that this series has been helpful and informational to at least one person out there. Feel free to share away…either individual posts or the whole series.
You can read all of the posts in the series by clicking on the post title below:
Day 1: Introduction
Day 2: Meet the Hines
Day 3: Shop Feature: Karla Storey
Day 4: Why We Chose to Foster
Day 5: The Process
Day 6: The Cast of Characters
Day 7: The Paperwork
Day 8: The Goal is Reunification
Day 9: Reflections
Day 10: Shop Feature: Ransomed Cuffs
Day 11: The Placement
Day 12: The Daily Life
Day 13: The Extra's
Day 14: Bonding
Day 15: The Goodbye
Day 16: Reflection
Day 17: Shop Feature: Together we Rise
Day 18: Finances
Day 19: Rules
Day 20: Foster or Foster to Adopt
Day 21: Public Agency or Private Agency
Day 22: Books/Resources/Blogs
Day 23: Reflections
Day 24: Shop Feature: The Archibald Project
Day 25: How You Can Be Supportive
Day 26: How You Can Be Involved
Day 27: Myths on Why You Can't Do It
Day 28: Frequently Asked Questions/Q&A