Happy Monday and it's the last day of my #Write31Days series!!!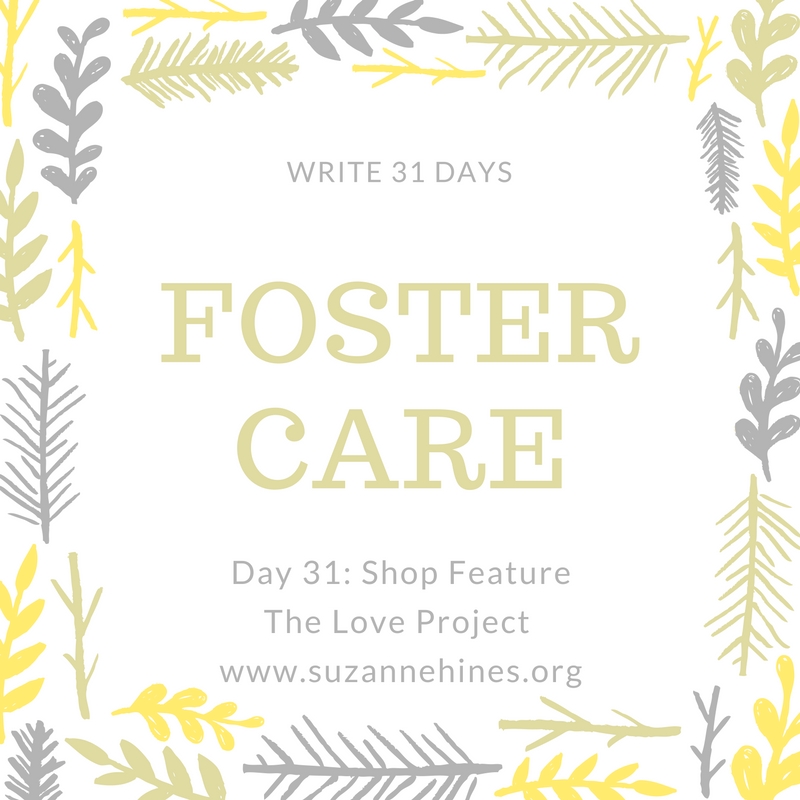 Have you enjoyed it?
I should be back in November with my regular content, and of course lots of updates about Kiah and how our family is adjusting!
Today's shop feature is a local teen who is making an incredible difference in the community.
I can't find many links or resources to her project, but I have been blown away by the grace and maturity that she has shown throughout this whole project!
Sidney Deep started a small organization called The Love Project after some family friends fostered several babies with heroin addictions.
You guys. Dayton and the Miami Valley have a heroin epidemic going on right now.
A study compiled by the CDC earlier this year declared Dayton, Ohio the No. 1 city in the nation for heroin overdoses.
People come from all over Ohio, Indiana and Kentucky just to get the dirt-cheap drug. Many will take it back to their hometowns and resell it, but many will shoot themselves up with it as soon as they can get their hands on it. Theo responds to at least one overdose a shift, two or three over the course of his day is not surprising (and he is only 1 of 7 medics who are responding). Not only is heroin an epidemic, but it is now being laced with even stronger narcotics for a higher impact. The amount of narcan needed to bring some of the overdoses back is 5 or 6 times the recommended dose. Yes, my source is quite reputable, considering that he is the one actually giving the Narcan and watching a lifeless man who overdosed come back to life.
Obviously, this hits close to home, as Theo and I held and helped a heroin addicted baby just a year ago. The ramifications of heroin on a newborn are insane and I will never forget struggling to help Little Miss through her withdrawals.
I'm not here to point fingers and say how horrible drug addicts are. I hope I have never give off that impression. But the cycle of drug addiction is real and it's heartbreaking. And it's hurting so many people.
Because of the heroin epidemic in the Miami Valley, there are more children who are born addicted to heroin. These children are often abandoned/left at the hospital (in the NICU) until Children's Services can find a home for them. Even then, they are often left alone in the hospital to scream and cry through their withdrawals until they are able to go to a foster home.
Enter The Love Project. Sidney knew that she didn't need to be a foster parent to make a difference, so she started this project, which provides hand-stamped blankets to the children in the NICU who are going through heroin withdrawal. We may not be able to hold every child while they scream 24/7, but as each child is wrapped in a blanket, they are not only being "hugged", but also prayed over.
Isn't that so beautiful?
Sidney has a gofundme page to raise money to buy these blankets for the babies in our local hospitals who are born addicted to heroin. She is a little over halfway to her goal!
You can also find her project on Facebook
Questions?
If you have any questions at all about foster care or adoption from foster care as I go through this series, please don't hesitate to ask. You can leave a comment or send an email. At the end of the series, I will have a Q&A day and will be answering any questions I receive throughout the month.
Previous posts:
Day 1: Introduction
Day 2: Meet the Hines
Day 3: Shop Feature: Karla Storey
Day 4: Why We Chose to Foster
Day 5: The Process
Day 6: The Cast of Characters
Day 7: The Paperwork
Day 8: The Goal is Reunification
Day 9: Reflections
Day 10: Shop Feature: Ransomed Cuffs
Day 11: The Placement
Day 12: The Daily Life
Day 13: The Extra's
Day 14: Bonding
Day 15: The Goodbye
Day 16: Reflection
Day 17: Shop Feature: Together we Rise
Day 18: Finances
Day 19: Rules
Day 20: Foster or Foster to Adopt
Day 21: Public Agency or Private Agency
Day 22: Books/Resources/Blogs
Day 23: Reflections
Day 24: Shop Feature: The Archibald Project
Day 25: How You Can Be Supportive
Day 26: How You Can Be Involved
Day 27: Myths on Why You Can't Do It
Day 28: Frequently Asked Questions/Q&A
Day 29: ((That's Today!)): Conclusion
Day 30: Reflection
Please share and interact!
As a blogger, it means SO much to me if you like, comment and share on these posts! You can share the whole series or just a particular blog post, but your support in that way means the world to me!
#Write31Days
You can find the official #Write31Days and all the other bloggers who are linking up by clicking here.
Save