Theo and I have been married for just over four years, and we STILL have not nailed down a fool-proof way to do family devotions.
We have often drifted from one thing to another and while it's frustrating, I have learned that it's not about the plan or the book or even the schedule, but instead about our heart's desire to actually implement a family devotional time.
Family devotions are not personal devotions, and they are much more than simply reading a bible story and praying before bed (although this is very important, and devotions can happen before bed!). It is an important gathering of your entire family to study God's word and pray together.
We do family devotions because we think it's important to worship together as a family. So many great conversations flow when the family is gathered together in one place, without any phones or technology. We think it's important that we are the ones who are teaching our children how to read the Bible and how to pray, and the core of this is our family devotions.
In this post, I just want to touch on what we do for family devotions and throw out a few ideas I've seen other families do, but mostly I'd like to hear from you! What do you do for family devotions/worship? If you are not religious, is there a part of your day that you intentionally come together as a family without distractions?
Our Family Devotions:
The Dinner Table. For us, the dinner table is the most reliable time we will be together. Our mornings are never the same with Theo's work schedule and no matter how hard we have tried, we just cannot do family devotions in the morning. So we do it in the evening. I'm so glad we have stopped trying to do what others do, and have found what works best for us instead. We do our family devotions after the dinner has been eaten, but before anything has been cleared off the tables.
Consistency. Theo's schedule is HARD for consistency. This week, he worked Thursday and Sunday. Next week, he works Wednesday and Friday. It's never the same. And the days he is at work, he is not home for dinner. So, we don't do family devotions every day, but we do our best to do it whenever Theo is home and we have had dinner. We always have to eat, so tying family devotions with eating time is especially helpful!
Scripture. Devotionals are fabulous, and can be awesome tools, especially with kids. However, the more we have done family devotions, the more that we have found ourselves turning to reading the actual Bible. Theo will read a passage and then he and I will observe, discuss and sometimes even argue over the passage!
Open Discussion. It is very important to our family that our devotional time includes not only listening to God's Word, but also discussing. Right now, Tera is too young to ask questions, but we want it to be a time that she feels safe and like she can ask questions. Sometimes after Theo reads a passage, I will even remark that it doesn't make sense to me, and this will often lead to deeper research and more knowledge and understanding. We want our kids to be able to relate God's word to their personal lives, and this can be done best through a comfortable atmosphere of discussion.
Prayer. The final part of our devotions is prayer, usually in the form of praying for other people. We have our jars with prayers sticks, and Tera always picks two sticks. Then Theo and I each pray for a family on the stick. If they have kids, we also have Tera repeat a short prayer for the kids (Dear God, thank you for ____. Please help them to obey.). When we are done praying for that person, we put them in the other jar. Growing up, my parents had a basket of missionary prayer cards/Christmas photos, and we would each pick a card every night and pray for that family.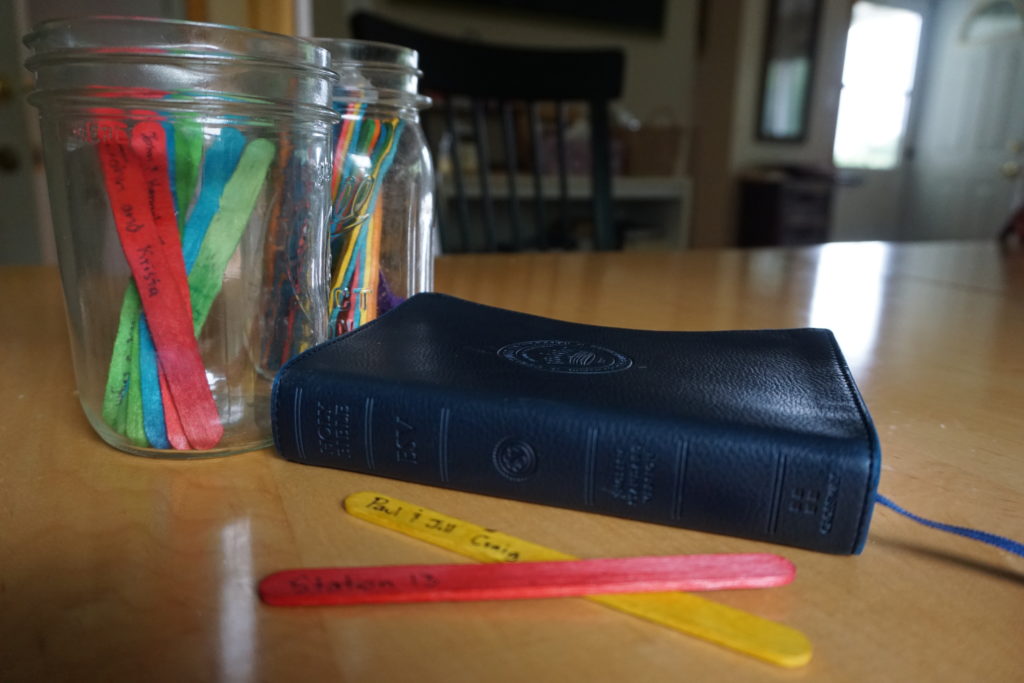 We obviously aren't perfect, and we have a long ways to go. We probably end up doing family devotions twice a week, so that just goes to show how consistent we actually are. However, I am so glad that we are at least in the habit of doing it, as this has not always been the case!
Also, I'm pretty sure that Satan sends one of his special little demons to Tera just as we begin to do family devotions. EVERY single time Theo pulls out the Bible, she will begin crying, or whining, or singing at a very loud pitch. It's insane. And every time we try to get her to say her Scripture memory, she REFUSES. She will repeat songs and counting and Patty-Cake 8 million times a day, but ask her to say Genesis 1:1 and it's as if she can't speak. Anybody else? Please tell me we aren't the only ones!
Here are some other fabulous family devotional ideas I have heard/seen other families do:
Sing a hymn or two together
Memorize a catechism or Scripture
Do a word/topic study
Go through a devotional book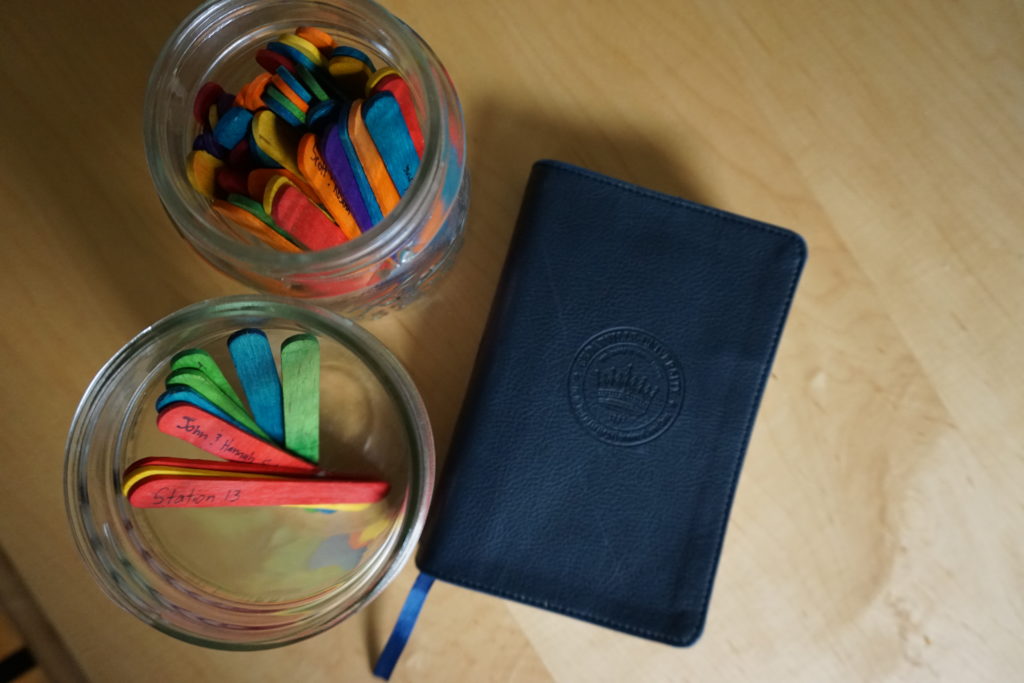 Now it's your turn! I'd really love to hear your feedback! What do you do for family devotions? What have you done in the past for family devotions? If you have older children, I'd especially love to hear what you do!
Save