Tera is 2 years old and I recently started doing a little homeschool routine with her.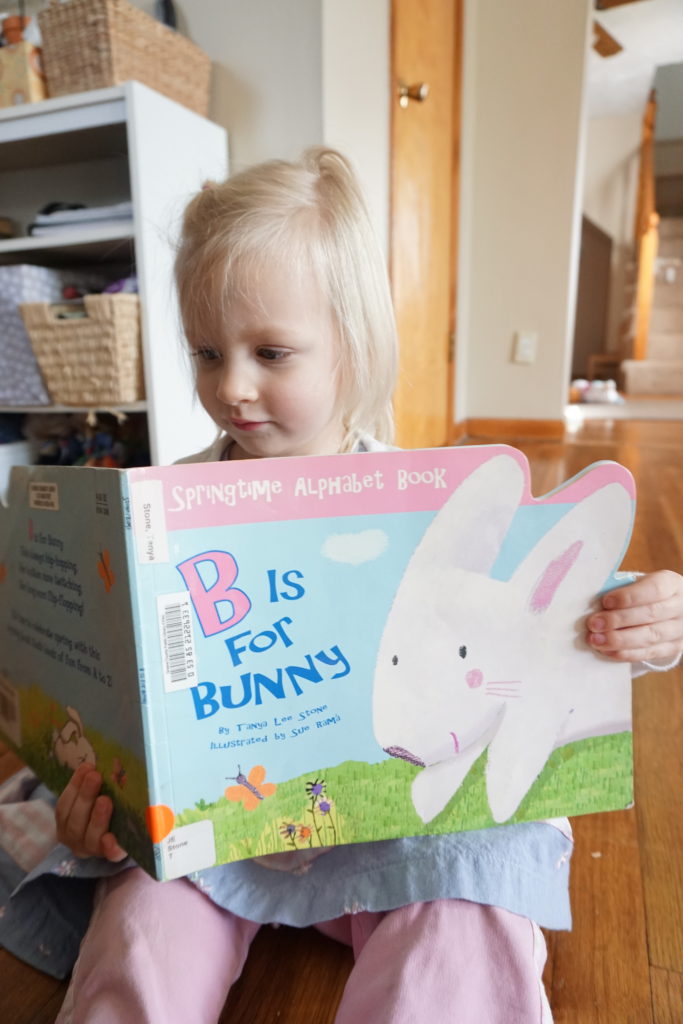 Now, I know what you are thinking.
It's way too early for that. That's not necessary. She will learn through play. You are just creating more work for yourself.
Yeah, yeah. I know.
However, I learned soon after Kiah was born and Theo started his new job that Tera and I desperately needed a routine. Not only did we need a routine, but we needed structured time fillers.
I figured that since I have a degree in Early Childhood Education, it would be no biggie for me to plan out a daily activity with my Tera-girl. I began browsing Pinterest and soon realized that it was incredibly overwhelming. I had no idea where to start or what to do. I knew then that I needed a curriculum that was already written. I started doing some research and even polled my Facebook followers who gave some awesome feedback.
Then, I found The Teaching Mama.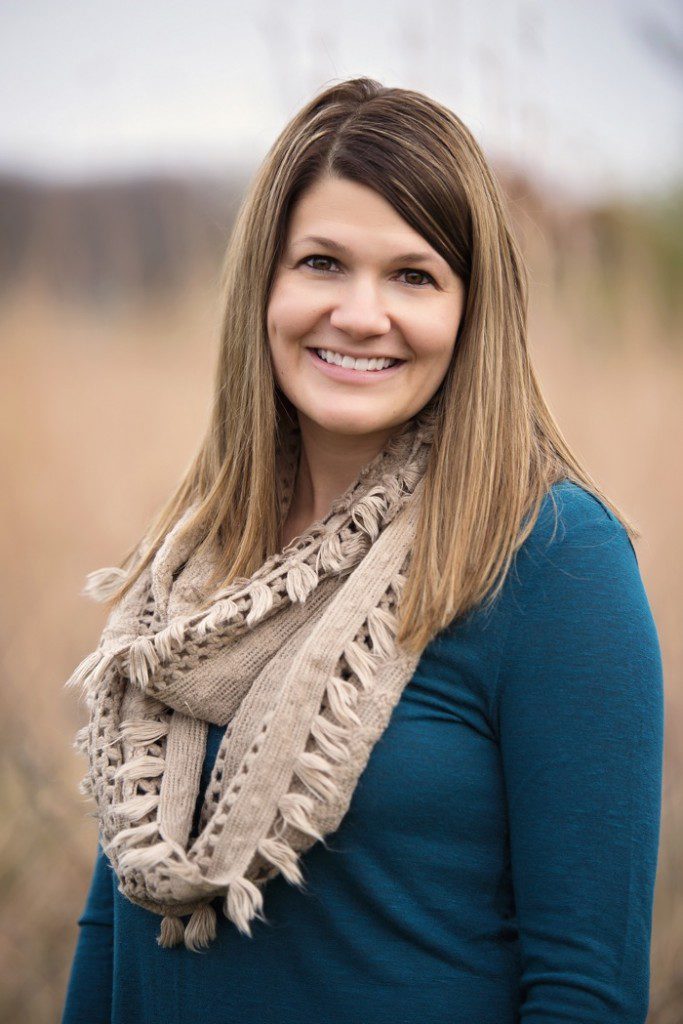 Angela is a Mom, wife and blogger whose philosophy of education is to make learning exciting and fun. After scrolling through her blog a little bit and still feeling overwhelmed by how to put together structured activities, I stumbled upon her Preschool Curriculum: The Preschool Journey.
After contacting Angela about this, she sent it to me for free to review here on this ol' blog, but all opinions I write are my own.
This curriculum is FABULOUS. It is a hands-on preschool curriculum to get a child ready for Kindergarten. There are 26 weeks of lesson plans, each week focused on a different letter of the alphabet. Angela also explains her approach to preschool, dedicated several pages to explaining how to set up an at-home preschool, and then lists all the goals and standards that a child should know by age 5 (colors, shapes, numbers, alphabet recognition, etc). Angela then provides many idea for how to teach, such as singing, reading, repetition, etc. Basically, she gives a crash course in Early Childhood Education that covers what any homeschooling Mama (experienced in teaching or not!) needs to know to teach preschool at home.
Then it dives into the 26 week guide. Each week is a letter of the alphabet and includes a list of books to read, an animal craft to do, and four additional activities to go along with that letter of the alphabet. There are also several times where she provides printable to go along with the activities. These activities are always hands-on, and often cover many other subject areas such as math, arts, motor skills, etc.
After breakfast every morning, Tera and I sit down and go through one activity. First we do our devotions together, which includes reading the daily devotion from this book and the accompanying Bible passage. It also includes a short and simple prayer.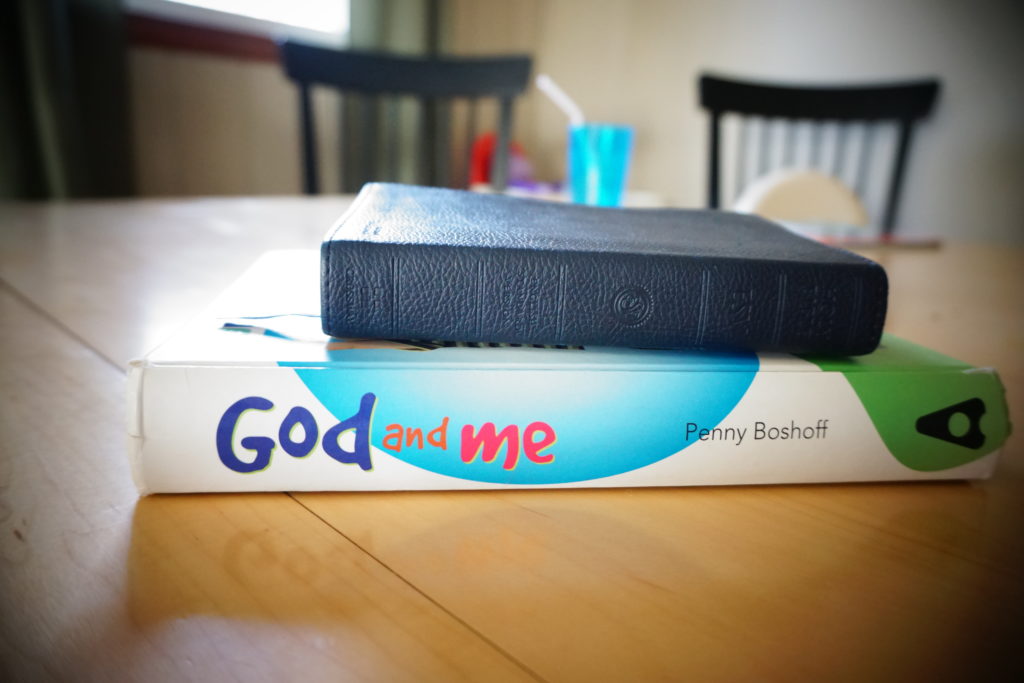 We then say the date and the weather, and then dive into the curriculum portion.
First, we read a book together that pertains to that letter of the alphabet.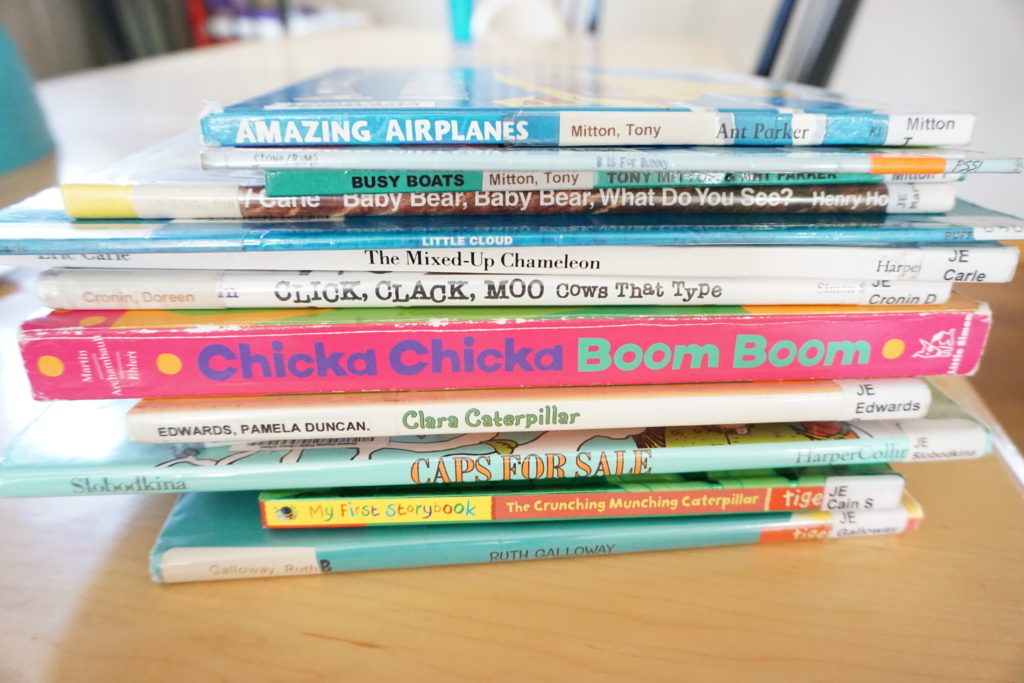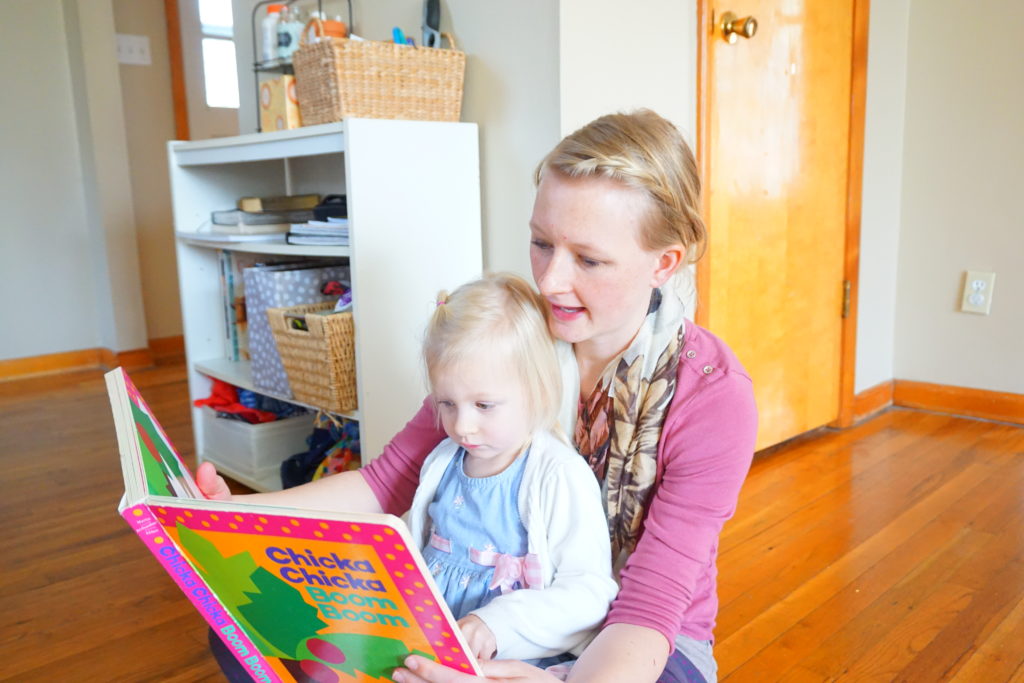 Then we do the one daily activity. The activities vary in depth and comprehension, so I sometimes tweak it to fit Tera and I. But isn't this the beauty of doing "schooling" at home? For example, one of the activities for the letter A was to go on a walk and pick up acorns. Instead, we went on a walk and I pointed out everything that I could find that started with an A. Here are some pictures of Tera and I working on her letter B animal: Bear.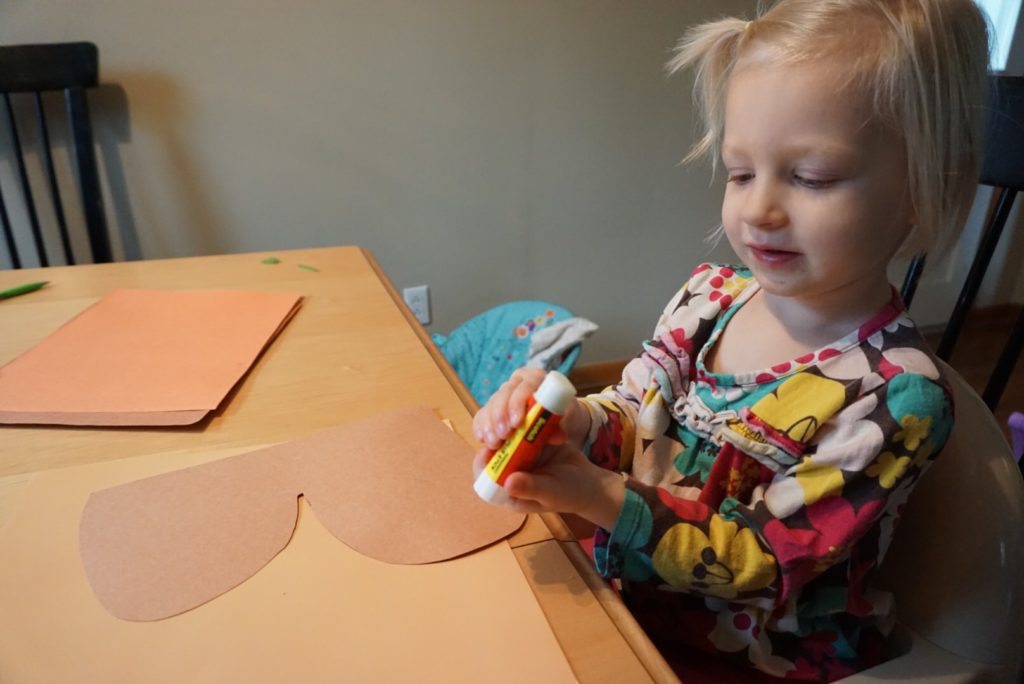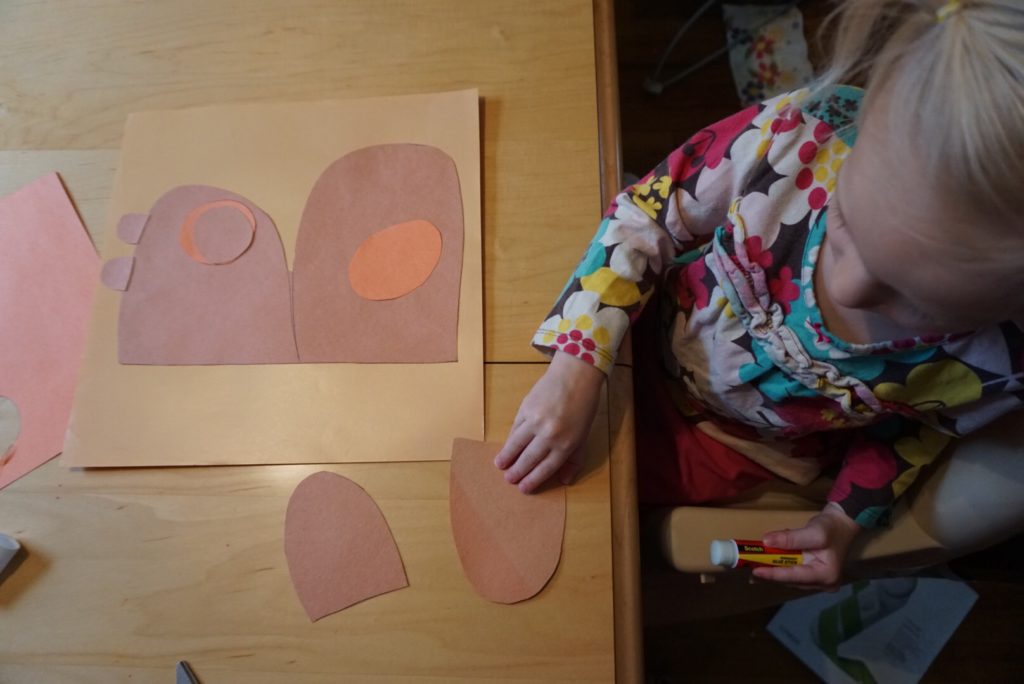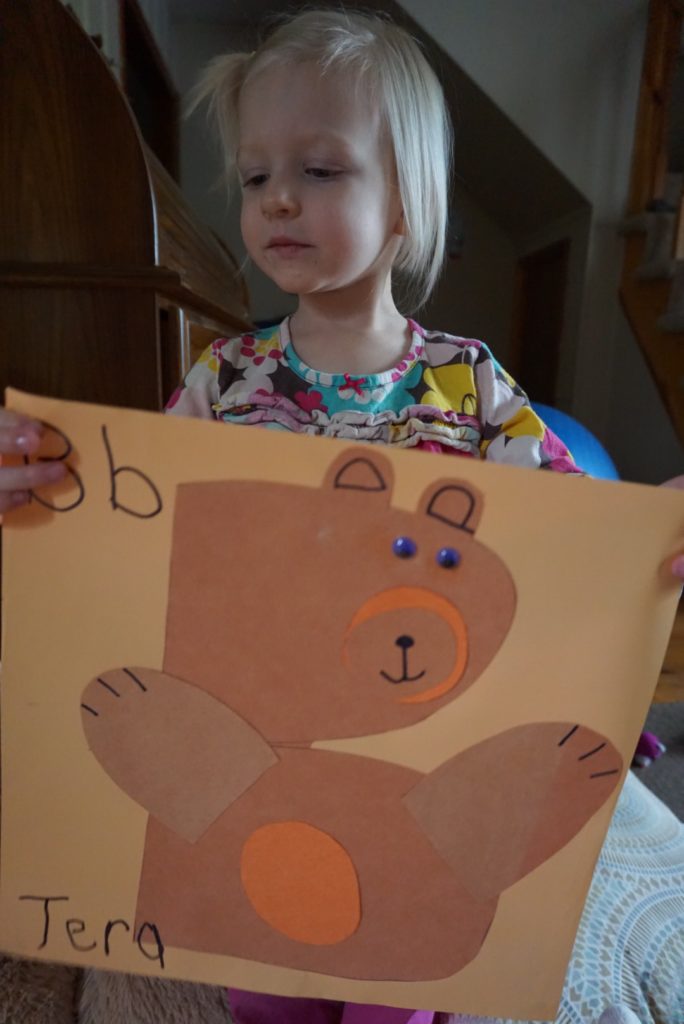 Letter A (Alligator) and B (Bear). Tera is always so excited to point them out to Daddy when he gets home from work! I can't wait to fill up the wall with all the letters!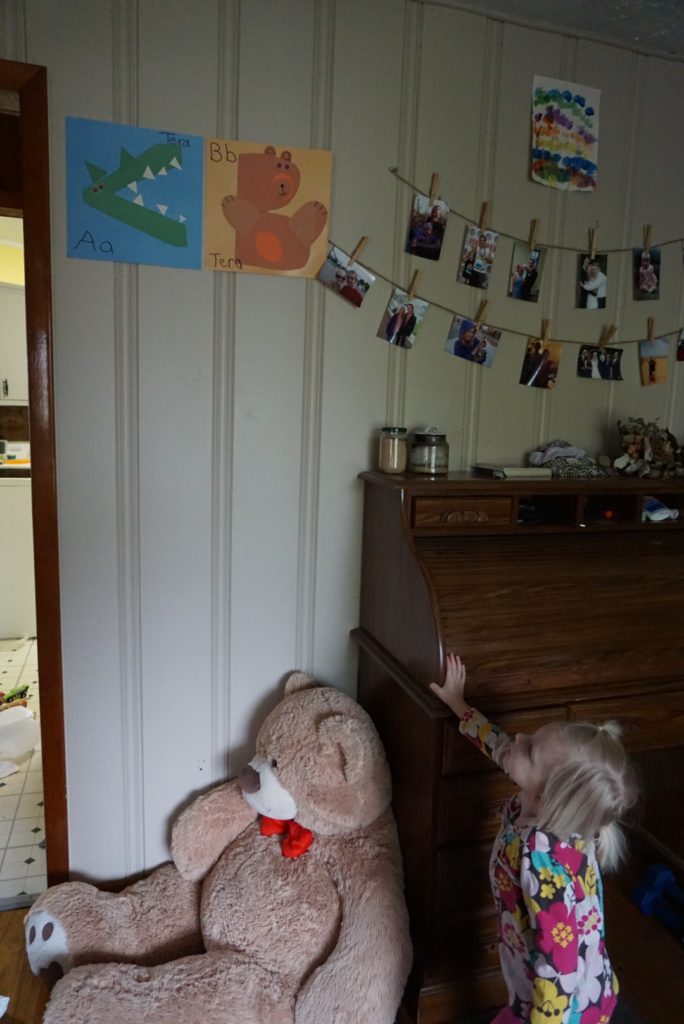 The activity usually takes 15-20 minutes and so far it's mostly me doing it while Tera watches. 😉
Tera LOVES this time together and looks forward to it every single day after breakfast. She is so excited to show Daddy what we did when he gets home everyday.
I will say that so far she is not comprehending much, HOWEVER, I am still teaching it to her because one day it will click. I always show her the alphabet letters, and so far she knows A, B and T. I always show her the numbers and so far she knows 5 (lol…so random). The rest of the time it's just fun and even if she hasn't grasped the concept I move onto the next letter. I know that she is still learning and enjoying spending structured time with Mommy, so for me it's totally worth it!
I would recommend this curriculum for age 3-5, and trust me…any Mom (or Dad!) can use it!! It's so comprehensive, yet easy to understand!
After all that explanation, I bet you are wondering how much this whole thing costs?
$9.99
Yep. You read that right. Less than $10. LESS THAN $10!!!!!!!!!!!!!
It's incredible and I am so impressed with this hard working Mama for all the work that she has put into this curriculum so that Mom's like me don't have to do all the work.
Not only has she written this preschool curriculum, but she also has The Toddler Journey Book full of activities to keep toddlers busy (also for $9.99!!!). Her website is FULL of amazing activities for children of all ages, and it is organized so well, making it easy to find categories according to the ages of your children, the subject matter or any other category imaginable! Seriously…go check it out!
You can follow Angela on all kinds of social media outlets:
SO…Mom's like me who have a toddler or preschooler at home who just need  structure and a simple learning activity every day…I HIGHLY recommend The Preschool Journey by The Teaching Mama. HIGHLY RECOMMEND!
Let me know if you are diving into teaching your preschooler at home and what you are doing to teach them. I'd love to hear if you use The Preschool Journey!