Starting today, the dessert is on me at Bravo! With the purchase of an entree, you get a free dessert! All you have to do is mention "THE GLORIOUS MUNDANE or SUZANNE HINES" to your waiter or the manager. 
*please read below to find the dates and details of the promotion*
*I received product in exchange for my honest review. All opinions expressed are my own*
Back in October, Theo and I had the chance to go on a little date night! My parents had come all the way from Africa for the birth of Kiah and since they were here, we decided to take advantage of the (rare) free babysitting and go out to dinner! As usual, we were unsure of where to go or what to do, so we eventually decided to try out a new restaurant in our area: Bravo Cucina Italiana!
We absolutely LOVED our experience there. In fact, I loved it so much that I contacted the manager to see if I could partner with them and get the word out to YOU about how fabulous this restaurant is!
Last week, we had a chance to head back to Bravo to enjoy the experience again!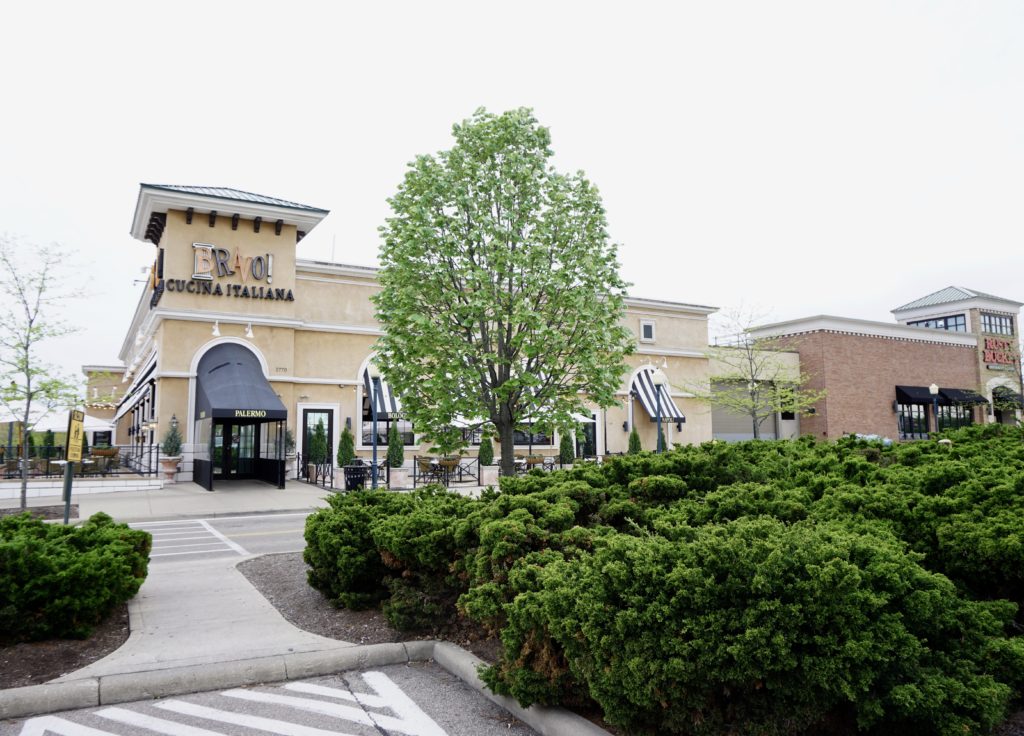 One of the first things that sets the tone for a restaurant is what you see, feel, and hear when you walk in. When you walk into Bravo, the lights are dim, the atmosphere encourages quiet…the kind where you want to lean into your companions to hear what they are saying. The restaurant is open so that you can see all the way across the room, but the half-walls and dividers all throughout make it feel like you are the only ones there.
We were so pleased with both the wait staff and the hosts. The menu is kept simple, not bombarding you with too many things to choose from, but enough to want to come back and try a different entree! One of the things I wanted to point out is that there are over a dozen gluten free meal options on this menu! Bravo also provides any meal free of allergens if specified to the wait staff.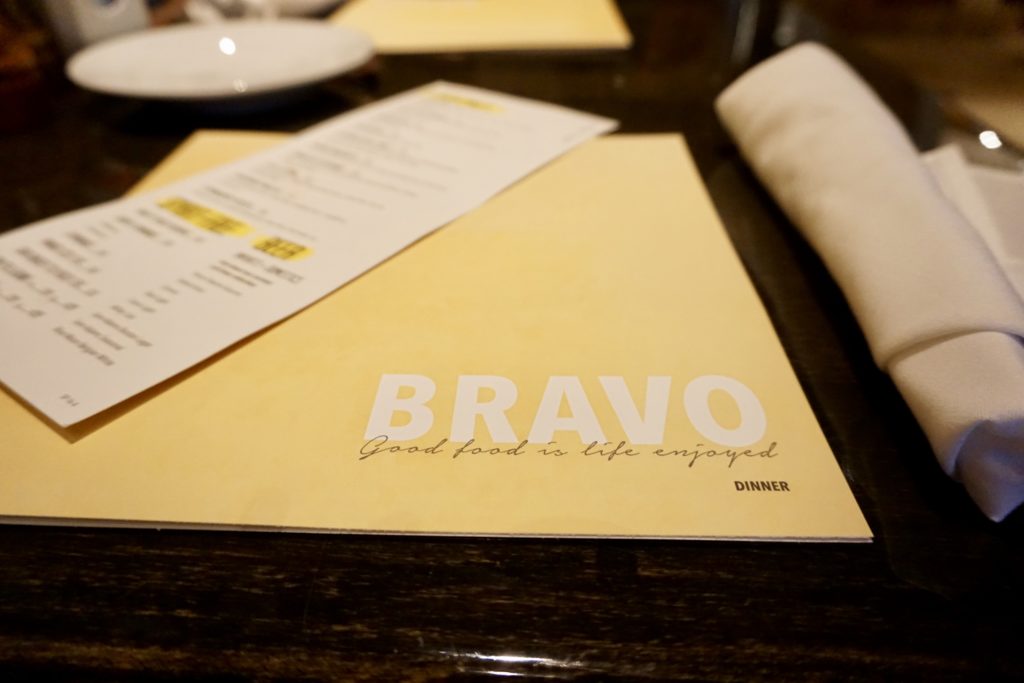 Our view of the restaurant.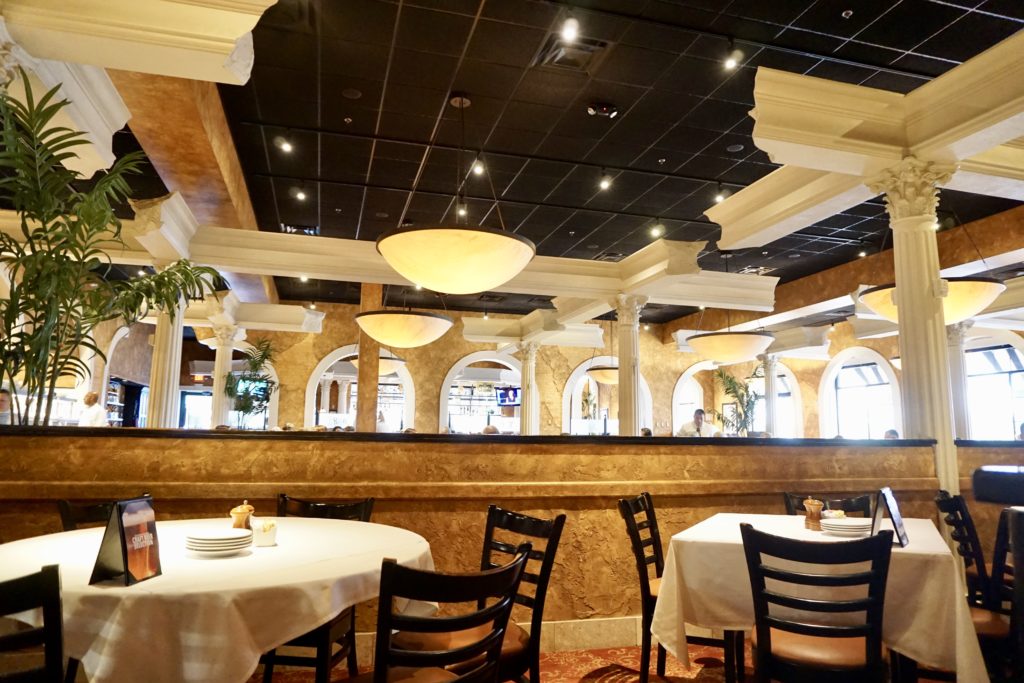 Another thing that we loved about Bravo is that you can see the kitchen and all the food prep going on! It's like having a front row seat to a cooking show.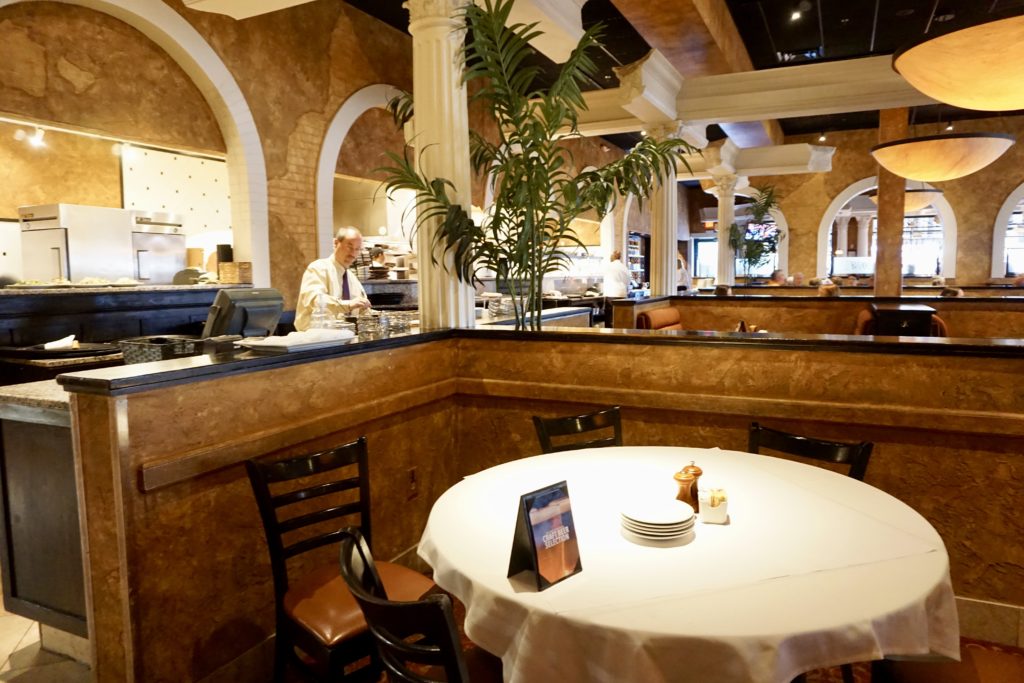 First to arrive at our table were the complimentary breadsticks. These breadsticks, served with an olive oil dip, hit the spot!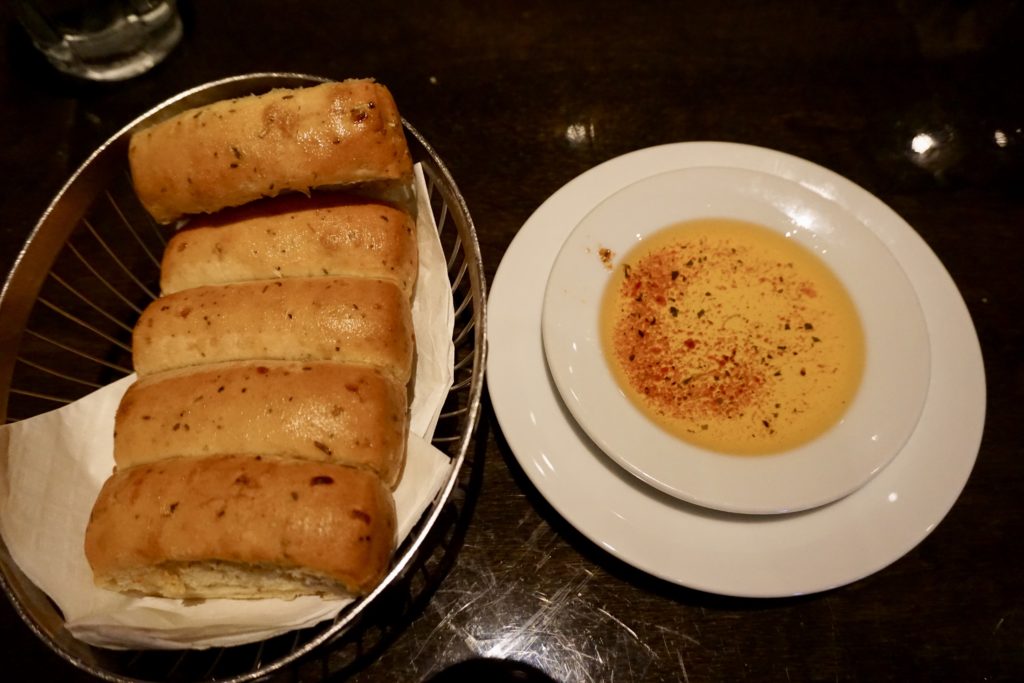 Tera ate about 4 of them. Haha!
The next time we go to Bravo, I'm going to request a seat out on the patio. Isn't this so cute?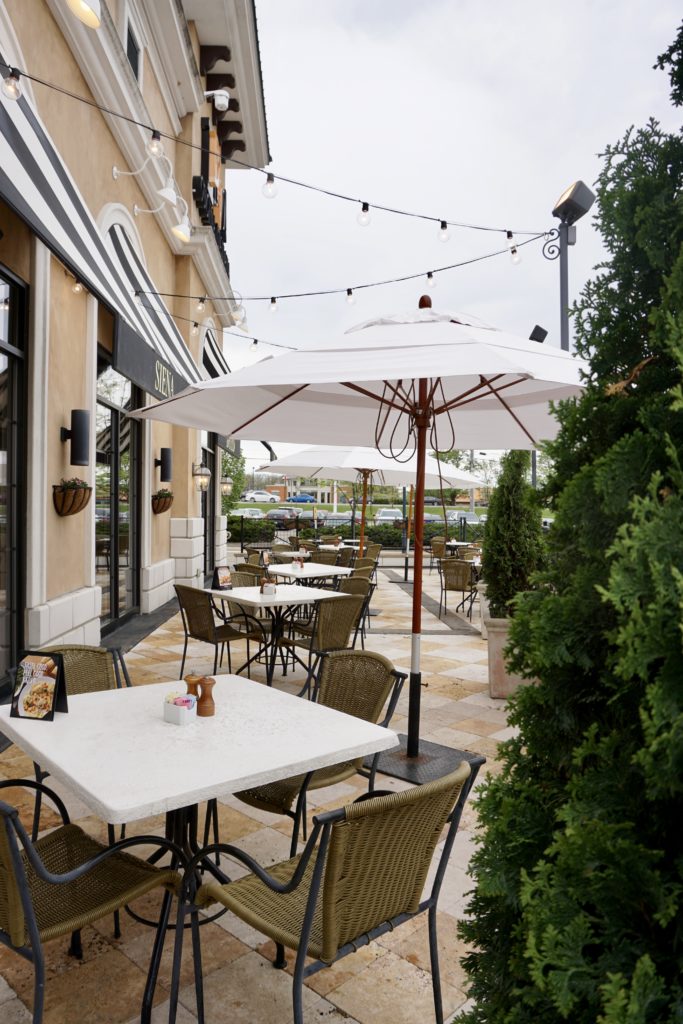 Not only does Bravo have a bar, a restaurant and a patio, they also have banquet rooms! Doesn't this look like the perfect place to hold a rehearsal dinner for a wedding party?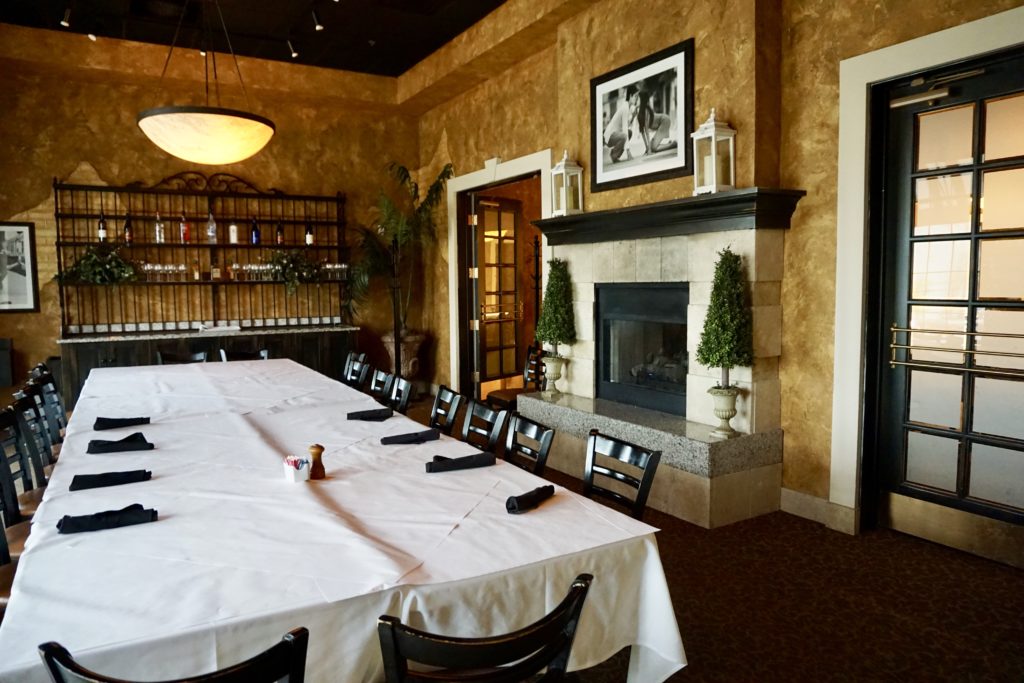 About 10 minutes after we put in our order, our food arrived at the table! YUM!!!!
I got the Pasta Bravo (Gluten Free!), Theo got the Grilled Salmon and Tera got chicken fingers.
The prices are very reasonable for a nice date night, around $12-$20 a plate.
The grilled Salmon was SO GOOD. SO, SO GOOD.
One thing that would have made OUR dining experience much more enjoyable at Bravo would have been if we went without the kids (as much as we adore them!). The restaurant is not catered towards children, and it has more of an adult, date-night vibe. There is a great kids menu, but all the items on it were more than we usually like to pay for a "kids picked-over" meal. There is also nowhere to change a diaper (and of course, we had to change a messy one). That is nothing against the restaurant, I just highly recommend finding a sitter and leaving the kids at home.
After dinner we ordered desserts, and they were HEAVENLY. Not only did they look amazing, they tasted even better. Have you ever been to a restaurant before where you order dessert and feel like you wasted $6 on a frozen brownie? Well, this was NOT what happened at Bravo. I am seriously considering going back just to get the dessert again.
I got the warm chocolate cake and Theo got the creme brûlée. Other temptations on the menu were the tiramisu, the cannoli crumble, and the warm berry white cake.
Although we didn't get to try out everything, the things we did get to try were fabulous. Here are some of the other deals that Bravo offers:
10% military discount on the order of any military personnel.
Mondays 1/2 off any bottles of wine
Wednesday $5 martini night
Thursday $5 wine night
M-F 3:30-6:30 Happy Hour. All bar appetizers and drinks are $5.
Bravo also offers a loyalty club with many discounts and benefits- signing up is free!
And now for the fun part:
Dessert is on me!
From now until May 22, if you head to the Bravo at the Dayton Mall and mention "THE GLORIOUS MUNDANE" or "SUZANNE HINES", you will get one free dessert of your choice with each purchased entree.
So plan that date night or Mothers Day outing and enjoy free dessert on me! Let me know how much you LOVE Bravo!
**For my friends and readers across the US, this promotion only applies to the Dayton Bravo (2770 Miamisburg-Centerville Road Centerville, OH 45459), HOWEVER my review for the Bravo restaurant is still the same! You should check and see if you have a local Bravo and enjoy a night out!