I am SO excited to be joining in the Walk for Life this year!!!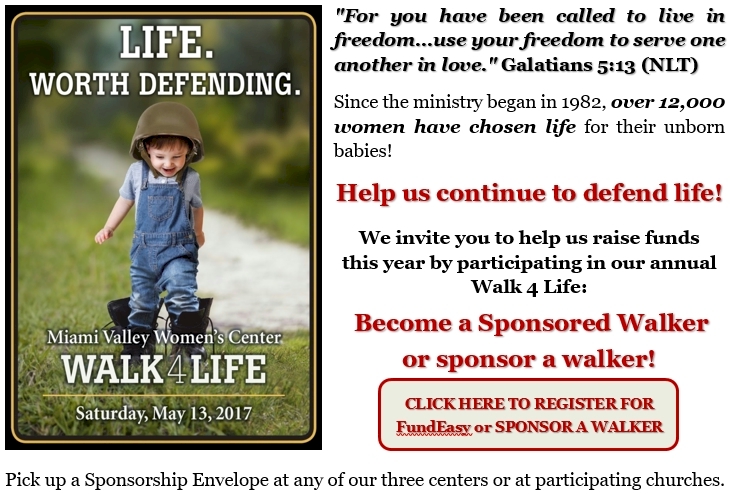 The Walk for Life is a walk to raise awareness and money for the Miami Valley Women's Center. 
Since 1982 the Miami Valley Women's Center has been providing real answers for issues surrounding unplanned pregnancies, abortion, and many other life issues.
When I went into foster care, I was pretty convinced that I would be the Savior to these poor, unwanted and abused babies. I learned on DAY ONE that was not the case. In so many cases, the mothers and fathers of children in foster care just don't have the resources. They don't have the knowledge or the experience or the examples of people who are successfully parenting.
And that's why I can 100% wholeheartedly support the Miami Valley Women's Center. My heart is to keep families together and help provide the resources to women (and men) in need of them. Sometimes that resource requires fostering their precious babies, but sometimes that resource requires family classes, pregnancy tests and crisis pregnancy counseling.
I am pro-life. I support life from the moment it is conceived. Because of this belief, I am a foster Mom. Because of this belief, I am walking in the Miami Valley Walk for Life.
$250 will provide a crib, a mattress and a carseat for a Mom in need.
$500 provides four cribs
$1000 can provide the center with advertising all across the Miami Valley, reaching thousands of women who may be in need of their services
$1300 can provide a pregnancy test, an ultrasound and crisis pregnancy counseling for a woman in need.
You can head to my FundEasy page and easily donate online, or if you see me in person I have a special envelope for a cash or check.
The Miami Valley Women's Center is hoping to raise $175,000 by Saturday, May 13th. I would like to be a small part of this goal. We are currently at $43,00 raised and are hoping for much more! I will keep you updated on my progress as we near the date, and I'm sure I will have a special post on our experience at the Walk for Life!