As I began to write this post, I realized that I didn't actually know what the real definition of advent was. I mean, I've grown up celebrating advent, but what really is advent?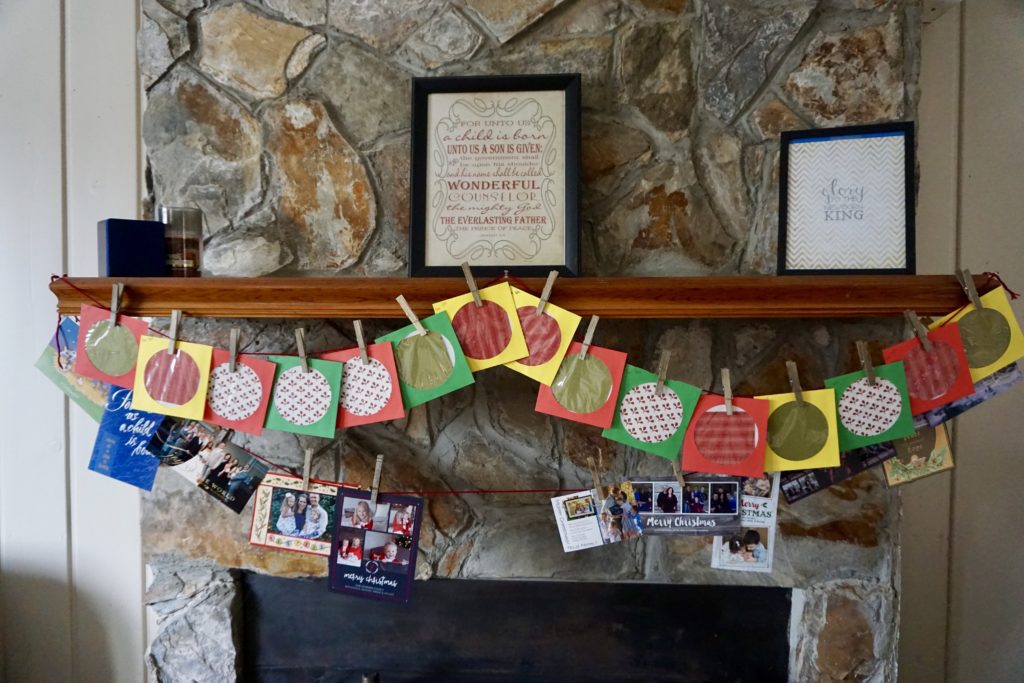 Google defined it for me as "the arrival of a notable person, thing or event" and "the first season of the Christian church year, leading up to Christmas and including the four preceding Sundays".
So, basically, advent is celebrating the coming of Jesus Christ!
Typically, advent is celebrated by a series of Scripture readings bringing the focus of celebrating advent onto Jesus Christ. We have been big fans of the Jesse Tree Advent and do it every year. For the past few years, we have done a Jesse Tree Advent that has daily Scripture reading with a corresponding ornament for each day/verse.
This year, I am enjoying having children who are a bit older and able to grasp the concepts a bit better. We have had a unique challenge this year with having Heavenly in our home during the holidays. Emotions are big and pretty overwhelming and the holidays can be really hard for foster kids. All of my children (bio and foster) have been struggling with selfishness, and I'll admit that I'm in that camp, too. Surprisingly, it's really easy to become self-focused during the holiday season.
My three year old has really gotten into Christmas this year and is THRILLED about anything that is special and related to Christmas. My 11 year old has proclaimed that she HATES Christmas and wants nothing to do with it. I have the special challenge of balancing them both out. I love to keep things simple, but also make things fun, so at the end of November I put together a special advent for us as a family. Now, when I say it's for us as a family, I really mean it's for me and Heavenly, with Tera tagging along. Theo works while Heavenly is home (and is home when Heavenly is at school) and Kiah is just along for the ride :). I came up with a list of 25 Christmas activities and 25 Random Acts of Kindness for us to do in the first 25 days of December (don't worry! I listed them all at the end of this post).
We are 11 days in, and I can honestly say that it's going pretty well! Heavenly loves to open the envelope each day and we usually at least try to accomplish the task. We are probably at about a 60% accomplishment rate, but I'll take it!
Guys, I realize that I'm not winning any decor awards, but I couldn't care less. I cut out 25 pieces of Christmas-y scrapbook paper, wrote the advent challenge on the back and then stuck them inside some old CD envelopes I found while cleaning out our office room. I didn't spend a cent on any of the prep work, and I tried my hardest to pick advent activities that weren't going to cost us anything but our time.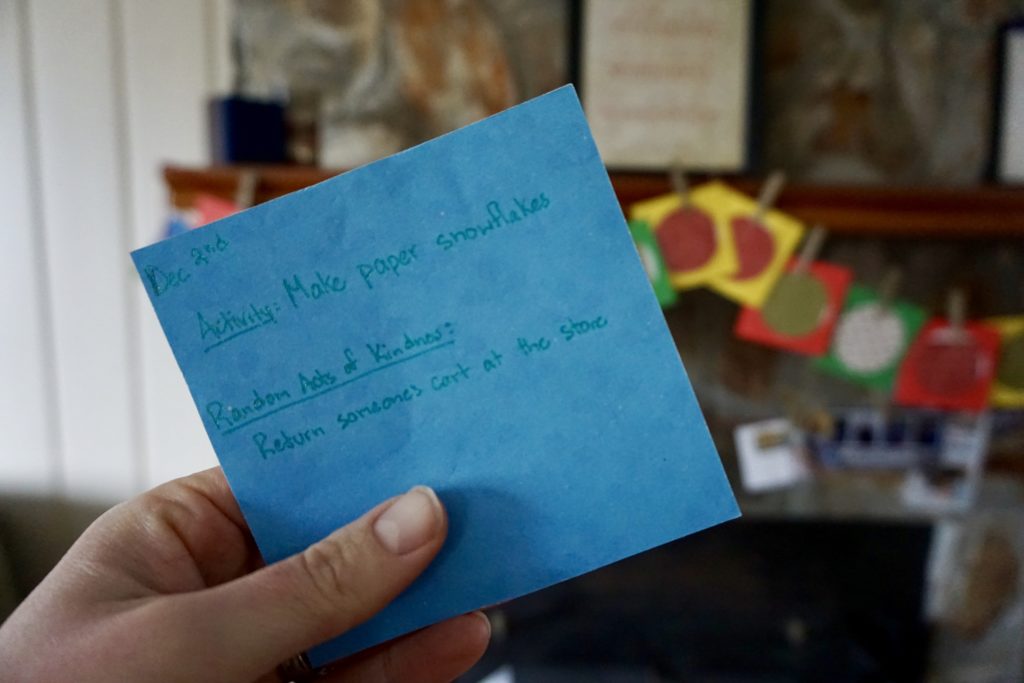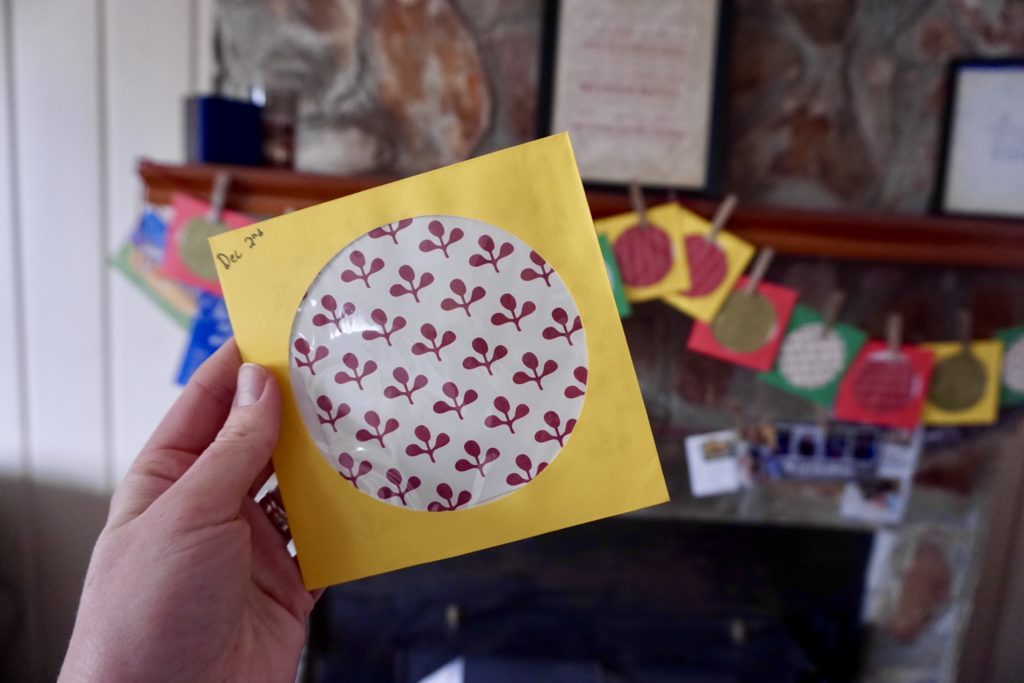 I hung them on the mantle because I wanted them to be in a prominent place that we would see everyday. I actually kind of like how it looks with our Christmas cards hanging below.
It really takes being intentional, and sometimes it even requires bundling all my kids up just so we can go outside and accomplish the activity or random act of kindness.
And because I know you want to know what our lists are, here they are (in no particular order):
25 Christmas Activities
Address and send out Christmas cards (Check)
Make paper snowflakes (Check, but was a total fail)
Make Christmas cookies
Make paper chains
Make banana bread for teachers
Make fudge
Go caroling
Go to a Christmas light show (Check- Middleton Lights Festival)
Make a wreath
Do a handprint craft
Make an ornament for the tree
Go Ice Skating
Roast marshmallows by the fire
Write Daddy a love note
Bake and deliver a treat to our pastors
Candy cane bomb a house
Make a craft for our Grandma's
Donate outgrown toys (Check)
Go to the library and get Christmas books (Check)
Dance to Christmas music
Watch a Christmas movie and drink Hot Chocolate
Go to a concert
Wrap presents (Check)
Have a Christmas party (Check)
Drive around and look at lights on houses
25 Random Acts of Kindness
Hold the door open for someone
Return someone's cart at the store
Leave a letter in a library book
Feed the birds
Paint rocks around town
Let someone go in front of you in line
Compliment a friend
Bake dessert for someone
Play with animals at the shelter (SISCA)
Serve at a shelter (Dayton Gospel Mission)
Pass out stickers to kids waiting in line
Tell a manager how great your service was
Give a treat to the bus driver
Take a treat to Daddy at work
Make a thank you card for your teachers
Pick up trash in a public place
Make a card for someone
Tape a bag of microwave popcorn to a Redbox
Leave motivational sticky notes on a public mirror
Hug someone
Make a list of things your thankful for
Deliver a meal
Do chores/a meal for a widow
Tape quarters to a gumball machine
Give someone a gift