Christmas of 2017 was such a gift to me.
At the end of a long and very exhausting year, God reached right down and wrapped up the week of Christmas into a gift and He gave it to me.
I'm so refreshed and humbled and delighted.
I'll try to recap it here, but no pictures or words can even describe how special this time was for our family.
A little bit of background for those of you just tuning in: My parents are missionaries and live overseas. Although we have seen them several times in the last few years, it has never been over the holidays. This is the first holiday in SEVEN YEARS that I have spent with my family. That means not once have we ever spent the holidays together since having kids, or since being married! It's crazy to think about, but we were about due for a time together.
We weren't even sure up until the last minute that we would be able to make it to Pennsylvania because of Theo's work. He is a rookie and therefore cannot get time off (most officers can't get holiday time off even if they are not rookies). HOWEVER, God worked an incredible miracle that due to the end of one shift and the beginning of another, Theo got SIX DAYS off. This is unheard of for a first responder, and I literally cried when I heard the news because I knew it was just a precious gift from God that we all got this time together.
Theo got off work at 3 am on Friday morning, and we decided to hit the road as soon as he got home (3:30 am). We figured the kids would sleep for a few hours before we got some breakfast and kept on driving. Our plan worked out great except for the fact that Theo pulled an all-nighter and I got about 3 hours of sleep. It was brutal. Theo and both crashed for the afternoon and were ready for bed by 9pm. Haha.
By Saturday morning my brother and his wife had also arrived and the whole family was present and accounted for! My Mom and I went grocery shopping and did some food prep for the next few days. Almost all of our time was spent just being lazy. The living room looked like this most of the time.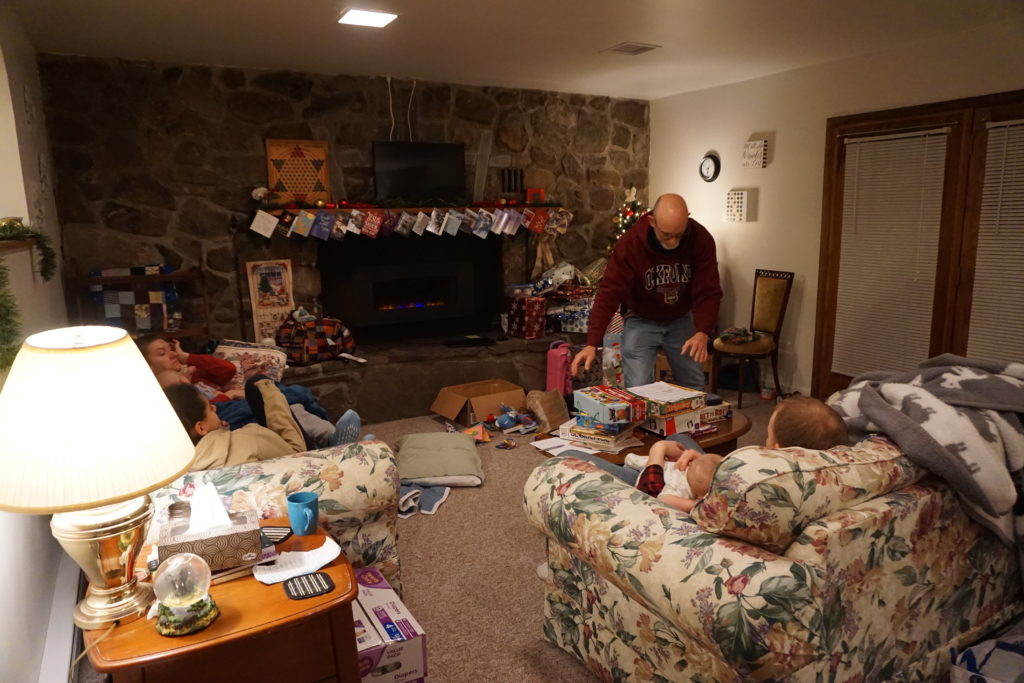 And my Mom looked like this most of the time: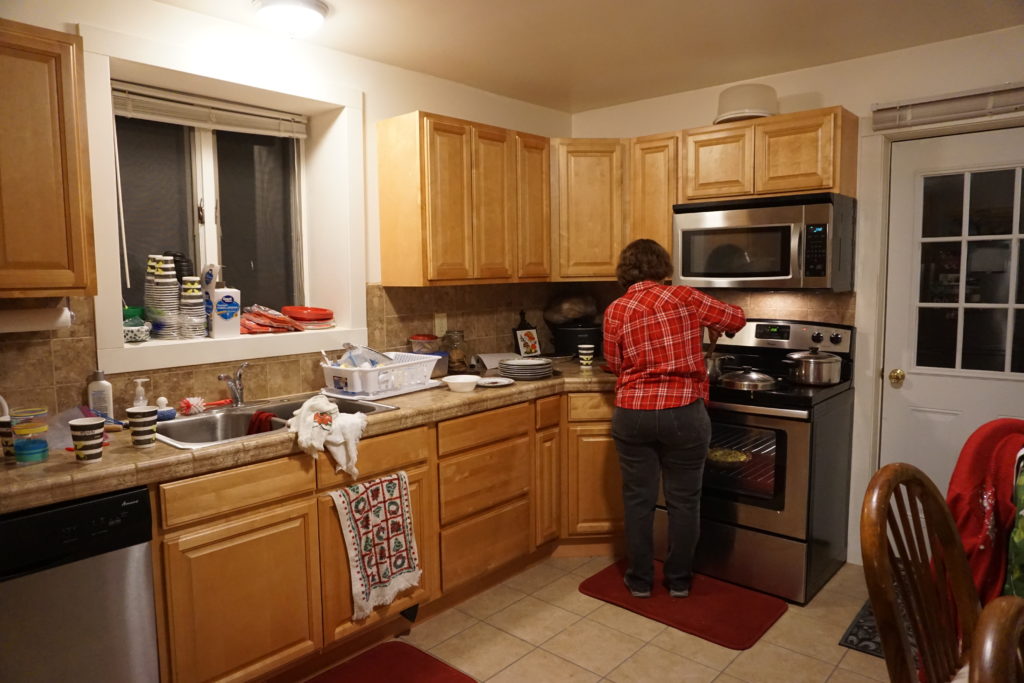 While everyone else worked hard to be lazy, she kept us all fed so our lazy bones could just lay around. Kiah and the twins are only six months apart so at this point they don't know how to interact together, but we'd better watch out in the years to come! They will be best buds with TROUBLE written all over!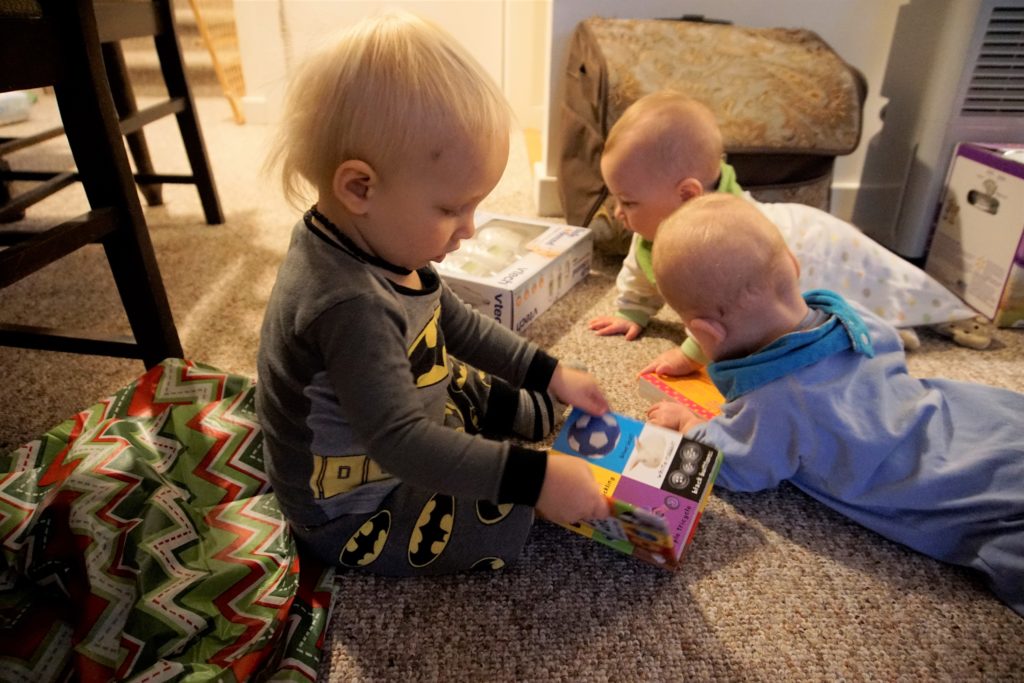 Sunday morning we knew it would be an adventure getting everyone to church on time, so we woke up early and then everyone was ready with 45 minutes to spare. My Dad played the piano for us while all the kids "played" along with him.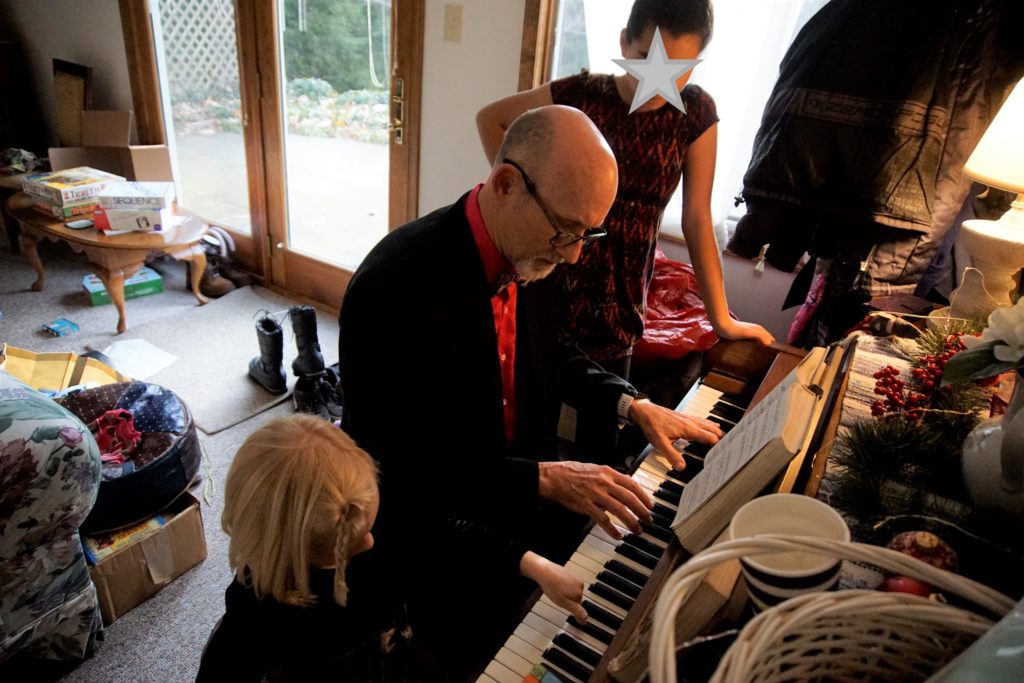 Actually, Heavenly picked up the basics of the piano in the three days we were there. She's incredibly musically gifted (as is my Dad).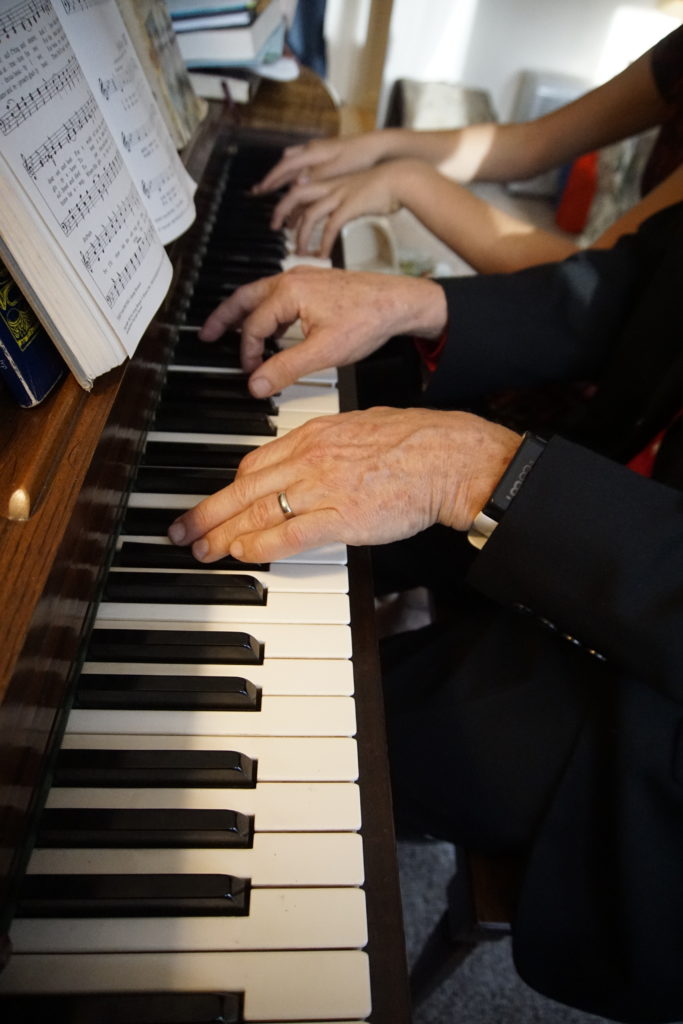 Theo entertaining the boys.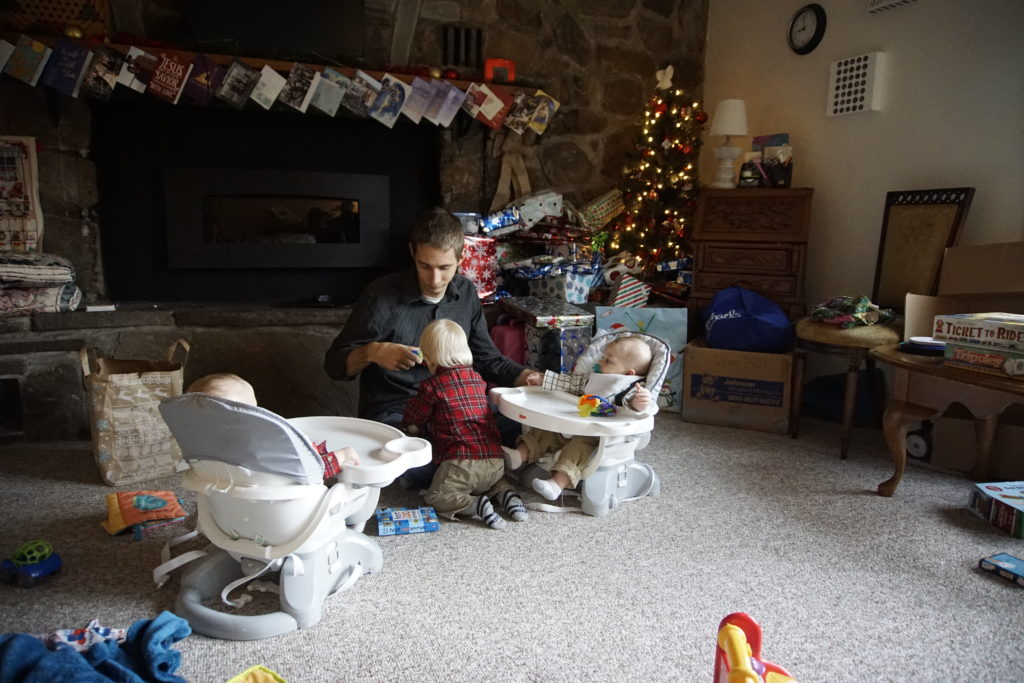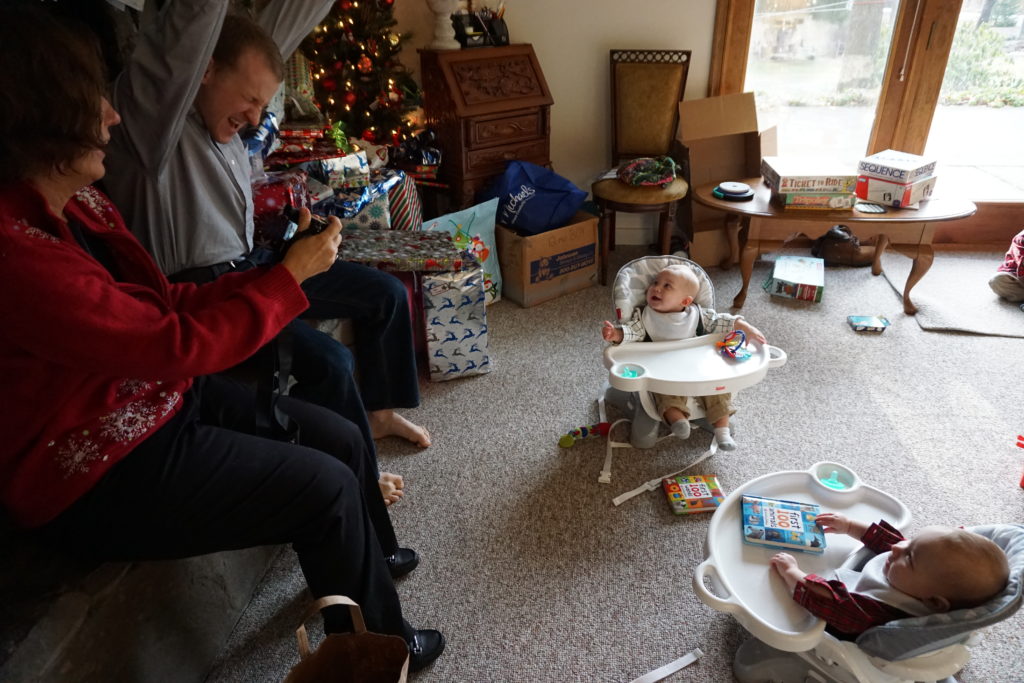 We headed to church, which was where I used to attend when my family was on home assignment in the States. This church was an integral part of my growing up experience and I had a very solid core of friends there. It was so fun seeing a lot of those friends again after 7+ years of not seeing them.
In the afternoon, we had a little get-together with three little families. These three families were some of my best friends when we lived in the States. Each family had two kiddos and the six of us ran around Missionary Retreat Fellowship like we owned the place. Our parents raised all of us, together, pretty much. We got together and we all had husbands/wives and a bunch of children. This was one of the highlights of the entire trip for me!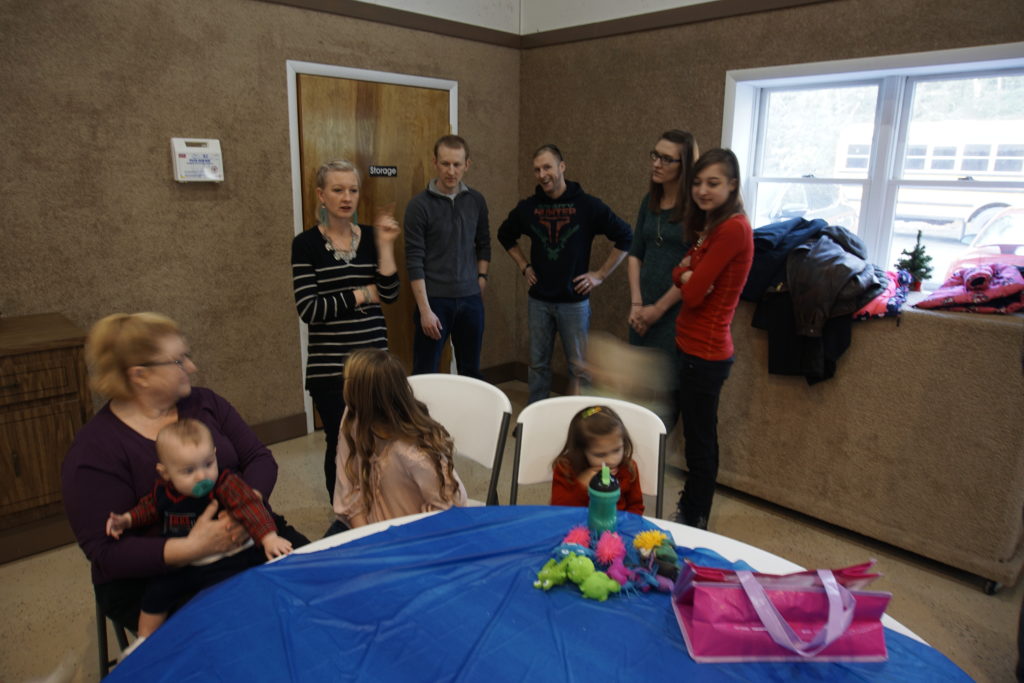 What the chances that two of the original six would have twins?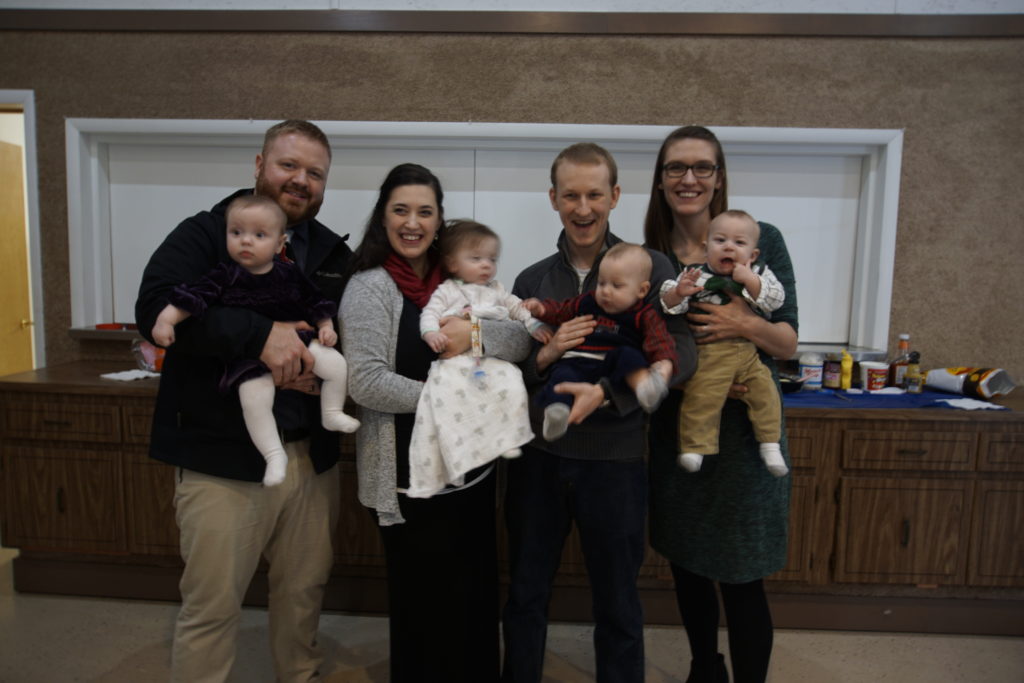 Just catching up on what feels like a lifetime. And yet this feels like home.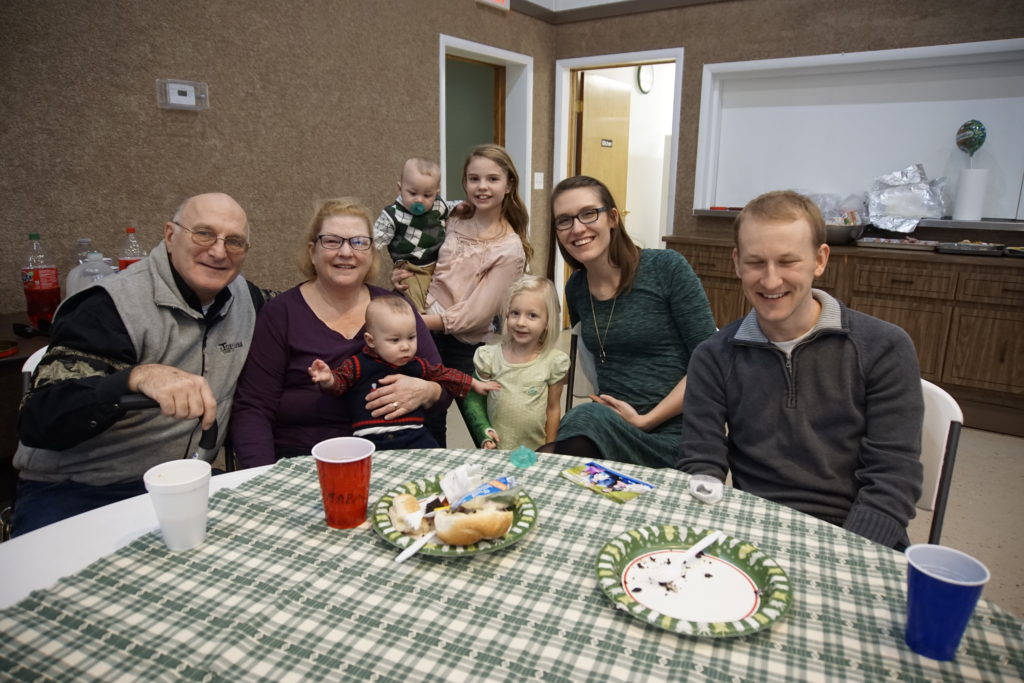 Seriously? The three original families have grown into this?!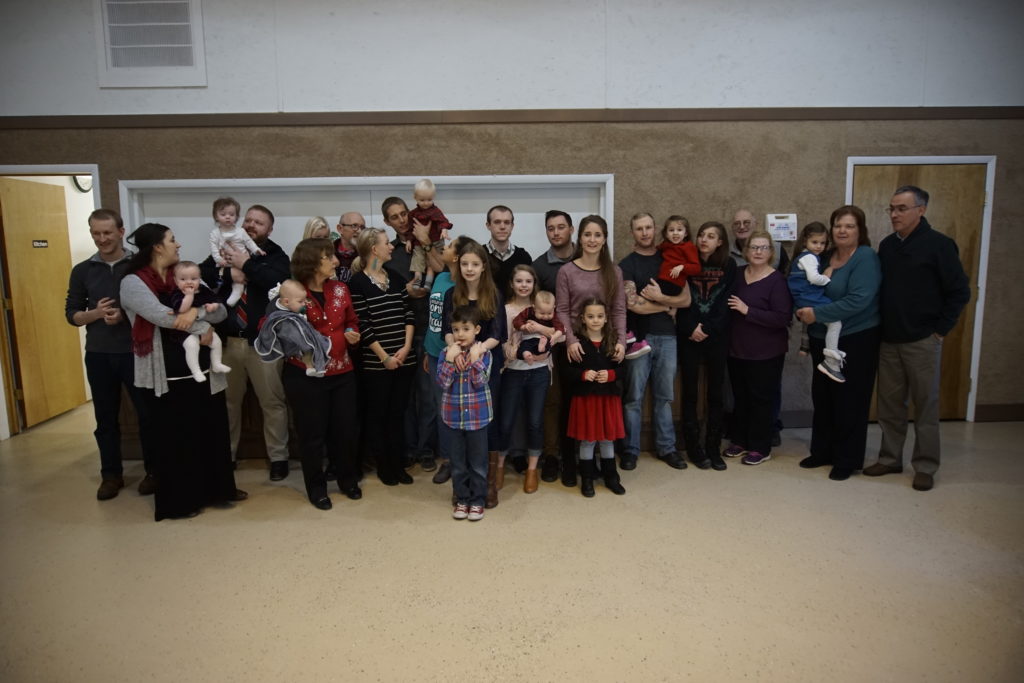 After our little hangout, we headed straight back to church for the Christmas Eve candlelight service. Theo and my two littles stayed at home because it had already been a long day, but I went with the rest of the clan. It was a beautiful service.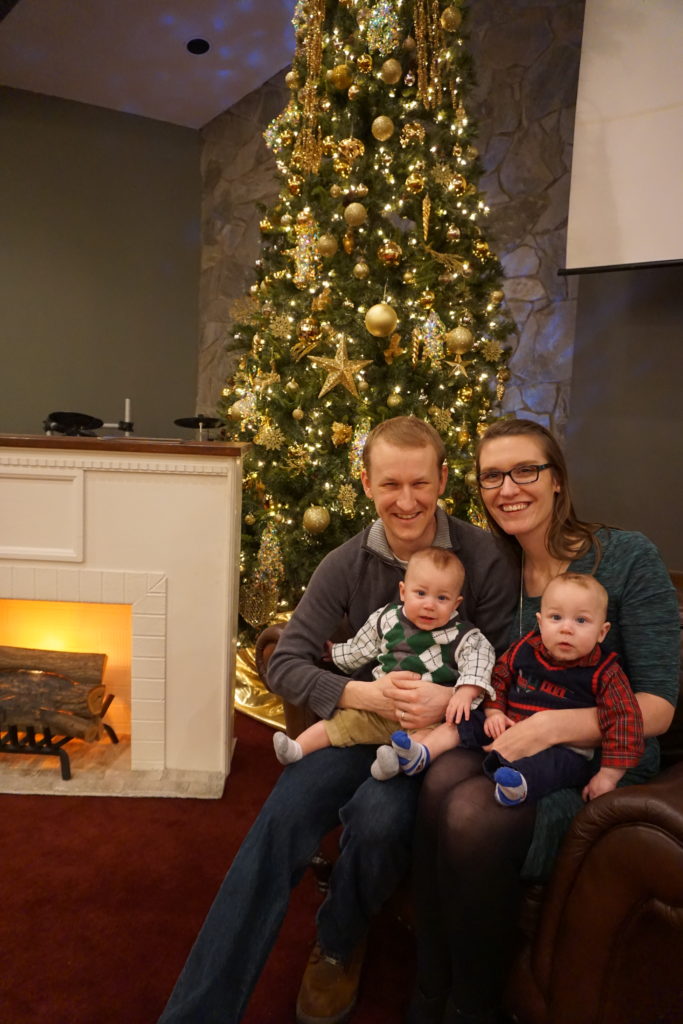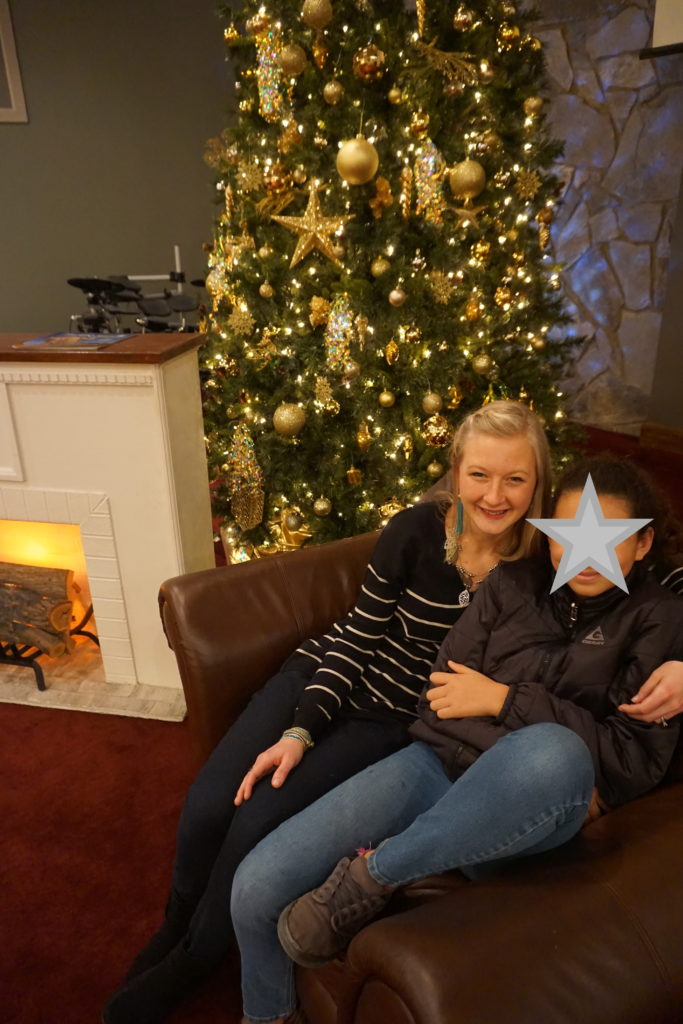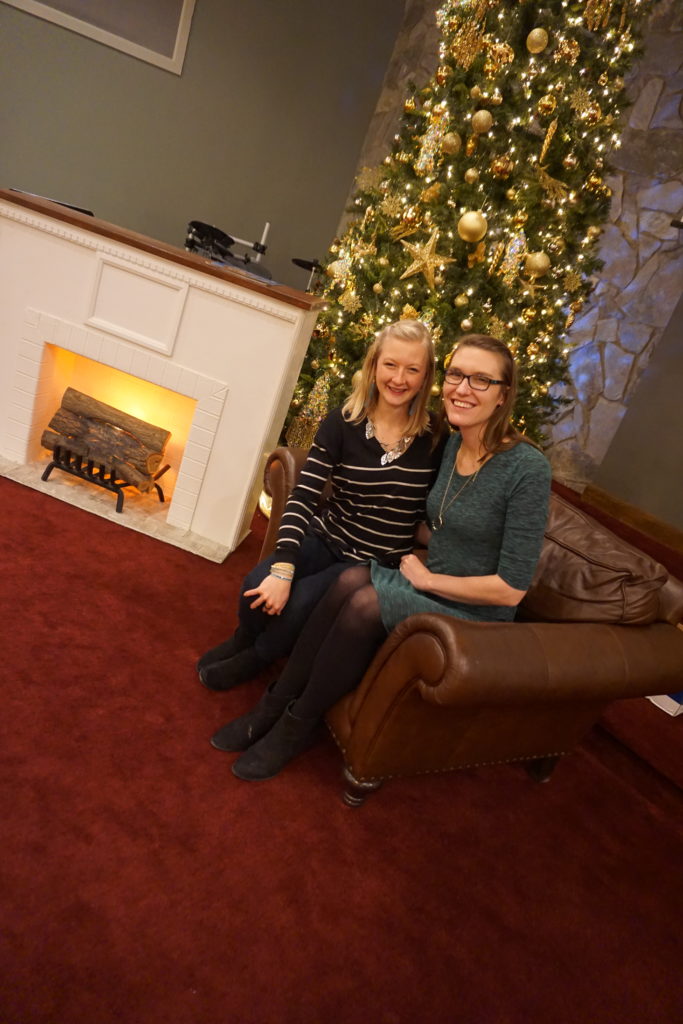 Our family Christmas Eve tradition is to buy/make a bunch of appetizers, especially ones that we would never normally make or could afford. Things like shrimp, stuffed mushrooms, etc. We set all the apps out and then watched Home Alone as a family.
Christmas morning we woke up to a WHITE CHRISTMAS! Of course, Kiah was the first one up (along with Memaw and Pepaw) so he was the first one to check out the snow!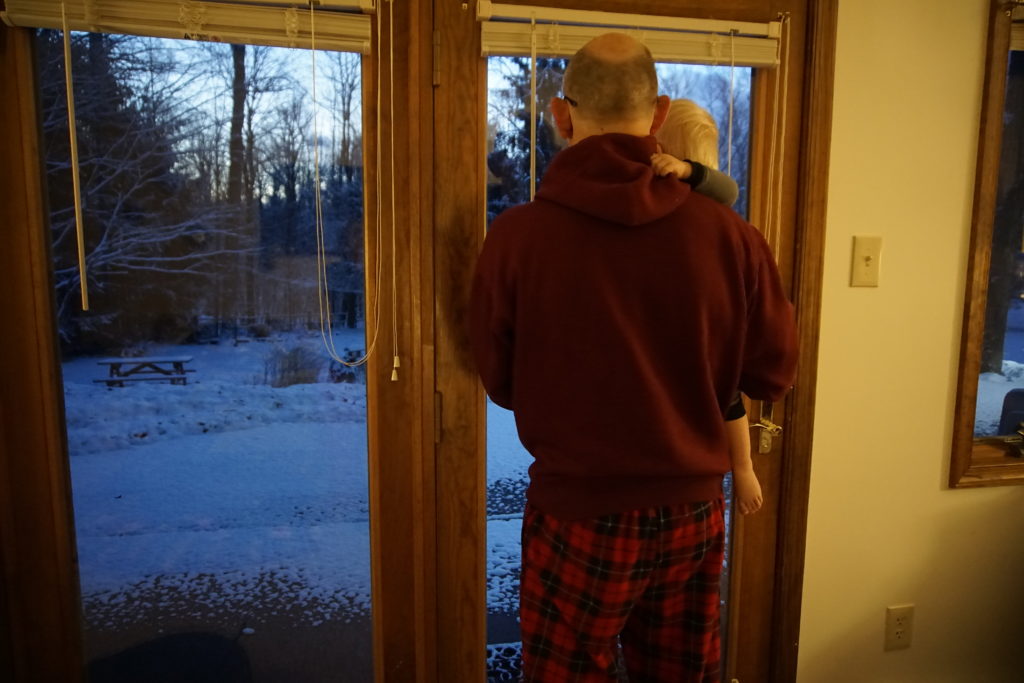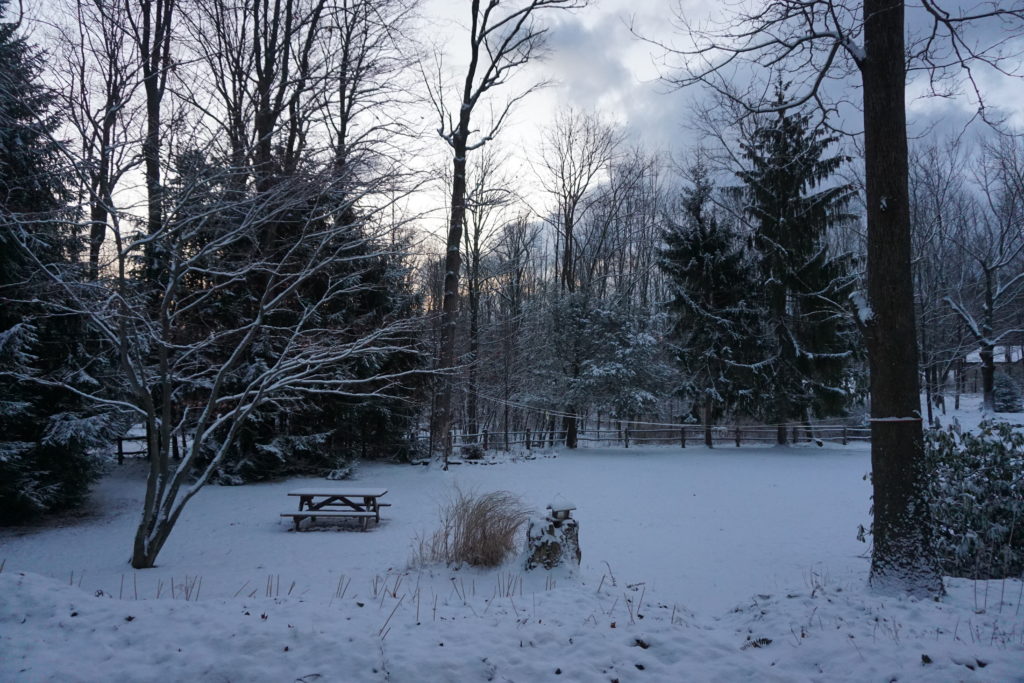 The calm before the storm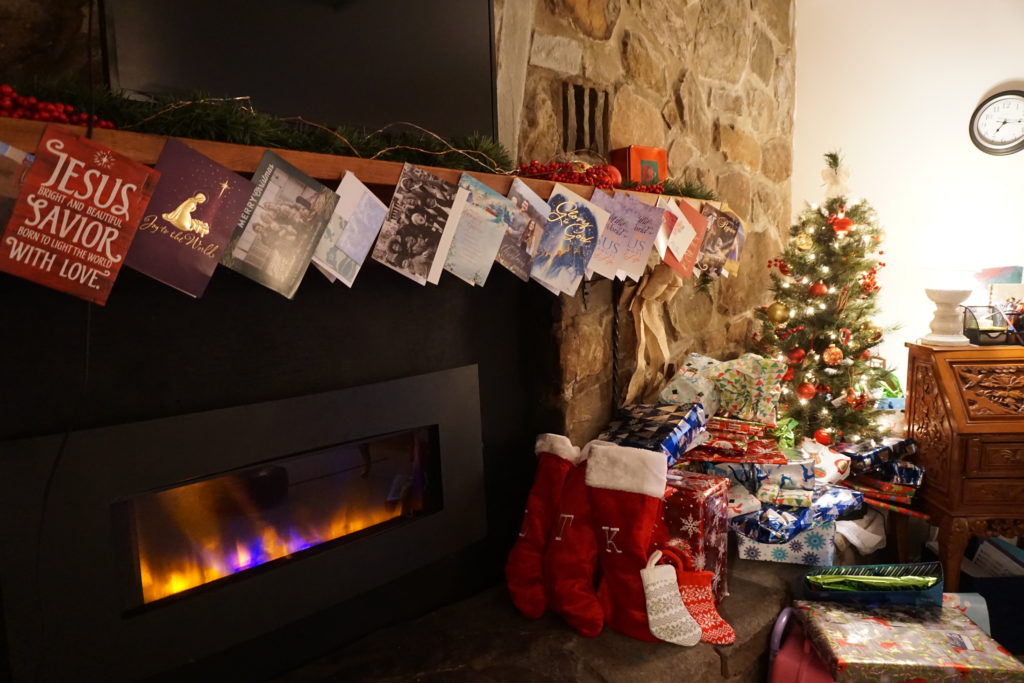 We finally got everyone up and ready and then we opened the presents! Since we had 11 people there was a lot of present and it was organized chaos. Of course, my kids opened one present each and they were more than content with that present. I don't know why I always think my kids need so many things.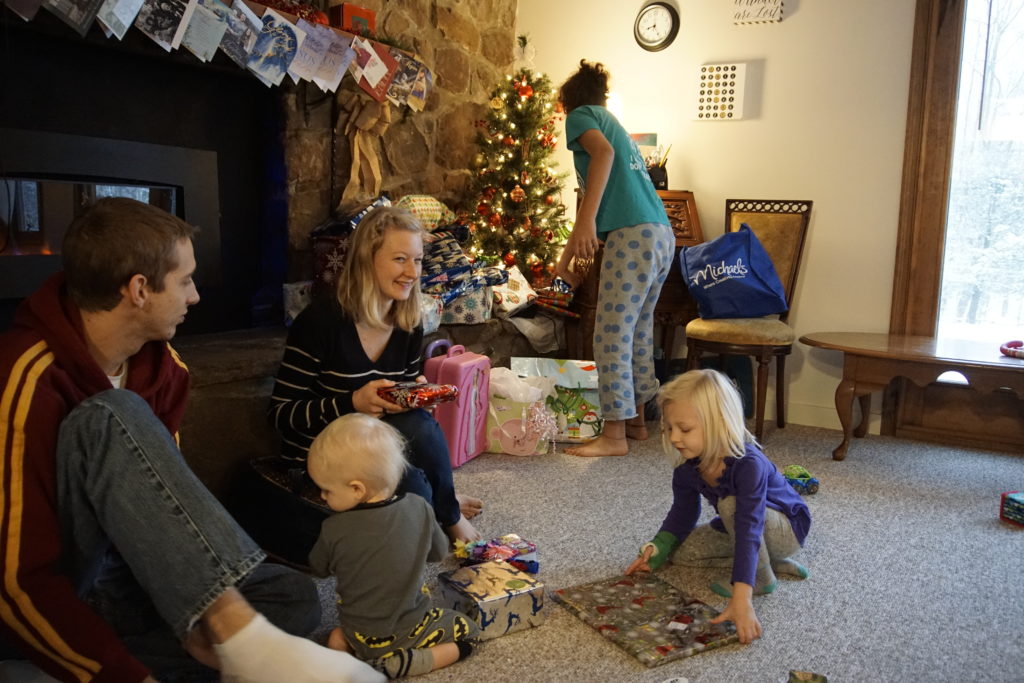 Ooooooh, Monopoly. The game that will divide families, marriages and separate mothers from their children. LOL. But seriously.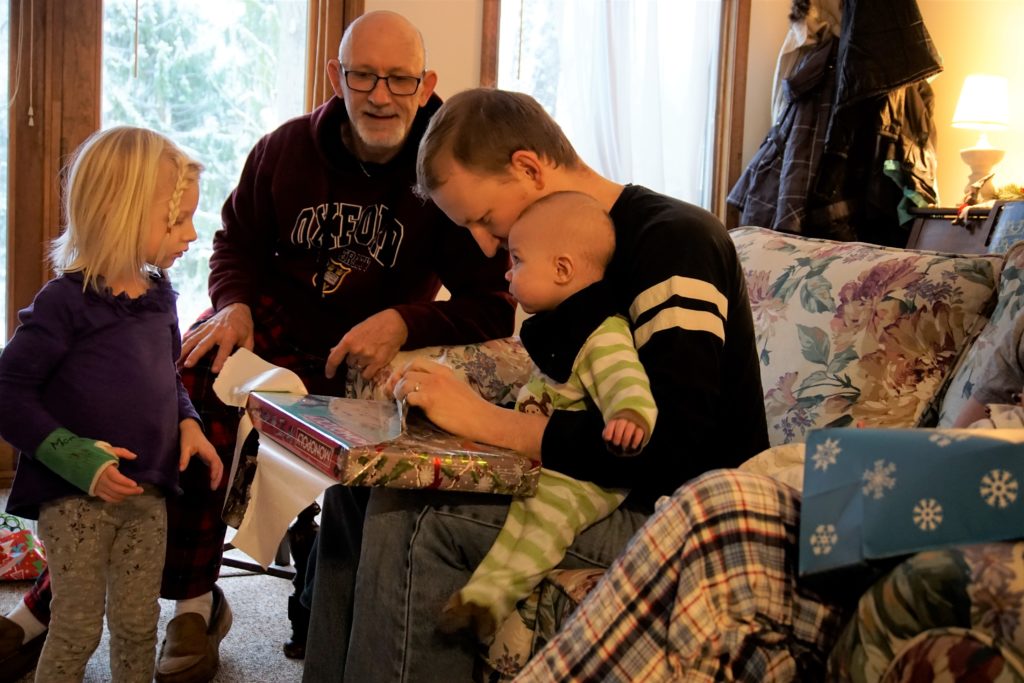 Organized chaos.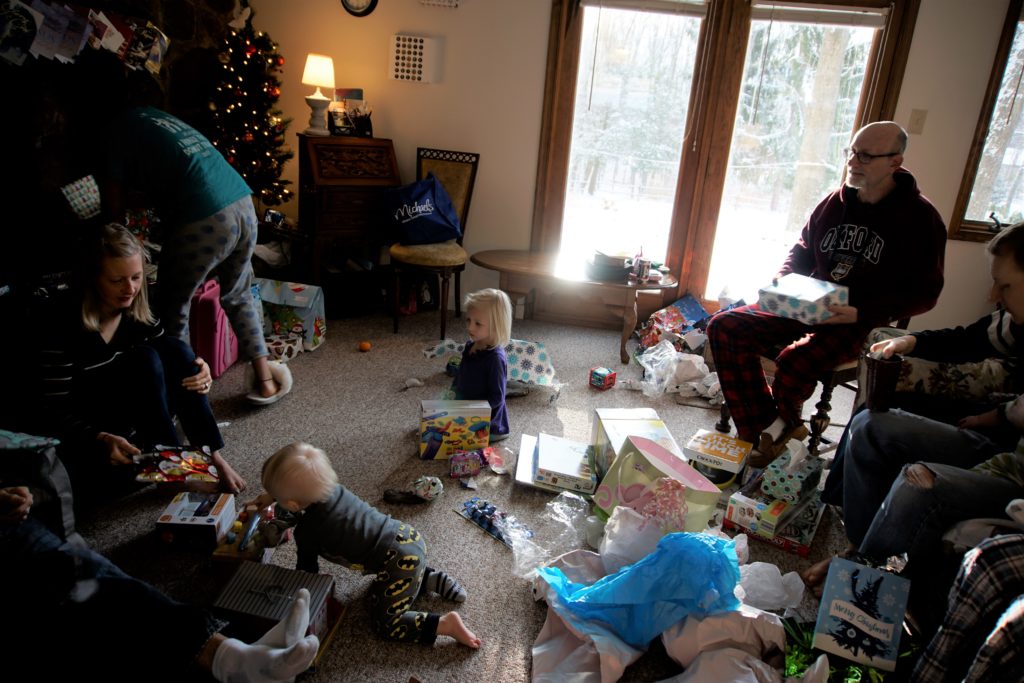 This girl was an absolute champion at Christmas. I know it wasn't easy for her, and I think her expectations were a little let down, but she was very grateful for what she got and did a great job of having a positive attitude even though I know she would have rather been with her Mama.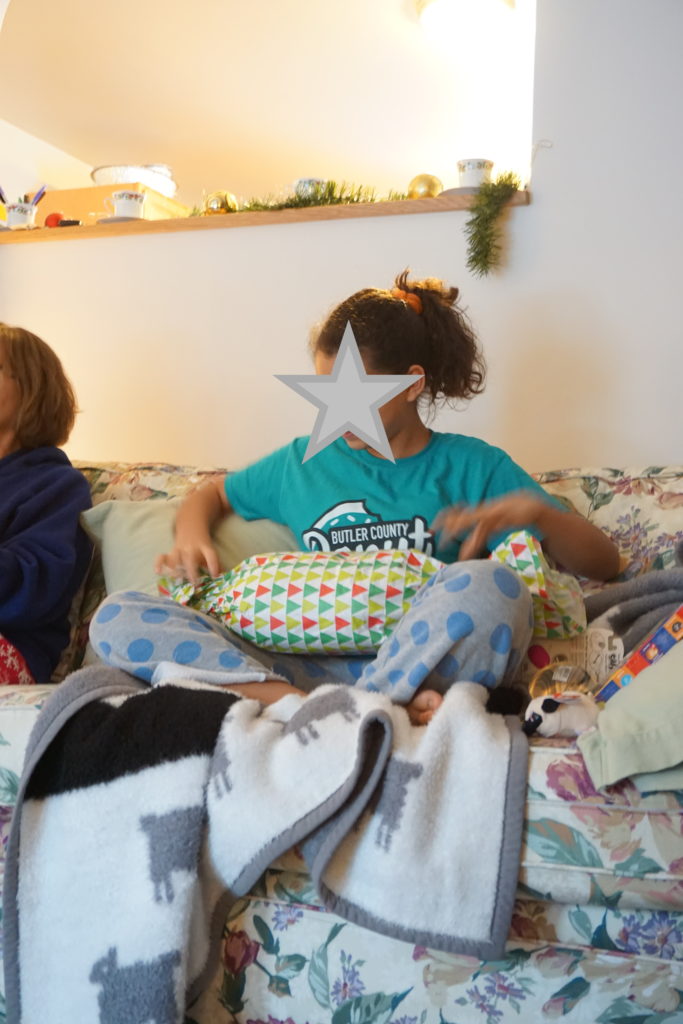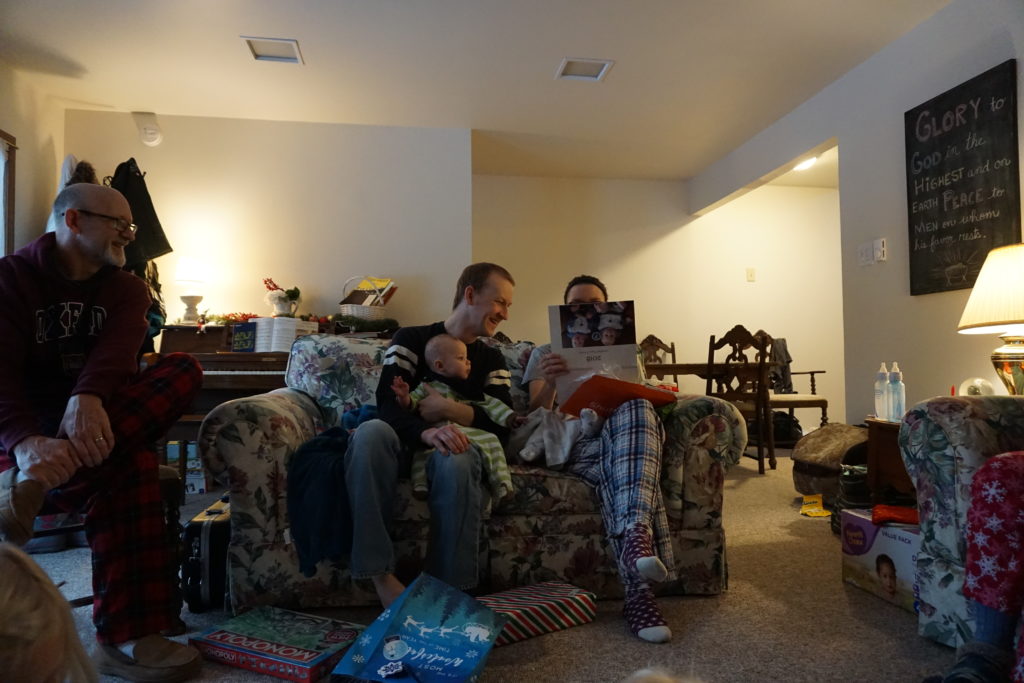 Christmas Day was another lazy day doing puzzles, eating, reading and playing with all our new toys/gifts.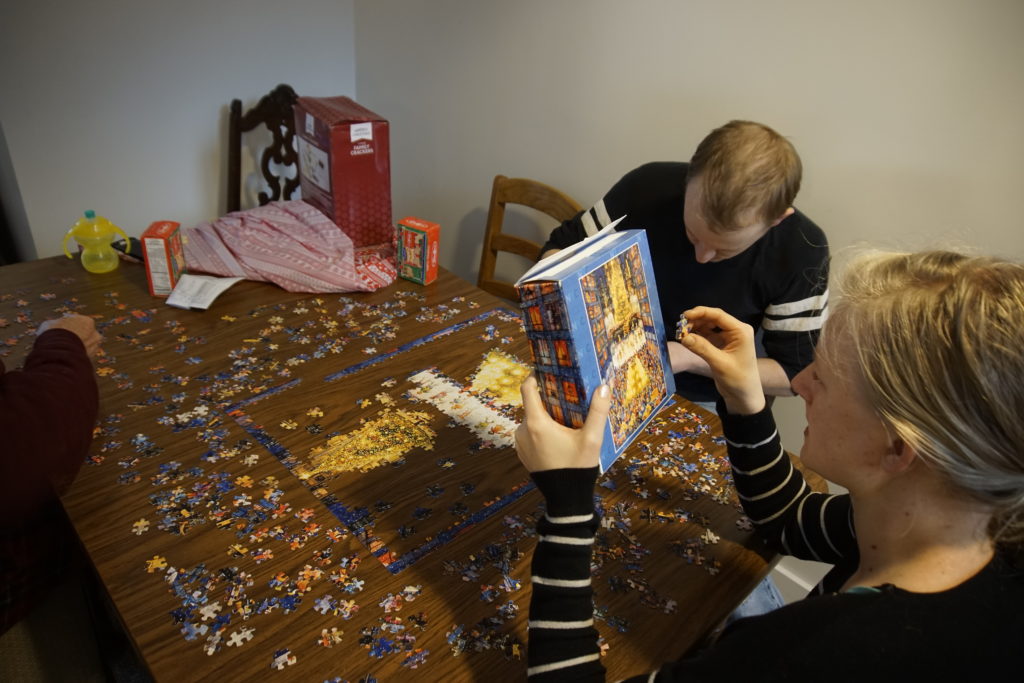 Heavenly got the game Bean Boozled, and she, Theo and Uncle Dan all played. If you don't know what it is, it's a jelly bean game where you spin the spinner and it lands on a color. You select that color of jelly bean and eat it. It is either a yummy flavor (popcorn) or a disgusting flavor (spoiled milk) but you just don't know until you chew it.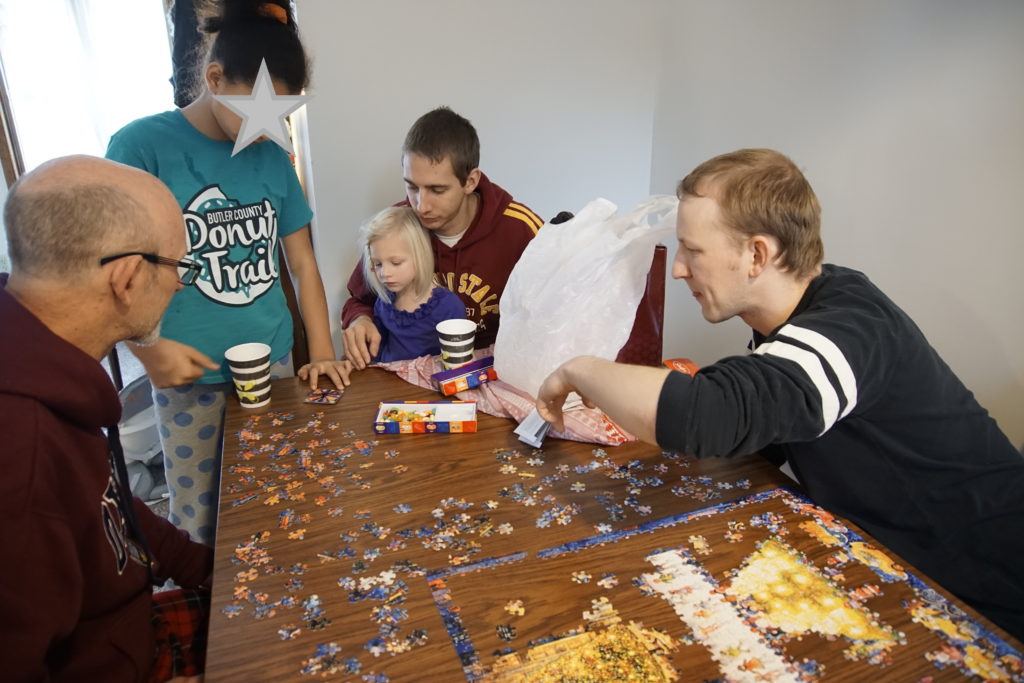 The game may have ended with some barf in a bag. So gross. But HILARIOUS to watch.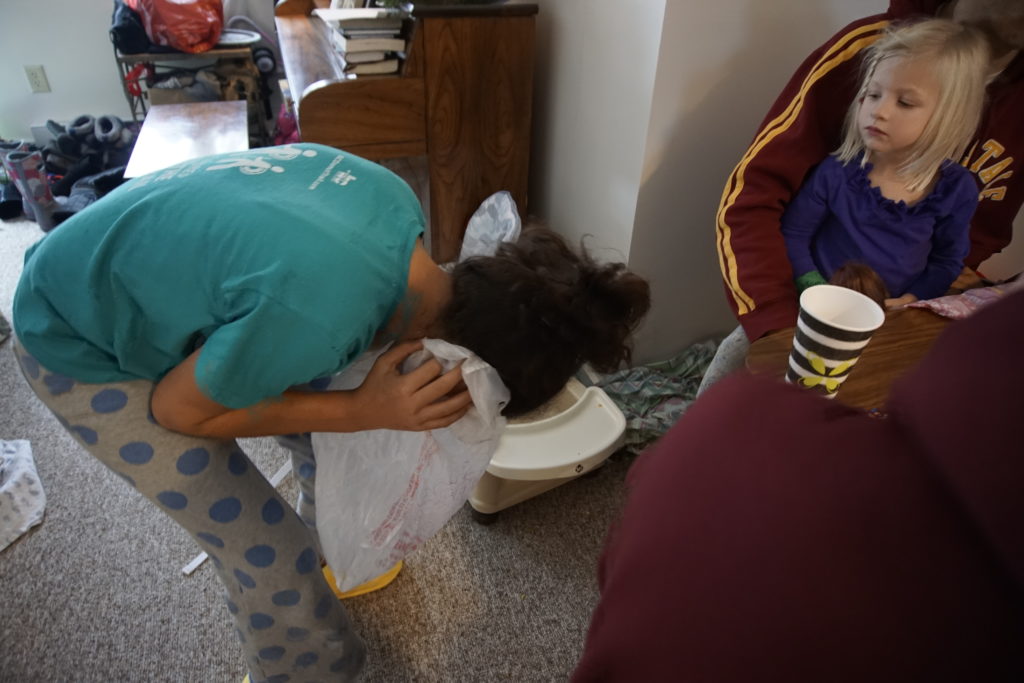 Tera loves her Aunt Kelly.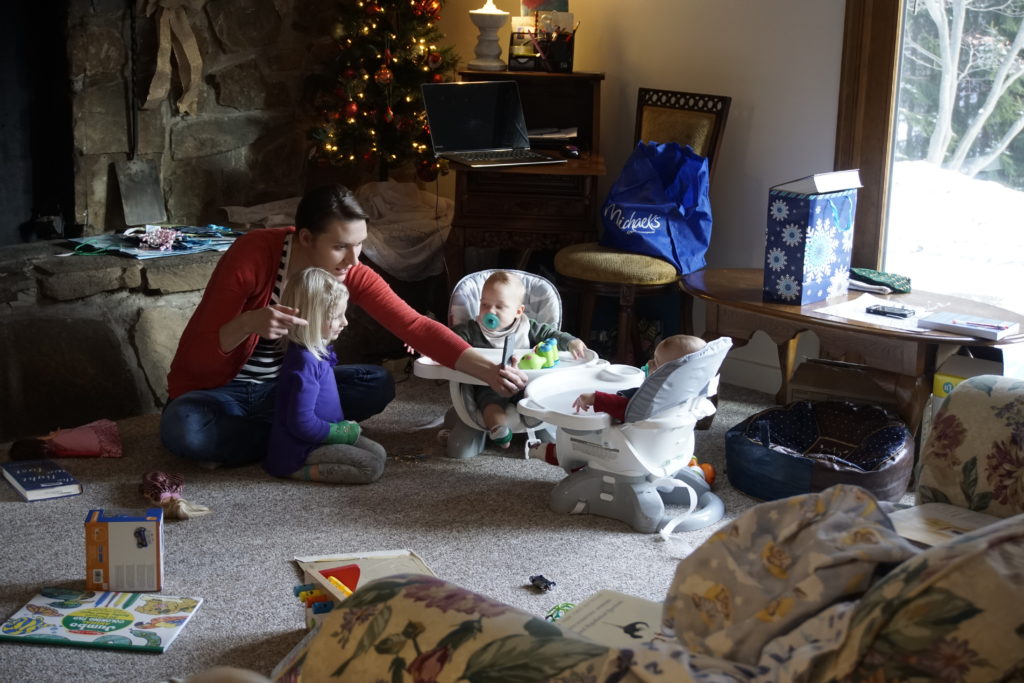 Before lunch we did some poppers that my parents brought back from England. Inside were these tiny little cheap toys (some of them were pretty cool) and these paper crowns. I love this picture, but I wish my Mom was also in it!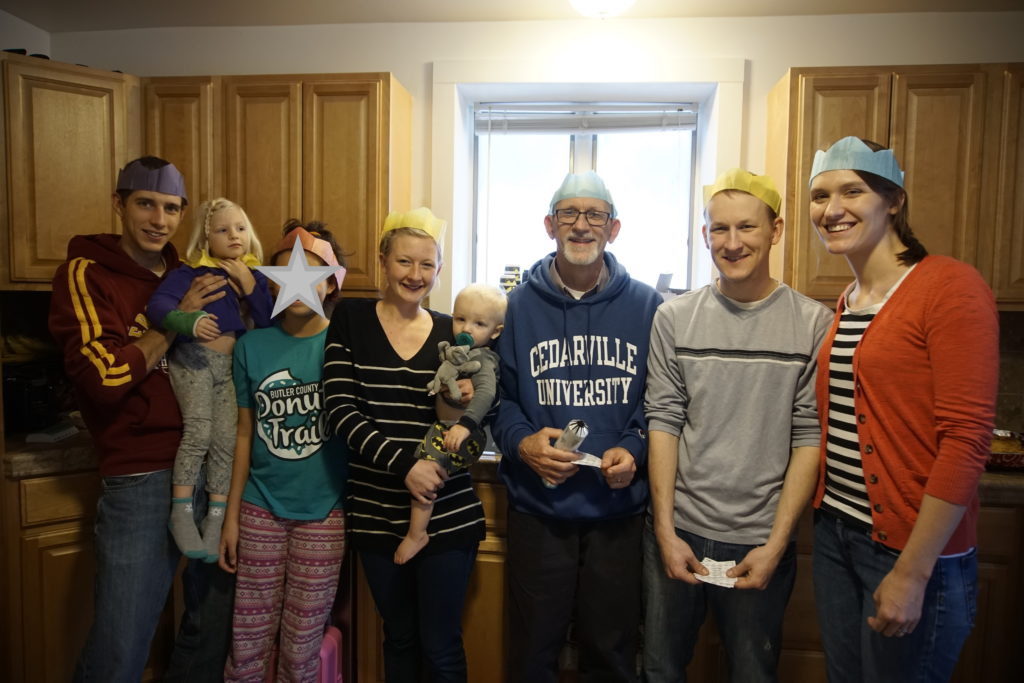 On Christmas night we ate some leftovers and watched Olympic videos on YouTube. Here is my tiny baby girl with her arm in a cast from ice skating watching ice skating. She was really concerned that they were going to fall.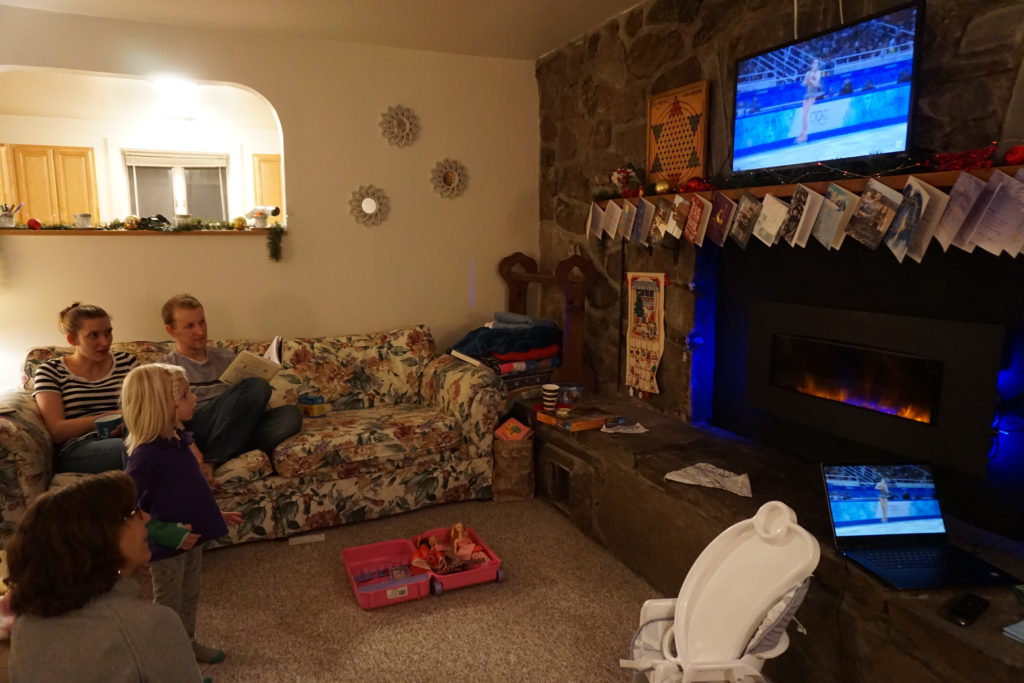 Tuesday was a LOOOOOOONNNG day for us. We got up early and hit the road for Connecticut to see my Grandma and visit some more of my relatives. All the adults were packing/getting ready and I came down the stairs to find all three of these babies snuggling with their Memaw and Pepaw. So sweet!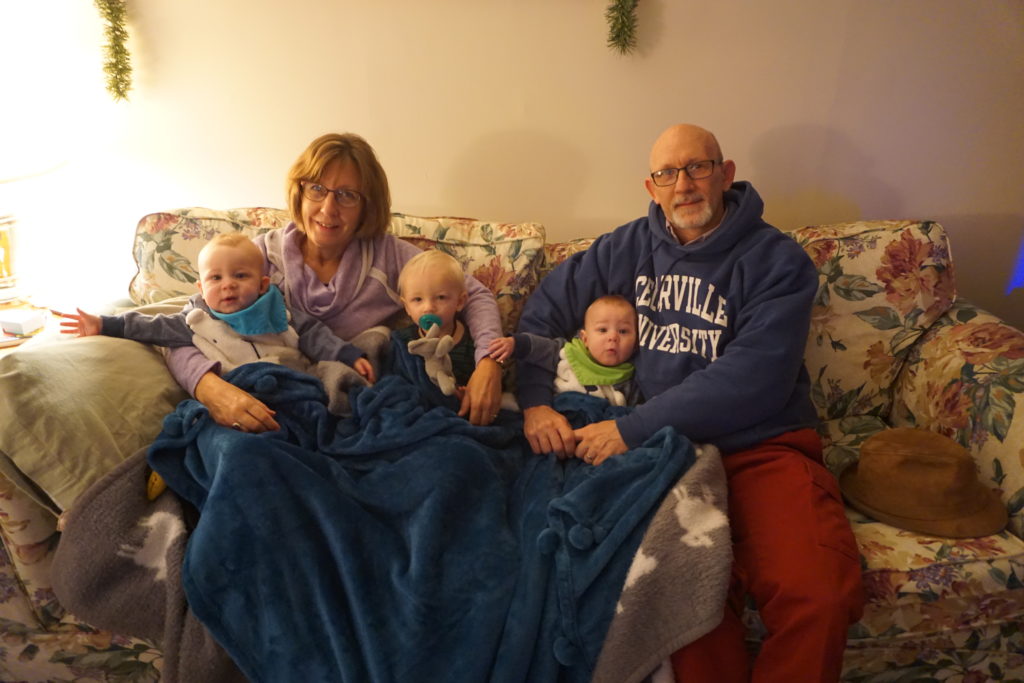 We drove three hours northeast to visit my Grandma at her apartment. My Grandma has never met any of my children and we knew that we had to make it happen.
We spent some time with Great-Memaw and she even signed Tera's cast!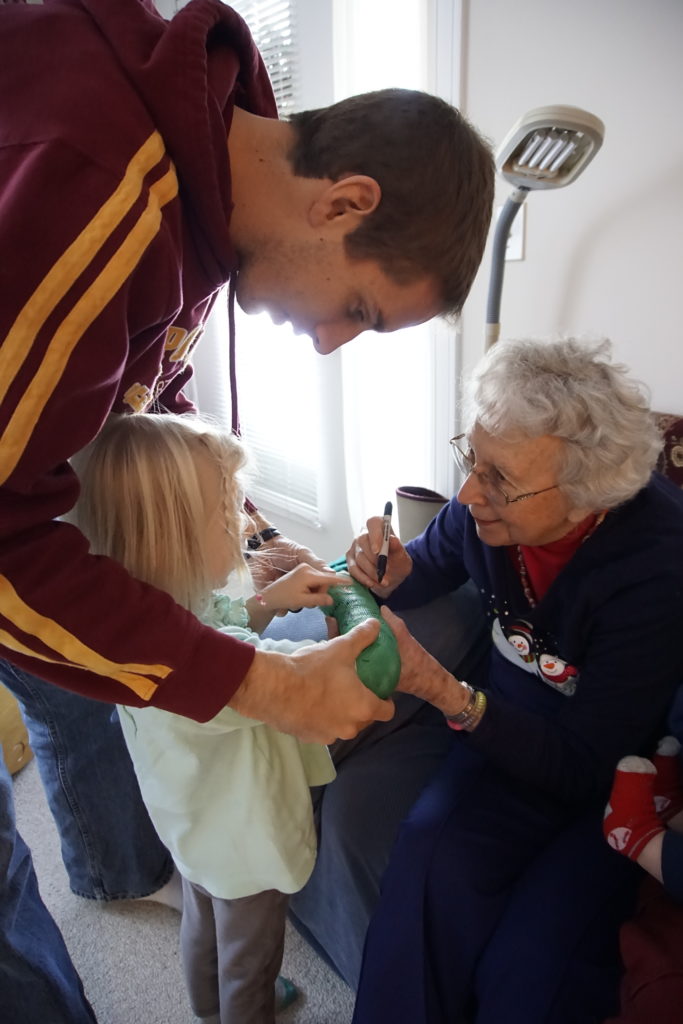 Four generations: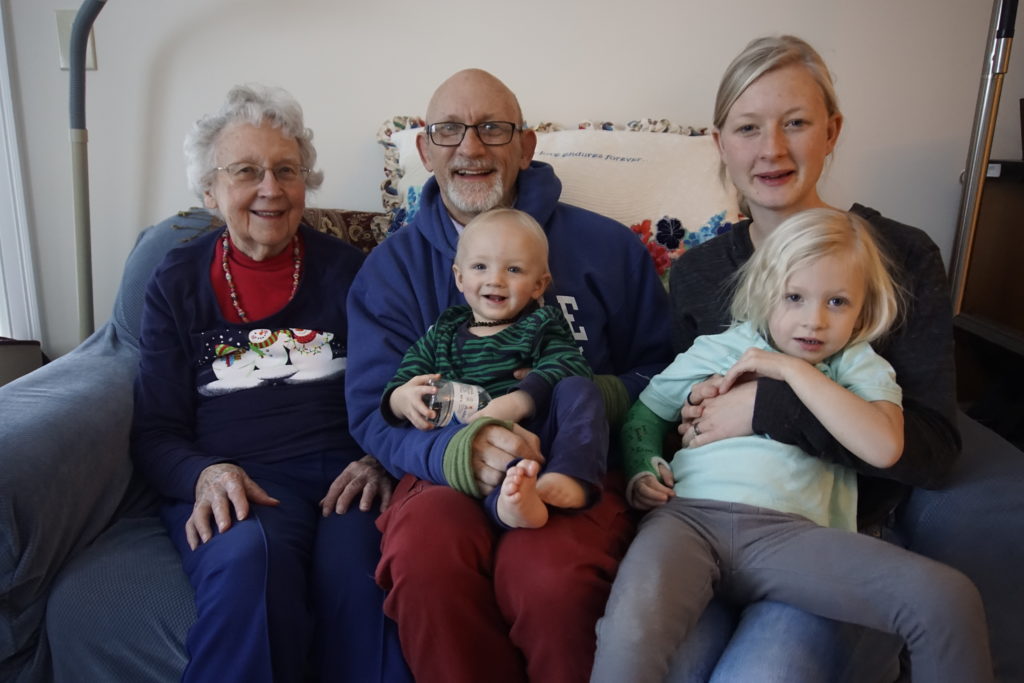 My Grandma took us all for a walk around her retirement village. She was SO PROUD of all her kids and grandkids and great-grandkids.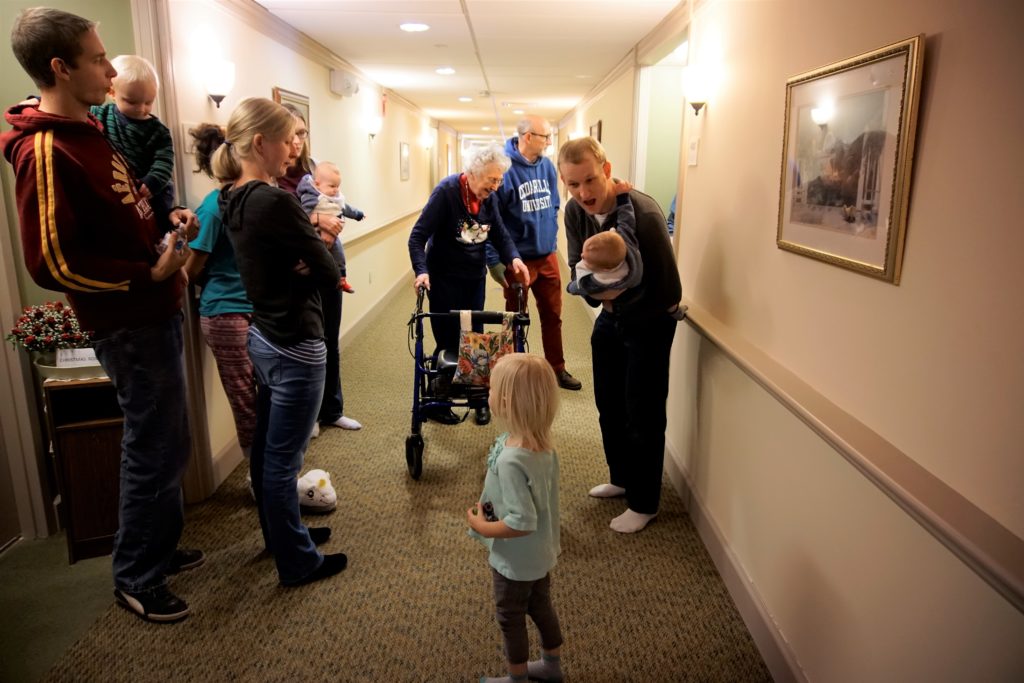 It was such a sweet and special visit and I'm SO GLAD we added the extra hours to our trip. So worth it.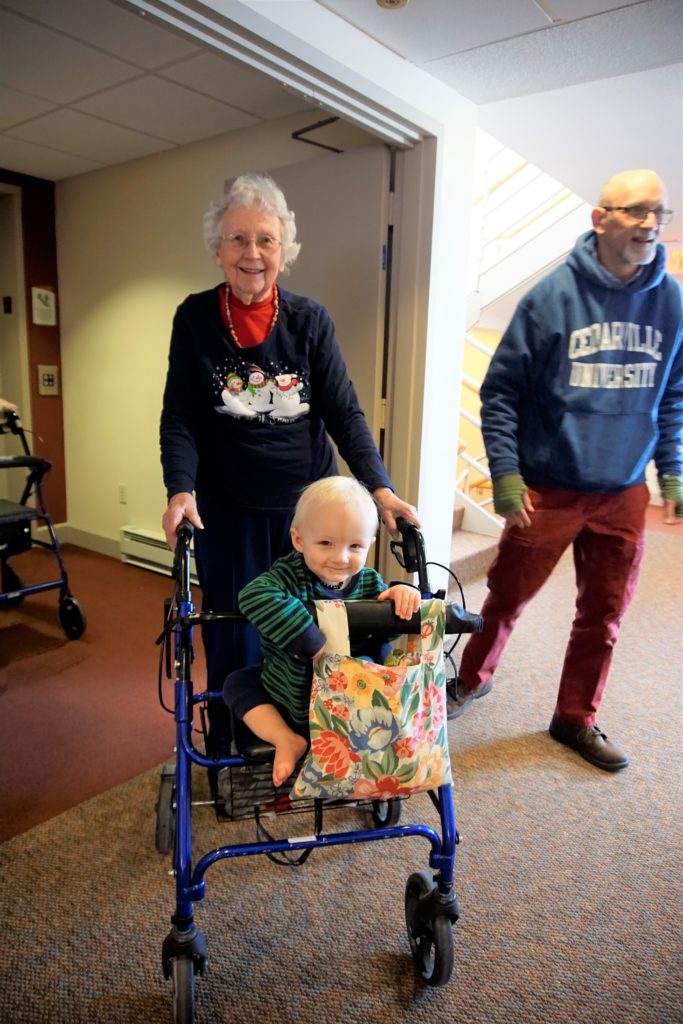 We headed over to my aunt and uncles house next so we could also see them and spend some time catching up with my cousins. We were only able to stay for a little over an hour and then we had to hit the road, but it was good catching up when we could!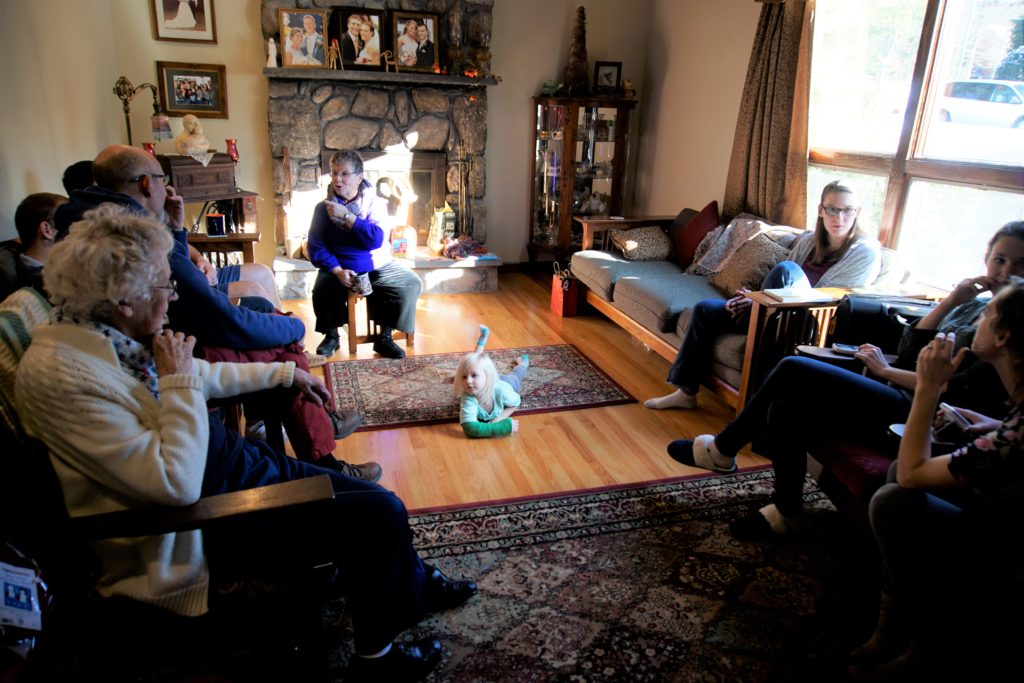 Our drive from Connecticut to Ohio was over 13 hours and we left CT after 3 pm. We drove until midnight and then crashed at an Airbnb in some Amish town in PA. We woke up early the next morning to finish the drive and then Theo had to go straight into a court date. After all that driving, his court date lasted exactly 4 minutes.
Still, it was a fabulous trip and we enjoyed it thoroughly.
I'm so grateful for the gift of Christmas.