Discipline.
The word itself sends shudders of dread into every parent.
Although I am known for being open, authentic and honest, having a conversation about our discipline strategies terrifies me.
We are all so different. We all parent differently, and each family has a unique range of ages, personalities and backgrounds.
Theo and I have always been fairly decent at conflict resolution. We have plenty of conflict, but we can resolve it within a day. But one of our biggest reoccurring conflicts is over how to discipline our children.
It's mostly a personality thing. I want to be kind and loving and helpful and smooth out any waves of conflict, while Theo wants to use tough love and make sure that the children in his household can learn important lessons and don't grow up to be like the people he arrests on a daily basis.
Throw in a foster child, who is practically a stranger, who has never had rules and expectations, and who has a background of trauma, abuse and neglect… and we have the perfect storm.
Most of the time, we have absolutely no idea what we are doing. We are so weak and we don't know how to proceed. Our hearts ache with the brokenness of this world and the brokenness of our children's hearts. We long to bring them closer to Christ and to discipline so that they can grow up to be functioning adults and understanders of the grace of God.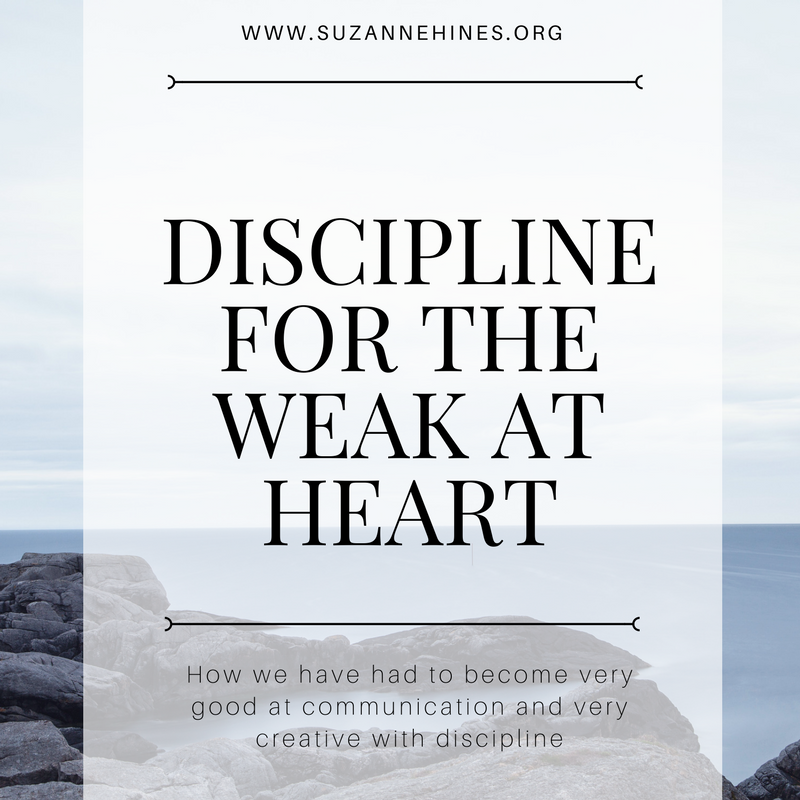 In the past 8 months since Heavenly has lived in our home, we have had to become very creative at discipline and very good at communication. 
First- communication. We need to communicate with ALL of our children what the expectations are, what the consequences are when they are not able to follow the rules, and why they are being disciplined. This may seem strange, but in our home, we have had to explain to all the children why one child is being disciplined. I know it sounds like a breach of privacy, but in this stage of trying to build trust with Heavenly, we have found it helpful that she sees that Tera is also held to high expectation and is disciplined when her behavior is unacceptable.
Of course, discipline looks very different for a 3 year old and an 11 year old, and this is where creativity has come into play!
We spank our younger children when it is necessary and in an appropriate way (I said it, you can take it or leave it), but we are not allowed to use corporal punishment on a foster child in any way. Besides, Heavenly is far too old to receive spankings from us!
The most effective strategy of discipline that we have found for an older child is taking away privileges. Screen time, friend time or even family outings have all been taken away as a form of discipline. We have also occasionally resorted to adding some extra chores to her workload. Of course, we are very keen on the punishment matching the crime. If the issue is lying or doing things that shouldn't be done with friends, the privilege taken away is time with friends. If she is disrespectful to me or mouths off or complains or doesn't obey me, she usually has to do one of my household chores.
But the discipline that really seems to hit home is when we are really creative.
A few weeks ago, Heavenly got in trouble for some less than stellar behavior. After a long discussion with her, she knew the punishment was coming. Instead, I asked her to pretend that she was a parent, or that one of her friends had done to her what she did to us. We sent her to her room and asked her to think of 10 ways she would discipline that person if she was the parent. The conversation and the entire situation itself was so difficult, she was so relieved to be allowed to get up and go to her room. She emerged a few minutes later with a list of 10 punishments- some far more harsh than I would have done, some just right and some far more lenient. From her list, we picked one and that was her punishment. This worked really well for us because she was able to take a lot of responsibility for the situation and it made it feel more like we were all working together to solve a character problem than to simply inflict consequences as parents.
Another thing happened at our family reunion a few months ago. Several adults came up to Theo or I to gently tell us that Heavenly was being rather aggressive/disrespectful to the adults. Talking back to Grandma, disobeying an Uncle, etc. At first, I was appalled and very embarrassed.
Over and over again that weekend, we kept telling Heavenly the same thing: "Respect your elders". "You need to respect your elders." "Show Grandpa the respect he deserves".
Finally, on day 3 of saying this multiple times all day long, something hit me like a ton of bricks.
She has no clue what we mean when we say "Respect your elders".
It makes as much sense to her as someone speaking to me in Mandarin Chinese.
What is respect? Who are her elders? And even beyond that…how do you respect someone who is your elder?
She has never had a male figure in her life who has played a permanent role of trustworthiness. NEVER. She has never, ever seen what it means to respect a male figure…because there hasn't been any permanent male figures (at least not ones who deserve much respect, IMO) in her life anyways.
When it finally dawned on me that I needed to stop telling her what to do, and instead show her how to do it.
We pulled her aside when there was a lull in activities, and had her do a little "homework". The homework included writing out the definitions for respect, disrespect and elder. She quickly copied down the definitions and yelled "DONE!"
Not quite.
The next step was to think of three ways to be respectful to our elders, and three ways that are disrespectful to our elders.
She sat. And thought. And thought.
And was completely stumped.
Completely.
At this point, Theo and I had gone out on the boat for tubing and Grandma stepped in with some ideas of how to be respectful and disrespectful. Each time Grandma listed a way to be respectful, her eyes got bigger and it clicked in her brain. She was immediately able to work on "respecting her elders" because now she understood what was expected of her.
That "punishment" didn't even feel like a punishment, and it was so much more effective than sending her to time out until she learned how to respect her elders.
Obviously, we are not perfect. In eight months of parenting Heavenly, I have two good examples to share. For each of these, there are at least four bad examples of things we have done.
I share this to maybe encourage another parent who is looking for creative discipline strategies, or who is right there in the trenches with us…trying to do a good job, but wondering on a daily basis if you are really succeeding.
As always, I'd love to hear any creative discipline strategies you have used or that your parents have used on you!