Oh, bonding.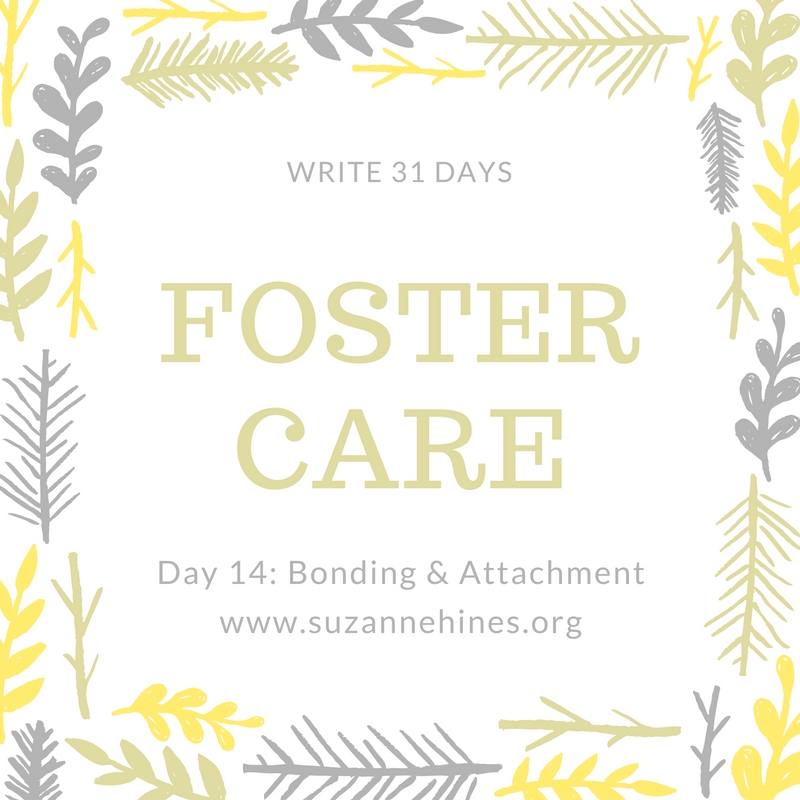 As a mother who has gone through both pregnancy and foster care, I can say without a doubt that bonding is one thing that was incredibly different.
When I found out I was pregnant with Tera, it was there. The bond. There was a person growing inside me. Some people bond amazingly with their child throughout pregnancy, and I didn't feel like I was one of those people. But I still had a ten month advantage on bonding with Tera compared to the two week's notice I have of Little Miss' life.
As soon as Tera arrived, we were parents. We were it. There was no one else to make decisions for us and there was no one else to take care of her if we just decided we didn't want to. In fact, there was no such thought in our minds.
When Little Miss came into our home, it took some time. When I first brought her home from the hospital, I took hardly any pictures of her…because I didn't feel like she was mine to take pictures of. I didn't breastfeed her and therefore it was a lot easier to pass her off to someone else for a bottle. Little Miss was a difficult baby and I always jumped at the chance to take a short break from holding her rigid, screaming body.
Don't get me wrong…we treated her just as we treated Tera. We fed her, cuddled her, held her close, sang to her, bathed her, loved her. But it took longer to bond with her.
If you are going into fostering, I highly recommend researching attachment parenting. If I could go back, this is one thing I would do differently with Little Miss. I wouldn't let anyone else feed her bottles, and I would be very careful to only hand her over to a limited amount of people who want to hold her. I would have done far more skin to skin (she didn't automatically get it from breastfeeding, remember). I would have done more research and let that girl cling to me like she needed.
I don't think Little Miss will have any detrimental effects from all these things I would've done differently. I just think that I learned a lot from the time that she was with us. Here are some of my top tips for bonding with your foster children  (my experience is with an infant, but I'm sure some of these would apply to older children as well):
Pray for and over them. There is nothing more bonding than bringing them before the throne of God frequently.
Skin to skin. If you have an infant, take a bath with them. Take off your shirt and let them nap on your chest. If you have an older child, you have to be careful…but physical contact is still incredibly important. Hugs. Back rubs. Even just a pat on the shoulder can go really, really far.
Consistency with limited contact. You now have a child in your home who does not know you at all. When you take them to your church, you might trust almost everyone that you come into contact with. You trust them enough to watch your kid, supervise your kid, hold your kid and feed them a bottle. But your foster child does not know this. This know that they were taken from their safe place (no matter what reason they were taken away, it's what they know and to them…it's safe.), and they haven't determined yet where a safe place is. Your job as foster parents is to show them that you are their safe place. This might take a few days, a few weeks or even months. Be wary of who you are handing your child over to, because it could cause you to go back days or weeks in the bonding department. I seriously recommend a period of time at the beginning where NO ONE else is allowed to hold your baby, and NO ONE else is allowed to be in charge of them. Yes, this even means saying no to respite while you are working through bonding.
Research adoptive attachment parenting. No, you might not be adopting the child. But each principle should come into effect in the same ways.
Of course, bonding is a hot topic in foster care. That's what makes it so painful to say goodbye to them, isn't it? That's what we are all afraid of, because in the end…that is what hurts. Yes, it's true. After bonding with a Little Miss for nine months I can without a doubt say that losing her hurts. However, it's so, so good. It's what the child needs more than anything else in their lives at that point. It's how they will learn to heal and cope and it's vital to their development. So, please…bond. You won't regret it. I promise.
Questions?
If you have any questions at all about foster care or adoption from foster care as I go through this series, please don't hesitate to ask. You can leave a comment or send an email. At the end of the series, I will have a Q&A day and will be answering any questions I receive throughout the month.
Previous posts:
Day 1: Introduction
Day 2: Meet the Hines
Day 3: Shop Feature: Karla Storey
Day 4: Why We Chose to Foster
Day 5: The Process
Day 6: The Cast of Characters
Day 7: The Paperwork
Day 8: The Goal is Reunification
Day 9: Reflections
Day 10: Shop Feature: Ransomed Cuffs
Day 11: The Placement
Day 12: The Daily Life
Day 13: The Extra's
Please share and interact!
As a blogger, it means SO much to me if you like, comment and share on these posts! You can share the whole series or just a particular blog post, but your support in that way means the world to me!
#Write31Days
You can find the official #Write31Days and all the other bloggers who are linking up by clicking here.