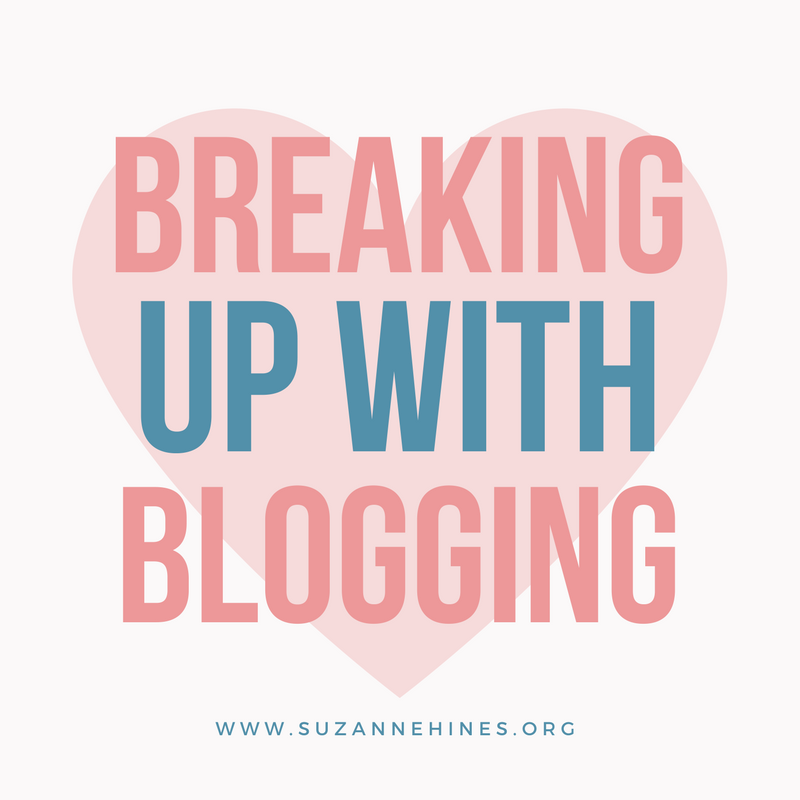 I can't do this anymore.
This blogging thing.
For two years I have tried to make something out of it. I've worked tirelessly for endless nap times and late nights.
I've joined Facebook groups and Instagram groups with other bloggers.
I've learned so much about this blogging world from these groups.
And honestly? I'm done with it.
Here is just a glimpse at what it looks like to put a blog post out there:
Come up with an idea
Pitch the idea to a company who will sponsor it
Write the idea
Create catchy, pinterest-worthy graphics
Publish blog post at the right time of day
Publish social media posts alongside the blog post, but all at different times because each social media performs better at different times of the day
Post in engagement groups in order to get more views. In return, like and comment on (at least) 15 other people's blog posts
Post in blog groups and ask beg for shares/views. In return, do the same for several other bloggers
Post on personal social media asking for shares/views
Is all that worth it?
Not for me.
I'm so burnt out from all this. I'm burnt out from contacting companies and hearing rejection after rejection.
I'm burnt out from reading and commenting on so many other bloggers, just in the hopes that one or two will come back to my site and leave a comment.
I'm burnt out looking at all my stats and telling myself that they just don't measure up.
I'm burnt out because I want to post a picture, but all the "rules" say it's not a good time of day.
I'm burnt out from focusing so much on making money. In the blogging community, it seems like if I don't make $$ from a post, it wasn't a good post.
So I'm done with this blogging thing.
Don't get me wrong. This blog is sticking around.
But I'm going back to the old ways of blogging, where blogging was a journal/scrapbook and people read it because they wanted to. I want my blogging routine to look a little more like this:
Come up with an idea
Write about said idea
Share it on my social media when and how I want to, and not worry about doing it wrong or not getting enough feedback
Wouldn't it be fabulous if I did this, and the people flocked to my site anyways? Yes, it would. Is that going to happen? Not likely. And I'm slowly learning to be ok with that. As much as this is a creative outlet for me, doing all the "right" things to get my blog out there is just burning me out and taking way too much time away from my family.
Do I still want to make a side income for my family? Yes. I'm desperate to try to contribute to our income, because God knows we need it. However, I'm not focusing on that as the primary goal for my blog. It's tiring and exhausting and I have absolutely no interest in doing sponsored posts.
Do I still want to gain followers and see my numbers go up? Of course I do. However, I'm not going to waste my time working to gain followers. If you want to read this blog, you are more than welcome to. If youdon't want to read it, that's fine, too.
I'm going back to just writing from the heart and posting whenever the heck I want. I refuse to worry about whether or not my lighting is correct and my pictures are perfect and my posting time is ideal. Do I need to work on those things? Yes, I do. I'm not going to be a lazy blogger. But I refuse to let those tiny, inconsequential details run my blogging life.
Here at The Glorious Mundane, you will get real life. You will get posts written from the heart. If I ever mention a product it's because I think it's fabulous, not because someone is paying me to do (I might be getting paid, but I will only mention it if I do truly love it!).
I recently read an article that said that blogging was a dying art. I had to disagree because it seems to me that everybody and their aunt has a blog nowadays. However, as I continued reading, I realized that she had a point: It seems that the majority of blogs are for bloggers (link ups, blogging tips, etc). Hmmmm. So, out of curiosity, I would love to know….
Are you a blogger or a non-blogger? Why do you stick around? You know I LOVE to hear from you all!
**WOW, you guys have been responding like crazy to this post!!! I just wanted to add one added clarification: I am NOT against the bloggers who are hustling and making money from their gig!!! In fact, I am SO thoroughly impressed by these ladies and I read and support a number of these blogs frequently!!
Save
Save
Save
Save