I know…it's the middle of January, but in a few years if I look back at 2018 and have monthly recaps, I will be so annoyed with myself for not having a December recap!
December was so good to us until the very last week. Then it was ROUGH. But the first few weeks were so special, full of advent and paternity leave and sweet baby cuddles. All the baby cuddles.
We started out our month by FINALLY attending a Home Depot workshop for kids. It's on the first Saturday of every month and it's FREE! It's also best suited for kids who are older than mine. Lol. Basically, Theo created the projects while the kids watched.
Ezra also had his first bath! Yes, he was born in November and he didn't have a bath until December. #thirdchildproblems
I mean…just look at that CHUNK!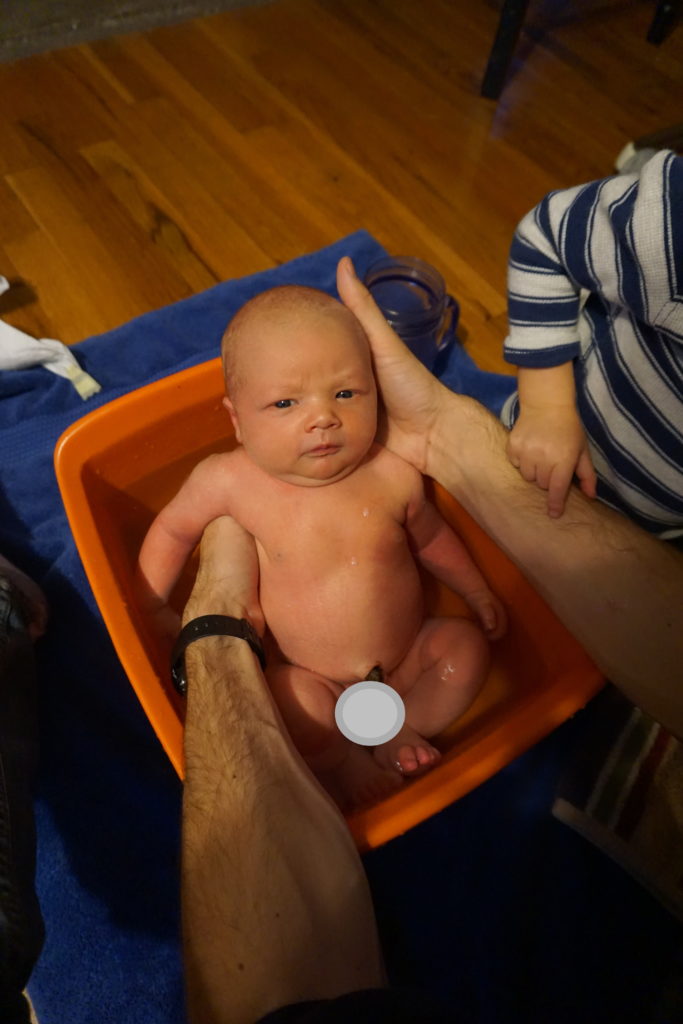 I'm not a huge fan of the crazy hustle and bustle of Christmas time. I have a hard time with the materialism and buying more and more stuff. But this right here? This cozy, warm scene? I LOVE it.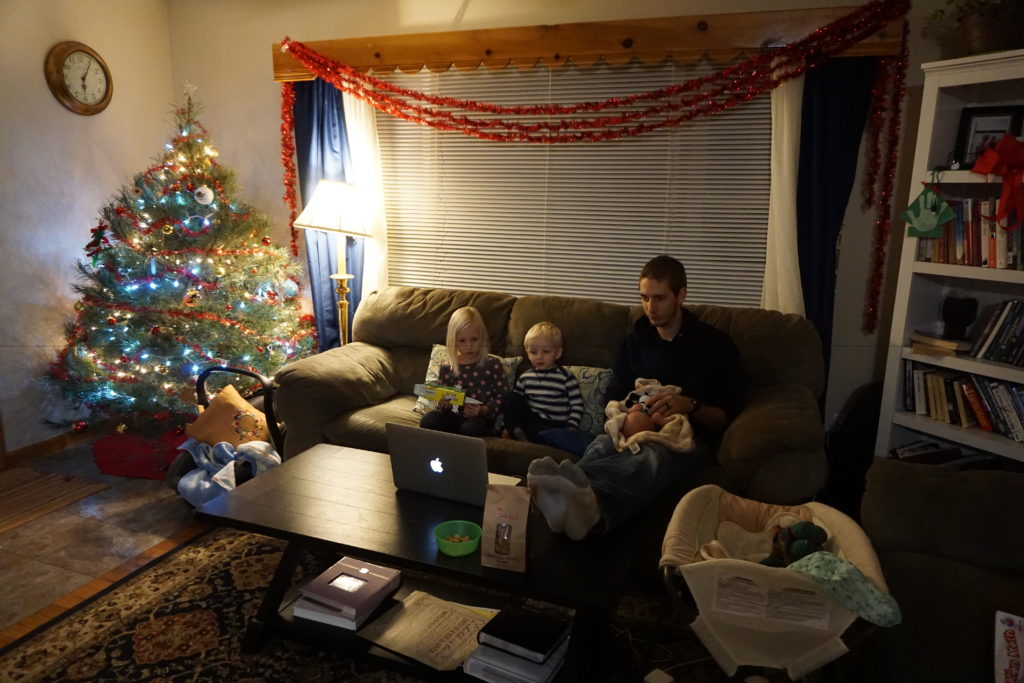 Me and my girl. She quit napping long ago. Four has been the hardest year yet, but it's also so fun to see her personality bloom!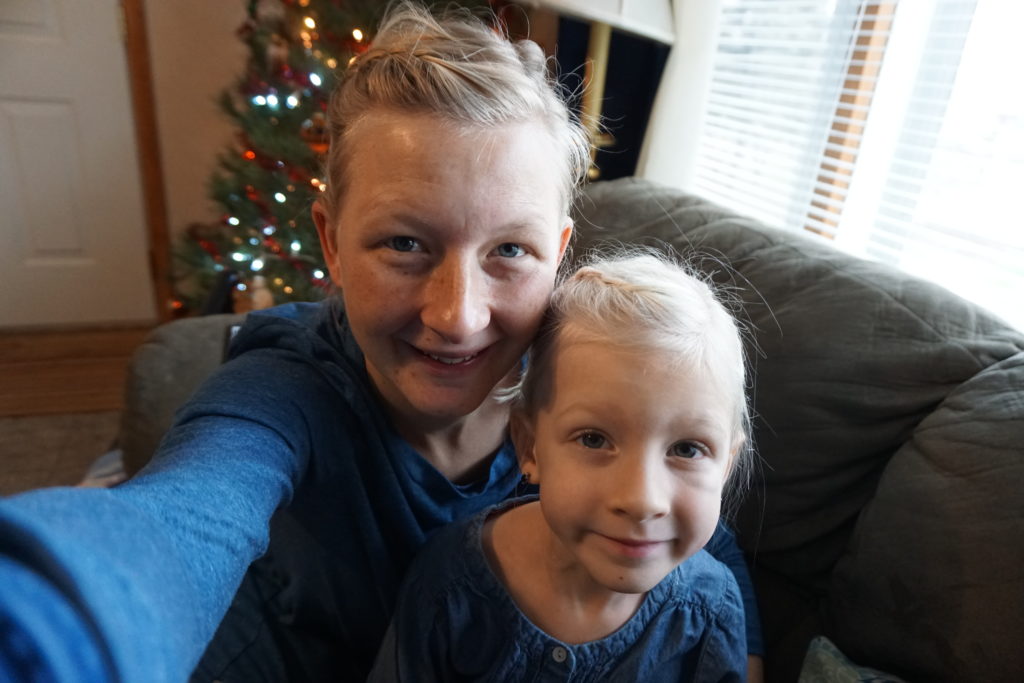 So many baby snuggles. And I'm not mad about it.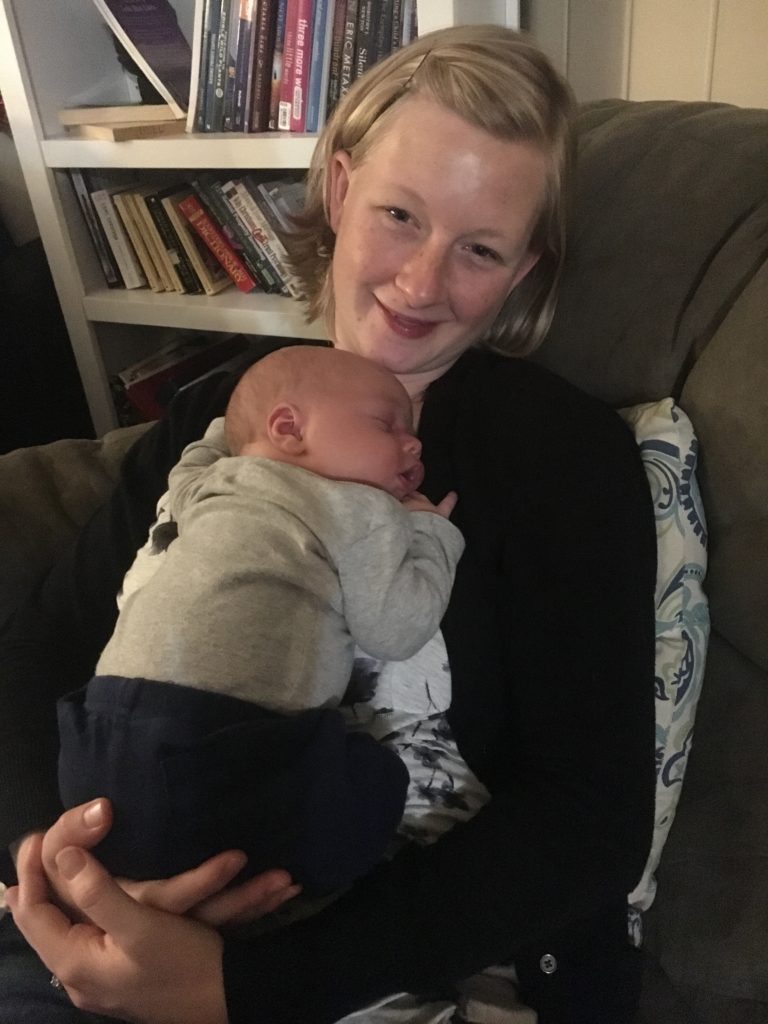 Ezra's 2 week check up. 90%. 89%. 97%.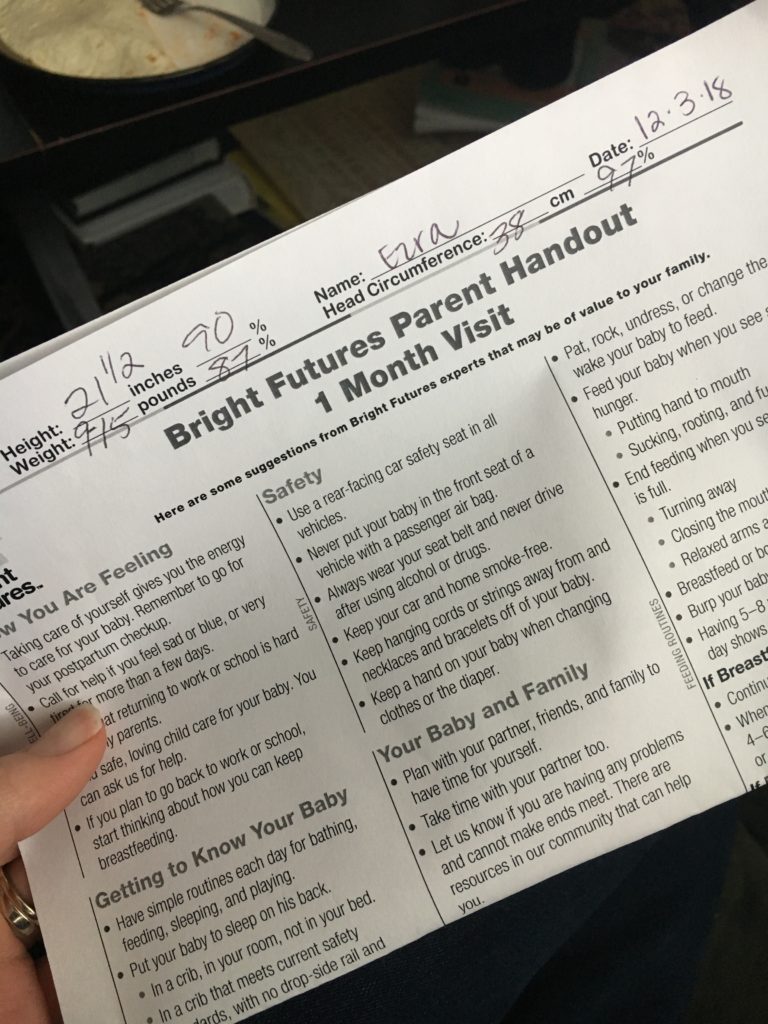 Our sweet Heavenly and her foster Mama came over for a visit!!! She was in heaven! We miss this girl something fierce, but I cry so many tears of gratitude to see the place she is now in.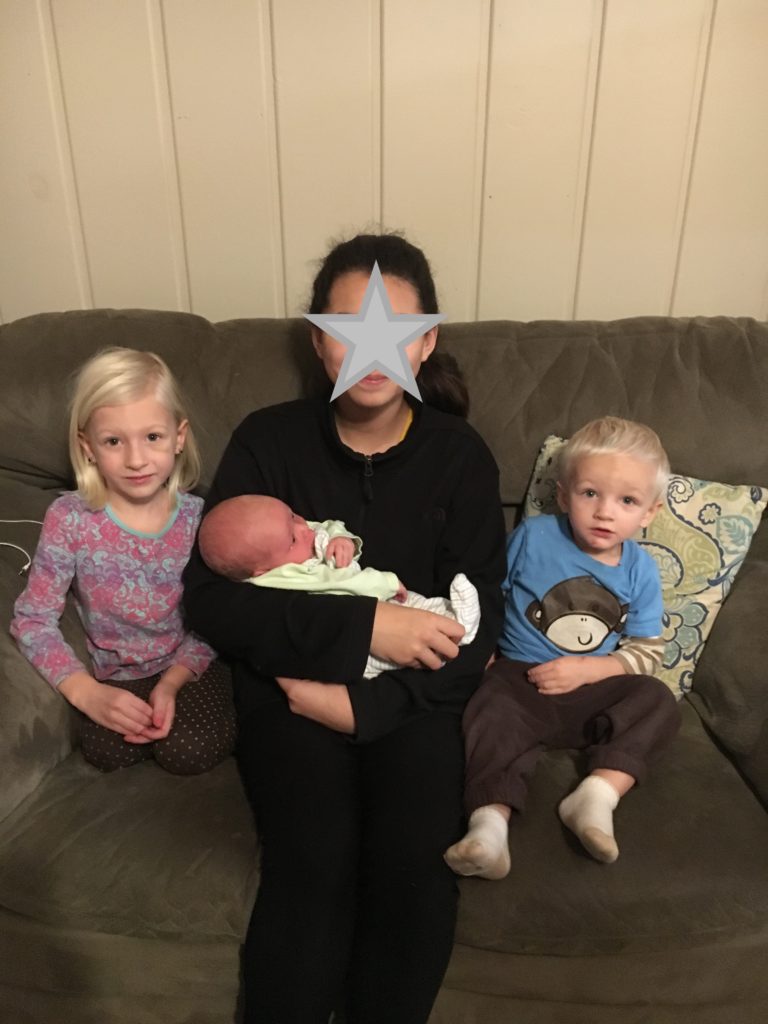 We kicked off advent with a candlelit dinner! Tera LOVED it. LOVED IT. She has been asking for candlelit dinners almost every night since. Theo hated it. HATED IT. hahahahaha.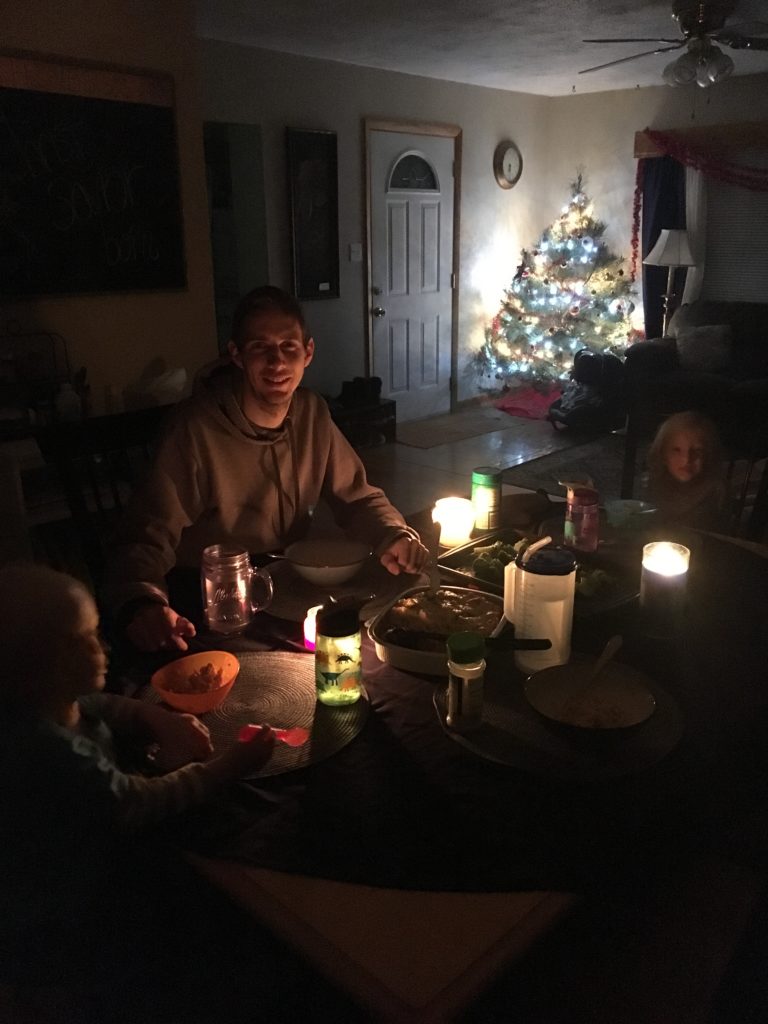 The baby gift from my in-laws was this glider! We've already clocked lots of hours nursing and snuggling. Obviously, Ezra was not into the photo opp. He just wanted to eat already!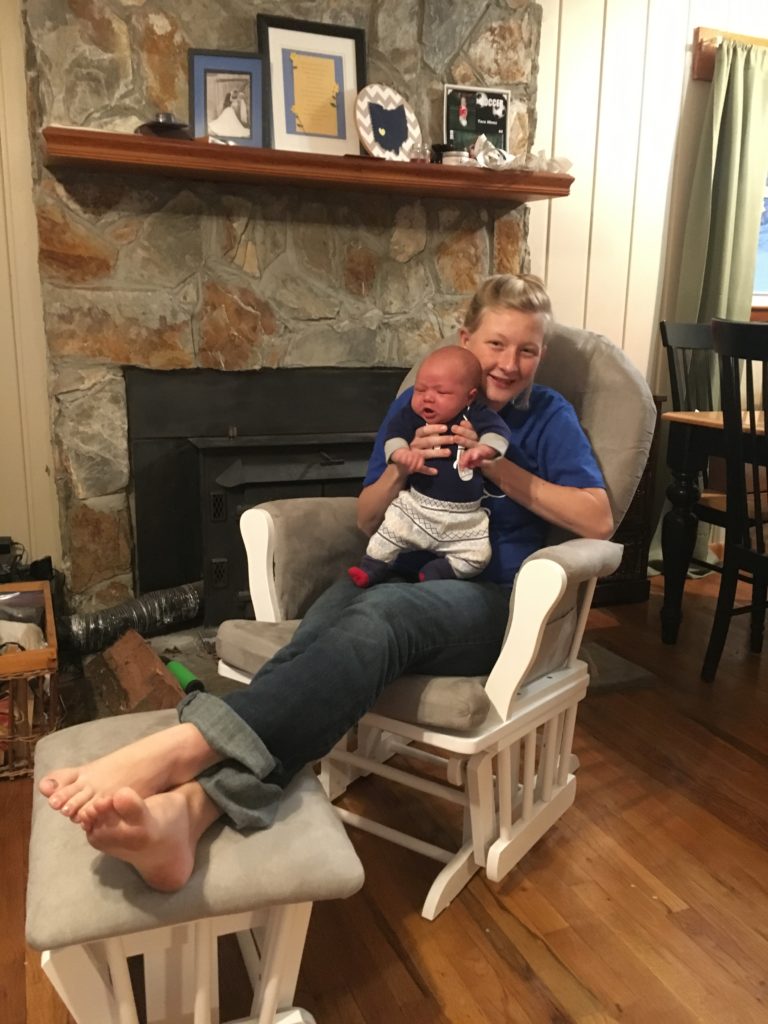 We baked cookies. I let the kids decorate them…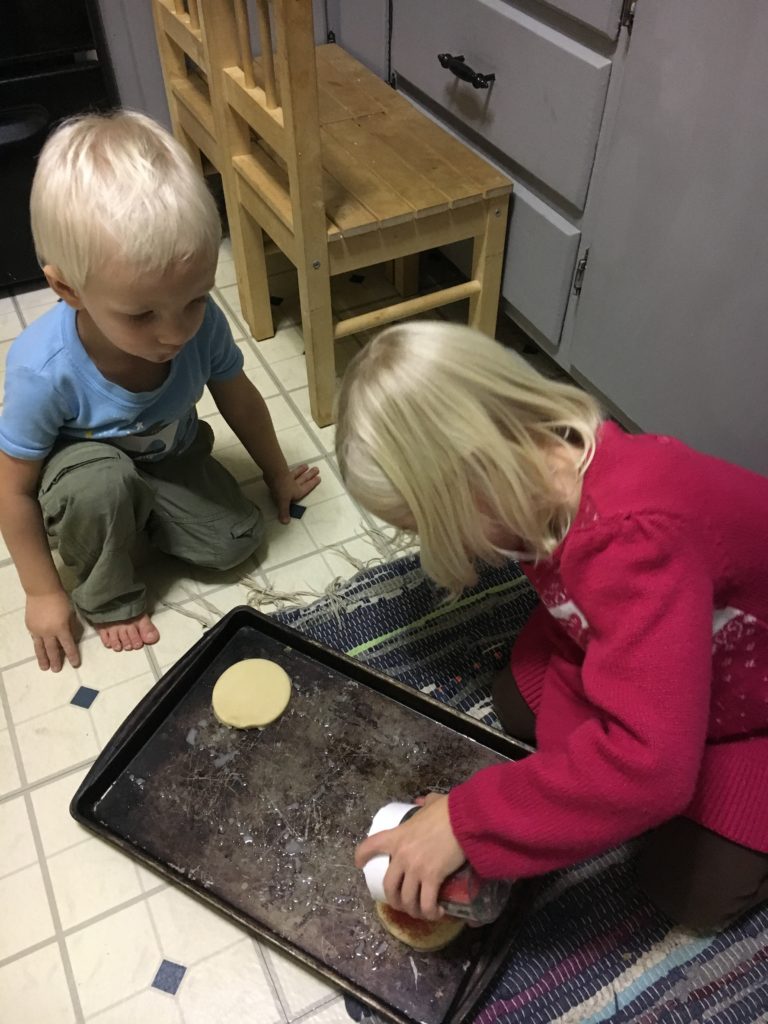 It was VERY, VERY hard to relinquish control and let it go.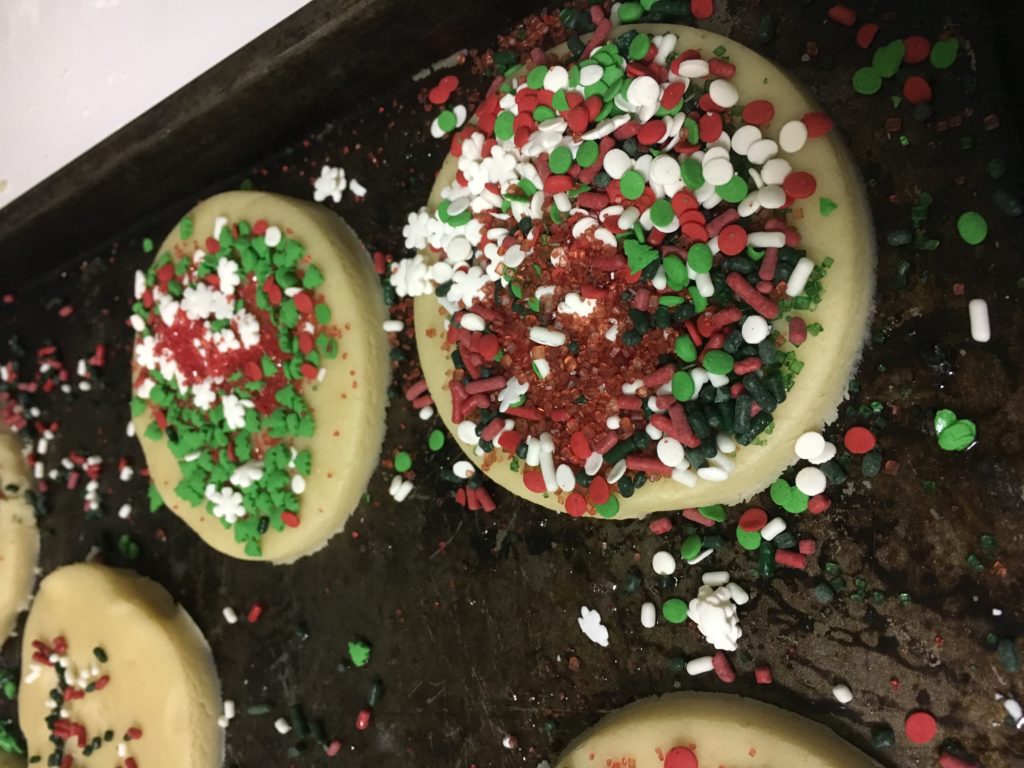 The older kids have been mostly not interested in Ezra. But every once in awhile, they really want to hold him or kiss him or love on him. It's my favorite.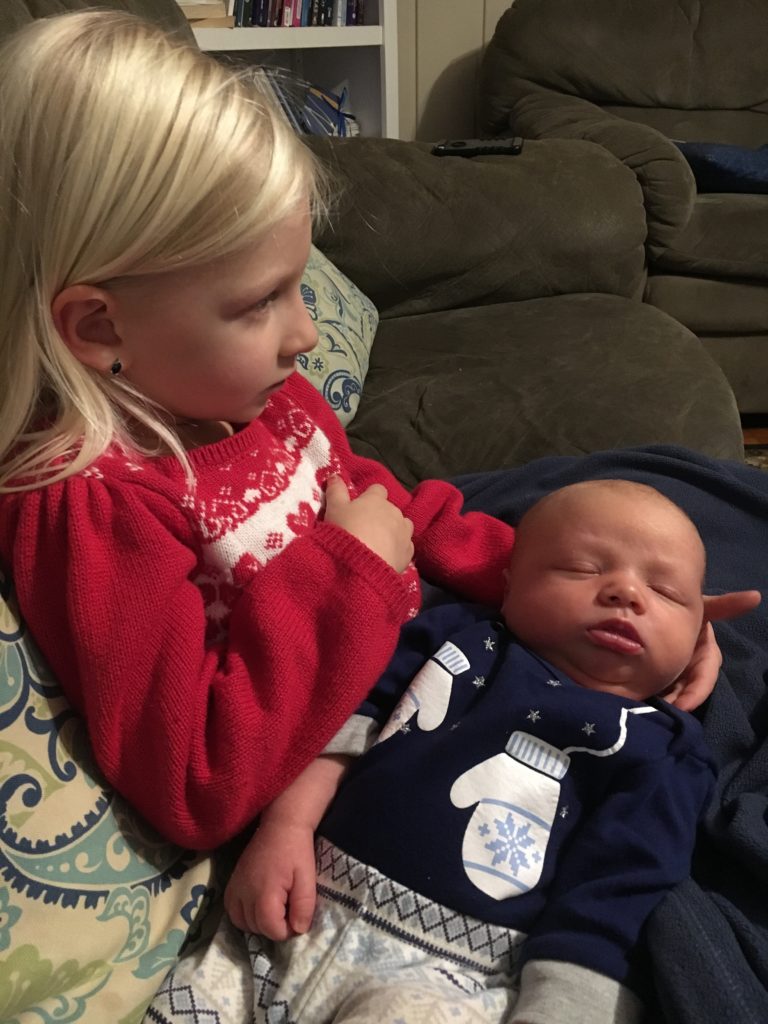 When Daddy dresses the baby…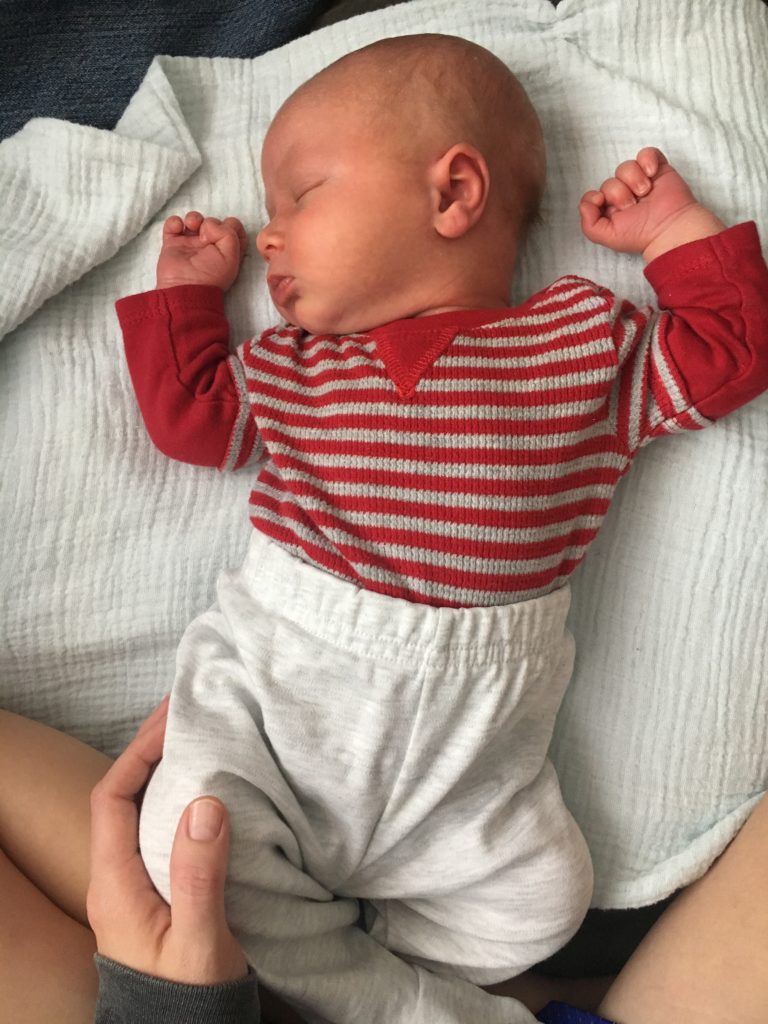 We made some handprint cards to send to the great-grandparents. I am NOT a crafty Mom, but the kids had fun.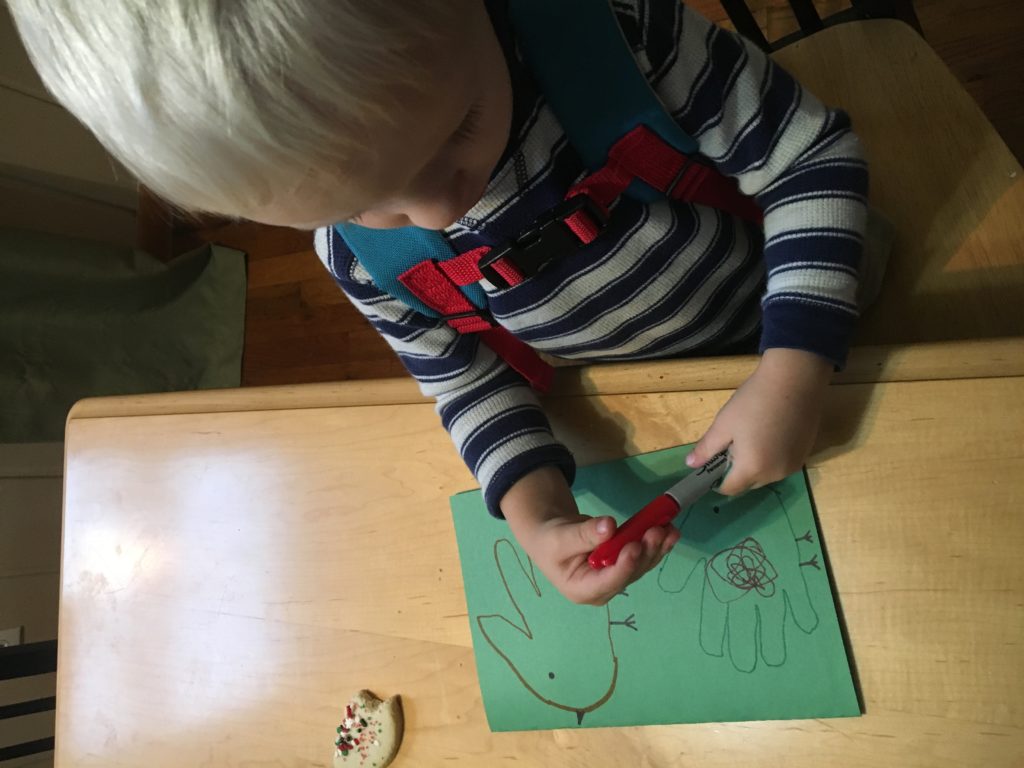 We soaked up Theo's paternity leave…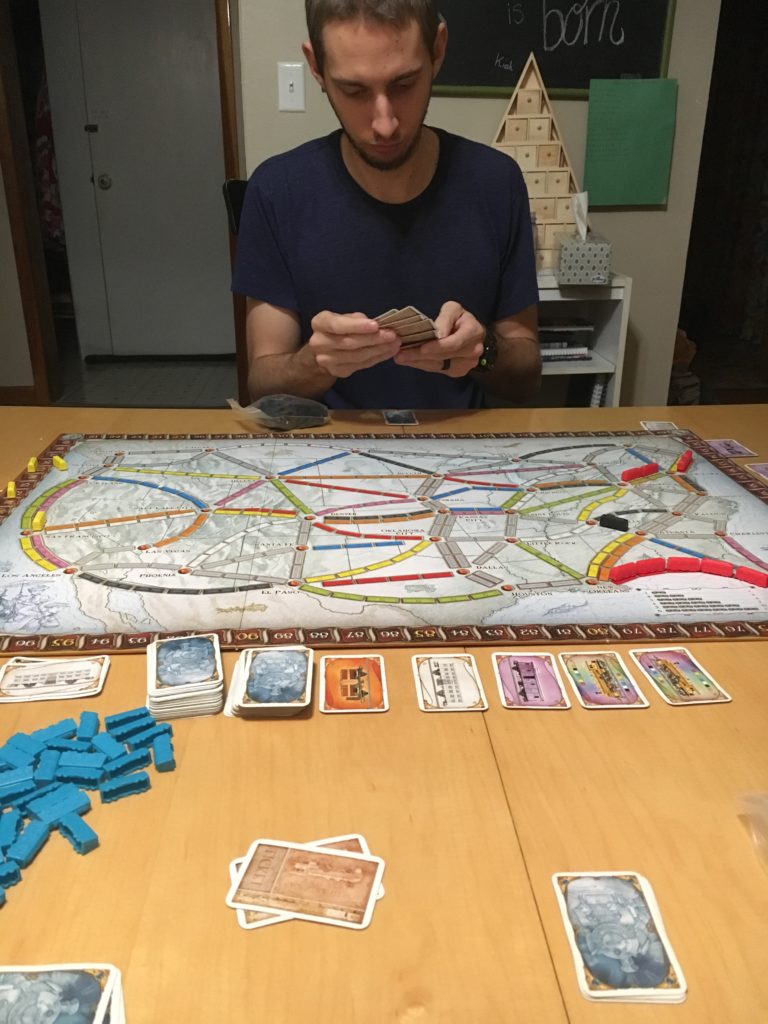 And began adjusting to life with three. This picture sums it up. Tera and Kiah are thick as thieves, and Ezra is just chilling.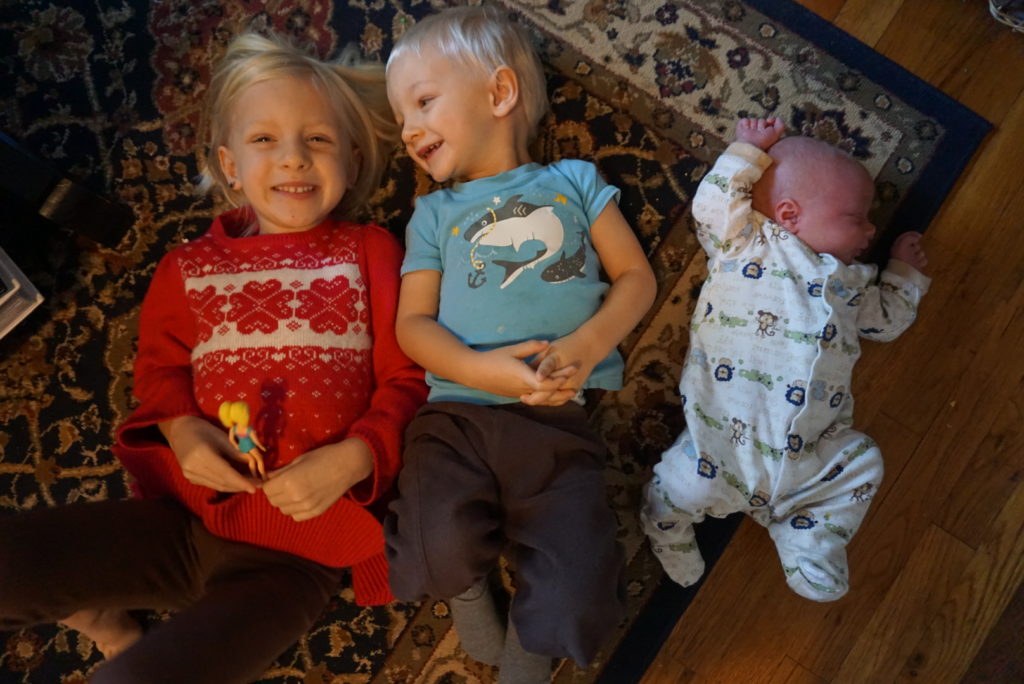 Brothers. I have the feeling it won't be too long before they are wearing the same size clothes!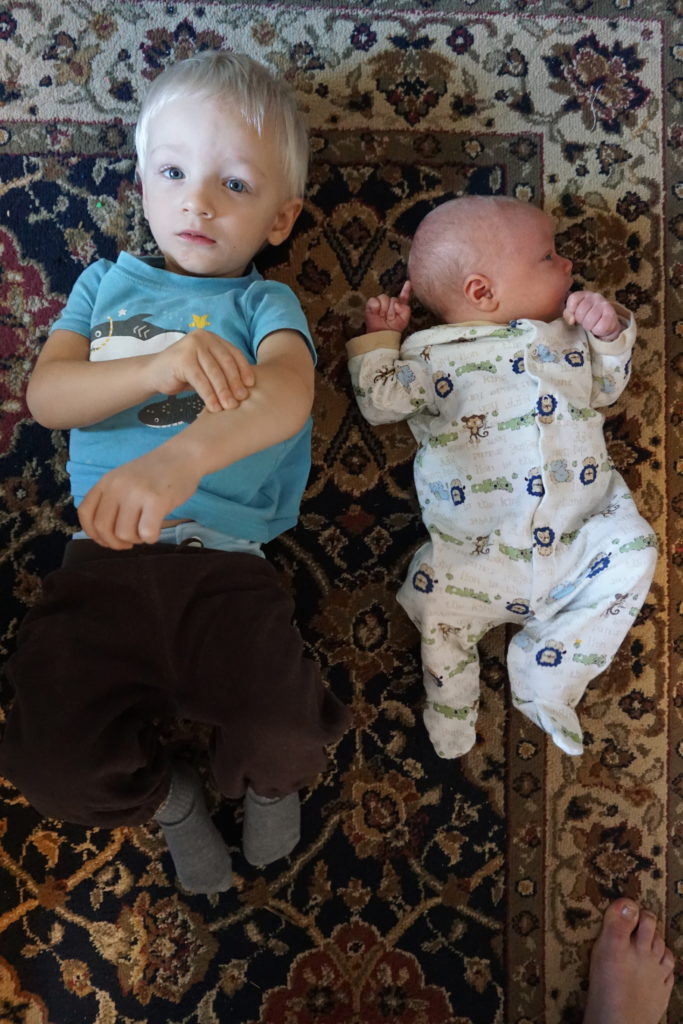 Kiah ADORES Ezra. He has had zero problems with transitioning to being the middle child and not the baby.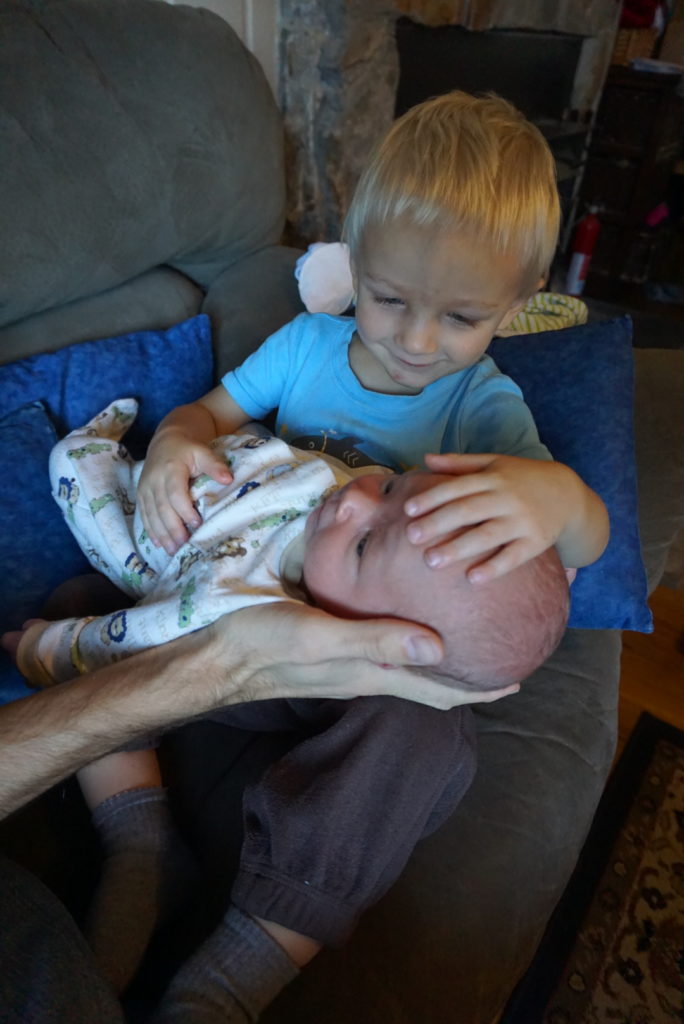 Tera has always been an excellent big sister. She is getting so grown up. I can't believe she was the tiny baby just 4.5 years ago.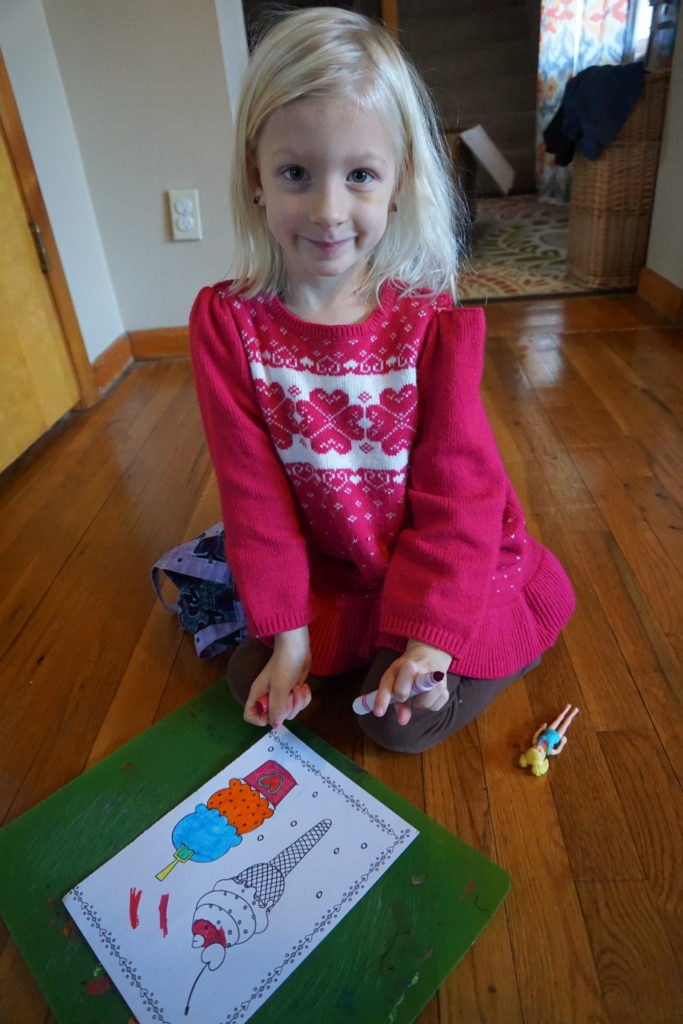 I'm constantly SO IMPRESSED with how Theo is as a Father. Not that I didn't expect him to be a great Dad. But, man…he is a fabulous Dad.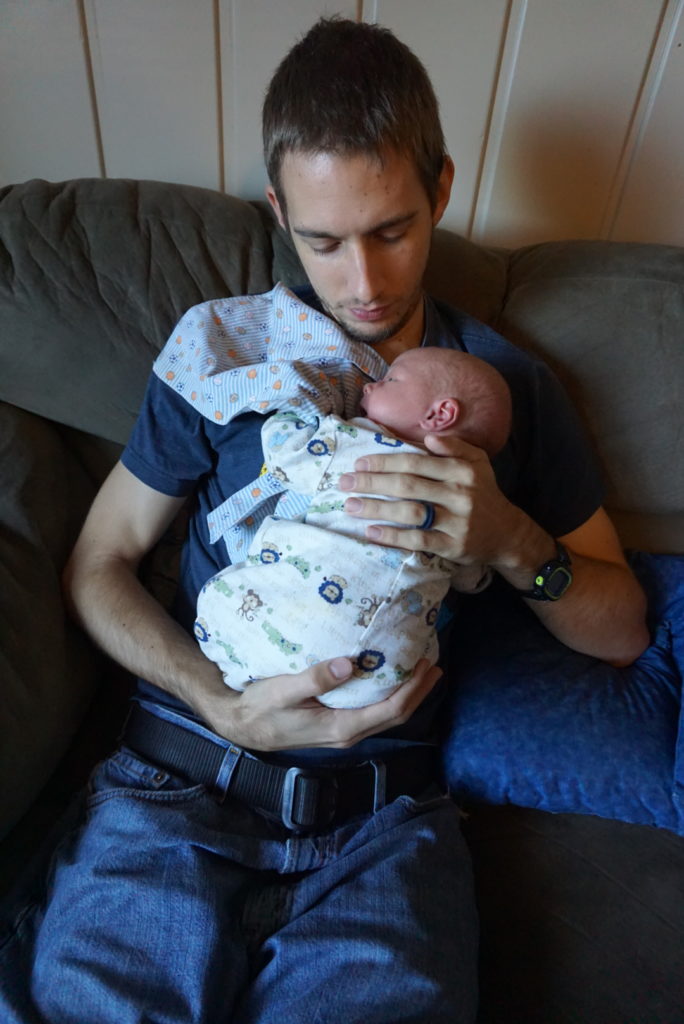 My friend Christine and I had our baby boys just two days apart! And although Ezra was an impressive 9lb3oz, Adam had him beat at 10pds3oz!! (and, yes…I am aware that a piece of my carrier is missing. Trust me…getting out of the house with three kids and church stuff is impressive enough, without having to remember extra pieces of a baby carrier).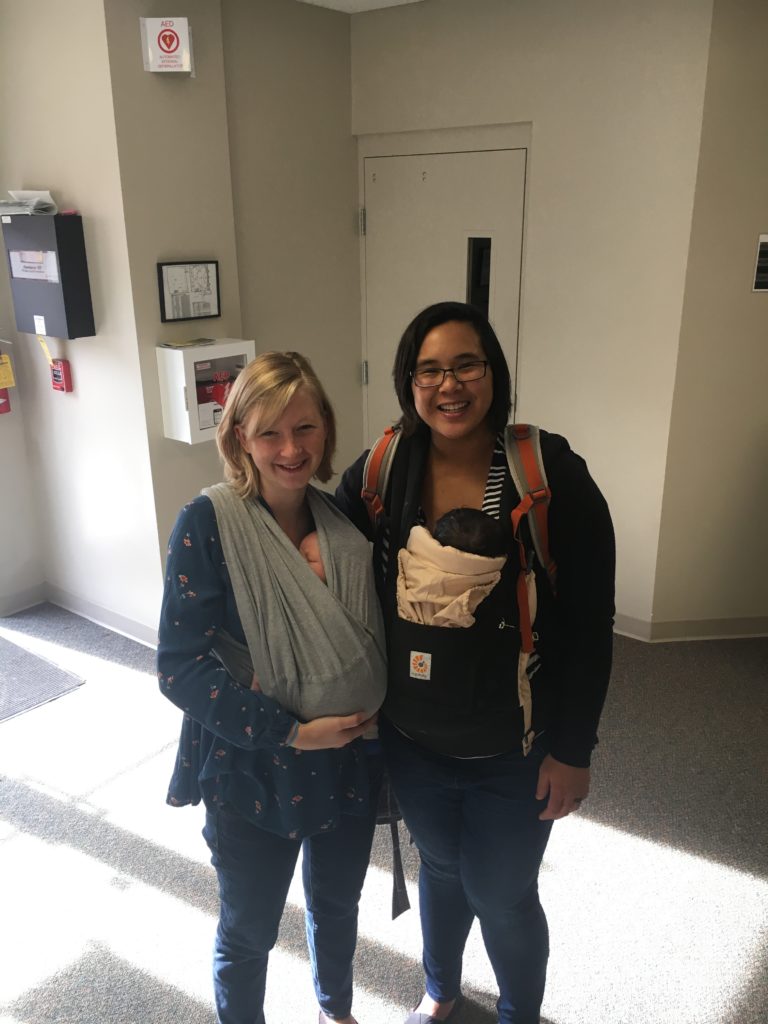 Probably one of my favorite pictures!!!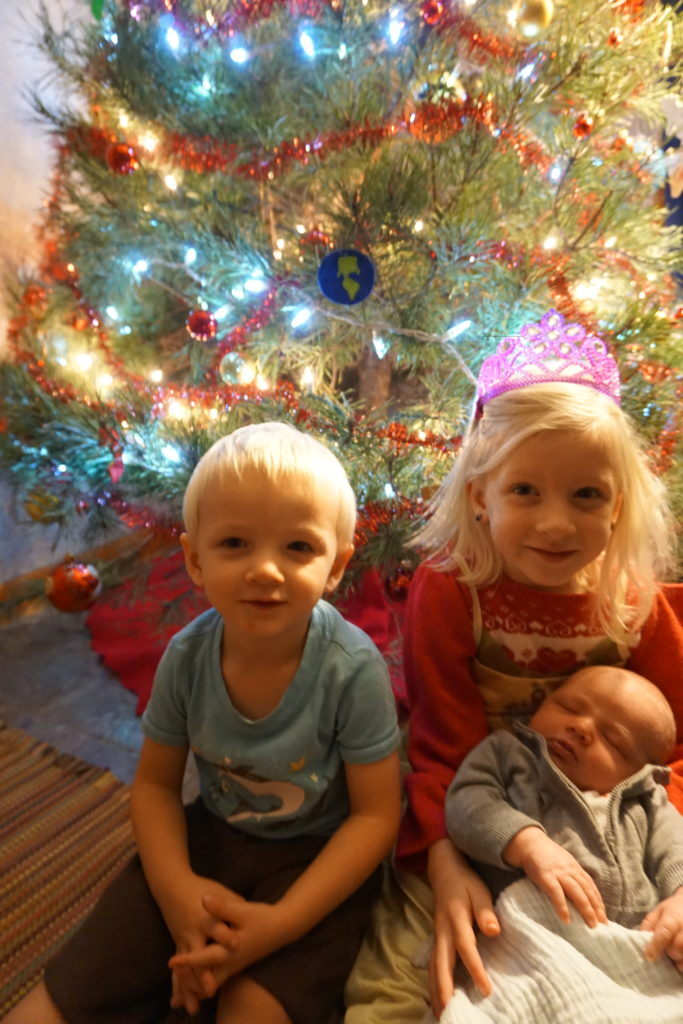 But I didn't get it without lots of pictures that look like this…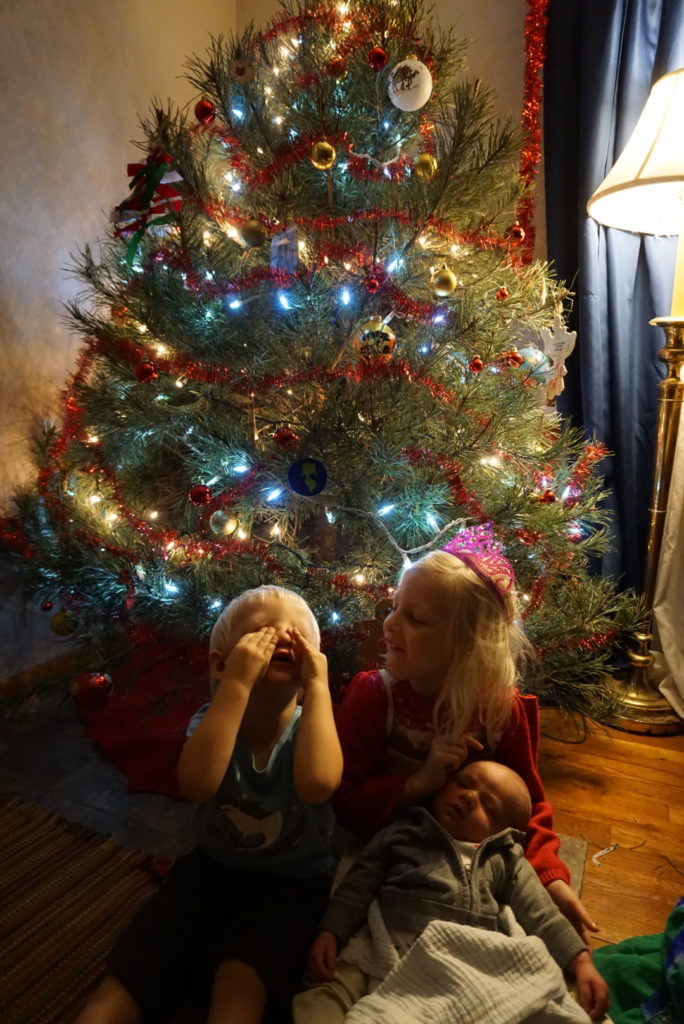 The kids were starting to go a little stir crazy and we were running out of ideas on how to entertain them…enter science experiments!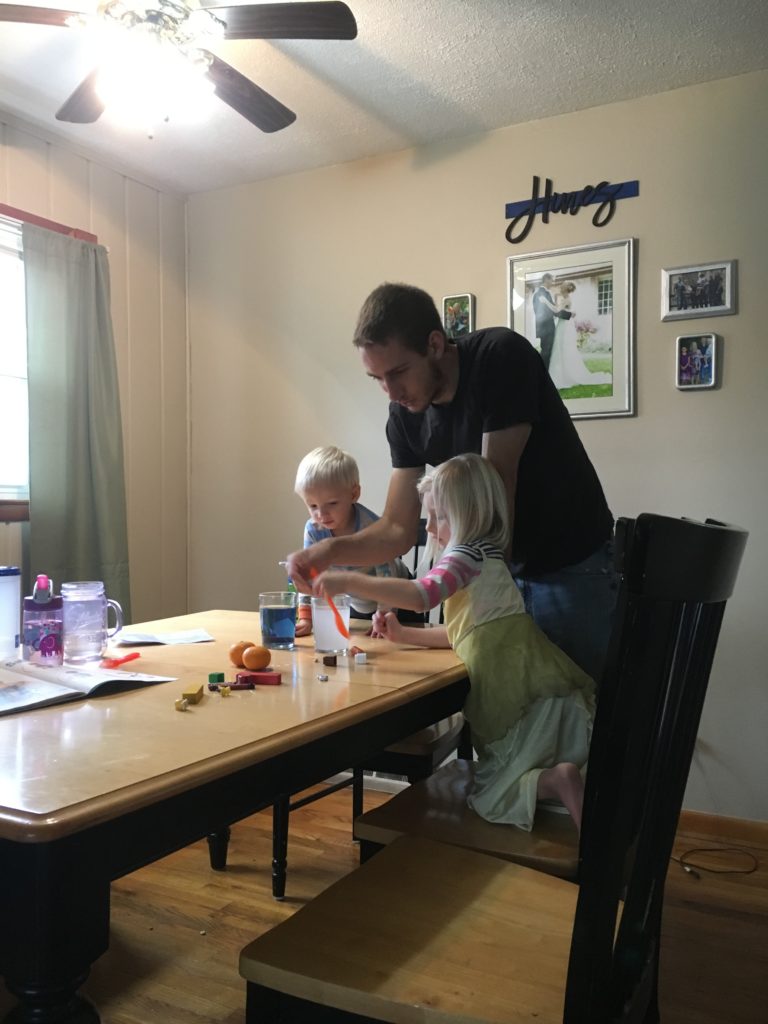 The December weather was decent enough to take a few walks to the park! I still haven't figured out how to get all three kids to the park by myself. I will have to find just the right combo of baby wearing/pushing/pulling and letting my kids be independent!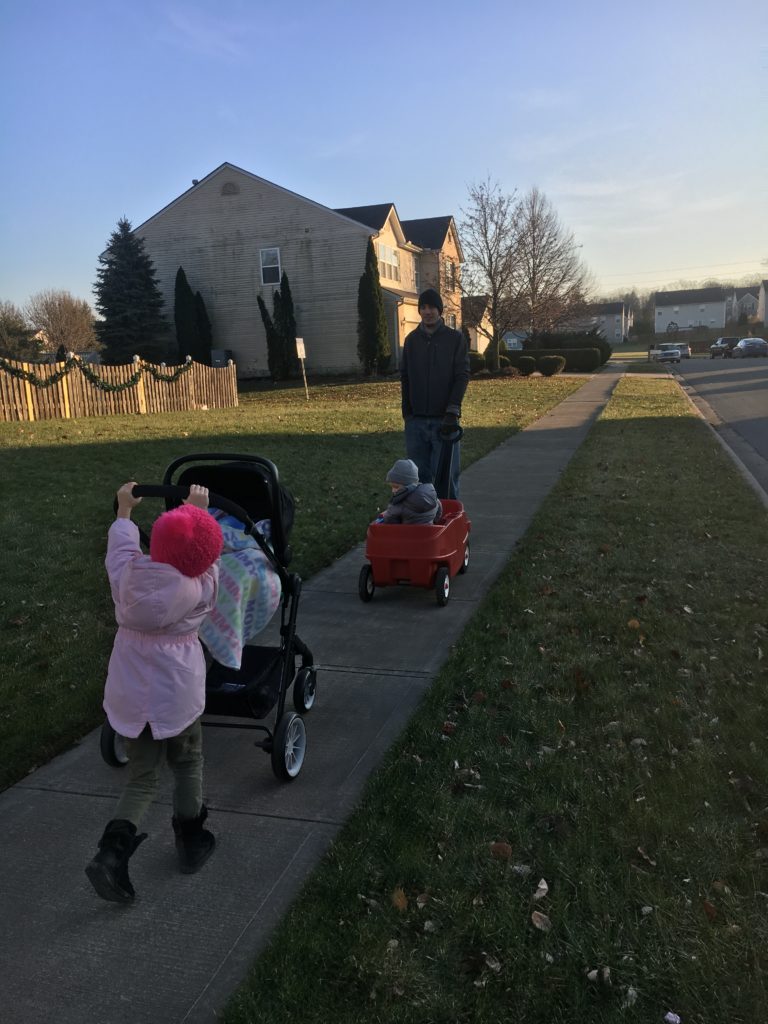 We read some Christmas books by the fire…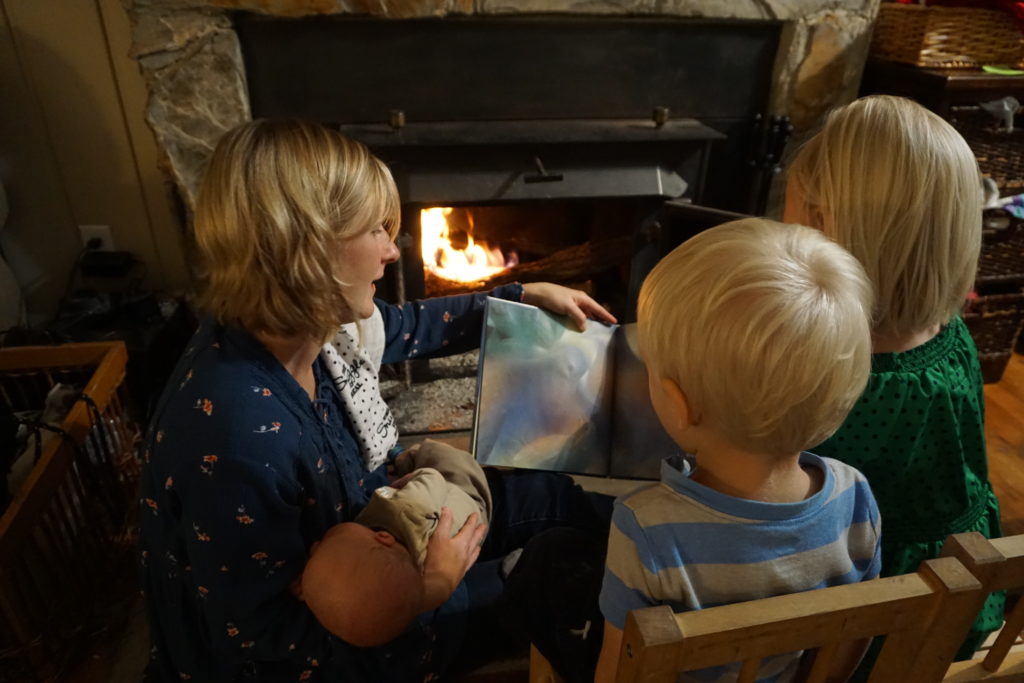 And Theo made me this! I love seeing how our family has changed over the years.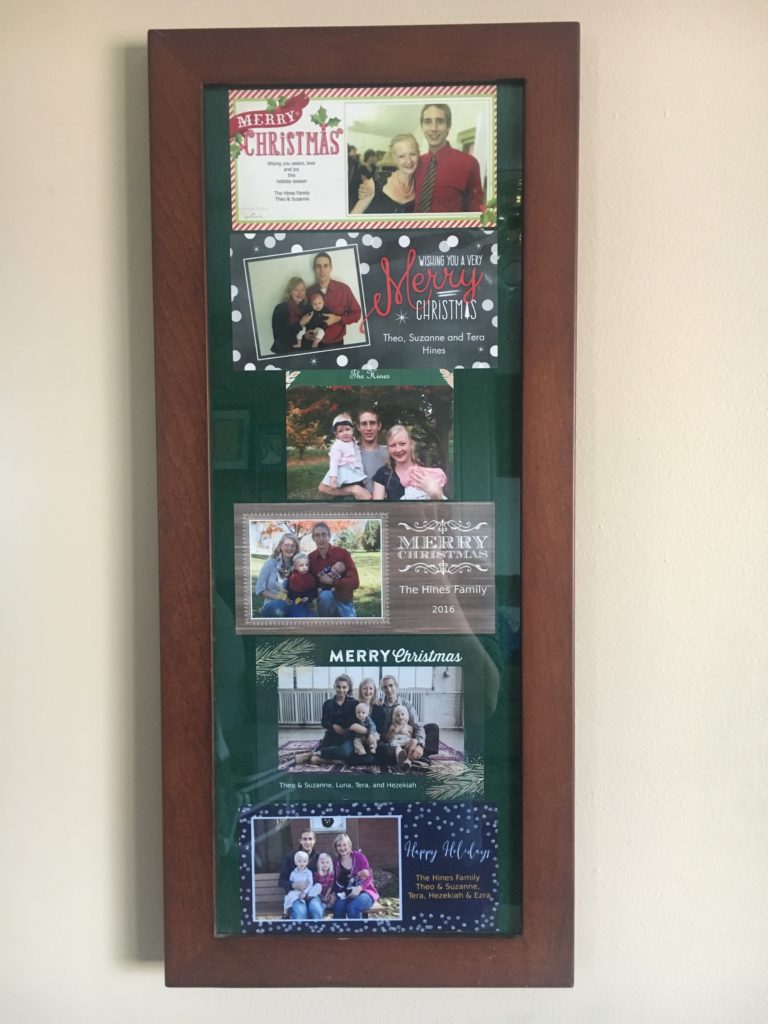 I also got out on a Mom's night out with some ladies from the Dayton Mom's Blog!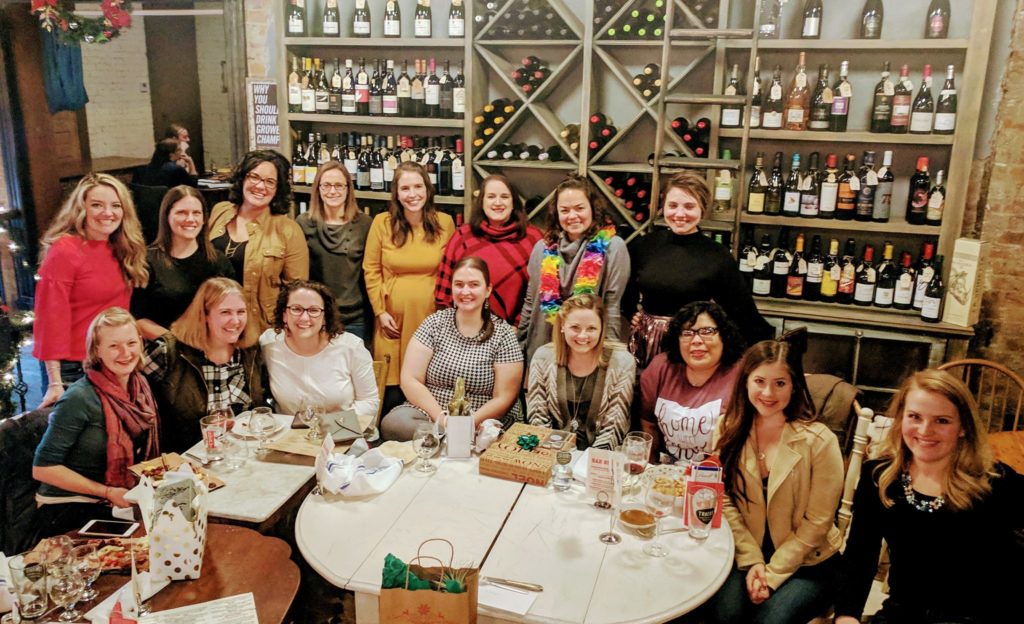 Tera and I did some super laid back preschool during December. She loved this day that we made the nativity out of play dough.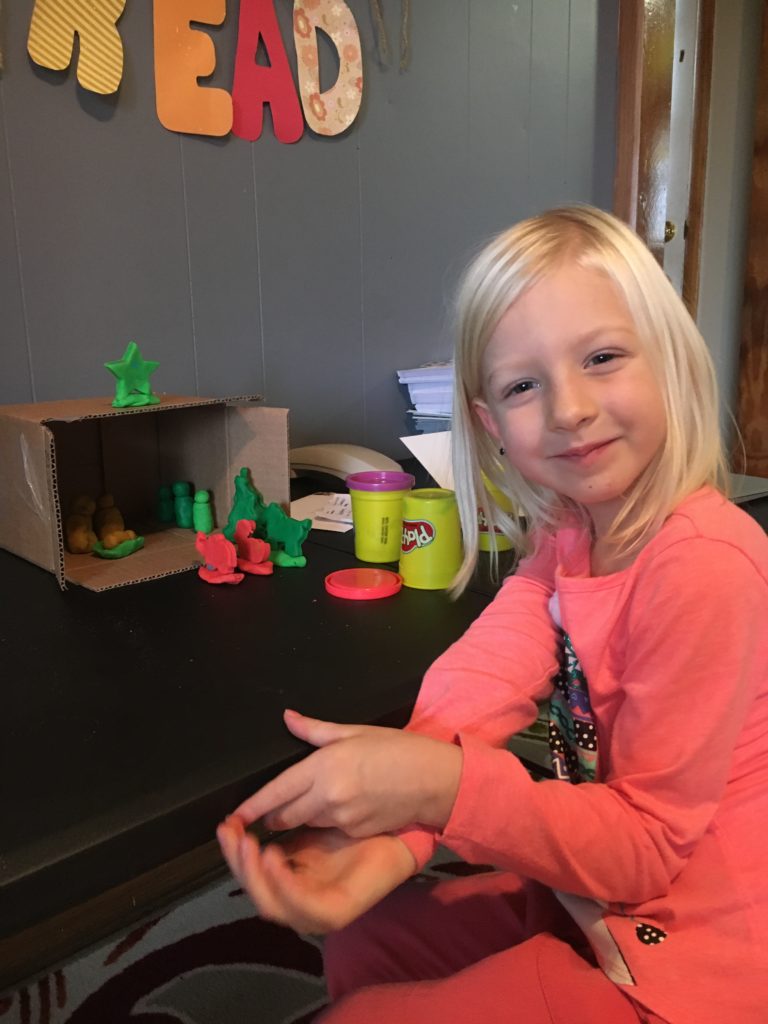 Did I mention that we had lots of baby snuggles? Because we did.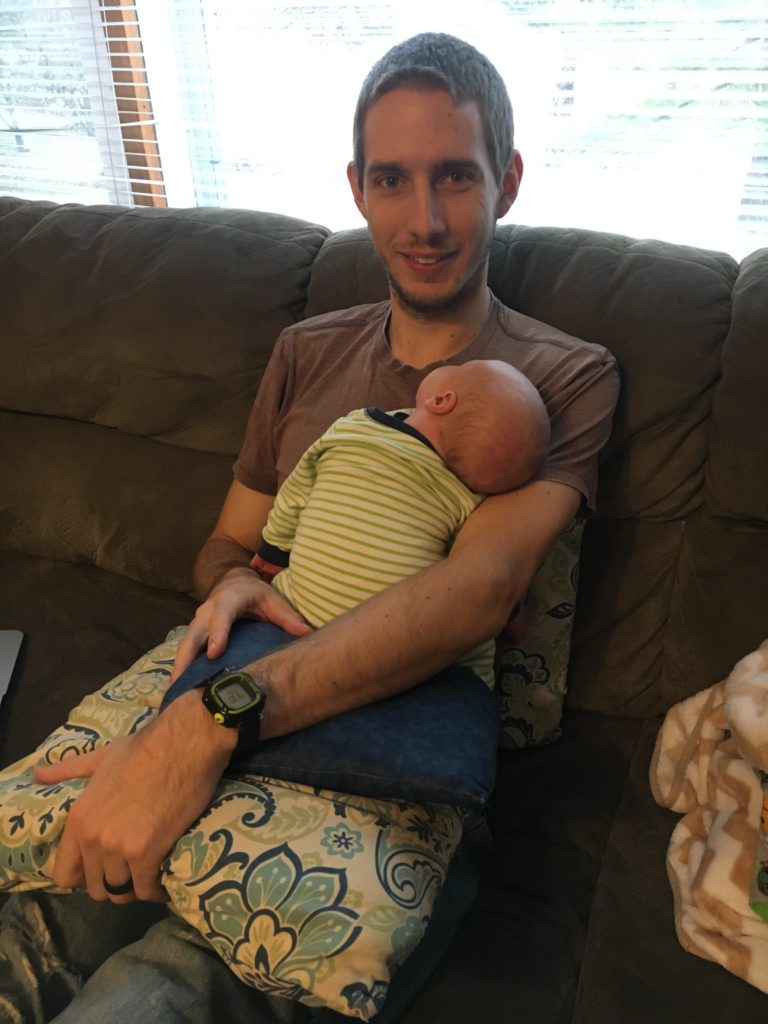 We wrapped some presents! Tera of course wanted to help. Which was, again…hard for me to relinquish control. But it was worth it to see her joy in helping me wrap up presents!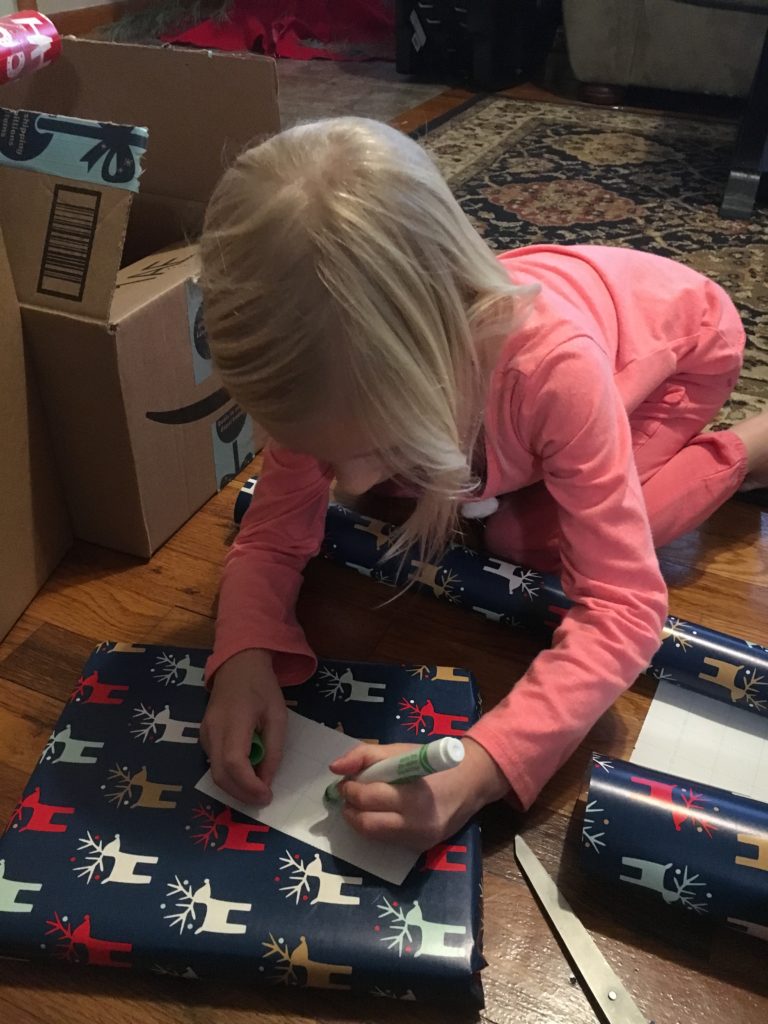 I even had her write most of the labels. This is for my brother Dan. The sweetest!!!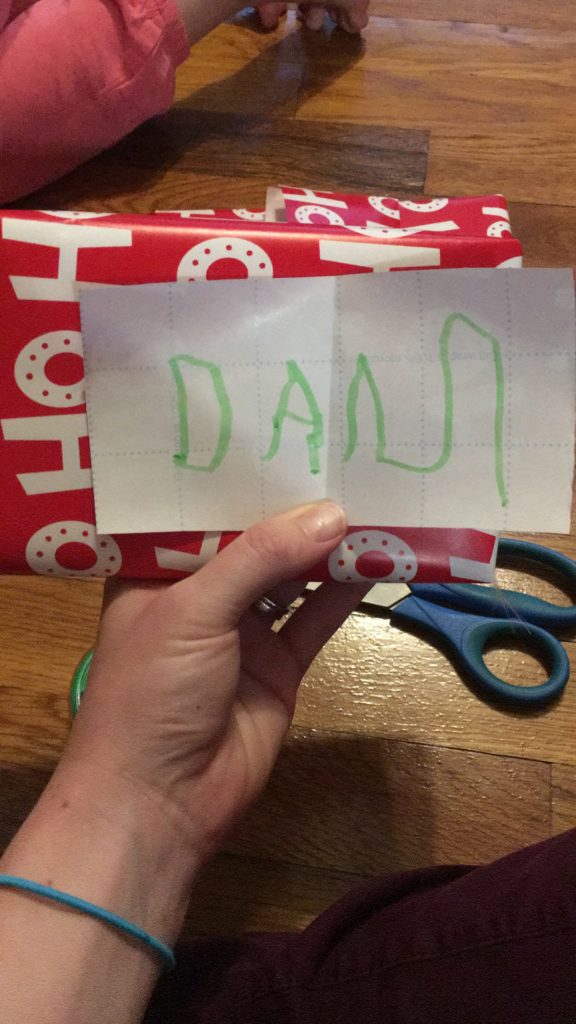 After Kiah goes down for a nap, Tera and I do a read-aloud where I read a chapter book to her. Ezra has started to join us. I'm not sure which Tera loves more…the book or the baby!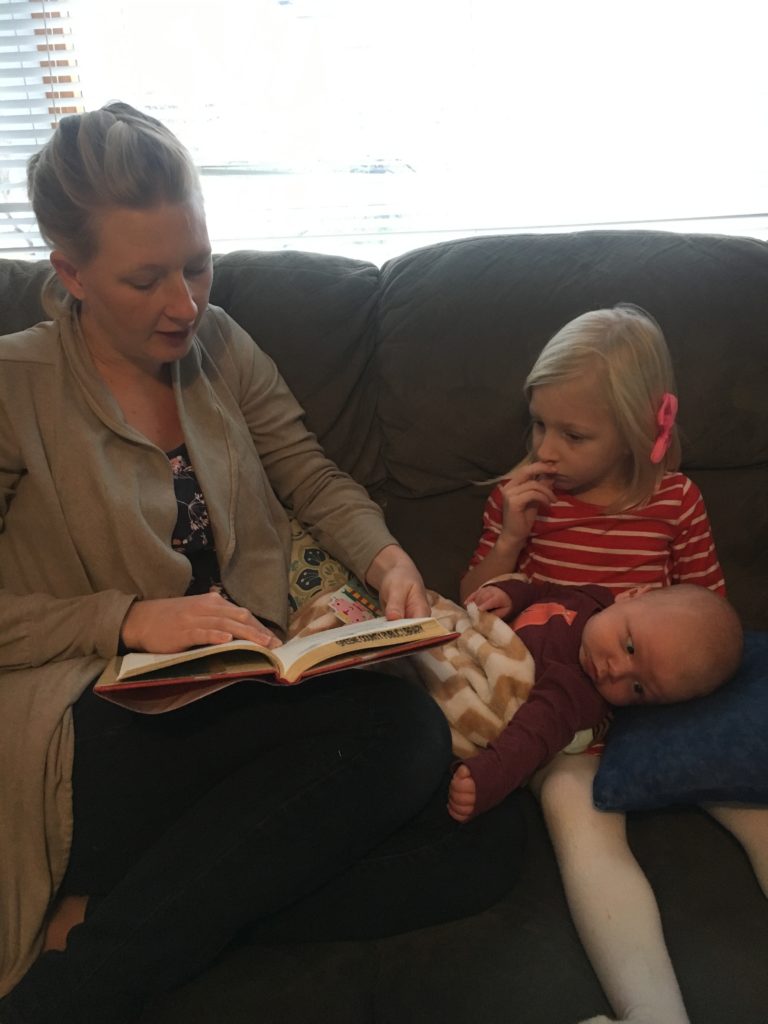 Cuddles. So many sweet cuddles.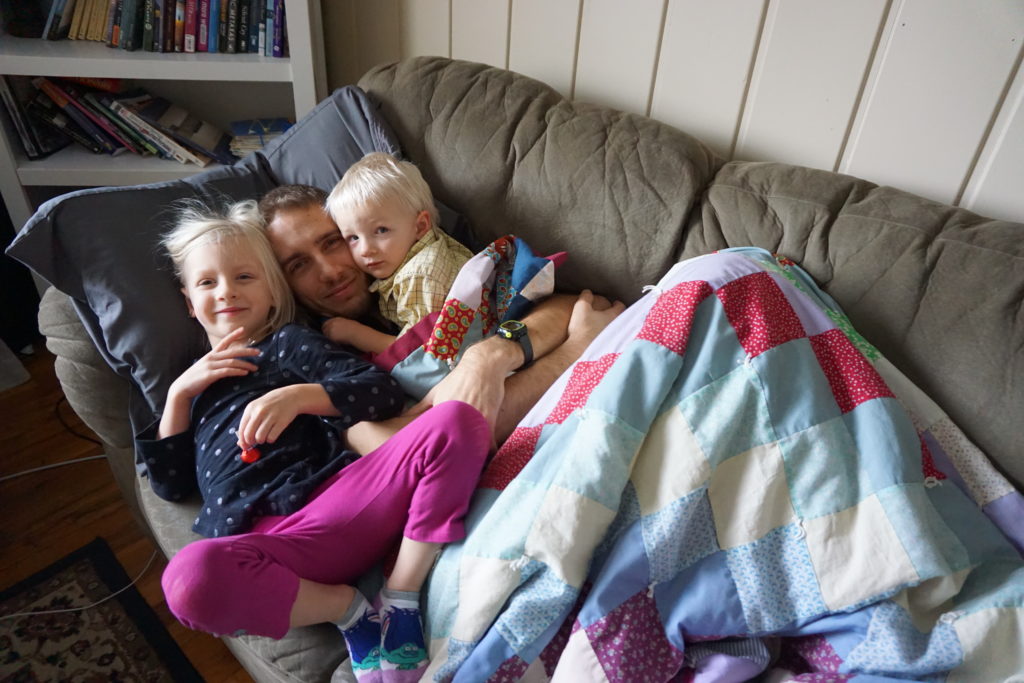 Babies and Christmas. It's such a sweet time.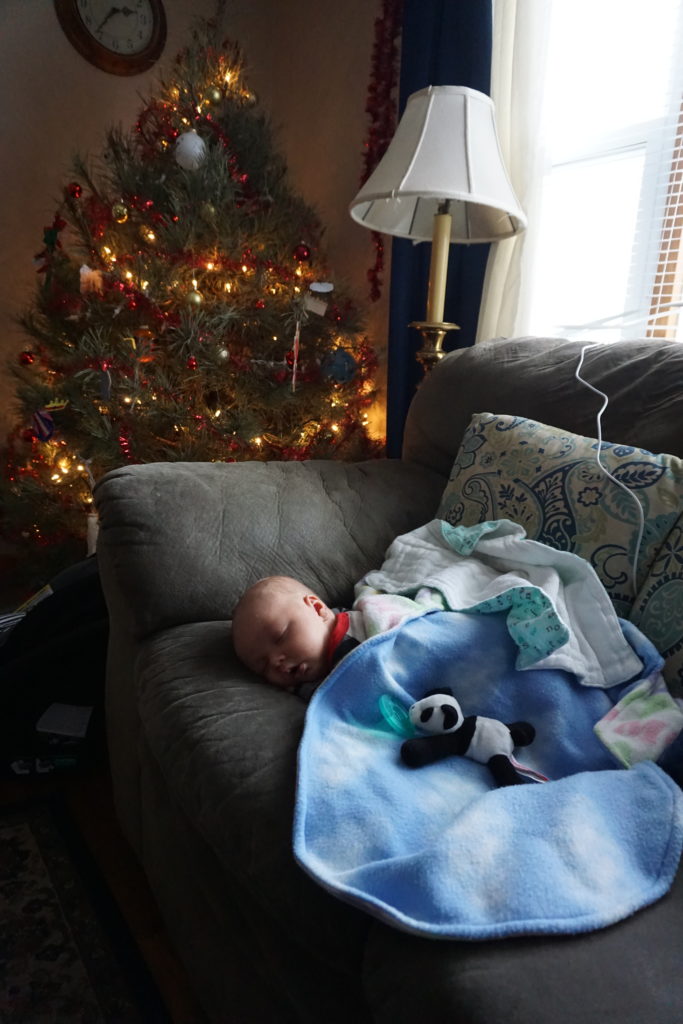 My cousin and his family were passing through Dayton and we were the perfect place to stop for the night! They also have two kids that are about the same ages as Kiah and Ezra. It was so fun connecting with them and chatting about their plans for mission work!
Ezra turned one month old!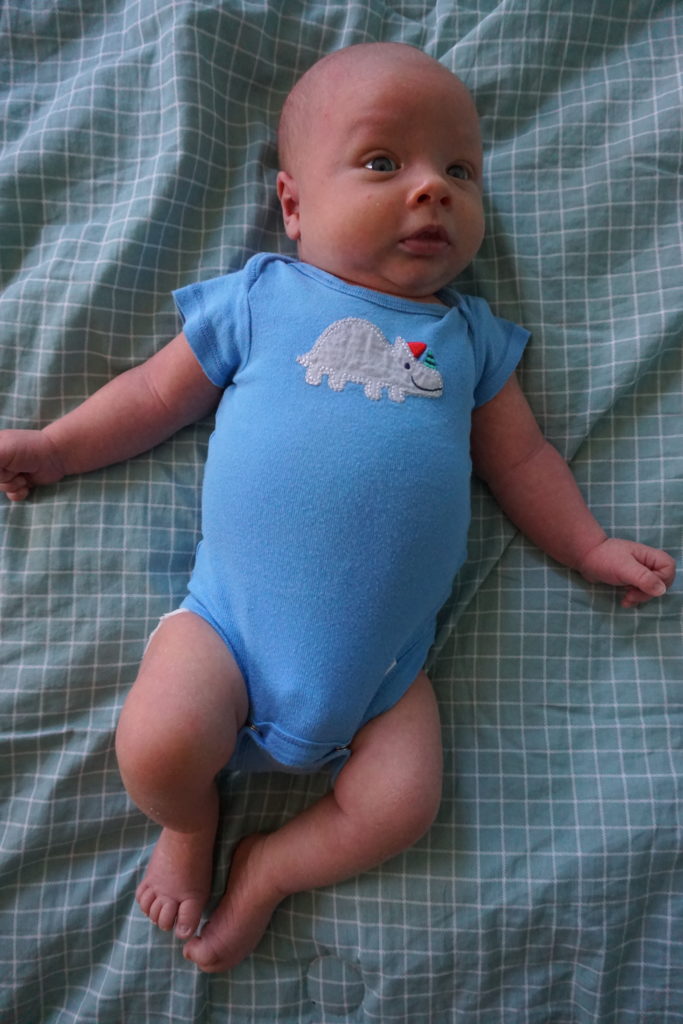 These three have my heart.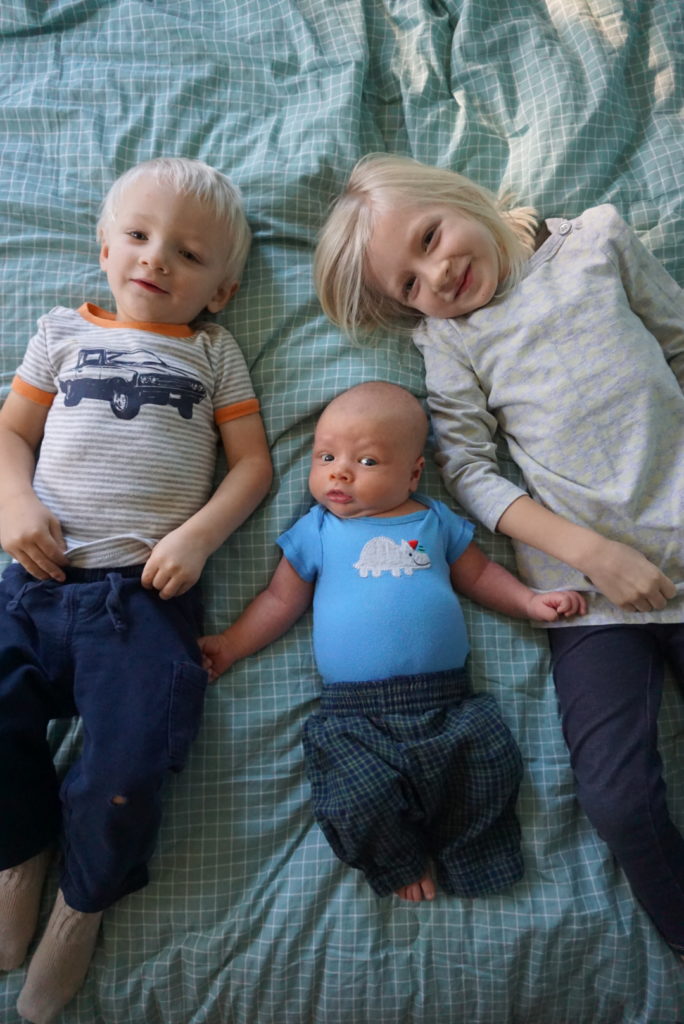 We headed to Northern Michigan for an early Christmas celebration with the Hines family. I will write a separate post on that soon!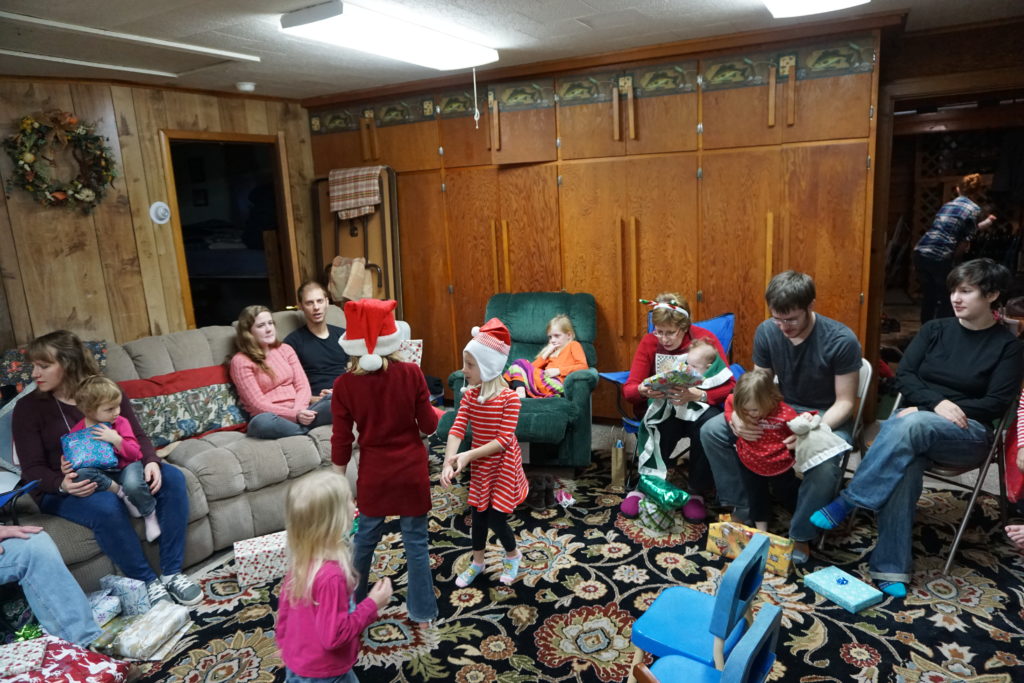 We drove back to Ohio just in time to celebrate Christmas Day at home. All three kids were starting to feel under the weather so we just stayed home and tried to recover from the Hines Christmas celebration and get back into a routine.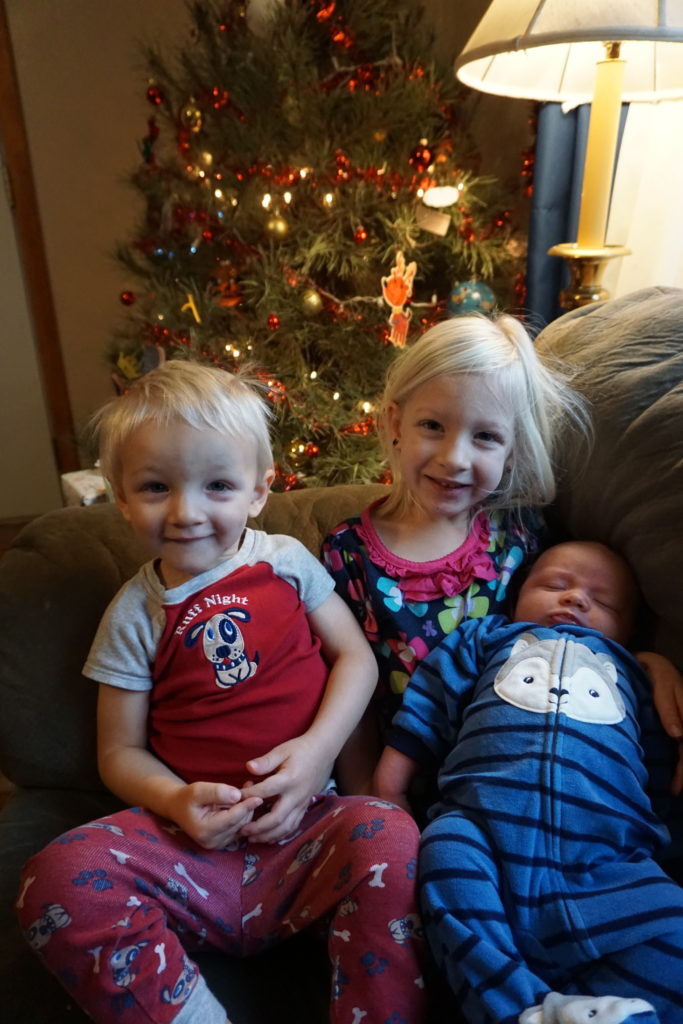 Turns out life was about to get a lot crazier before it got more routine. The last few days of December were spent by Ezra's bedside as he battled a nasty bout of RSV. Farewell, 2018! Glad that is in the rearview!