Can you believe that it's already April, and it's already time to do my first quarter goal check in? To be honest, I haven't thought too much about my goals for the year, so I'm nervous to be writing this post. But that is exactly why I schedule these quarterly check-ins…to check in on my goals and see where I need to refresh/tweak/reevaluate! It's ok if some of these goals aren't happening, but its also ok to give myself a good kick in the pants for the goals that I have been completely slacking on.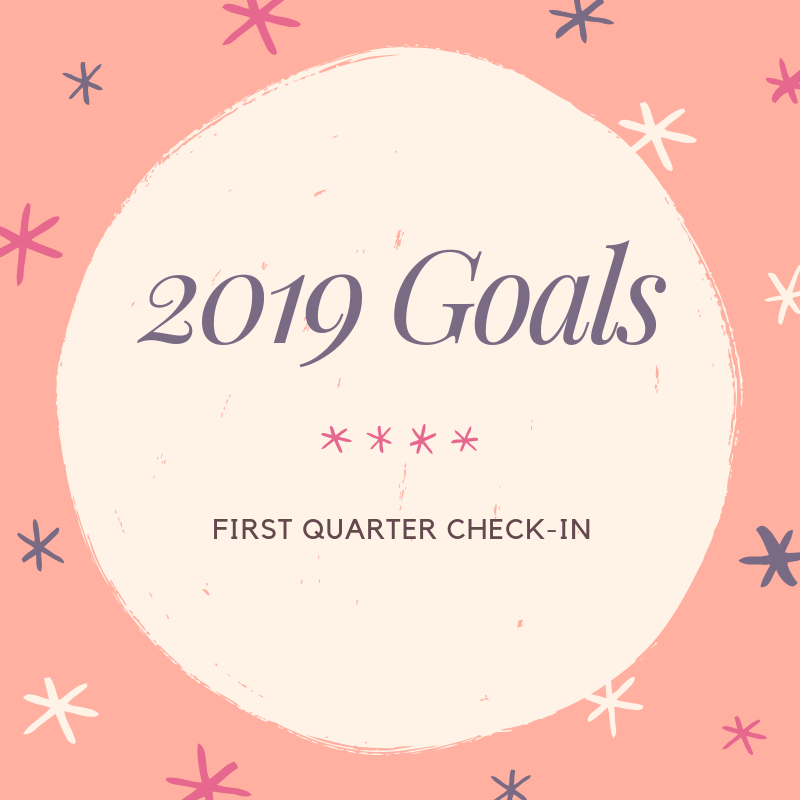 How are you doing with your goals for the year?
Spiritual
Memorize Ps 119 (Certainly not done, and I probably won't be able to completely accomplish this goal, but I have been working on it!)
Learn how to STUDY the Bible, not just read it (YES! I have spent three months in one book of the Bible, and I've never done such an in depth study before!)
Set an alarm and pray daily (Eh. Need to work on this one).
Pray nightly with Theo (This is an on again/off again habit. Need to start with the ON AGAIN part)
Overall: 1/4…but progress is being made!
Physical
Run 500 miles (So far I'm at 6 miles for the year. LOL. WHERE IS SPRING?)
Run a half marathon (Starting to think about this one! Who wants to sign up with me!)
Don't get pregnant (I'm not being flippant or undermining the incredible gift that pregnancy/babies are…my body and my household just truly need a break)
Overall: 1/3
Marriage and Family
Work with Kiah to speak a full sentence (He's SO CLOSE!)
Greet Theo at the door when he comes home; kiss him goodbye when he leaves (Um. Need to work on this one)
Start Kindergarten with Tera (I can't believe that I'm working on her registration for Kindergarten this week!)
Take a family vacation (Ft. Myers, FL)
Find enjoyment in spending my days with my children (For sure working on this one!)
Overall: 2.5/5
Home
Sell our house for profit (It's getting listed this Friday!!)
Downsize to a smaller home (CHECK!)
Operate an Airbnb
Hang a family photo
Host a family or activity 2x a month
Bake bread weekly
Have an open door policy(To me, this means having people come over even when it's not pencilled on the calendar or my house is still a mess. So far I have done this about once a week and I LOVE it.)
Overall: 5/7
Habits/Hobbies
Brush my teeth 2x a day (I was doing so well and then when we moved, I lost the habit!)
Write 1 card/note a week (This is one of my favorite things to do on a Sunday afternoon)
Publish a book (I'm SO CLOSE to being able to cross this one off the list!!!)
Read 50 books (15/50)
Keep a book/podcast journal(While I love Goodreads, I also love keeping a written record of the books I've read! Need to work on the podcast journal part, though!)
Leave phone in the other room at night
Overal: 2.5/6
Blog/Social Media
Create the Enjoyment Project (Make sure you sign up if you haven't already!)
Less posts, more reach
Blog redesign
Less rambling, more intentional posting
Interact with the followers that I have
Treat it like a business- more professional hours, less random scrolling. More investment; more return on that investment.
Overal: 3/6
And there you have it! Quarter one is DONE! I've accomplished some goals, I've worked on some goals and some goals I really need to start working on in order to make them a habit.
How are you doing on your New Year's Goals?