On Wednesday, I wrote a post about actually spending time with my kids AND ENJOYING IT!
Another trick that I have recently tried out is having a small list of fun and simple activities that I can do withy kids.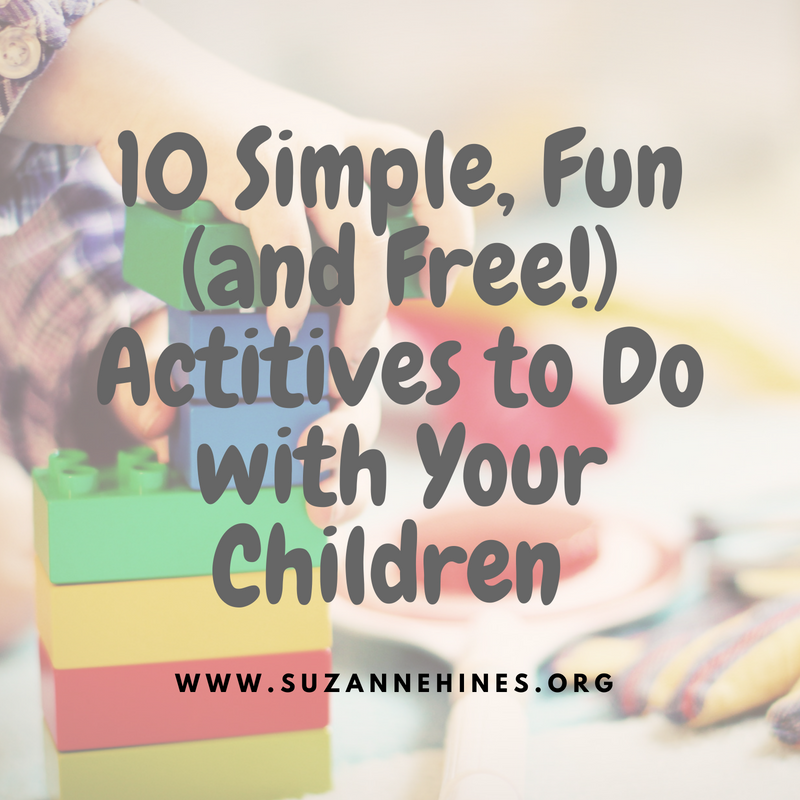 Some days it's only 4 pm and I feel like I've been entertaining my kids all day and I just don't have anything left to do.
I mean, let's be real…
Some days it's 9 am and I feel like I've been entertaining my kids all day and don't have anything left to do.
One thing that is always helpful is to have a small list on hand of things that I can do. That way, I don't have to waste my brainpower trying to come up with something that will keep everyone entertained or happy.
Now, if you don't know me well…you know that I'm not much of a Pinterest Mom. I can do the odd craft here and there, and I'm THRILLED to do some preschool at home, but this list of activities are literally FUN and SIMPLE activities to do when the days are long and the minutes need to pass by a little bit faster. They require almost no materials, are all FREE and require minimal cleanup.
Read some books to the kids. Make it a game! You pick one, now I pick one. Pick a red one. Pick one with an animal on the front. Pick one that has a B on the cover.
Pull out the colored pencils and a good 'ol fashioned coloring book. No explanation needed here, but I guarantee that the kids attention span for coloring will increase greatly if we do it WITH them.
Fill up the bathtub or sink with water and PLAY. You could all get IN the tub, or just play outside the tub. Bonus points, if you expect and plan for water EVERYWHERE, it won't seem like a huge inconvenience.
Go for a walk. Yes, it may be hot or cold or raining or snowing, but sometimes just going for a walk no matter what the weather is like is worth it in the end!
Have a dance party. Turn on some music and dance! Or play freeze dance!
Sit or Lay on the Floor in the Playroom and play with whatever toys they bring. This is a fun one because it literally requires no planning on my part. I just have to sit down, or lay down…and let them do the rest of the work! It's amazing how a sitting parent is automatically the center of the room.
Stretch, do yoga or some exercises together. Again, sitting down on the floor and doing something will automatically gather the children around. Instead of doing this as a "workout" for us as Moms, do it as a guided time for the kids to stretch or have a little energy burning workout.
Color on a piece of paper for someone else. Think of someone who could use an encouragement or just some fun in their mailbox. Draw on a piece of paper together and take it out to the mailbox!
Blow Bubbles. If you don't have any on hand, you can make some using dish soap and a flyswatter! Or just pull out the bubbles
Go check the mail and make something out of the junk mail. This could be anything from making a collage with the newspaper, throwing the newspaper at each other, coloring on the junk bills or playing mailman with the mail.
What else would you add to the list? Do you have any go-to activities that you like to do with your kids?