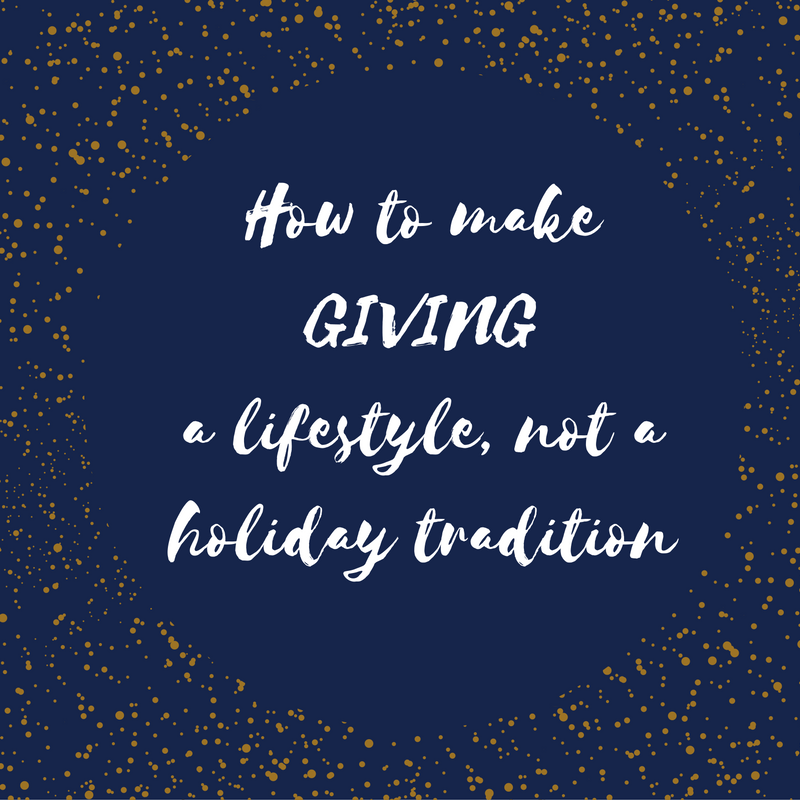 It's the most wonderful time of the year!
There are twinkling lights everywhere, the fire is warm and cozy, and the gift giving and random acts of kindness are in full swing!
It's not secret for anyone who knows me that my love language is gifts. I LOVE getting gifts, and I also love giving gifts. I am the biggest fan of gift giving.
Around this time of year, I start seeing a lot of parents in online forums asking how to create a spirit of giving in their child. In response, most people shout out a charity or an idea of a way to give gifts. Examples I've seen are Toys for Tots, Operation Christmas Child, and giving to a charity. I've seen people suggest working at a soup kitchen on Christmas Eve or making bags of supplies for the homeless. I love all of these ideas…
…But so often this time of year, I see a lot of gift and charity giving done wrong.
I don't think that the giver knows they are doing it wrong, but I wanted to take a moment to ask that you think consciously about how and why you give gifts this holiday season. 
Before you read on, please know that I do not think I am an expert in this field. I have a two year old and a two month old and we obviously haven't mastered it. However, I do have some experience in the world of giving. I have been in Africa and seen Operation Christmas Child boxes handed out (you might be surprised to find that I'm actually anti OCC *gasp*). I have frequently seen the other side of organizations and where the money really goes. I have also been on the receiving end of gift giving, both growing up as a missionary kid whose family fully relied on others for financial support, and now as a foster Mom.
So, first, let me address a few of those questions that I have seen in online forums:
Q: How do I create a spirit of giving in a child?
My opinions are strong on this one, and they often aren't popular. The short answer? Don't make it about them. Gift giving is NOT about giving in order to check off a "good deed". Gift giving is not teaching your children that they are better than someone who doesn't have as much. Gift giving is about the receiver. It's about meeting them on their level, and that often means getting to know them and getting down and dirty. It's not packing a box and then patting your child on the back and telling them how fabulous they are.
Instead, it's teaching your child to see those who are in need, and teaching your child how to get down on their level and meet them where they are at- on a consistent basis, not once a year. We are so eager to check off packing a box or picking a child off the Angel Tree that we forget to encourage our child to notice the classmate right next to them who is going without gloves this winter season. Instead of making it a checklist, make it a mindset in your child to always look for those who are in need and get on their level to consistently help them. 
The next thing you can do for your child is to make it personal. If you do decide to pick a child from the Angel Tree or pack an OCC box, then make a personal connection to your child. Challenge your child to go without something for a day so that they can see how that child might live. Pick a country and do some research on it, show them pictures, ask them how their lives are similar and how they are different from the child that they are giving to. Don't degrade the poorer children- they are often just as happy and intelligent as your own child, they were just born into a different place and a different culture with less resources. Find a person in your church or community who has personal experience with these children, maybe even start a penpal program so that they can connect on a personal level with the children they are giving to. Find out the names of those you are giving to, and pray for them on a daily or weekly basis. If you are donating to a charity, find a local chapter in your area and spend a day at their offices or getting regularly involved in an event that they sponsor. It shouldn't just be about writing a check and checking it off your list.
And that leads me to my third point: Make giving a lifestyle, not a holiday tradition. If your children are only thinking about giving to local foster kids during the month of December, then you are doing it wrong. Yes, that sounds harsh, but you have not created a spirit of giving in your child if it only happens once a year. Your child should be aware that foster children also have needs in January and March and July and October, too. If you are actively participating in the life of a foster child throughout the rest of the months of the year, your child will be more more delighted to pick a gift for that sweet child off the Angel Tree.
Q: What charities should I give to during the holiday season?
A: DO YOUR RESEARCH.  It drives me almost insane to see people blindly giving to charities without doing their research. I am not against any charities or non-profit organizations, but it is true that many of them are corrupt. Friends, please do your research. Google how much the CEO makes, what percentage of donations actually goes all the way through to those in need. You might be horrified at what you find. Or, you might be delighted. Either way, please do your research.
Make it personal. This is true for your child, but it is true for you, too. Don't just give to a charity or non-profit because you heard the add on the radio. Instead, find something that you are passionate about. Did you Mom struggle with cancer? Find a charity that helps local women who have cancer. Did you have a baby in the NICU? Spread your holiday charity there. It means so much more when you know exactly how your money is affecting personal lives.
Make giving to charity a lifestyle, not a holiday tradition. If you only give during the month of December, your gift won't go as far. Instead, make giving gifts to charity a part of your life throughout the other months of the year, too. If you are donating to your local NICU, try to also volunteer your time there. If you are helping out at a homeless shelter on Christmas Eve, take it one step further and sign up to help once a month there.
In conclusion, ask yourself this question:
Is this gift about me/my child or the receiver? I shouldn't have to say this, but gift giving is not about you. While it has many benefits to you, it shouldn't be all about you.
How will my gift help in the long run? Am I just writing a check to check off the advent calendar, or is this really going to go somewhere in the long run? What will my gift do for this person in March? July? Next November?
What will this teach my child? Do I want to teach my child that giving can be a temporary high or do I want to teach her that giving can extend all year round? Do I want to teach my child that she is better off than others, or do I want to make it personal so that she can understand better why we give?
P.S. I also mentioned above that I'm not a huge fan of Operation Christmas Child boxes. Here is an article that explains why… 7 Reasons Not to Do OCC This Year