Let me just start this post off with some housekeeping notes:
This will be a fairly long post, but I think you should read through most of it to get the best information
This post will contain a lot of CAPS because I am SERIOUSLY SO EXCITED ABOUT IT!
There is an amazing GIVEAWAY at the end of the post, so make sure that you stay around long enough to enter!!!
*I was provided a free one-night stay at Castaway Bay, in exchange for my honest review. All opinions expressed are my own*
Castaway Bay is Cedar Point's indoor water park, and is located in Sandusky, Ohio. It is located right on the bay and contains a hotel as well as a massive indoor water park, several restaurants, an arcade and a clubhouse.
From the moment we walked into the lobby, we were so impressed!
As we made our way up to our room, we were also impressed. We stayed in a Starfish room, which had two double beds and a pull out chair. They have MANY other room combinations that sleep up to 6 comfortably. Prices vary depending on the time of stay and the room needed. When booking a room, passes to the waterpark for the day are automatically included. Package deals are also available for meal options and passes to the arcade and clubhouse hangout.
I will also go ahead and mention here that at Castaway Bay, kids under 3 are entirely FREE. They don't have to pay for the food or the waterpark admission. YES, PLEASE!
We really enjoyed the colors and ambiance of our room! It was clean and the aesthetics were wonderful! To me, it was very similar to the last hotel we stayed in at Wyndham Garden/Holiday Inn.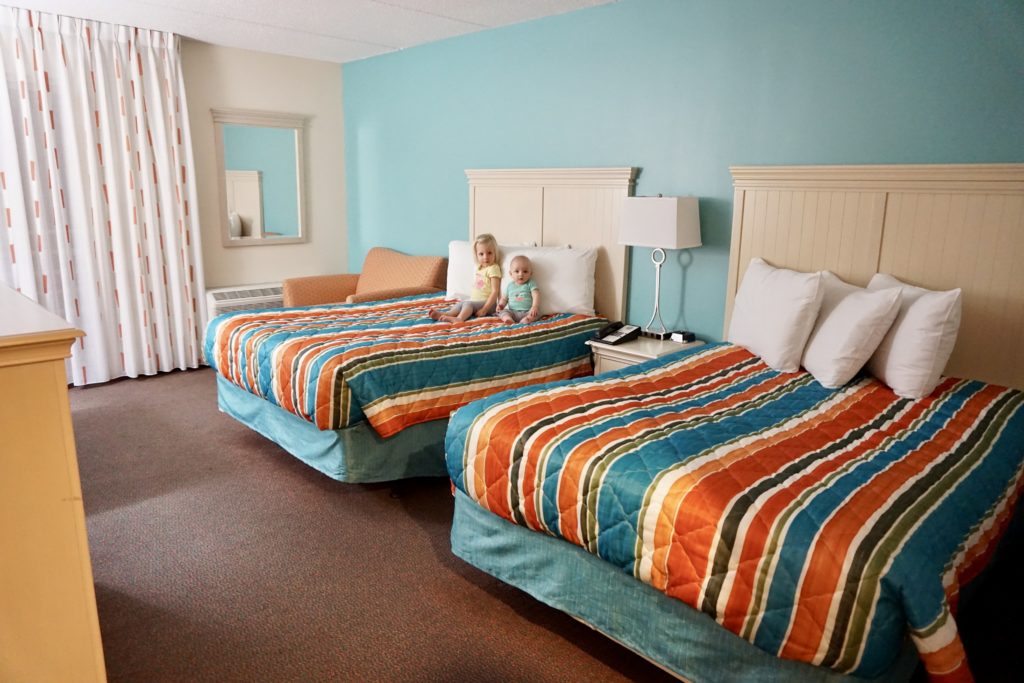 As you can see from the below picture, there was a coffee maker, microwave, fridge and TV as well as doors to adjoining rooms. I always like it when hotels have that as an option because it really helps facilitate family reunions or even putting the kids to bed in one room and the adults can hang out in the other room.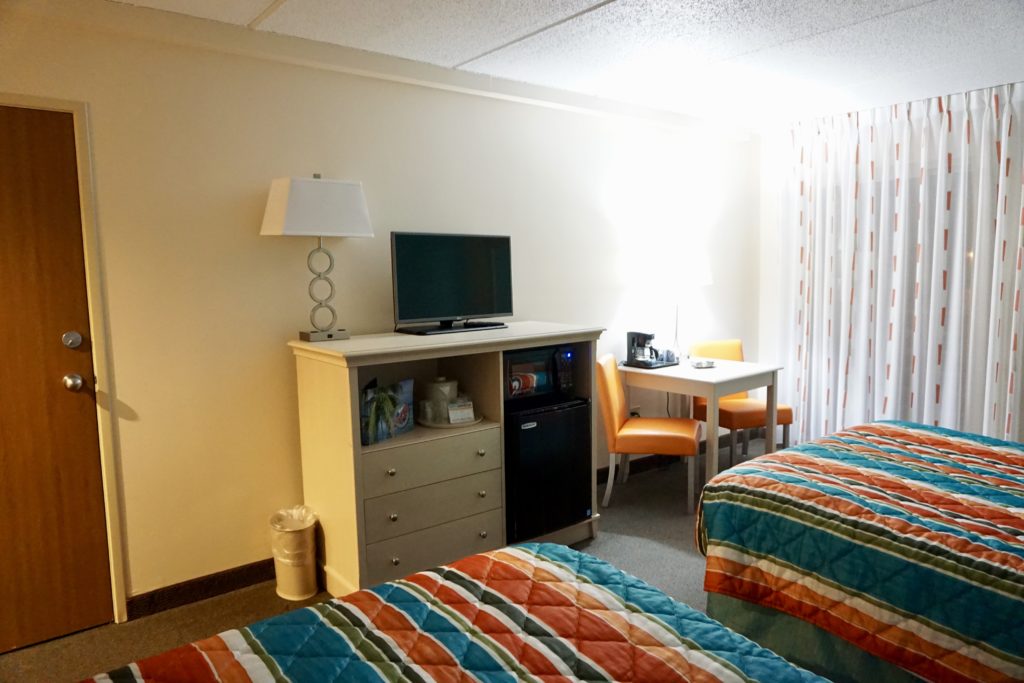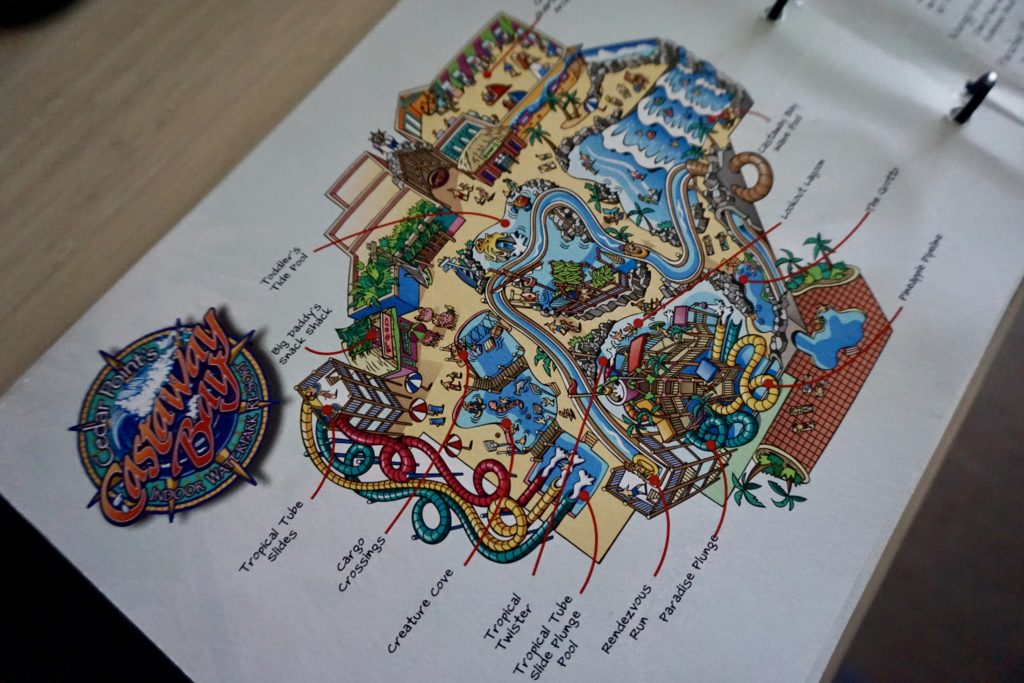 We arrived late, so we didn't have a chance to hit up the waterpark, but I did walk around the building while Theo was putting the kids to bed. I was SO impressed with the front desk staff, the cleanliness of the entire place, and the fun decor all over the place! These were the shutters for Mango Mike's Restaurant.
The arcade looked really fun, although we didn't have time to hit it up: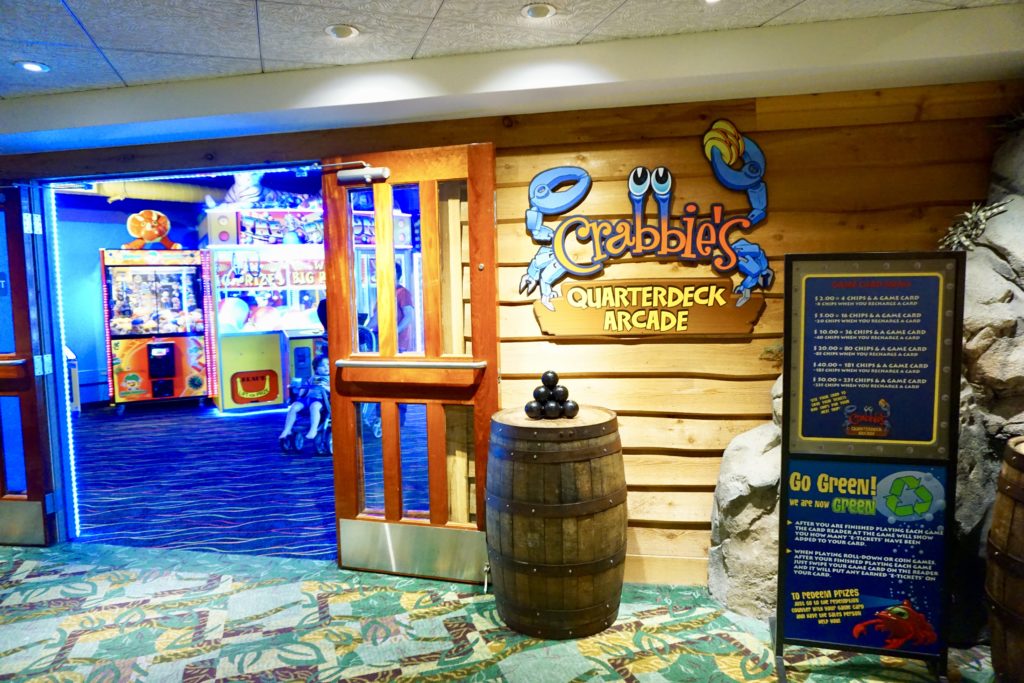 We went to bed as soon as we could, because we knew the next day would be a fun one!!!
When we woke up, we got the kids dressed and headed downstairs to the breakfast buffet at Mango Mike's.
The breakfast buffet was $12.99 per adult, so a little bit more than we would have normally paid for a meal, but it was the best breakfast buffet I have ever been to!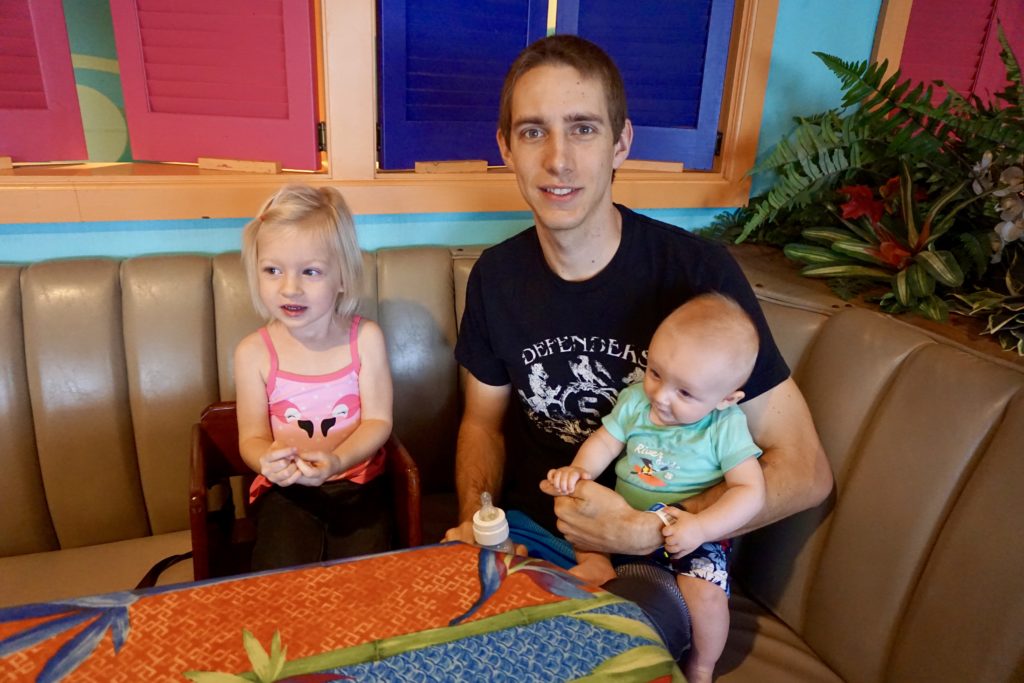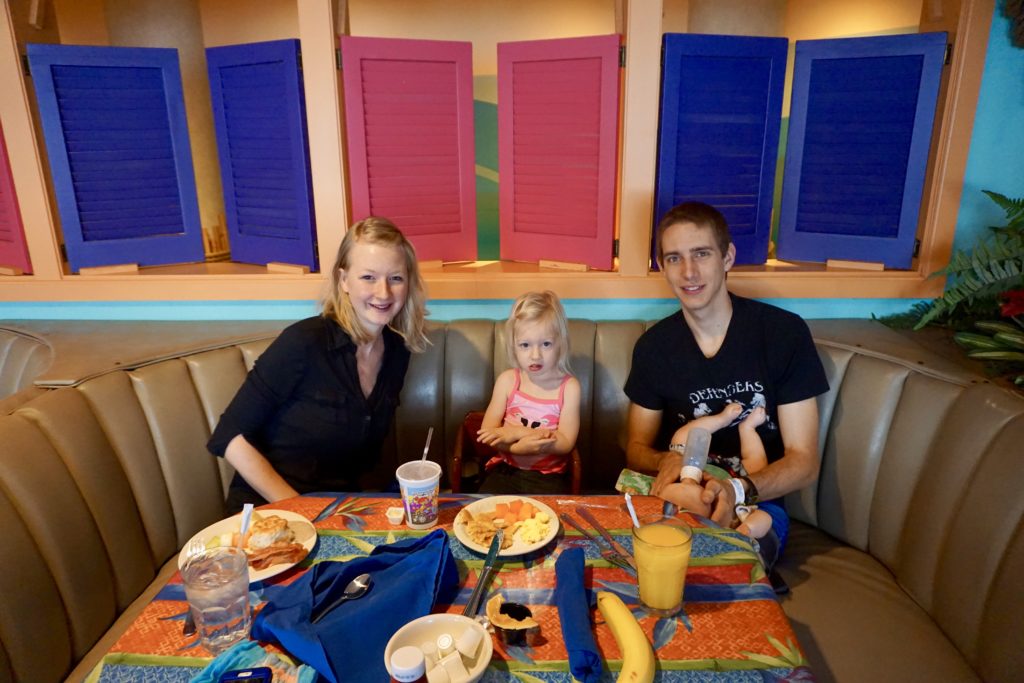 The spread included fruit, applesauce, yogurt, eggs, French toast, biscuits and gravy, sausage and bacon, pancakes, an assortment of breakfast breads and donuts, and cereal. Drinks were free/included in the buffet cost.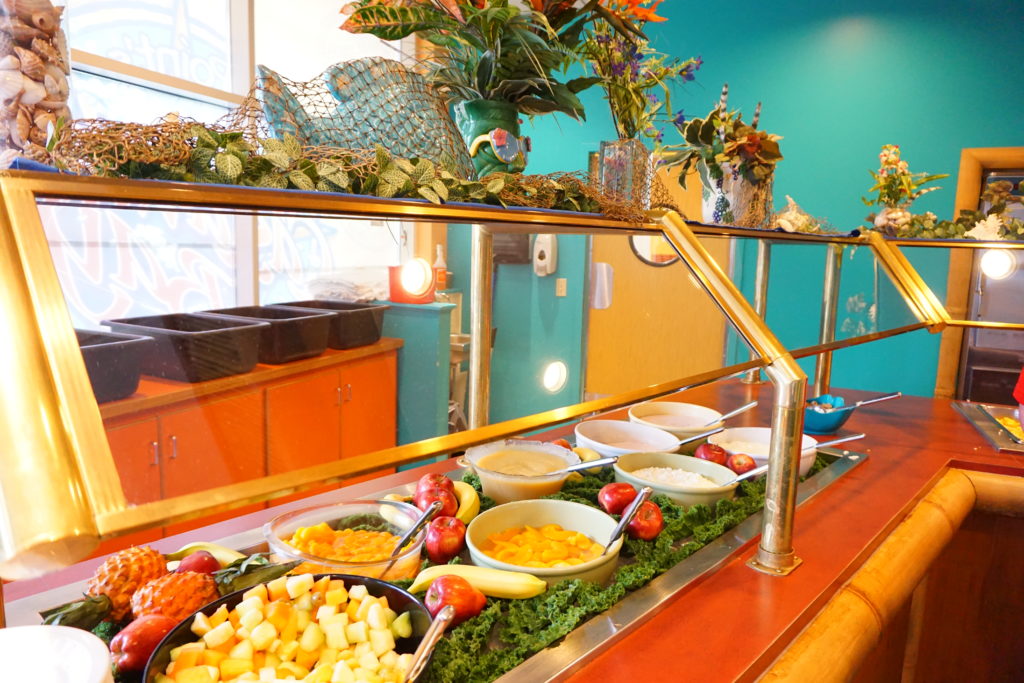 And, finally…on to the water park!!!
I'm going to fully admit that when you walk in, it is absolutely overwhelming. It's a total sensory overload, and I think all four of our eyes were as big as saucers.
First things first: measure the children!
Depending on the height of the child, they are allowed into certain areas/on certain rides. If they do not meet the height requirements, they can still go on several rides with adult supervision and a lifejacket. Each ride is clearly marked what is allowed and not allowed.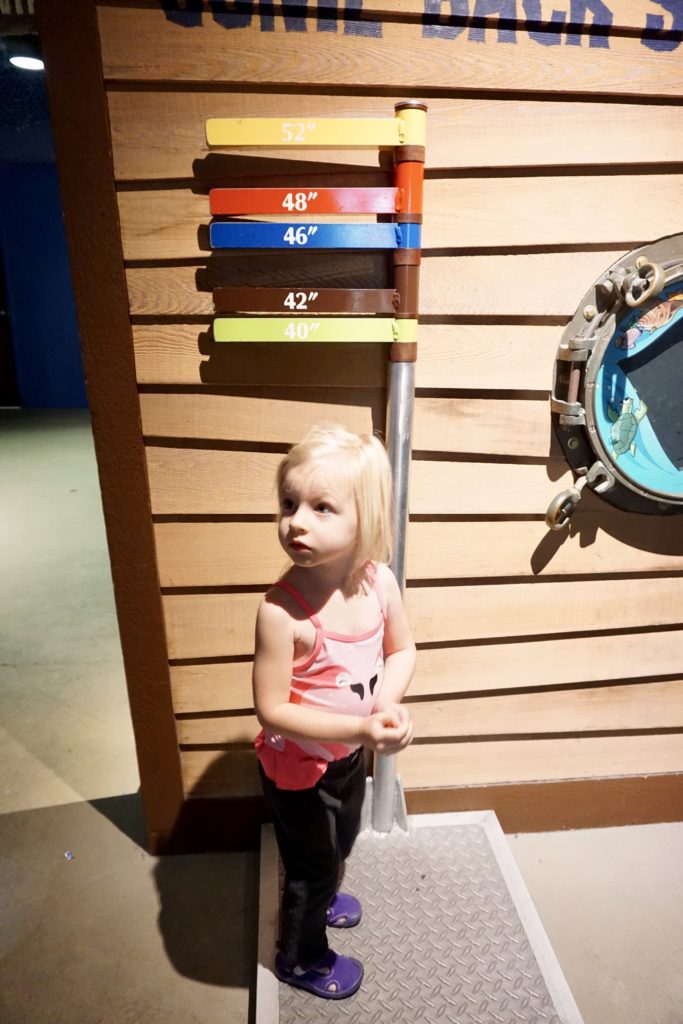 SO MUCH TO DO!!! SO MUCH FUN TO BE HAD!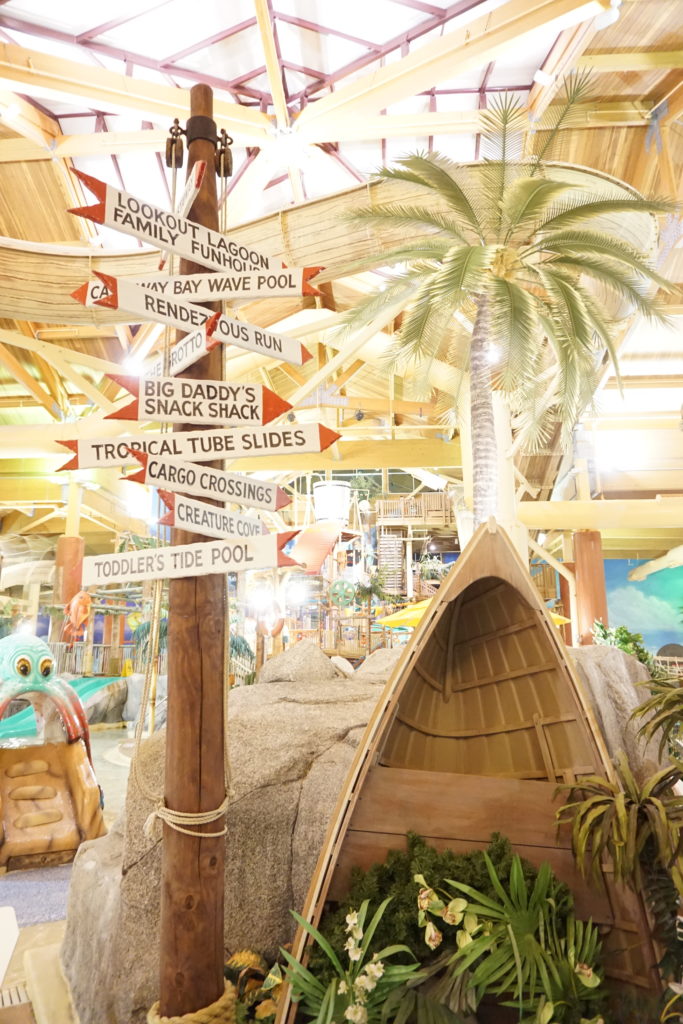 When we walked in, we immediately entered into the toddler wading pool. Um, I'm pretty sure we could have spent all day in just that one tiny section!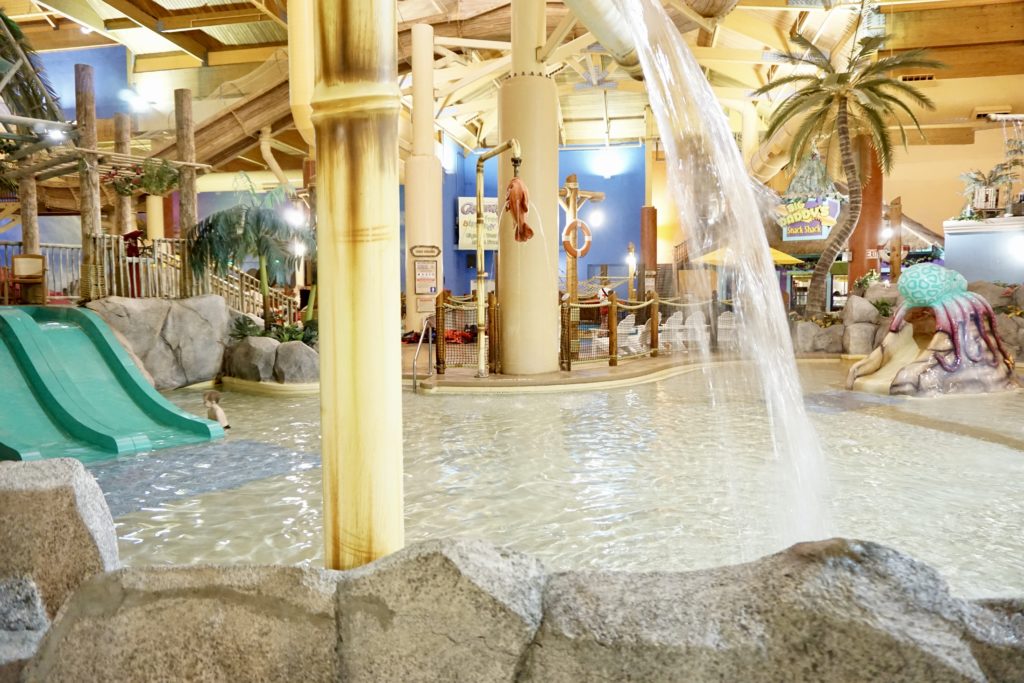 The atmosphere in the water park was amazing! It was extremely loud from the running water, so that did sometimes made it difficult to get the attention of my over-excited toddler. The water park is set at 82 degrees, and the water was not cold at all. It made it so enjoyable because there was no chill when you got up out of the water.
The three of us older people really enjoyed the entire water park, but I think that Kiah was a little overstimulated. He started fussing a little ways into it, and I realized he was really hot! For the rest of us, we were wet and 82 didn't feel very hot, but for little man who was just dipping his toes, it was pretty toasty in there! After sitting him down in the water and dripping some water on his body and head, he calmed right down.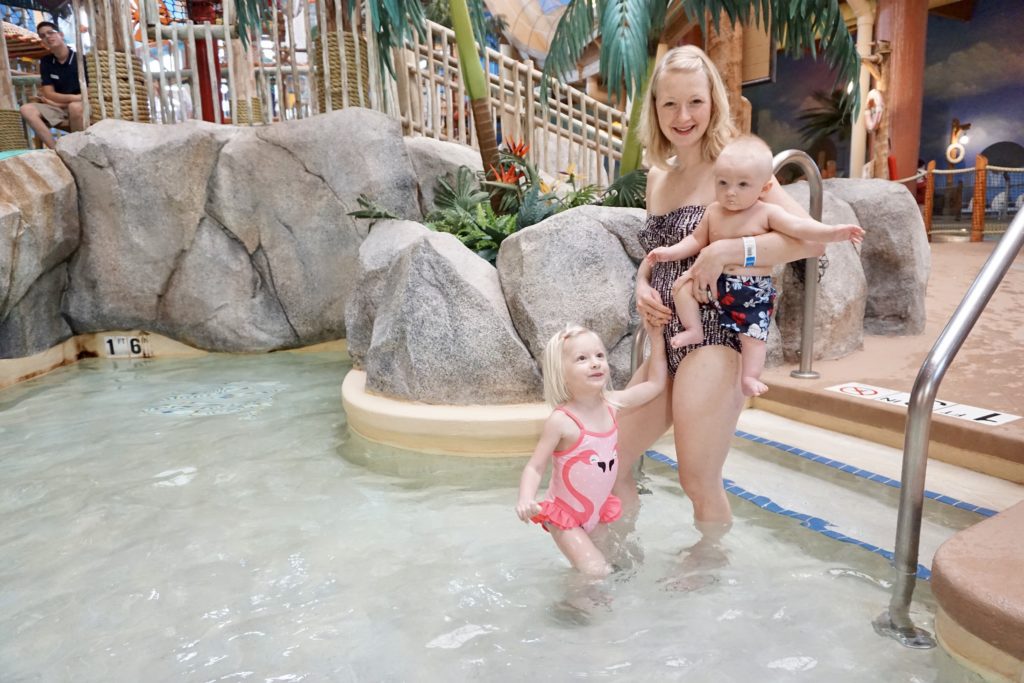 Let me tell you a little something about my Tera-girl. She is very reserved and VERY cautious. Usually I have to go down the slide with her 25 times before she will do it by herself, and she is the kid hanging onto mommies legs when other kids are running around. However, she LOVED Castaway Bay. She went down this slide over and over again with absolutely no holding back. She even went into the wave pool and wanted to go down the slides and into the waterfalls. I was SO IMPRESSED!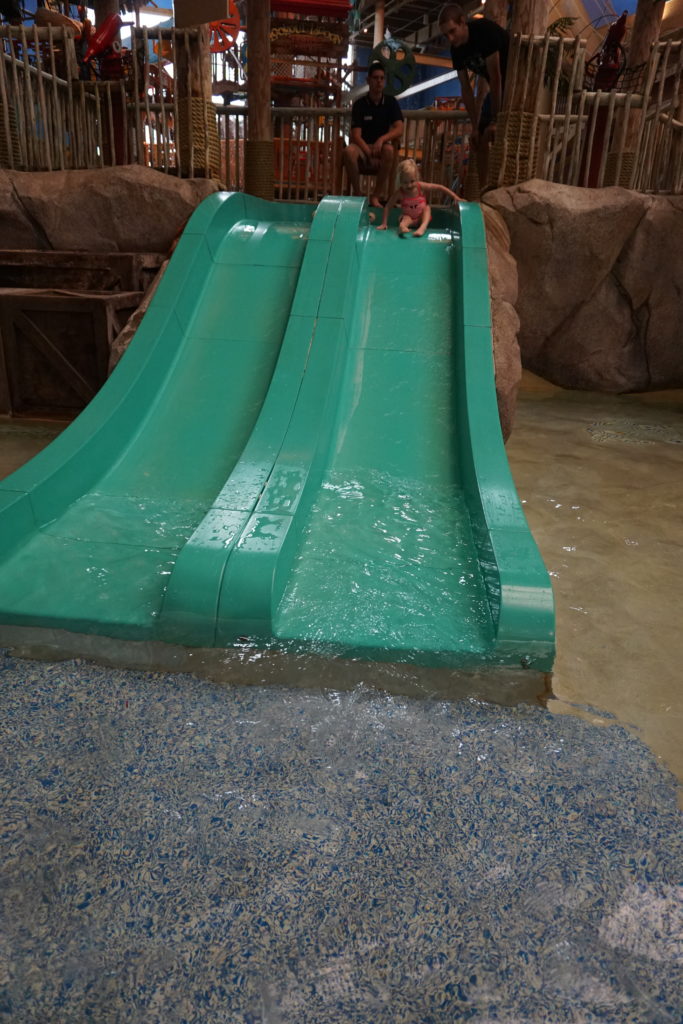 The family clubhouse was like a giant playground being drenched in water. So much fun!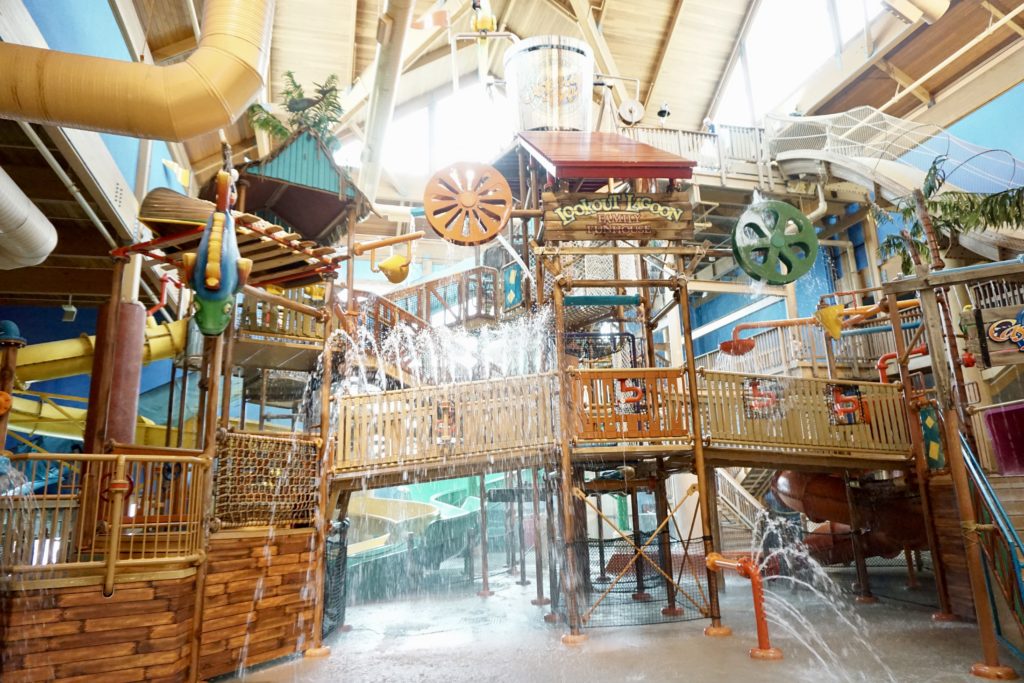 There was also a large indoor/outdoor hottub! I had really wanted to go in this, but it was closed while we were there. The water goes outside and you can go outside in the hottub, even in the dead of Ohio winters!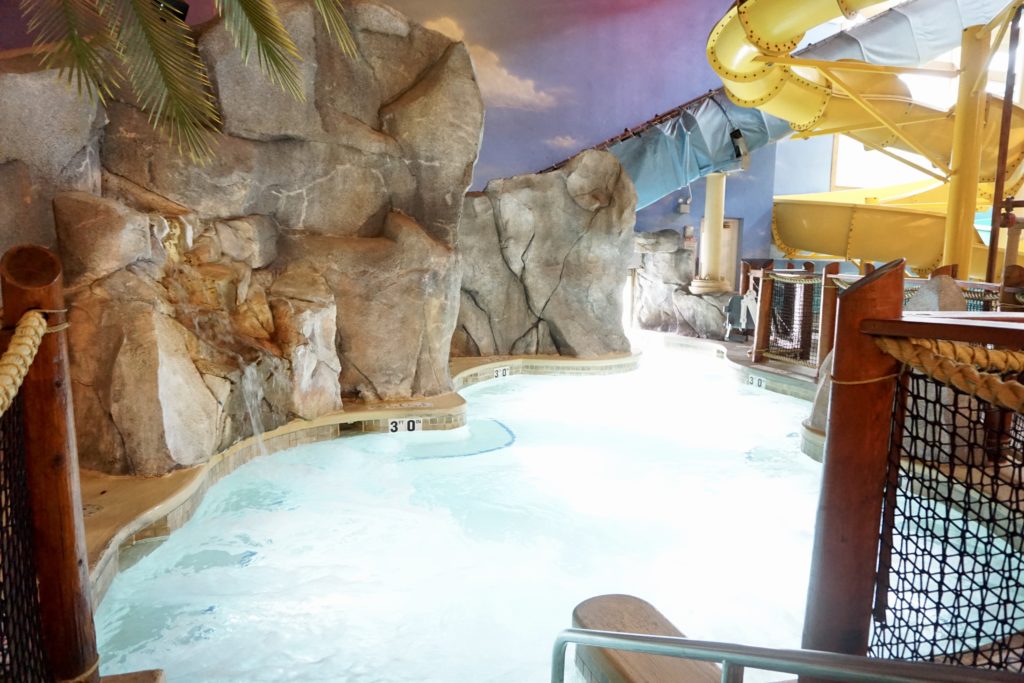 The wave pool was really awesome as well!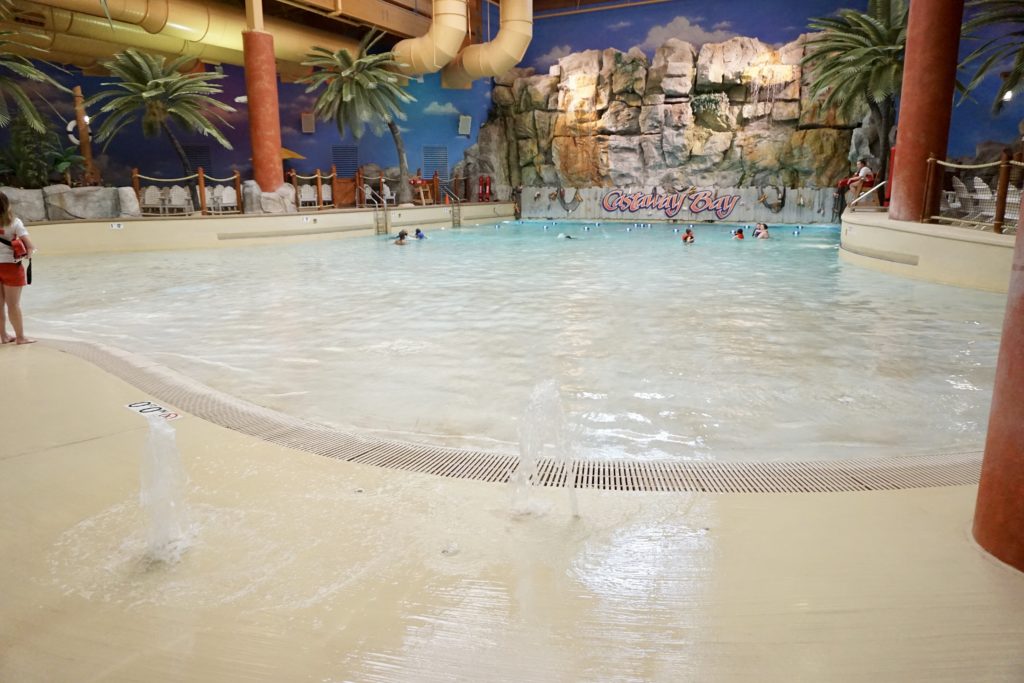 I want to mention real quick that I was thoroughly impressed with the lifeguards at Castaway Bay. I have worked with children in many different settings, and have taken my entire camp cabin/daycare to many different pools. Most lifeguards I have seen are twirling their whistles and working on their tans, and I highly doubt they could react fast enough to save (or even see) a drowning child. These lifeguards were ON POINT. They were watching very intently, they were not distracted and they were not working on their tans. The one lifeguard in the toddler pool even moved constantly so he had the best eye on the children. Again, I just wanted to say that I was impressed.
Lest you think Castaway Bay is only fun for toddlers, Theo and I also had a blast and could have spent well over a day there! They had this super fast roller-coasterish ride where the lifeguard at the top instructed Theo to "not let go no matter what". HA. After much begging and pleading, Theo finally convinced me to go on it, too. Um, I'm glad I went to say I did it, but I probably wouldn't do it again. I'm NOT a roller coaster person.
We tried to get Kiah to sit in the water. Haha.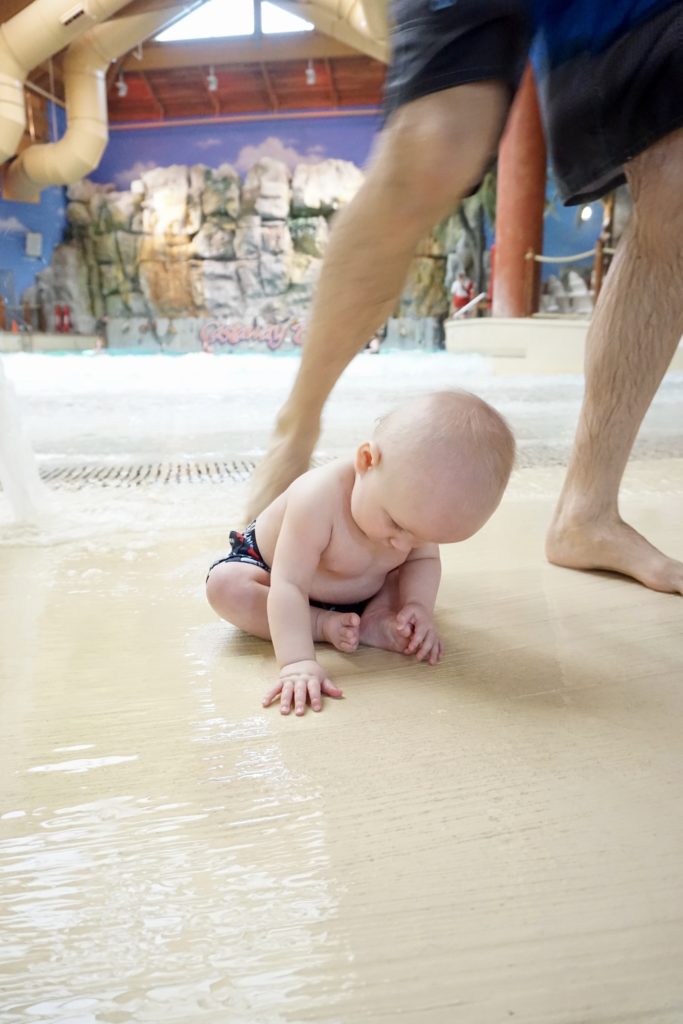 We were only able to spend a little over an hour at the water park, and we could have seriously spent an entire weekend there. It was amazing!
And now….for the fun part!!! The GIVEAWAY!!!!
I am GIVING AWAY four day passes to Castaway Bay!! I will pick two lucky winners to win two passes each. These passes are worth $29 each, so this ain't no small thing! The pass is for a 9am-10pm day at Castaway Bay. The coupon is good until 10/28/17.
Here's how to enter:
Follow The Glorious Mundane AND Castaway Bay on Facebook
Leave a comment on this blog post telling me what would be your favorite part of Castaway Bay
For 5 bonus entries, share this blog post on Facebook, make sure that you tag me (either my personal or blog page) so that I can see that you shared!
That's it! Good luck!!! I will be picking a winner on FRIDAY, so this contest will run from Monday, April 3rd to Friday, April 7th at 12 pm EST. I will announce a winner on Saturday morning, April 9th!