Ladies and gentlemen…..we have ONE WEEK until due date!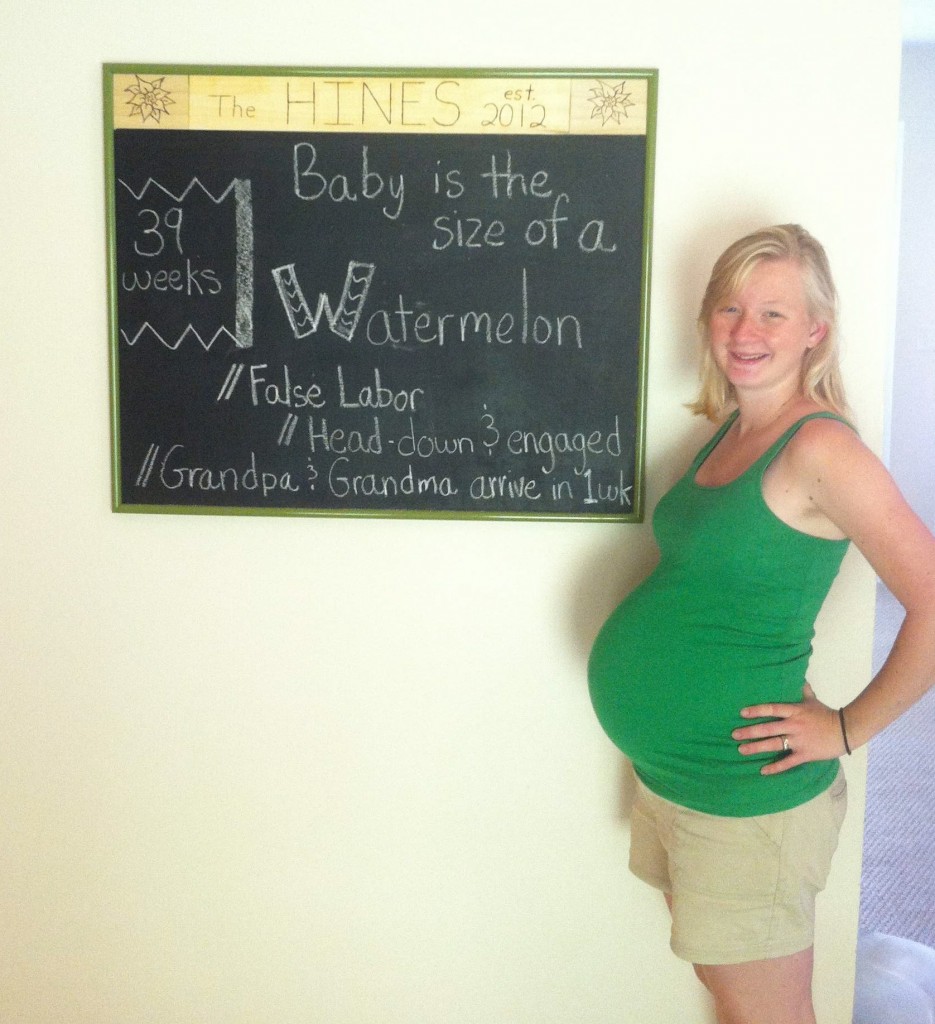 How Far Along: 39 weeks!
Can you tell that I'm sooooooo ready to be done being pregnant???
And my hair. Wow, something needs to be done about that. Whelp, anyways…I'm 39 weeks pregnant, so I have every excuse in the world, right?
Size of Baby: She is the size of a mini watermelon! You better believe it!
She is most certainly head-down and that head sometimes feels likes it's about to fall right out of me! Tmi? Sorry…but it's the truth!
And she has been causing LOTS of false labor. I've had two rounds of it. One lasting 10 hours. Contractions 5 minutes apart, for at least a minute. The other lasting 8 hours, contractions less than 5 minutes apart and lasting over a minute. And then they would just stop. Now I have a hard time believing my body when it starts having contractions. I have decided to not even get out the timer unless I really think it's the real deal. It's just too disappointing to have so much work and then realize nothing happened…
Total Weight Gain: I've honestly stopped keeping track. At this point, I am just looking forward to losing the several pounds of baby/amniotic fluid/placenta so I can take some strain off my back and be a little bit more comfortable during regular things like sitting, sleeping, standing, driving in the car, washing the dishes, taking a shower, etc.
Stretch Marks: Somehow I haven't gained any on my belly!
Wedding Rings: They are a little tight now, but still on! It looks like I'll make it all the way through pregnancy without swelling problems!
Maternity Clothes: Um, yes. And even some of those are barely covering my belly! haha!
Gender: We are so.ready to meet this baby GIRL!
Movement: Pretty much the same as last week. Lots of movement, but she really seems to be running out of room…and her movements now HURT, no matter what they are. A kick, a punch, a stretch…they all hit me somewhere that is extremely uncomfortable! However, I know that her movements and watching my belly contort is going to be one of the things that I miss most about pregnancy. I need to make sure I am soaking all that up now!
Sleep: Not so great. A lot of trips to go to the bathroom. Trouble getting comfortable. It's all going to be worth it though..right?
What I miss: My own body. Being able to do a regular thing like standing or sitting without shooting pain, aches or braxton hicks contractions.
Food Cravings: Anything sounds good. Nothing sounds good. Oh, having a baby sounds good.
Food Aversions: None! I actually ate both tortilla chips AND Ranch dressing this week! Not together…but I ate them both and was perfectly fine!
Symptoms: Pregnant. Let's just say that.
Best Moment This Week: Going to the Ohio State Fair with Theo! And having God send a completely unexpected financial blessing our way!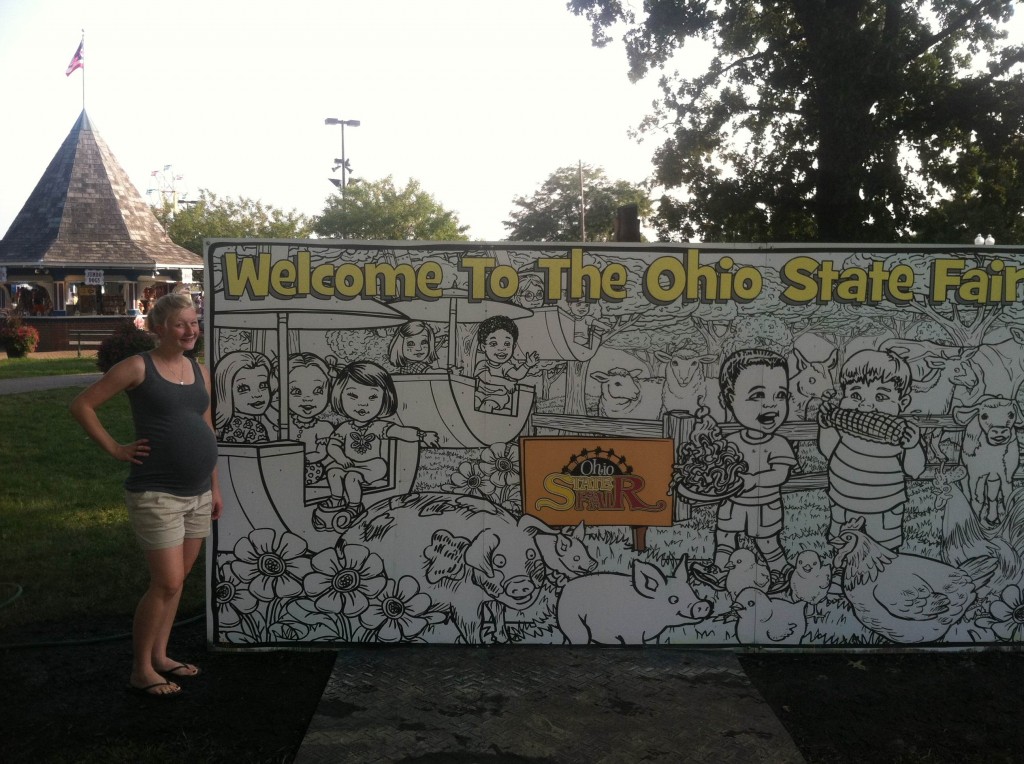 Worst Moment This Week: I'm going to write another post on this, but just being pregnant has been difficult this week. It's so near the end, but it's not the end. Each day I wake up and ask myself, "Is today the day?" and then when I hit bedtime I often cry tears of frustration that it wasn't the day and I didn't have a baby. There has been MONTHS of waiting for this very day….but I don't know what day that is! For a planner like me, this has been really hard. And when I talk to people about it, the frequent answer is, "enjoy it while it lasts…because it's only going to get harder", or, "you aren't even overdue yet, you better prepare yourself for a few more weeks!". Ok. Thank you. None of that is overly helpful for this overly emotional, in-pain, longing-for-THAT-day girl. I'm honestly trying to do my best to find something to do each day or look forward to each day just so I'm not focusing constantly on the fact that I'm not yet in labor, not yet sharing the joy of our little arrival, not yet, not yet, not yet….
And for the record, I know that it is highly likely that I will still be pregnant for at least 2 more weeks. So those of you who have been through this whole waiting game a time or two…what should I do in those days? The budget doesn't include retail therapy, or massages, or things like that…so do you have any ideas of things that I can set my mind on each day to keep my mind off of all this waiting?
Exercise This Week: A walk every day! Some days longer than others, but I'm just glad I'm getting out, and hauling myself up and down some hills.
What I'm Looking Forward To: My parents arrive in a week! Eeeeek! I've been counting down the days until my due date, but completely forgot that it ALSO means I get to see these people!!! It's been over a year, and I am sooo excited to spend some time with them in the next month or so.
I'm also VERY excited to meet this little girl! Any day now….right? right? right? I won't be pregnant forever???