Christmas is coming! I'm actually feeling pretty excited for Christmas this year! Maybe it's because I have a VERY adorable baby to dress up and take to events. Seriously, events are so much more fun with a baby.
I'm joining up with Elise over at Cheers Ya'll to share a few of my favorite things! This is a 3 part series- the first one (this week) is my holiday dream list (are you reading this, Theo?). The second part is stocking stuffer inspiration (anything small!), and the third one is gift inspiration for others (under $100). If you were wanting some blog post ideas or a chance to get your holiday lists together…now is your chance! Join us and link up!
Disclaimer: I cannot figure out how to make one of those nice picture collages. It has taken me like 3 days to figure out this one, and I've almost scratched this blog post simply because I hate how the picture collage works. So, fellow bloggers..how do you make those gorgeous picture collages? Anyone have a tutorial anywhere?
These are a few of my favorite things…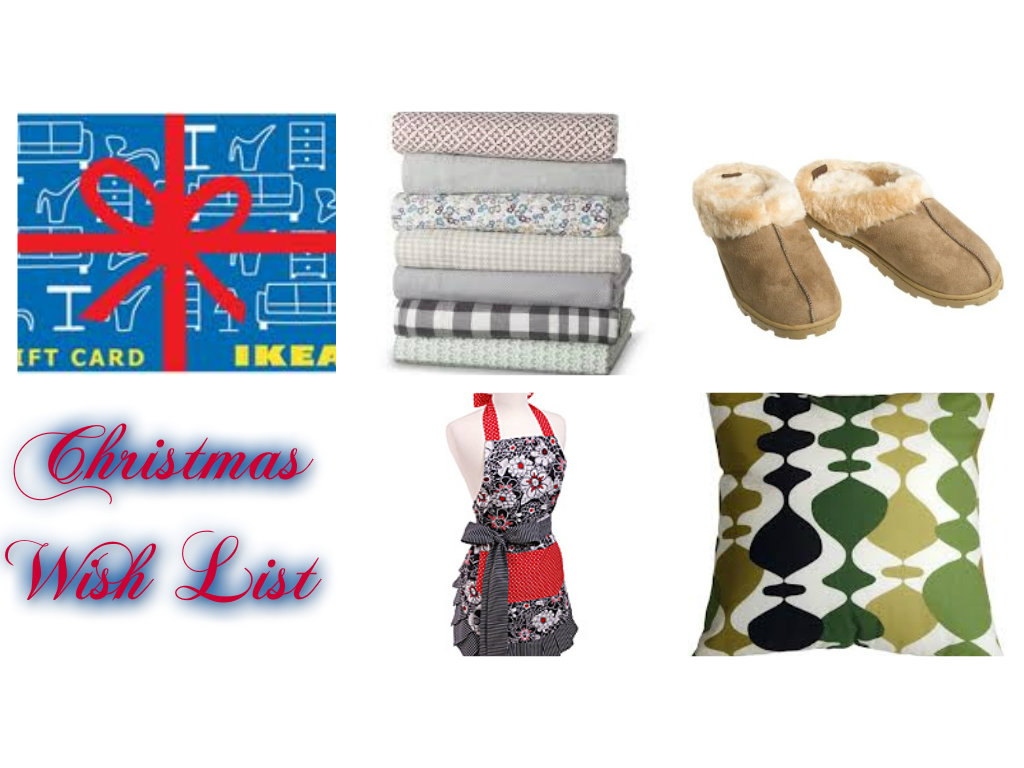 1. Ikea Gift Card.
A friend and I went to Ikea a few weeks ago. We were walking through the store and then suddenly they announced that they were closing! We had to book it out of there, and both of us were pretty sad that we didn't get to walk around the entire store!
All that to say…I could buy so many different things from Ikea! I love it!
2. Flannel sheets.
Ooooooh don't those just sound wonderful? This winter is off to a cold start- and I have heard that it is going to be a nasty one! I would love some flannel sheets to slide into on those bitterly cold winter nights.
These ones pictures are from Target.
3. Slippers.
My slippers are past their glory days. Their glory days were many and were good. But they are getting a little worn and not doing the trick so well anymore.
I'd love some new slippers- but I'm going to be pretty specific and request slippers that can be worn outside to check the mail without getting ruined. You think I'm joking…but I'm actually serious. I love slippers that have real soles, not some cushiony stuff that will get damaged in the snow.
4. A new apron.
I have a couple of aprons in my kitchen, and I do love to wear them. Sometimes it's just time for something new! Isn't it funny how something new like a new apron makes me want to cook more? Hmmm.
5. Throw Pillows.
Back in July when we had a bug problem, I had to burn all my throw pillows. It was a sad day. And now I don't have any throw pillows! I just got some new couches that are a mossy green/gray color. At first I wasn't too sure about the color, but it is actually really growing on me. And the mossy green actually looks great with my navy blue curtains and Africa artwork! When I went on pinterest to look up this color scheme, I actually found that it is the latest trend! Ha! Typical me….stumbling on an accidental trend. So these throw pillows would be wonderful. Target, H&M and Home Goods all have some gorgeous green/blue throw pillows as well.
What about you? What's on your Christmas wish list?