We just had a wonderful weekend celebrating Josh and Jamie getting hitched!
Theo and Josh have been friends for a long time. They went to high school together, then were roomates at Cedarville. Josh was also best man in our wedding, and Theo was best man in his wedding this past weekend.
I've said it after every single wedding we have been in: being in the wedding party is far more exhausting than being the bride/groom! At least when you are the bride/groom, you work hard beforehand, show up on the day of….and then have the best adrenaline rush/happiest day of your life…then usually go on an awesome vacation. As a wedding party member, you work beforehand, then get very little sleep, then show and participate, then go home and go back to work the next day. Haha. BUT, it is SO worth it.
Here is a little recap of our weekend.
On Thursday we headed to Cleavland. In hindsight, we should have done a little better planning about where to stay, but it ended up working out perfectly fine. We stayed at one of the groomsmen's apartment…with all the other guys. Haha. Thankfully Tera is a happy little girl, and didn't seem to disrupt anyone's time, schedules or sleep (except mine and Theo's.)
Thursday night, Theo and all the guys went out for their bachelor party. Tera and I stayed at the apartment and watched HGTV. Oh, yes…it was a treat for me!
On Friday we had some down time. I snapped this adorable picture of Theo and Tera. There is nothing like a Daddy's love!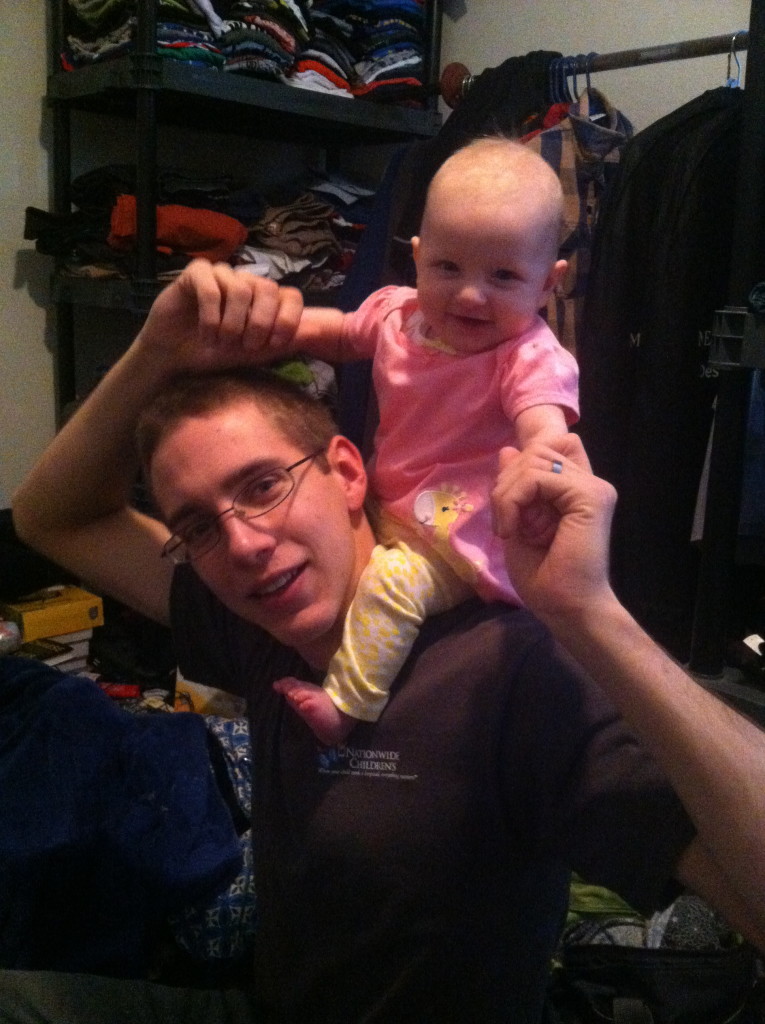 Tera has perfected the art of rolling over…but not the art of WHERE she rolls over. She rolled herself right into the shelf (Also: let's play a game- how many things can you find on the shelf that show we were staying at a guys apartment?)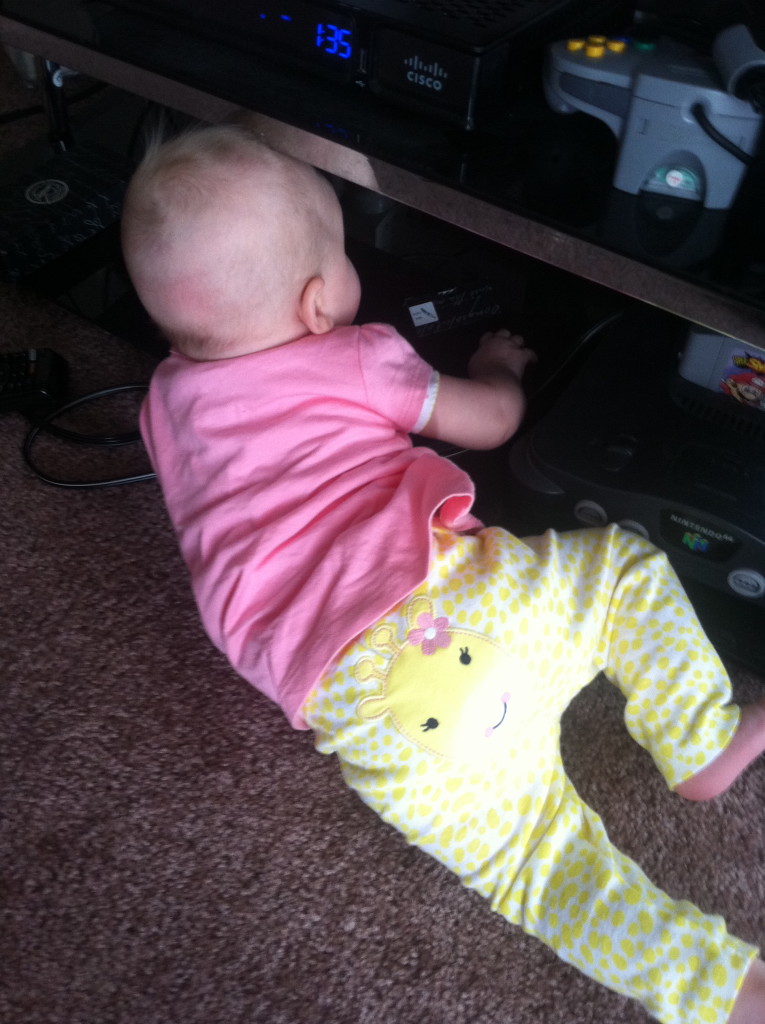 Friday evening was the rehearsal. It was one of the fastest and best rehearsals I have ever been to! They ran through everything, and then we headed to the dinner!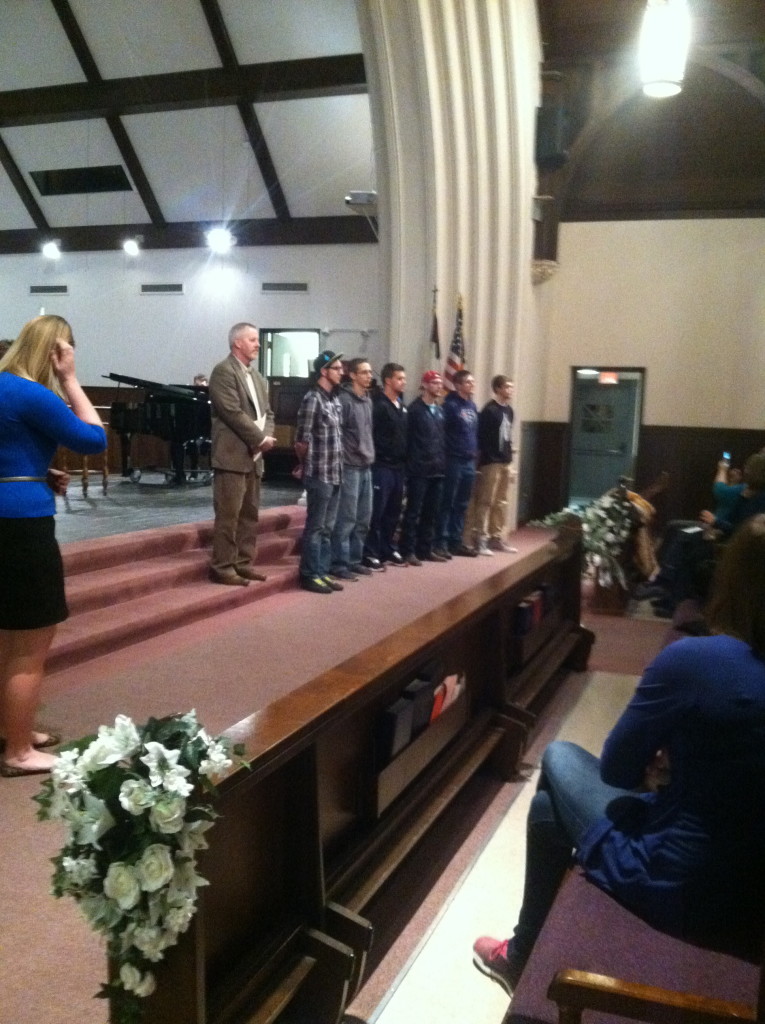 It was in a beautiful church!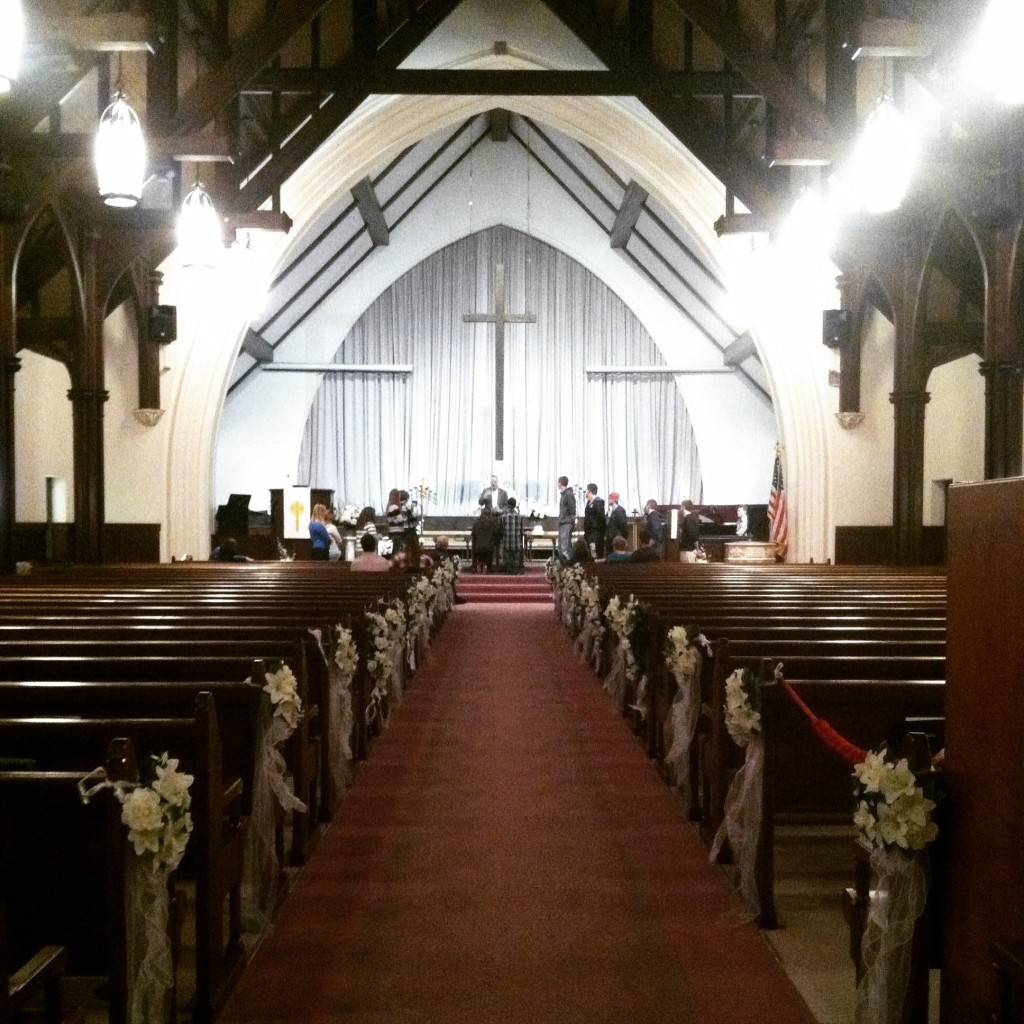 Tera hit her fussy time, and didn't like the fact that someone else was getting all the attention, so she fussed the whole rehearsal. I threw her in my mei tai and popped a pacifier in her mouth, and she calmed down a lot. It made me really nervous about the ceremony, however. I knew Theo would be up front and I wouldn't have help with her if she got fussy or had a poopsplosion.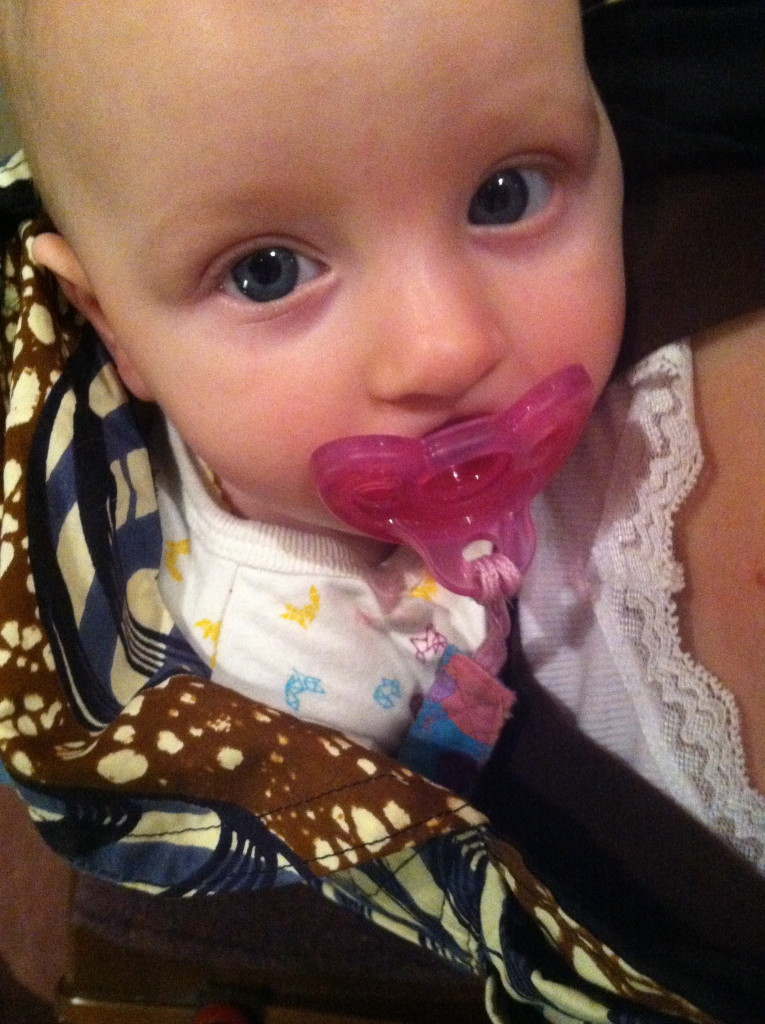 On Saturday, the boys were all getting ready at the apartment, so Tera, myself and another groomsmans wife got kicked out. We headed to the church and got ready there. Only problem was that there was no full length mirrors, and there were no outlets anywhere near a mirror! So I didn't even get a look at myself before the wedding, and Kylie had to curl her hair using a little baby mirror from the nursery! You gotta do what you gotta do!
Here is Tera all dressed and ready: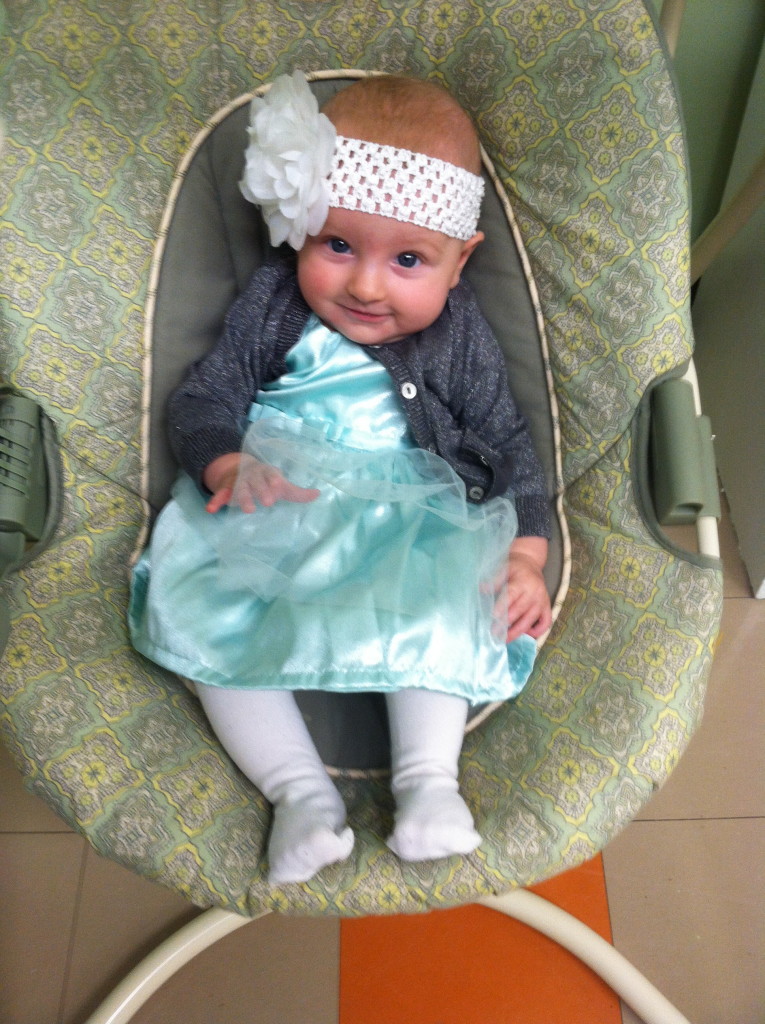 Theo was the only one who knew how to pin a boutonniere on. I have no clue where he learned how to do it, but he did it for all the guys! Haha!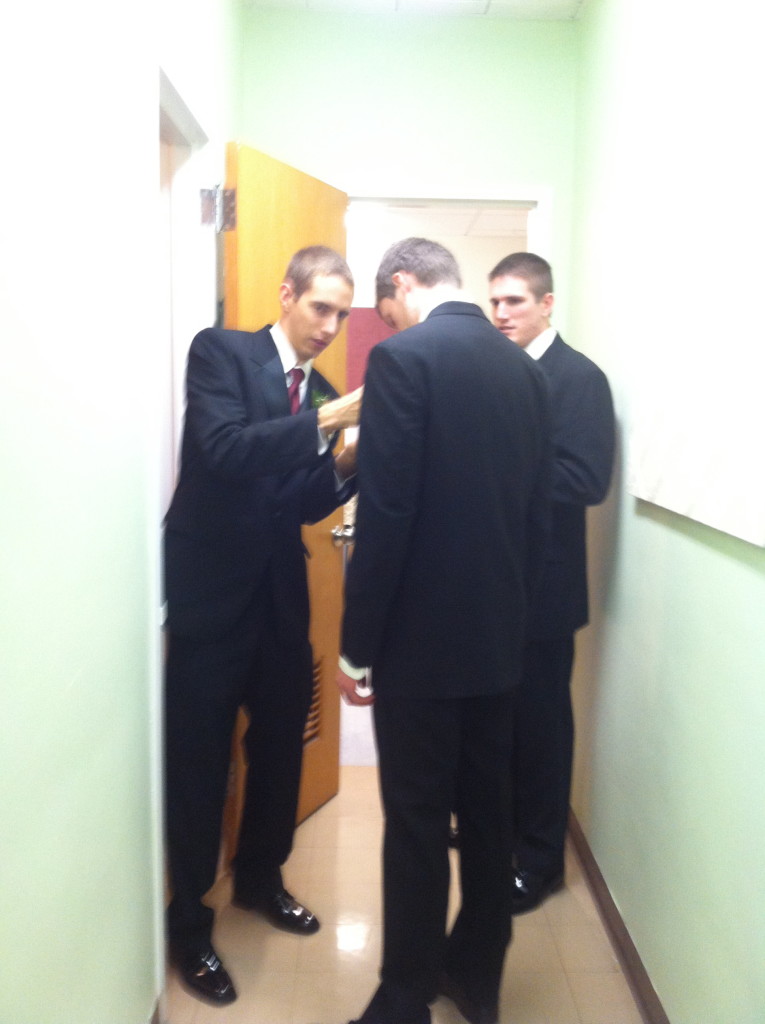 This is one of my all-time favorite pictures. It's a framer, for sure!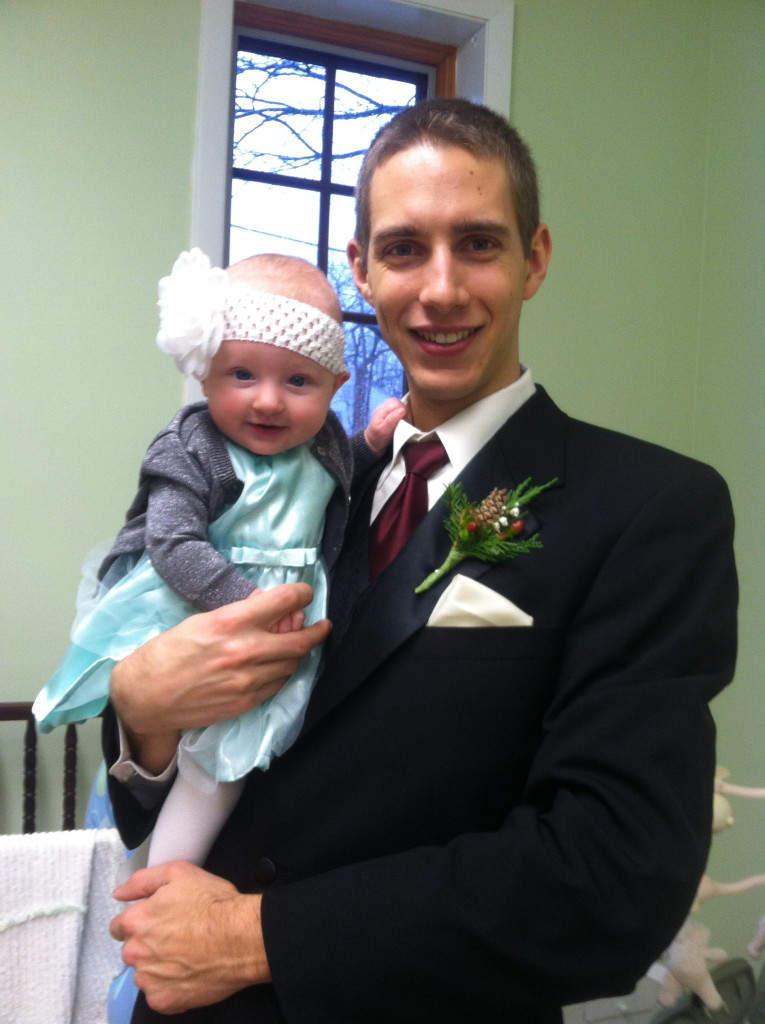 The three of us. I wanted this picture before the ceremony because I was afraid something would get on Tera's dress that would require an outfit change. Haha.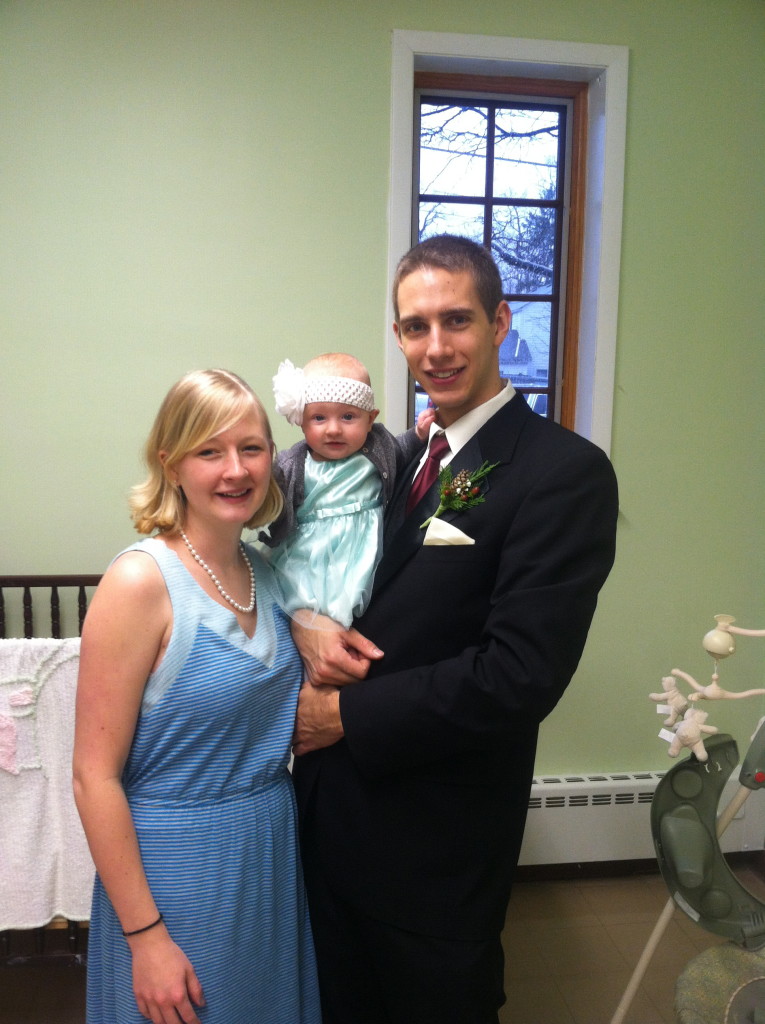 The wedding! It was a beautiful ceremony. The bride and groom were typical: smiling and giggling at each other and obviously not listening to a word that the pastor said. And that best man sure is handsome!!!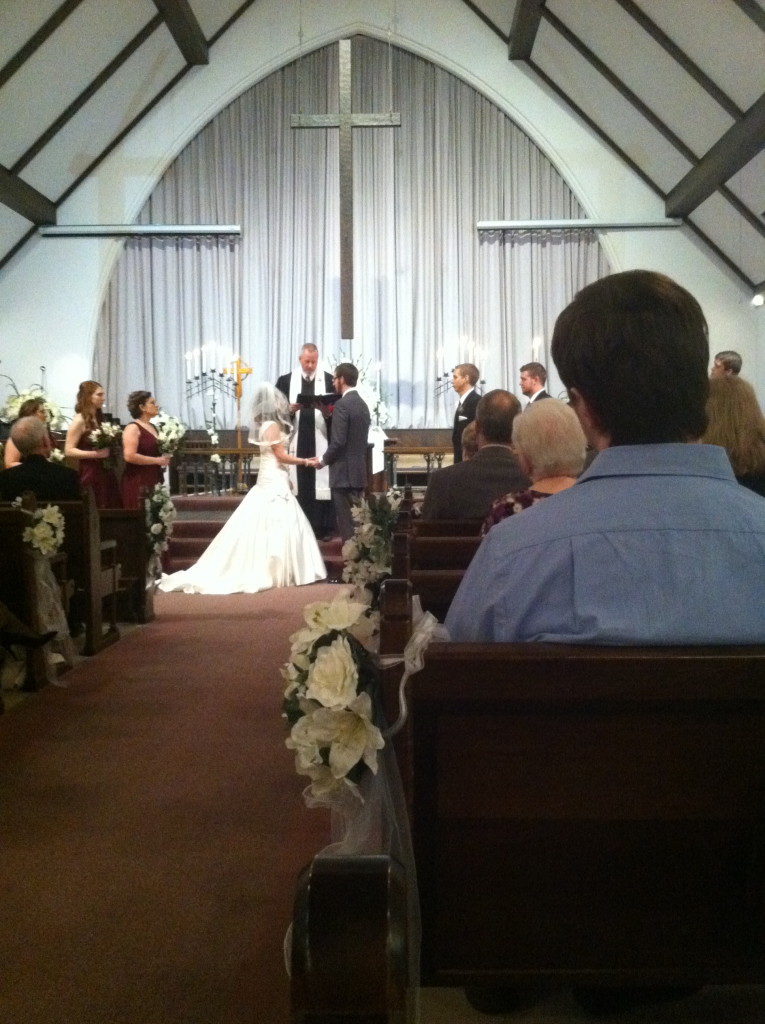 Tera was awake for the first 10 minutes, smiling at everyone and cooing loudly. She then promptly fell asleep and didn't wake up until everyone applauded and whooped at the end of the ceremony 🙂 What a great baby!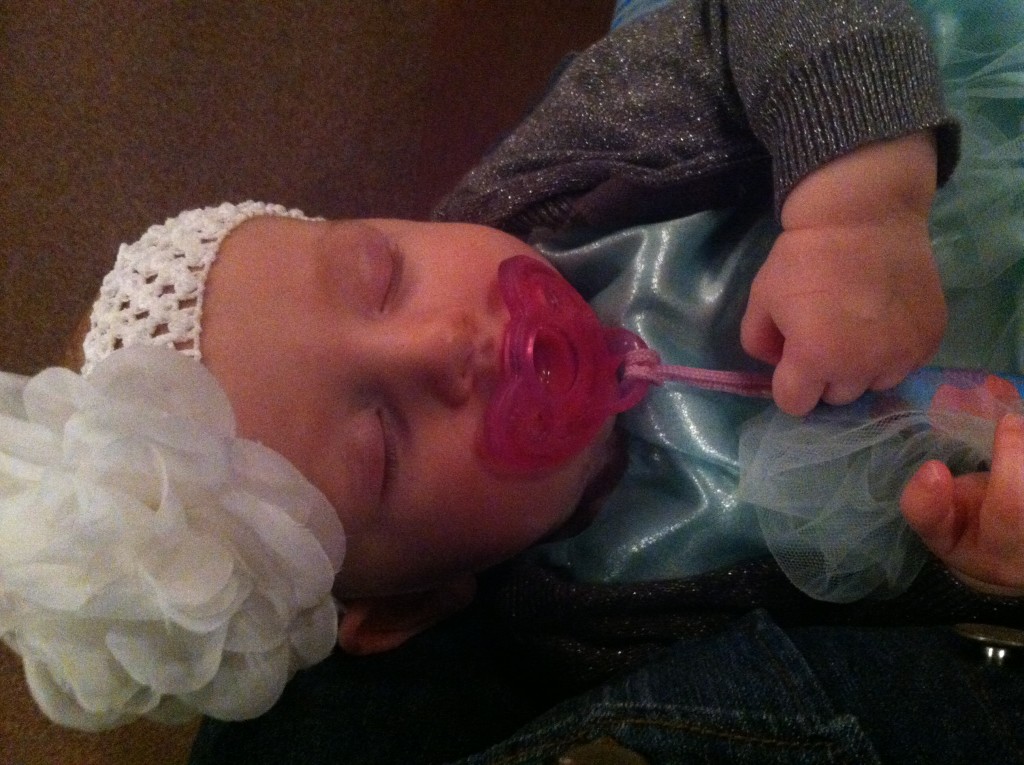 The kiss! Mr. and Mrs.!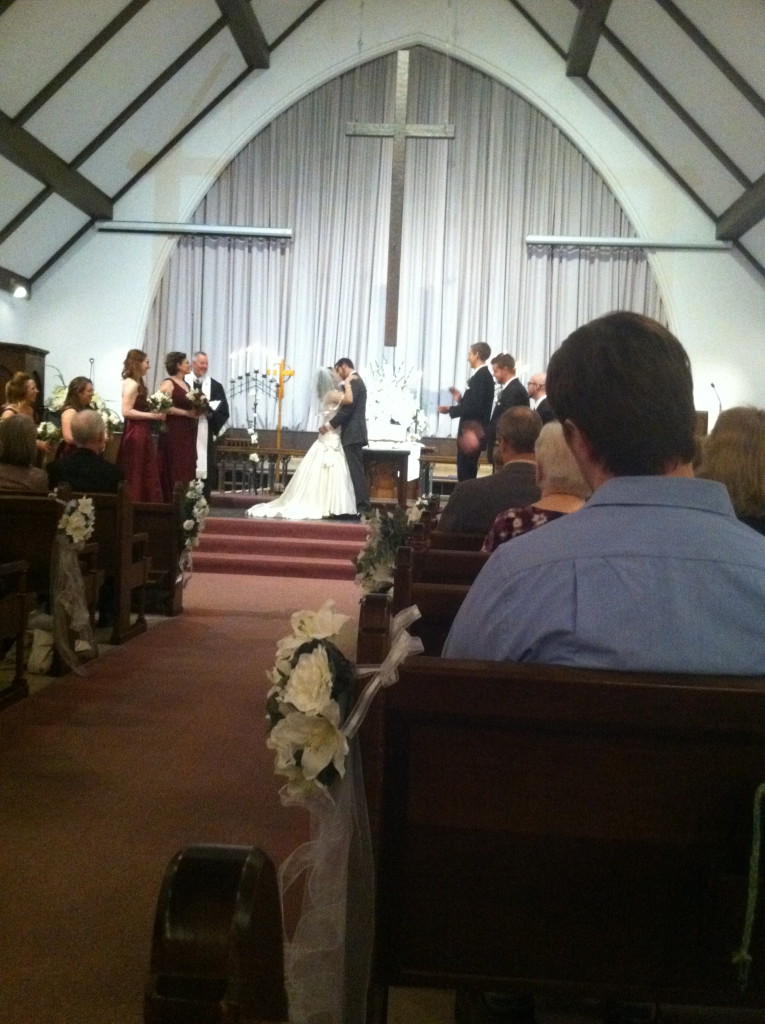 There they go! Glowing!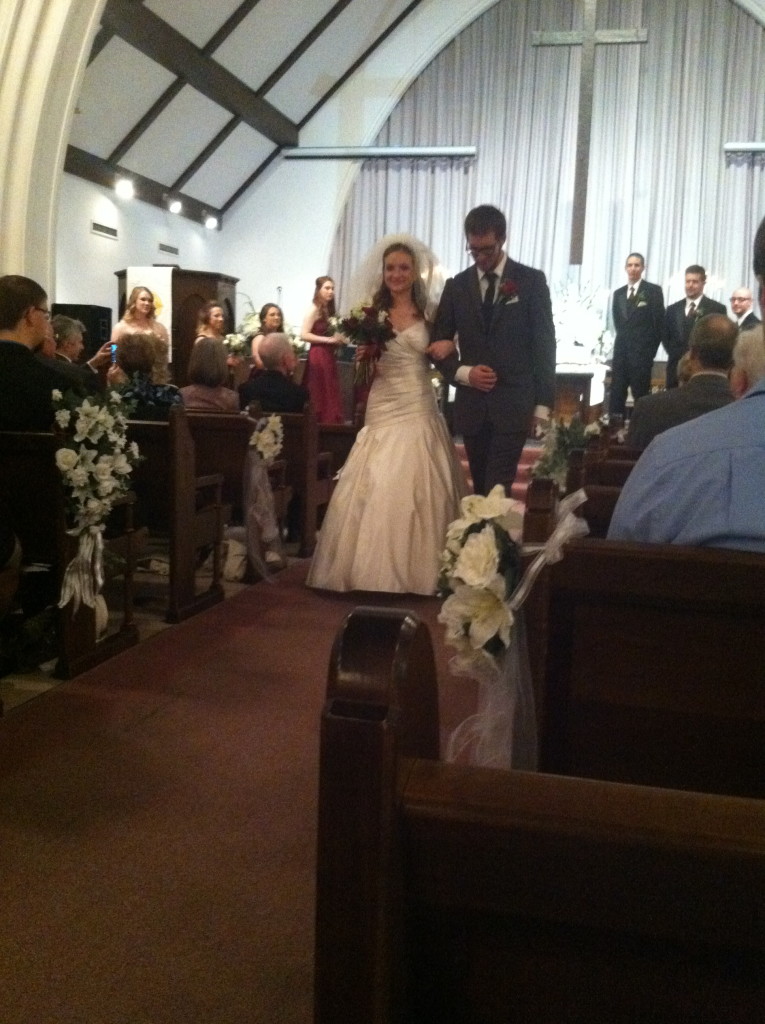 After the ceremony there was pictures. Tera had her 30 minute power nap and was good to go! Thankfully, Theo was so helpful in giving me a little break from holding her.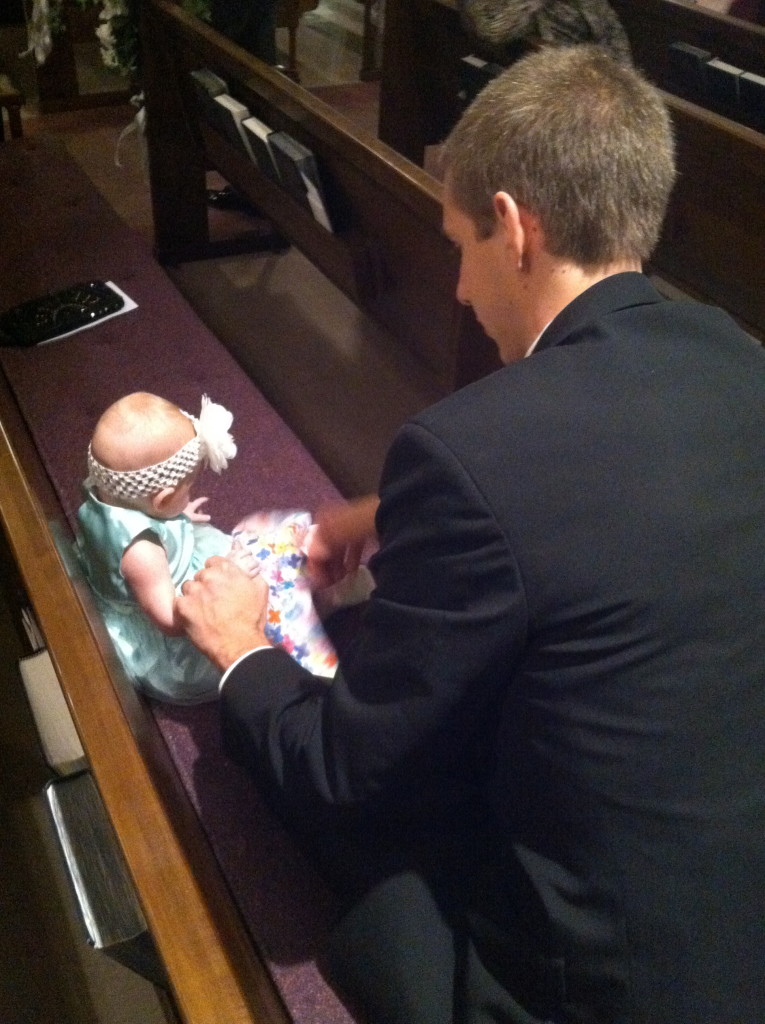 The reception was absolutely beautiful, although I didn't have my camera for the first part of it. Theo gave his best man speech, and boy was I proud!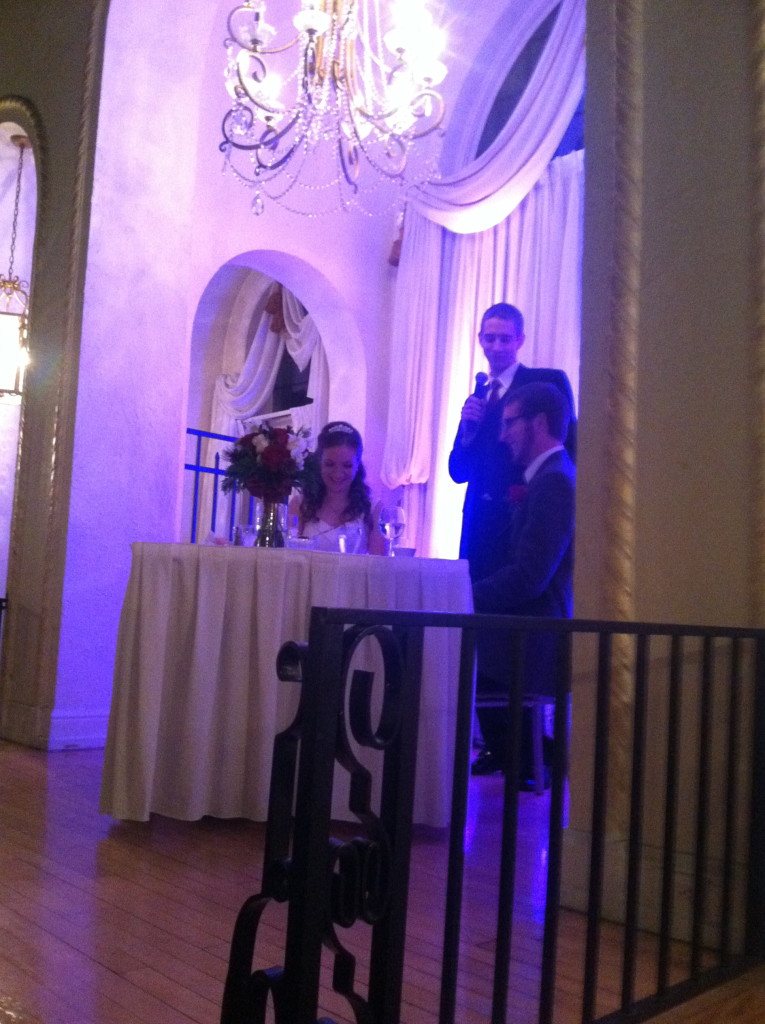 The newlyweds!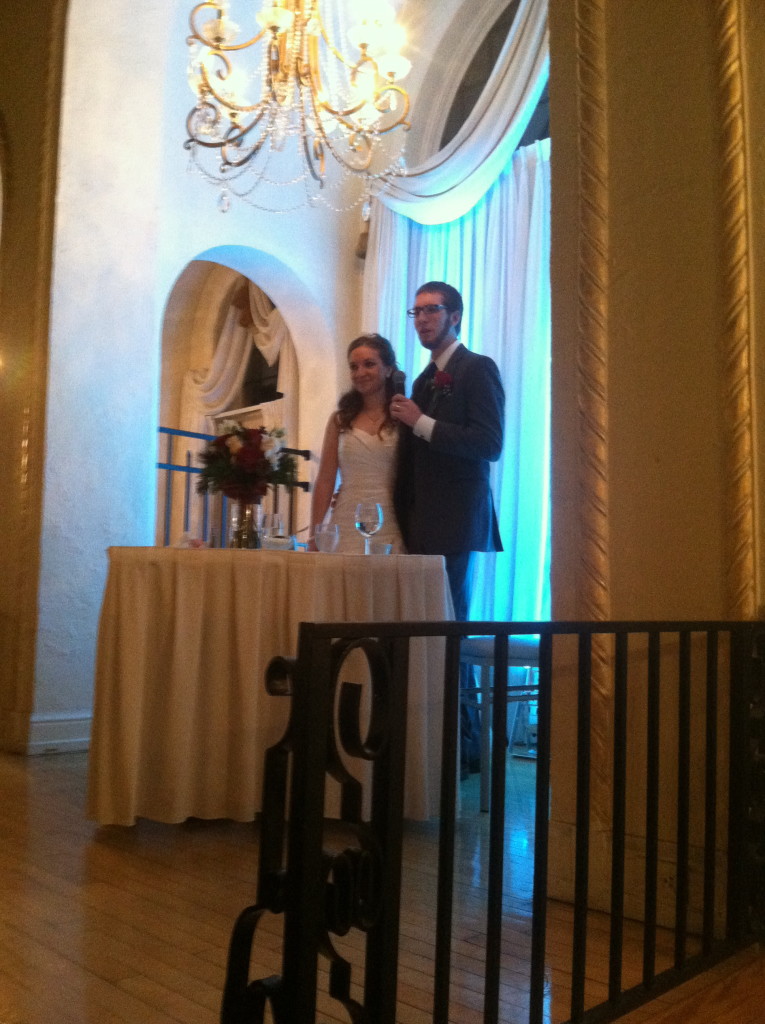 Like I said…glowing!
Jamie held Tera…I was pretty nervous!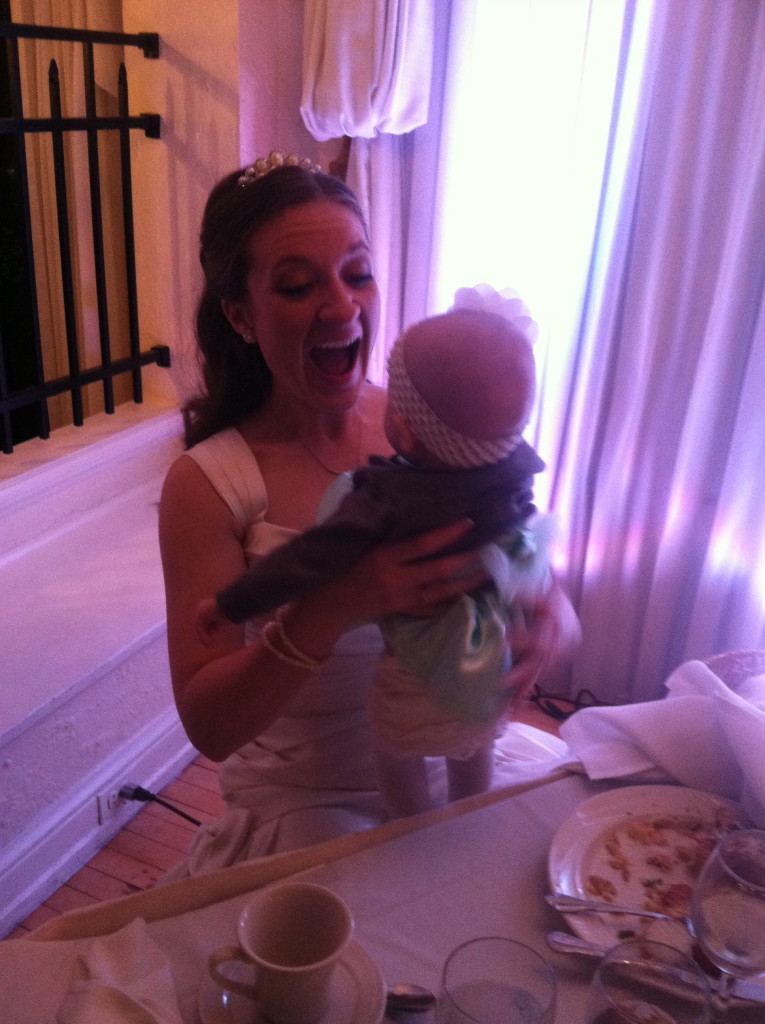 Adorable. I wish it wasn't blurry!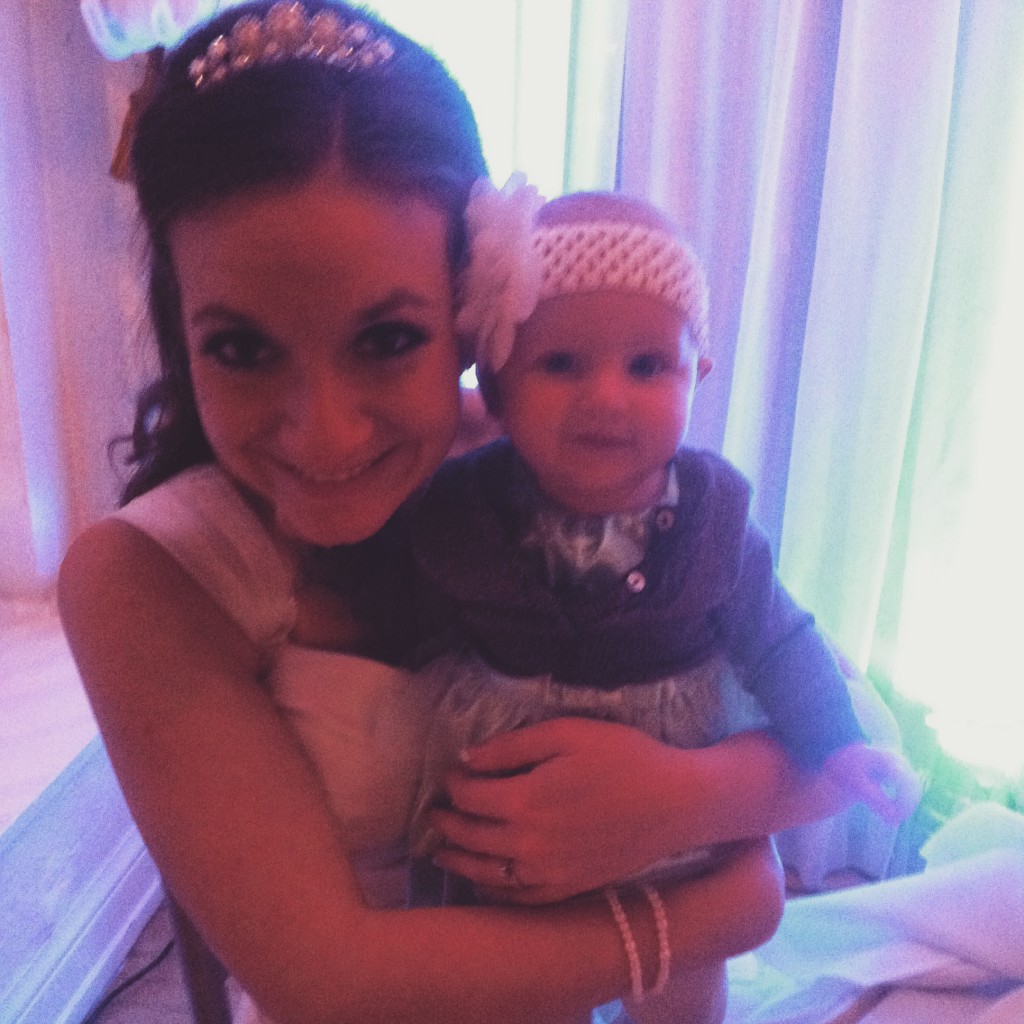 Friends!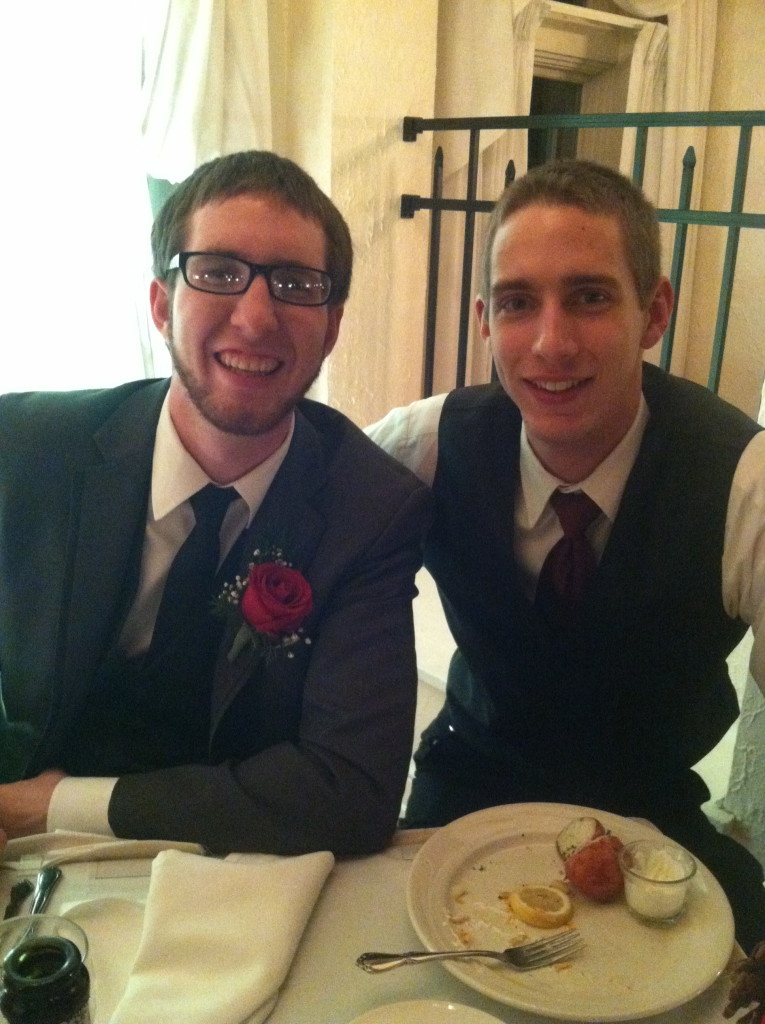 Josh even held Tera!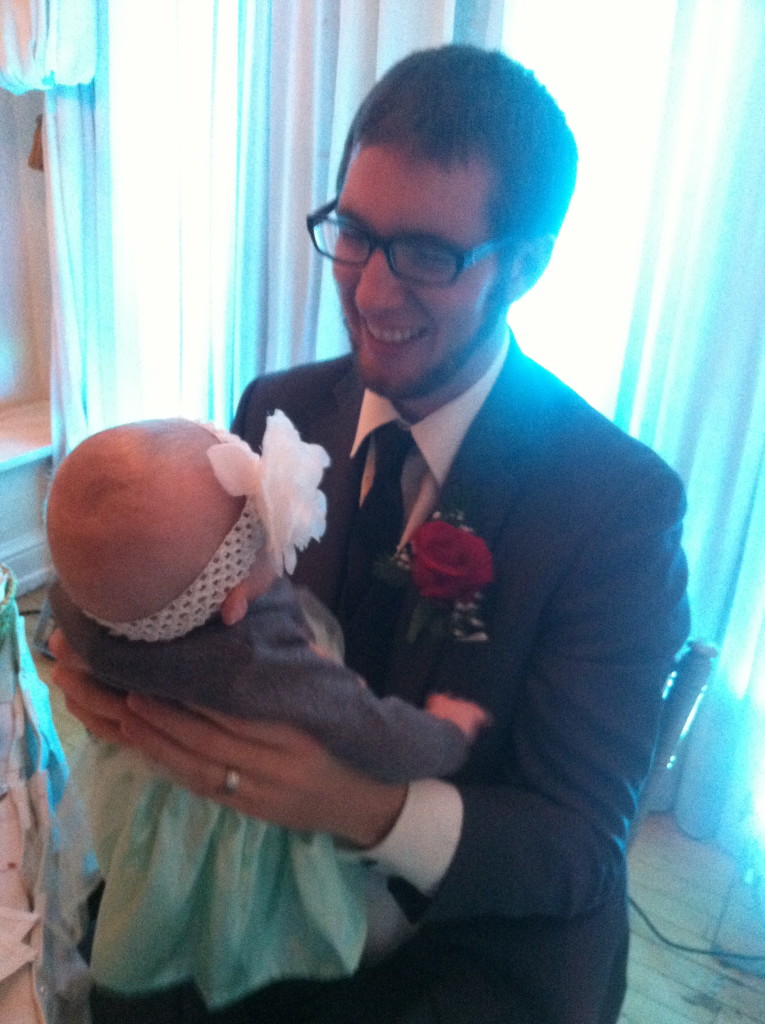 Tera was getting so wiggly, so I just put her down on the floor. She only lasted about 30 seconds before someone saw the opportunity to hold her 🙂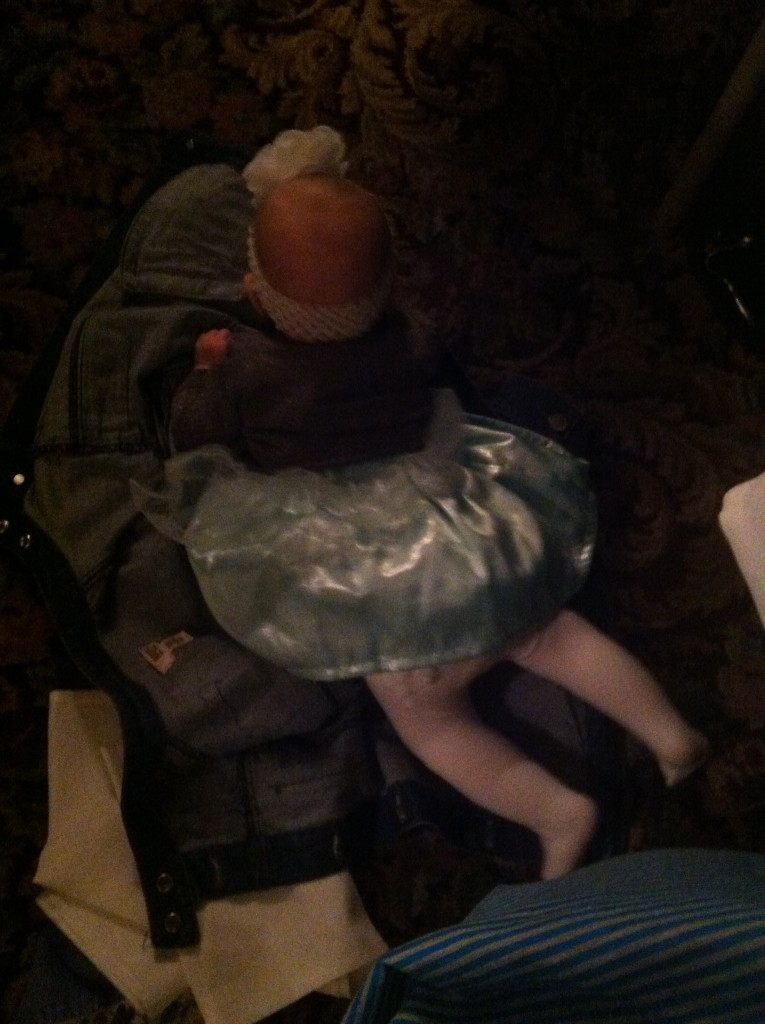 Ladies 🙂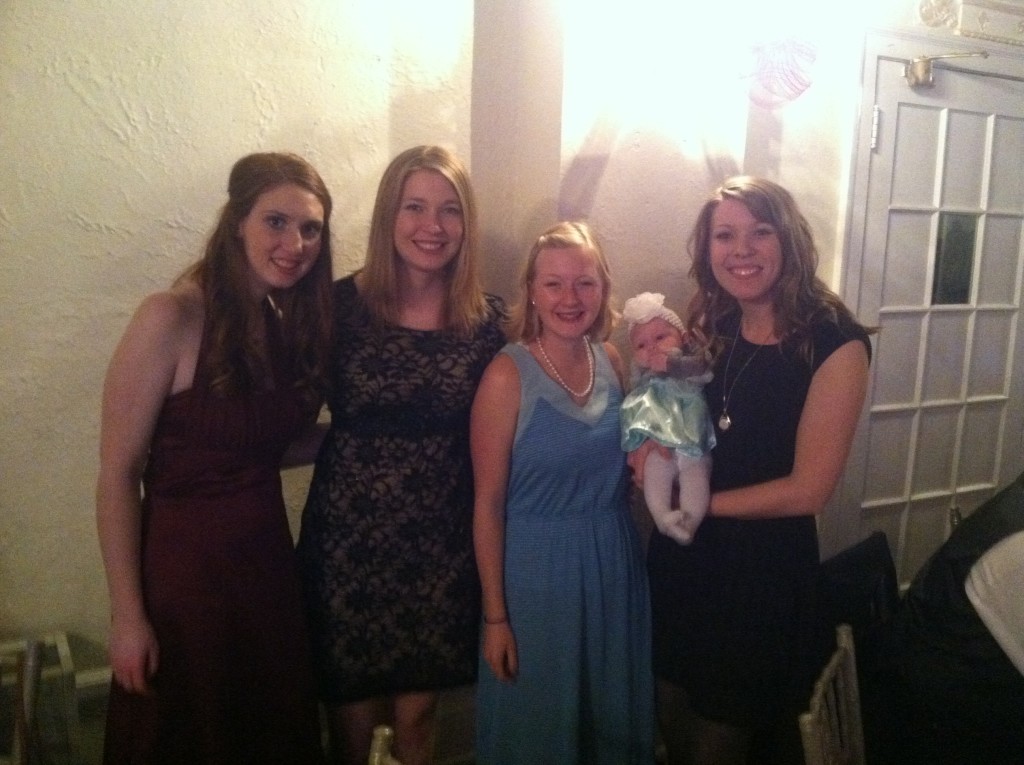 Friends from Saginaw.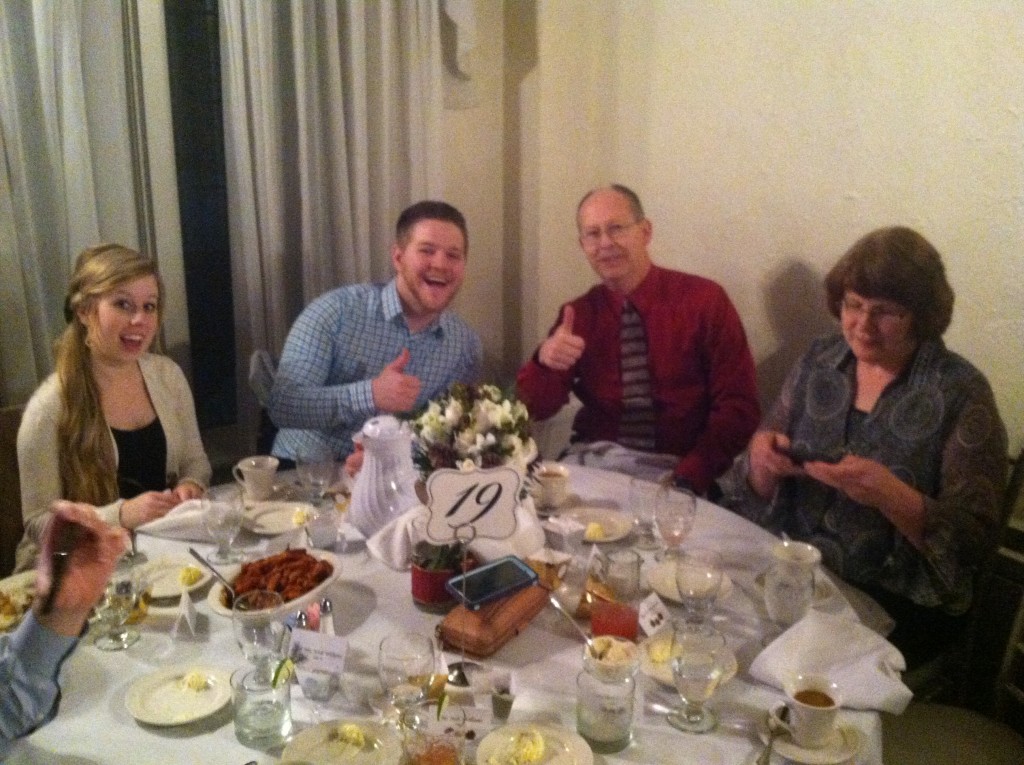 At weddings, I used to always take pictures of my name card. Now, I just take pictures of Tera. But I actually remembered this time! It still makes me so happy to see Mr. and Mrs. Theo Hines.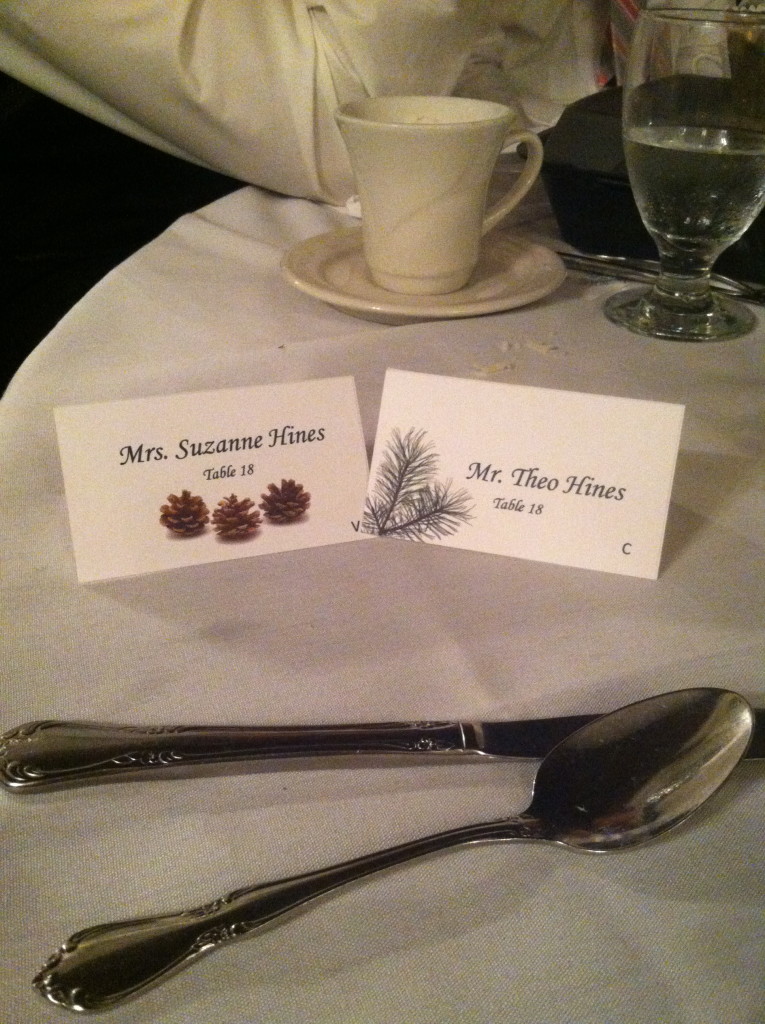 It was fun catching up with friends from high school and college!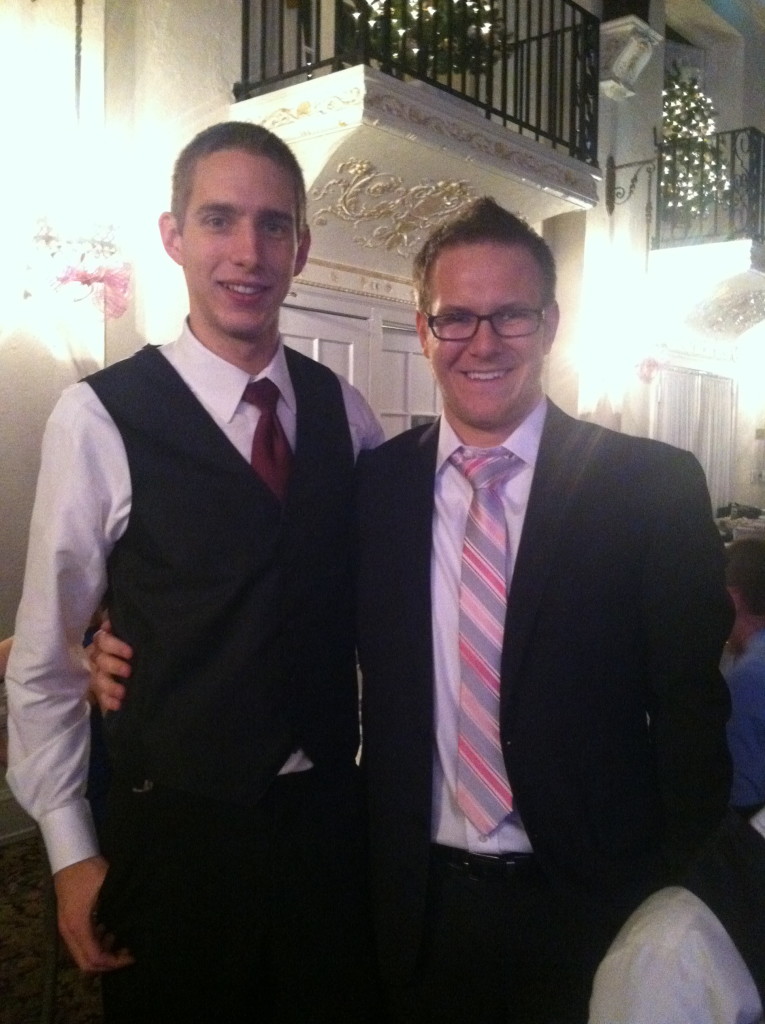 The dance floor! I was so excited to be able to dance…but it was SO LOUD and Tera was overwhelmed. Theo and I took turns watching her in a side room. I'll write more about that later.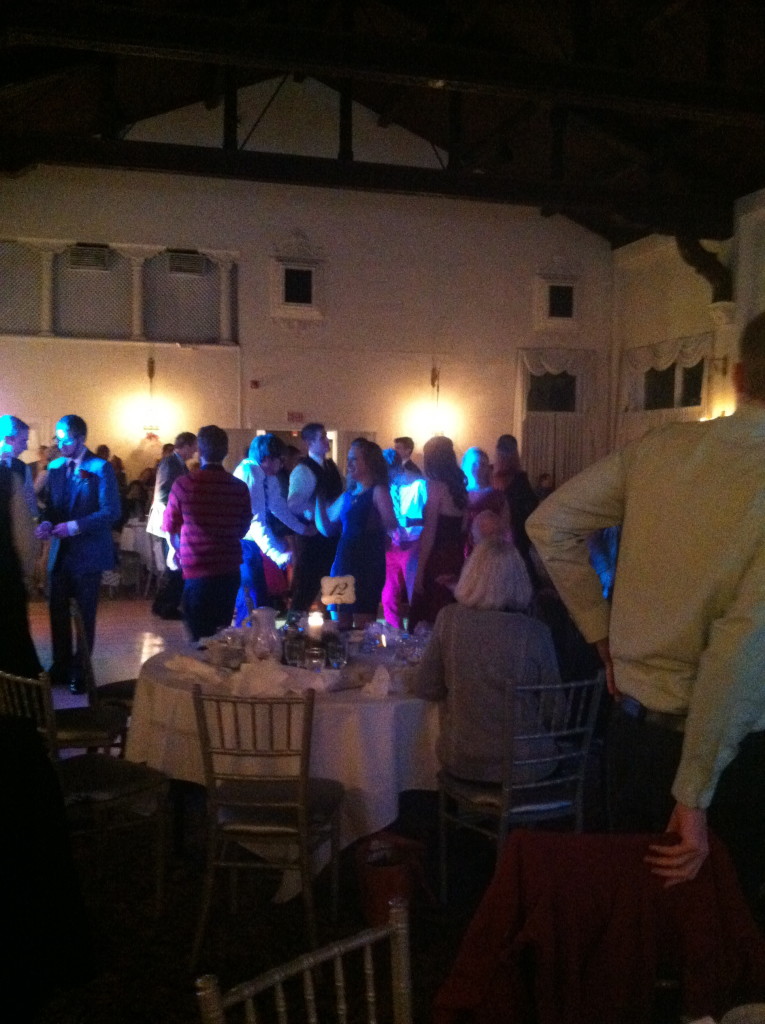 Melissa and her husband Ryan just got married in October! Melissa and Ryan were super helpful with Tera, too.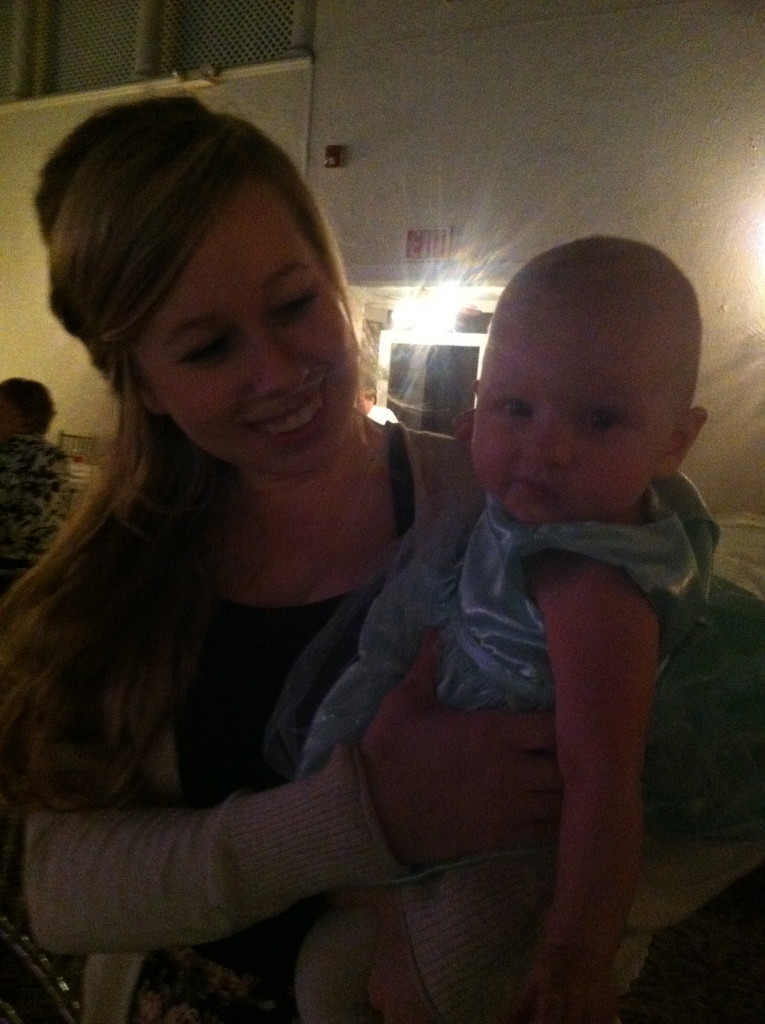 At every wedding, the guys 'perform' I'll Make a Man Out of You from the Mulan movie. It's always fun to watch, although I think everyone that doesn't know them was kind of confused as to why that was relevant to the wedding. haha. Oh well, I thought it was great!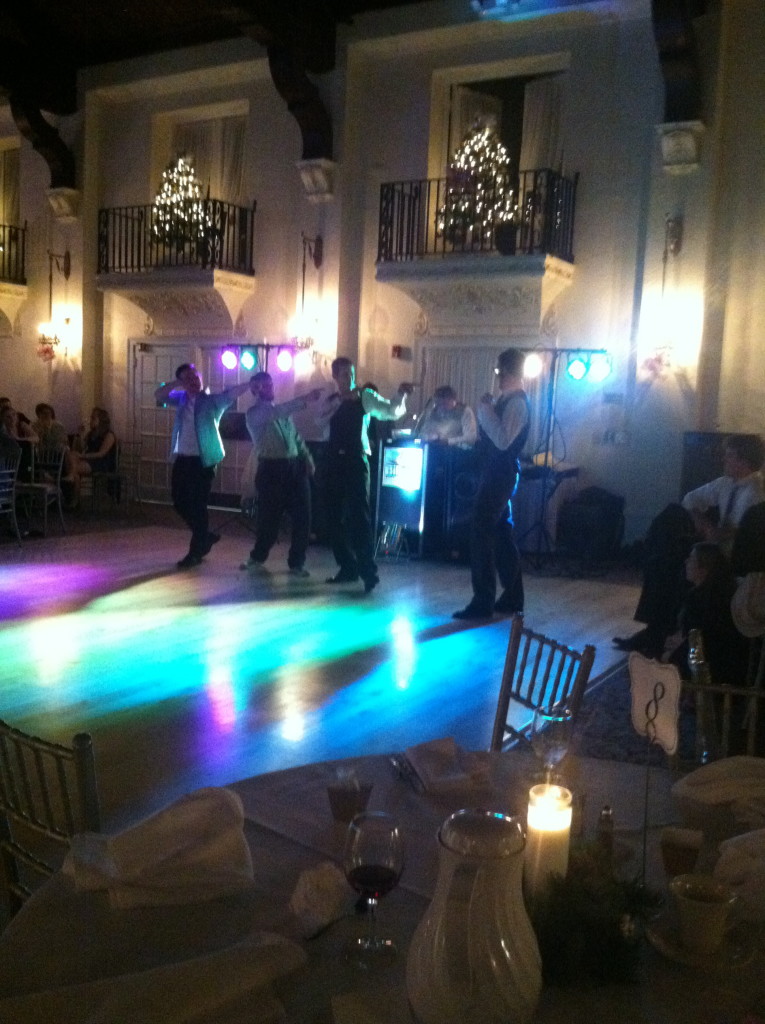 Josh and Jamie danced to 'Baby, It's Cold Outside.' How perfect for a January wedding!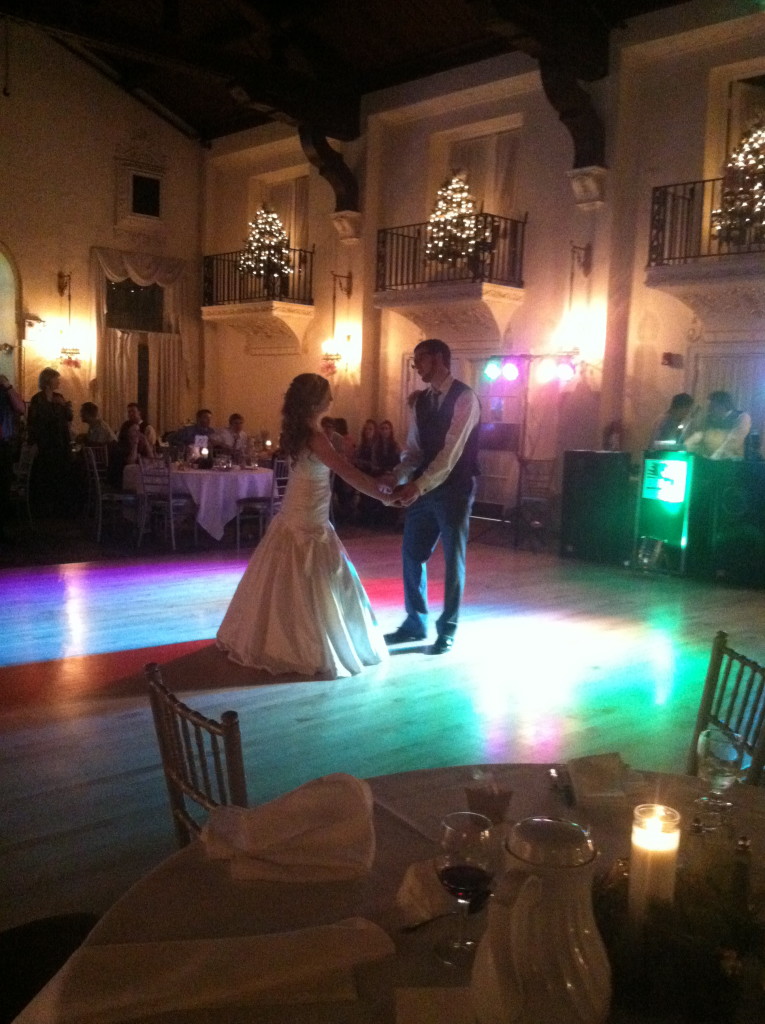 Like I said, the music was too loud for Tera, so we kept her in the other room. But at the end we grabbed her and headed back into the reception for one last dance with her. She stayed awake the entire time. She is a party animal and a social butterfly, I guess!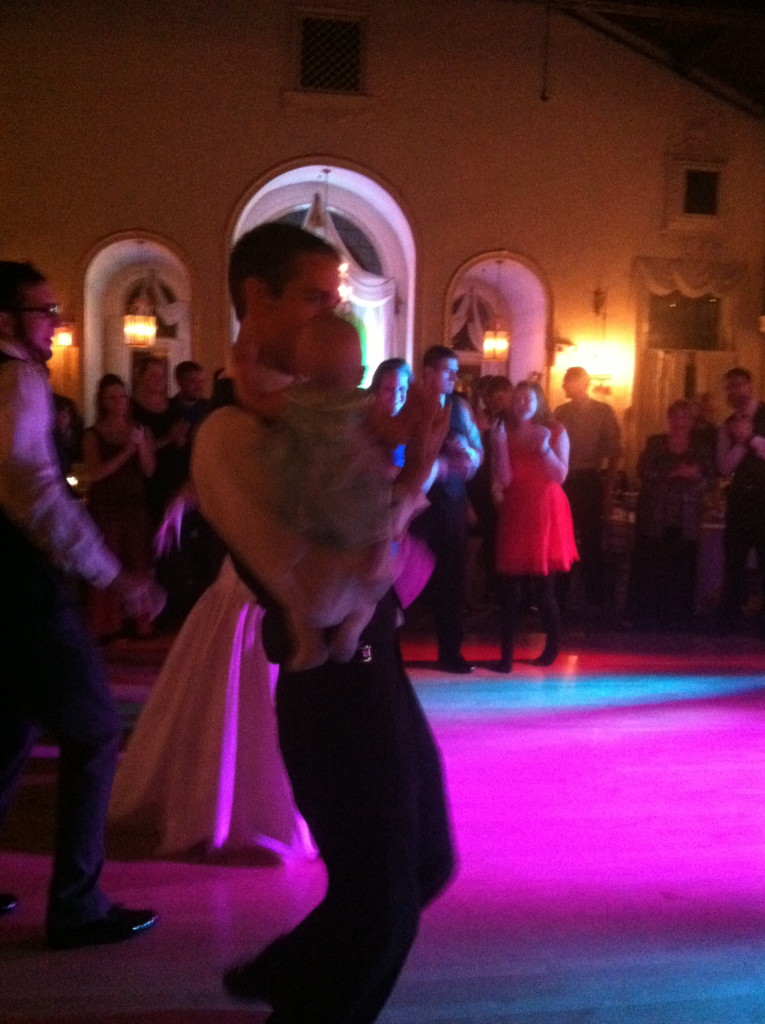 After the reception, we drove straight home, arriving around 3 am. Phew…that was quite the weekend!
Congratulations, Josh and Jamie! We are so happy for you and cannot wait to see where God takes this marriage!