We are all in different life stages.
And everybody else's stages always seem to look better than ours.
This past weekend, I was truly hit with this new life stage that Theo and I are in.
We stayed at a "bachelor pad"…with a baby.
We attended a wedding…with a baby.
Not that all those things are all that impressive…but it was the fact that most of our friends are not in that stage.
I pitied myself that I had to wake up in the night to feed a baby…no one else had to do that.
I pitied myself that I had to dress a post-partum body for a wedding. And that I didn't have much time to get myself dressed or make up on.
And then I really, really pitied myself when we got to the reception. Everyone else got dance the night away in front of those mega-loud speakers, while I had to stand in the next room to keep my baby out of the way of the very, very loud speakers. I tried to rock her to sleep for hours, and she never went to sleep.
I truly just wanted to burst into tears. I wanted to grab my husband and get out of there, mourn our boring lives, pity ourselves that we just can't do anything anymore.
And then I peered into the reception room and saw all the different people, all the different life stages.
I watched the singles pushing and shoving for the bouquet and the garter. I saw their freedom, their ability to make decisions without having to consider a husband or a child. I saw their nice, unscathed, young bodies and mourned the loss of mine. But, I bet they see us married people and wonder if they will ever have what we have.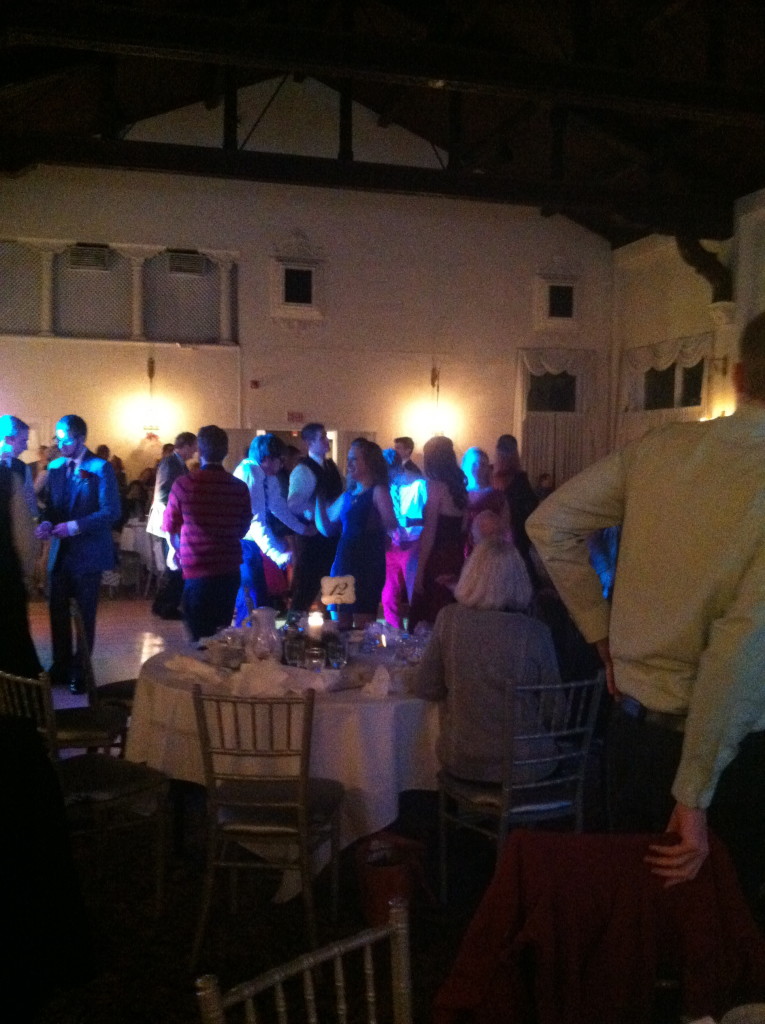 I watched newlyweds dancing and smiling and giggling at each other. I saw their love and adoration for each other, and I remembered when Theo and I were like that. I saw their excitement for the adventure they were about to embark on, and wondered when our excitement had faded into the daily mundane. But, I bet they see their future and want babies like Tera or a house and a marriage like ours.
I watched the parents duck out of the reception to head home to babysitters or carrying their sleeping/crying children to the car. I was one of them. I bet know they wish they had a little more freedom and a lot more sleep.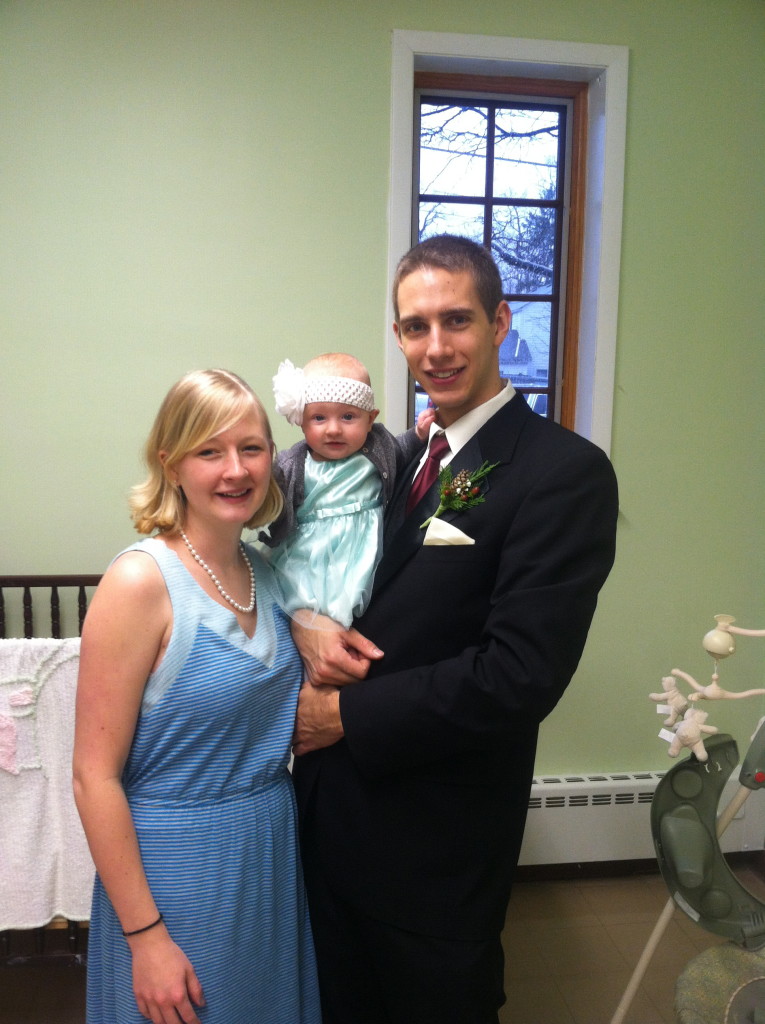 I watched the mothers of the bride and groom, smiling at their children who were now leaving their nests. They were classy and beautiful, so strong and so sure. They survived the infant stages, the toddler stages and even the teenage stages. They were watching their grown children on the happiest days of their lives. But, I bet they wish they had just a little more time to hold and cuddle their precious grown-up-too-fast children.
And it hit me, then. My life isn't over! Sure, I'm at a new stage. A stage of early bedtimes, sleepless nights, limited dance floors and limited fancy little cocktails. A stage full of poopy diapers and strange post-partum body lumps. But my life is far from over! My life is full of rich blessings, sweet cuddles and dripping drool, an adorable baby and a marriage that we are seeking to strengthen throughout all of these crazy life stages.
All too soon this stage will be over and a new stage will arrive. A stage that has it's own problems, its own joys.
There is a country song that gets me every single time I listen to it. If you ever see me driving down the road bawling my eyes out, it's because I'm listening to this song. It's so relevant to my life right now.
Trace Adkins- You're Gonna Miss This
She was staring out the window of their SUV
Complianing, saying "I can't wait to turn 18"
She said "I'll make my own money, and I'll make my own rules"
Mamma put the car in park out there in front of the school
Then she kissed her head and said "I was just like you"
You're gonna miss this
You're gonna want this back
You're gonna wish these days hadn't gone by so fast
These are some good times
So take a good look around
You may not know it now
But you're gonna miss this
Before she knows it she's a brand new bride
In a one-bedroom apartment, and her daddy stops by
He tells her "It's a nice place"
She says "It'll do for now"
Starts talking about babies and buying a house
Daddy shakes his head and says "Baby, just slow down"
Cause you're gonna miss this
You're gonna want this back
You're gonna wish these days hadn't gone by so fast
These are some good times
So take a good look around
You may not know it now
But you're gonna miss this
Five years later there's a plumber workin' on the water heater
Dog's barkin', phone's ringin'
One kid's cryin', one kid's screamin'
And she keeps apologizin'
He says "They don't bother me.
I've got 2 babies of my own.
One's 36, one's 23.
Huh, it's hard to believe, but…
You're gonna miss this
You're gonna want this back
You're gonna wish these days hadn't gone by so fast
These are some good times
So take a good look around
You may not know it now
But you're gonna miss this