What is footgolf, you ask?
Well, it is pretty much exactly what it sounds like. You use your foot to play golf.
Believe it or not, there is actually an American FootGolf League. I guess it's becoming pretty popular.
Through the Dayton.com Facebook page, I saw that a local golf course, Kitty Hawk Golf Center, was opening up a new FootGolf course. I thought that it sounded awesome, so I clicked on the link and noticed that there was FREE admission on opening weekend. All we would have to do was rent the soccer balls and the golf cart to drive around the course.
It happened that one of Theo's good friends was visiting that weekend, and it worked out that the three of us went (with Tera, of course). At the last minute as we were leaving the house, Theo threw the umbrella stroller into the trunk. That was a wise decision.
When we got there, we opted out of renting a cart and I was thankful that we brought the stroller. We rented three soccer balls (one for each of us) for $9. $3 each. Note: These soccer balls are light and 'cheap'. I would recommend bringing your own, both for quality and to save a few bucks!
I have no idea if it technically ok to push a stroller around a golf course. We got there around 6:30 and the golf course closed at sundown, around 8:30. Since we didn't have a lot of time, we actually only made it through 7 holes. Of course, we were S O O O   S L O W since we had the stroller and a flat soccer ball.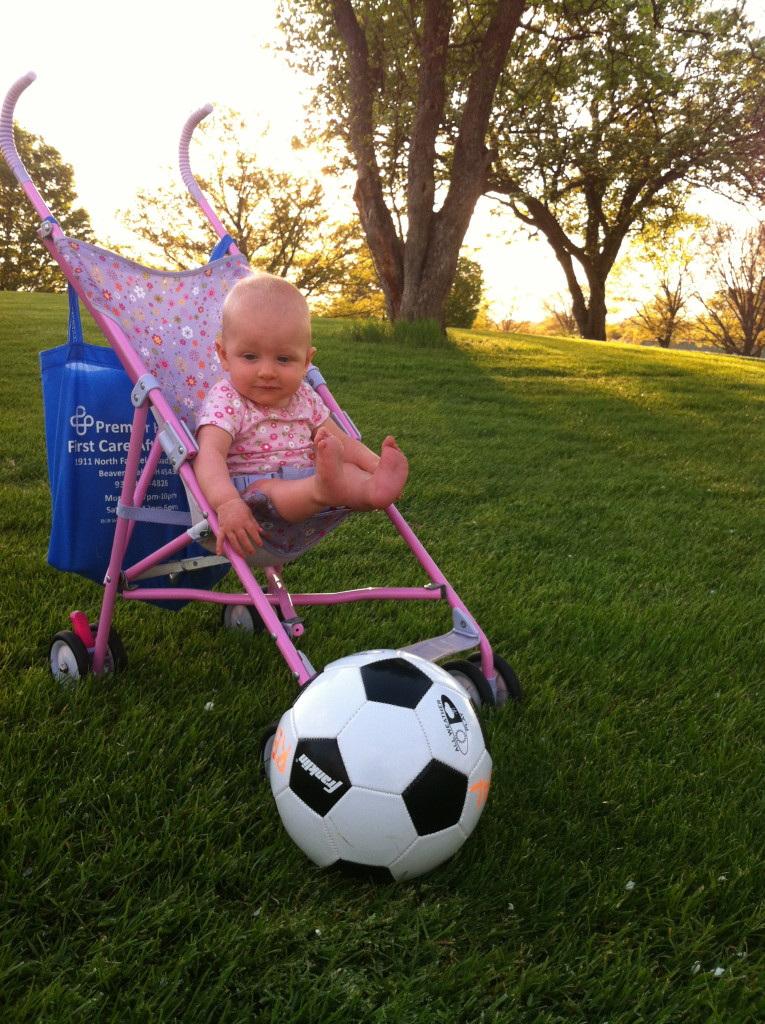 The starting lines are marked by wooden blocks (see the little red thing in the picture?). There are two levels starting at different distances. The hole is located in the same spot as a regular golf hole, but it is a separate hole with a separate flag. It usually took us 2-3 long kicks to the ball in the right spot, and then 1-5 kicks to get it in. We all played soccer growing up, so it was a lot of fun to get some good kicks in. I am SO OUT OF PRACTICE! Haha. If I wasn't a soccer player, I don't think think I would have very much fun with this 'sport'.
The Kitty Hawk golf course is beautiful and well kept. It was not crowded at all for a Saturday night.
I know that having kids can throw a huge wrench into life plans, but seriously…don't let having kids stop you from having fun. Tera had a blast. She loved watching us kick the ball, she loved riding along in her stroller, she loved crawling across the grass. I know that different stages require different sacrifices, but don't be afraid to get out there with your kids! Even if someone has to be the designated baby sitter, don't let it stop you!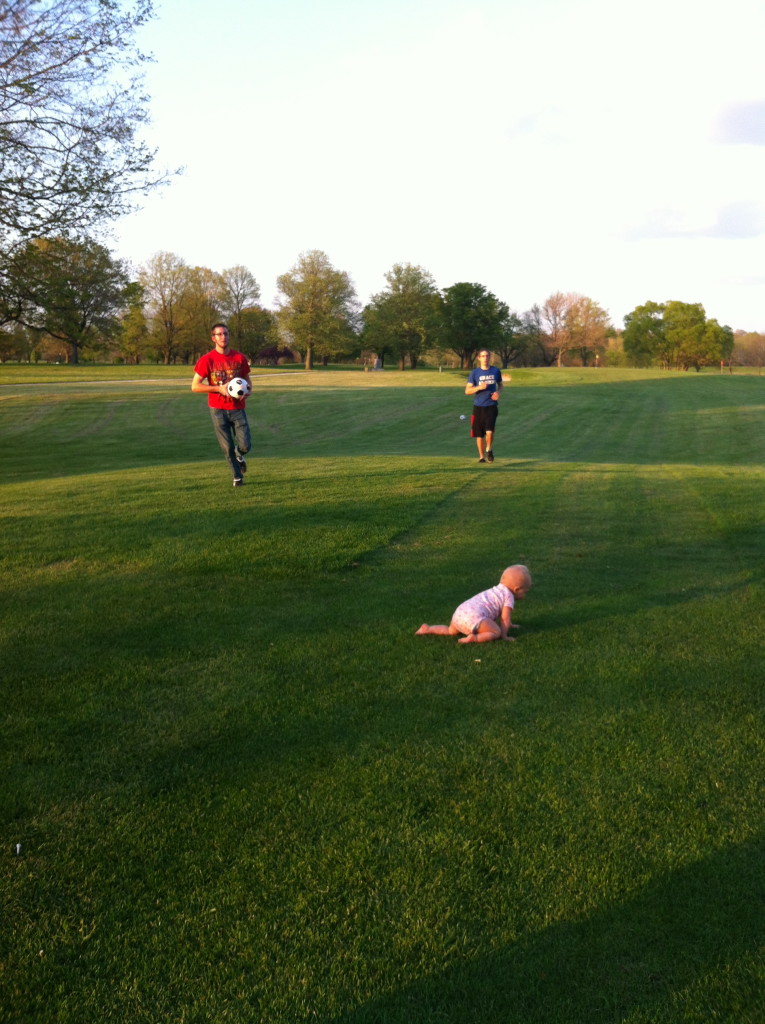 It's been so long!
Like I said, Tera had a blast!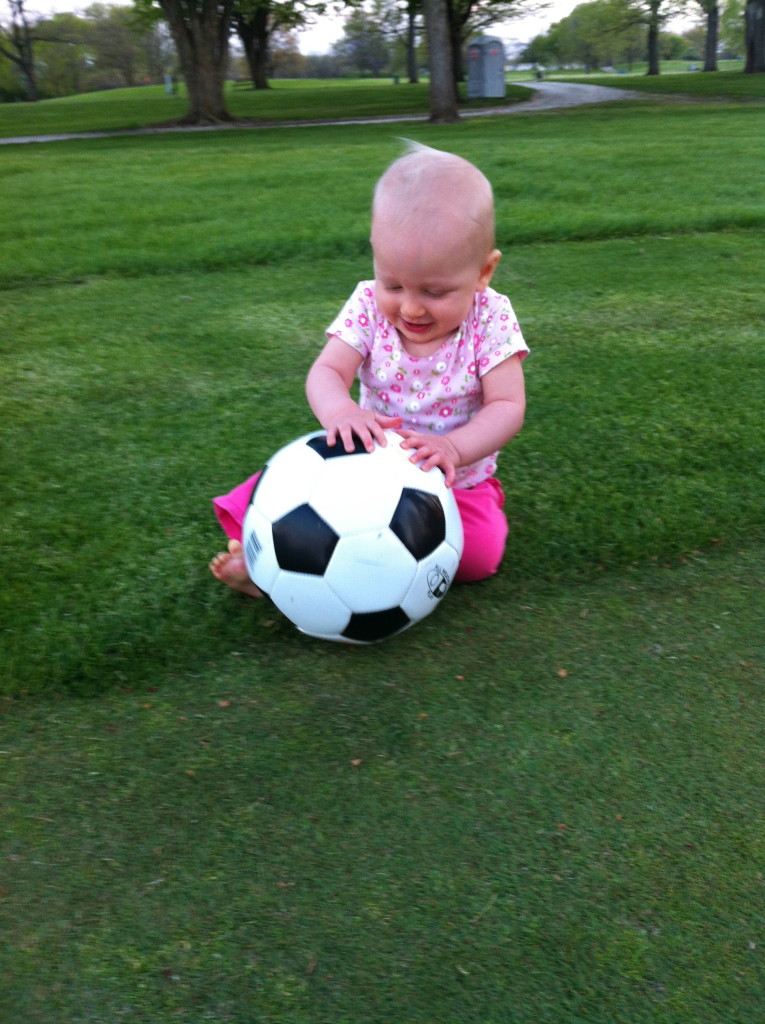 So did we 🙂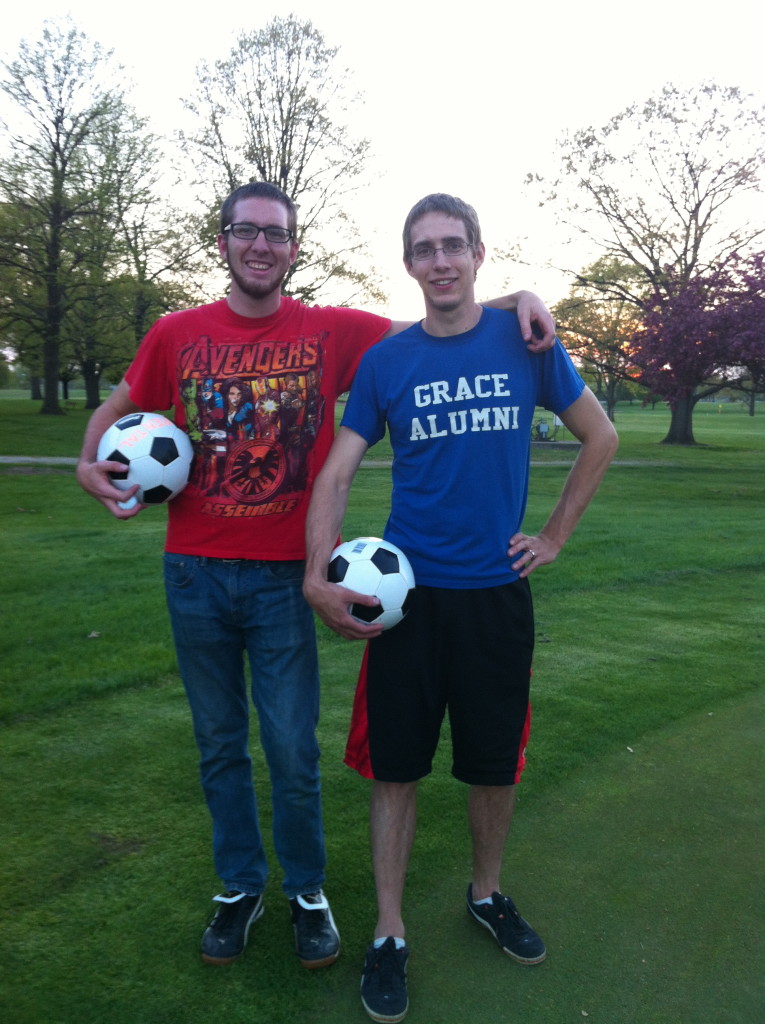 Tips:
It took us over an hour to do 7 holes. So if you really want to do all 18, plan a couple hours. The AFGA says a full 18 hole course can be done in 2 hours, but unless you are hardcore serious about your footgolf, I might plan a little longer than that
Kitty Hawk Golf Course charges $7.50/adult for 9 holes, and $10 for all 18 holes, plus the $3 ball rental (but you can bring your own) and the $14 cart rental (but you could walk if you really wanted).
Wear your indoor soccer shoes or regular running shoes, not soccer cleats.
Each hole will take 4-10 kicks. I guess if you are really, really good you could do it in 2-3, but that didn't happen for us. Ha.