This post could also be titled "A Grand Tour of Michigan in 4 days or less".
Day 1: Theo had an introduction to his new job at 6 pm on Wednesday night, so we went to that and then hit the road for Michigan. We spent the night at my brother Daniel's place. It was SO good to see them and stay up until midnight just talking and laughing. We took the pack-n-play with us (and Theo can actually fold the darned thing), so it made sleeping with Tera easy-peasy. I didn't take any pictures except this one of Tera on the air mattress when we released the air from it. She was slightly confused, but delighted.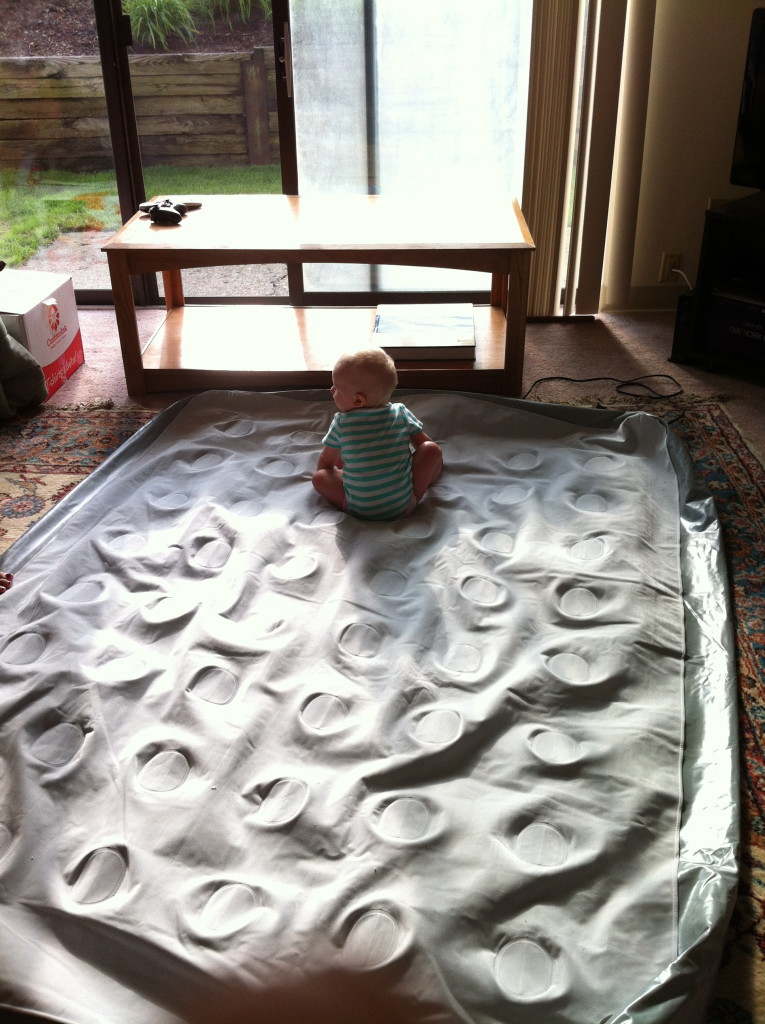 Next stop: see my friend Abby! Abby is a friend from Cedarville, who went and student taught at Sahel. So the connection is wonderful. She gets me. She also has two horses, and Tera L-O-V-E-D them.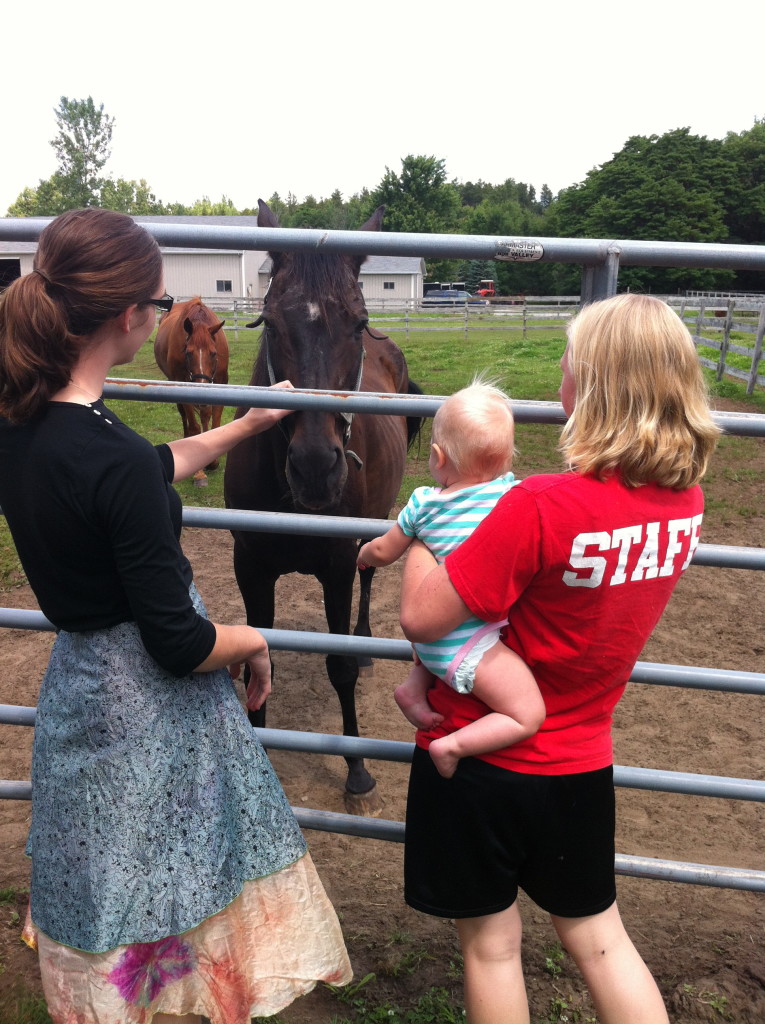 All Daddy's idea…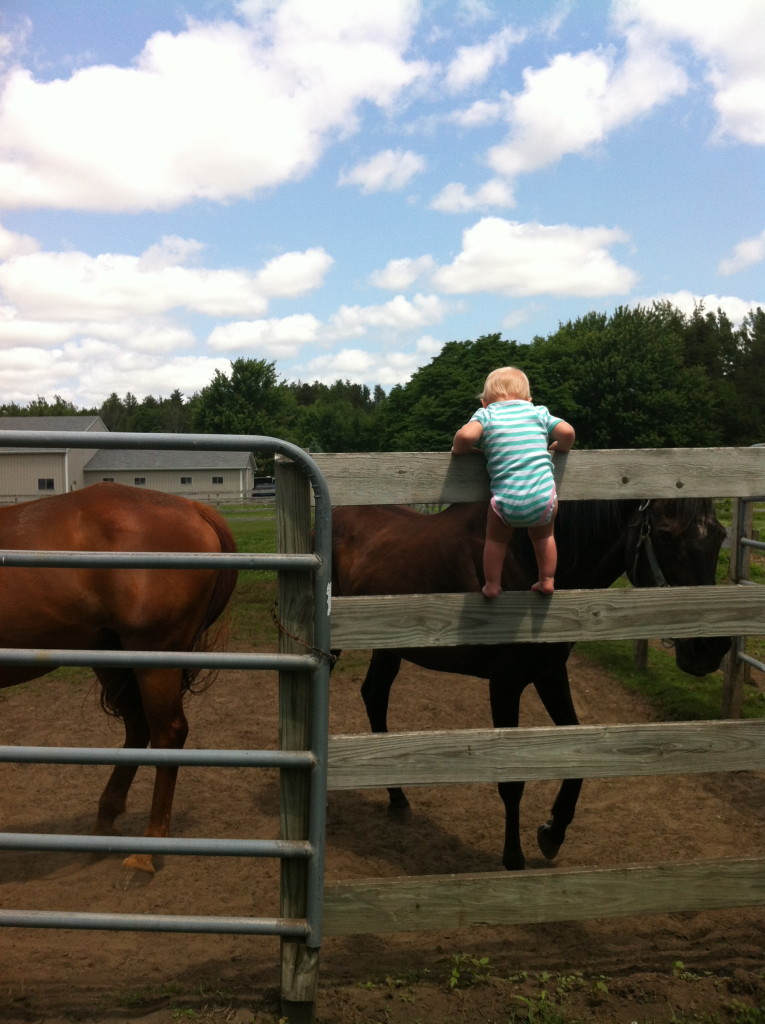 Abby got engaged a few months back, but then she immediatly went overseas and I never got to see her ring! So now I get to see it!!! It's gorgeous. Good job, Stephan!
A breath of fresh air. Love her. Cannot wait for her wedding next June! I get to be a bridesmaid and I'm THRILLED. I'm already bawling and I haven't even gotten close to the wedding yet!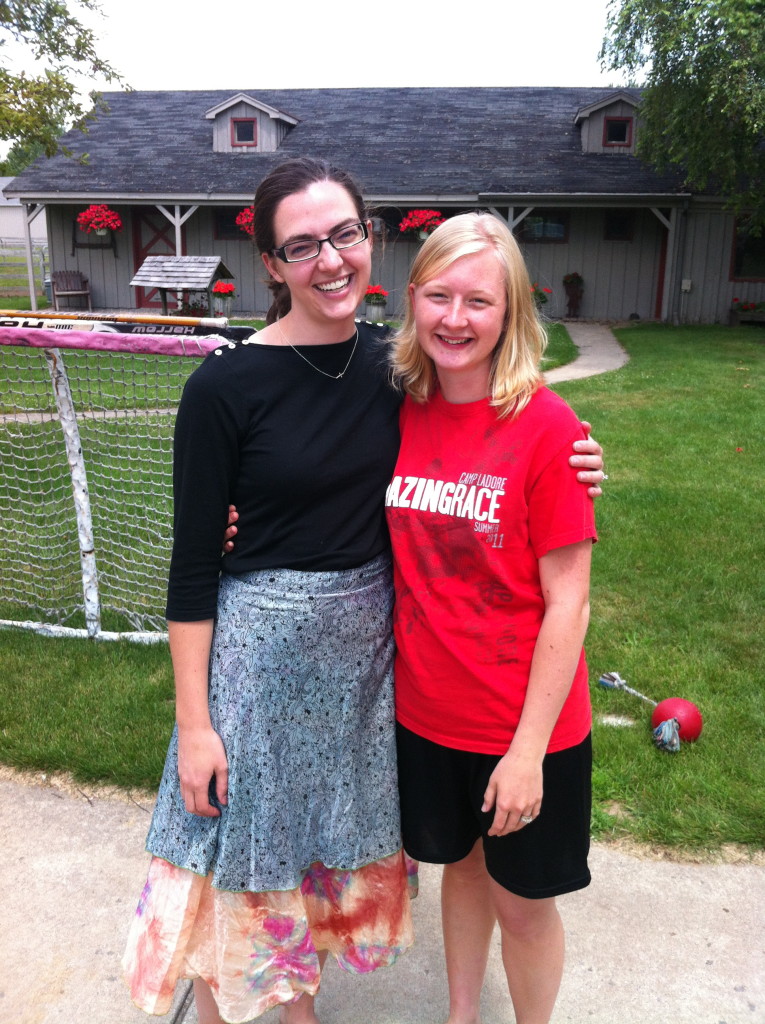 Abby also brought some gifts for Tera from Grandma. She loved her new dolls!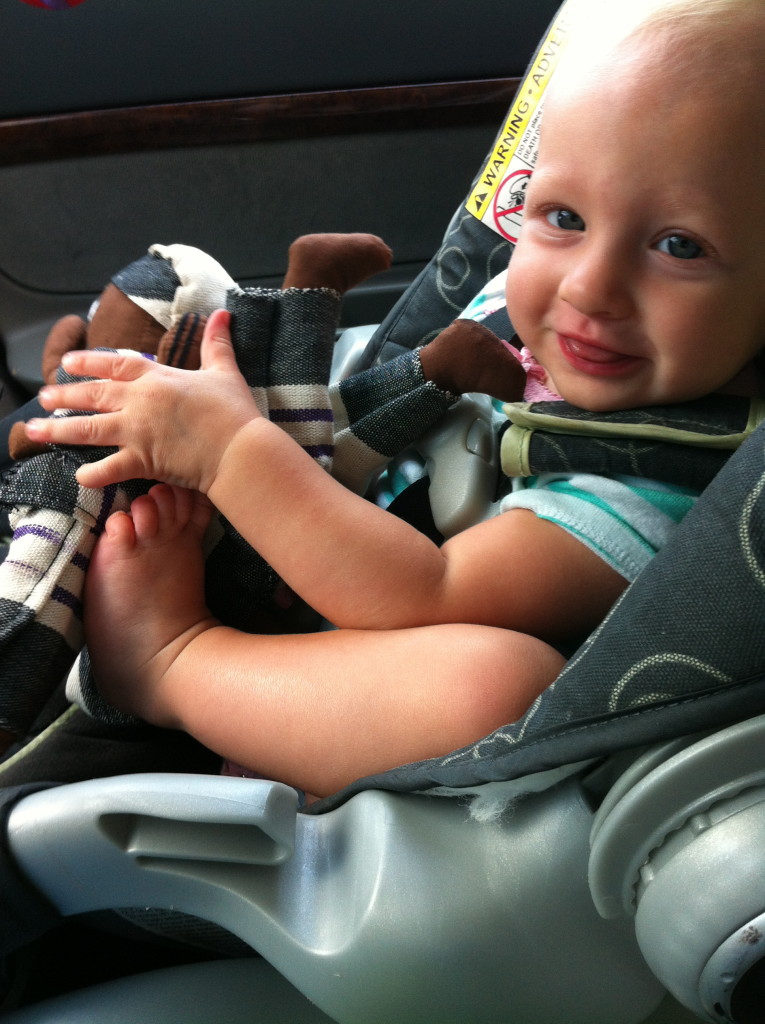 Next stop: Saginaw to see Theo's parents, brothers and nephews! Tera immediatly went to Seth's toy room. Seth has downs syndrome and will always be a kid at heart. He has a collection of toys that spans all of his 18 years. Tera was in heaven.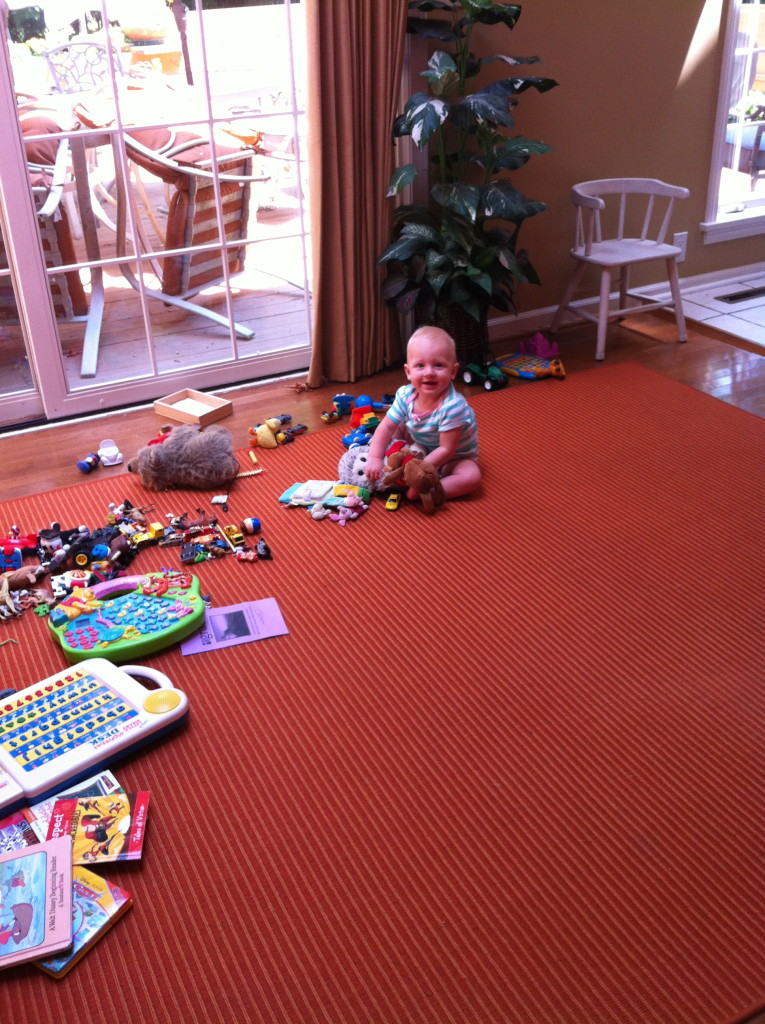 After a brief stop in Saginaw, we headed up North to Houghton Lake! Theo thought it would be super fun if we rode his Dad's motorcycle! It was a blast…but man…1.5 hours on a motorcycle (a lot of it on a highway) was brutal!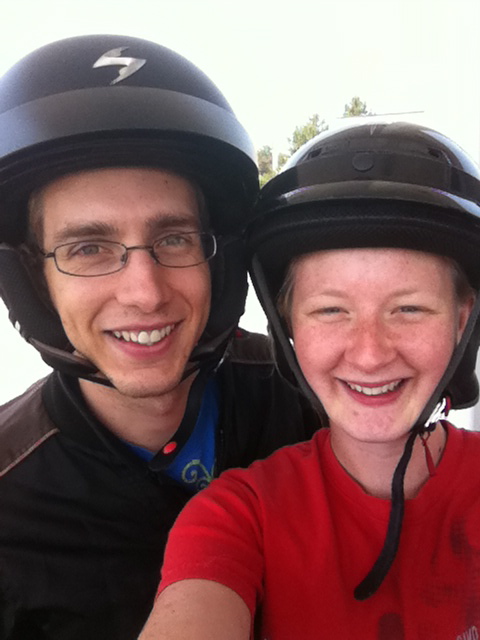 I know you are holding your breath wondering where Tera was during this motorcyle ride….well, she was in the car with Uncle Aaron. I piled all her toys up around so she could grab at them, and she was happy as a clam! I'm pretty sure she slept most of the ways anyways.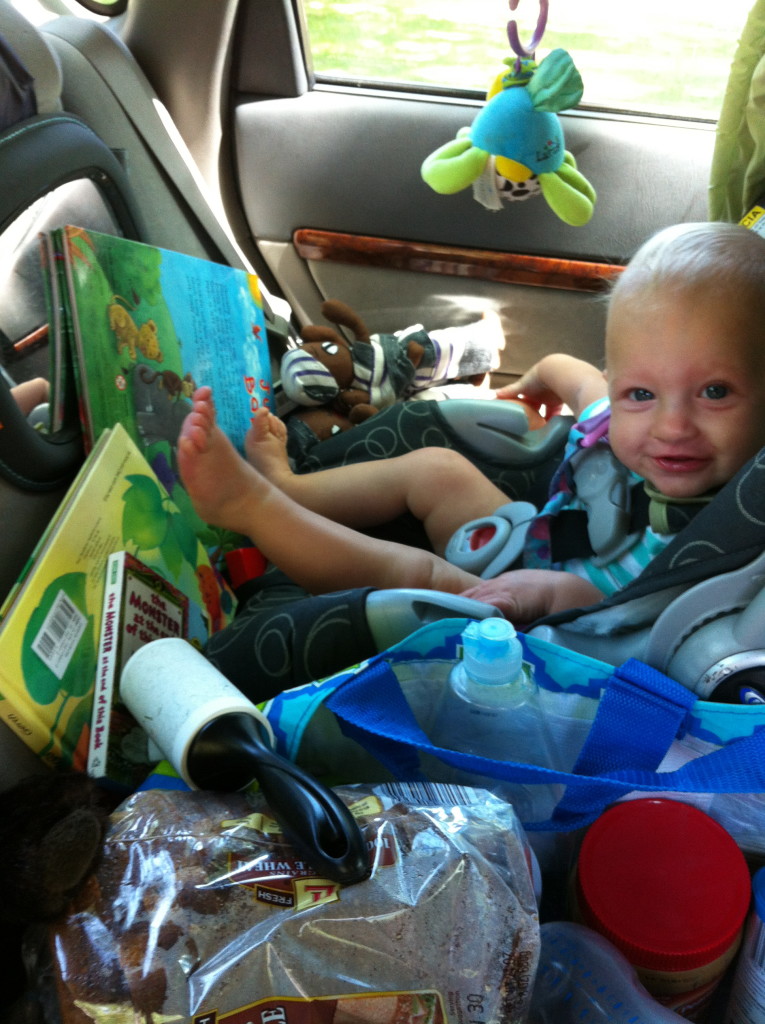 Grandma found Tera a lifejacket, which was probably one of the most adorable things I've ever seen. Poor thing couldn't hardly turn her head in the thing.
Hanging out in the summer sunshine with Grandma and her cousins.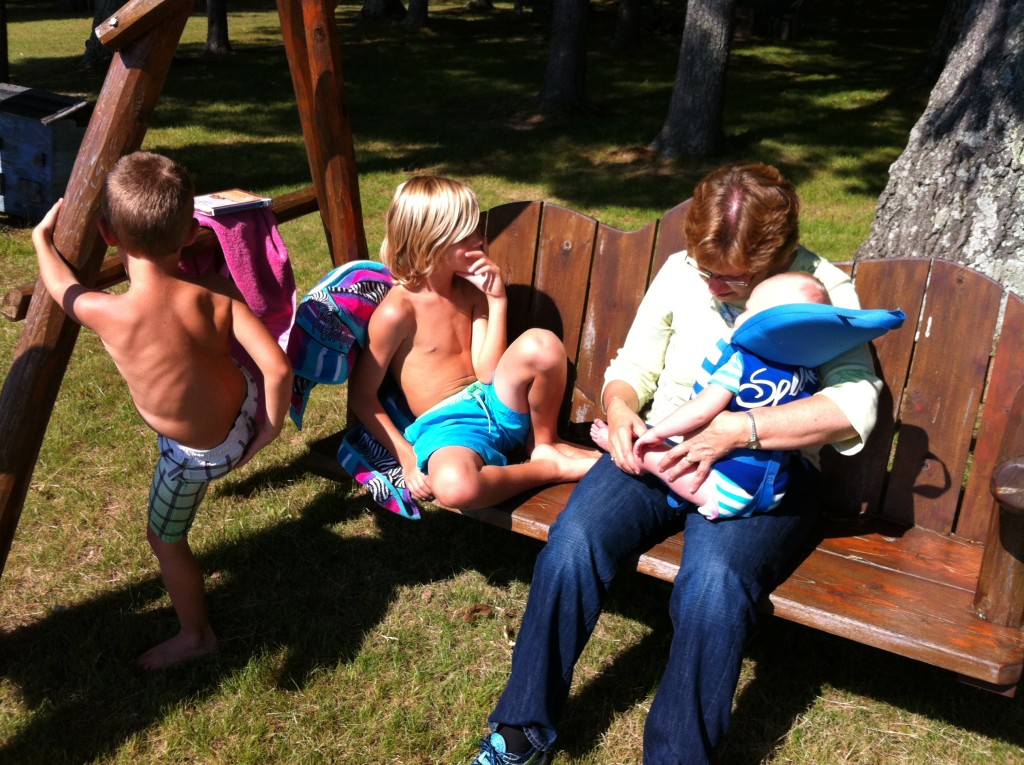 Swinging out by the dock.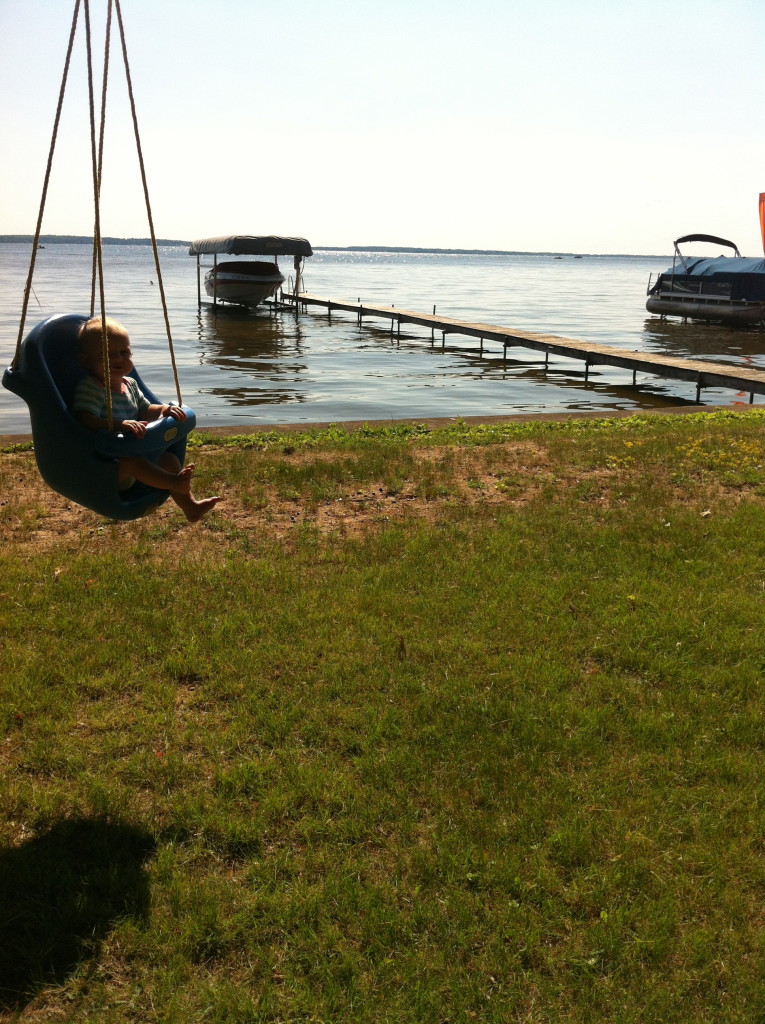 Out for dinner with the whole crew (several who aren't in this picture).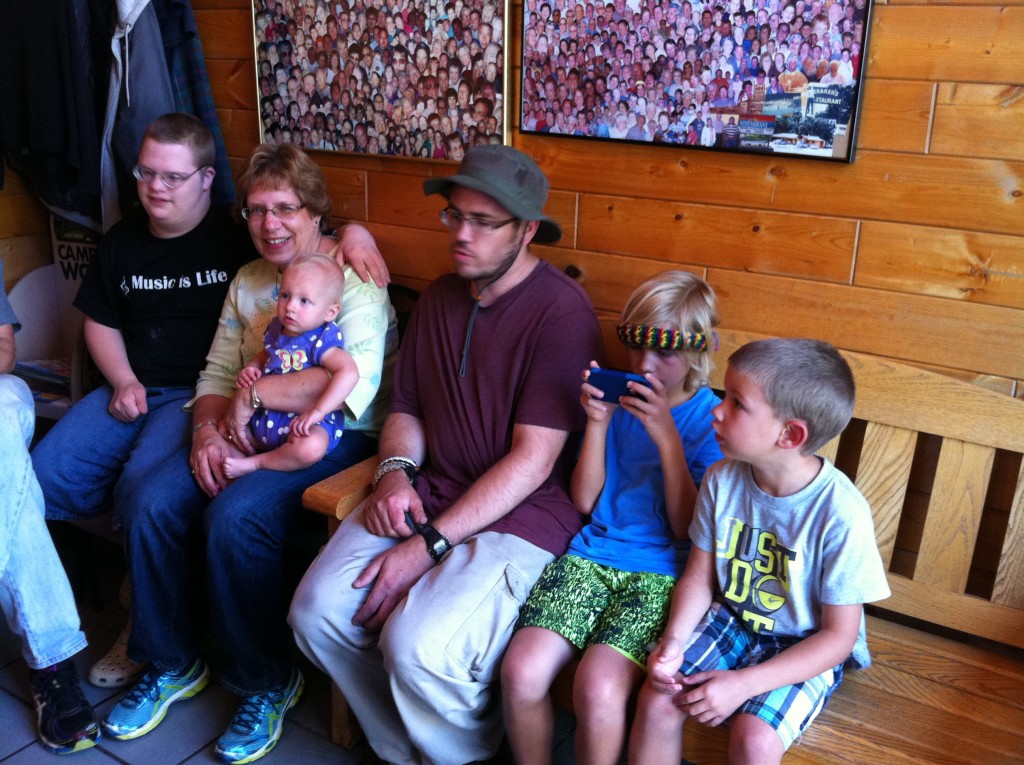 Beautiful, isn't it? We were tempted to just stay there and enjoy the whole time with family. But, I've always wanted to see Mackinac Island, so we decided to continue our journey.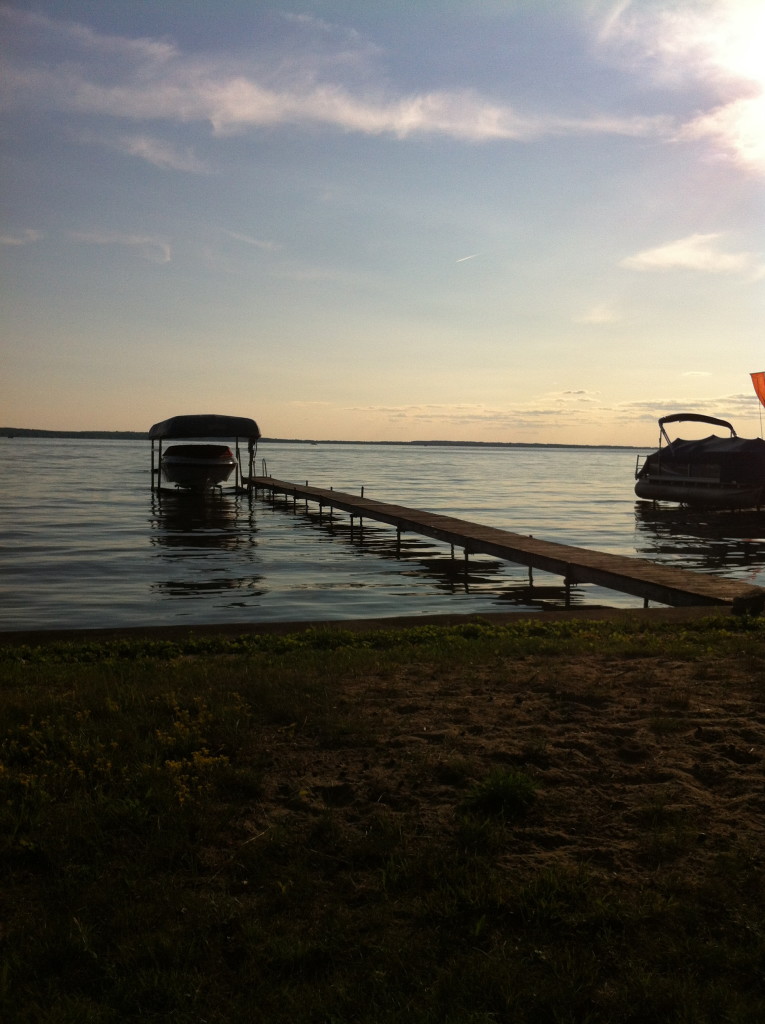 But first…a boat ride with the whole crew. Tera got put back into her life jacket.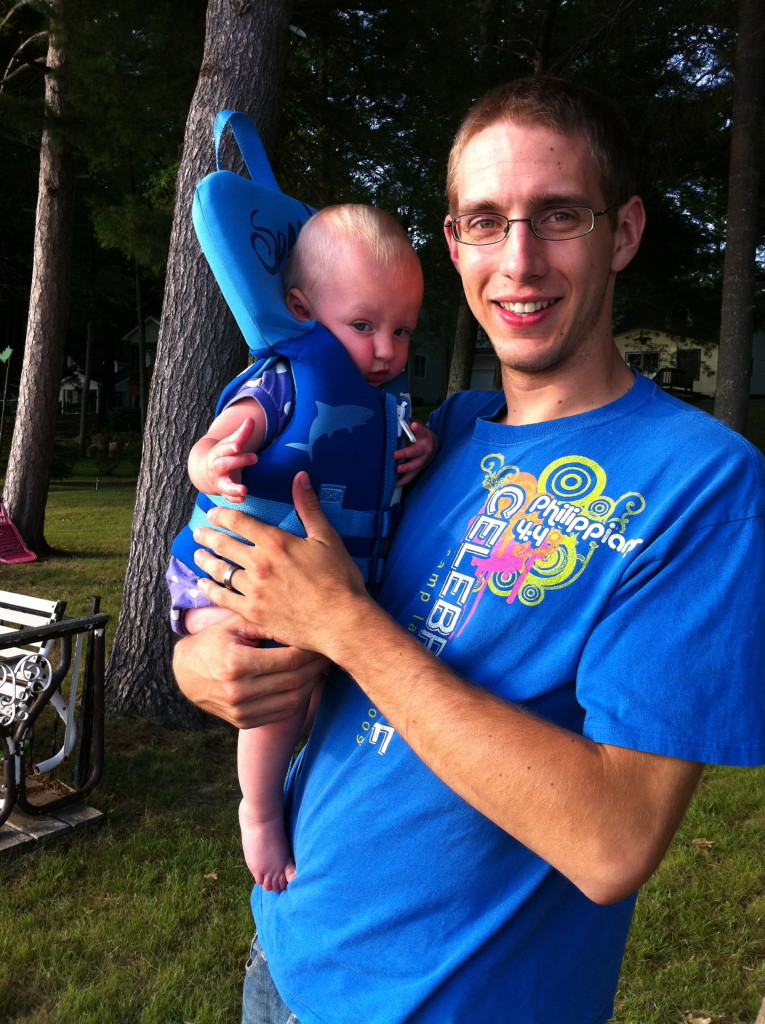 It was a perfect, chilly night for a boat ride.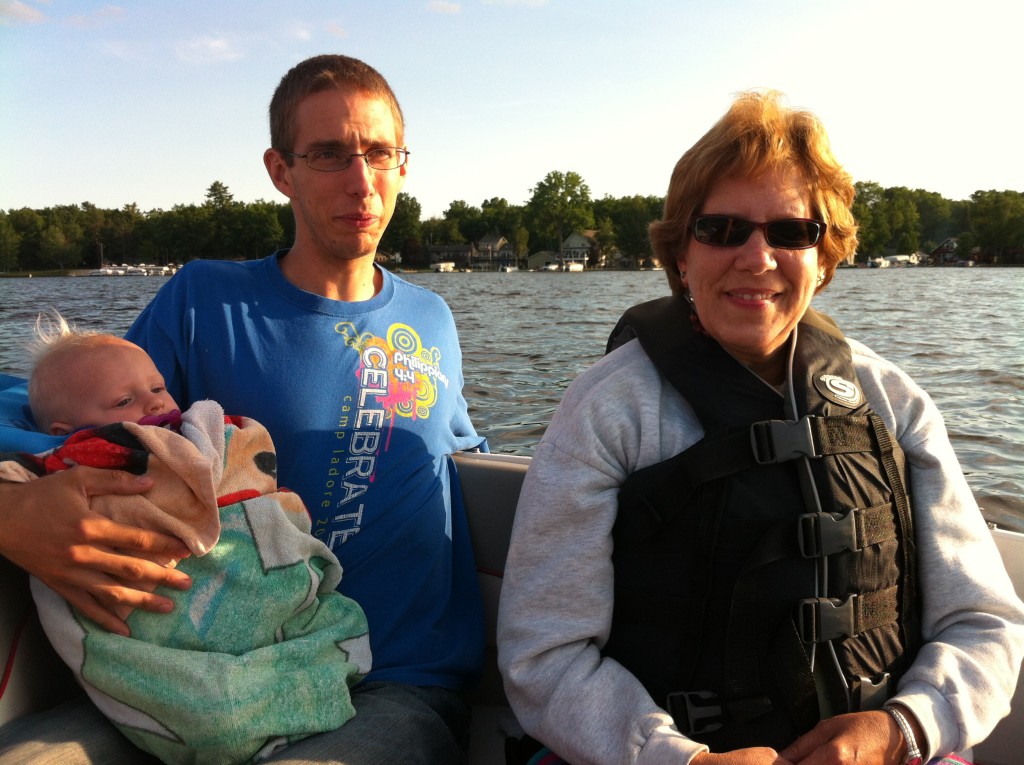 The next morning we woke up and headed even farther North, to Mackinac Island! The Island allows no cars and is a beautiful tourist destination. Here we are waiting for the ferry to take us to the island: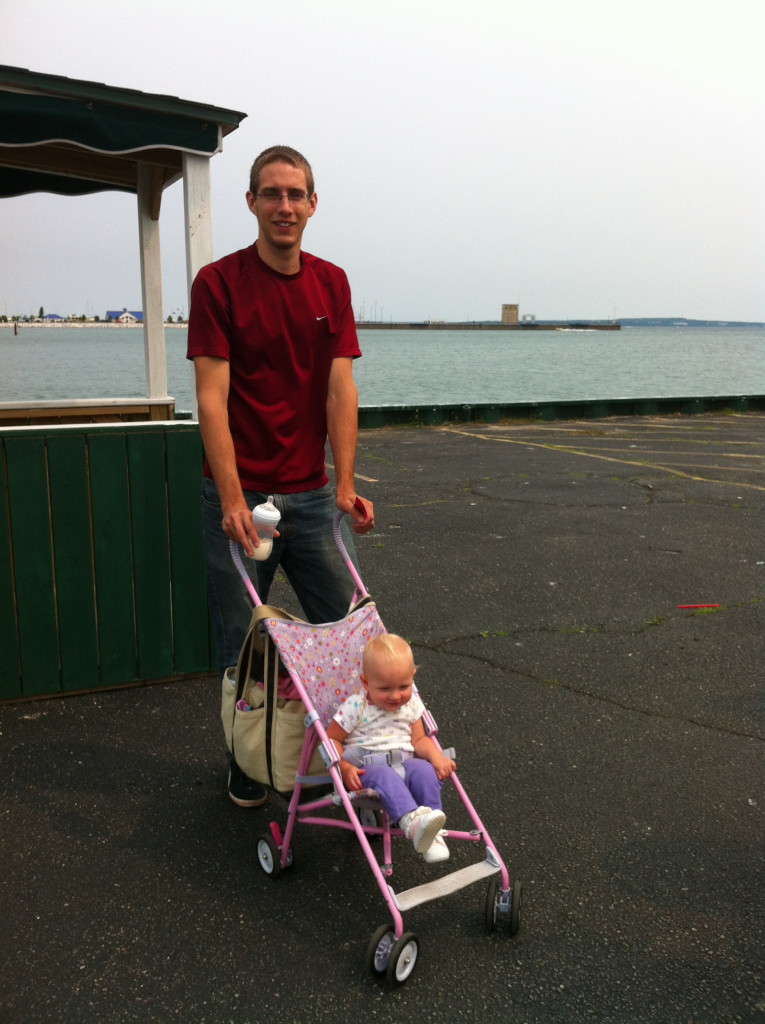 On the ferry…it was about a 30 minute ride.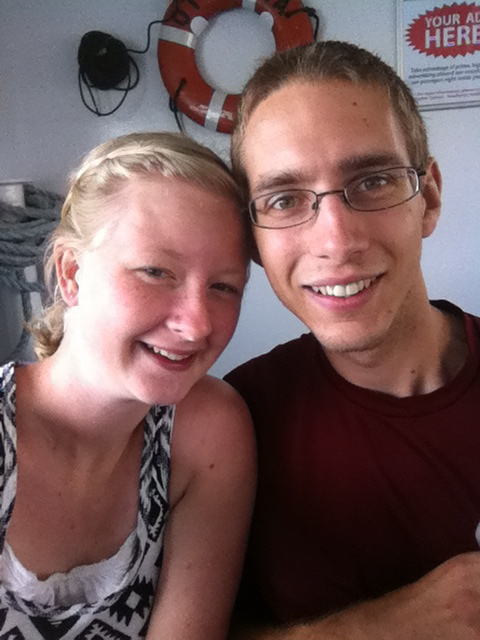 So excited! While we were on the ferry ride, Theo stuck his finger in Tera's mouth and ta-da! There was a tooth. It was not there the day before!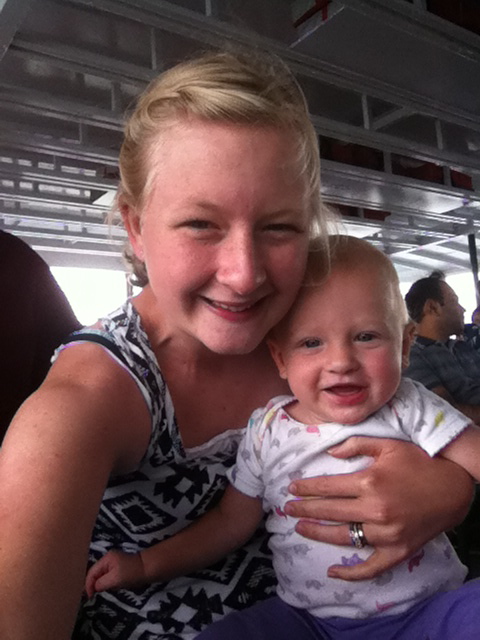 Tera was already getting tired…
Once we got to the Island, I realized that it's not as quaint as the pictures make it look. It was a holiday weekend and the place was PACKED. Plus, it smelled like horse poop and everything was SOOOOOoooooo expensive. However, I was also extremely hungry and on the verge of a breakdown (me, not Tera…you read that correctly), so we decided to find somewhere to eat lunch. There are tons of restaurants of every variety, some on the water, some not. Some have a great view, some are just regular restaurants. We finally picked one, and it was so crowded that they weren't allowing high chairs blocking the aisles. So this is what most of our lunch time looked like: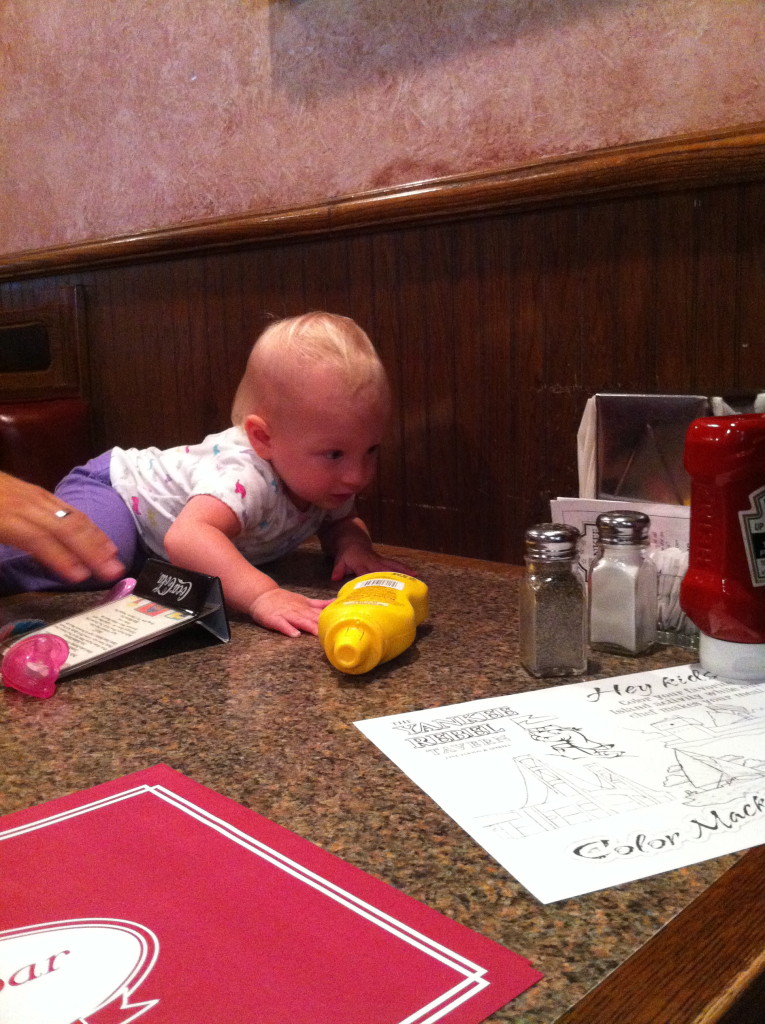 Once I had food in my belly I perked up and decided to not get stressed about the crowds. Once I fixed my attitude the Island was a blast! There are so many amazing fudge shops and the samples are huge!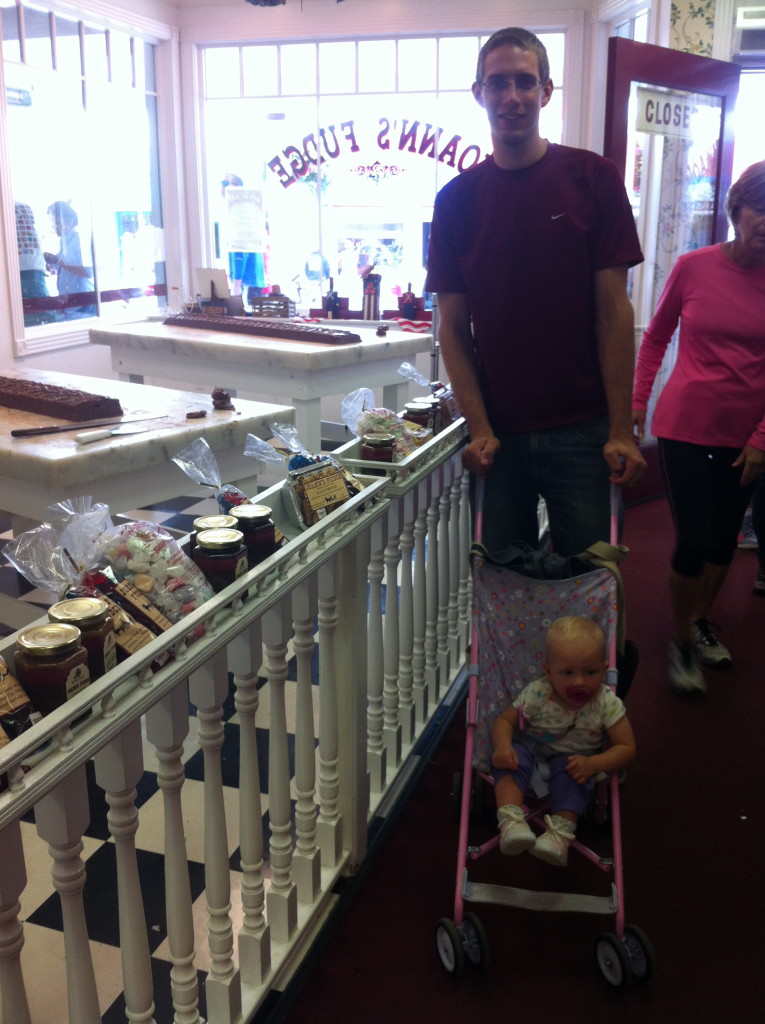 Tera loved looking at the horses. There are tons of horse drawn carriages on the island that will give you tours or take you to your hotel or wherever you need to go. It was really cool, although we didn't spring for taking a carriage ride.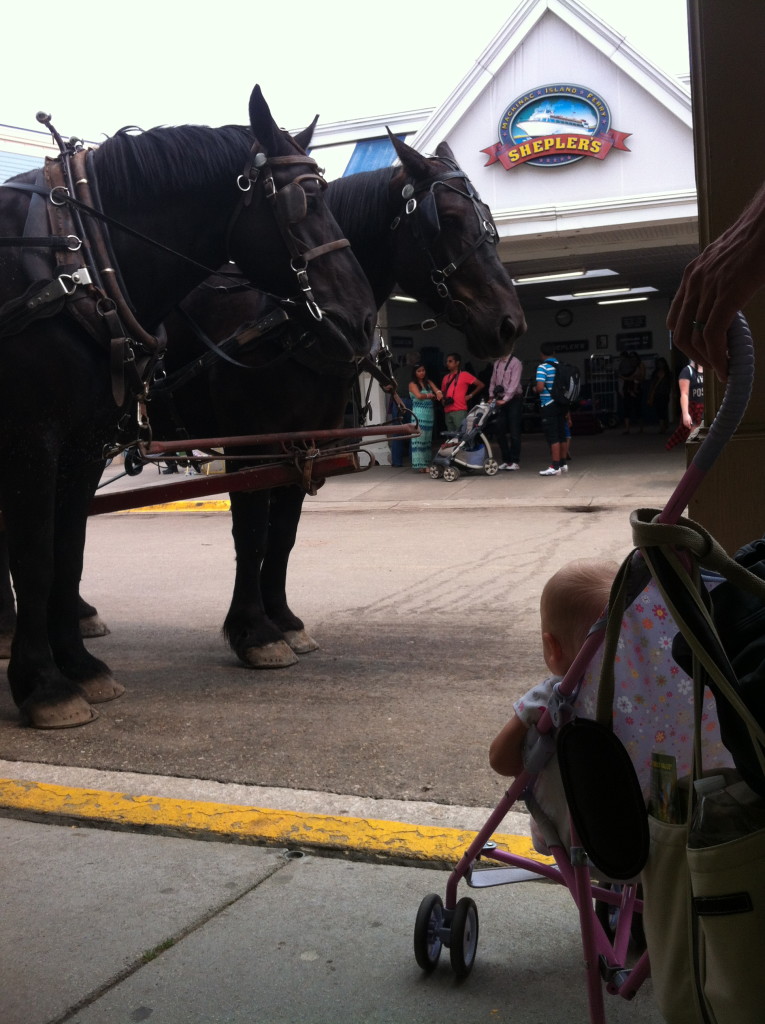 The houses on the Island are so beautiful. I believe that both of these houses were private residences, although many of the houses are Bed and Breakfasts. Since there are no cars on the Island, everyone has a bike. There are tons of bike shops to rent bikes to ride all around the island. I believe it's 8 miles to go all the way around the island and there is a bike path the entire way. All the bike rentals we saw also had options to do tandem bikes or attach your kids in one way or another to your bike. If we go again, I would totally rent a bike and ride it all the way around the island.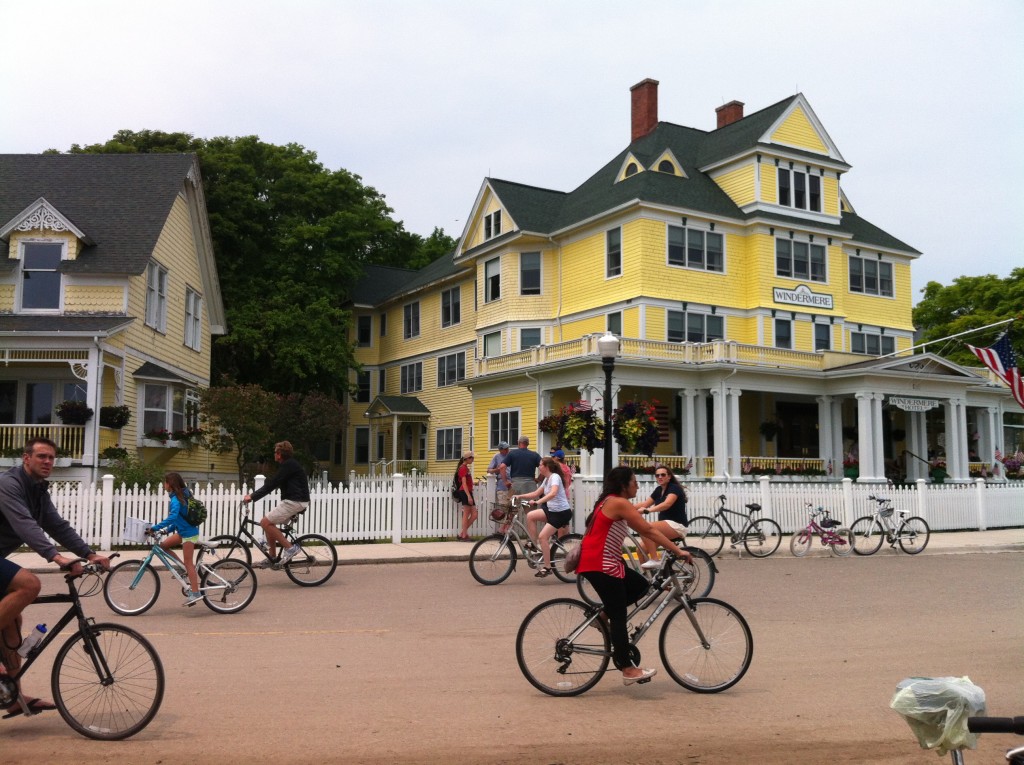 They had a small park with kites flying. There was a guy and his young assisstant (about 10) who had kites that you could fly for free. That 10 year old was whipping those kites up and then holding on with all his strength as the kite would practically drag him down the beach.
It was a cloudy day, but when the sun peeped out it would be hot. Then the sun would go behind the clouds and it would be downright cold. Half these pictures I have a tank top and half of them I'm wearing a sweatshirt.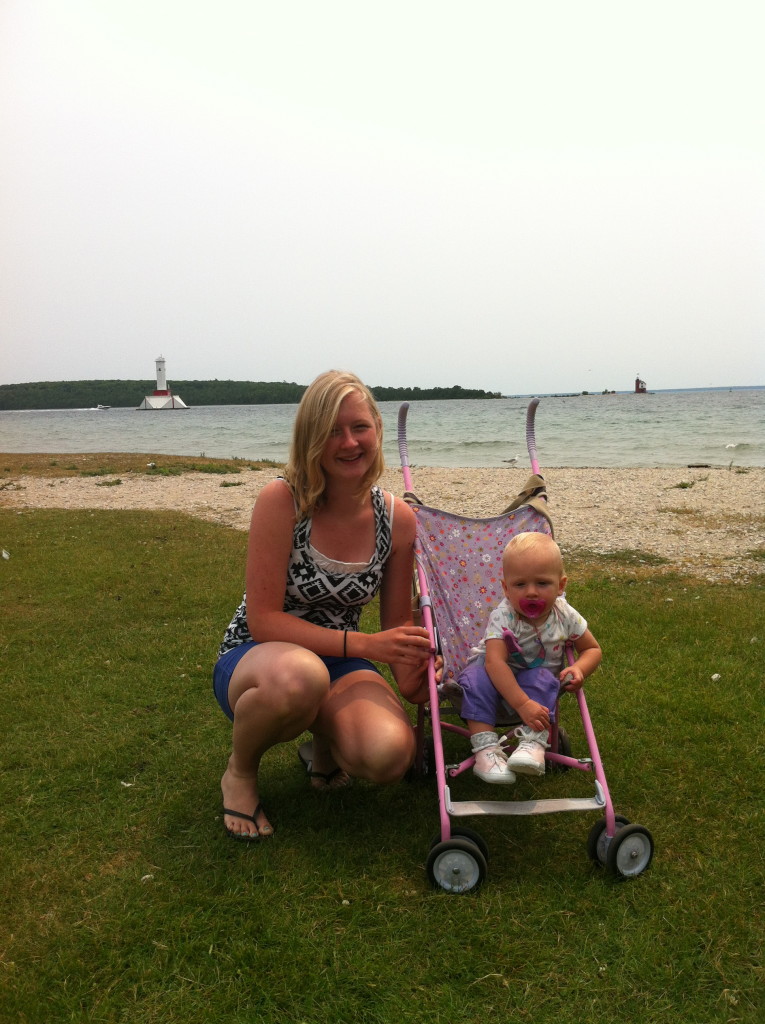 The bridge in the background is the bridge from mainland USA to the Upper Peninsula of Michigan. It's a pretty cool looking bridge!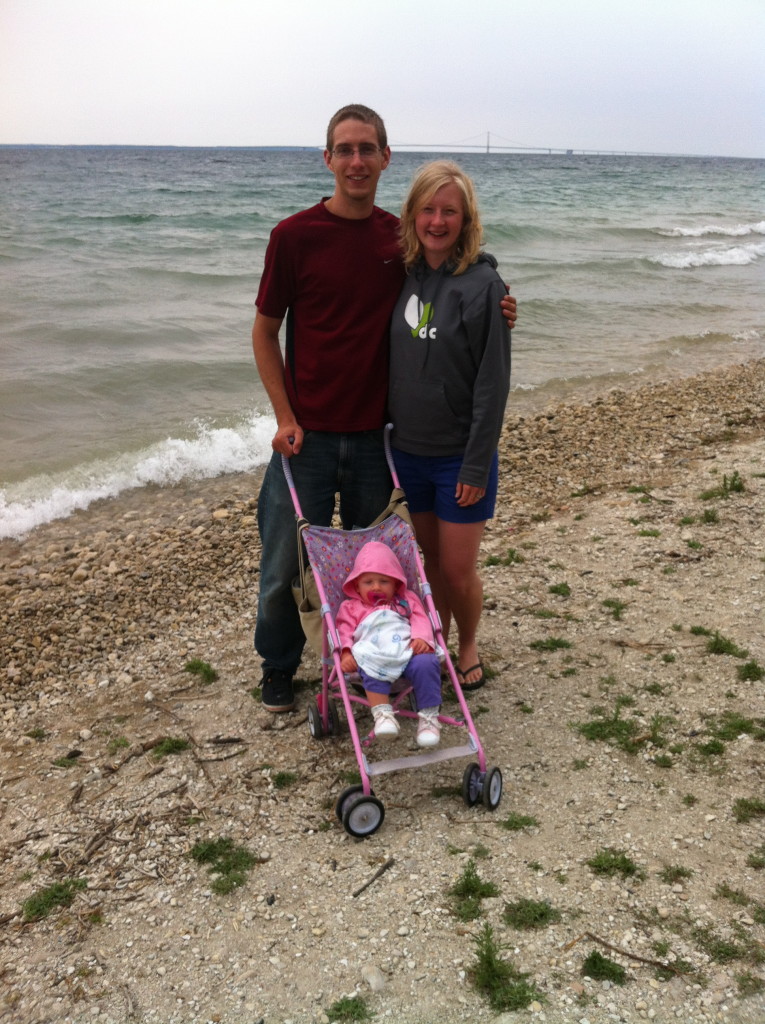 We were standing on a side street when this ambulance pulled out and drove down the street. A local laughed and said "There are absolutely NO cars on this island!" Hahaha.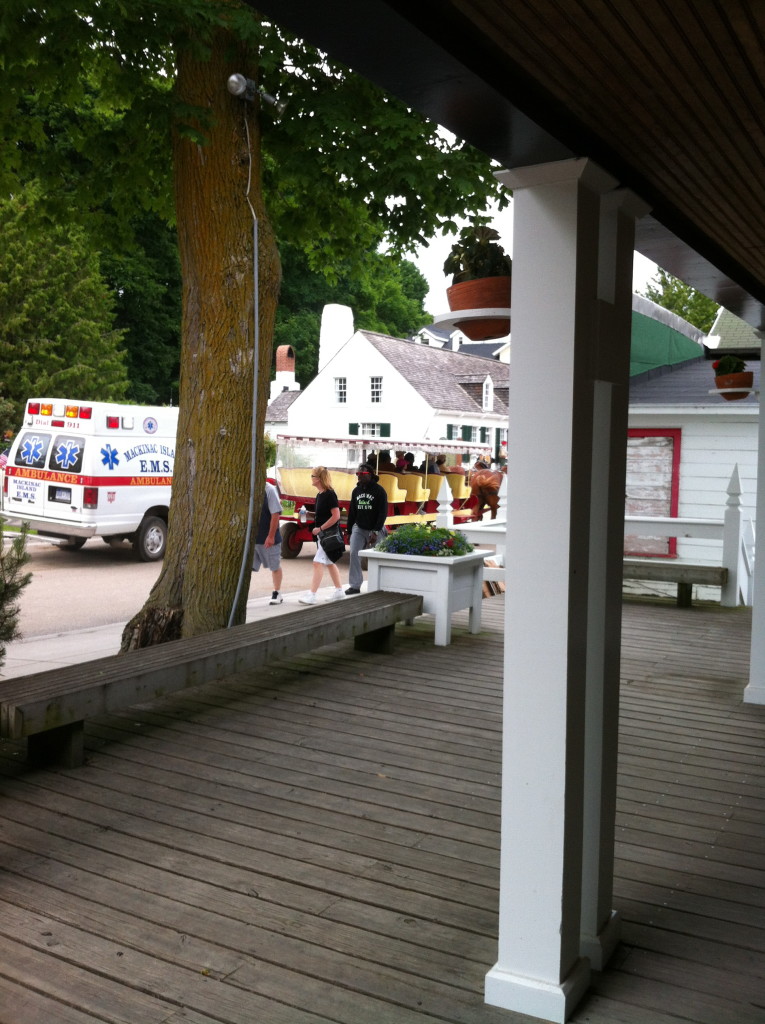 A less crowded side street.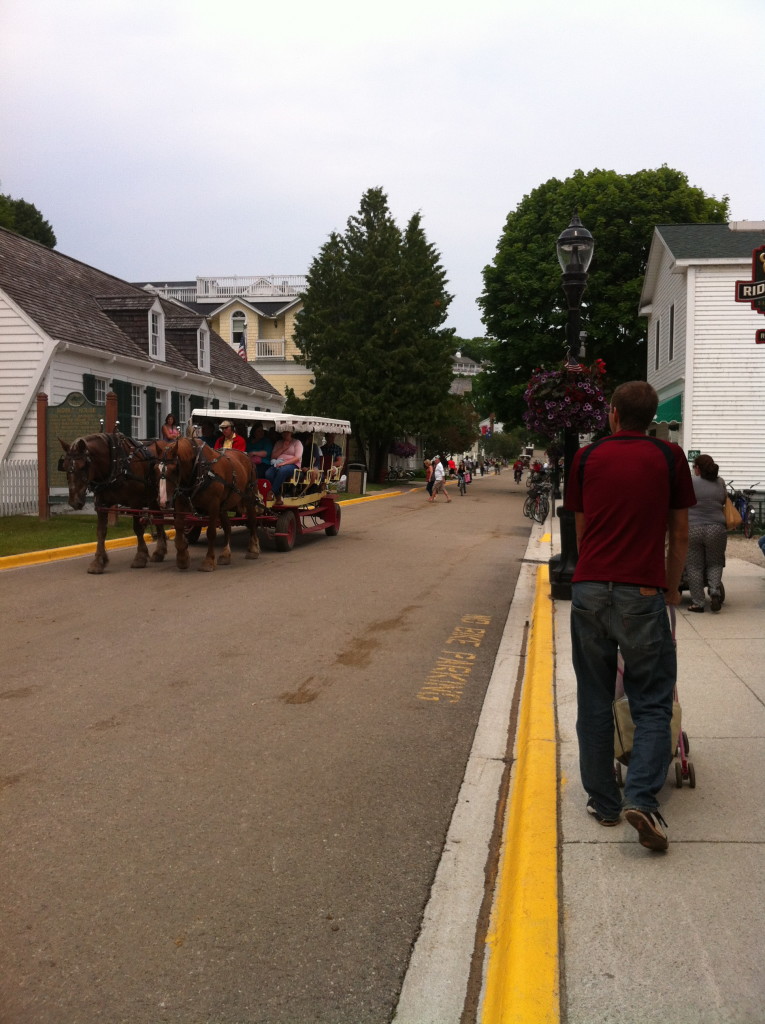 We stopped to see a dog.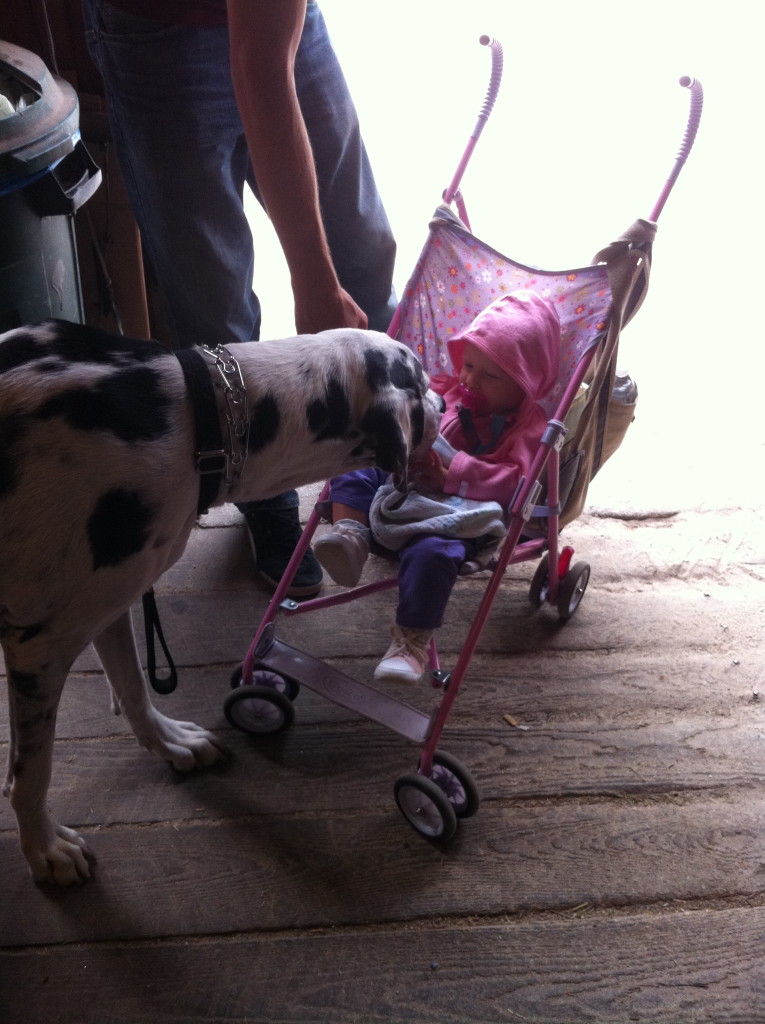 Look at how cute this place is!!!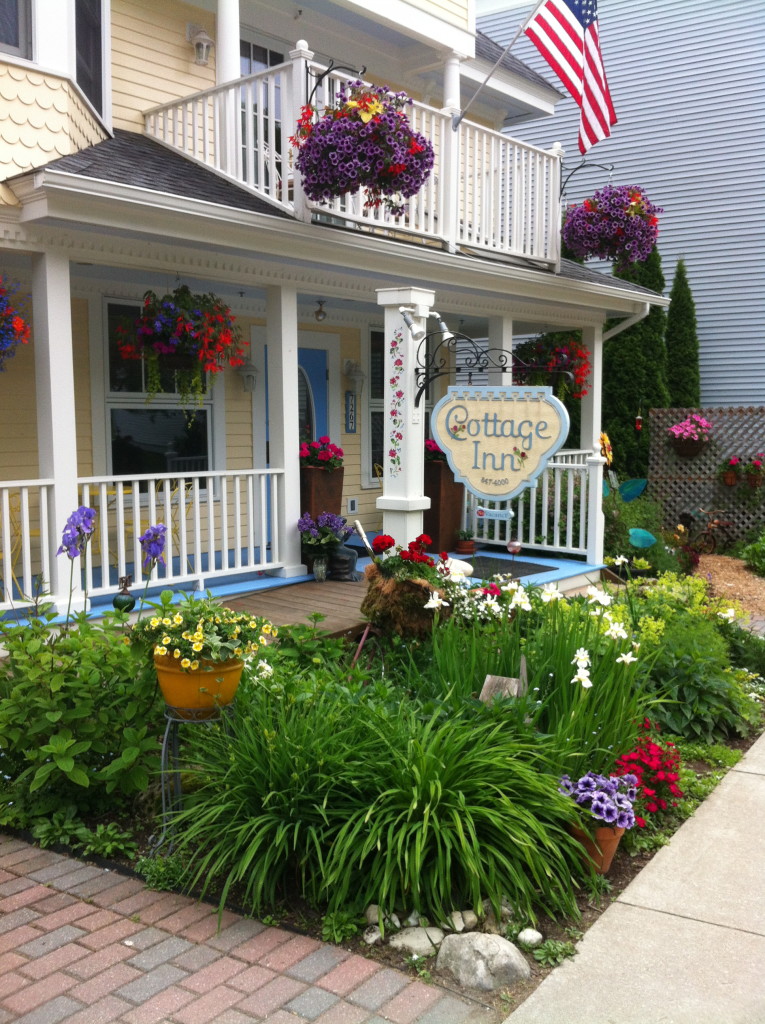 This was a castle on the Island that was pretty cool looking. Unfortunately, it was $11 to get in. So we just enjoyed looking at it.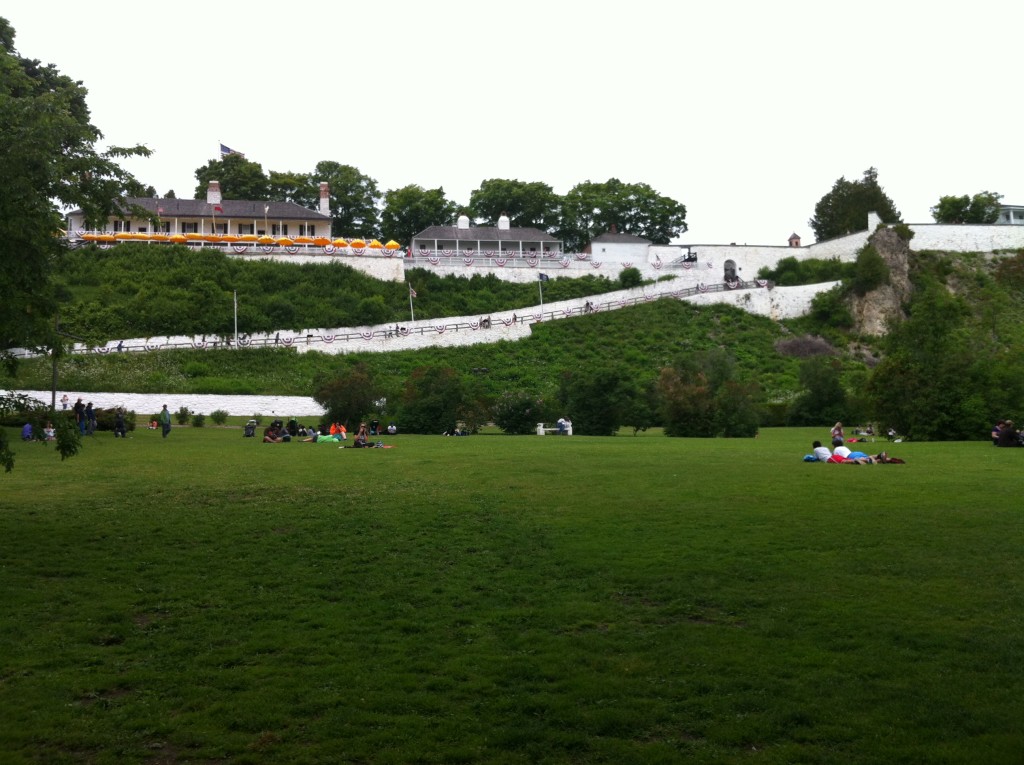 There is a butterfly house on the island and we decided to spend the money to go in there. It was overpriced but not insane, something that I would totally expect on a tourist island. I can't remember what the exact price was, but it was a cool like museum. Check out this awesome world map with butterflies on it!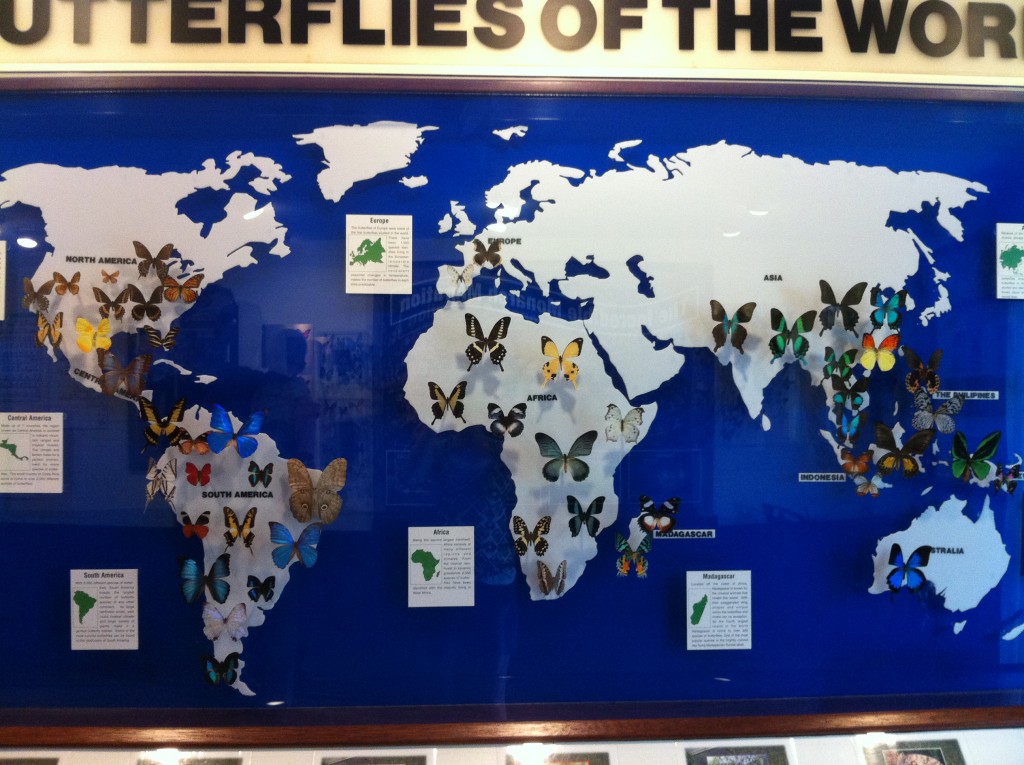 The butterfly garden had THOUSANDS of butterflies in it. Tera was interested when she actually spotted one, but she wasn't very great at actually seeing them.
Our beautiful butterfly! And yes, those two blue blurs are real butterflies!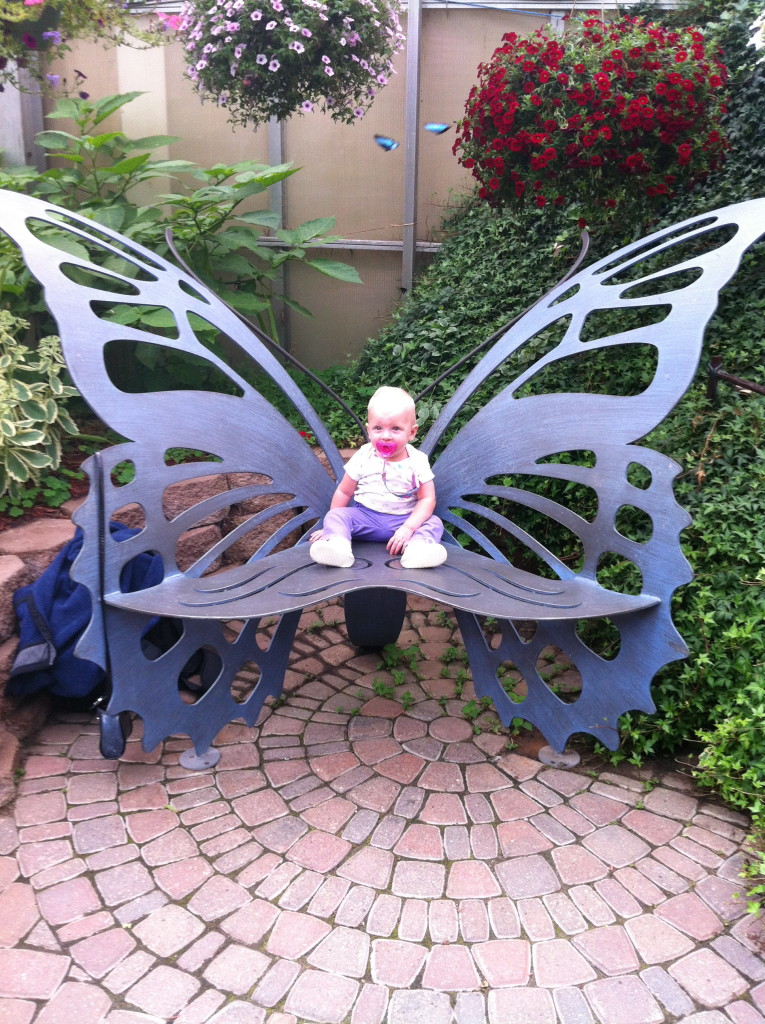 TONS of butterflies.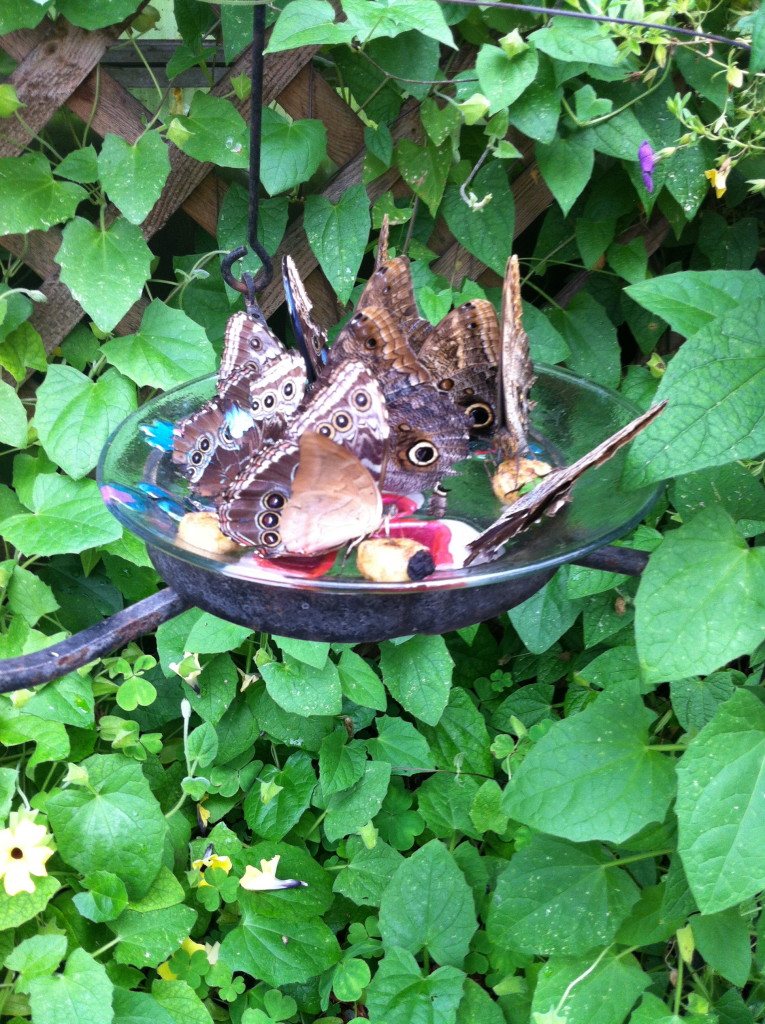 Tera was more interested in the flowers.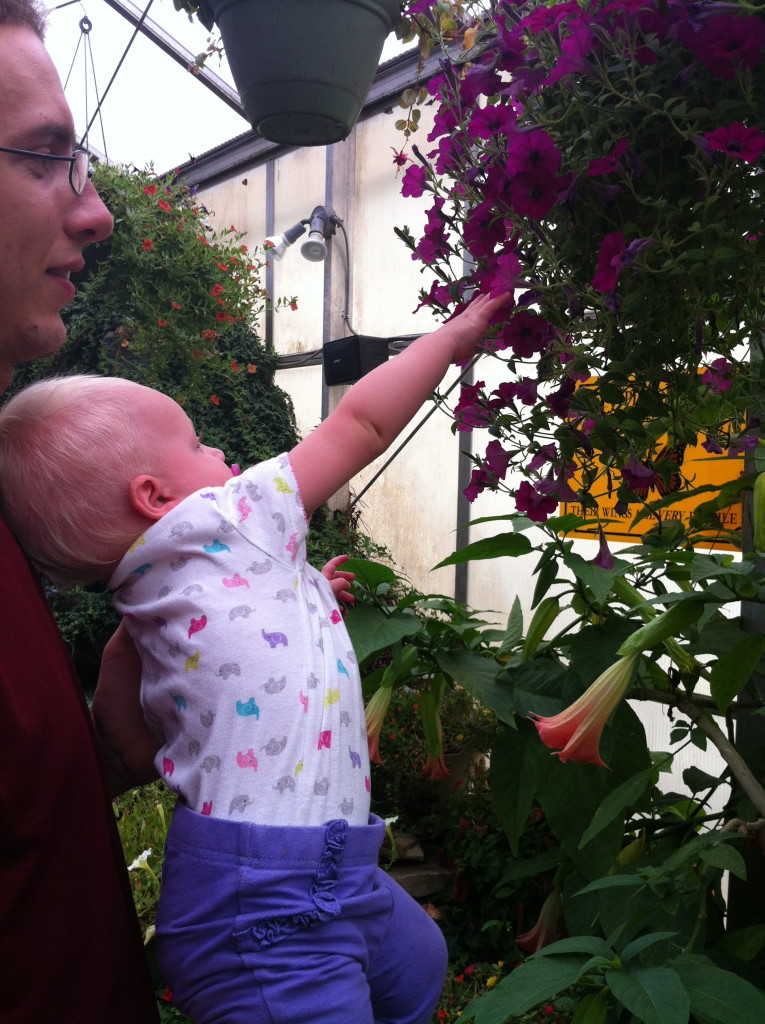 After the butterfly garden, we walked around some more and bought some fudge, then caught a ferry ride back to the mainland.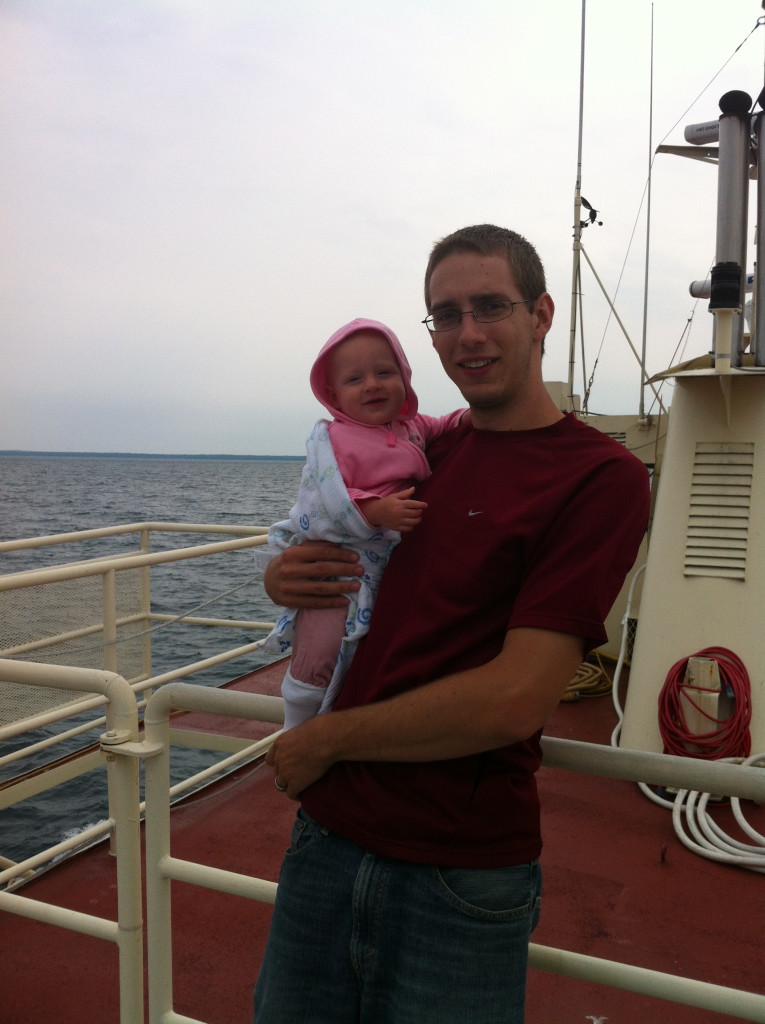 It was really windy and cold!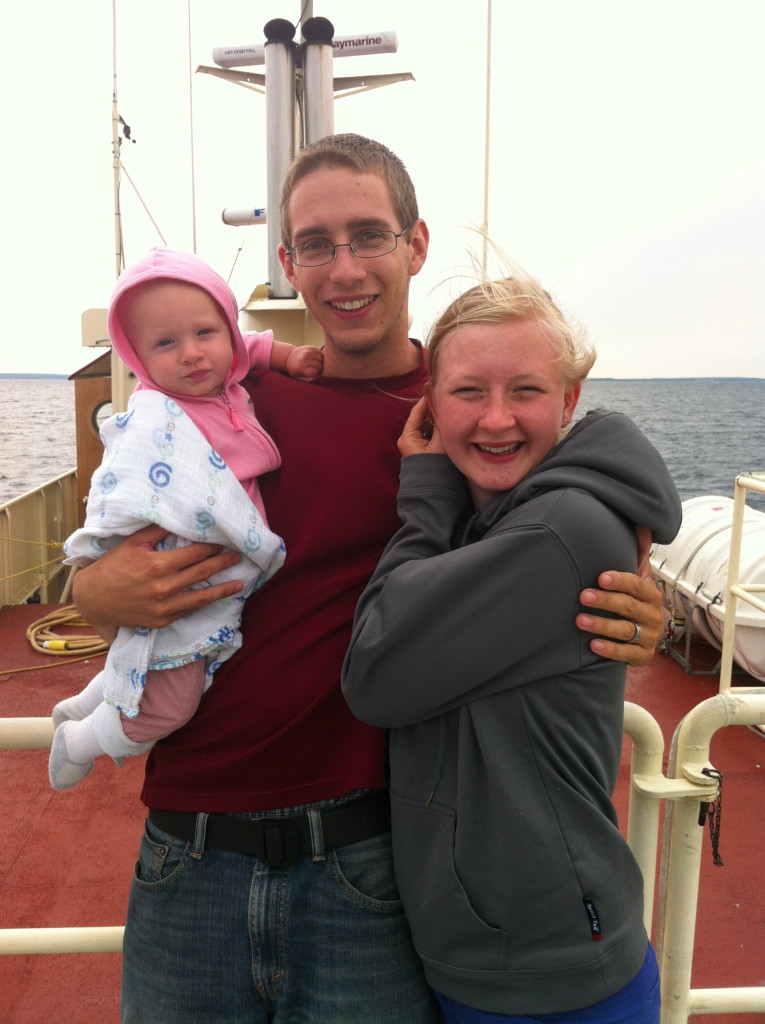 And this is what a day on Mackinac Island does to my two people: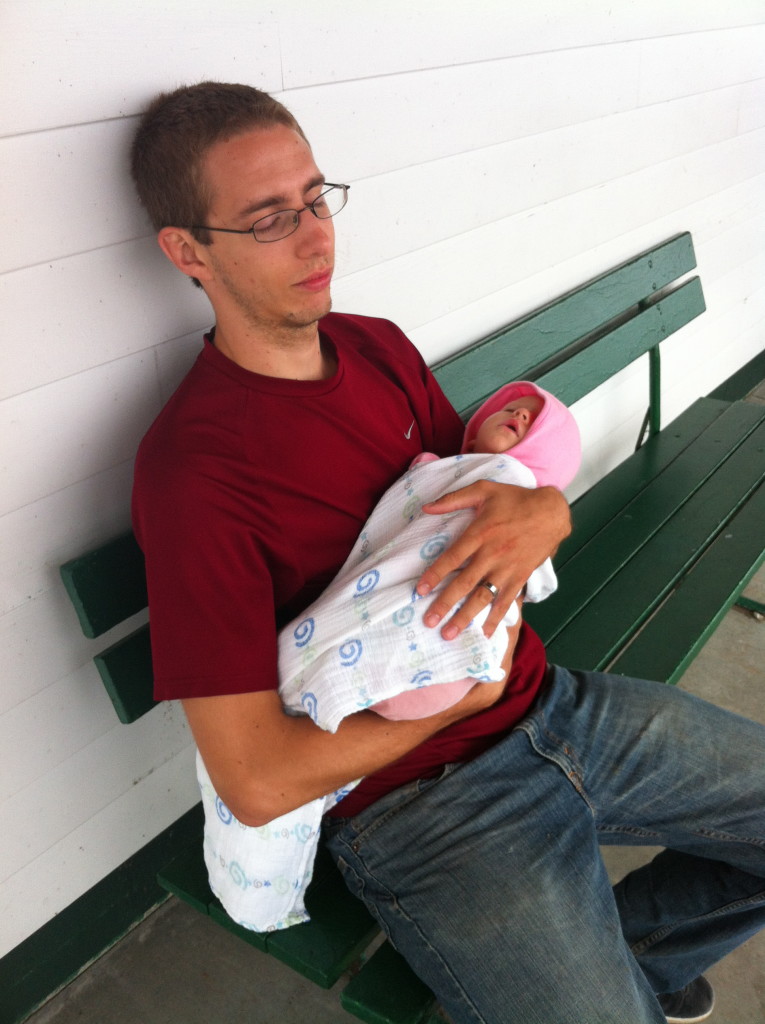 Alright, there is much more to post about our trip in Northern Michigan, but I'm going to make it into two separate blog posts as this one is getting very long!
Stay tuned for 4th of July, Traverse City and more!