Let's see…where were we?
Oh, yes. We had just left Mackinac Island. Next stop: Traverse City.
Traverse City is a fun, quaint town in northern Michigan that has a lake, local parks, a super fun town with every shop imaginable, tons of water recreation and a lot of land recreation, too. I just made all that up off the top of my head, so I suppose I could be wrong about some of those things. But that is what I observed while there. Traverse City is also close to the Sleeping Bear Sand Dunes…which are awesome.
So it is about 5 on July 3rd when we get to Traverse City. To get to Traverse City, you drive through nowhere….for a long time. And then BAM! There it is. This means that the only hotels you can stay in are IN Traverse City. Which means $$$$$$. Especially on a holiday. So there we were, looking for the cheapest, but safest hotel we could find. Every one we went into was a little bit out of our price range. We drove to three or four hotels before we realized that all those hotels were getting booked solid. And we were hungry. And Tera was tired of being strapped into a five-point harness carseat/torture device.
So we finally stopped at a hotel that was a little bit cheaper than the other and had ONE room left. We booked it, got takeout and enjoyed our evening of watching TV. Tera crawled around and touched every surface that might have had germs on it, pushed all the buttons on the remote and spilled her Chinese rice take-out all over the floor. But it was still a wonderful evening of relaxing.
The next morning was the 4th of July, and I dressed Tera in her red, white and blue. I immediately took a picture because I knew that white onesie wouldn't last long!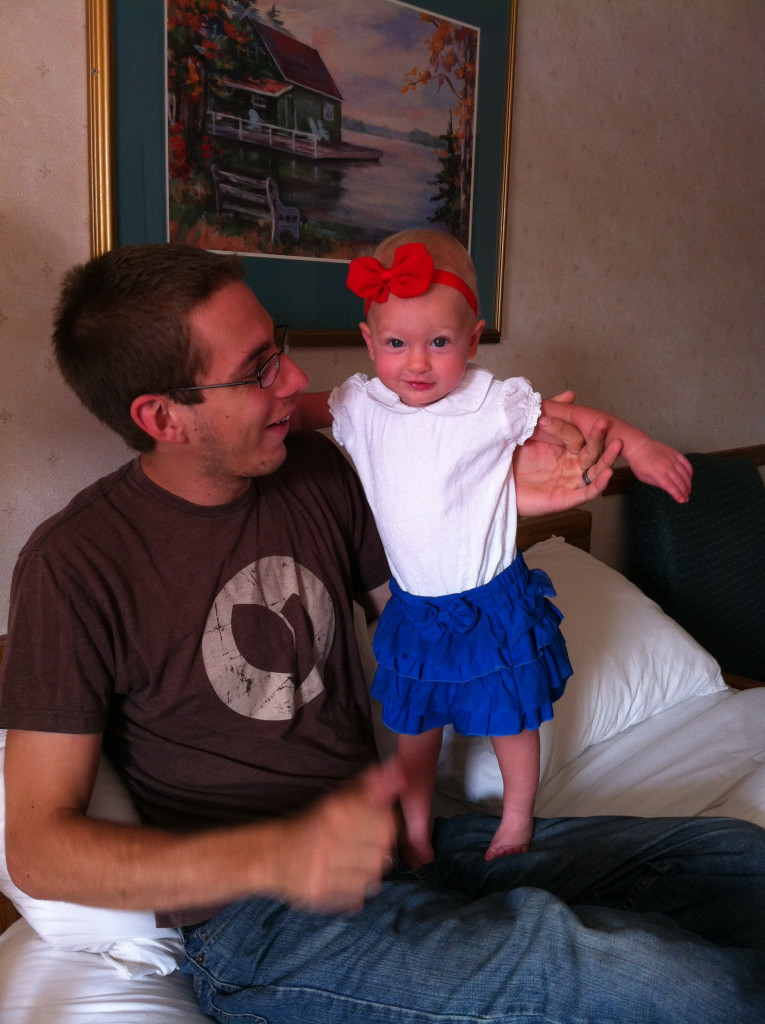 We packed up and were out of our hotel room and headed to the beach. It was a BEAUTIFUL day. This is on a lake that was huge.
Tera's first time on a beach!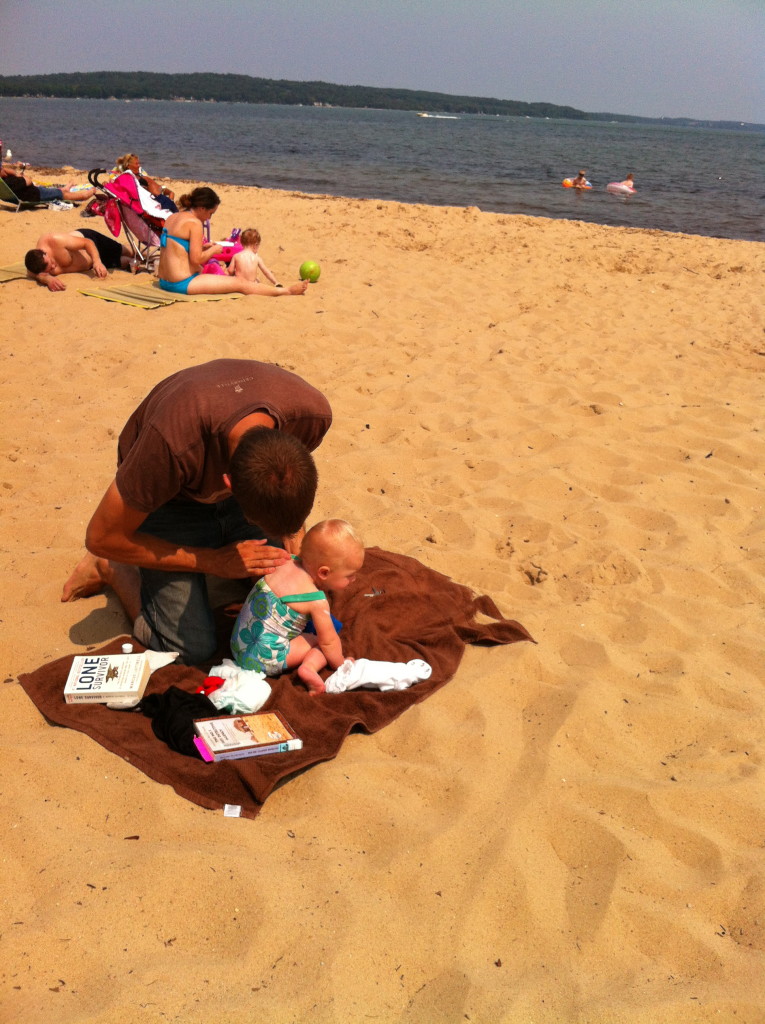 Tera's first time in the water! She loved it on her toes, until she sat down and a wave crashed into her back. Then she hated it. Plus, it was cold!
Theo dug her a hole and put her in it, and then the waves would come and gently fill it with water. She loved that, and played in the dirt like she has African blood in her or something. Hmmmm….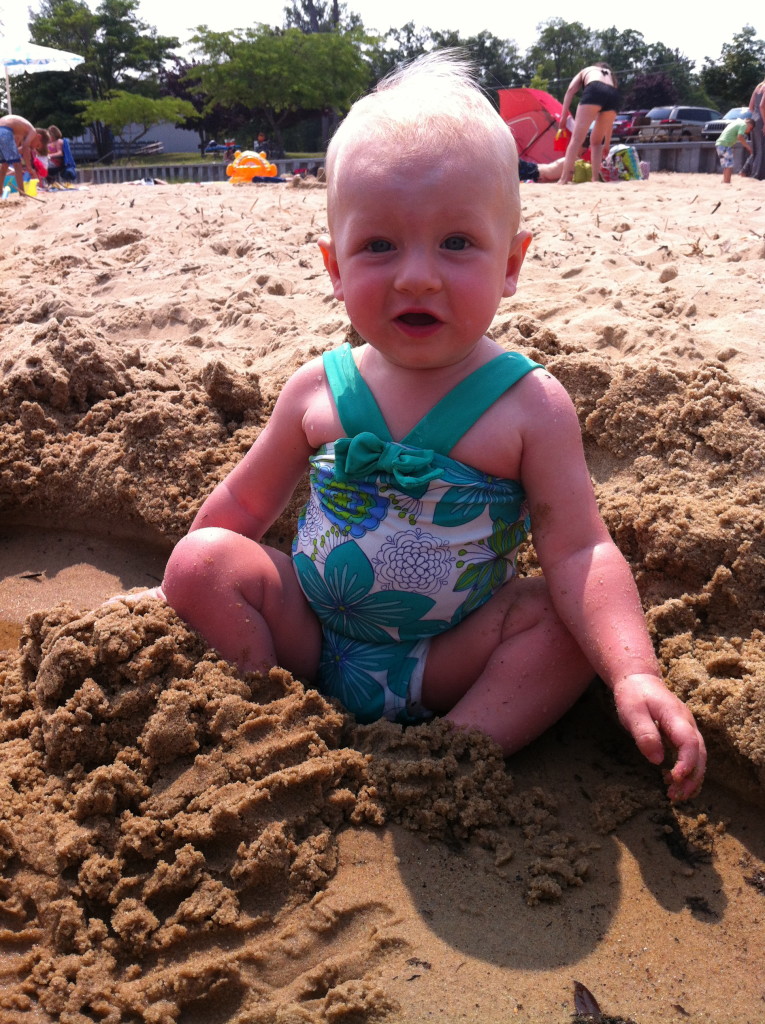 Theo would scoop dirt out, and she would scoop it back in.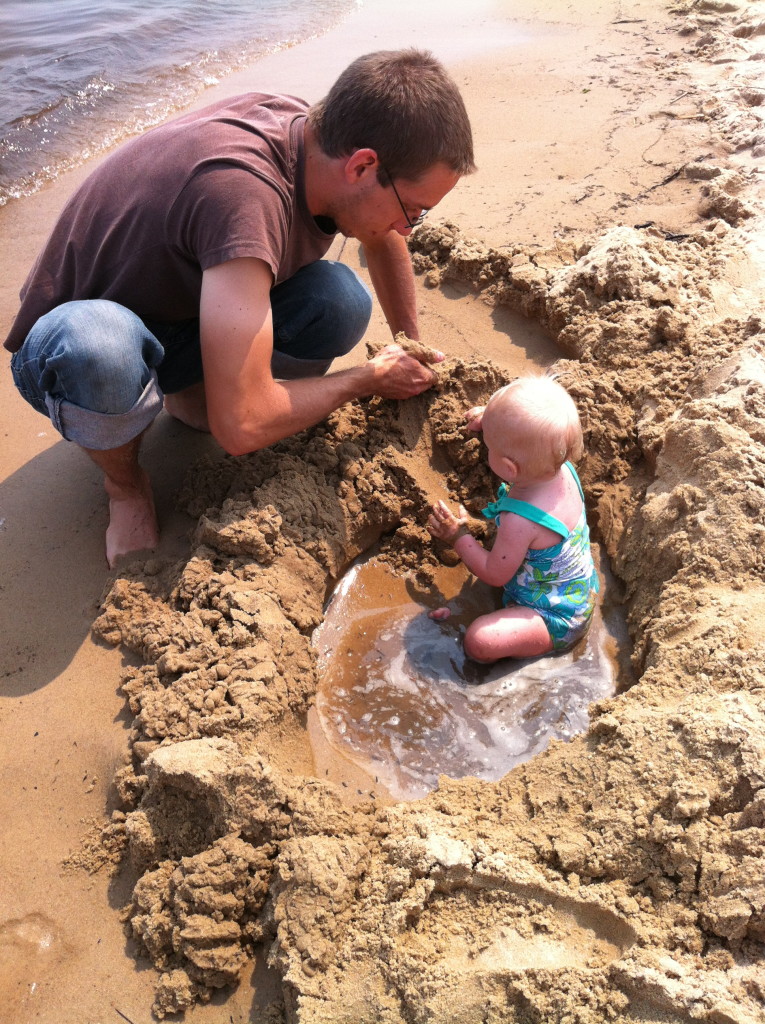 She was enthralled with the seagulls and all the people on the beach.
She got herself covered in mud and then we realized that there was no shower or hose or anything to clean her off with. Parenting fail. We took her and our water bottle to the bathrooms nearby, stripped her down and rinsed her off with the water bottle. Theo had to keep going back to the bathroom to refill it and keep rinsing her off.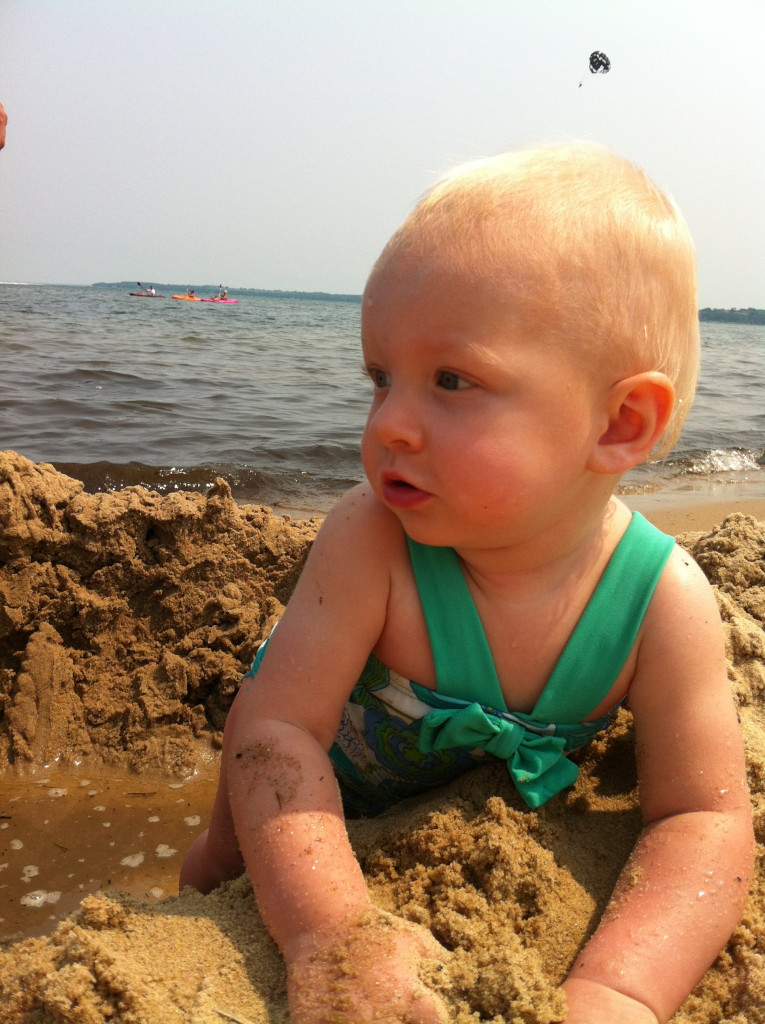 Traverse City was hosting a huge festival for the 4th. They had booths and all kinds of food, a carnival, an airshow and fireworks. We were planning on spending the whole day there until fireworks at 10:30, but as the day went on we realized that was probably not the best idea. We all hit a wall, Tera needed a nap, it was HOT, and it was so crowded. Then the air show started and we couldn't find a single shady spot to watch it. We finally took refuge in this little sliver of shade under this boat. The airshow is going on, and the thunderbirds come out. Now, the thunderbirds are named thunderbirds for a reason. Because when they fly, they sound like thunder. LOUD thunder. So as we are sitting there enjoying watching two or three of the planes do tricks in the air, one of the pilots decides to fly DIRECTLY over the crowd in his THUNDERbird. That was one of the loudest noises I have heard, and probably one of the top 10 terrifying moments of my life. 1) because we had no idea he was going to do that. 2) Theo's face was terrified, and I knew if Theo was terrified…I'd better fear for my life. Of course, afterwards, Theo says, "I wasn't scared…I was startled." Yeah, ok.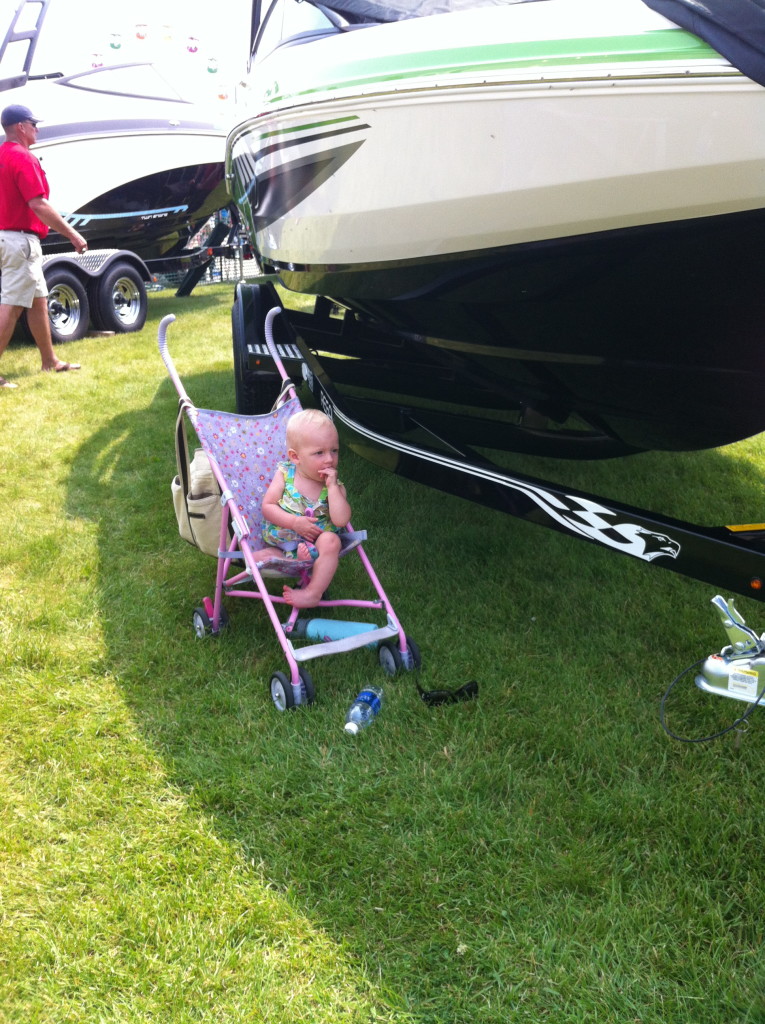 I wanted to walk around the carnival, so we headed over there. And Tera was asleep. Through the carnival. I have no idea how. All that playing in the mud must have worn her out!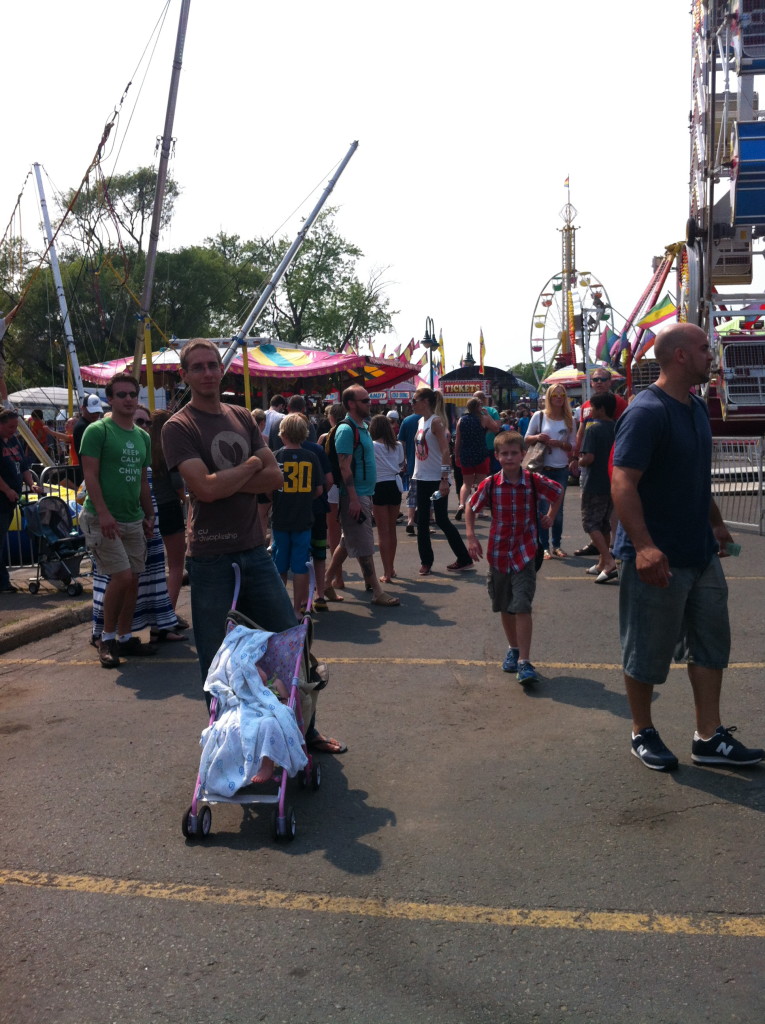 Sound asleep. I know, don't put a blanket over your kid when they are sleeping. The blanket was for shade.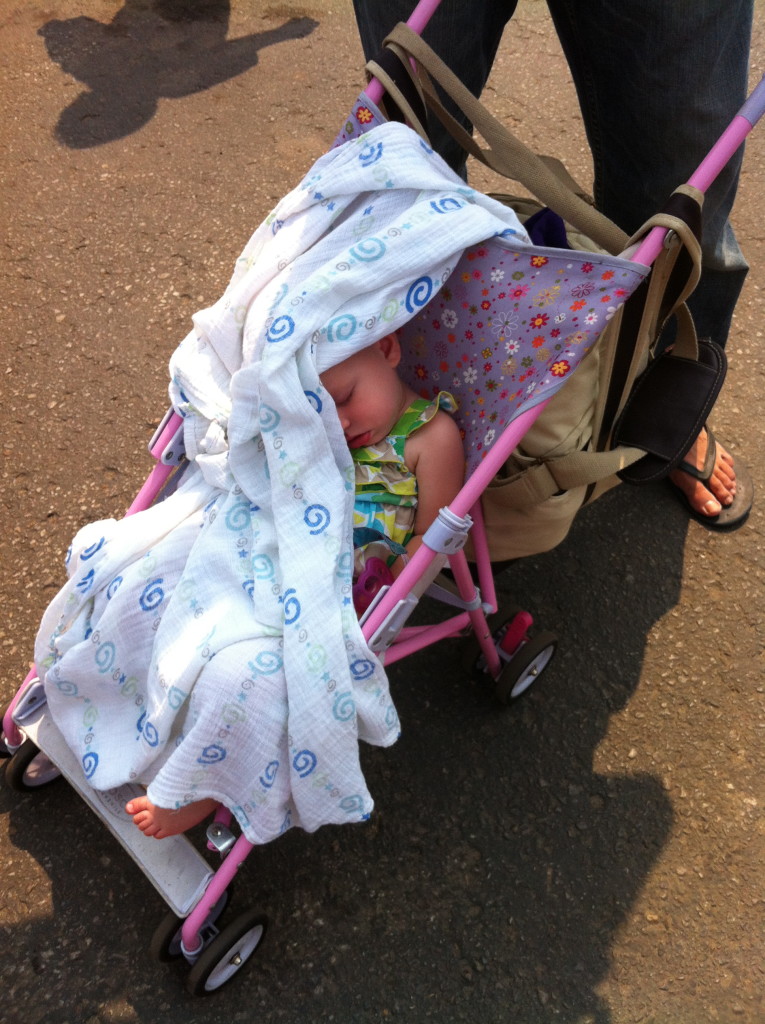 We decided to skip the fireworks and high tail it out of there. It was SO crowded and there wasn't much we could do to entertain Tera until 10:30 when the fireworks started. We decided it would be beneficial to start driving in the direction of home and shave a couple hours off the drive. So away we went and found a hotel for the night that was HALF the price of the one in Traverse City. Same hotel chain.
Theo took Tera to the pool.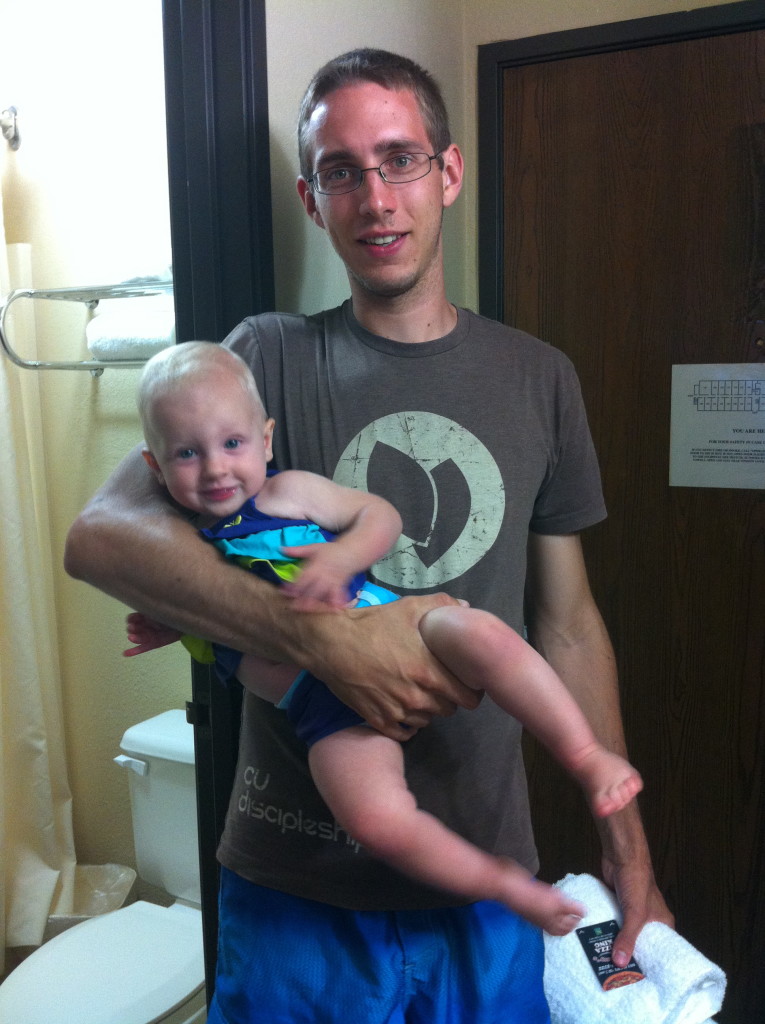 She LOVED it. I mean, LOOOOOVVVED it.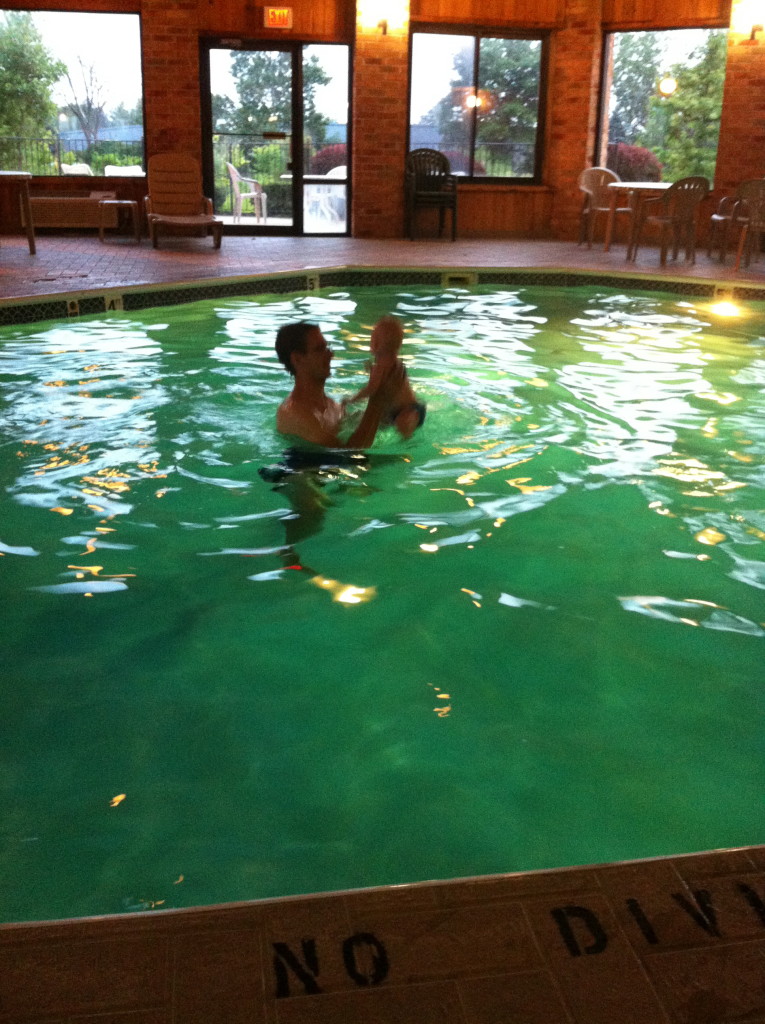 So much fun!
And the next morning we drove the remaining five hours back and arrived at home sweet home! Tera was on a nap strike because she was SO excited to see Moose and play with her toys. She did not want to be taken away from them! Funny girl.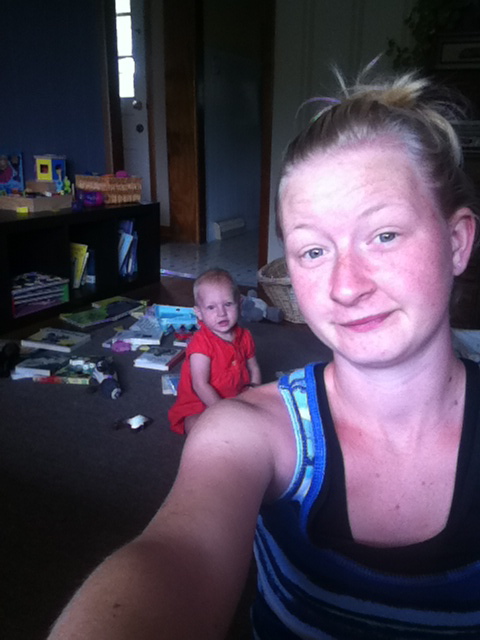 And the very next morning vacation was LONG over. Theo headed out the door by 6:25 for his first day of orientation on his new job.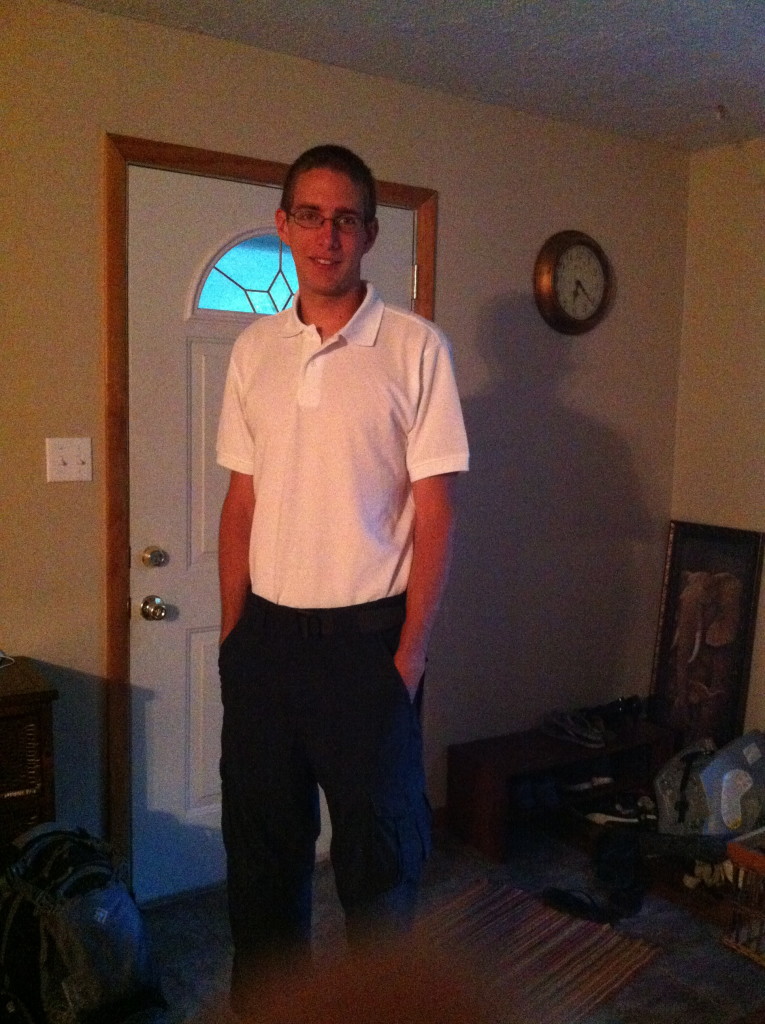 And that, my friends, is your grand tour of northern Michigan!