I haven't done a life lately post in quite a while, so I thought I would throw one up with a general overview of our lives the past few months.
It will come as no surprise to most that we pretty much never slow down. I mean, even when we slow down we are doing fun and exciting things.
The summer started with a family backpacking trip. I then took a trip to Michigan, followed the next week by a trip to Florida. I was back home for a few days before our family took a vacation trip to Michigan. The day after getting back from Michigan, Theo started his new job orientation at the Dayton Fire Department. 6 weeks of job training was rigorous for him, but we really enjoyed the 7-4 daily schedule. In the midst of this training, we took some time to go back to Michigan for the Hines Family Reunion. The week after getting back from that we celebrated Tera's first birthday. The very next week Theo graduated from his job training session and started back up 24 hour shifts at the DFD. Of course, all through the summer we also worked on our foster care license and just last week we completed all the paperwork and received the license in the mail!
So that is life lately! But it wouldn't be a blog post without me including some pictures!
Tera enjoys taking every single toy off her toy shelf. I have just started working with her to teach her how to put them all away. We still have a long ways to go. But she will get it eventually!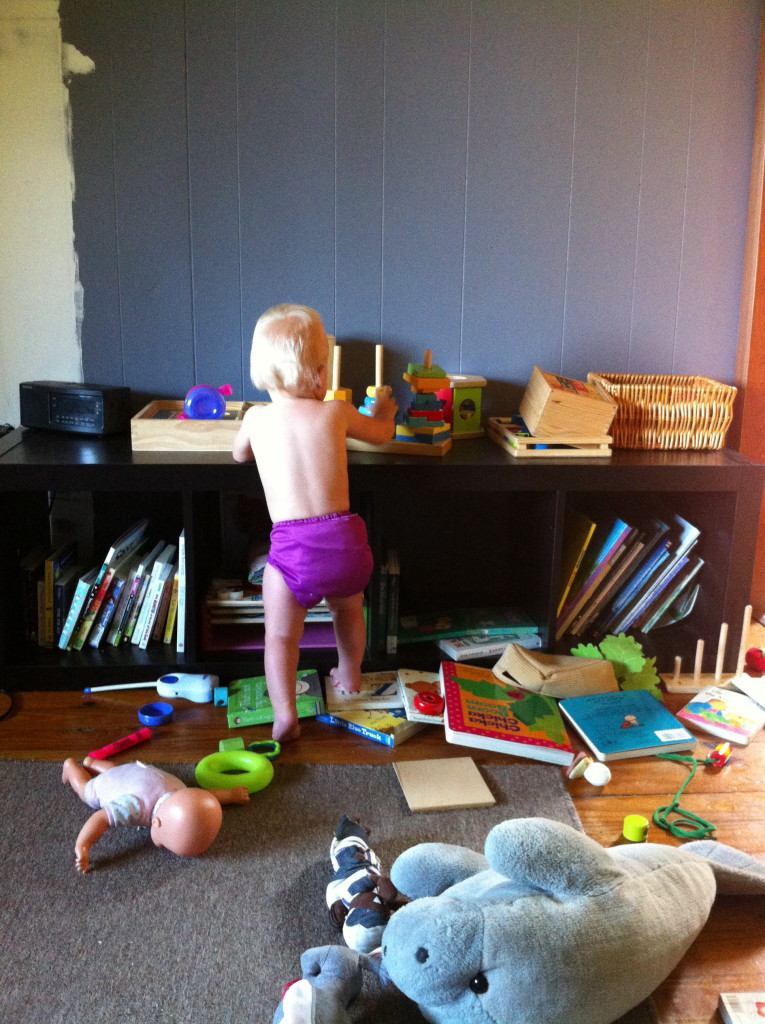 Theo put up a tire swing for her, and although she is way to young to swing on it by herself, I forsee her spending a lot of time on it in future summers! We have spend a lot of time outside this summer!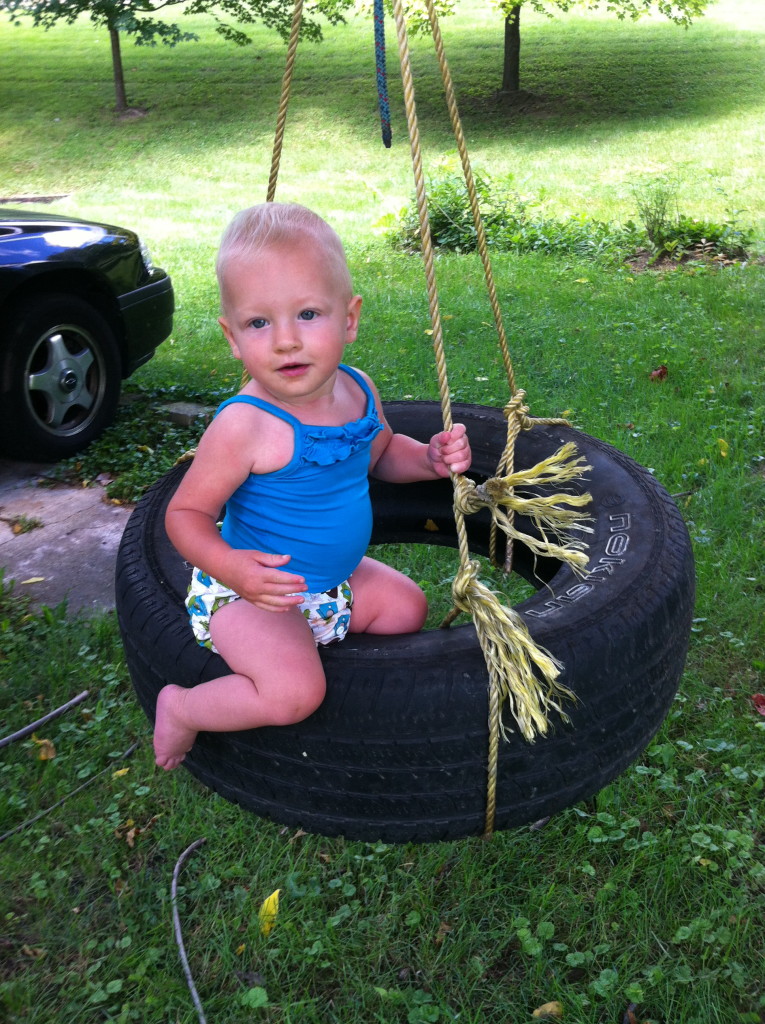 Theo found this tricycle in the trash (no surprise there!). Tera can't reach the pedals, but she loves to sit on it while I push her around the driveway! And yes, I am completely aware that she looks like a boy here. The two of us adults got this deathly awful cold and we were only doing the bare minimum for survival. I wasn't too concerned about her outfit!! This was the first time I emerged outside in about 3 days…so give a little grace! Haha!
Tera got this shopping cart for her birthday, and boy does she love the thing! She piles it high and then pushes it all around all over the place. This time we put Moose inside it and she thought that was the greatest thing. I love watching how she entertains herself!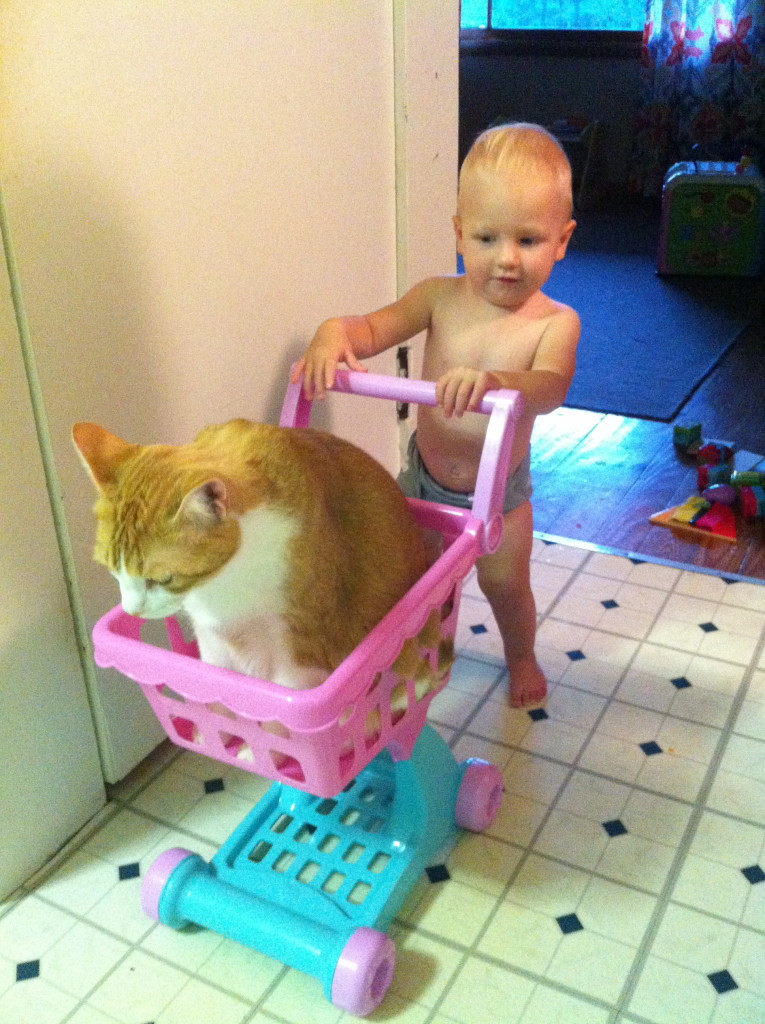 Tera is a climber. She can't walk yet, but she climbs on EVERYTHING. She made it this far by herself. I've found her on the couch, on my desk chair, halfway up the stairs, halfway over the baby gate…she will find a way to climb it!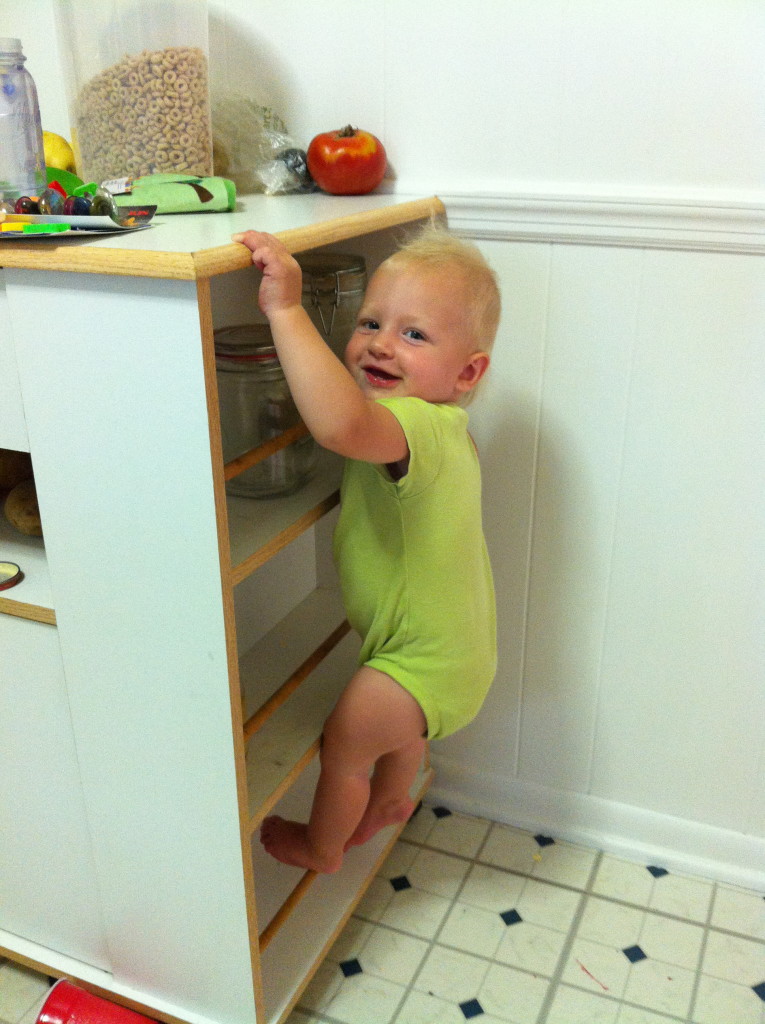 Tera and I are adjusting to Theo being gone overnight again. It's never easy and my hardest time is usually from 4-8pm and then from 11-until whenever I manage to fall asleep. When Tera was a little baby I was terrified of giving her a bath by myself. She was just too slippery and it was so much work. But now I found bath time a wonderful time to pass some time!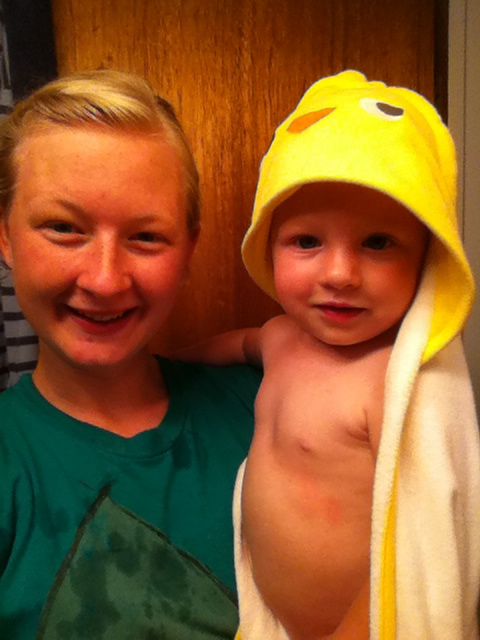 When Theo worked his 24s before, I would just let Tera sleep in bed with me. It was so much easier, and then I only had to worry about criminals coming into one room. You know..those are the things I worry about. Plus, it's always nice to not be alone, even if the companion is just a baby.
HA! The first night, she kicked me and clawed me and rolled on top of me and I took her back to her own crib at 4 am after getting next to no sleep. The next night I tried again, and instead of kicking and clawing, she sat straight up and proceeded to play with my hair and my nose and my eyeballs. That night she lasted 5 minutes in my bed.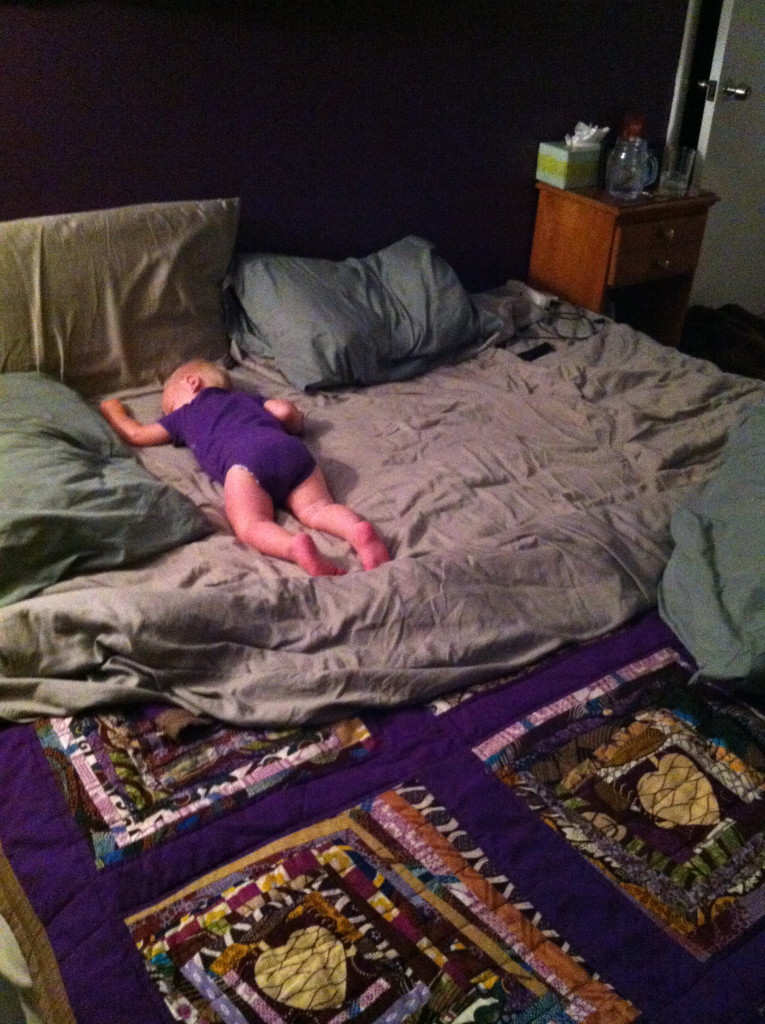 On the days that Theo is at home, we like to plan a fun family activity and try to get out of the house. It's nice to do something relaxing and as a family. This time we went to a downtown Dayton park. They have fountains that spray into the water on the hour. It was a beautiful day and we really enjoyed the park!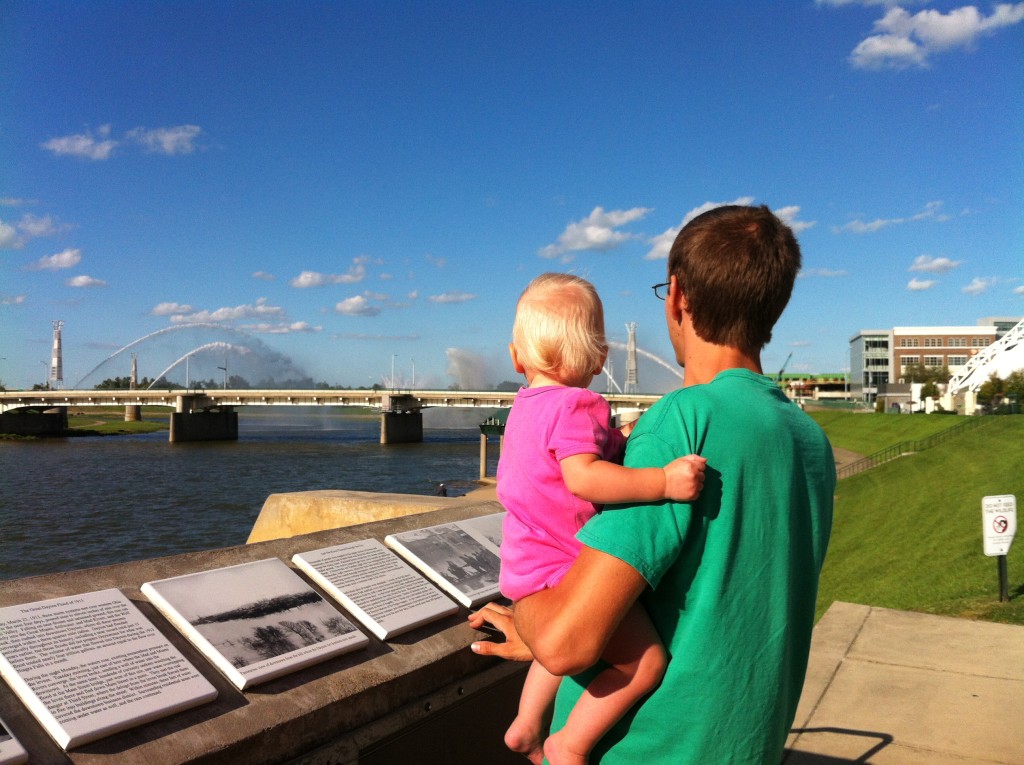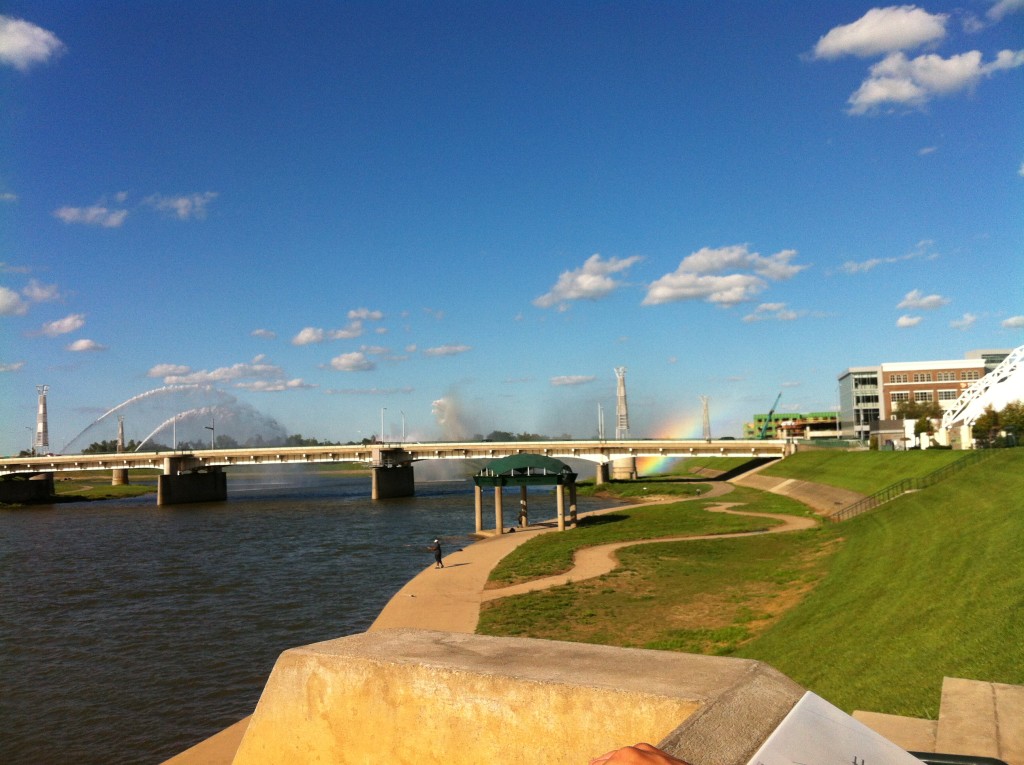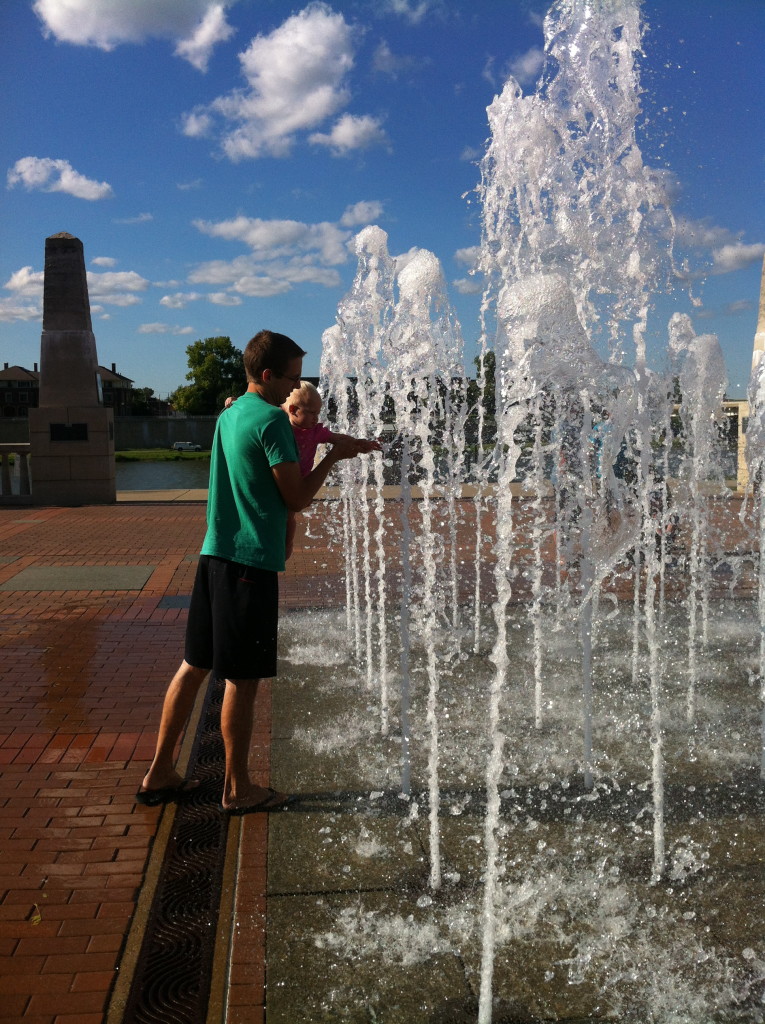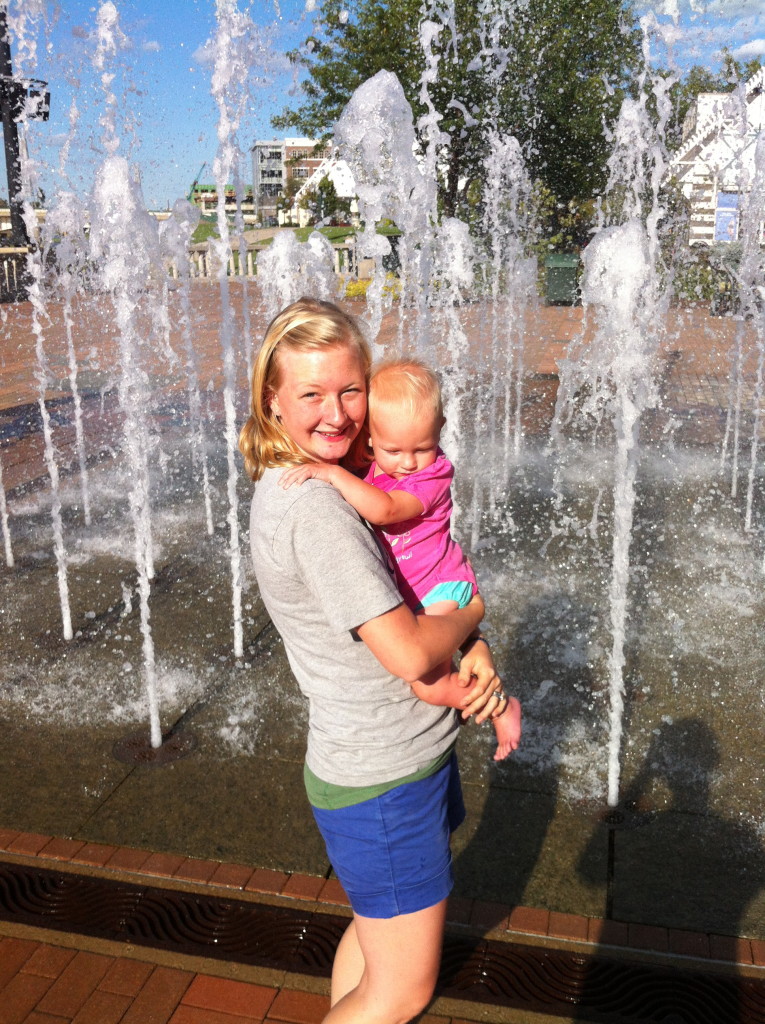 We thought the fountains were turning off for the evening, so I was playing with Tera right over a spout. And then the water came back on!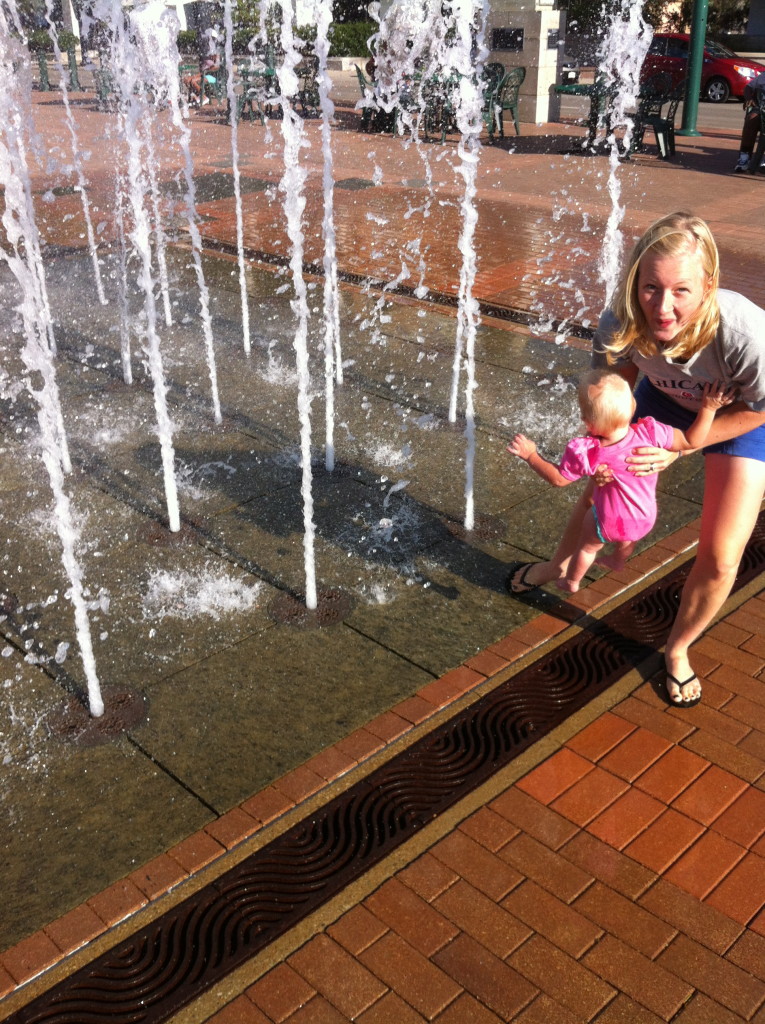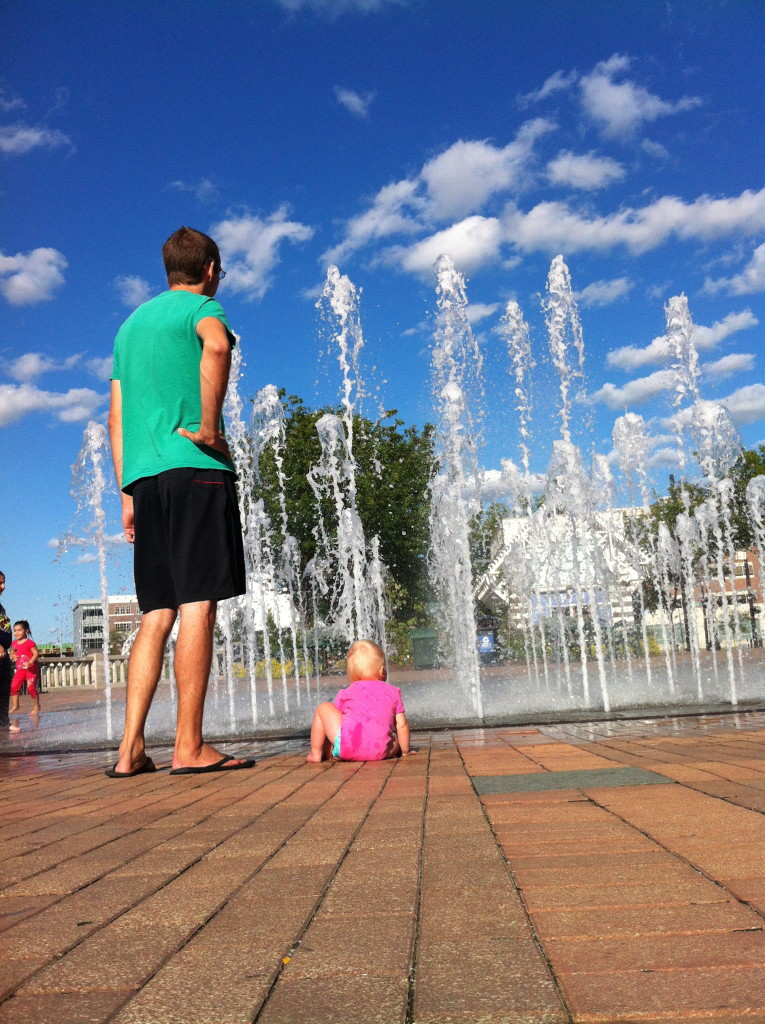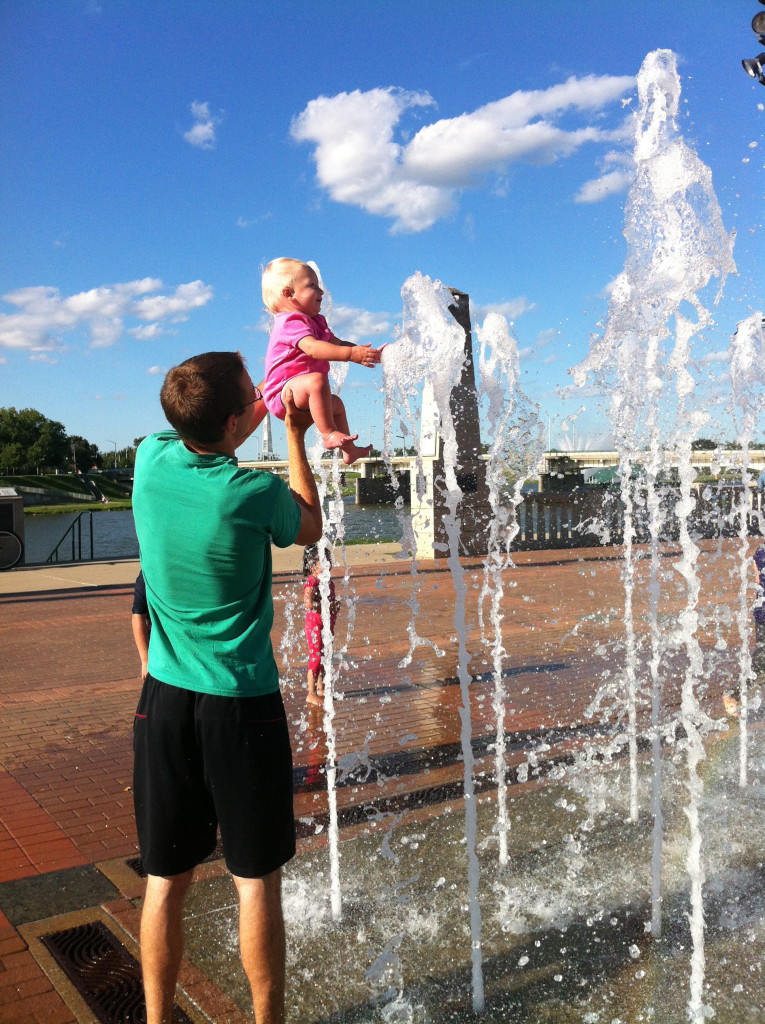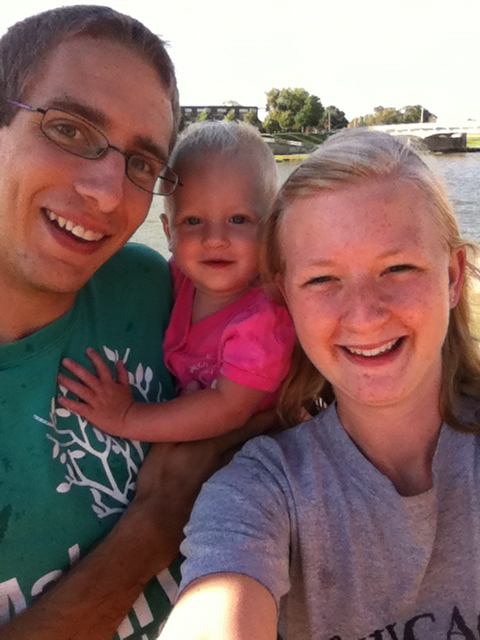 We love this weather so much, and try to go for a walk on a daily basis. Tera loves walks so incredibly much. That toy man thing is called "Tommy toot" and it sounds like a train whistle when you blow into it. Tera figured out how to blow it and she holds the thing in her mouth and just blows it CONSTANTLY. So much for the idea that non-electronic toys can't be loud and annoying!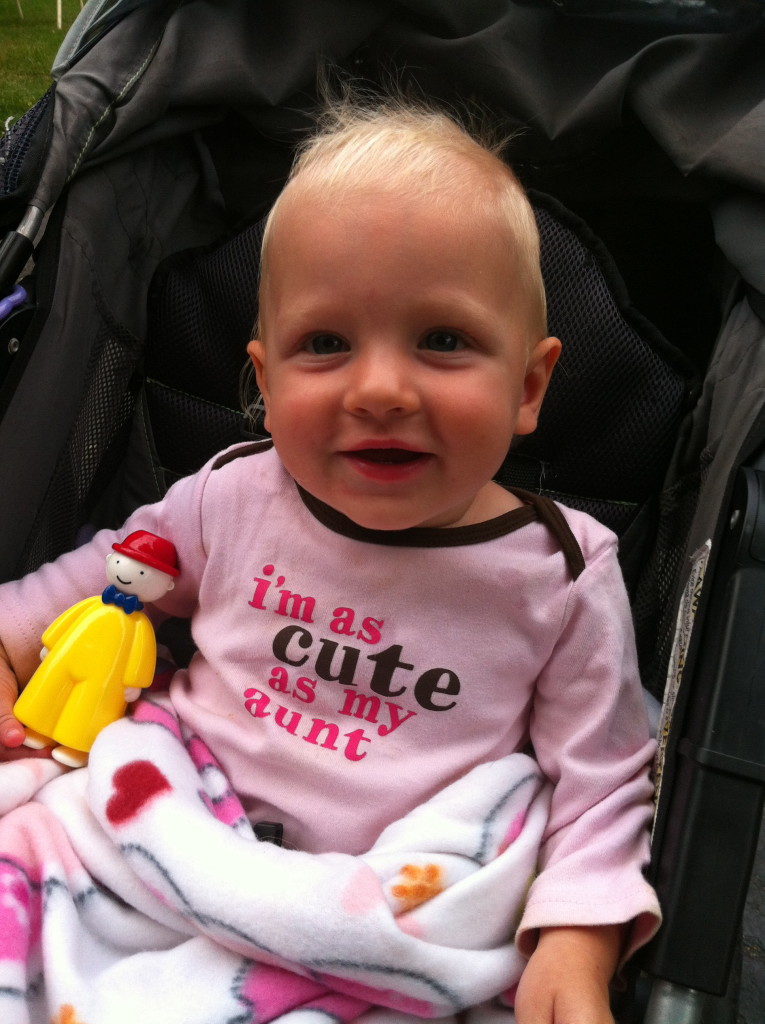 Our pears are ripe, and Tera loves eating them!!!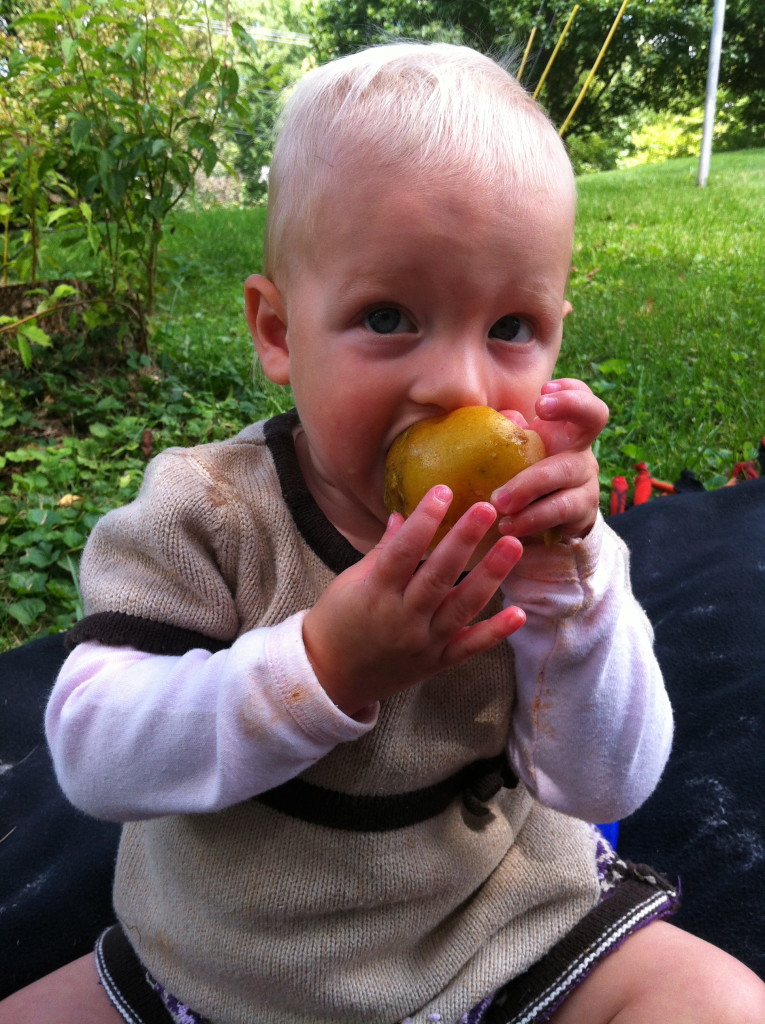 Tera and I also took a drive to Cedarville to meet with a girl on campus.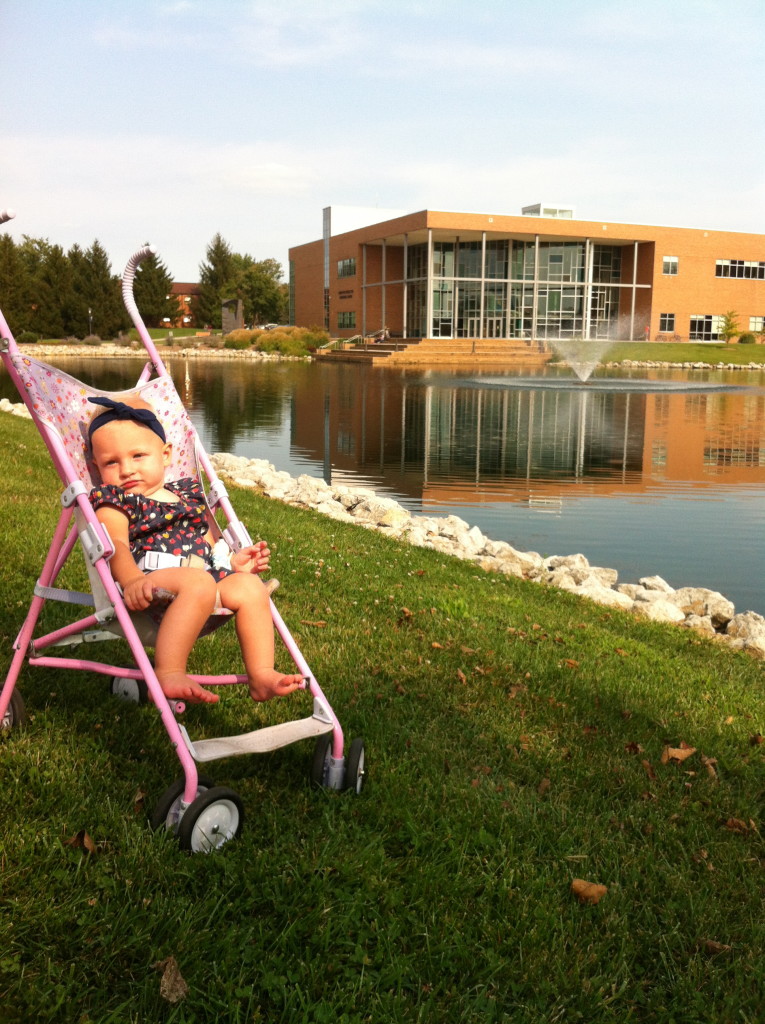 And that is about all for life lately! I'll try to do another one of these updates before a whole season goes by!