Last weekend I had the incredible privilege of standing next to my beautiful friend Abby as she committed to spending the rest of her life with Stephen.
The entire weekend was beautiful. When I say I was so privelaged to be a part of it, I am not taking that lightly.
I often feel like being a bridesmaid or groomsman is taken far too lightly in our culture today. The duties of the wedding party should extend beyond the days before and the day of the wedding. As I stand up front and watched Abby and Stephen say their vows, I am also committing to support Abby and Stephen throughout their marriage, in those "better and worse" times. I'm committing to hold them accountable, to gently remind Abby of the "respect" aspect of a godly marriage union when it's hard for her (and it will be!).
The entire weekend was beautiful. The weather, the people, all the details, and most importantly…I truly felt like God was glorified and the gospel was proclaimed from the rooftops. Beautiful.
We started the official wedding festivities off on Friday with a bridal luncheon. The details were incredible and stunning. How about these napkin rings that we all got to take home? The four sides had my name, the date of the wedding, the verse that they choose for their wedding and Abby and Stephen on the final side.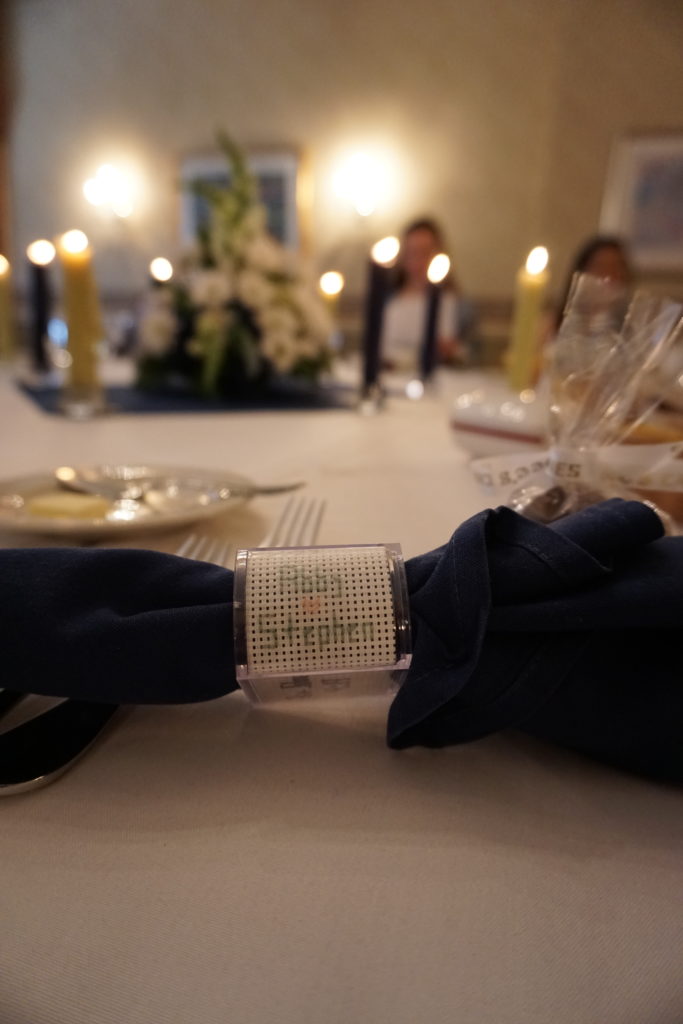 Abby's family, future family and bridesmaids were all pretty fun. There was no shortage of laughter!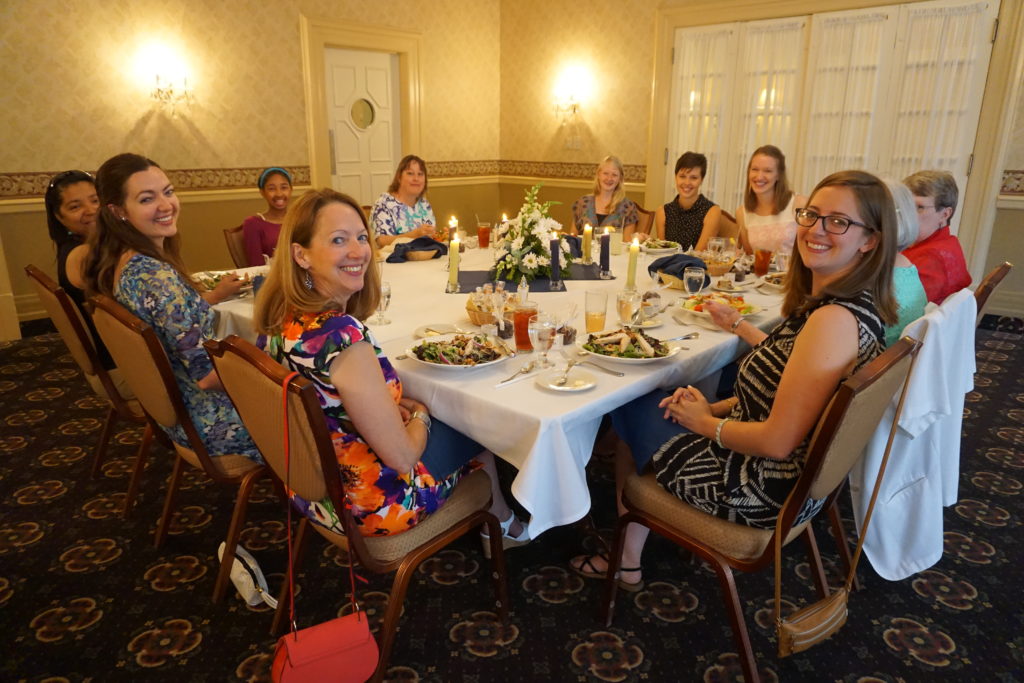 One of Abby's gifts. Ha. Haha.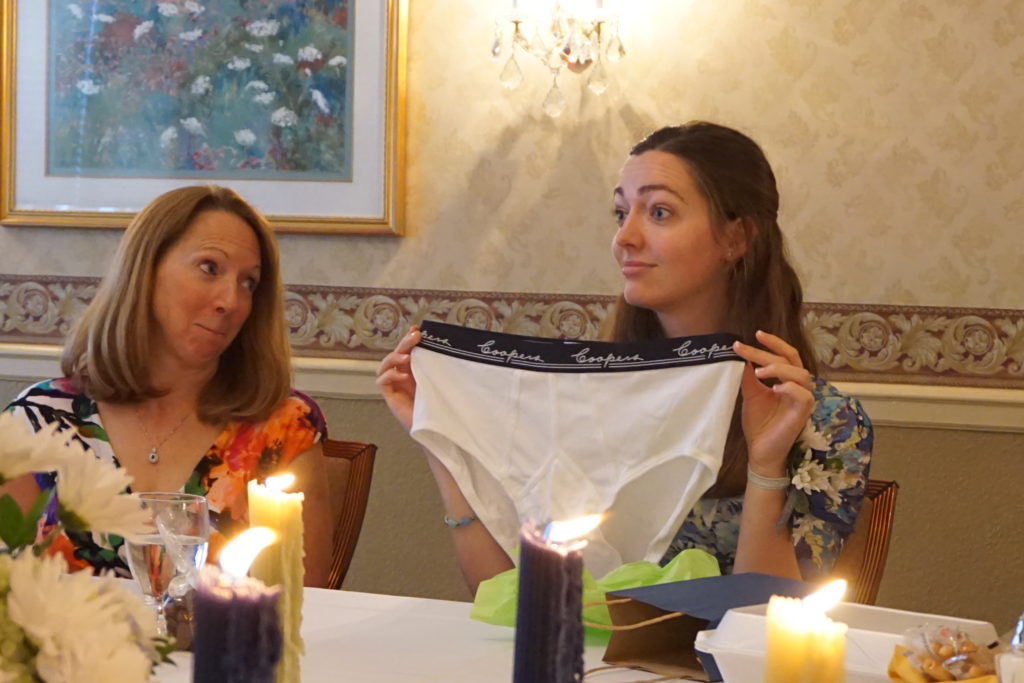 She got lots of gifts that are online inappropriate, and then this one at the end.
Her sweet and lovely Grandmother cross-stitched this beautiful wedding picture for Abby and Stephen. Not a dry eye, I tell you…it was so beautiful!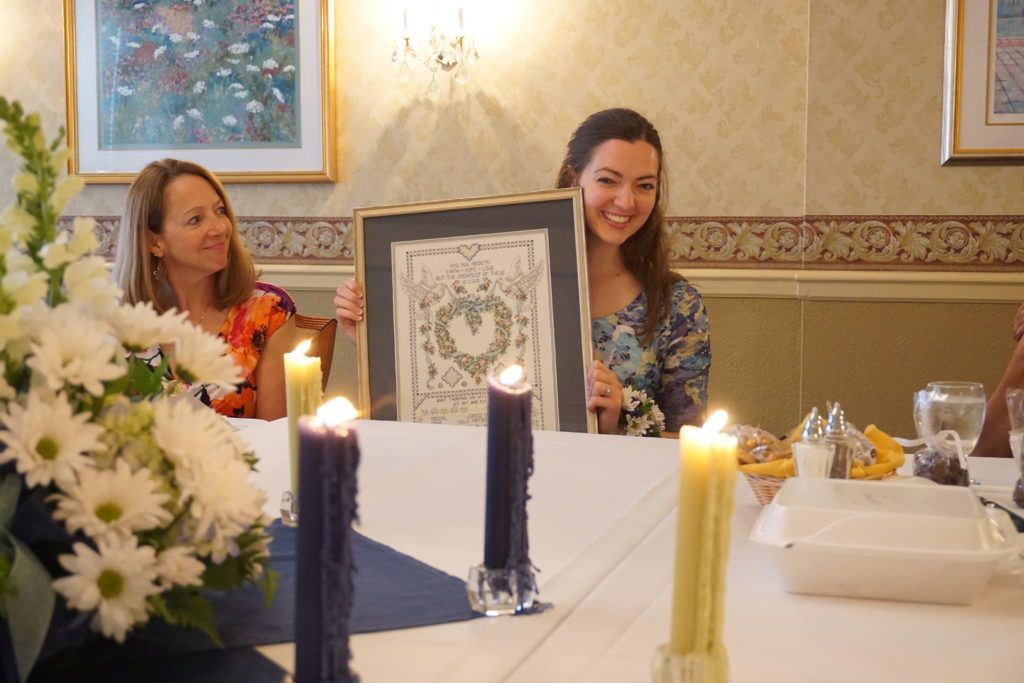 The beautiful bride and I!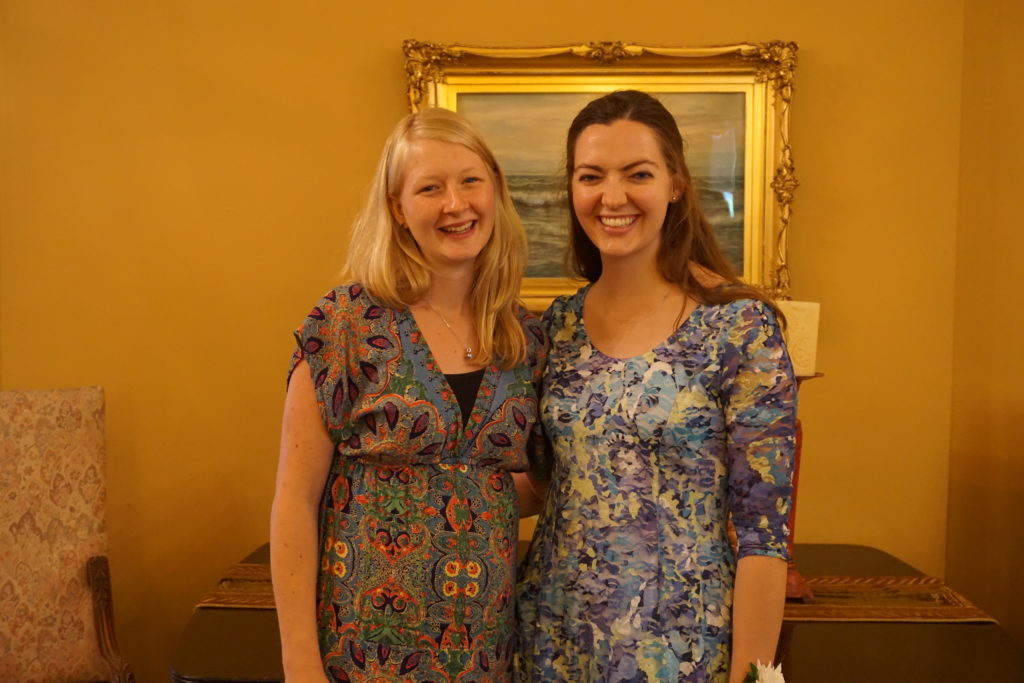 Bridesmaids, junior bridesmaid and the bride! What a fun group. I'm so glad I got to spend the weekend with them!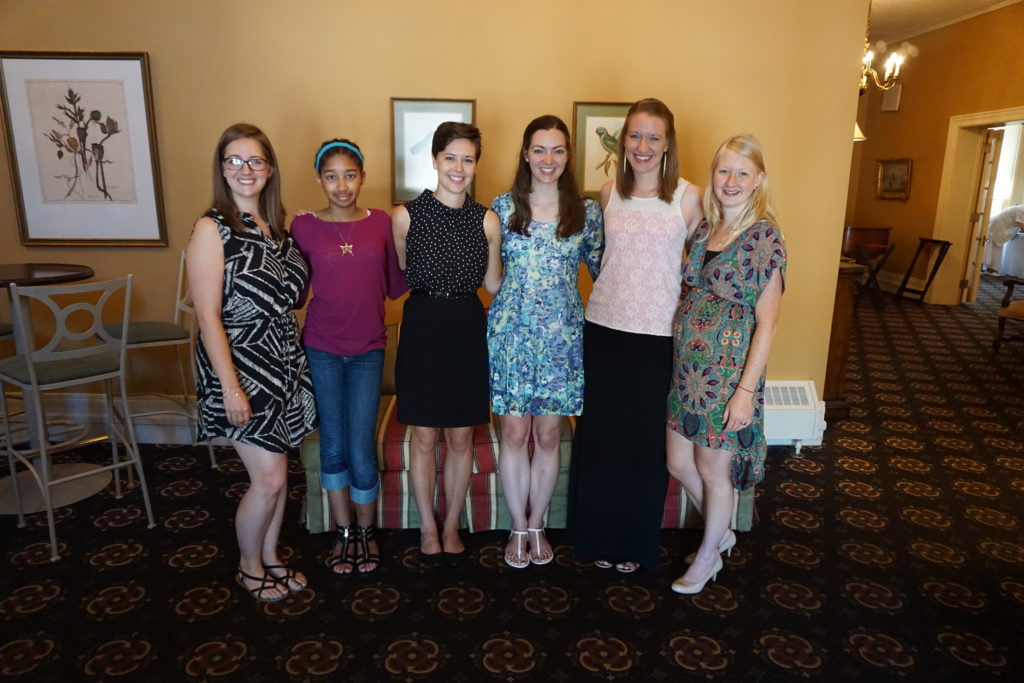 Abby, her sister and her Momma. I loved seeing their bond and laughter throughout the weekend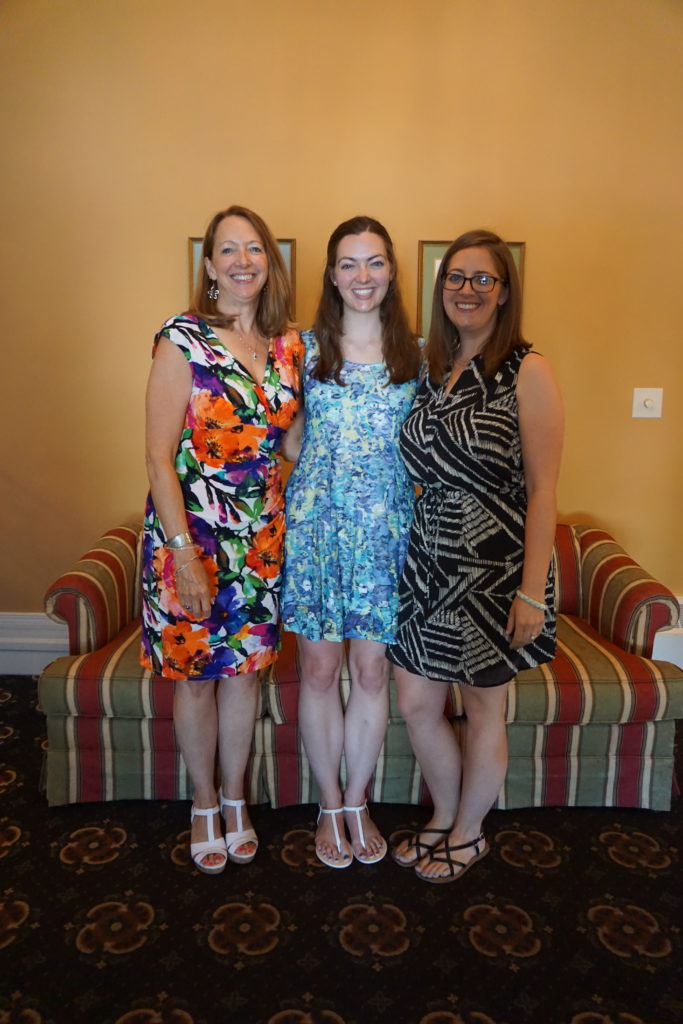 I also loved how Abby's mother-in-law was included in every festivity over the weekend. That was also fun to be a part of!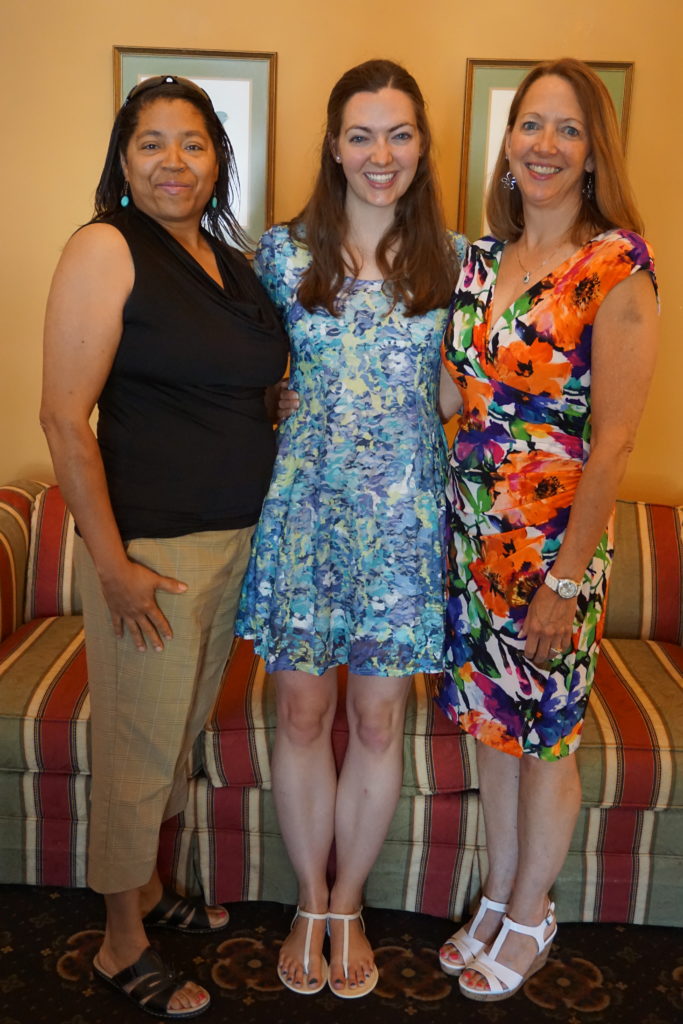 Abby and her sweet Grandma.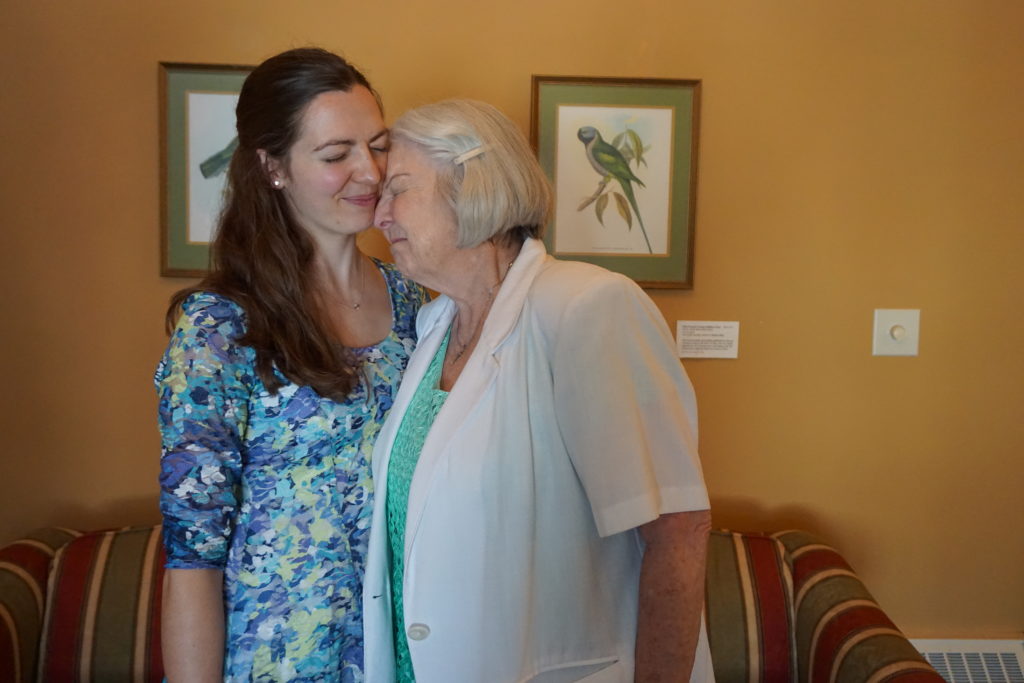 The rest of Friday involved a little bit of a rest break, hang out time with the wedding party, the rehearsal and rehearsal dinner. It was all put together so well and went so smoothly.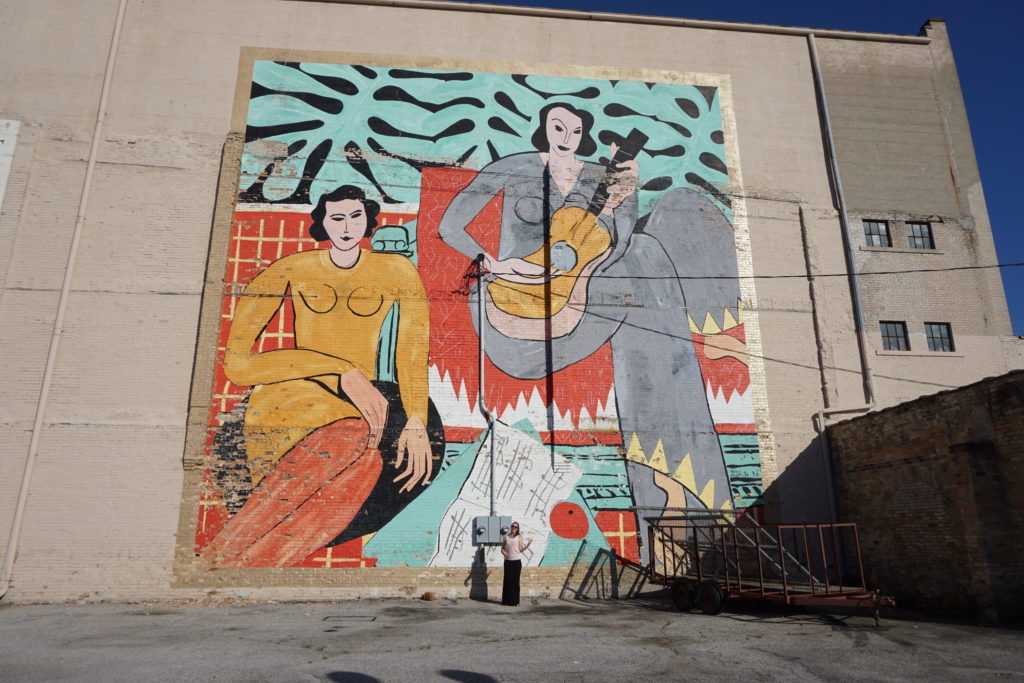 Hanging with the other bridesmaids. I have to say…Abby picks some pretty awesome friends!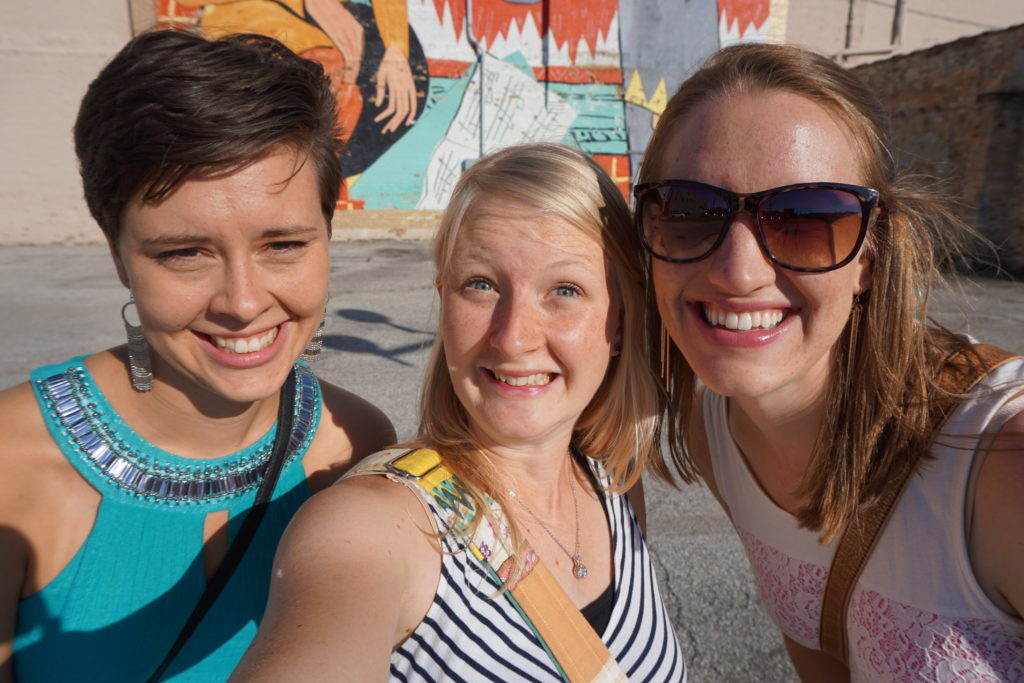 Let me tell you what…being a bridesmaid and a Mom is a challenge! Add a pregnancy to that and it's really, really challenging. I was SO sick all day Friday, and since I hadn't been sick in over a month, I wasn't prepared with any meds. I think it was a combination of being exhausted, going through all the emotional upheaval saying goodbye to Little Miss and then having such a busy weekend as a bridesmaid. After the rehearsal dinner I hit up a pharmacy and got some Unisom + B6 and prayed HARD I wouldn't feel sick for wedding day! I took the meds (which knocked me out) but woke up on Saturday feeling refreshed and ready to go- and didn't feel sick at all during the day! Wooot woot!
Also, Abby has the wonderful fortune of being from the Saginaw, MI area…which happens to be the wonderful abode of my in-laws as well! So I had somewhere comfortable and welcoming to stay, and someone loving and dependable to leave my Tera! I'm so thankful for my in-laws who watched her all weekend!
Saturday morning started out with hair appointments!
The bride: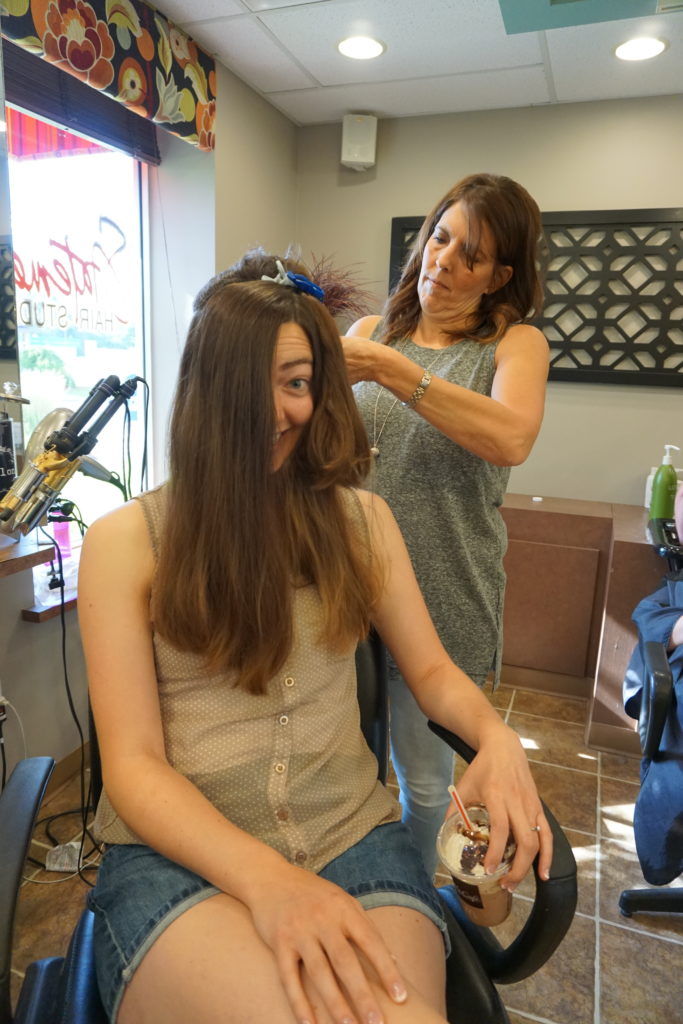 The matron of honor:
Mother of the bride: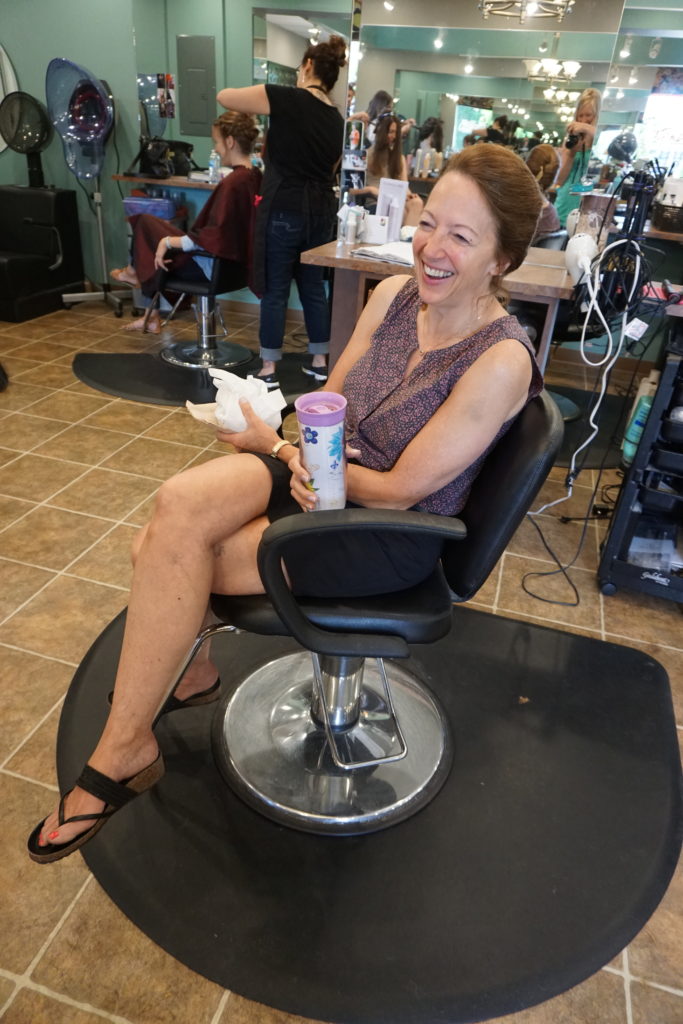 Hannah: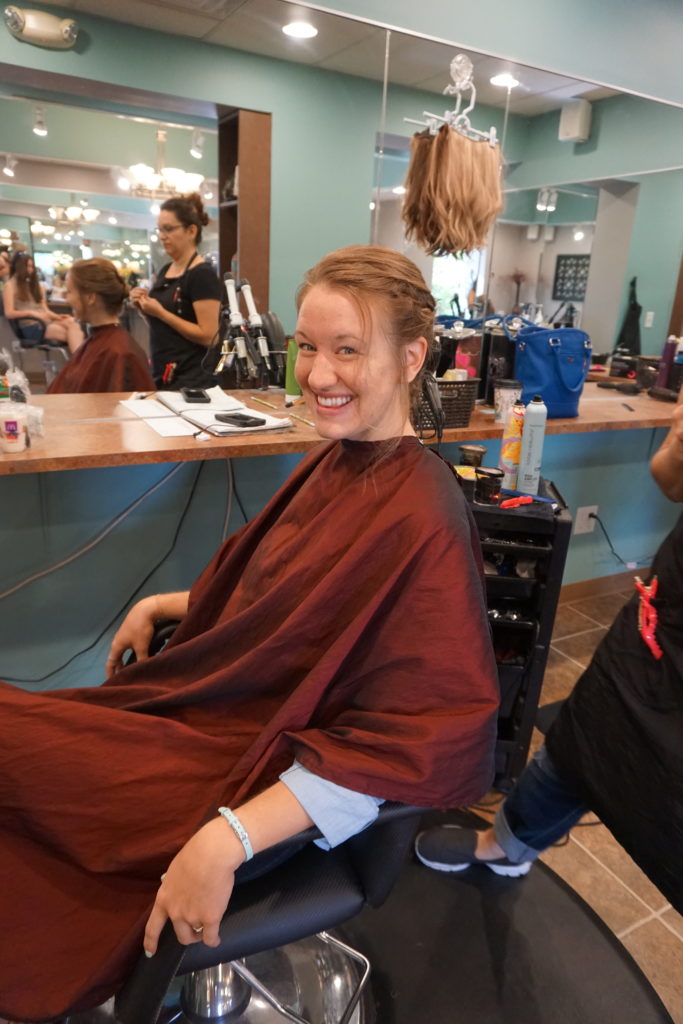 It was such a treat to get my hair done! The only other time I've ever had my hair done by a professional was for my own wedding, so I felt like a million bucks getting my hair done professionally! The only issue was taking out the million bobby pins without the help of my husband!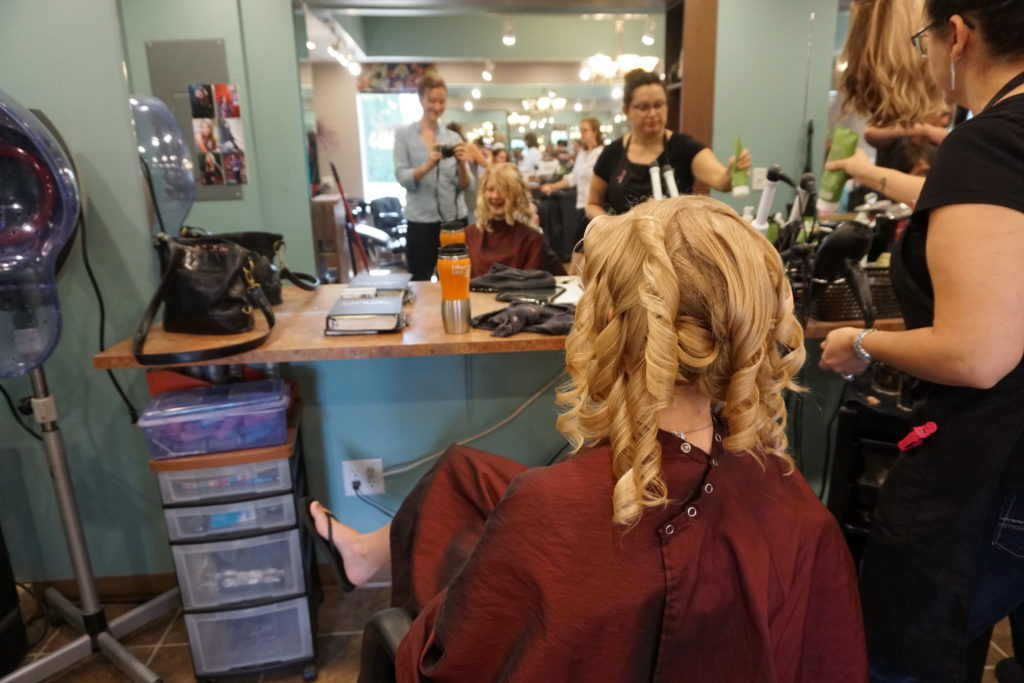 Abby's hair getting the final pieces put in!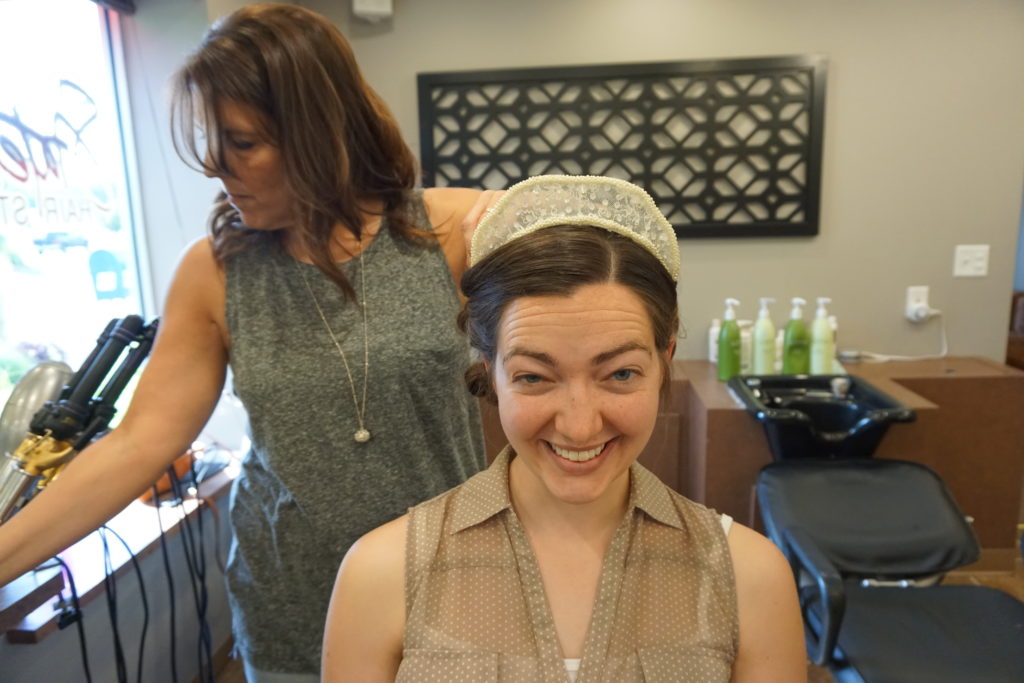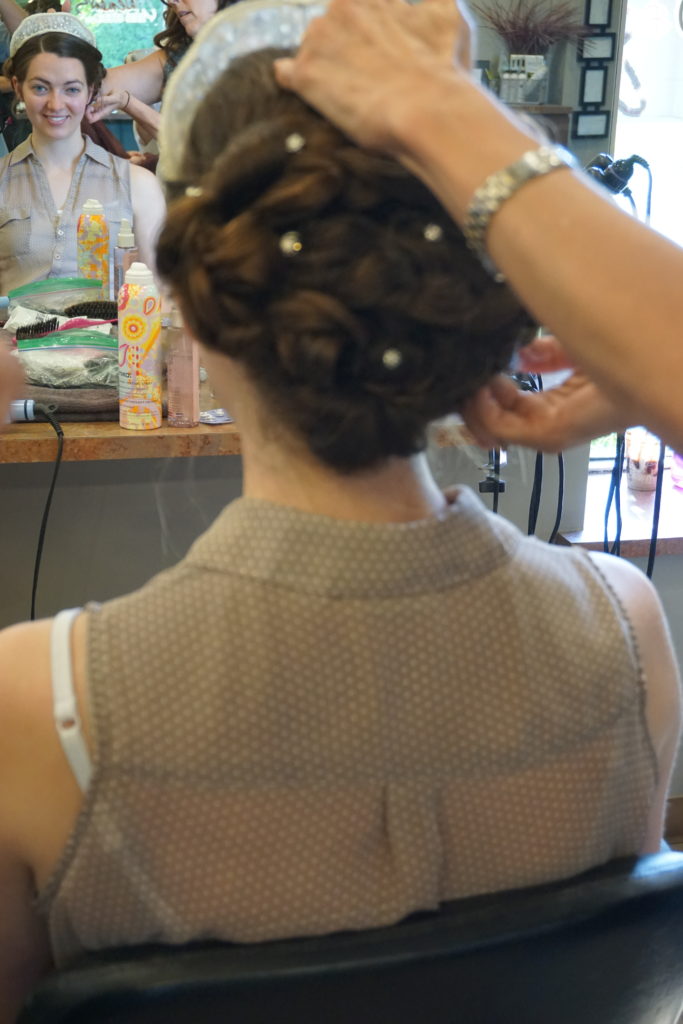 Next up: to the wedding venue for hair, makeup and getting dressed!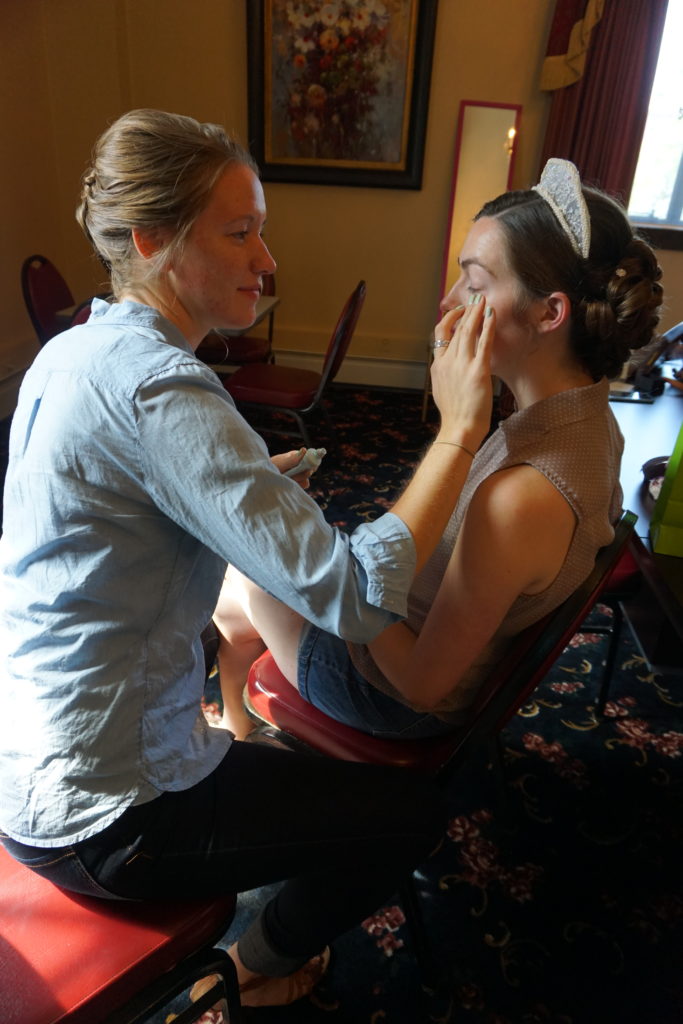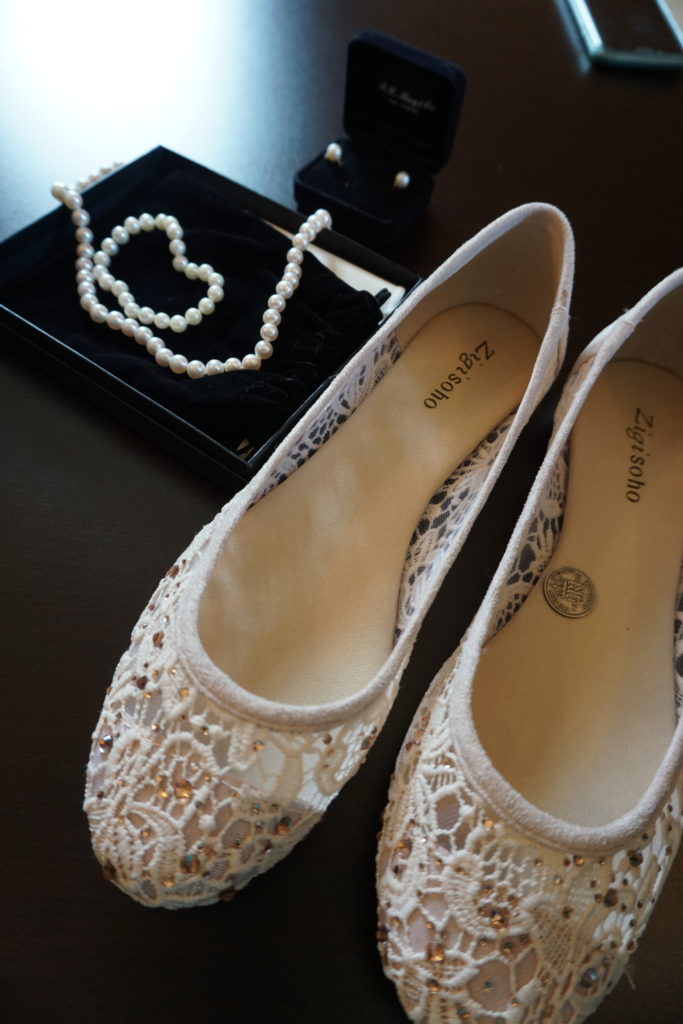 MOH fluffing the dress. And, yes…that is a giant safe in the closet.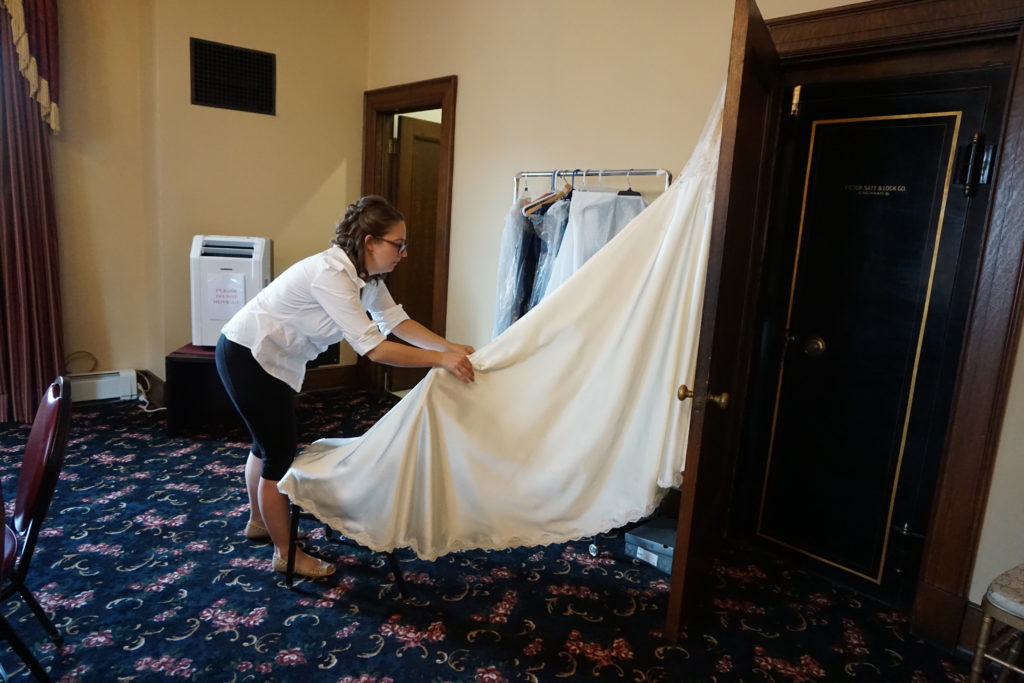 The boys were getting ready downstairs so we had a courier send letters back and forth. So sweet.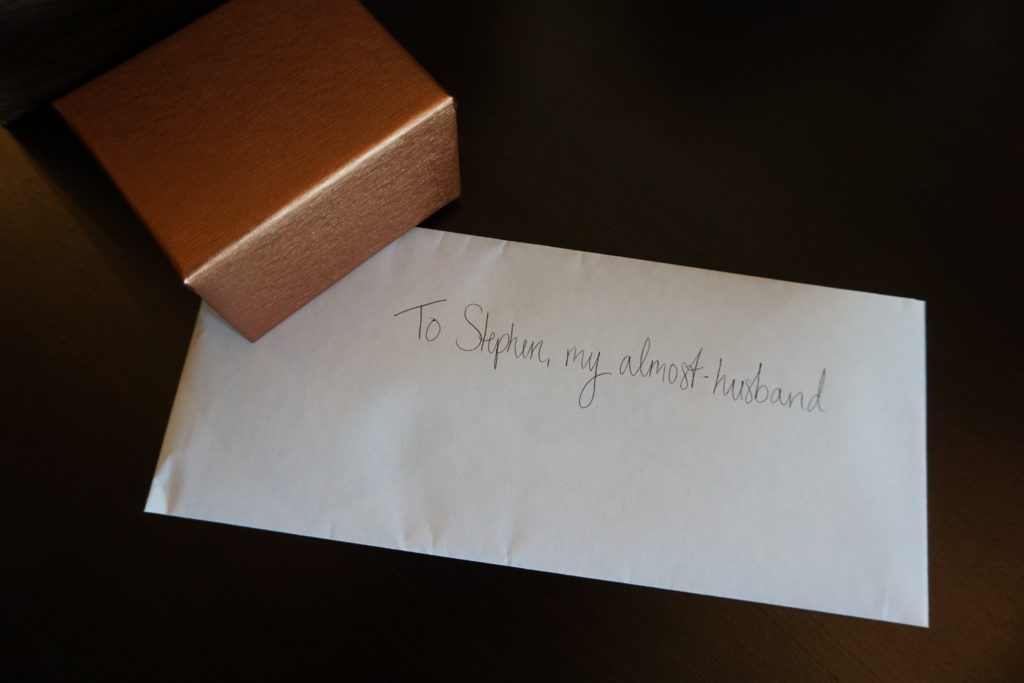 Makeup, music and friendship. We were a little over schedule, but it all worked out just fine!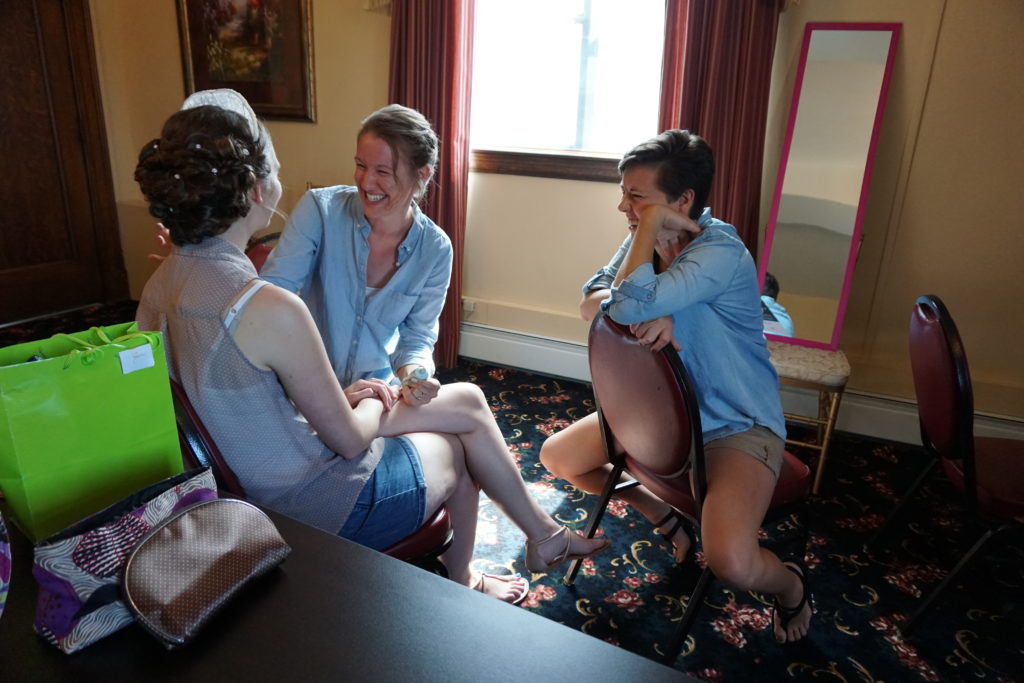 Everyone getting ready!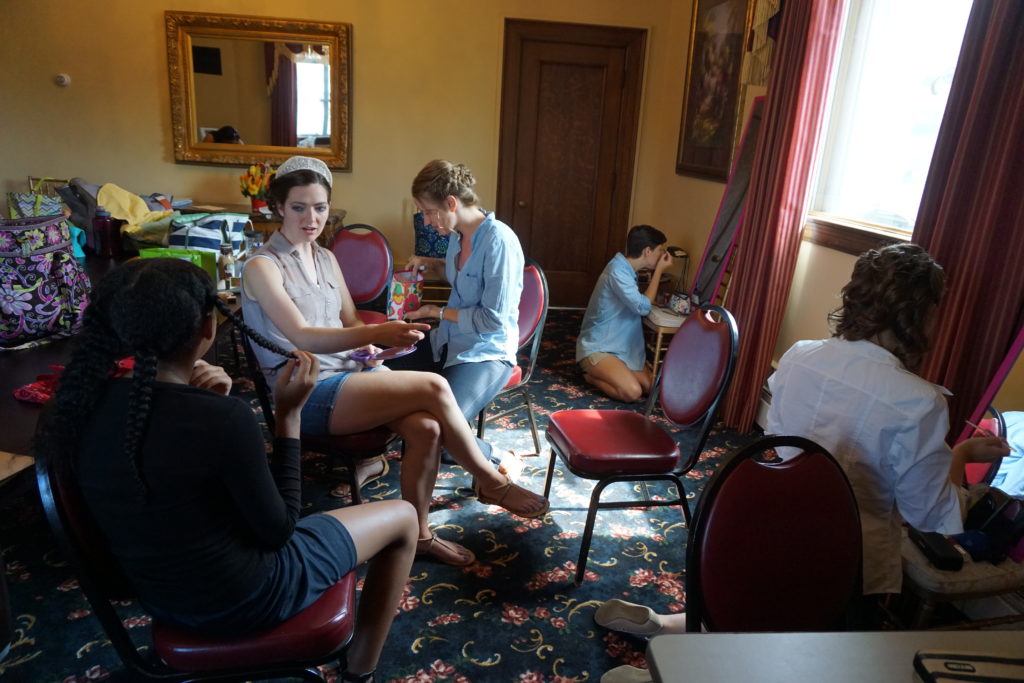 More hair and makeup!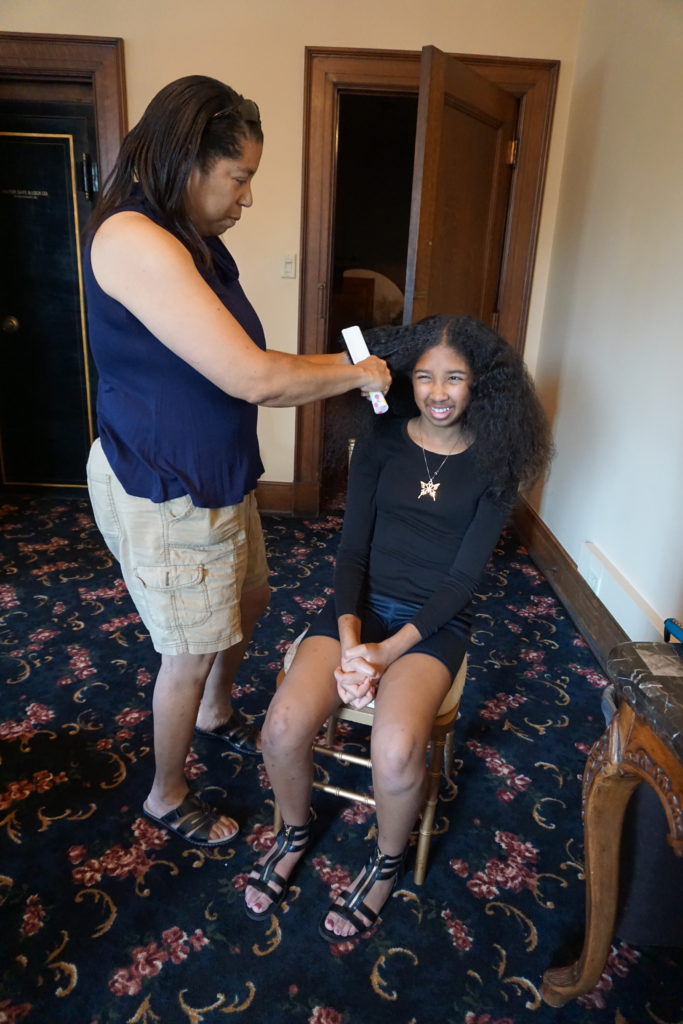 Abby told us to pick knee-length navy blue dresses. Um, I'd say we all did a pretty fabulous job matching that blue! Each dress was unique but really matched!
Abby got dressed and ALL THE HEART EYES. Isn't she gorgeous???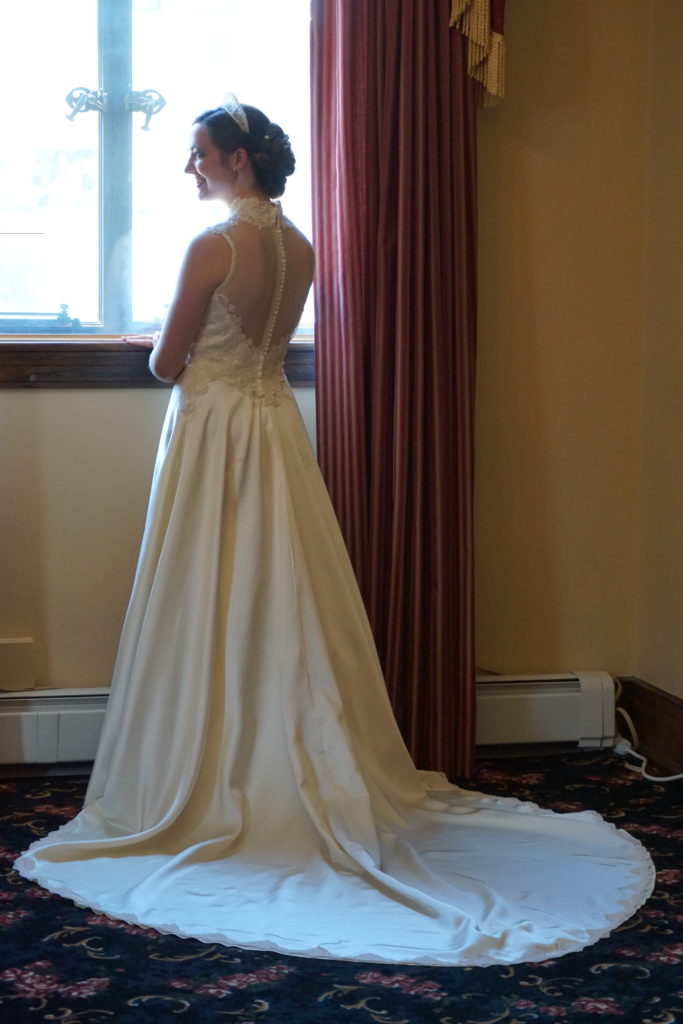 After a final round of primping, we headed downstairs. Abby got to have her first look with her Dad. It was the sweetest thing to watch. And then…her first look with Stephen. I cannot wait to see the professional photos, because it was in the Temple Theatre, and the room itself was breathtaking.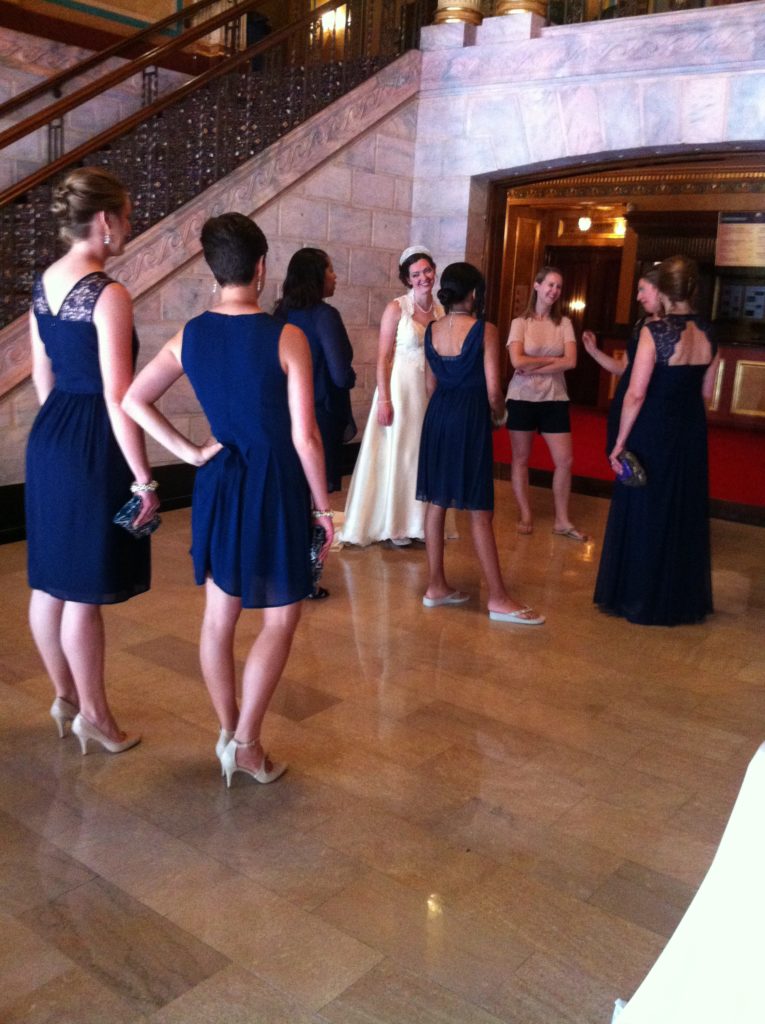 Once the first looks had all been exchanged, we piled into a limo (my first legit limo ride!! I've been in a limo bus, but it was a little different). We drove to the Montague Inn and the photographer did her magic. I didn't have my phone or my camera, so no pictures from me!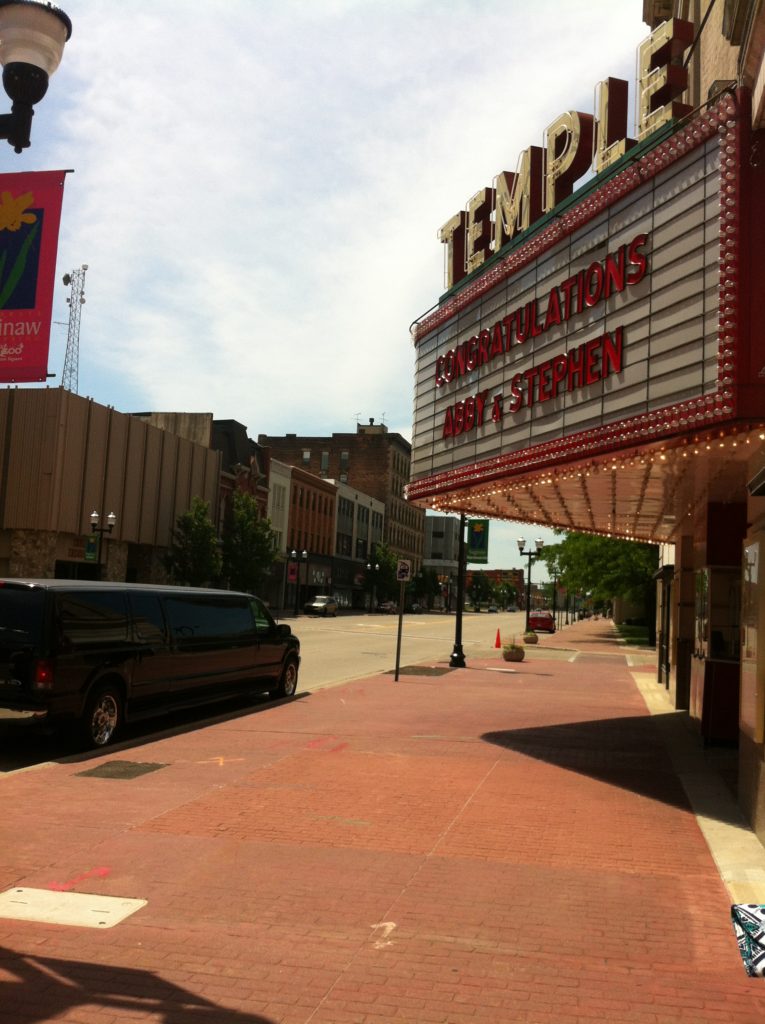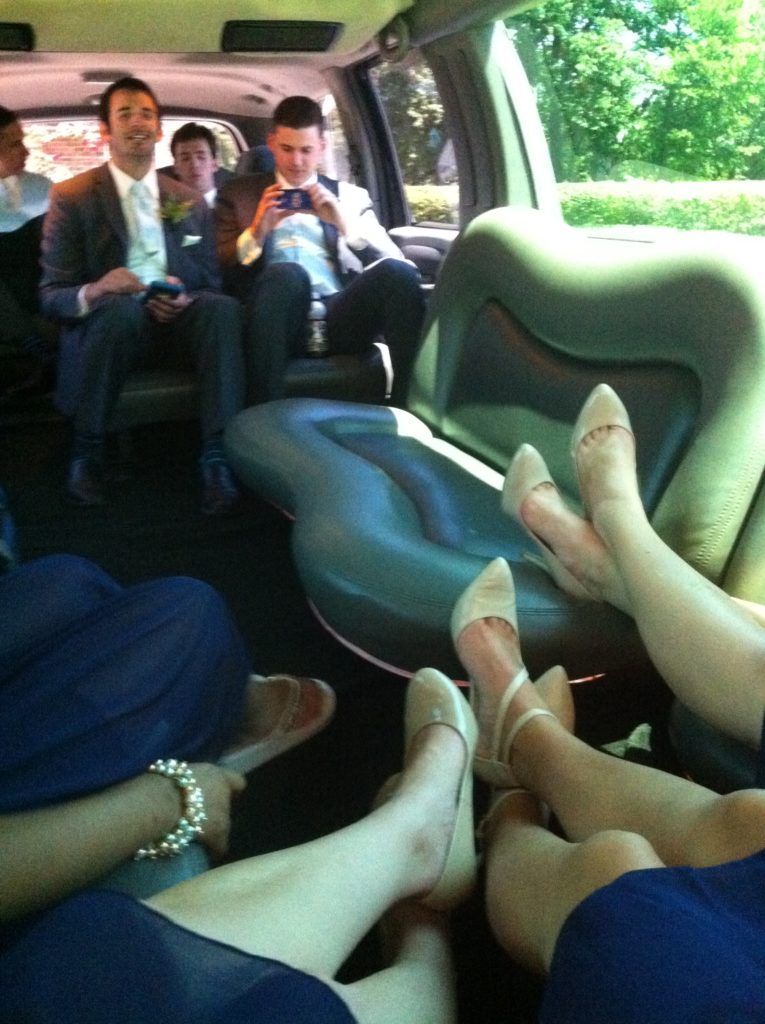 Back at the wedding venue we had a few minutes before ceremony time and we all grabbed a small bite to eat and sat directly in front of the air conditioner. It was a very hot day!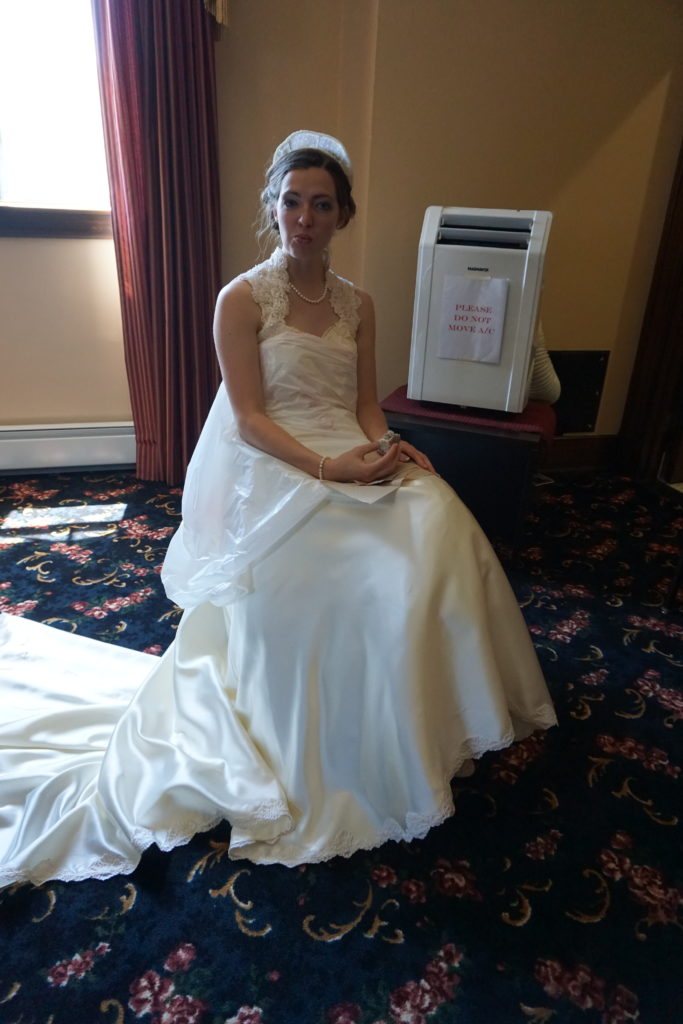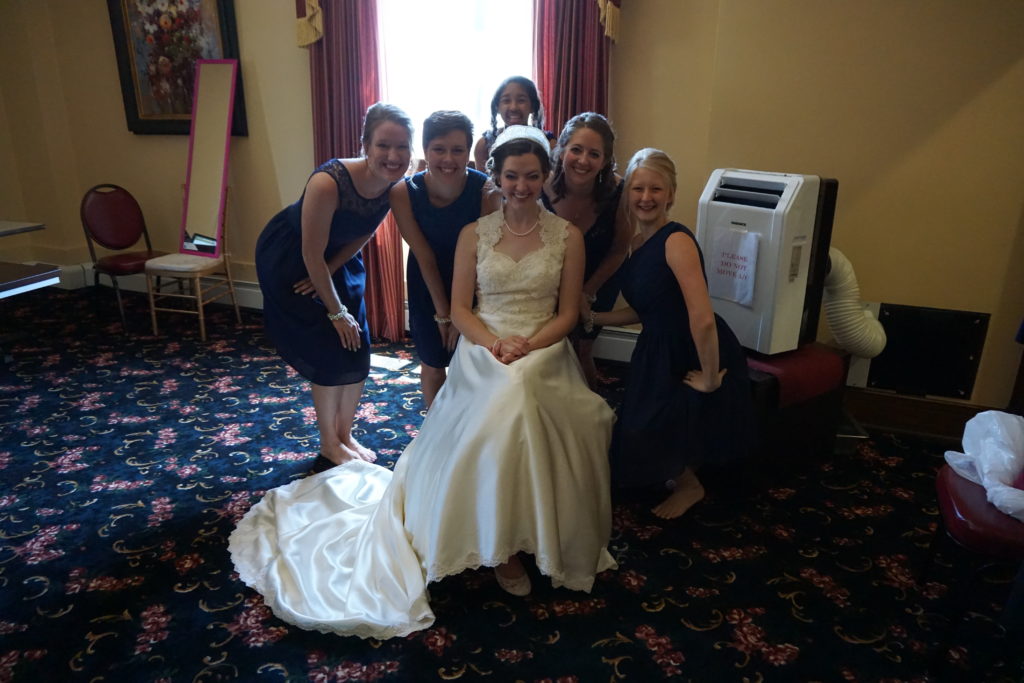 The only other pictures I snapped were of the boquets and one of my 22 week baby bump!
I took a couple phone pictures at the reception as well, but I told myself to leave my camera in the other room and just enjoy the night. And I sure did enjoy it!
Here we are for a mini Niger reunion! The funny thing is, I had never met any of the Knox's until this wedding, but they have been in Niger for the last semester. The thing about missionaries/missionary kids is that there is an automatic bond upon meeting them. They know me, because they know my home, and not many people in the United States do.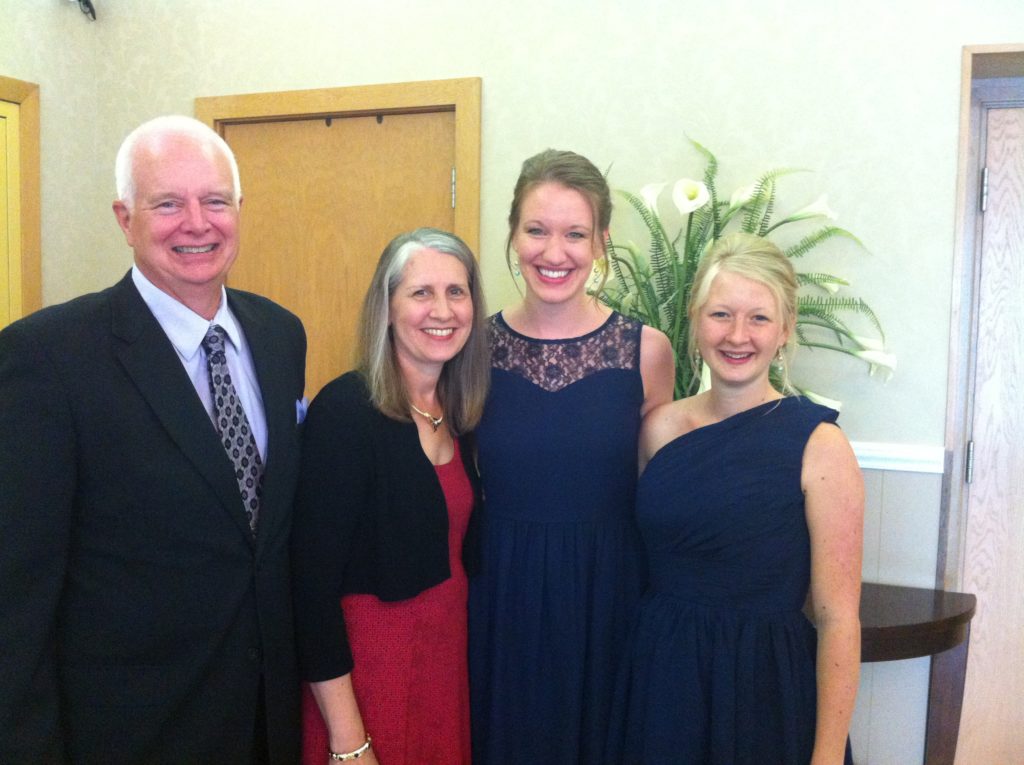 The reception hall was GORGEOUS. I mean, GORGEOUS.
How perfect is this cake topper? It's the exact picture of when they got engaged! Ah! Also, that cake was so good that I had a piece, and baby boy had a piece. So, the baby and I thoroughly enjoyed it.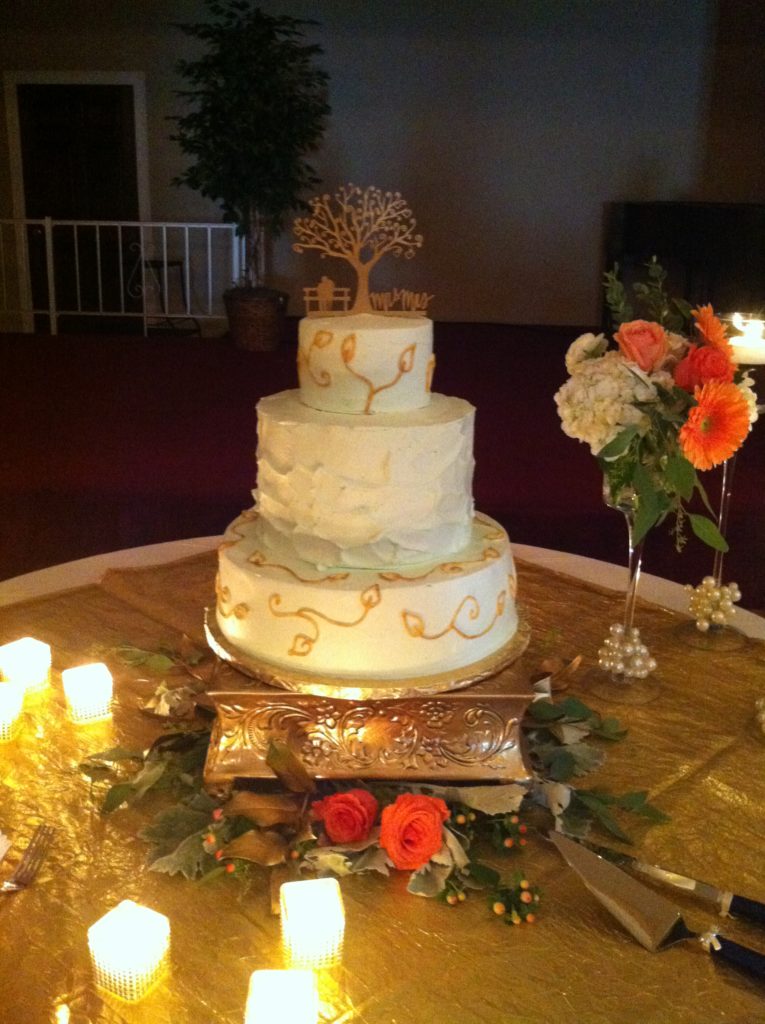 The head table was set up "family style", with the bride and groom at the front and the bridesmaids and groomsmen down either side. It was really fun because it allowed for more conversation than the long head table where you can only talk to the one person on either side of you. The head table was COVERED in flowers.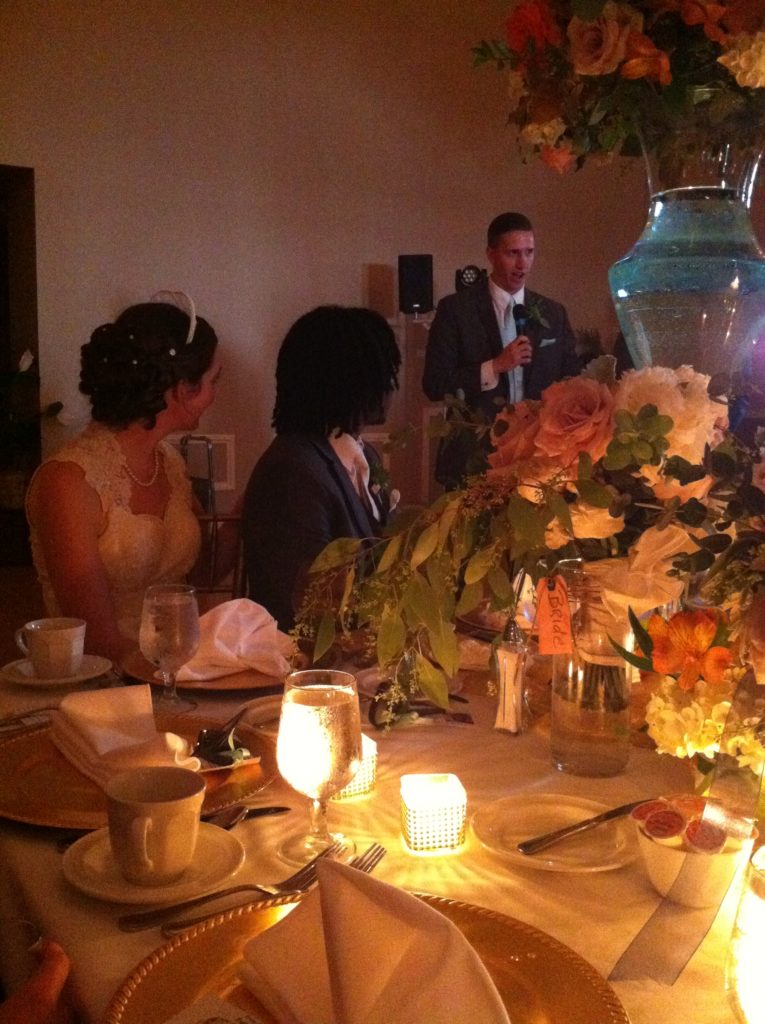 At one point, we smelled something burning and all of us at the head table were investigating every candle to make sure that our flowers weren't on fire! Thankfully, they weren't and the smell was just from a candle going out. Phew!
The meal was absolutely delicious and did I mention the cake? It was pretty fabulous, too.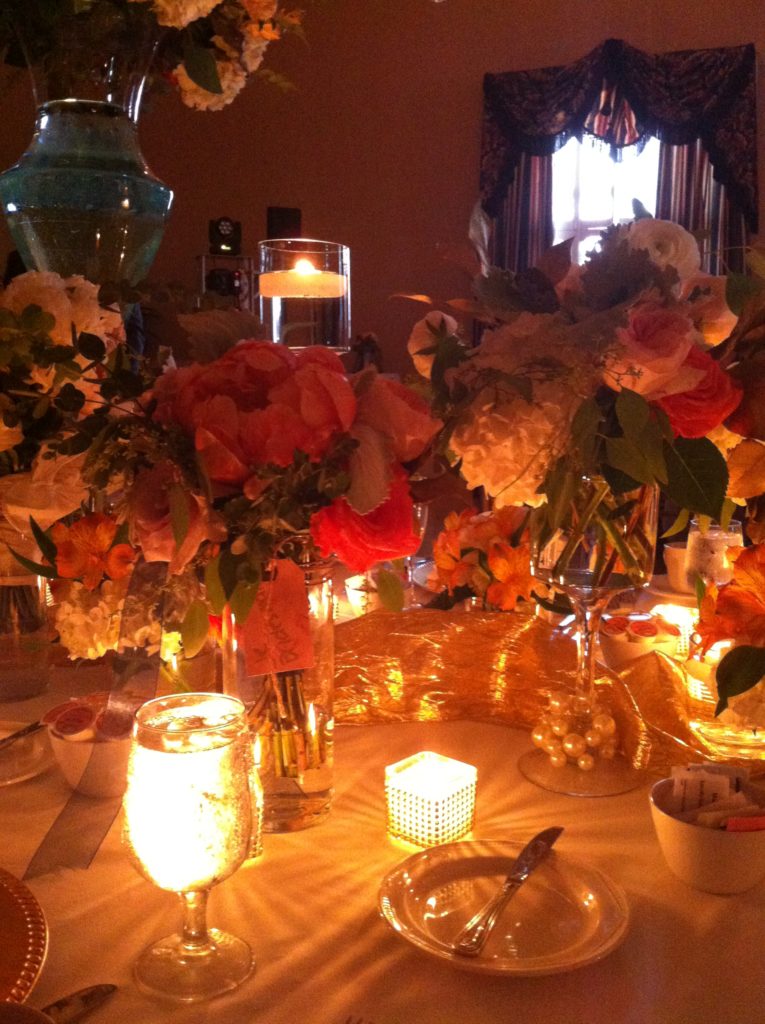 This is a super blurry picture, but I love it! Congrats to you, Abby and Stephen! I am so honored that I got to spend the day by your sides! I cannot wait to see where God takes your marriage!