Dayton area Moms…this one is for you!!!
You have absolutely GOT to check out Learning Tree Farm!
I think I will probably use 8 million exclamation marks and lots of ALL CAPS words in this post, because I am SO EXCITED about this place!
Basically, this place is my absolute dream hobby/job.
The Learning Tree Farm is a working farm that is open to the public. There are two barns complete with pigs, sheep, goats, cows, ducks, turkeys, chickens, ponies, donkeys, barn cats and two sheep dogs! The farm also has a large garden as well as corn fields. There are hiking trails and a small playground as well. On the property there is a century house museum which is set up like it would have been a hundred years ago. And also of note is the Learning Tree Farm Preschool!
But what good are all my words without pictures?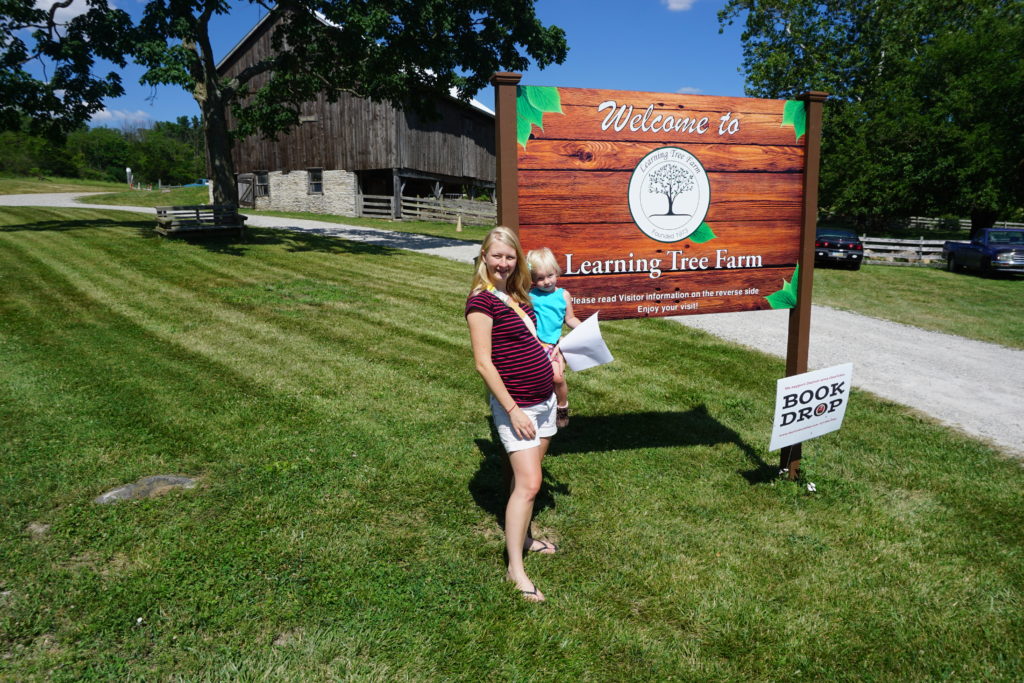 We went on a Wednesday afternoon and there was no one else there! It was a beautiful day and we all really enjoyed our time there. From the Beavercreek area it's about a 30 minute drive. Just a heads up: there is a small part of the drive in the west side of Dayton…aka the not-so-great-side. As we drove through, Theo pointed out at least 15 places that he has responded to several different "incidences". So, fair warning there.
The Learning Tree Farm is open year-round from 9-6. There is a $3 entry donation, or $10 for a group of up to 10 people. If you are going with more than 10 people, they requires a reservation.
My absolute favorite part of The Learning Tree Farm that seperates it from any other farm I have been to is that you are allowed to go inside the animal pens on your own. I don't know what this would have looked like if there had been a lot of people at the farm, but for us it was so perfect. Theo got to take Tera right up to every single animal and she got to have so much interaction with them!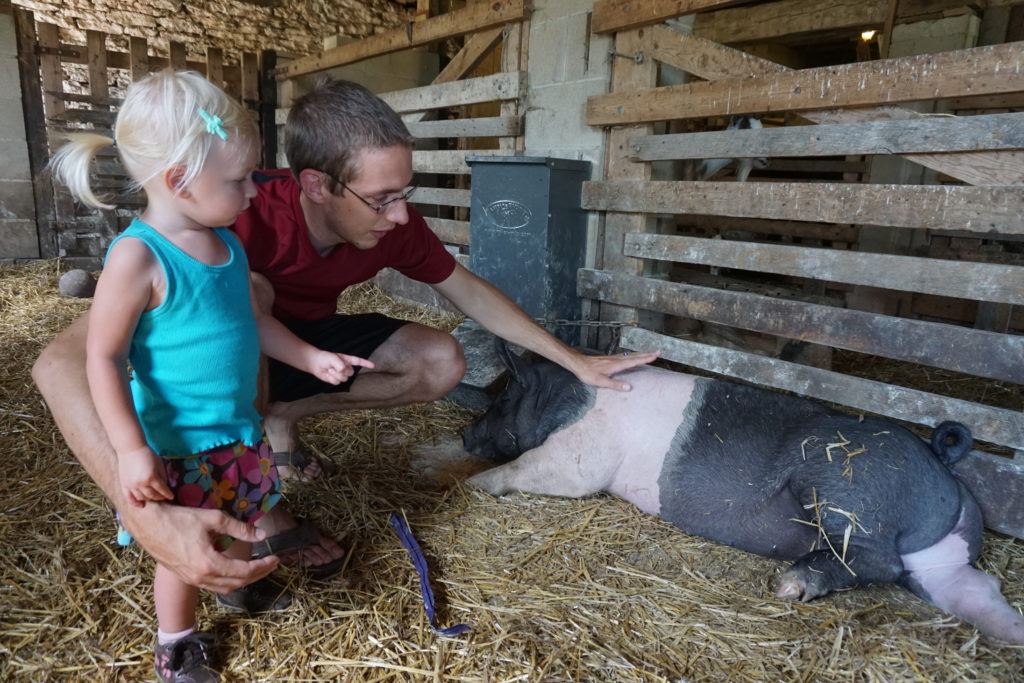 Did you know that pigs are actually really clean animals? They will always choose their bathroom spot, and will ONLY go to the bathroom in that one spot (unlike other farm animals who just go when the need so arises). Unfortunately, the pigs at the farm have chosen the corner right by the gate as their bathroom. Just as we were getting ready to leave the pig pen, Mr. Pig decided it was potty time. There was no opening the gate until he was done with his business! Of course, Tera found great delight in watching the pig go potty!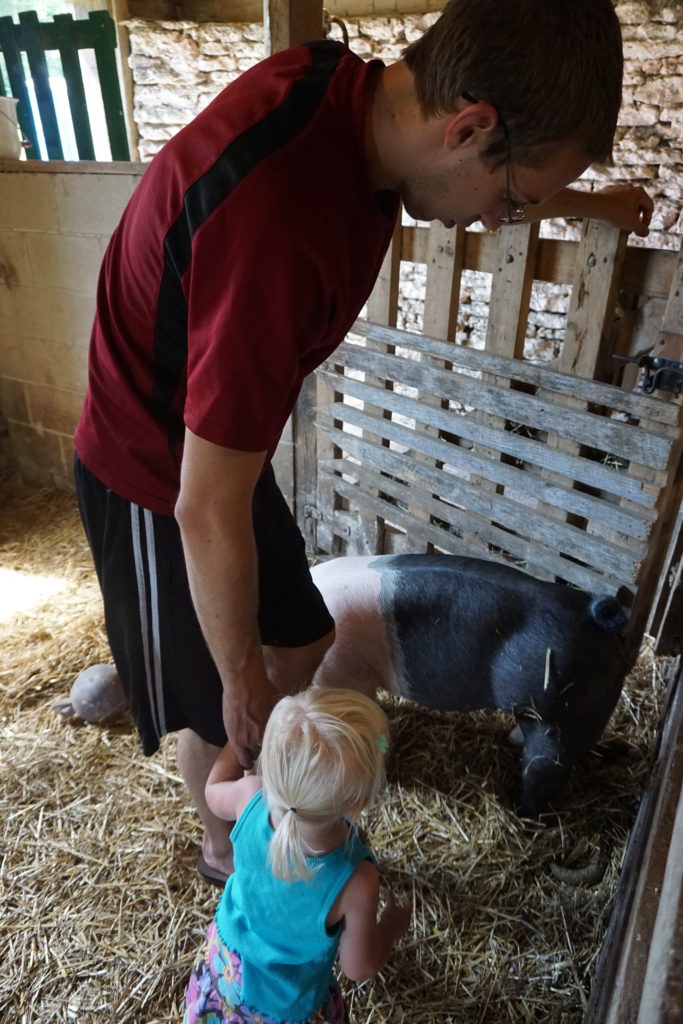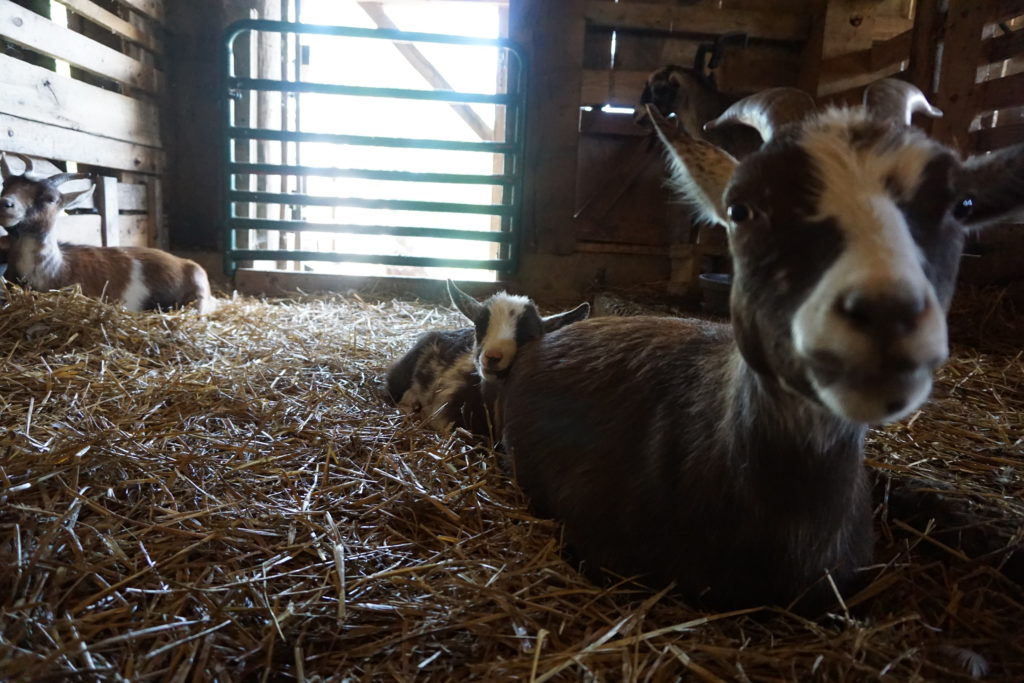 ALL of the animals were so people-friendly…even toddler friendly! I mean, Tera is still pretty young, but she was squealing with excitement/fear the entire time, and not one animal acted aggressive or afraid of her. Honestly, I was really impressed!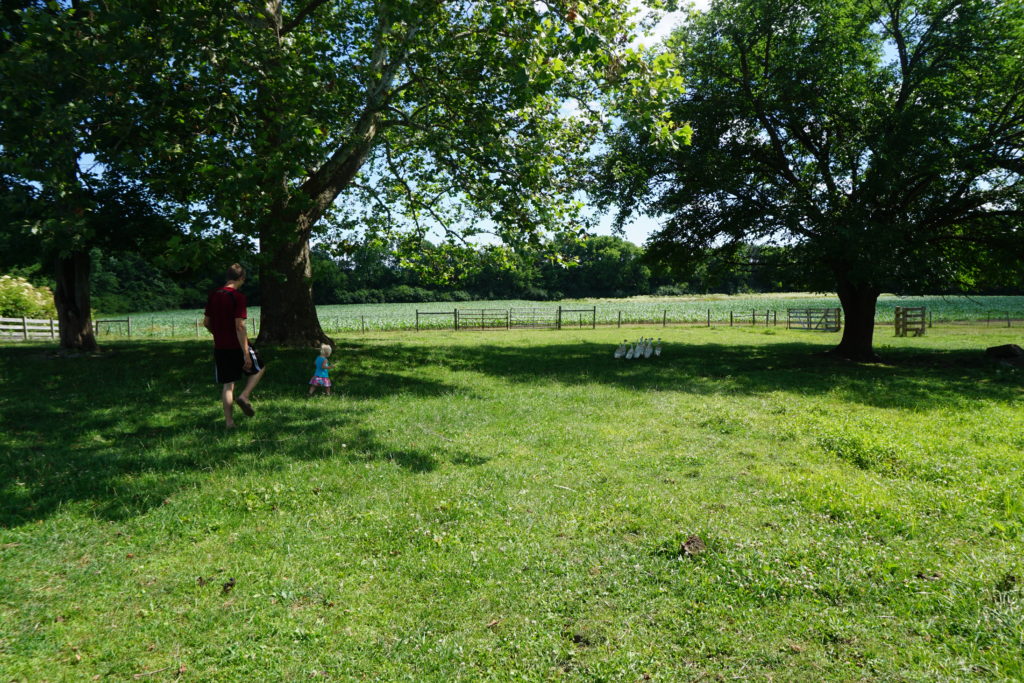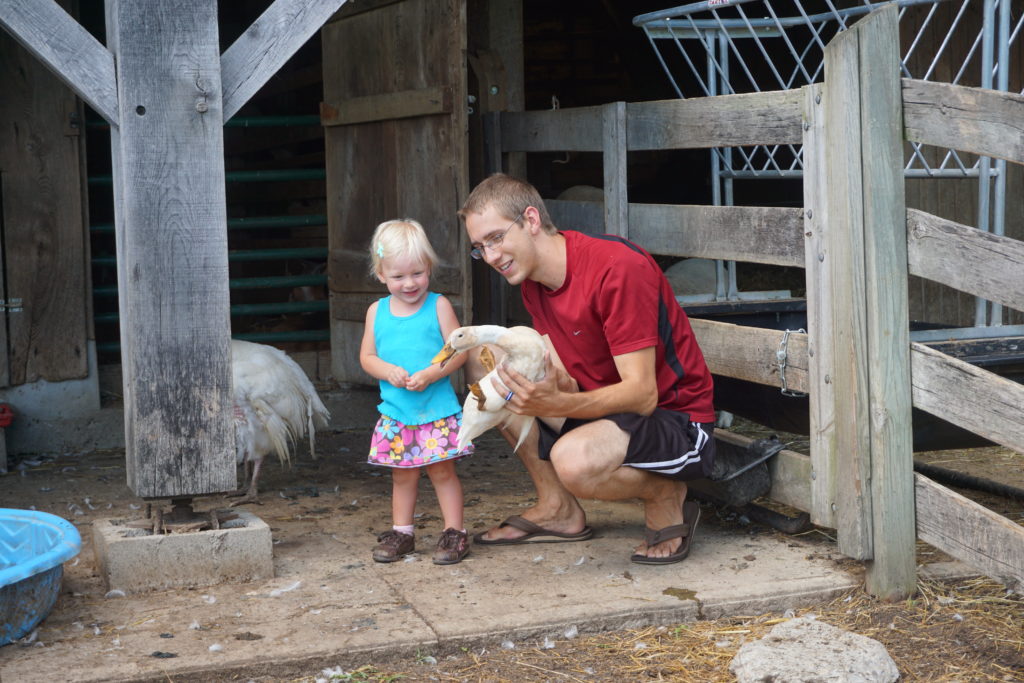 One thing I will say about the farm is that there is poop everywhere!!! The stalls are cleaned as much as people have time for, but they are certainly not catering to have perfectly clean and poop-free stalls. Animals poop. Welcome to the farm. Wear closed-toed shoes.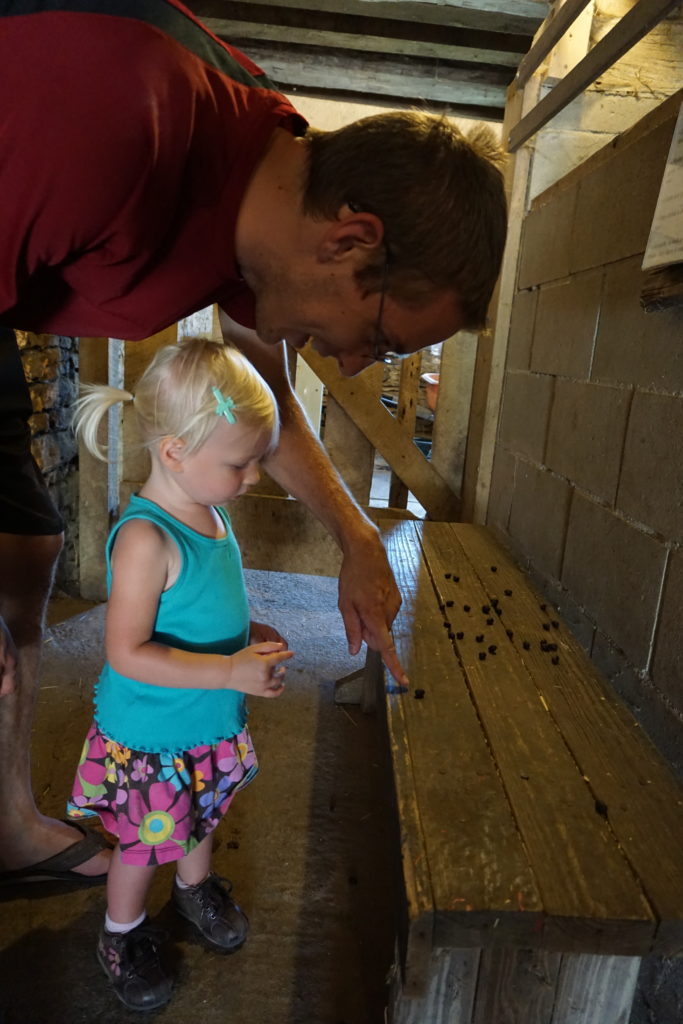 Inside the chicken coop, you can check for eggs! Of course, you can't take them, but it would be an awesome science lesson for kids to be able to see where hens lay eggs!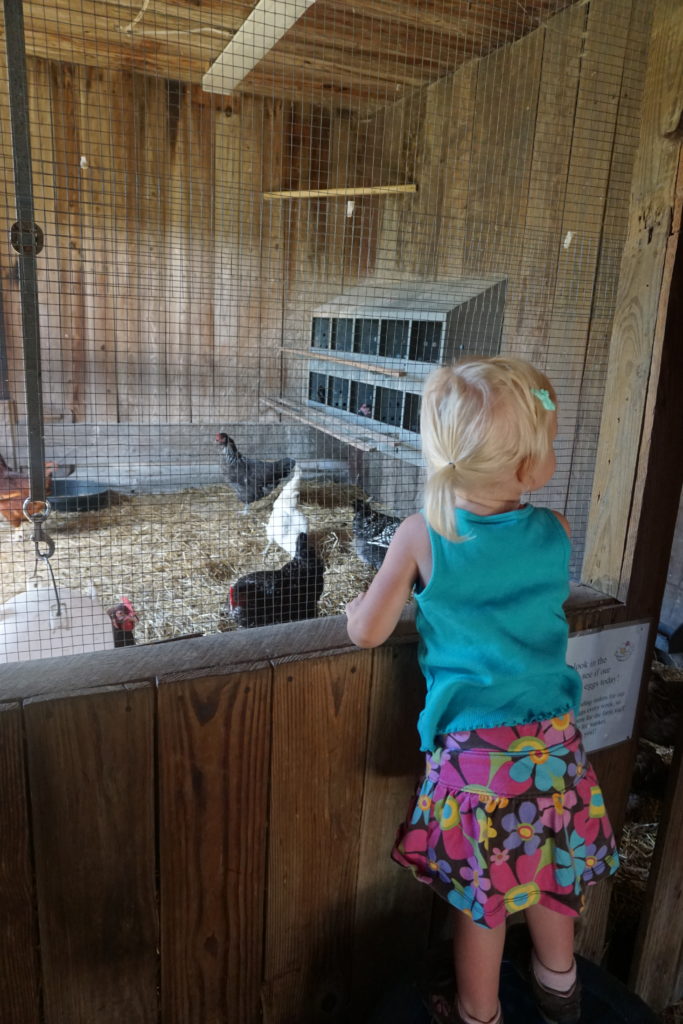 Inside the second barn there are few interactive things like these fun hay bays saddled up! I think this might have been Tera's favorite part of the whole farm…she keeps talking about "riding the horsey!"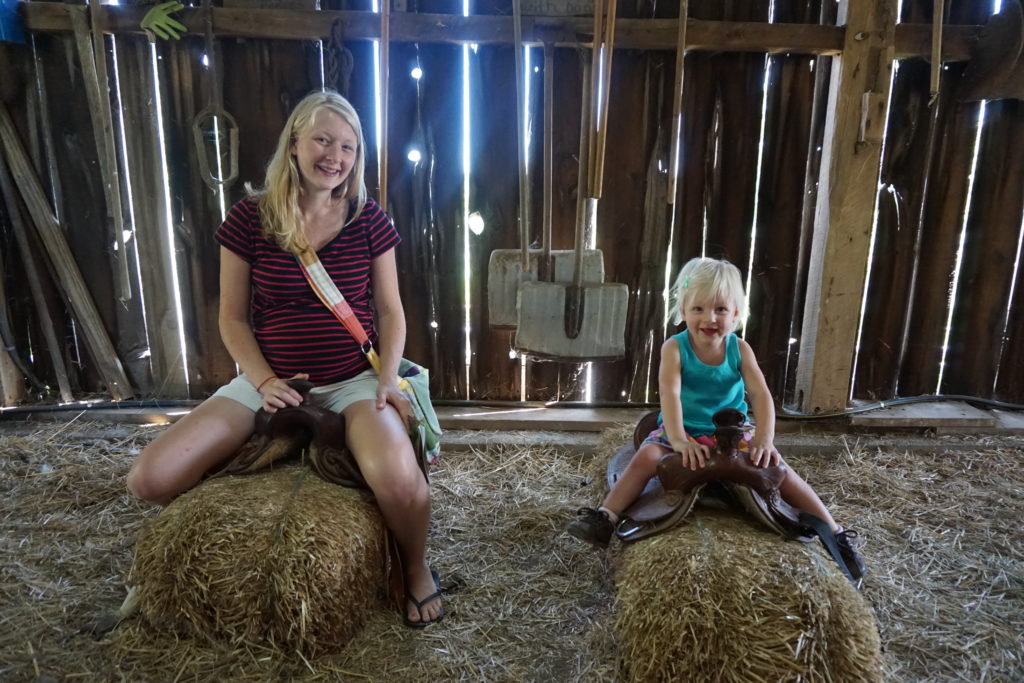 She was also thrilled to find the farm dogs, who are the sheep herders! Here the dog is laying next to the sheep pen watching over them.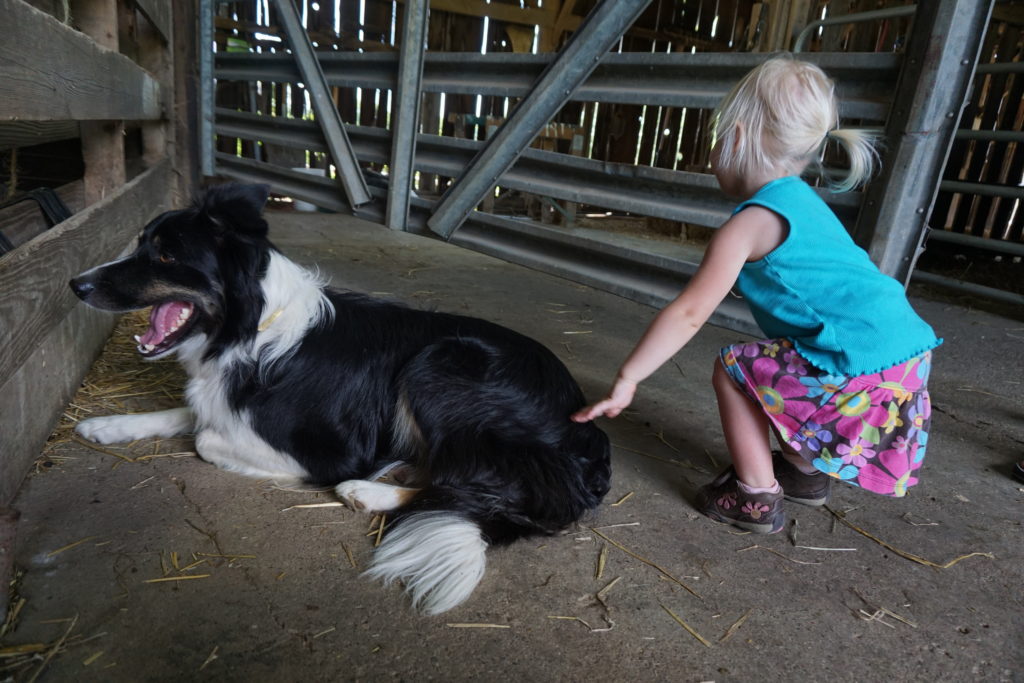 I've always been a little bit leery of donkeys. It might have something to do with the fact that one of my childhood friends got seriously injured when a donkey kicked him in the face. But these donkeys were SO SWEET. They were really short, so I'm guessing they were a different breed of donkey than what I'm used to. How cute is that white one in the background?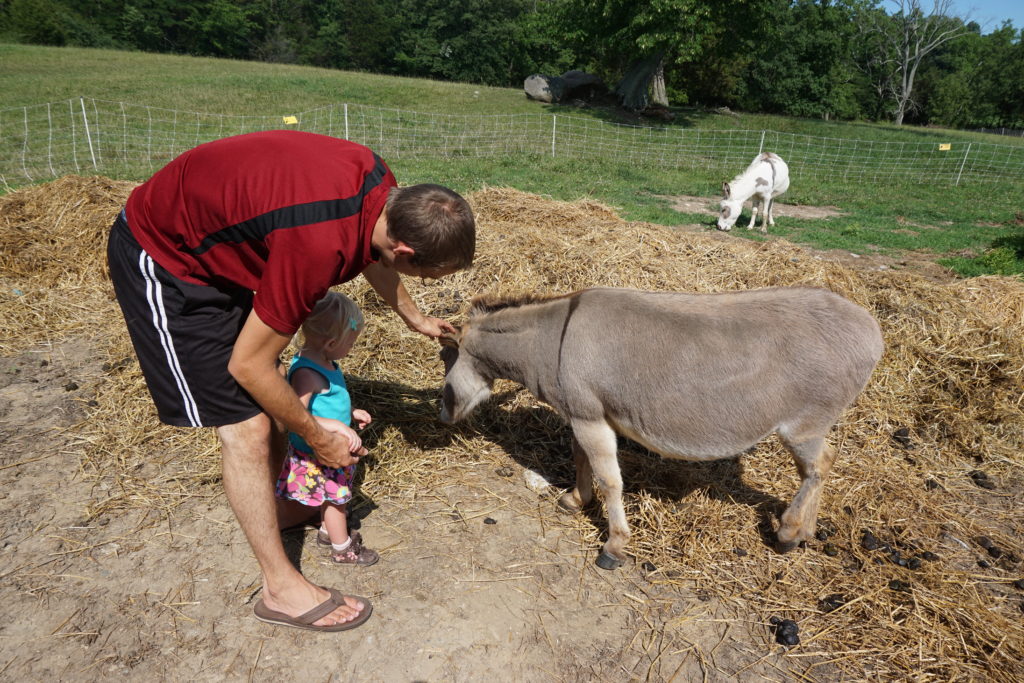 Theo spotted the ponies way out in the pasture, and when we walked out there, they came right up to us. They were so beautiful!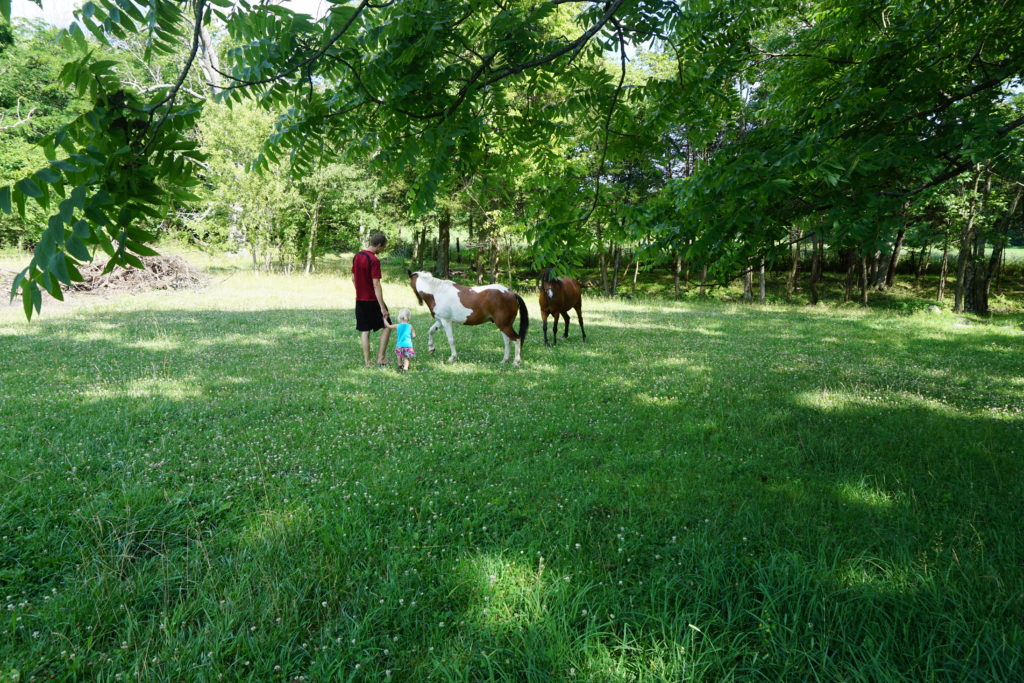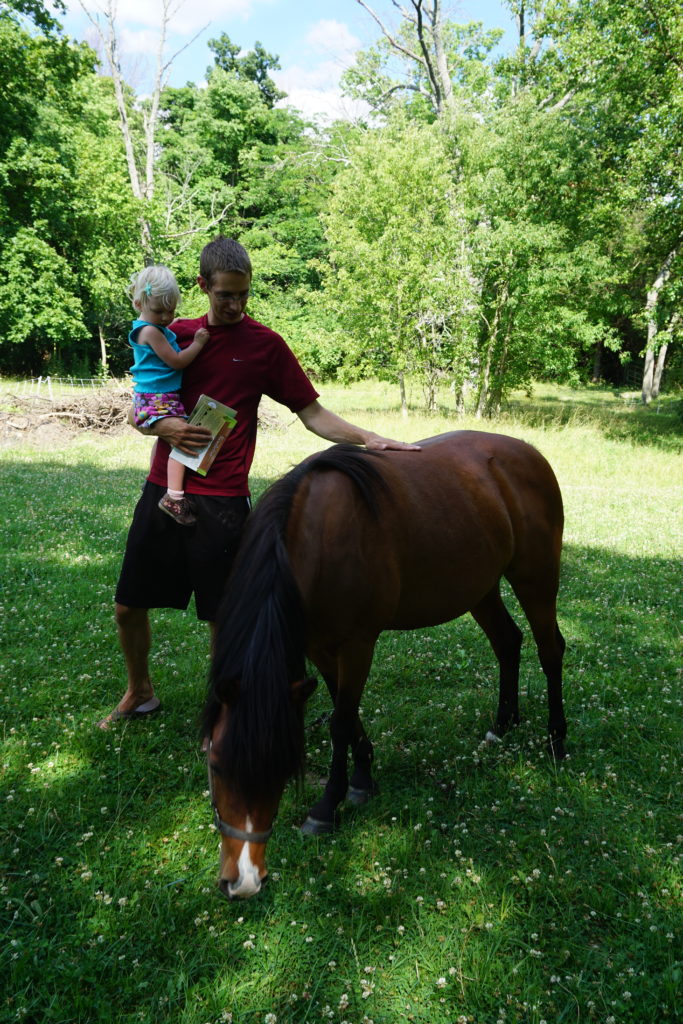 We took a family phot and got photo-bombed by the pony!
My sweet Tera-girl in the meadow. I wanted to just set up a picnic out there in the meadow, it was SO beautiful and peaceful.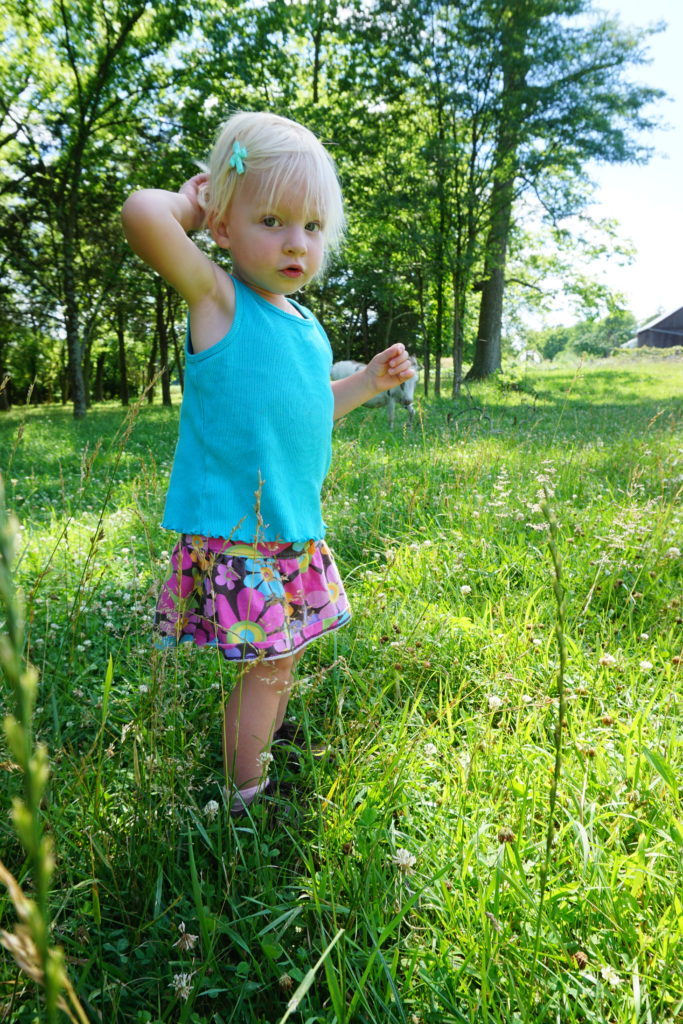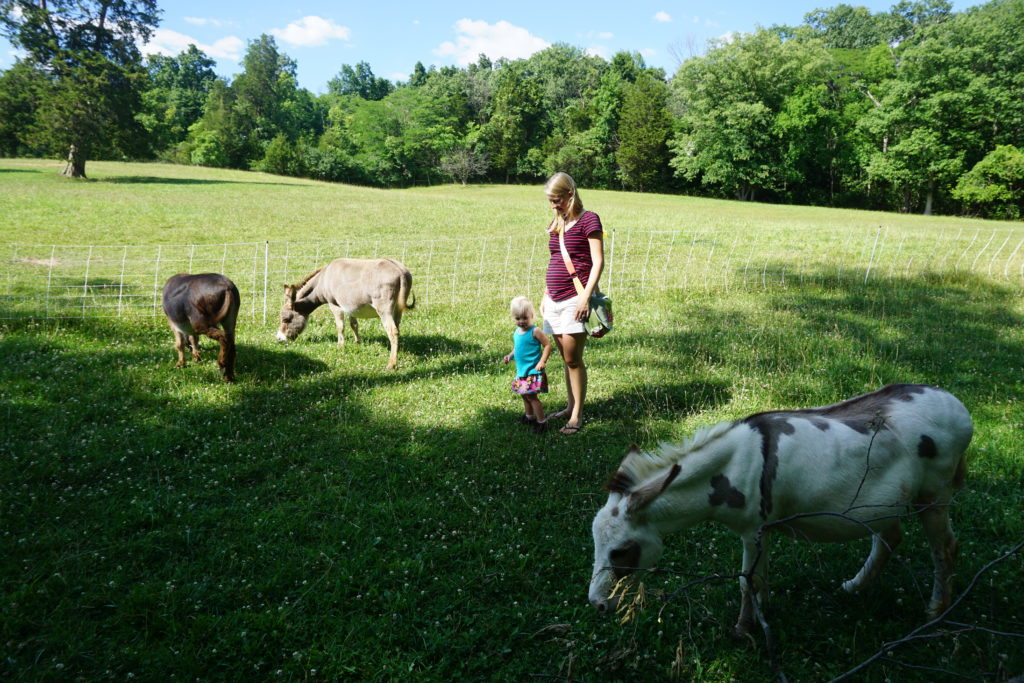 We were running out of time, so we quickly walked through the garden. I don't know much about gardening, but I was impressed! I also loved that they had a few raised beds just reserved for kids to play in! I'm sure that they get some practice planting seeds when they have a guided group!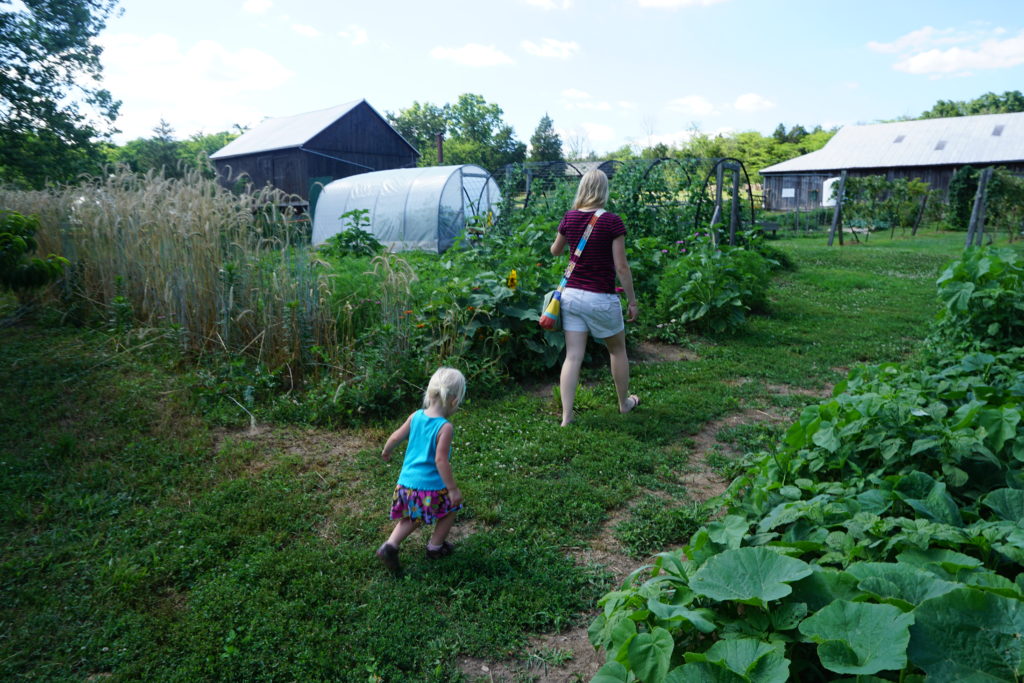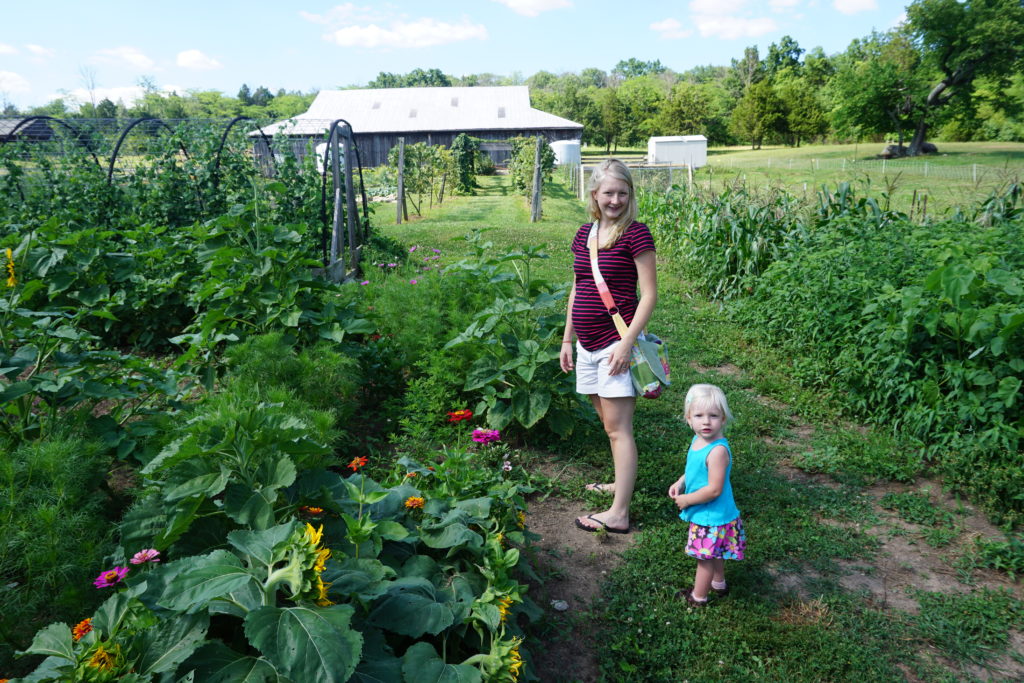 Right before leaving, I popped into the century house and grabbed this one picture. How awesome is this? This house is such a handy tool for making history come alive to kids!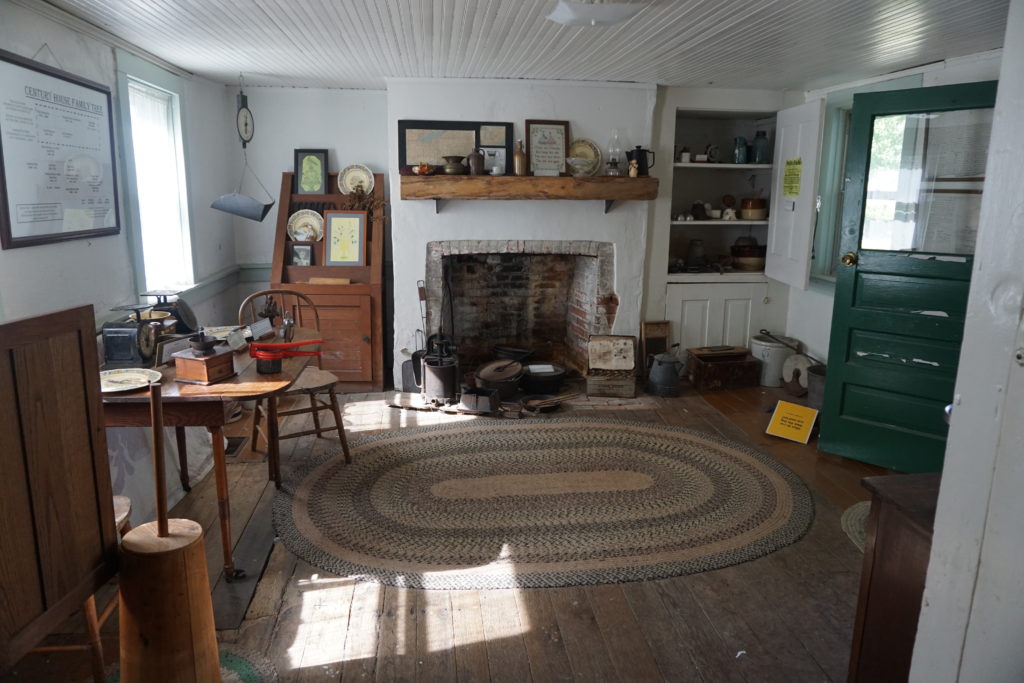 We unfortunately didn't get a chance to hit up the playground or the hiking trails, but I've heard awesome things about those, too.
In conclusion, Learning Tree Farm is FABULOUS! If you have children, you MUST take them there! I just LOVE, LOVE how this family opened their farm up to the general public, and how kind they are in inviting us in. It felt like hospitality and it was so peaceful to be able to walk around the farm and interact with the animals without having to follow 9000 rules. If you are comfortable with animals and familiar with them, I highly recommend simply taking yourself and showing yourself around. However, if you are uncomfortable around animals I would recommend calling and scheduling a tour, just so you can get the full experience of interacting with the animals! Don't forget the $3 donation fee!
The Learning Tree Farm is also available for birthday parties! How fun does that sound?? Not only do you get access to the pavilion, but you also get to interact with the animals with a staff member. That sounds awesome to me! Don't even think about it stealing August 8th-ish!
Another item that I just have to talk about it the Learning Tree Farm Preschool. The preschool runs two days a week for 3-5 year olds and is a nature-based preschool. All lessons are built around interacting with nature and the world around us. The curriculum is child-centered and is based on the Reggio-Emelia approach.
Trust me when I say that you must get out to Learning Tree Farm! It is a fabulous place to kill some time, get in some hands-on homeschool lessons, or plan a playdate with your Mom friends. I have had some interaction with the owners of the farm, and they are wonderful people to work with! I know that if you have any questions or comments, they will be more than willing to answer them.
Don't forget to also check out the schedule of events:
And don't forget to follow and like Learning Tree Farm on Facebook!