Last week, we took a spontaneous trip to the sunflower fields!
These sunflower fields are about 25 minutes from our house and bloom for about two weeks each year. It's always tricky knowing when they are in bloom and then quickly adding a trip to the sunflower fields into our schedule!
We tried to go in 2012, and the sunflower field looked like this:
Oops. Missed the window on that one.
We went in 2013, and it was gorgeous. And I was thin and gorgeous and in the best shape of my life, since we had just run a full 26.2 mile marathon the weekend before
In 2014, I dragged my mother in law, Theo and 5 week old Tera to the sunflower fields to have a family photo shoot. Too bad Tera was having NONE OF IT.
Can I also point out that I was 5 weeks post-partum and looked fabulous? Unfortunately, I never lost any more weight after the initial month! Haha!
The year of 2015 seems to have been a sunflower field flop, too…I don't think we made it!
And that leads us to 2016, and an abundance of sunflower field pictures! Enjoy!
The sunflowers are really tall this year! I was afraid I wasn't going to be able to get any good pictures with them, until we went around to the side of the field where they are growing a bit lower to the ground.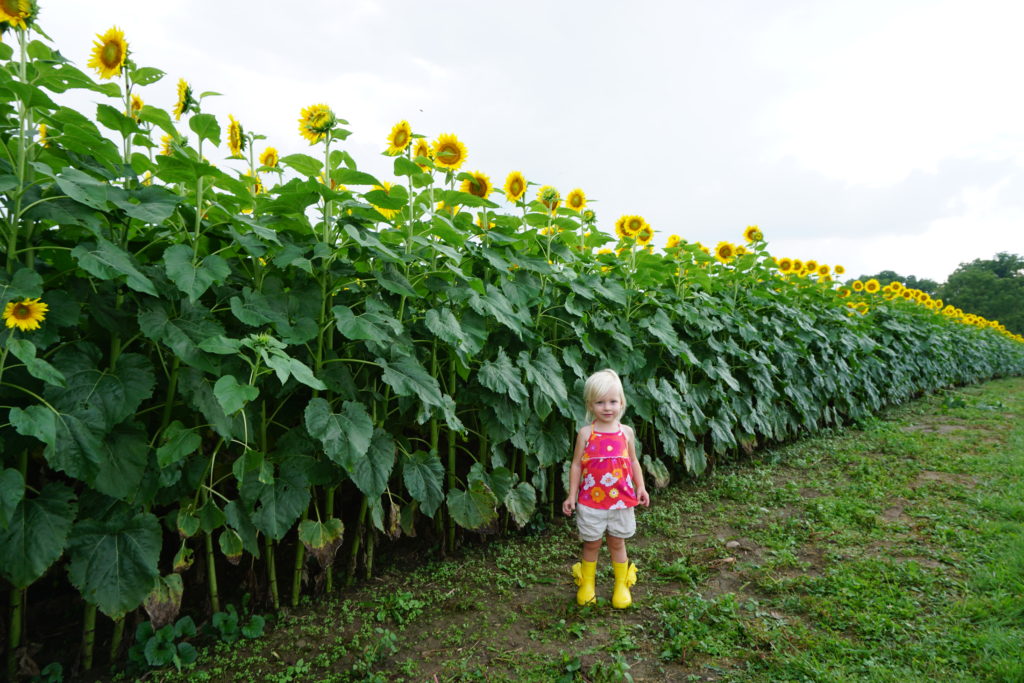 We found a little one right at Tera's height!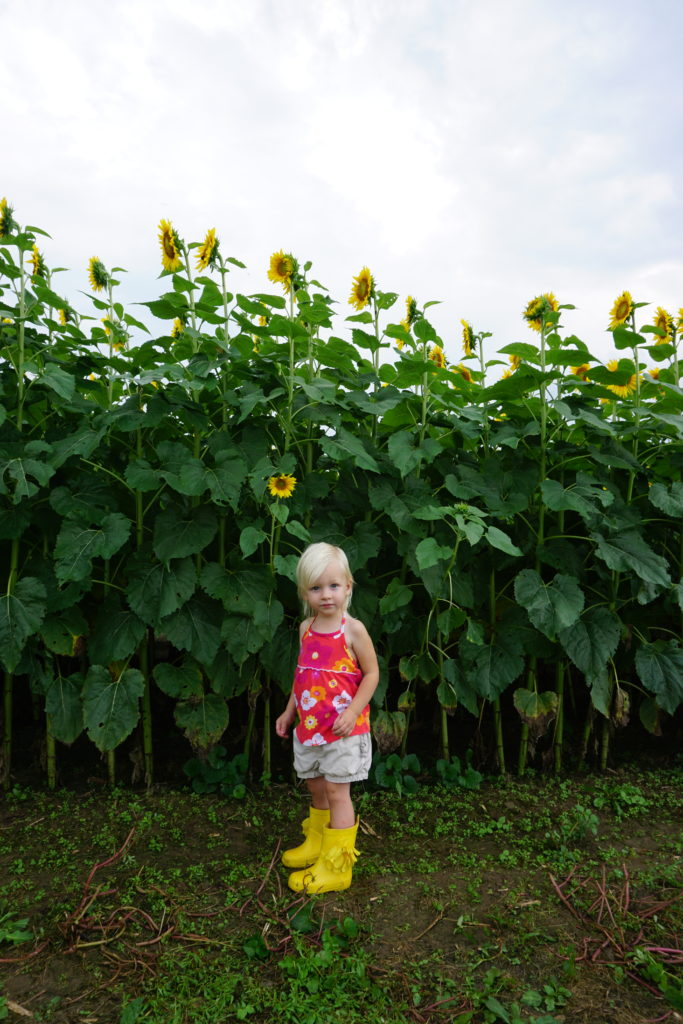 I just love how sunflowers turn their heads toward the sun. There is so much spiritual significance there. It's breathtaking to see an entire field of thousands of plants turning in one direction as one.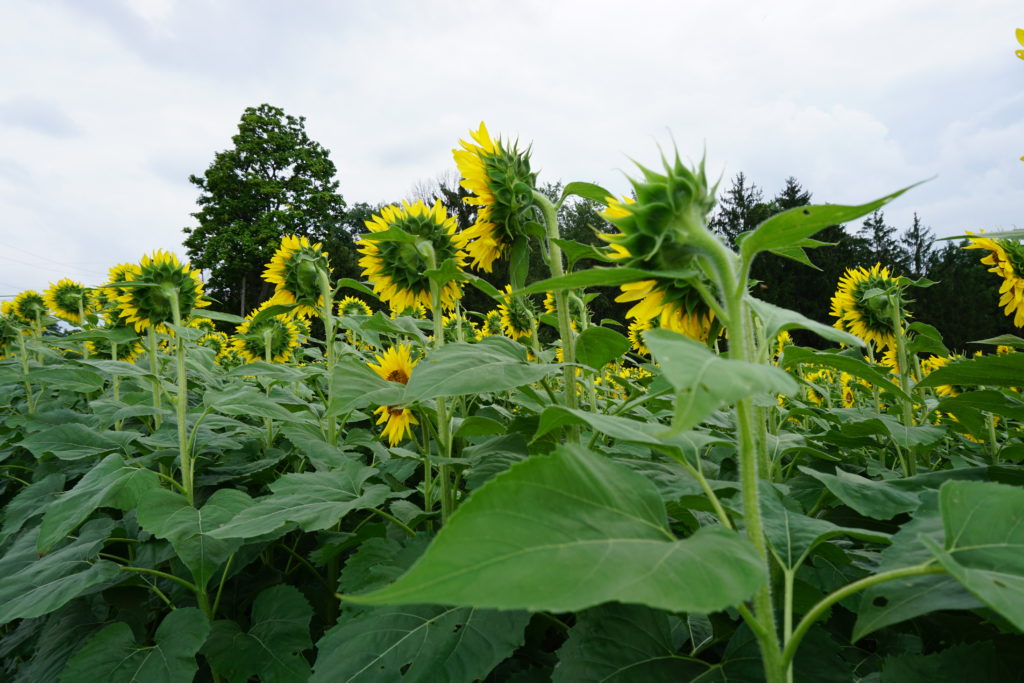 We found a sunflower on the ground and asked Tera to hold it. She's usually really good at following two-step directions, but she could not comprehend what we were asking her to do when we said "turn it around".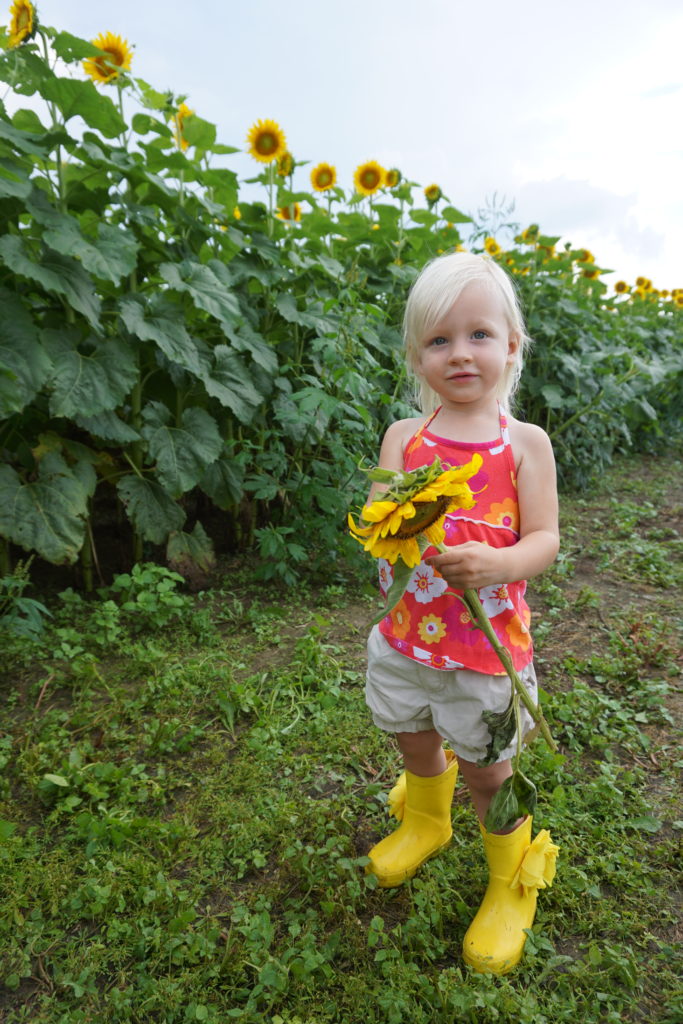 AH! I just LOVE SUNFLOWERS!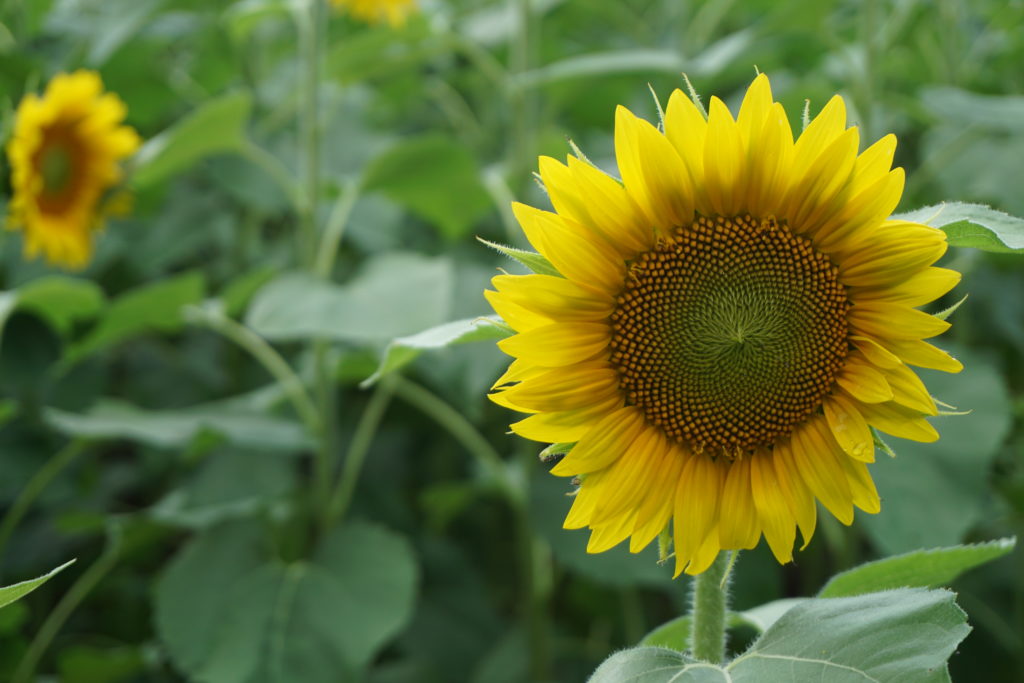 We went within the first few days of bloom, so there were some flowers that hadn't budded yet or were in various states of bud. Again…so many life lessons.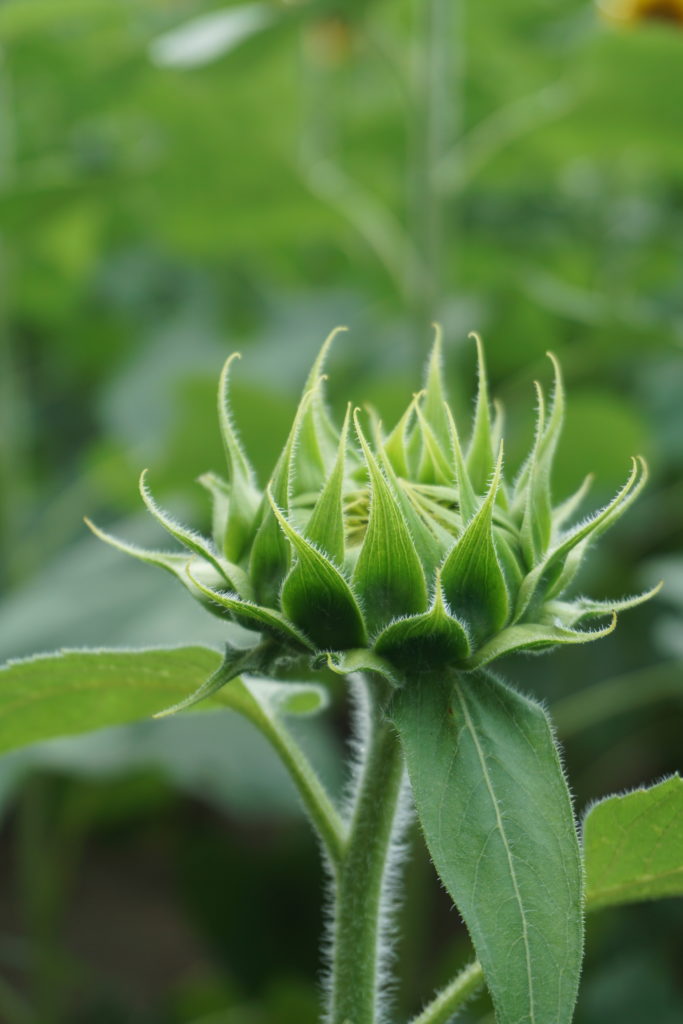 I loved this one, especially.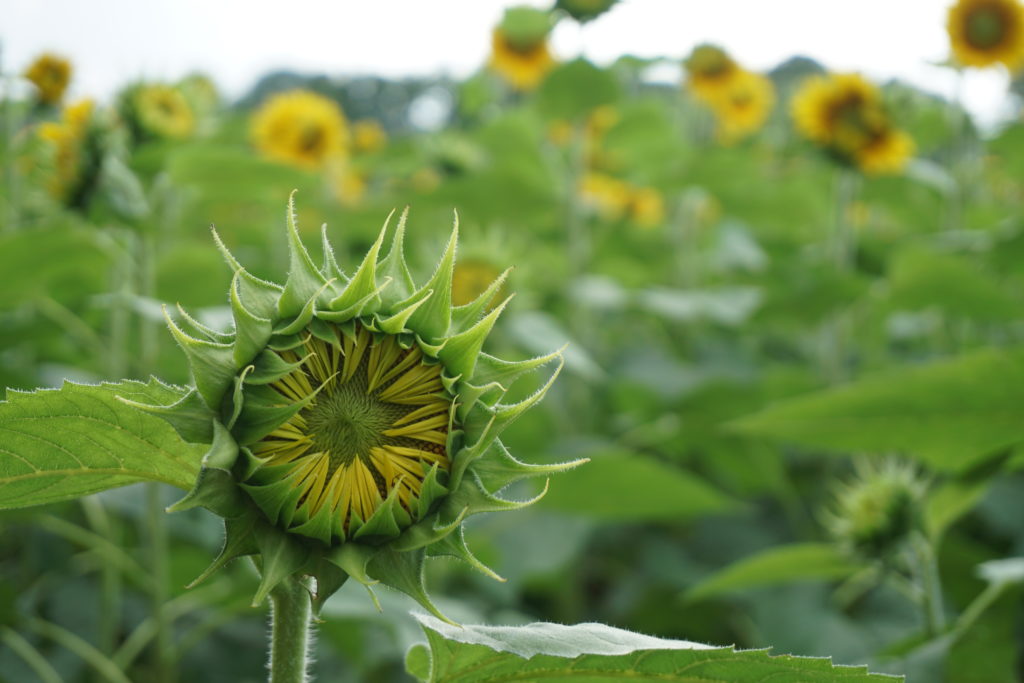 My two favorite people in the world!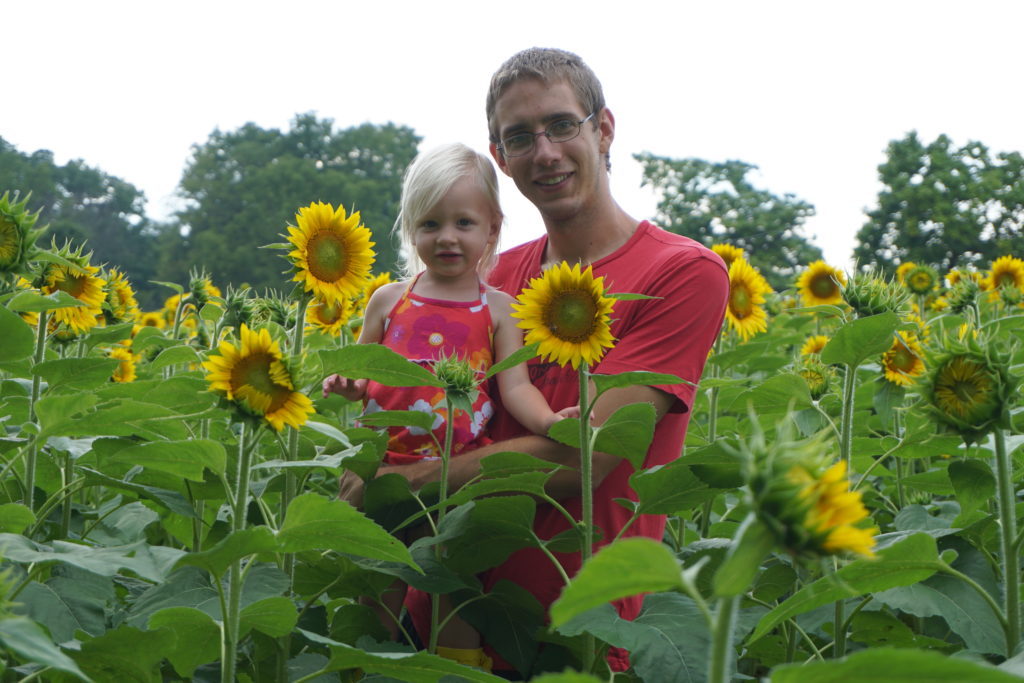 This field is HUGE!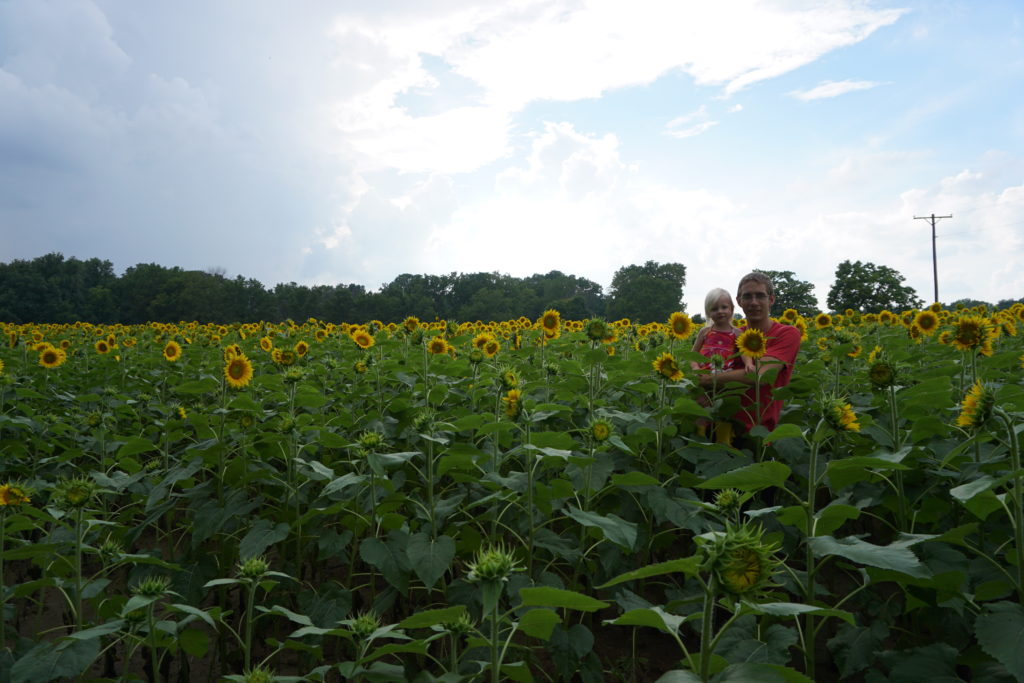 Tera thought this was hysterical:
I just love, love, love everything about this!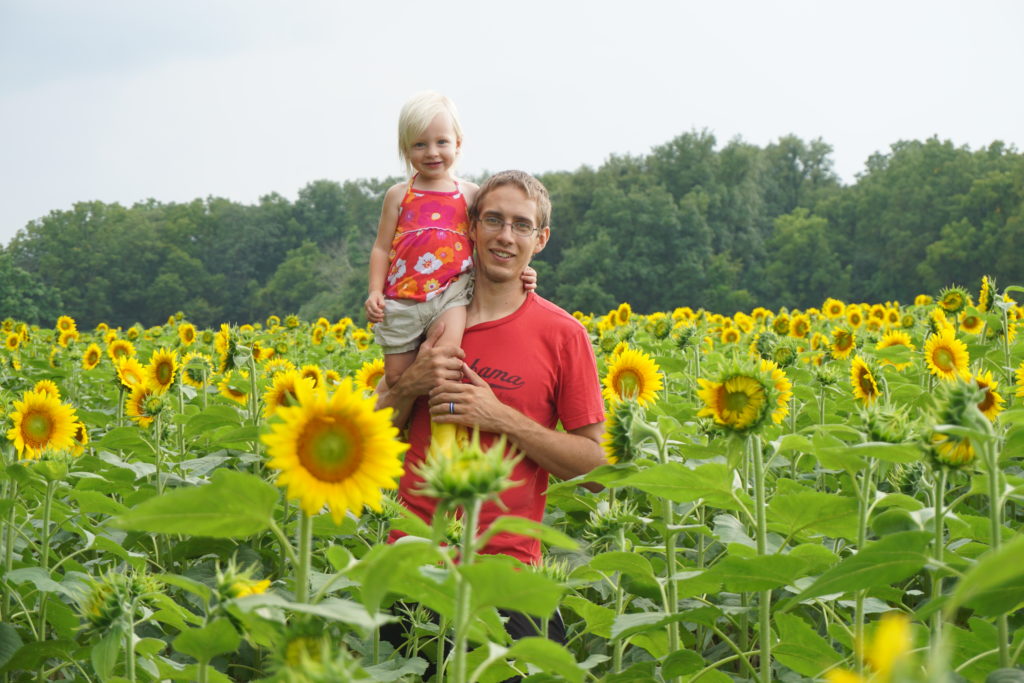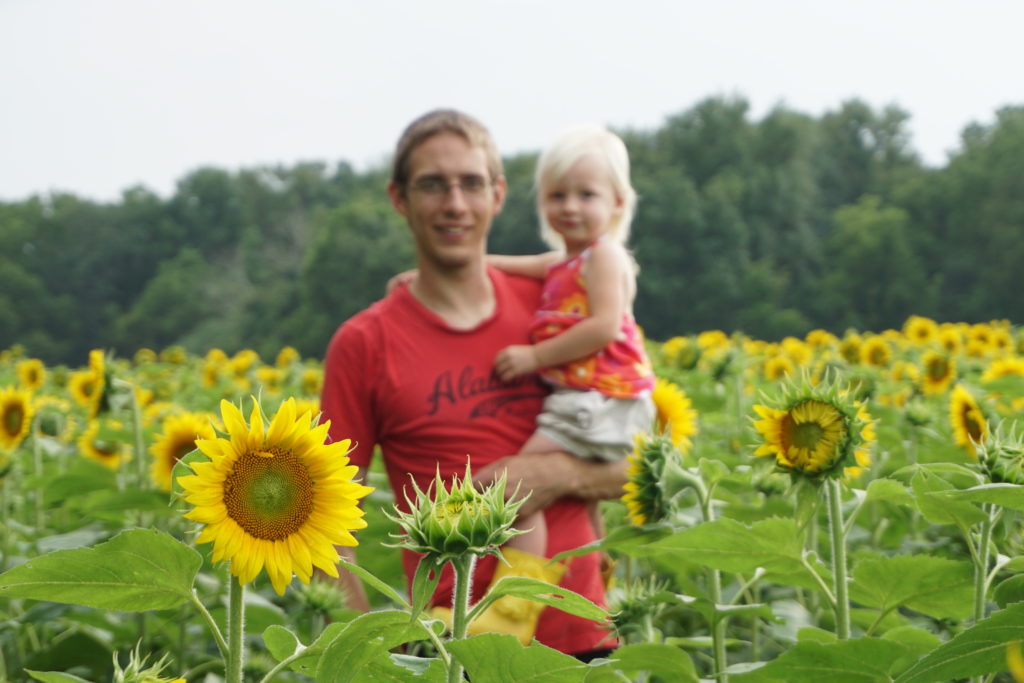 The sunflowers were planted years ago by the farm that is right next to them. They don't charge anything for people to come and trample around in their sunflower fields. Every year, they just let the sunflowers die and fall to the ground, and then the next year they all just grow back. They ask that people only look and don't pick, and recently they started asking that no one use the sunflowers for profit (A photographer can take pictures, but not charge, a painter can paint a painting but not charge for it, etc). A few people in the community seem to have bad attitudes about it, and I have seen several photographers publish photos on their websites of a photo sesh at the field, which is a total bummer. I think that something so beautiful and so community-oriented should be respected.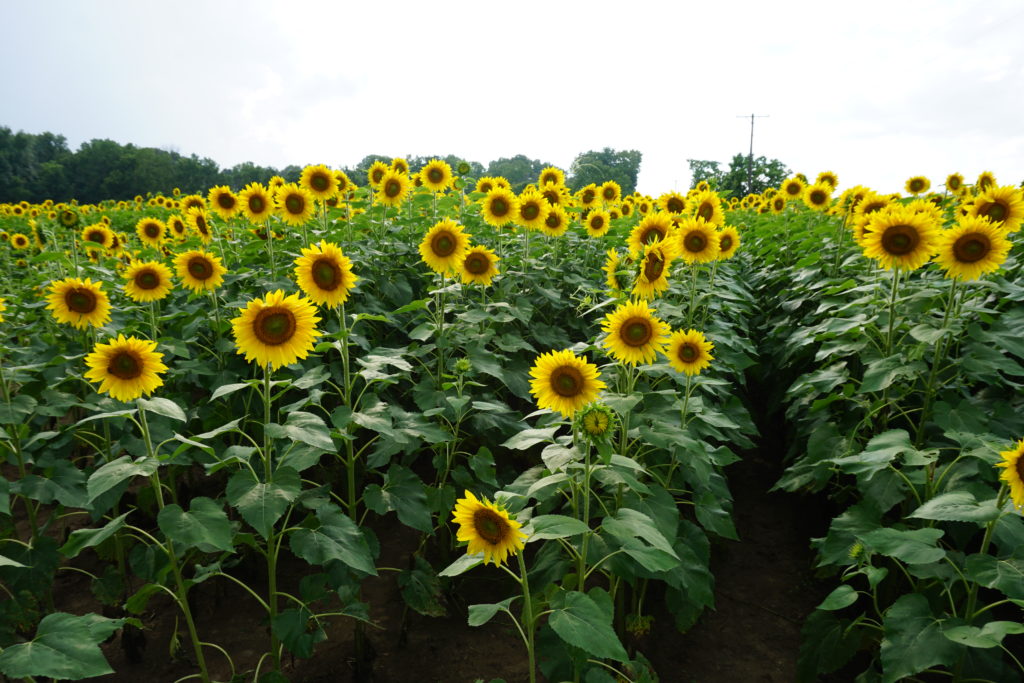 We told Tera to hide, but she was a little bit scared! This was her "hiding face".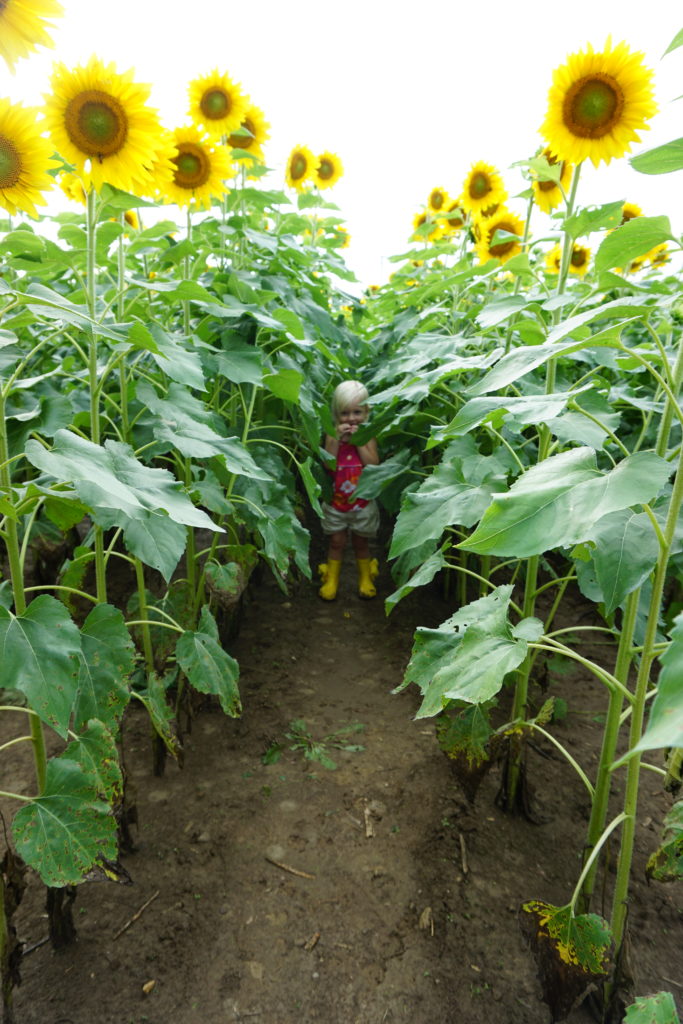 Theo got a few pictures of me, too. I guess this will count as my maternity pictures for this pregnancy!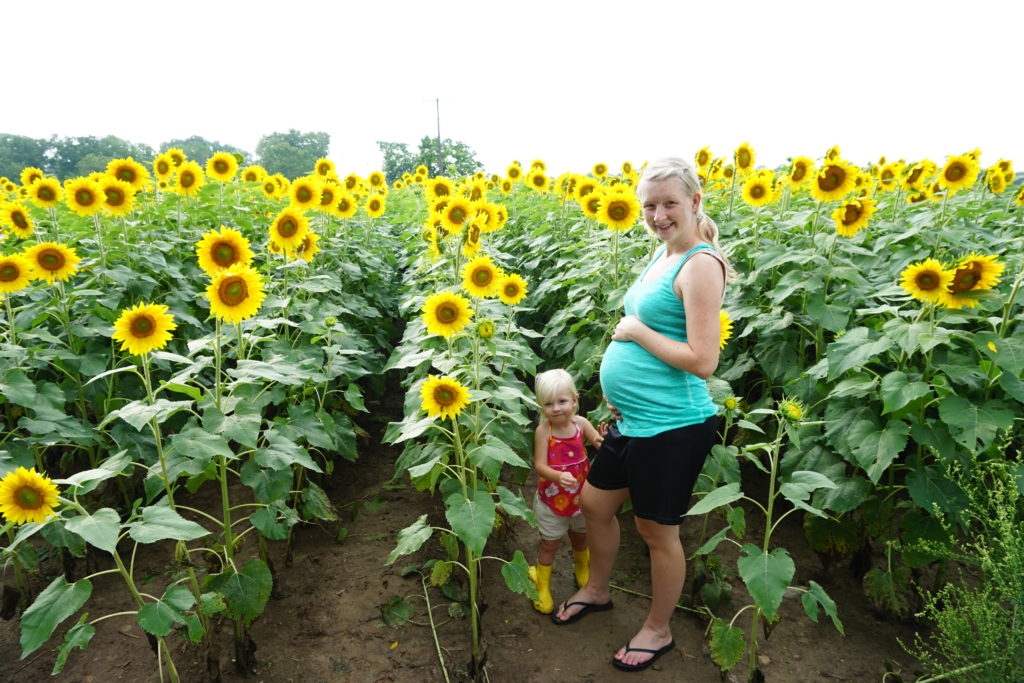 33 weeks. We actually weren't even planning on stopping by, hence the lack of makeup and athletic shorts. But, hey…when you have a photo opp like this, you don't say no!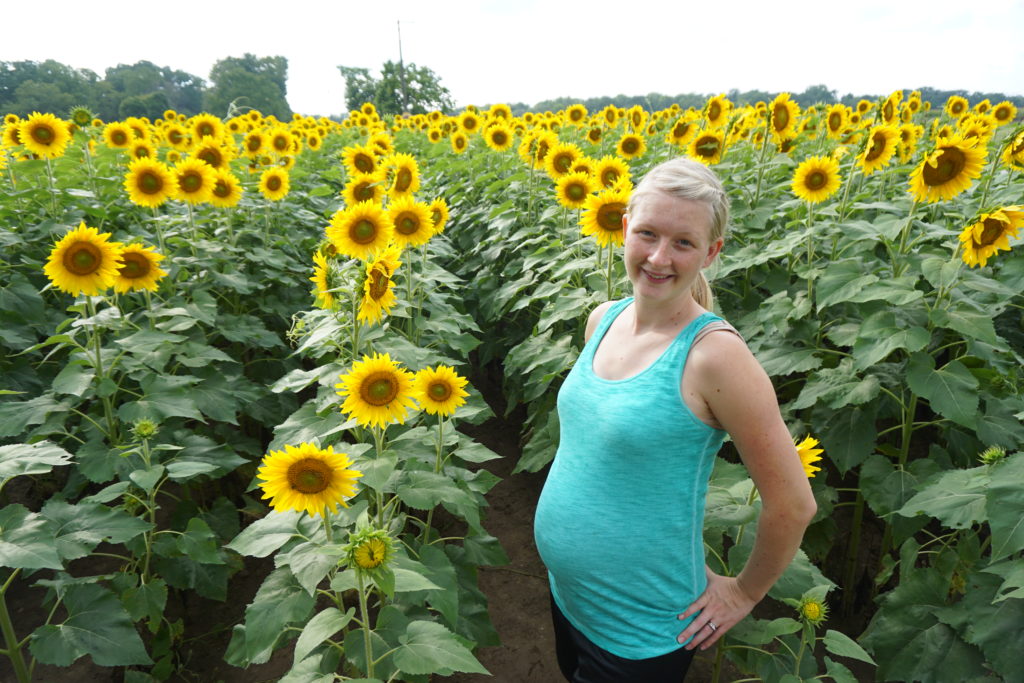 Me and my two kiddos. We couldn't help but miss Little Miss. I'm sure she would have had that entire sunflower field plowed down in 10 minutes. She was a bit of a tornado!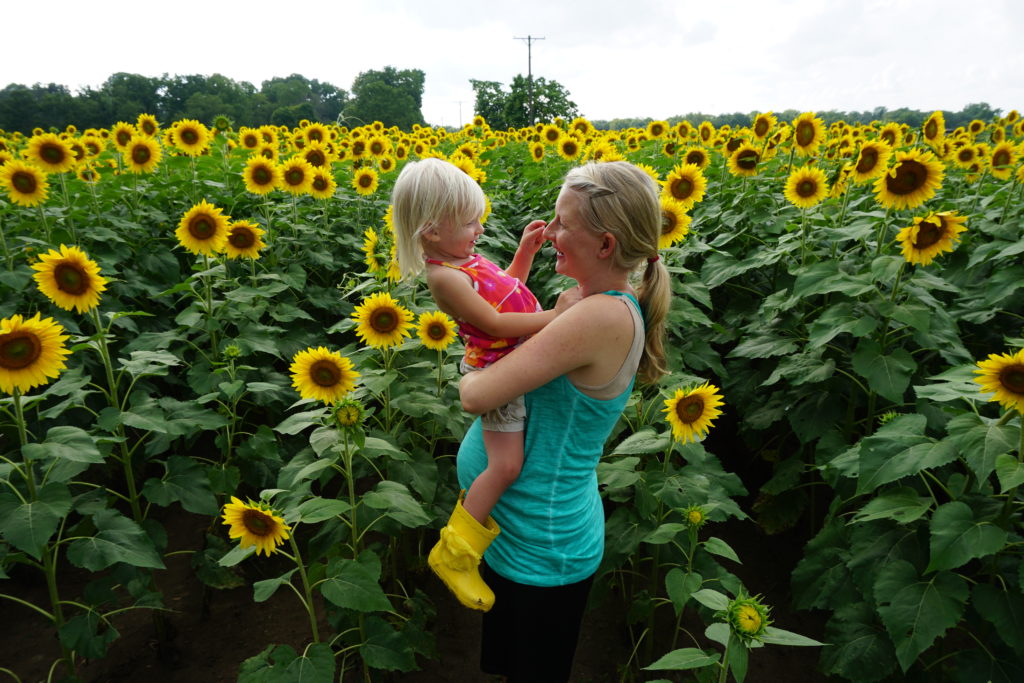 Did I mention that I LOVE SUNFLOWERS?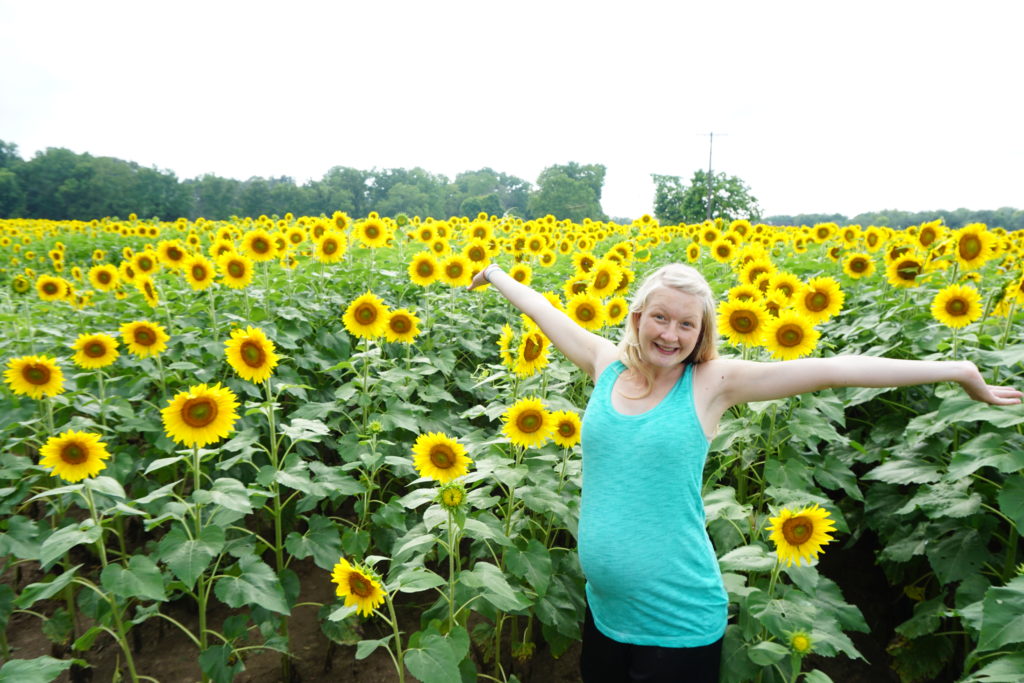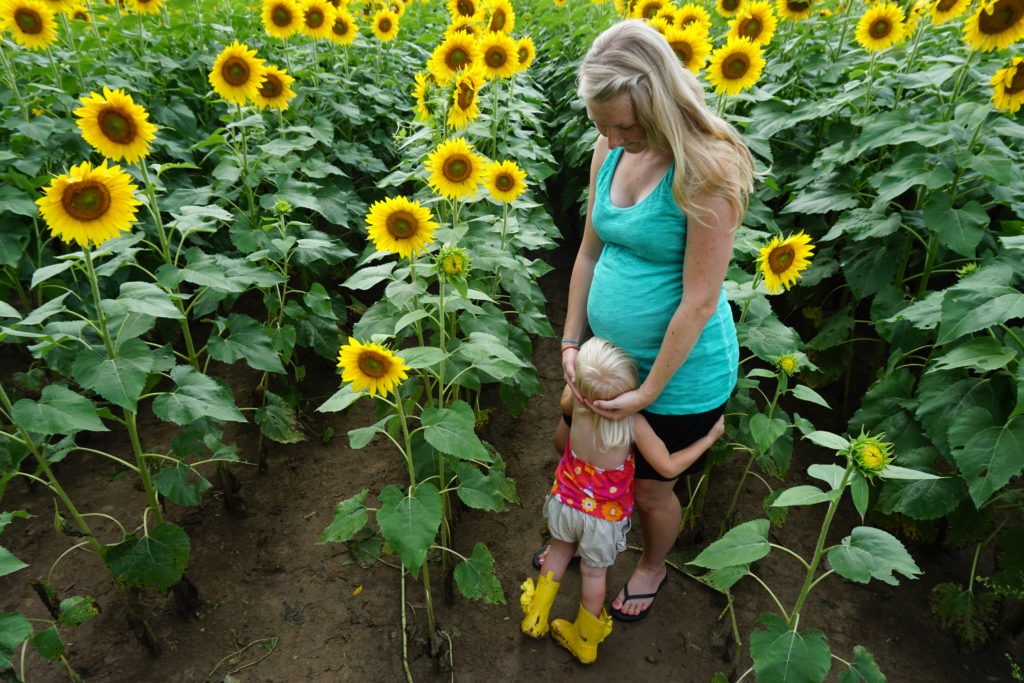 And…jumping pictures! Just because!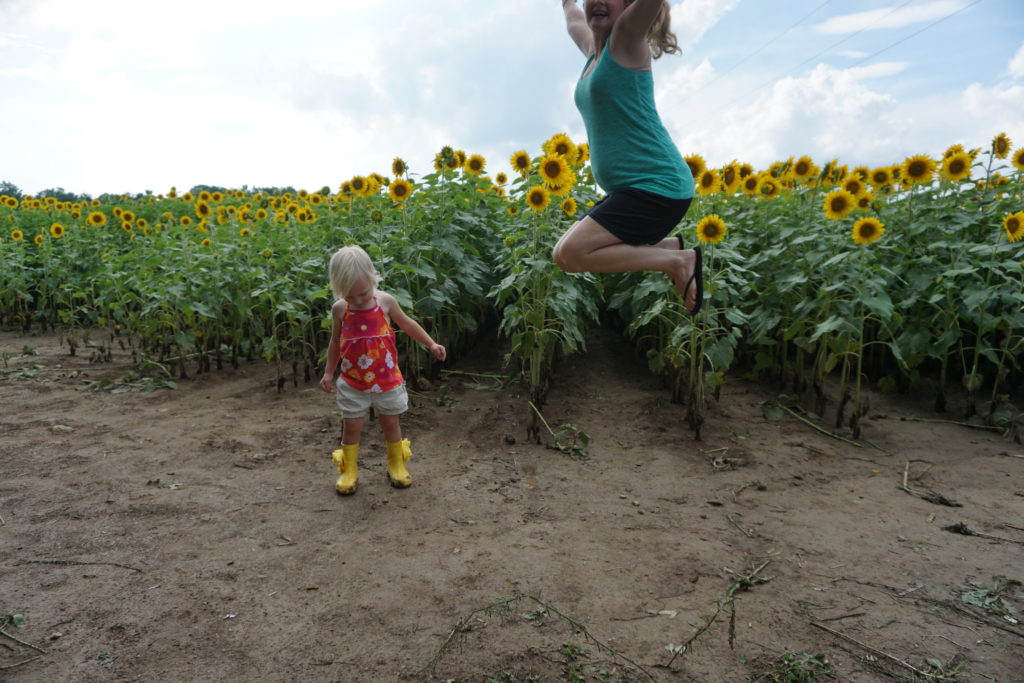 Tera is not too good at jumping…yet. But she is getting there!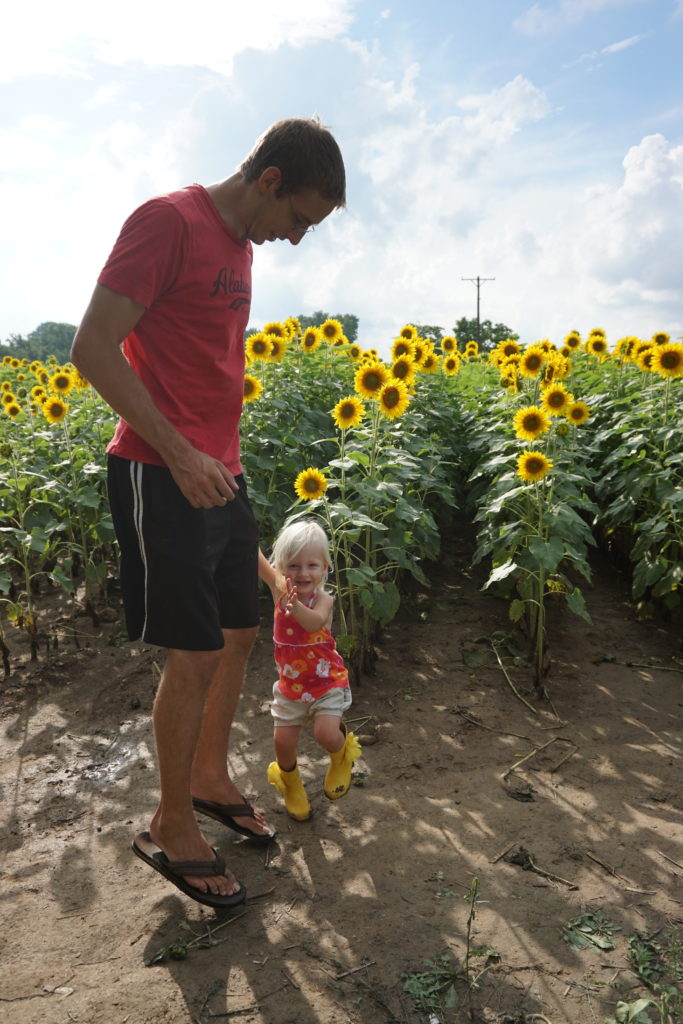 And that was our trip to the sunflower field! Until next year, beautiful sunflowers!
Yes, I am aware that if you are reading this post through your email or on your phone, some of the pictures are sideways. No, I did not take these pictures on my phone. Yes, I have tried to fix the problem and the issue is that I need to have a blog site that is mobile friendly…and I'm just not there yet. So please be patient with me while I fix the problem. If you read the blog post on a laptop, all the pictures will be upright.
Local friends: Here is the information on the sunflower fields!