Buckle your seatbelts, folks! November was a wild ride! I cried so many tears and laughed so many laughs, and I have so many memories from this month to tuck into my treasure trove of extra special memories!
First, let me duck back into October….
….and share my kids Halloween outfits! Someone gave me a bunch of hand-me-downs for Kiah, and this warm little giraffe suit was one of them! I sent my parents out with instructions to get Tera a cheap Halloween costume, and my Mom found this duck suit at Goodwill! She then found some leggings and a yellow sweater, too! Isn't it so fun??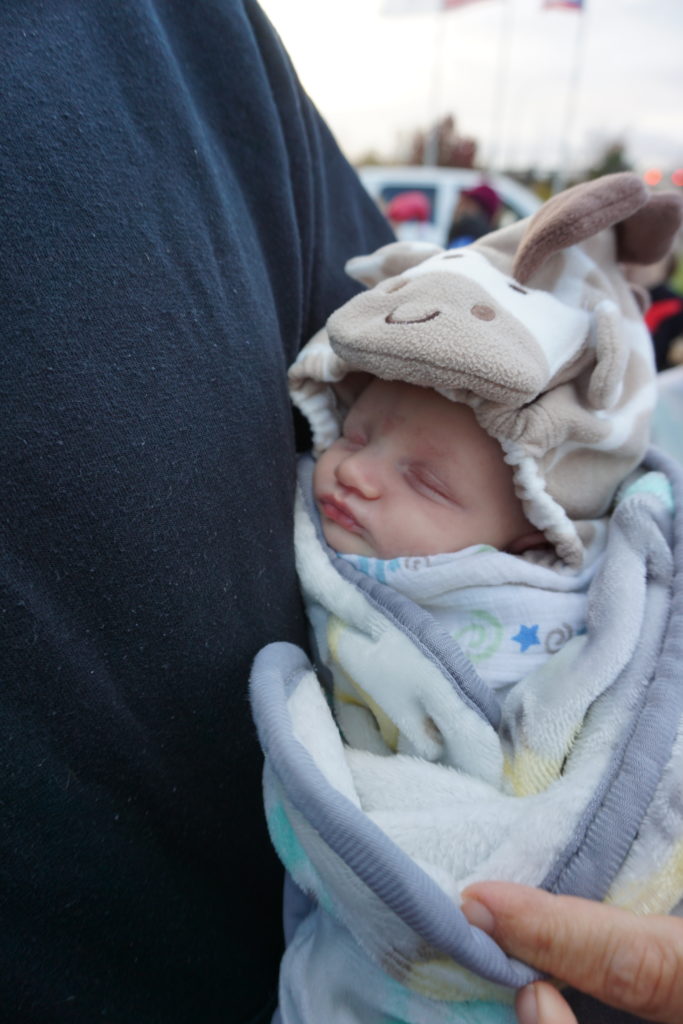 Since my parents were here, and Kiah is bottle fed anyways, we took advantage of a date night and went out to Bravo! Is this a chain? I don't know, but we were so pleased with our experience there!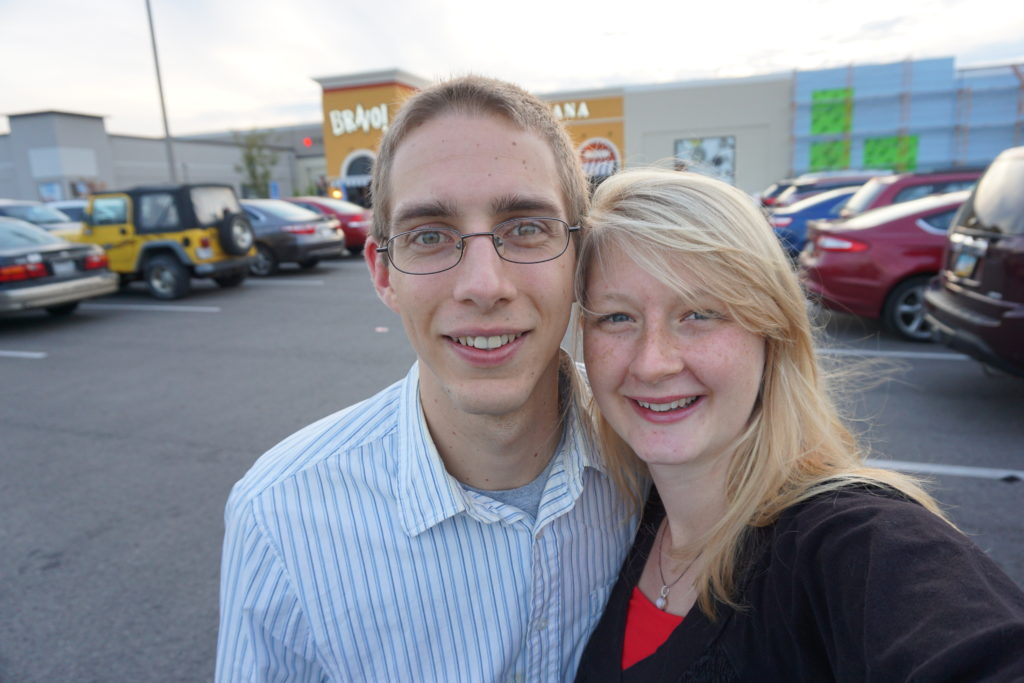 My parents have heard me talk so much about the Learning Tree Farm, so we waited for a nice day and all went out! We were the only people there, and we had an absolute blast. Have I ever mentioned that I LOVE this place?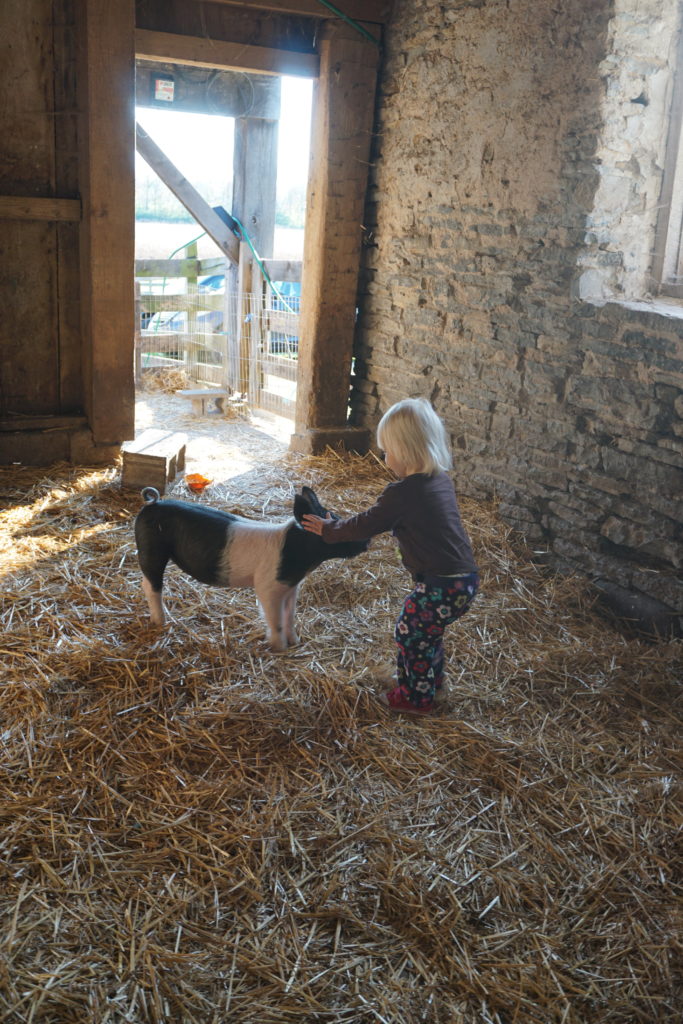 There was a litter of kittens and they followed us everywhere. They even let toddler terror Tera hold them!
My Mom loved the black cat with an injured paw.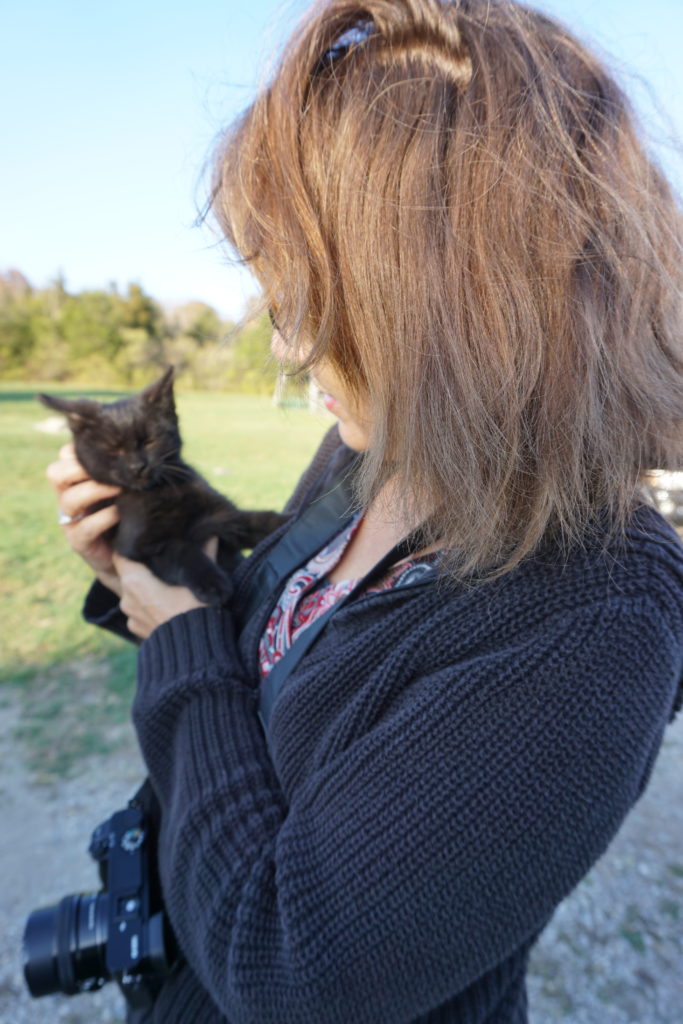 Kiah slept through his entire first trip to the farm. This was right before the scary weekend in which we realized he was not gaining weight. He was looking really lethargic, but I just kept brushing off my worries…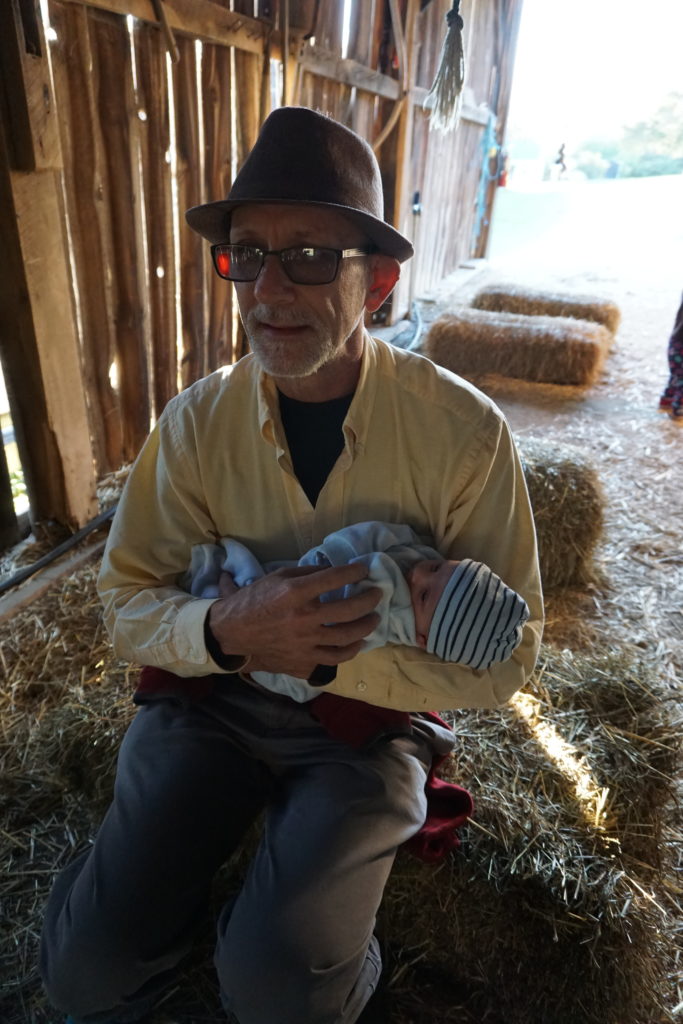 I took some pictures of sweet Kiah, and again…I felt like something just didn't seem right. He's still pretty darn cute, though, isn't he?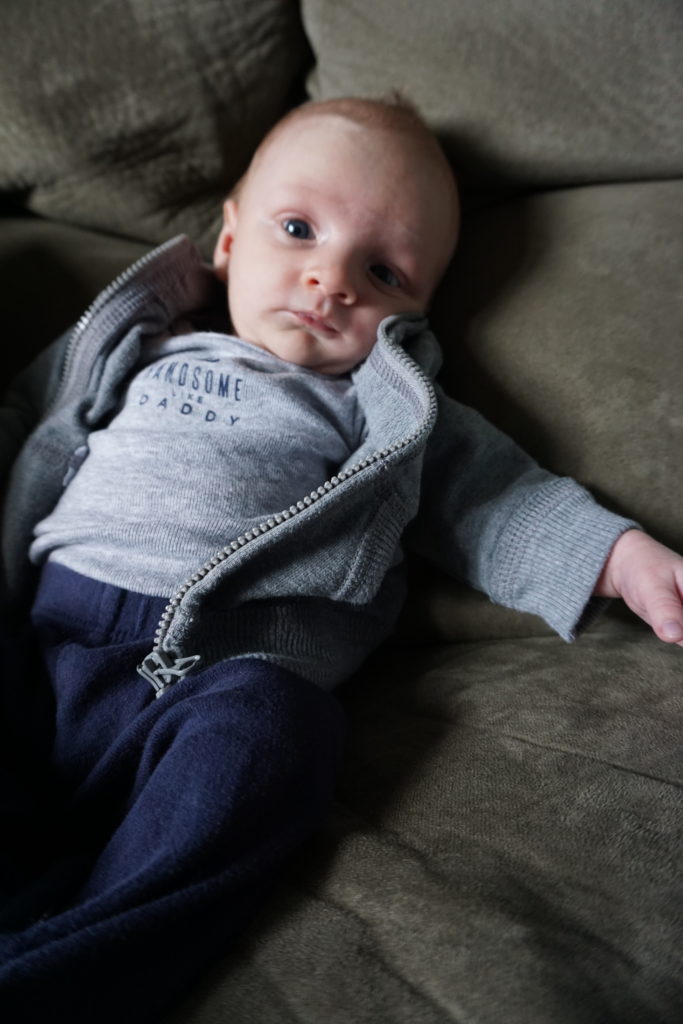 Friday my parents left for a two week trip of visiting some other people in the States. By Saturday morning, I knew something wasn't right with Kiah, and his weight had dropped really low. All weekend we debated going to the ER, but we decided against it due to all the things he could be exposed to there. So bright and early Monday morning, we threw our kids in the car and headed to the pediatrician. Of course, Theo and Tera were also super sick with colds that weekend. The pediatrician checked Kiah out, diagnosed him failure to thrive, and ordered an immediate barium x-ray and ultrasound. She told me later that she *should* have admitted us to the hospital, but decided that it would just not be the most helpful thing, and she knew we were doing above and beyond our best to help him. We got Kiah into this hospital and I just could not stop crying. Just as we got him changed, my mother in law arrived from Michigan. I cried some more when I saw her! Thank goodness for Moms!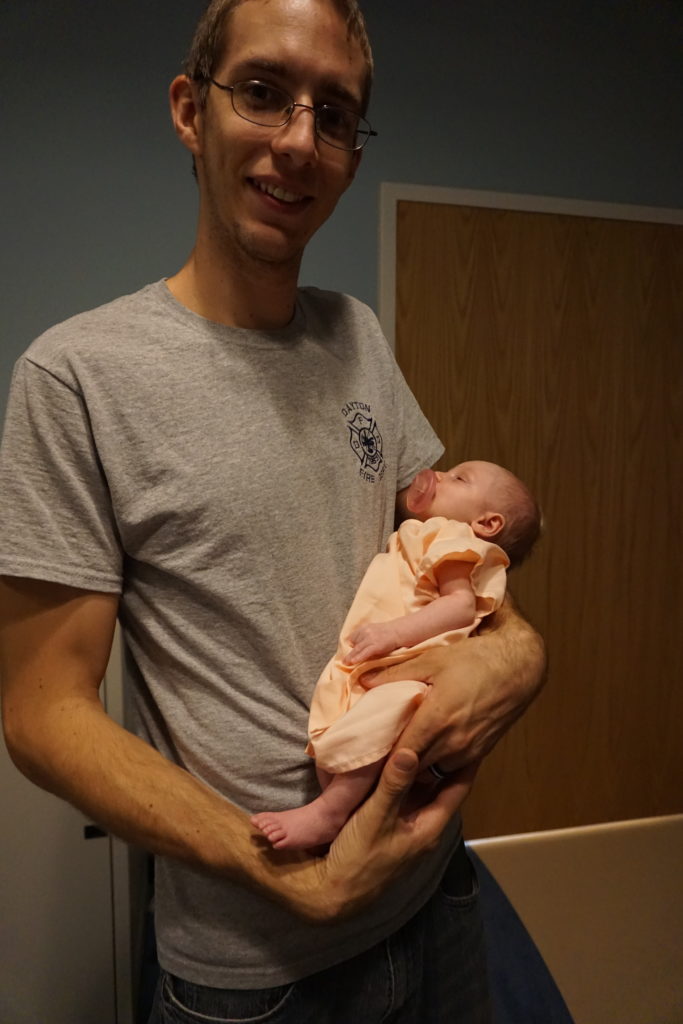 The barium x-ray showed nothing wrong and from then on out Kiah has been steadily gaining weight. I don't know if he had something and it was miraculously healed, or if he just decided to give us a good scare before deciding to be a good boy and gain weight. Either way, we are so thankful. That was a rough weekend.
Mom Hines was able to be here for three days, and I'm SO thankful!!!! This is her 12th grandbaby, and she has gone to be with 11/12 of them when they were first born! That's a Grandma's love! (The one she wasn't able to be with was born in Africa).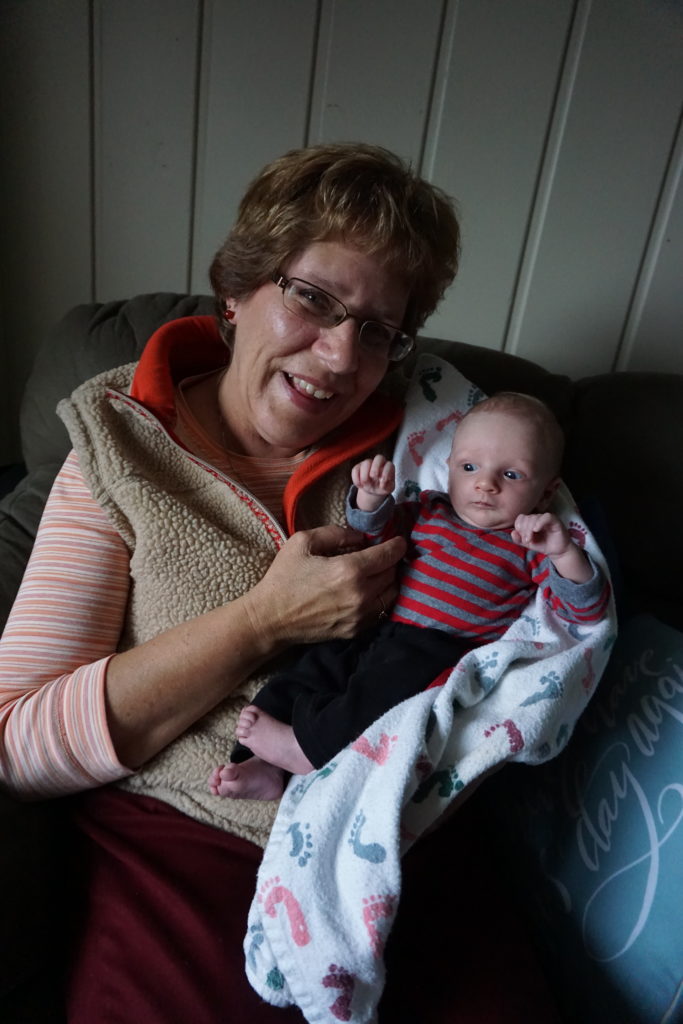 Aaaaand a little bit more realistic…
We were actually so glad to see some crying from Kiah after he had been so lethargic.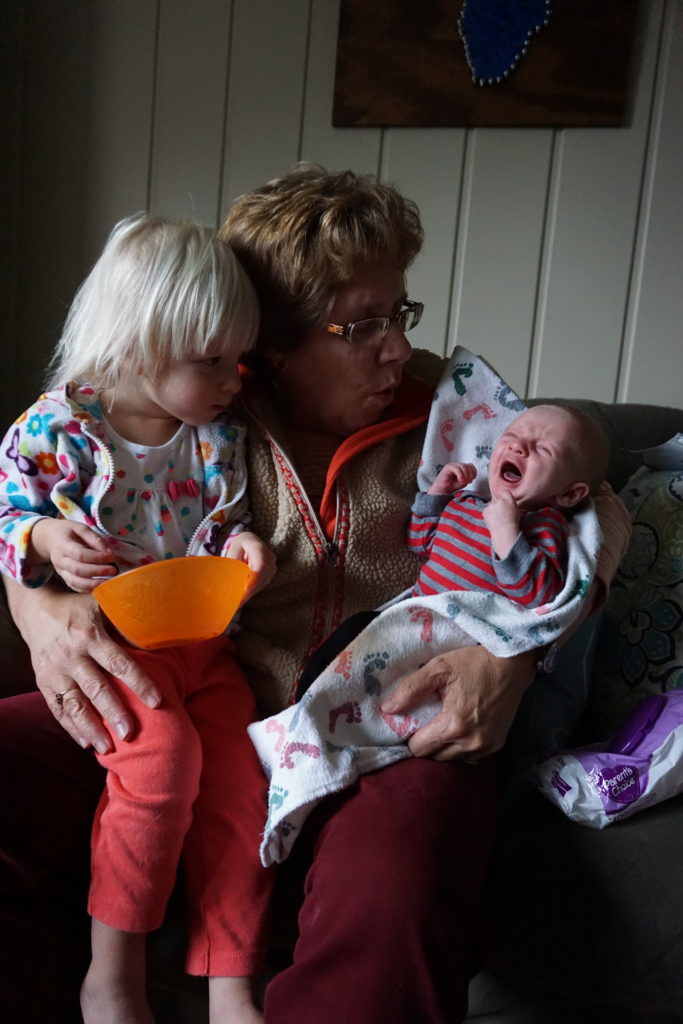 A lot of November looked just like this. And I wouldn't trade it for anything.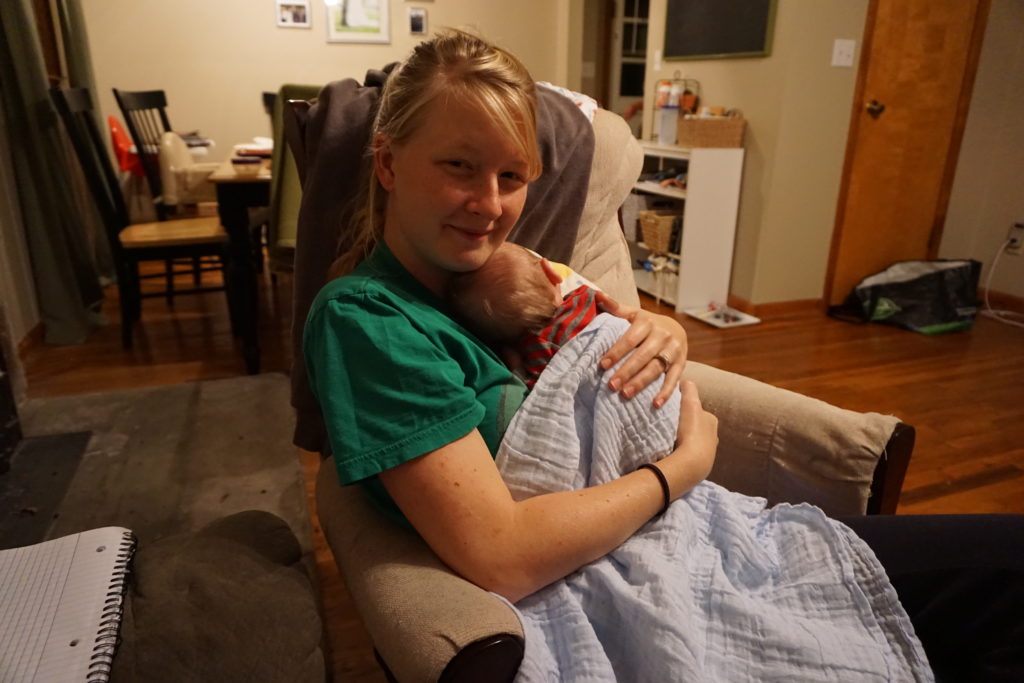 Tera has done so remarkably well with all the changes and stresses this past month. Her language and imagination have exploded and I LOVE watching her play. Her favorite thing to do, though, is "help Mommy" with whatever I am doing.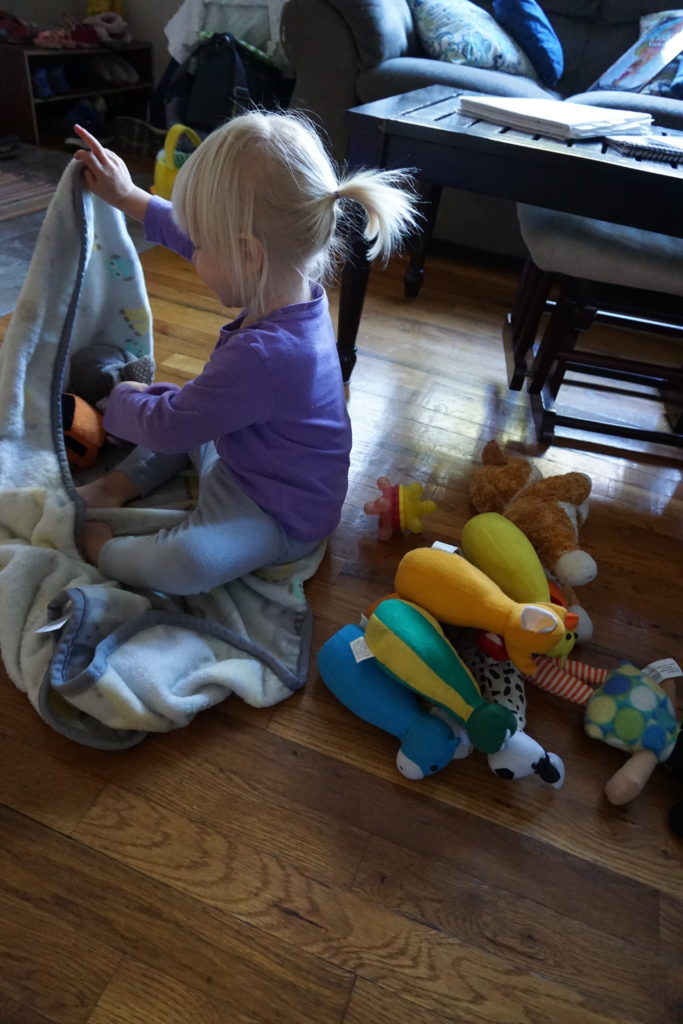 More shots of snuggles with our precious boy.. He pretty much always has some kind of stuffed animal that his big sister decided he needs…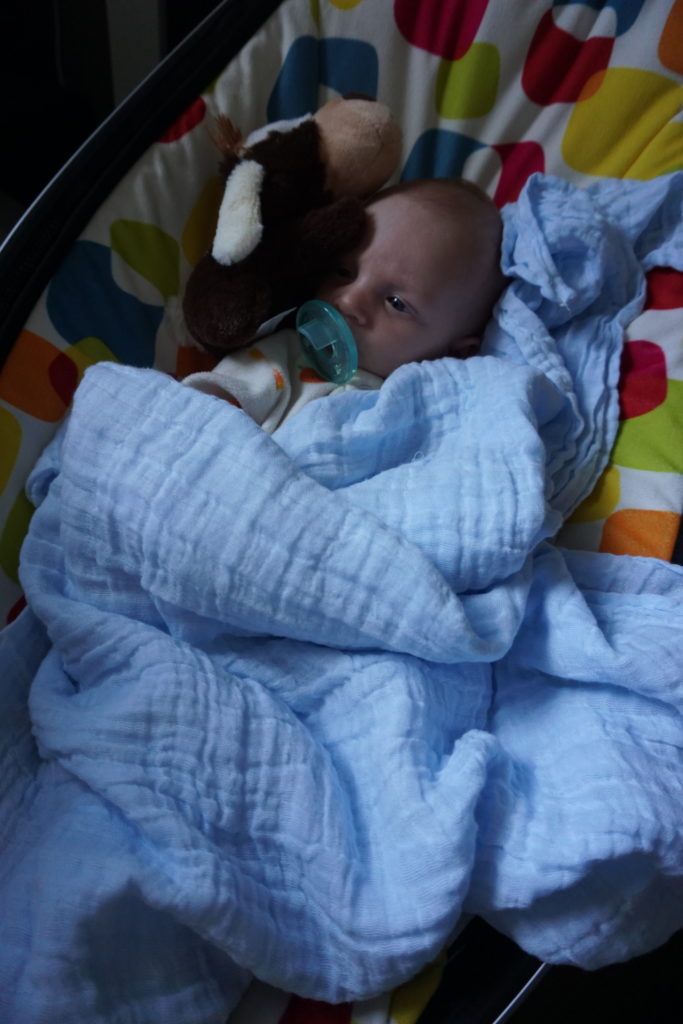 November was unseasonably warm and I am SO THANKFUL! We have a little park about a mile from our house, so our walks frequently take us there..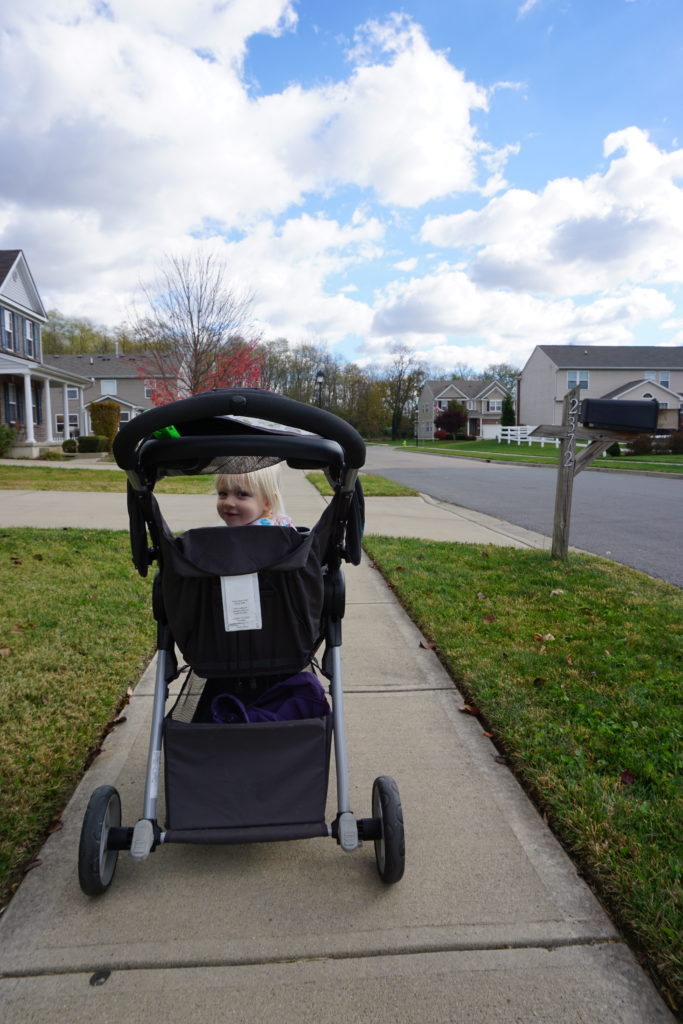 Carrying my Kiah and pushing my Tera. That's a great way to work up a sweat!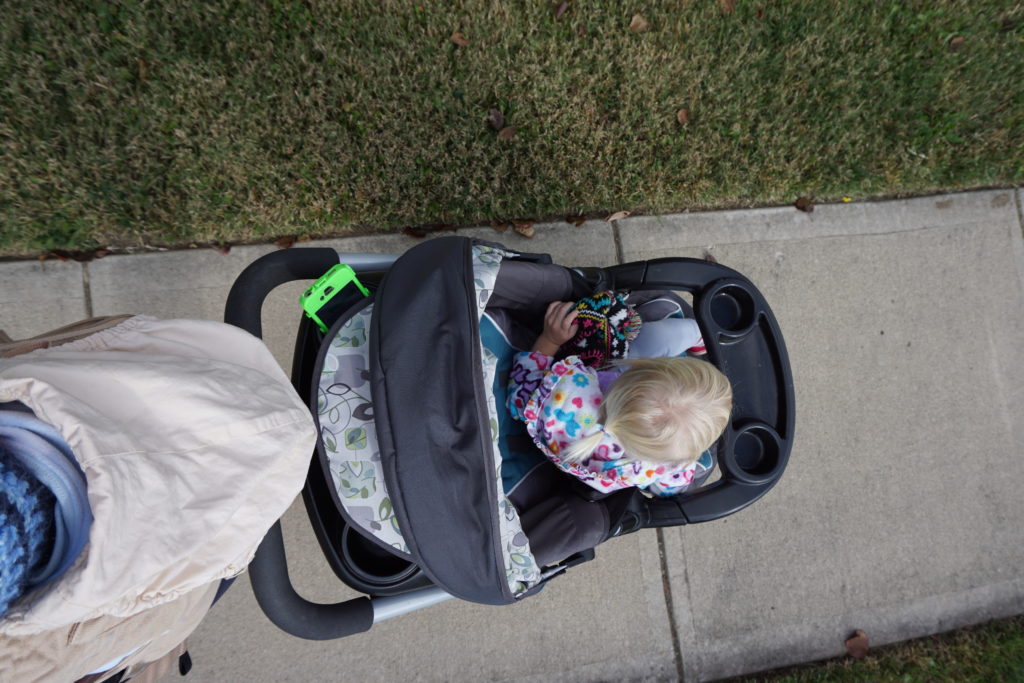 Playing at the park. I just love how colorful she is!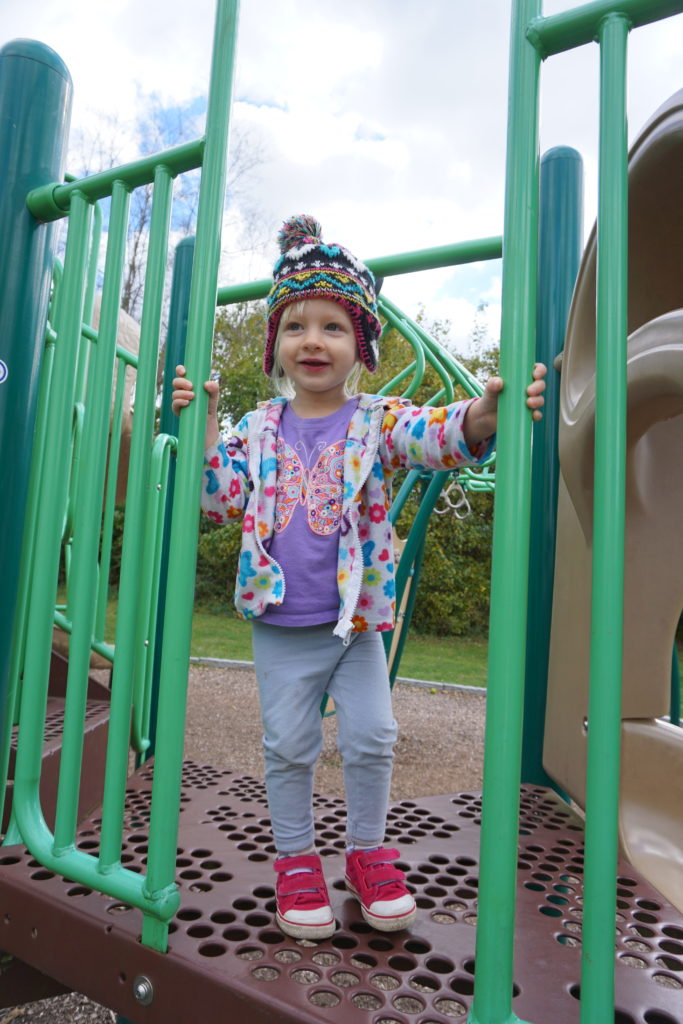 Since my parents were in the country, all the family in the area wanted to see them. We wanted to spend as much time as possible with our whole family, so Daniel and Kelly came from Michigan three times and we even took a trip up to Michigan to stay at their place, too!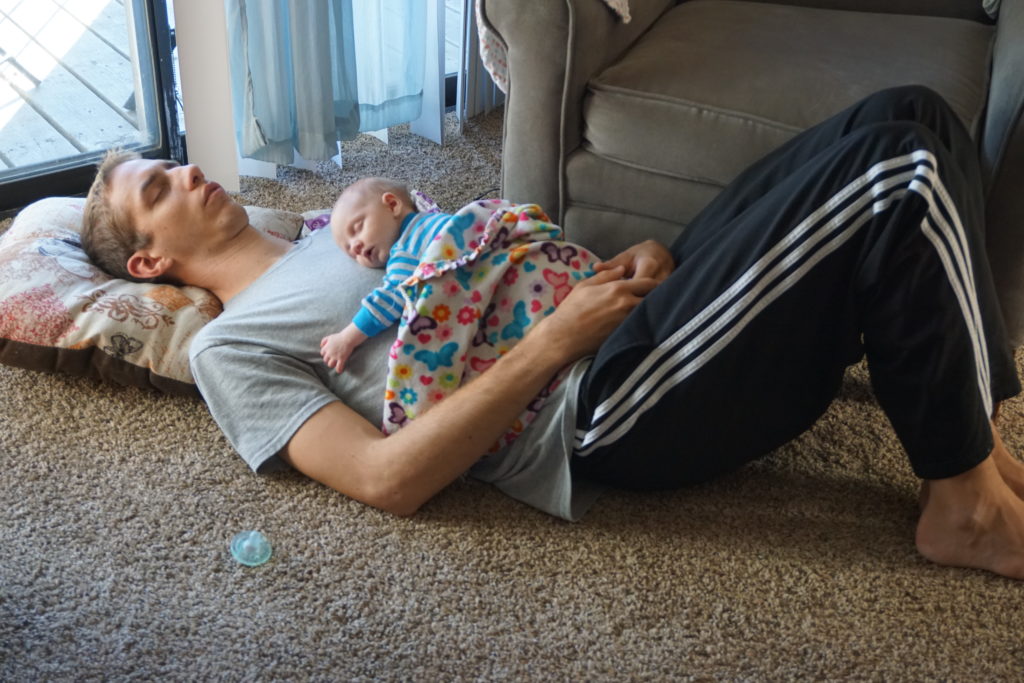 My Dad's brother and his family came down to visit, too! Here are all the men…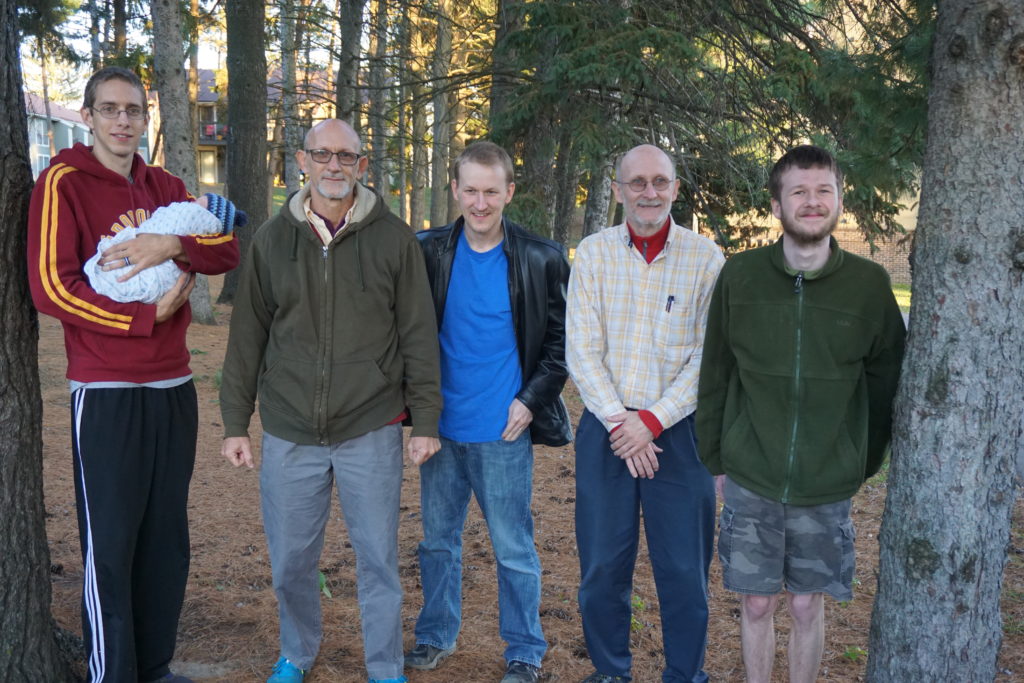 The girls. The teenage girls said "let's Dab!" and all us non-cool folk were super confused…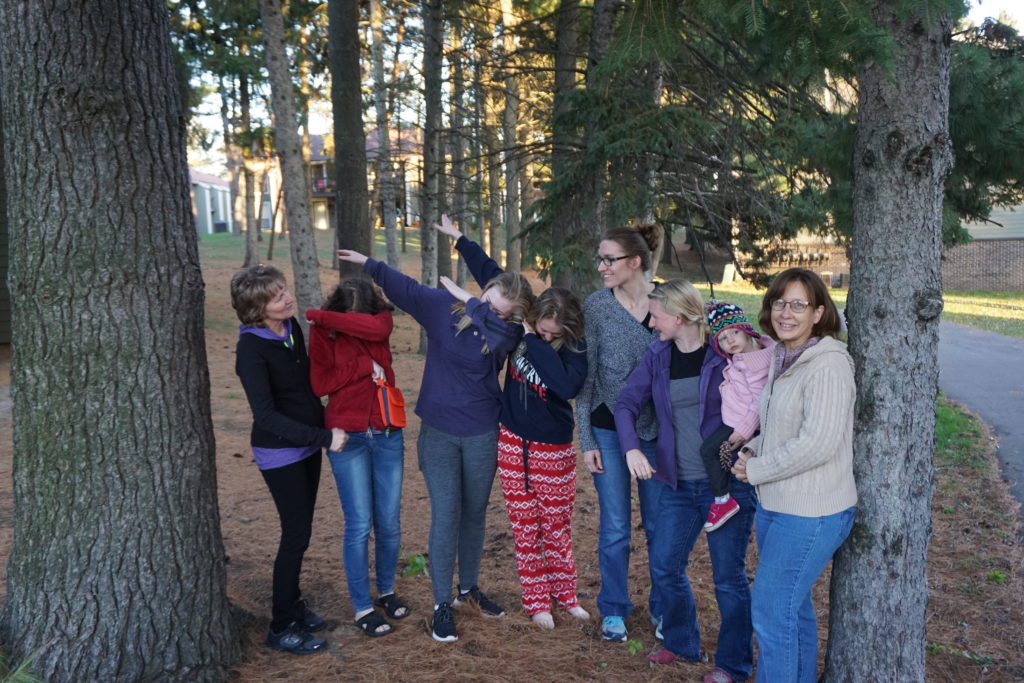 The whole group together!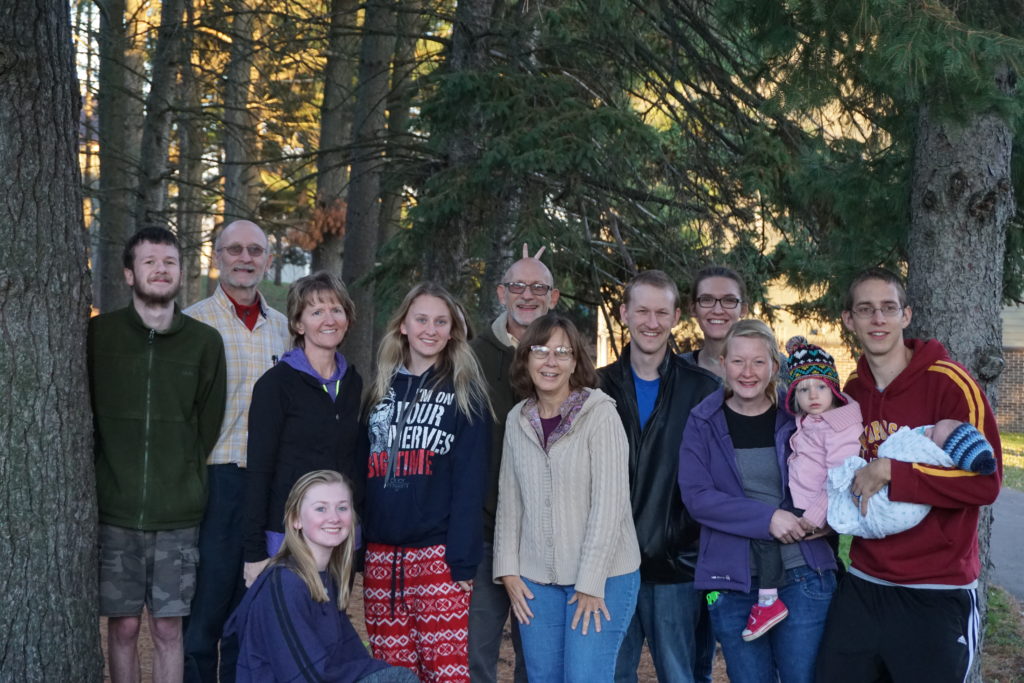 My Aunt Debbie and cousin Deanna admiring baby Kiah. He was only four weeks old!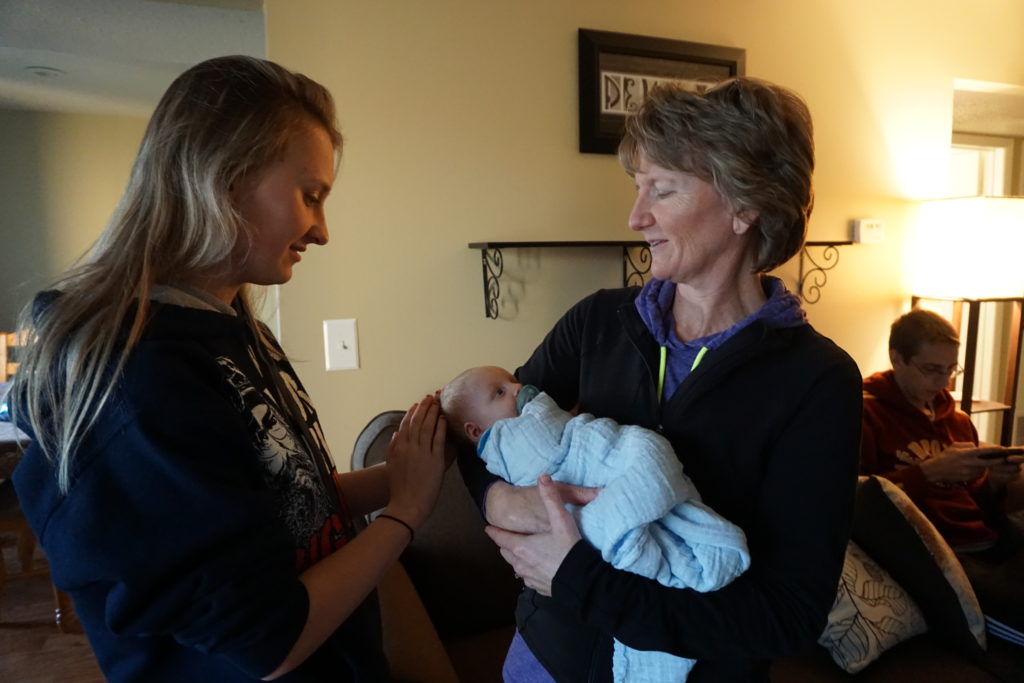 Kiah turned one month old and I attempted to get some pictures!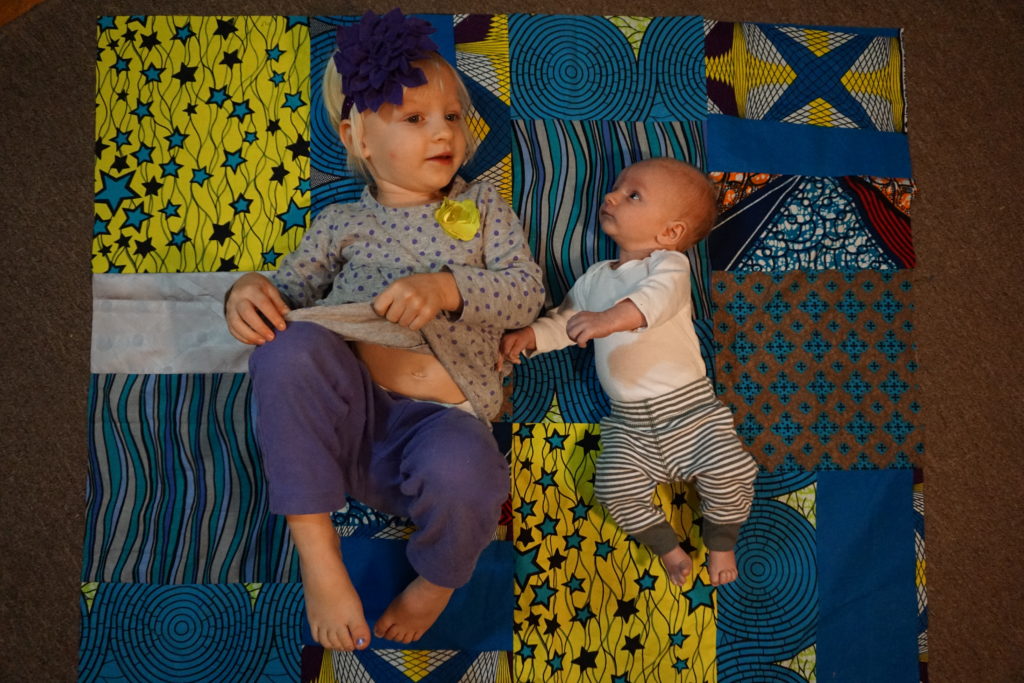 Oh, hey there, little man. We sure do love you.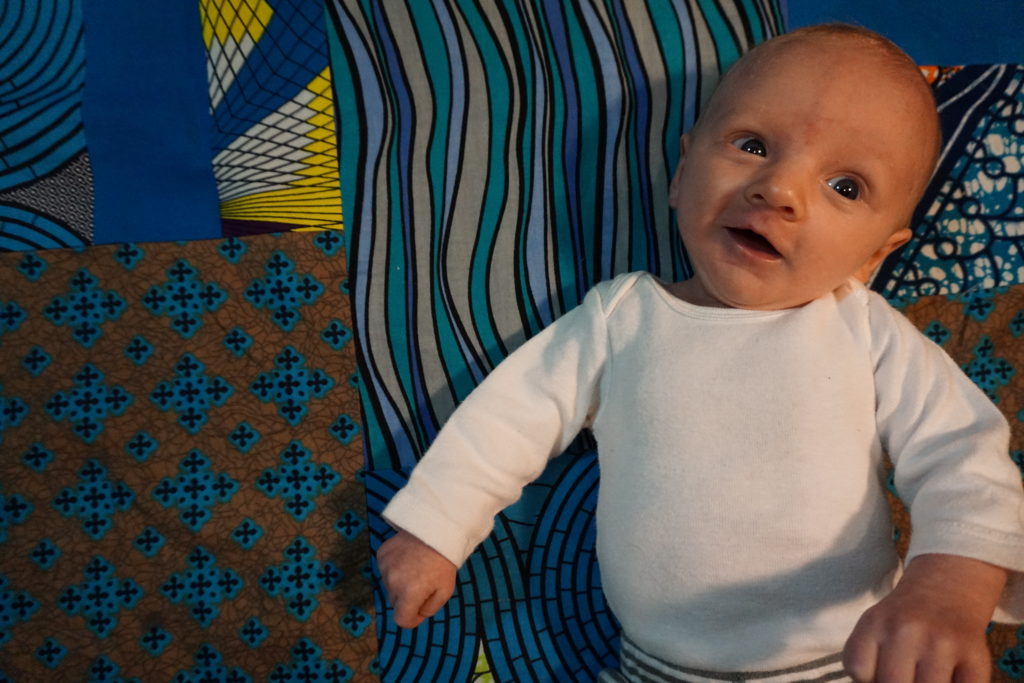 Theo has faithfully weighed Kiah 3x a day in the past month. We have charted his growth and are so pleased with his progress. Here he is the day he hit 7 pounds!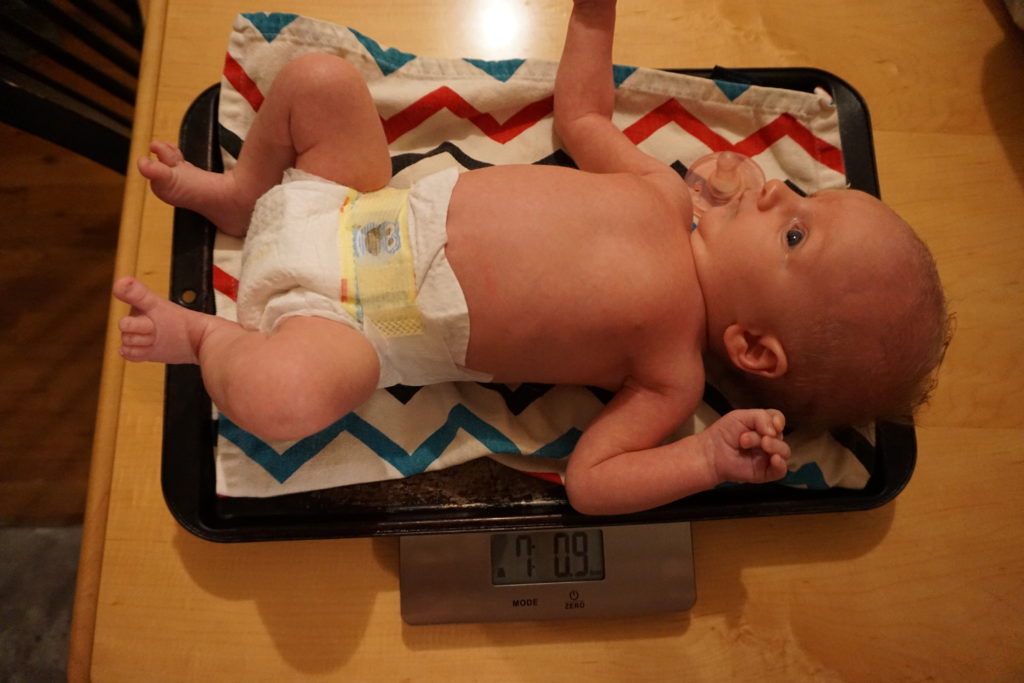 Theo had his 6 weeks of paternity leave during November, and he used that time to work on an external entrance into our basement. It was a ton of work. Tera loved helping him whenever she could!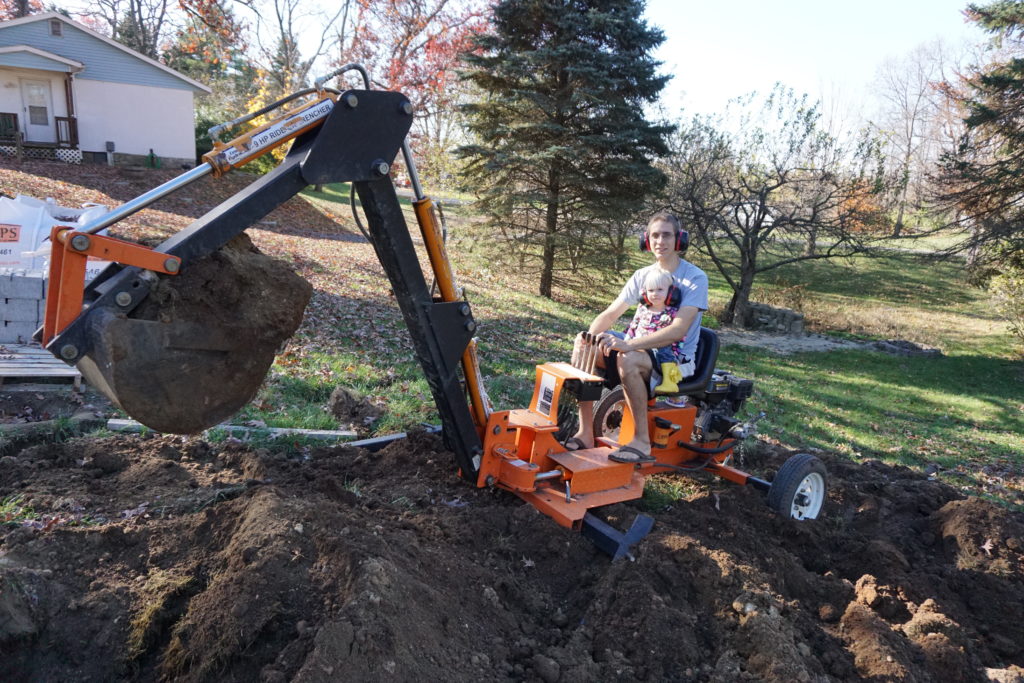 We took some family pictures for a Christmas card…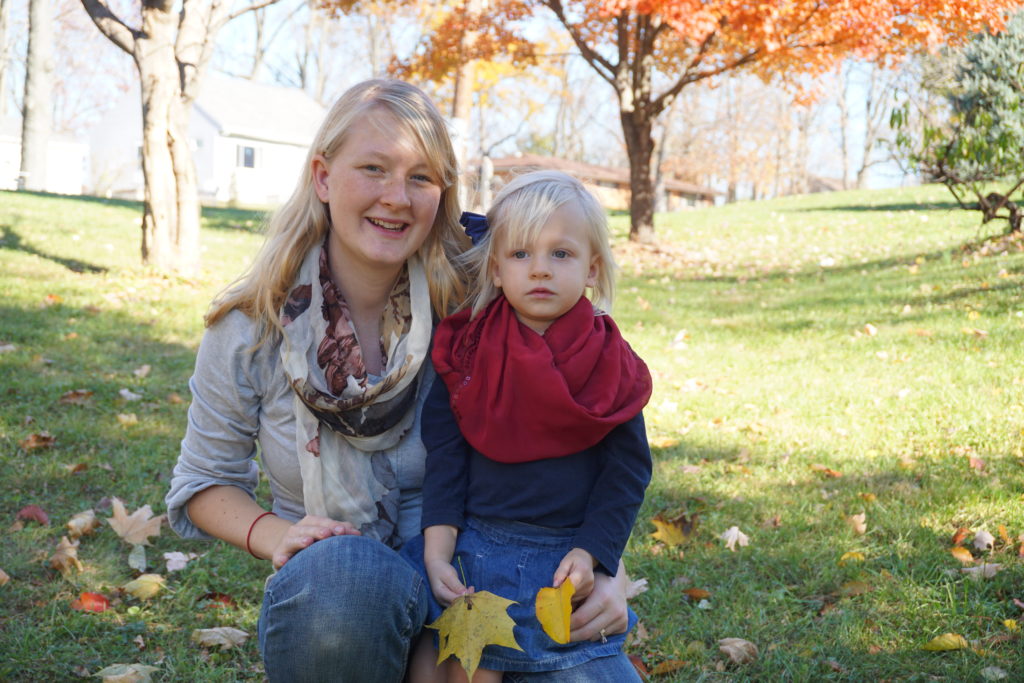 Love this one! The funny thing is that I thought I was standing right up against Theo, but when I looked at the picture I realized that we could have fit a whole 'nother person in between us! Lol!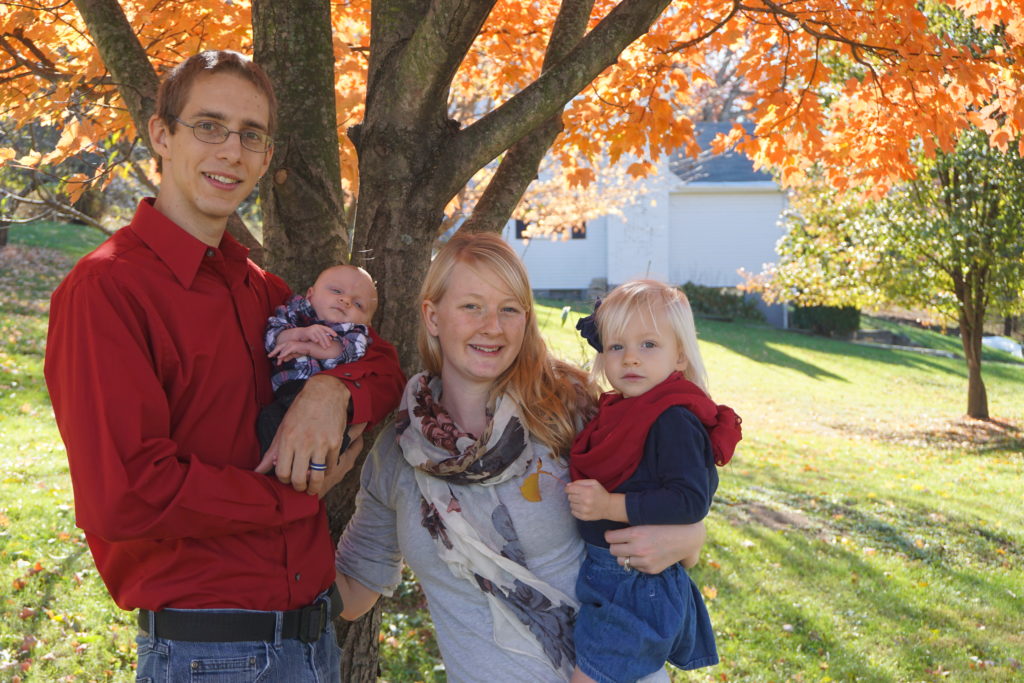 My Mom got some great shots, but for every good one there was probably 8 that looked more like this…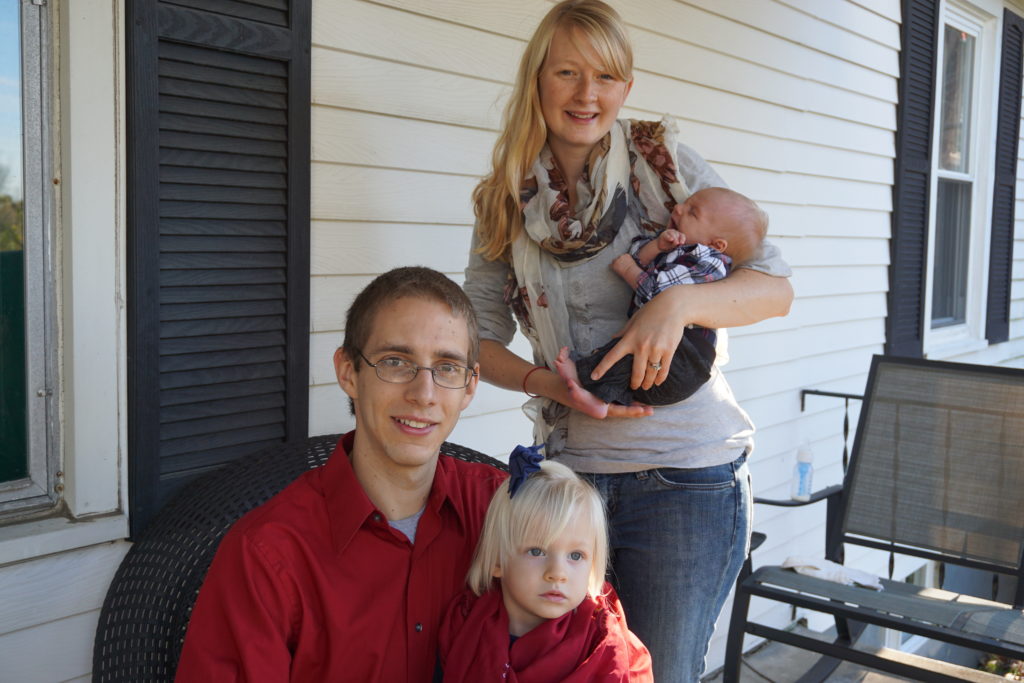 My parents were here most of November and it is such a joy to see them spending time with my kids!
Isn't it amazing the difference that month makes? Remember those beginning pictures where Kiah looked so tiny and lethargic? He's still tiny, but we are loving seeing these smiles!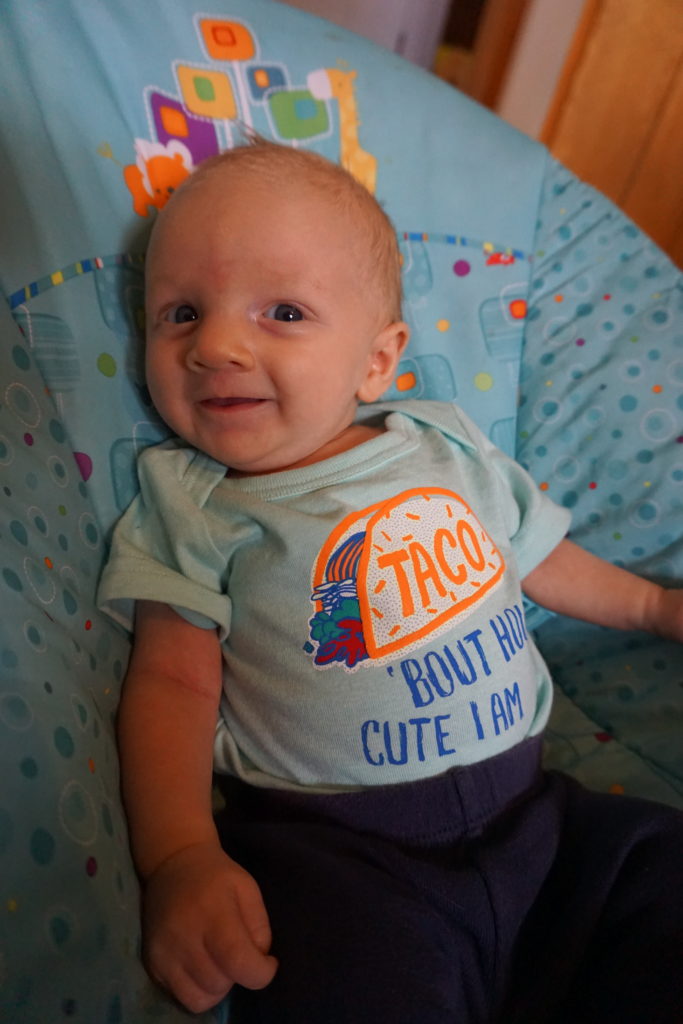 We found a Christmas tree on the side of the road. This thing is 7 ft tall and gorgeous. I feel so bad for whoever lost it!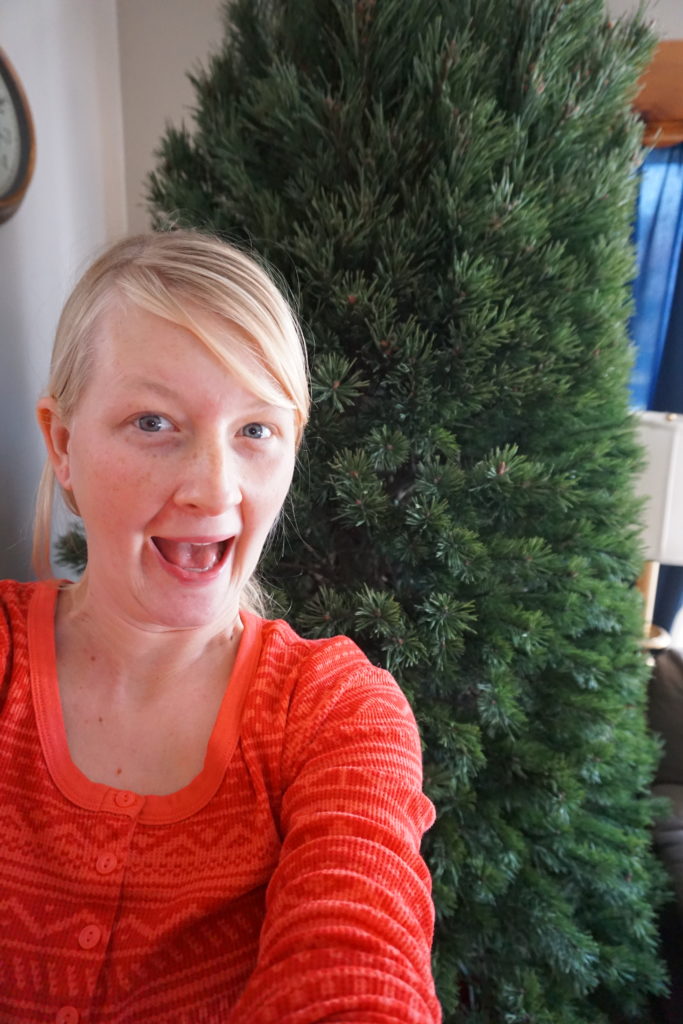 3 generations baking Christmas cookies! Don't you love our aprons?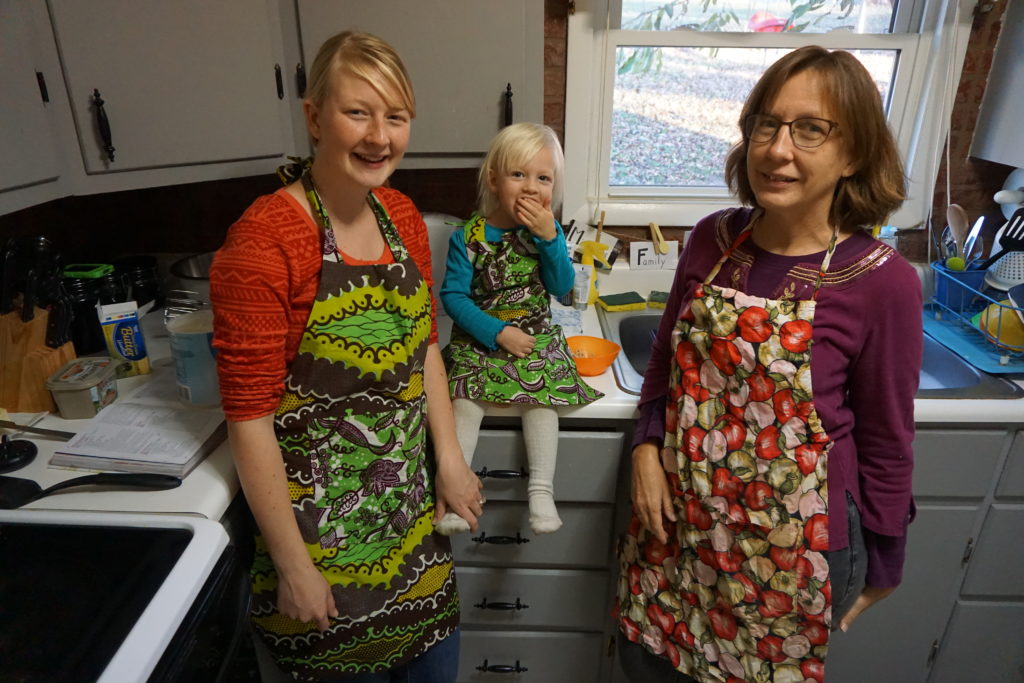 We decorated for Christmas! We ran out of lights so the top of our tree is a little bare haha!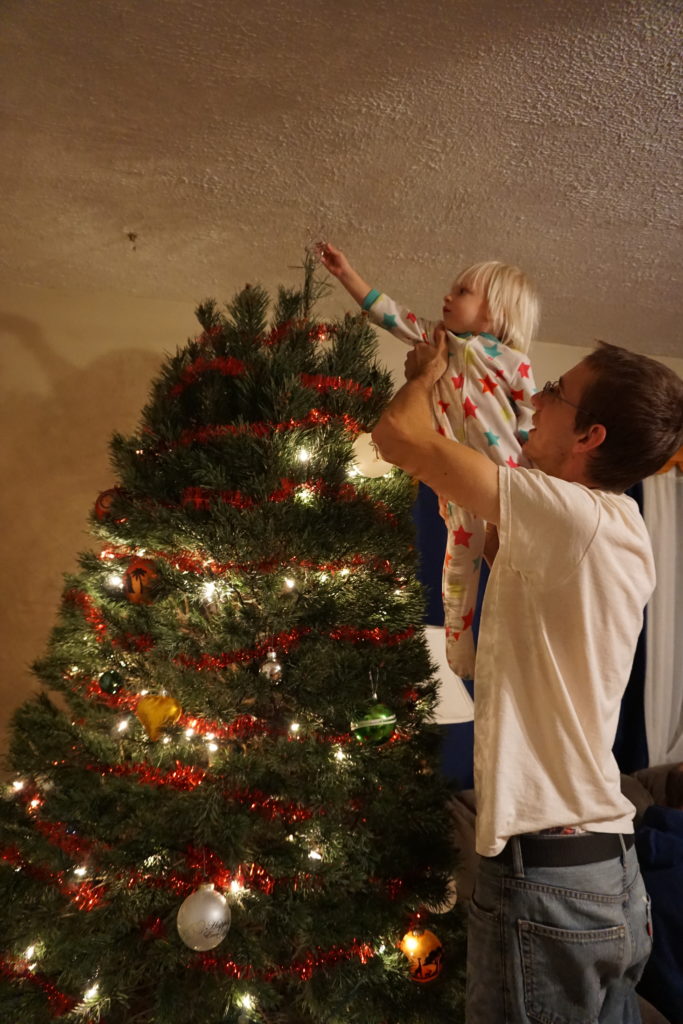 While we were making dinner, Peepaw was singing to Kiah, and I came out of the kitchen to find this. Oh, so sweet.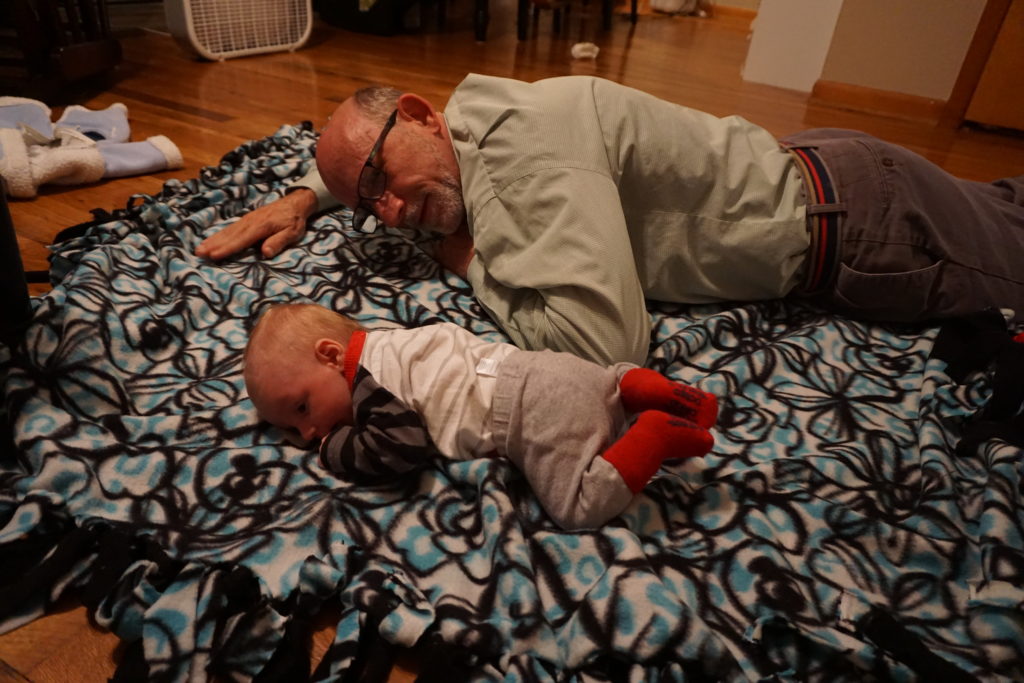 Tera got a little hair trim from Memaw!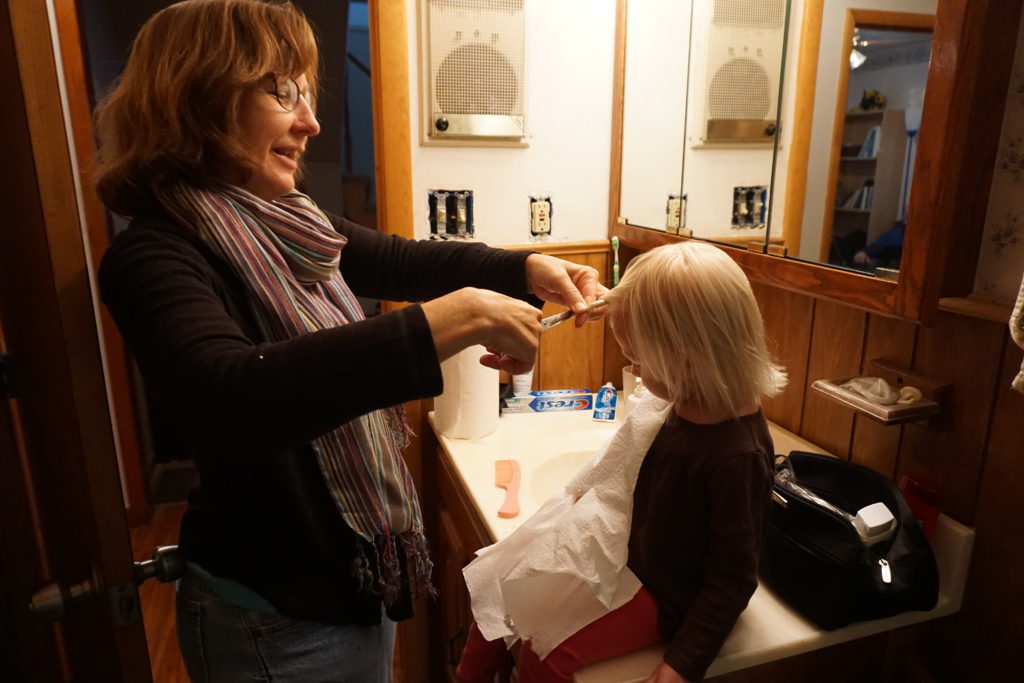 My immediate family celebrated Thanksgiving and Christmas within a 24 hour period. I'll post a separate post on that.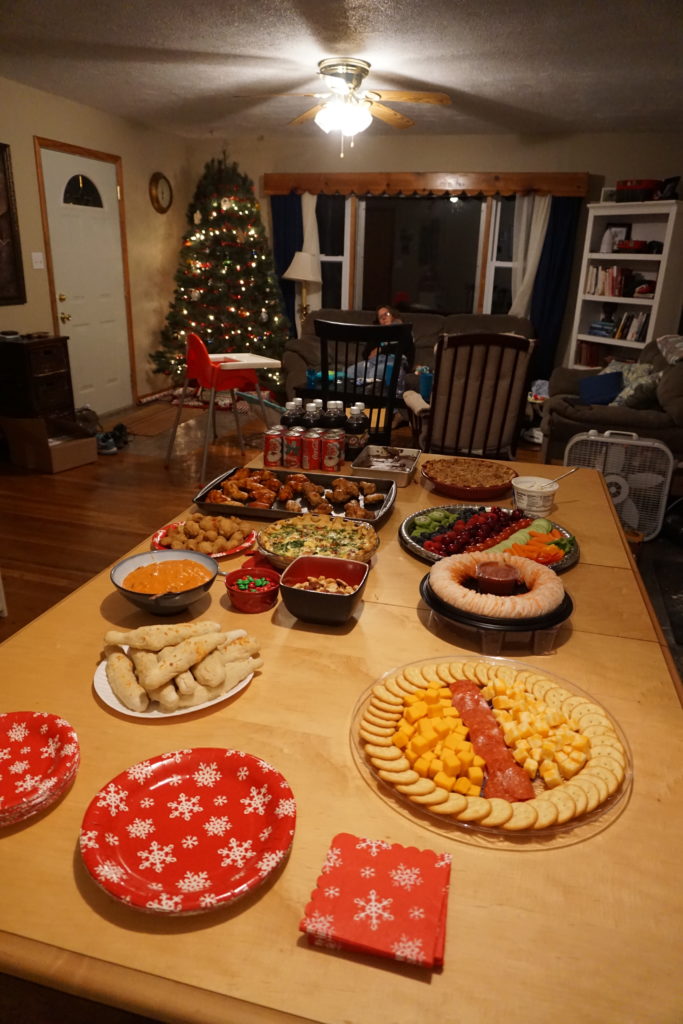 Thanksgiving was Thursday, my family celebrated Christmas on Friday, my parents left on Saturday morning and Theo went back to work on Sunday. Overwhelming.
But we all survived our first 24 hours solo!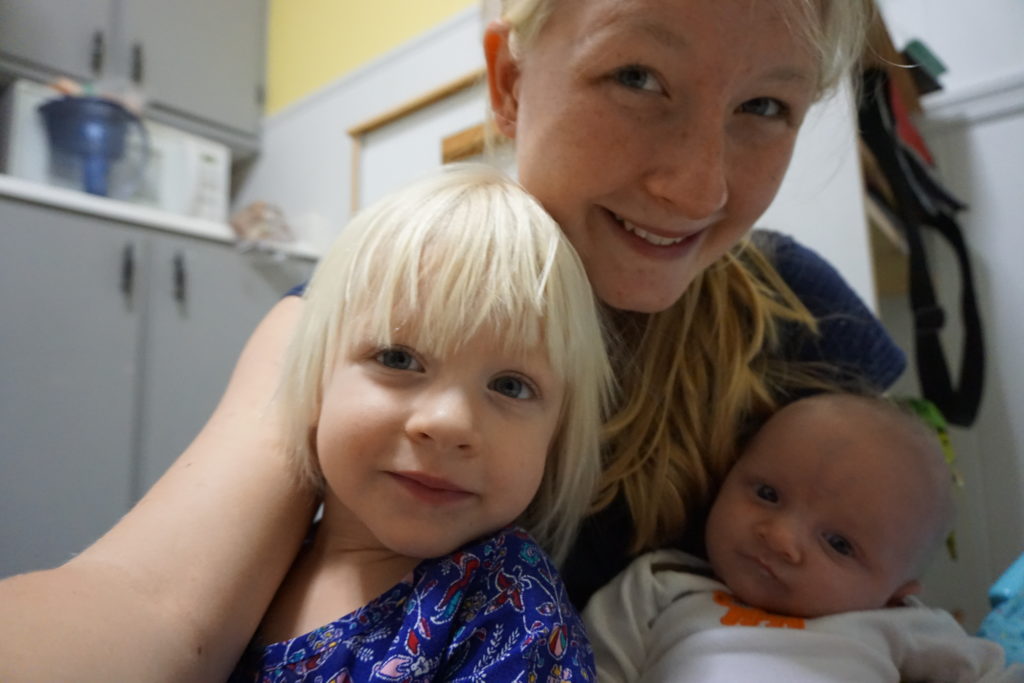 We were so happy to have Daddy home the next day!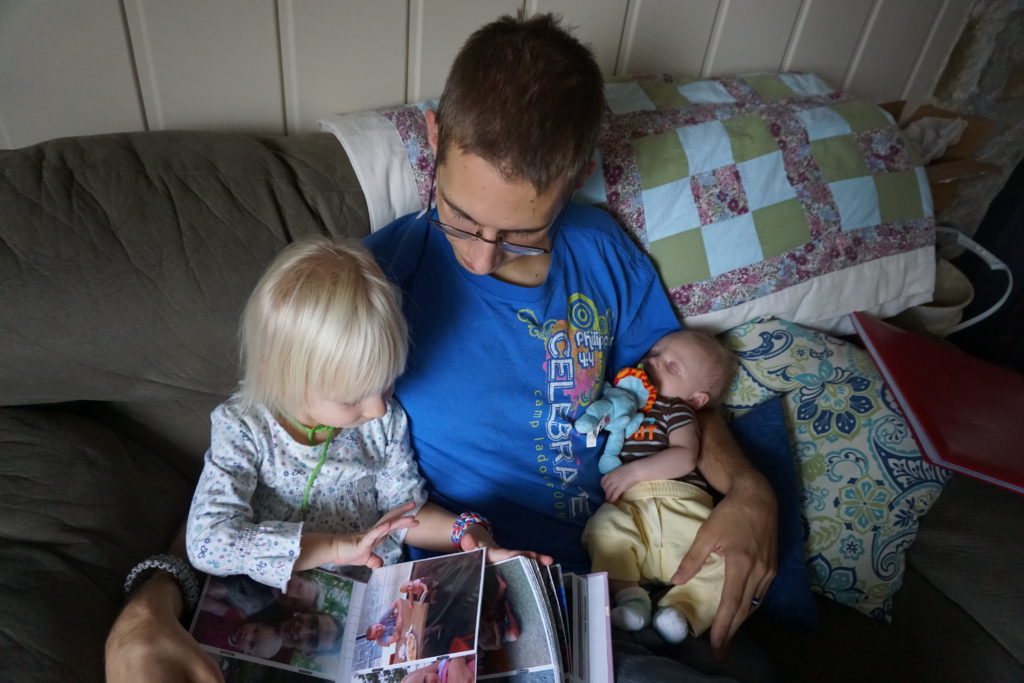 And to wrap up November, I have been working on thank you cards, Christmas cards and planning out 2017!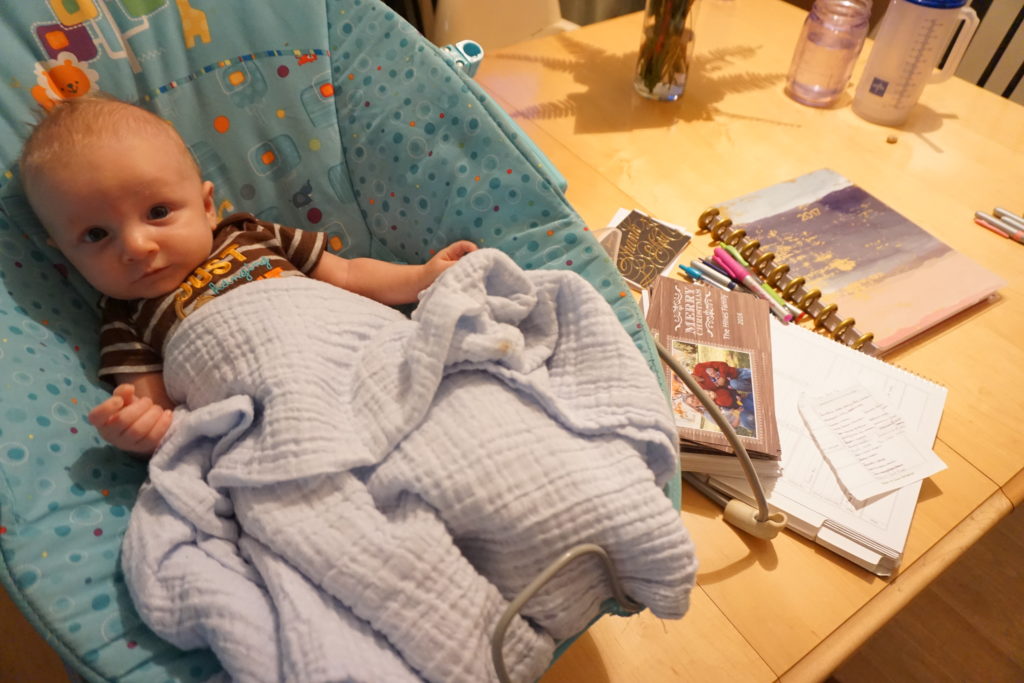 Phew! Are you as exhausted as I am?
Ready or not, here we come December!
Save
Save