On Sunday, I ran my 2nd ever half marathon! My Dad also participated in the race and ran the 5k. We ended up having a lot of fun, although I did learn a lot through the experience.
If you read my post yesterday, you know that the weeks leading up to Thanksgiving were a bit rough for our family. Colds, lice and the flu with a grand finale of a sinus infection for me. I honestly didn't even know if I was going to be able to run the half but I decided to push through and just run it!
Prior to everyone in our household being sick, I was feeling fabulous with my training. I ran 12 miles and felt like I could probably run my 13point1 in 2 hours. But then I was sick for two weeks and didn't run once. I managed to squeeze in one more 10 mile run but my sinuses were terrible and I was not feeling it.
By Saturday I started to feel much better, but my only goal was to actually finish the 13.1 miles without walking.
Sunday morning was cold (it was under 30 degrees when we got to the start line). I layered up a lot and told Theo and the kids to stand at certain places in the race so I could give them my layers. Lol. The line for the women's restroom at the start line was about 20 minutes long, so I decided to get in it. I don't mind using a porta-pot but there was none at the start! I got out of the restroom at 8:40 and the race was slotted to start at 8:45. The announcer was telling people where to go according to their pace, but it was rather chaotic and I couldn't get through the crowd of people to my pace. I also noticed that there was no security at the start line, which made me a bit nervous. I'm not one to be really nervous, but being married to a police officer means that I know the security measures that need to be place should something bad happen, and I didn't see any of that at the start line.
The 5k and Half Marathon started at the same time, same place and the only division was by pace. At first I was worried that I had missed something while in the bathroom and that I was accidentally going to run the 5k. My Dad was right in front of me in the chute, but he ended up going much faster than me and pulled ahead.
Meanwhile, my Mom and Theo were the real MVPs for bringing three children out into the freezing cold to stand around and wait for my Dad and I to pass them.
(As my Mom says…sometimes they get along. Sometimes they tolerate each other. This is not what it looks like 80% of the time at our house hahaha).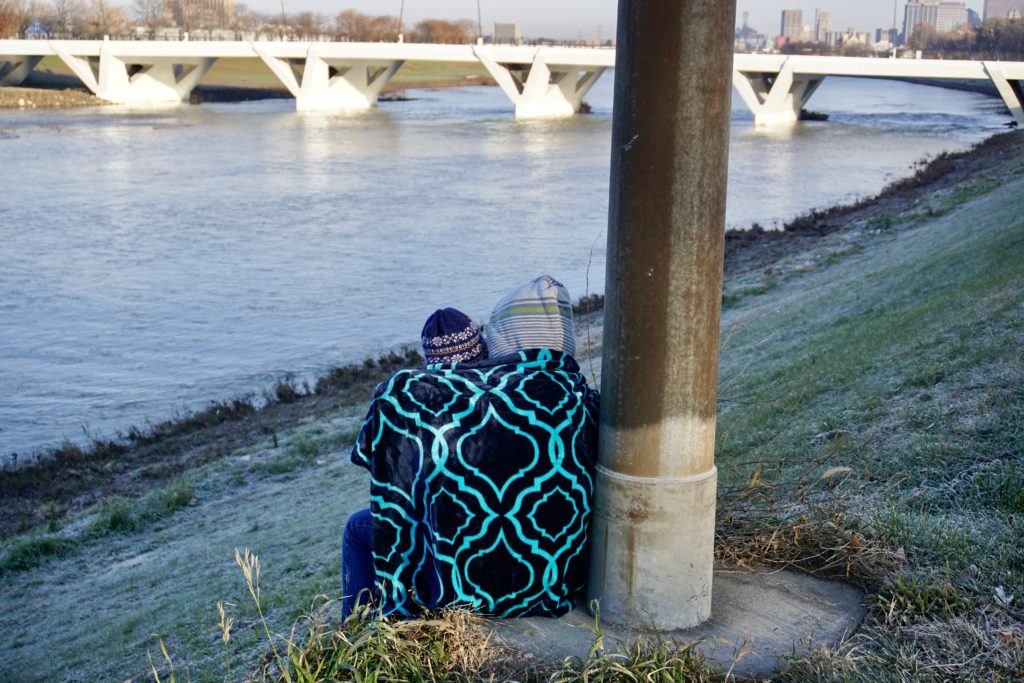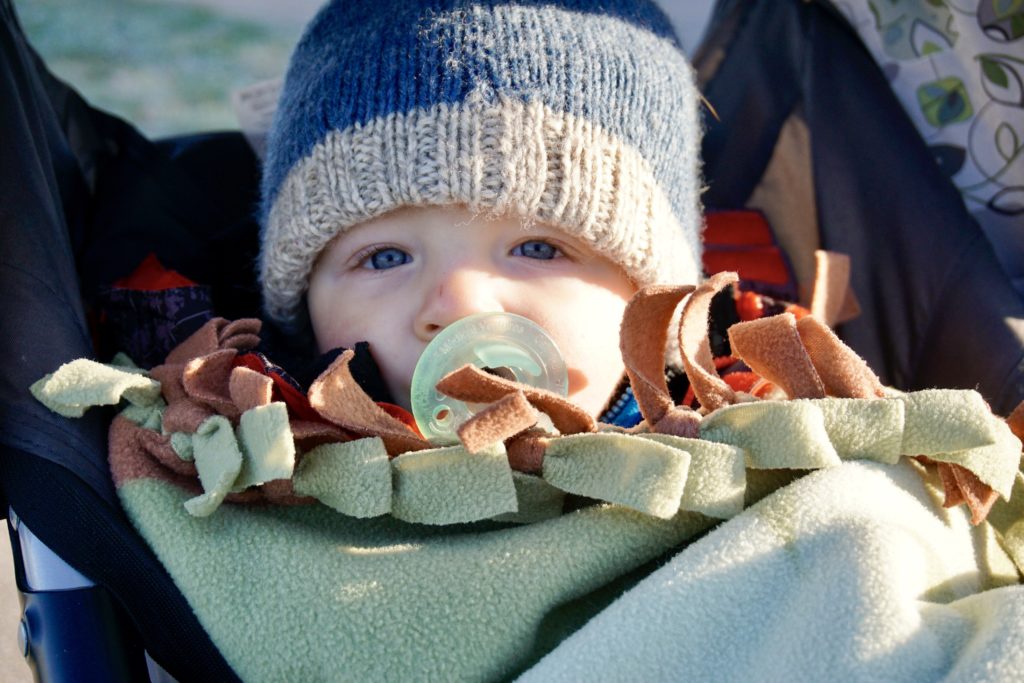 Since "the spectators" wanted to see both my Dad and I, they waited right at mile 1. My Dad ran by first..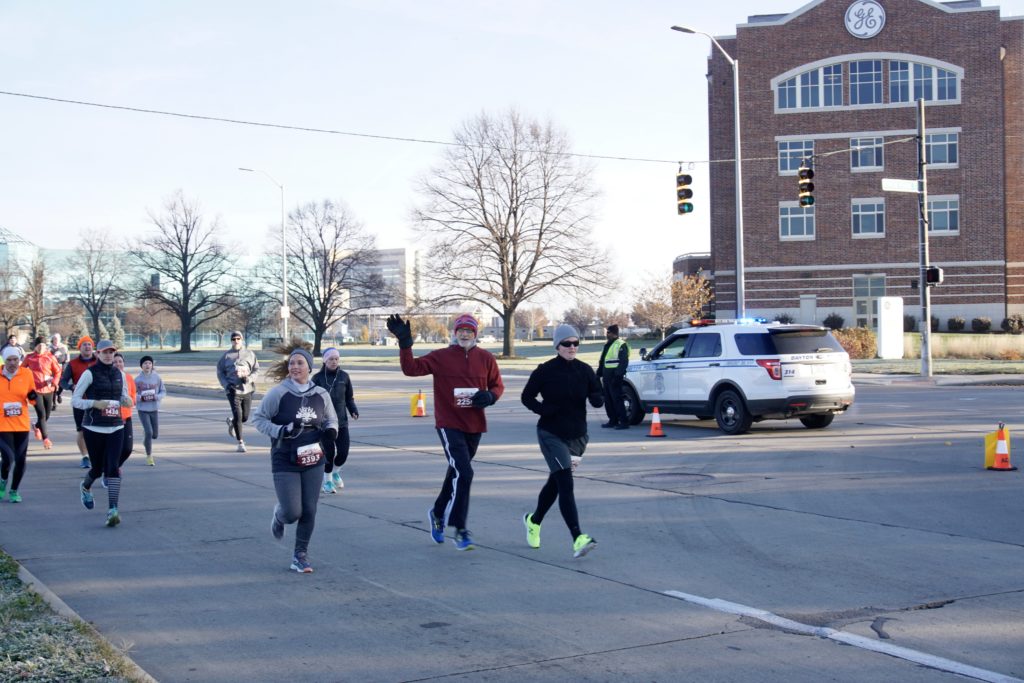 And then I came by! And lost a layer while I ran past.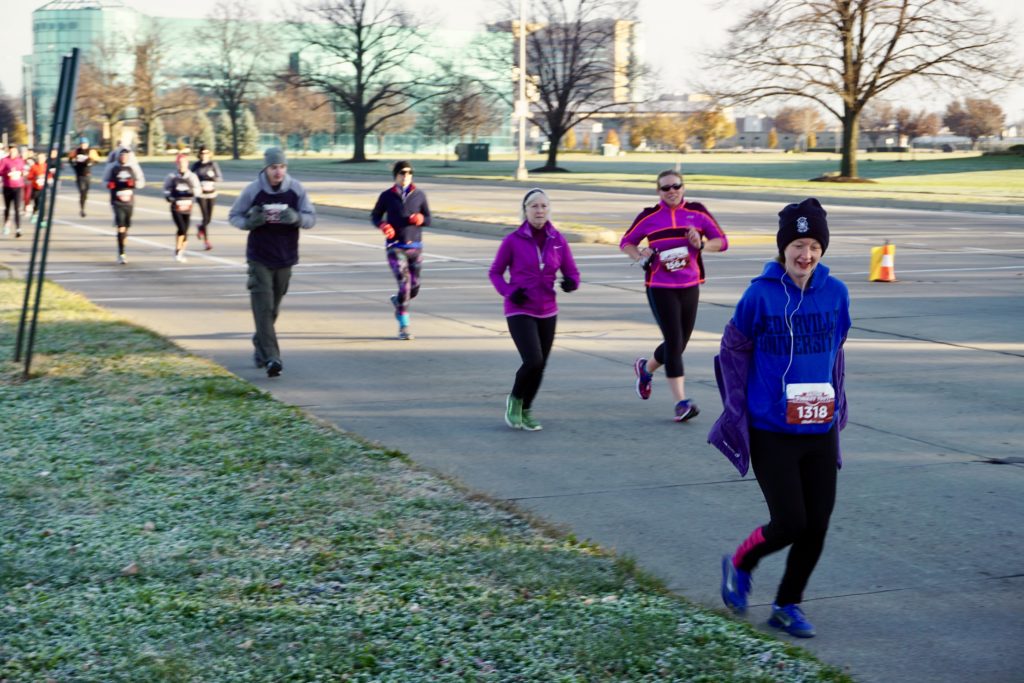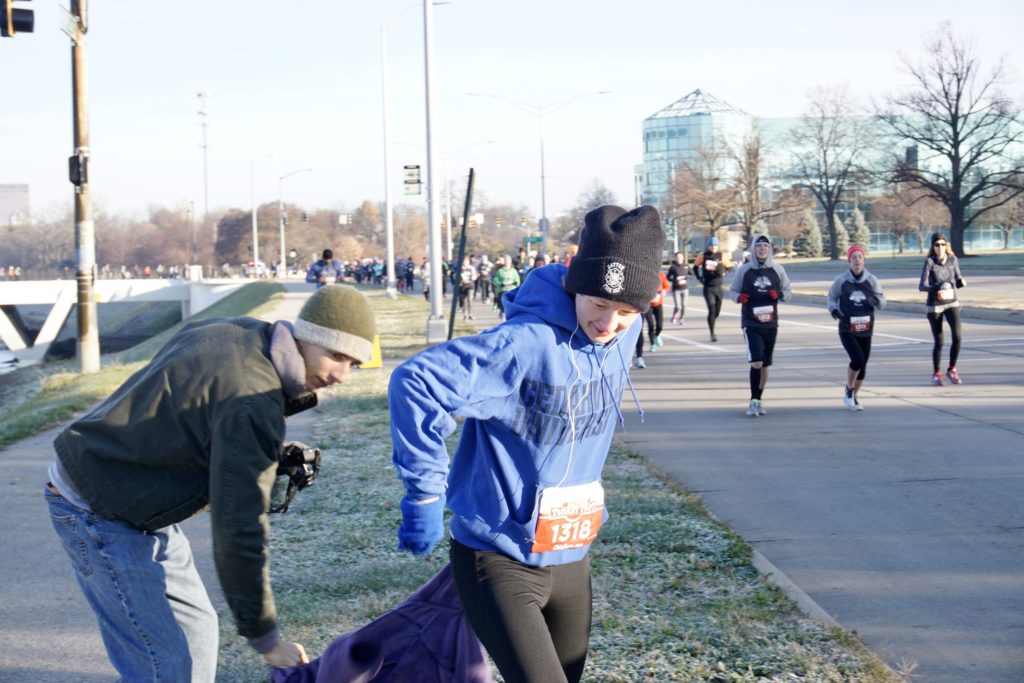 The race then proceeded to run along the bike path right along the river in Dayton. Honestly, the bike path was BORING. The river was really pretty, but there was no way for spectators to get to the bike path and therefore I saw TWO people (not including my family) cheering the entire 13 miles. The path was easy, with almost no hills so I did enjoy that. I also liked that the race was a there and back race, so at about mile 6 the front runners started to pass me going the other way. I always like to see who is in front and then when I turn around, see who is behind me. Lol.
Theo and my Mom with the kids were also at the turnaround point, but they were across a main road and all we could manage was a wave. Seeing them gave me a second wind for a mile or two. The entire race up until mile 8 I was running at a 9:45 min/mile pace. Around mile 9 I really started to slow down and struggled to keep my miles under 10 min.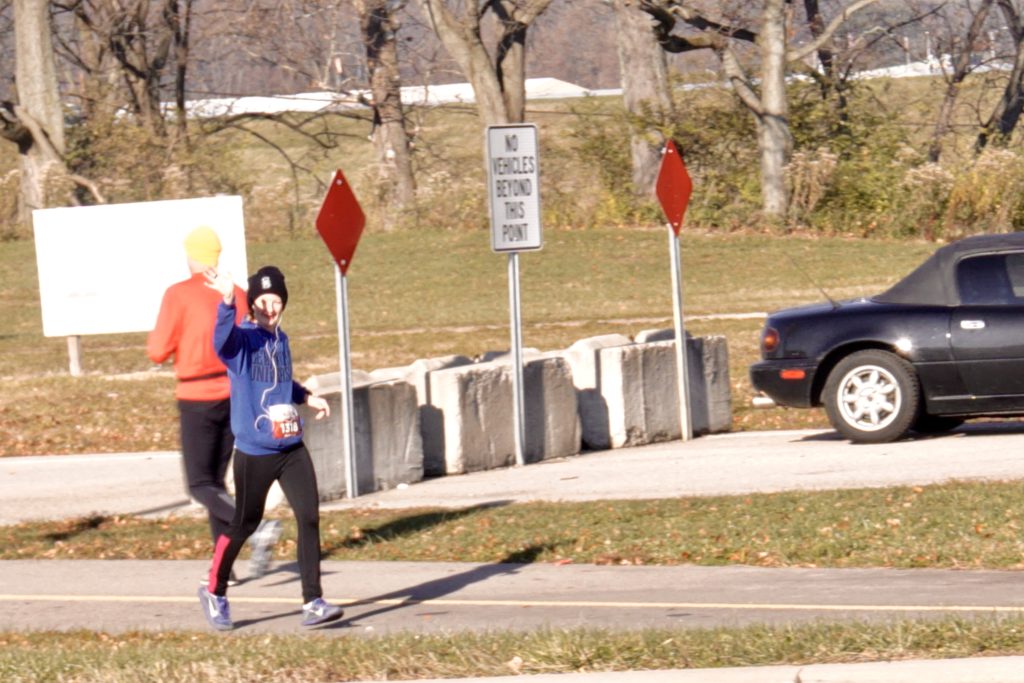 Meanwhile, the rest of the crew headed to the finish line to wait for me to finish. They were trying to get Kiah to take his first steps. No luck there. Also, no idea why Heavenly is laying on ground, but whatevs. You do you, kid.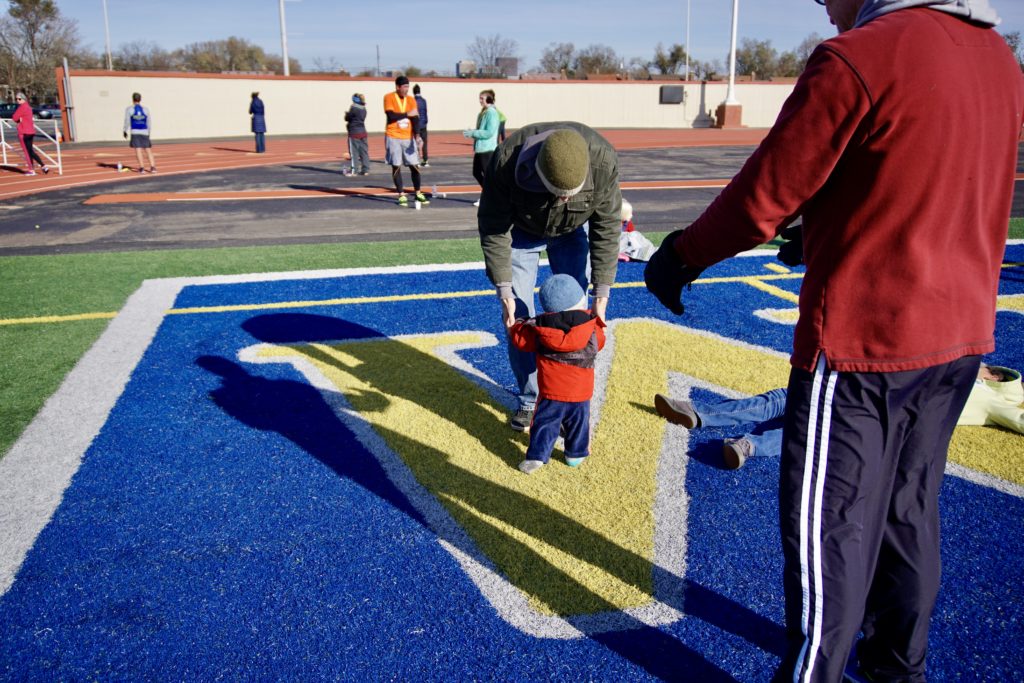 I finally passed mile 12 and picked up my pace just a bit until mile 13, when I spotted my Dad, Heavenly and Tera. I thought I was done but then I came around the corner and realized that I still had to run a lap of the track. TORTURE.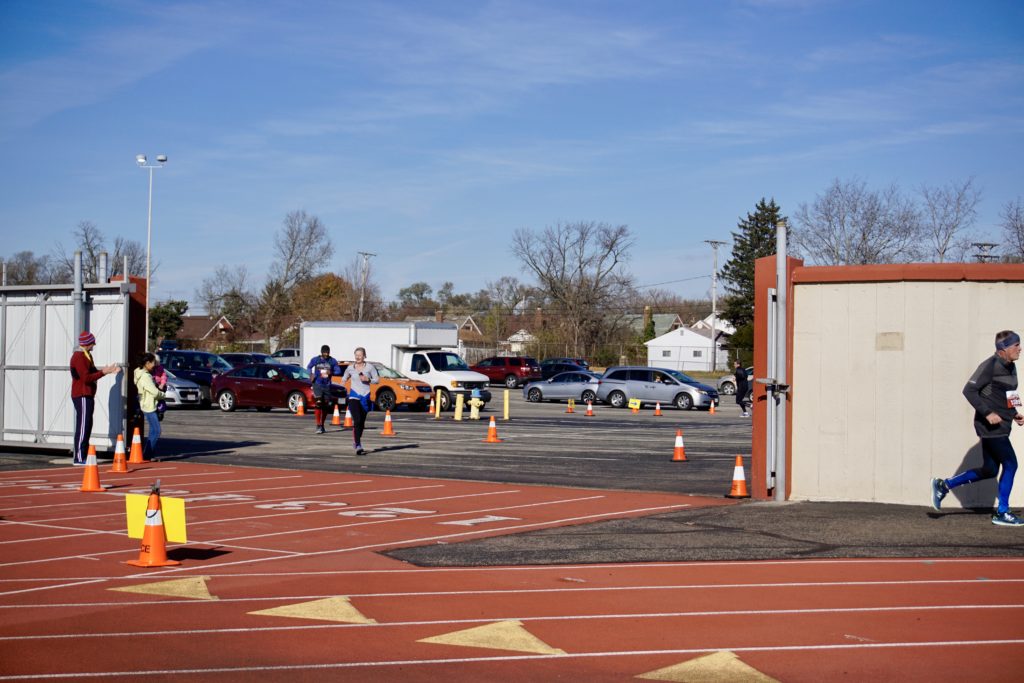 At that point I was at 2:08:30 so I had a minute and half to get my butt across the finish line in order to finish the 13.1 miles by 2:10 (10 minute miles). I pushed myself as hard as I absolutely could and even passed that guy in front of me in the above picture.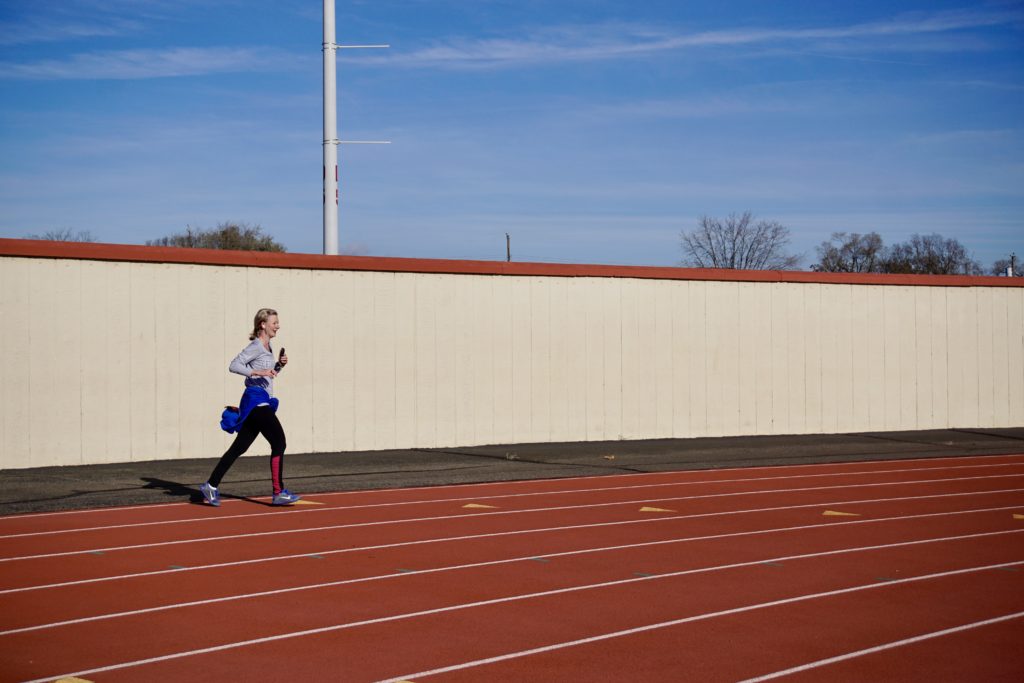 I finally crossed the finish line with a time of 2:09:15, which I was really proud of considering how little training I did the three weeks before! Tera came running right to me and everybody let out a collective AWWWWWWW.
Jokes on you, Mom…I'm not interested in YOU accomplishing a half marathon, I just want your cinnamon roll!!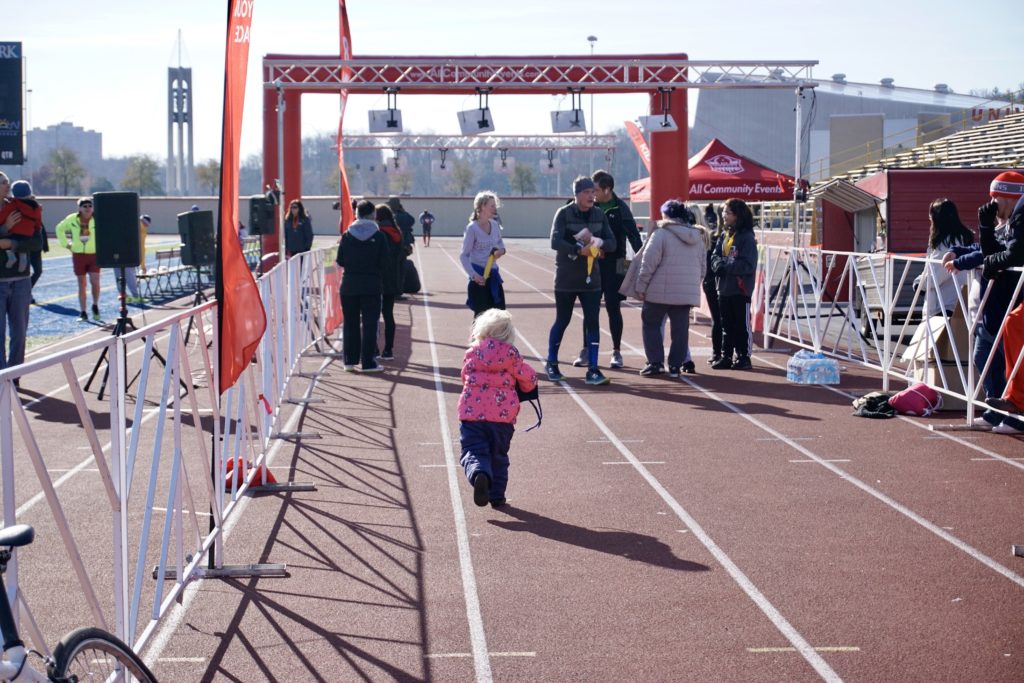 Ladies and Gentleman, don't be fooled….this right here is what a half marathon finisher looks like. #AllAboardTheHotMessExpress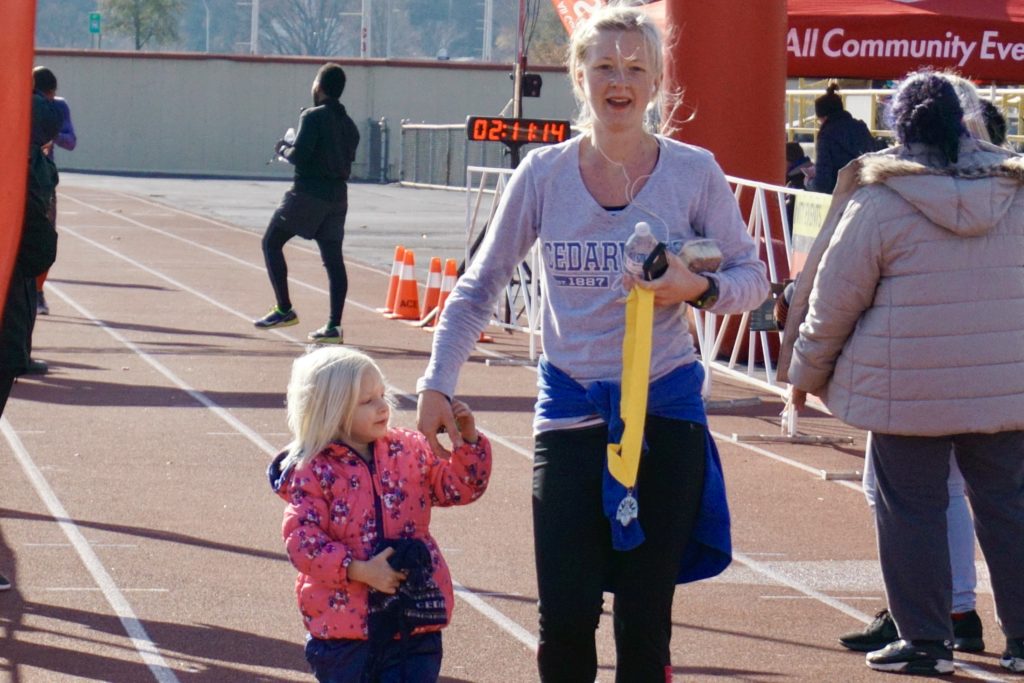 My girls came to meet me! Again, don't be fooled by the pretty picture…they were both asking me for some of my cinnamon bun, and they were both complaining about being cold and tired and I'm pretty sure someone said "Can we please go home now?" before I had even finished walking out of the chute. LOL. #MomLife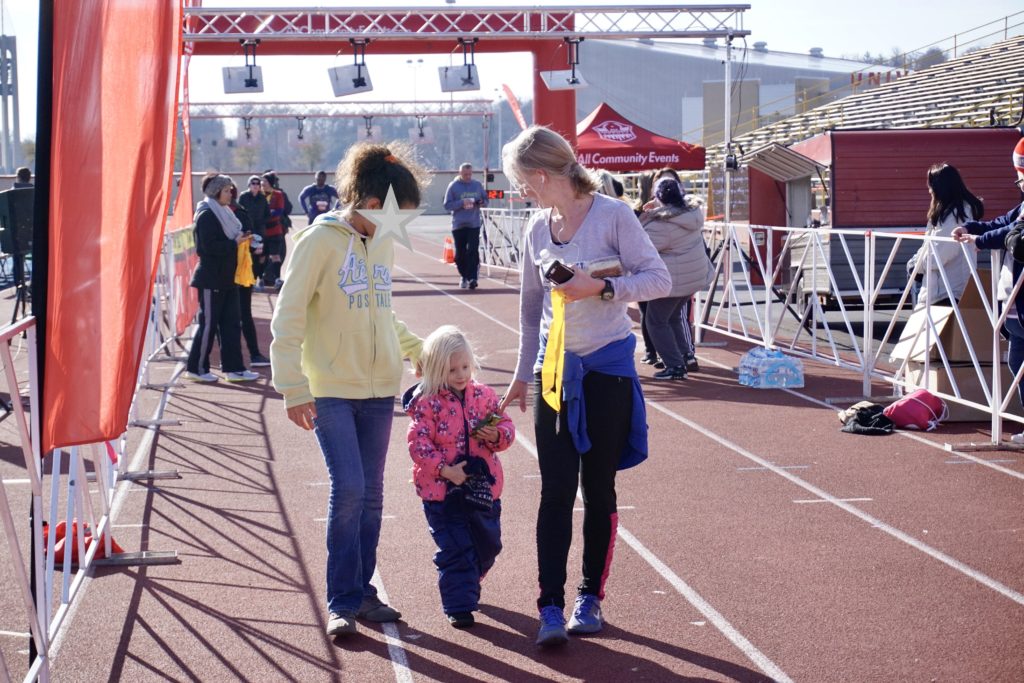 My cheering squad! Seriously, though…they were all troopers to wait out in the cold for me to finish. Also, the sun was shining very brightly so my Mom (taking the picture) couldn't see that Tera wasn't in the picture. HAHA.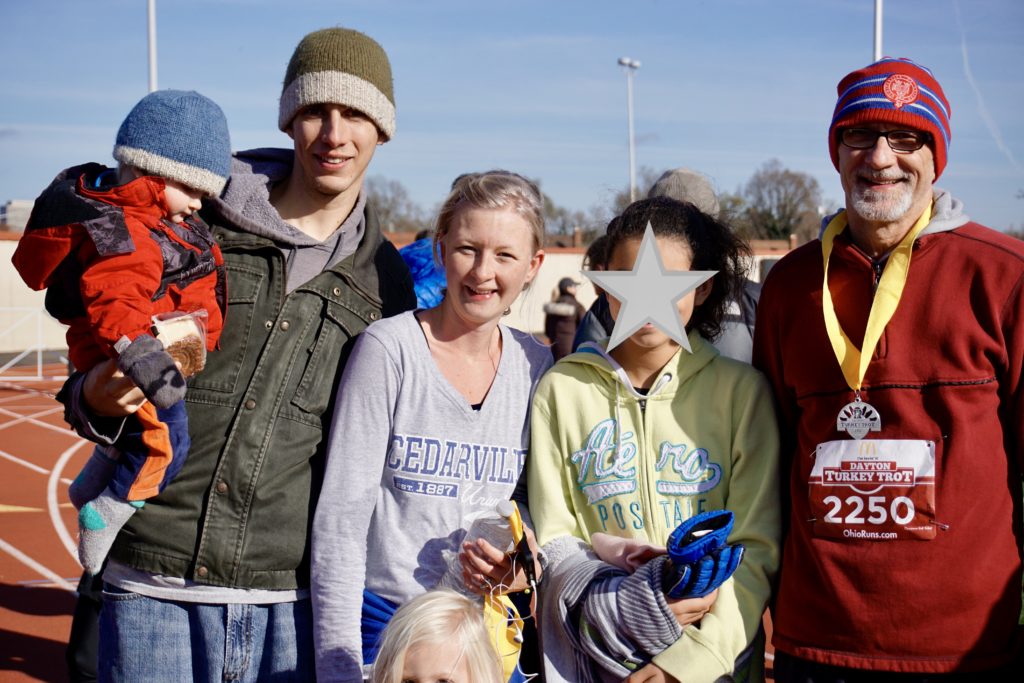 Finishers!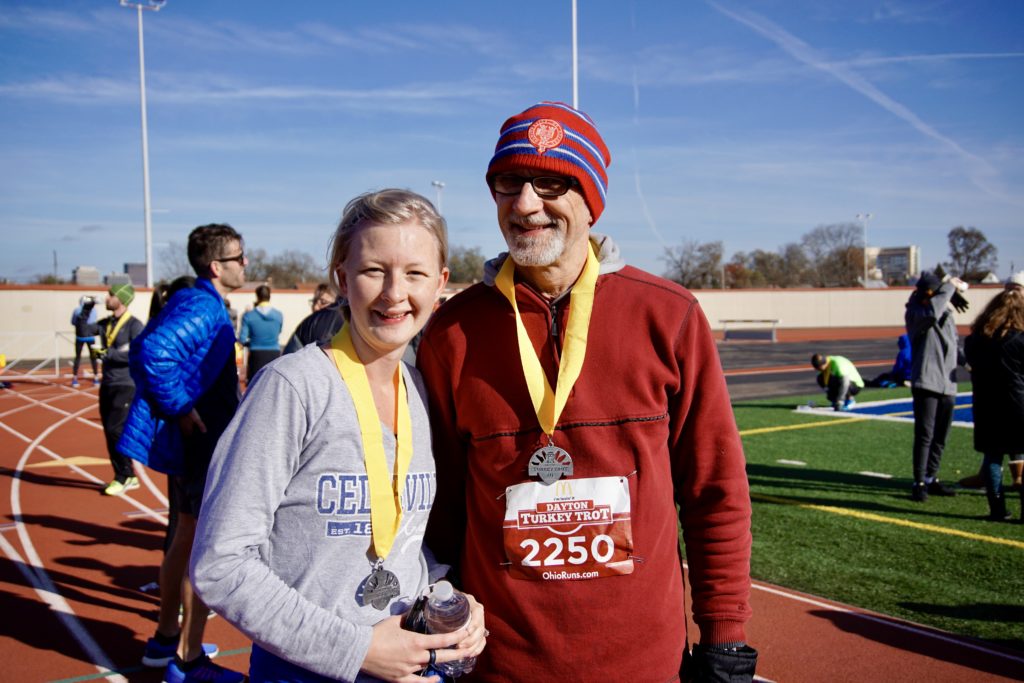 Finishing medal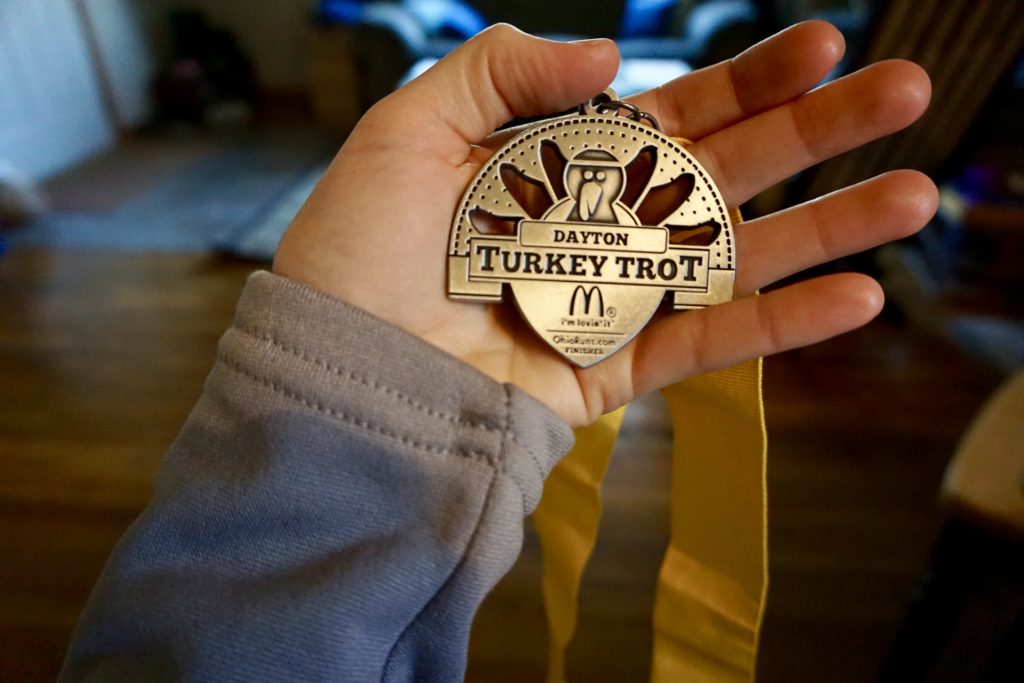 Now I can add it to my other medals!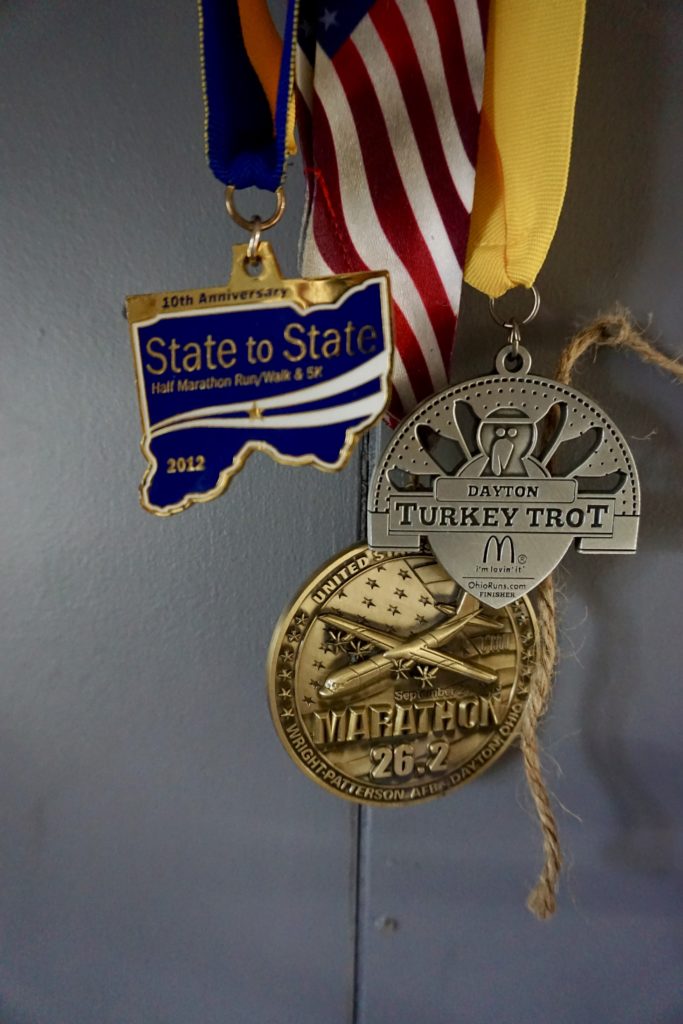 So, to recap, there were some pros and cons to the Dayton Turkey Trot race:
Pros:
So very cost friendly! With a nice medal and sweatshirt.
Local
Starts at 8:45 instead of some ungodly hour before the sun is up
Chip Timed
Water stations and porta pots along the course
Out and Back means I get to see the frontrunners coming back and I get to see the tail-enders on my way back (I like this in a race)
Cons:
A bit chaotic at the beginning (not disorganized, just chaotic)
No spectators and a fairly boring course
November can be COLD!