If you haven't read Part I of our trip to Houston, make sure you catch up here! I recapped our trip down on Saturday and Sunday, plus our fabulous day out and about on Monday. I'll finish the trip in this post and tomorrow I'll post a lot of little details like how we saved money, how we survived our road trip and how we found some awesome places to visit and sight-see!
Tuesday dawned bright and early and Theo was off to take a polygraph test for his job interview. Apparently, it lasted over four hours and was downright grueling. After he got back from that, we needed to drive to downtown to get his fingerprints done, so we decided to hit up some of the downtown sights that we wanted to see.
First, Theo went into to get his fingerprints done and I decided I would just wait in the car. Well, Theo took a little longer than we thought and I was roasting. I mean…full-on sun in our BLACK car. I was started to get nauseous and was mad at myself for being such a wimp, but our car was on EMPTY and I wasn't about to run the car/AC until Theo came back. I was dripping with sweat when he came back out and we were both rather frustrated with how the day at gone so far. We took some deep breaths and headed to The J.P Morgan Chase Bank Tower in downtown Houston.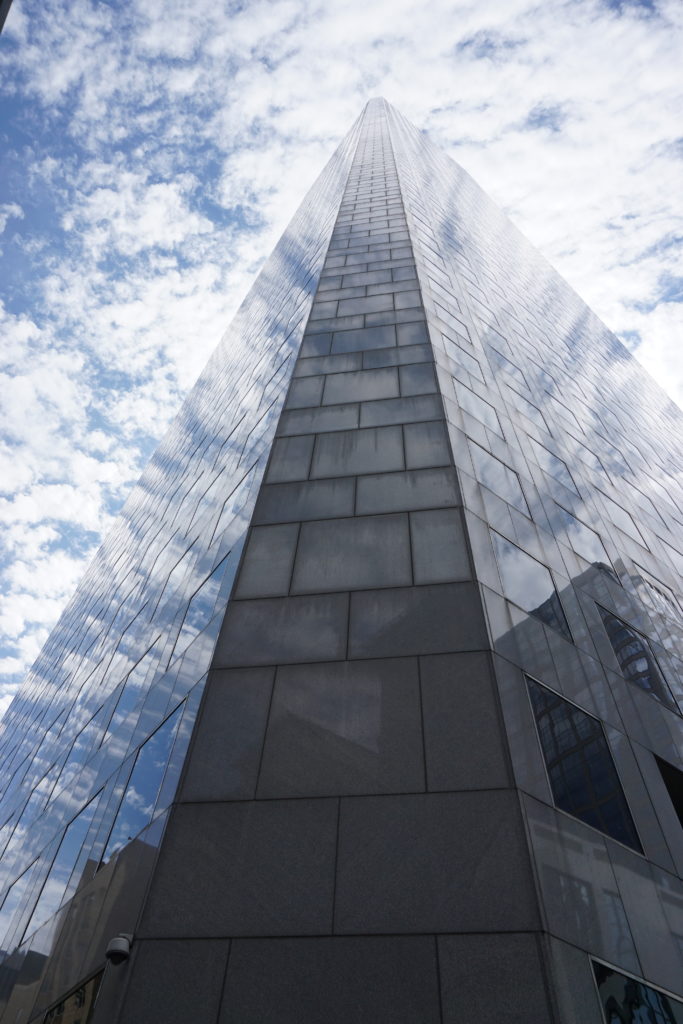 The tower is 75 stories tall, making it the highest building in Houston, and one of the highest in the United States.
There is a free observation deck on the 60th floor, which is open to the public during business hours (9am-5pm).
We also got a kick out of the fact that this massive, gorgeous building is owned/managed by a man with the same last name as us! Apparently the guy is the property manager for half of Houston. Ha!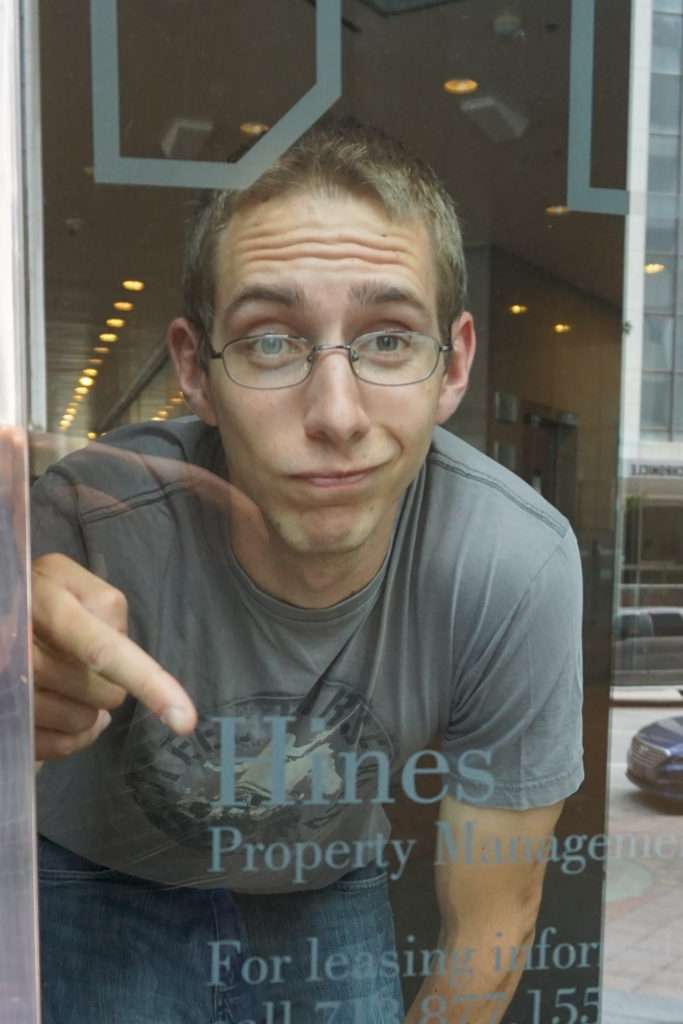 The observation deck was incredible! It turned out to be such a beautiful day, and we had an amazing view!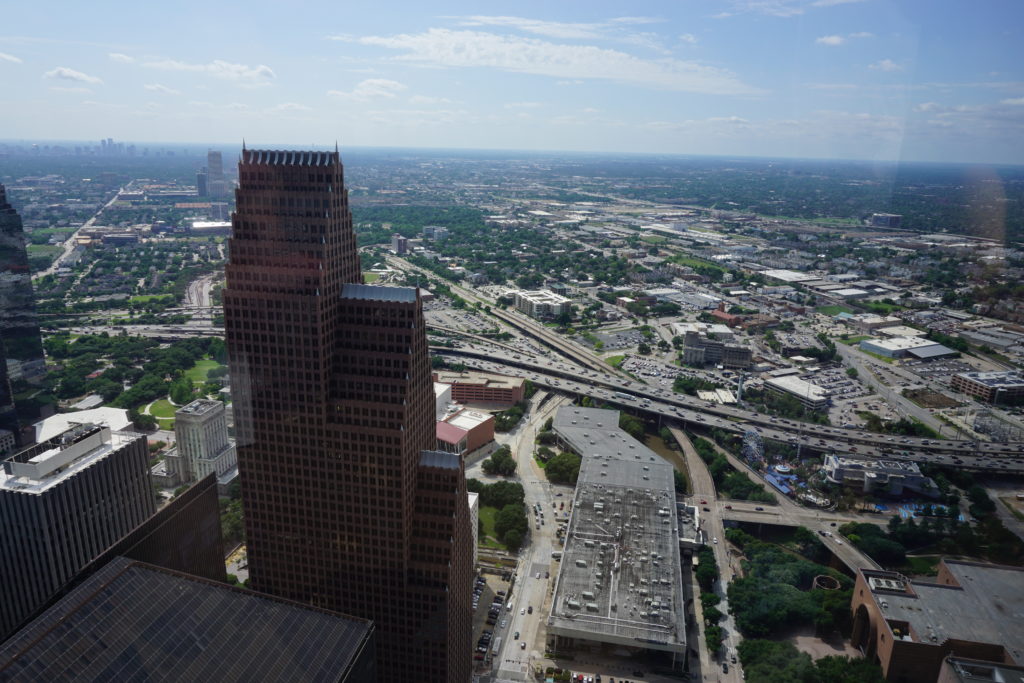 The elevators to get up to the 60th floor were crazy! There were at least 10 elevators that go from ground floor to the 60th floor, without stopping anywhere else. 10 whole elevators!!! I timed the elevator ride and it was about 40 seconds, and it was FAST. My ears were popping it went so fast!
The observation deck was really a room with glass windows all around. As soon as we got off the elevator, I felt like I was in a museum. It was quite and peaceful and simple. It really encouraged looking at the wonderful view!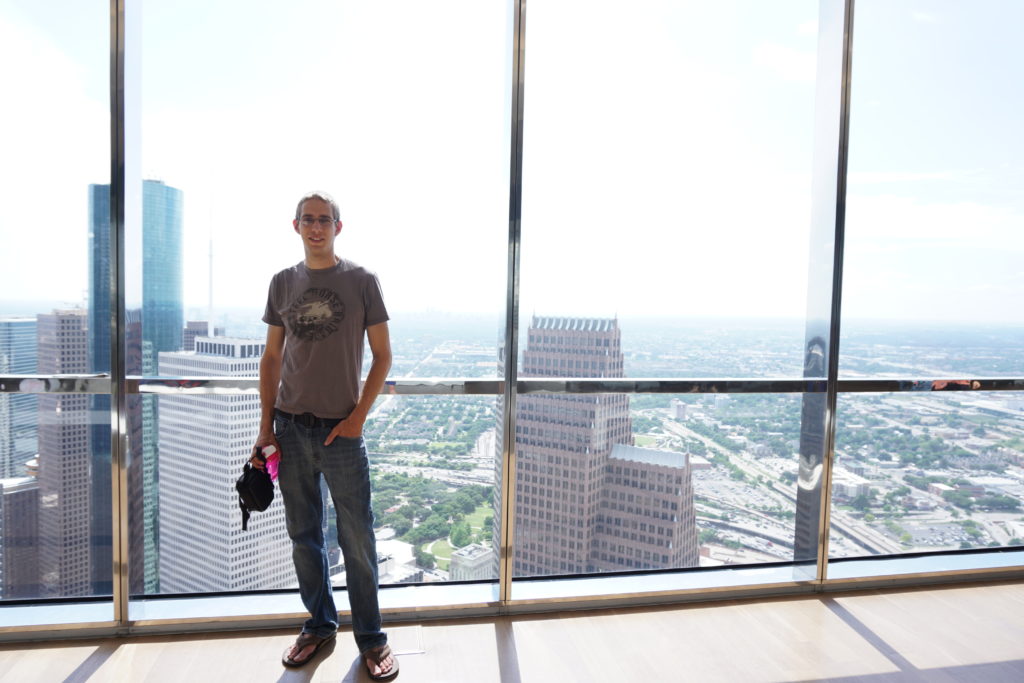 Of course, there were a handful of other people up there and it did take a little bit of work to make sure that we didn't get anyone else in our pictures, but since it was a Tuesday afternoon right before closing, it was not crowded at all!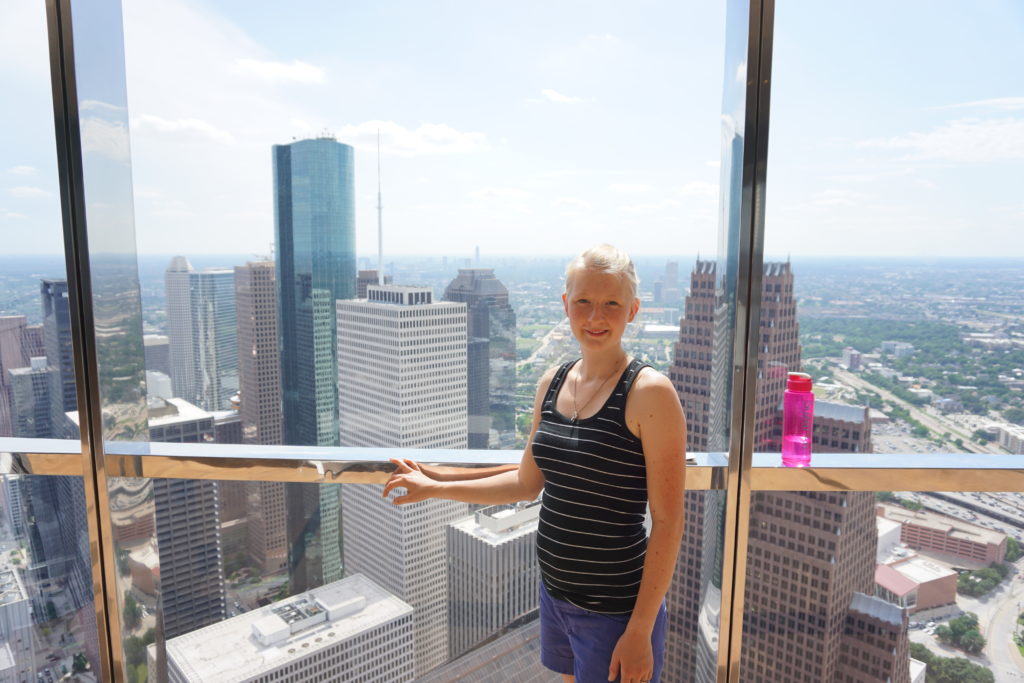 The obligatory pregnancy picture. 17 weeks with a view Houston, TX. This picture will have to go into the baby book! Oh, wait…second child. Do second children even get baby books? Haha.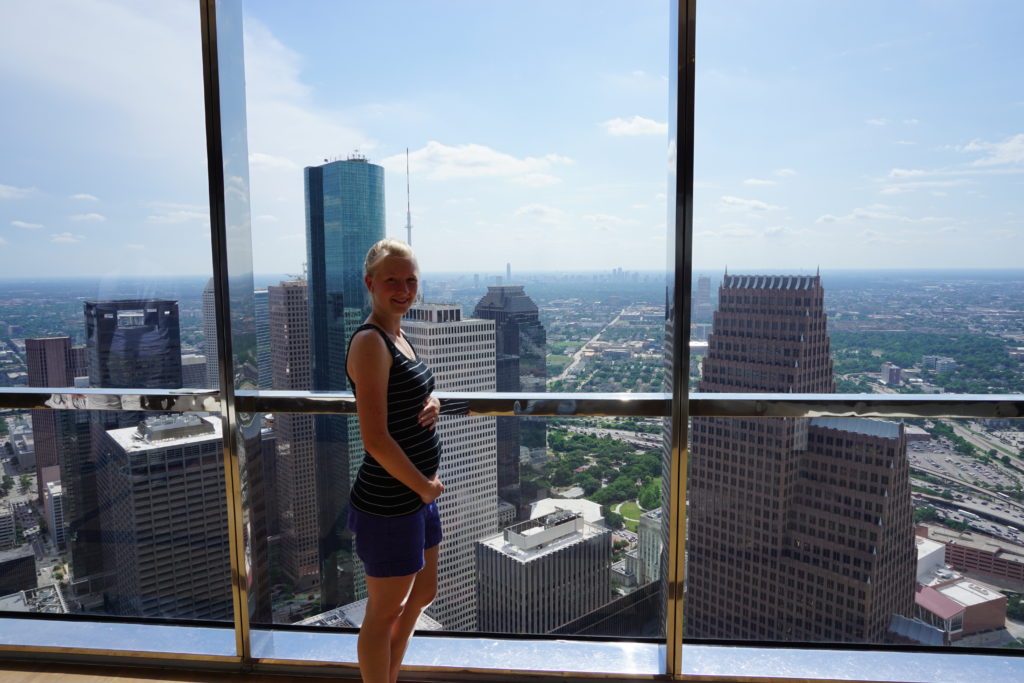 We had a stressful morning, but this observation deck was so peaceful and calming!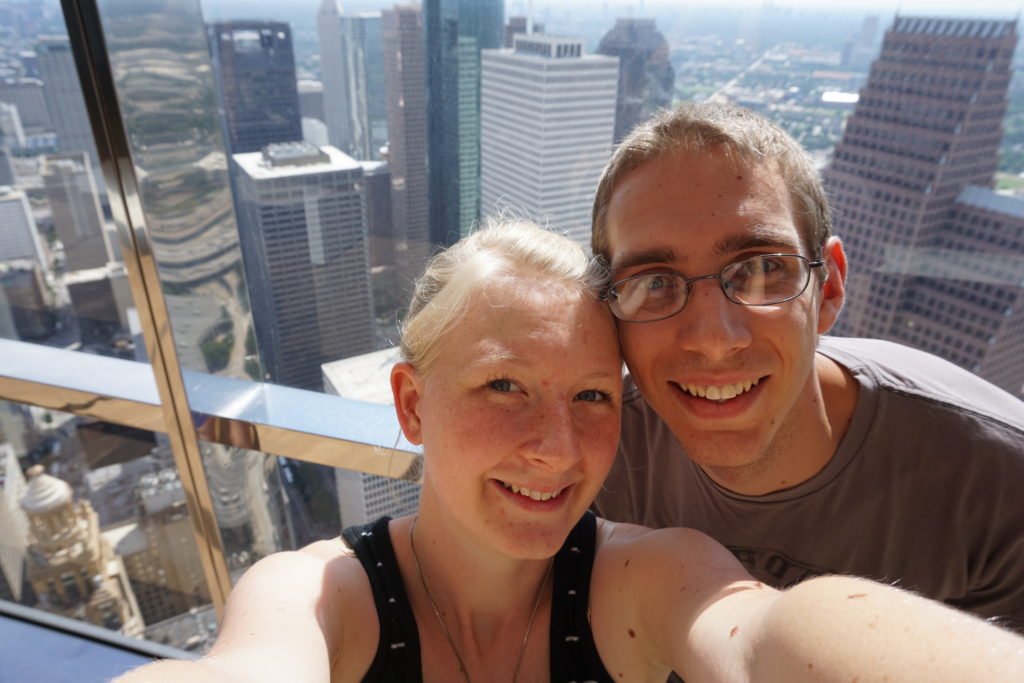 After zooming back down to the ground floor, we skyped with Tera (the building had free wifi!) and I used the restroom. I was NOT impressed. For such a nice building, the restrooms were about what I've seen at some truck stop bathrooms. They were also really, really hard to find so I think that those are simply the "public" restrooms, and the rest of the building has nice ones.
It was only 5 pm, so we decided to head to Kemah boardwalk with the rest of our evening. Kemah boardwalk had been highly recommended to us and we also really wanted to see the Gulf!
As we were getting in the car to drive off, I noticed Frank's Pizza. This had actually been one of the restaurants on our list, and since they had pizza by the slice we decided to stop and grab an early appetizer there.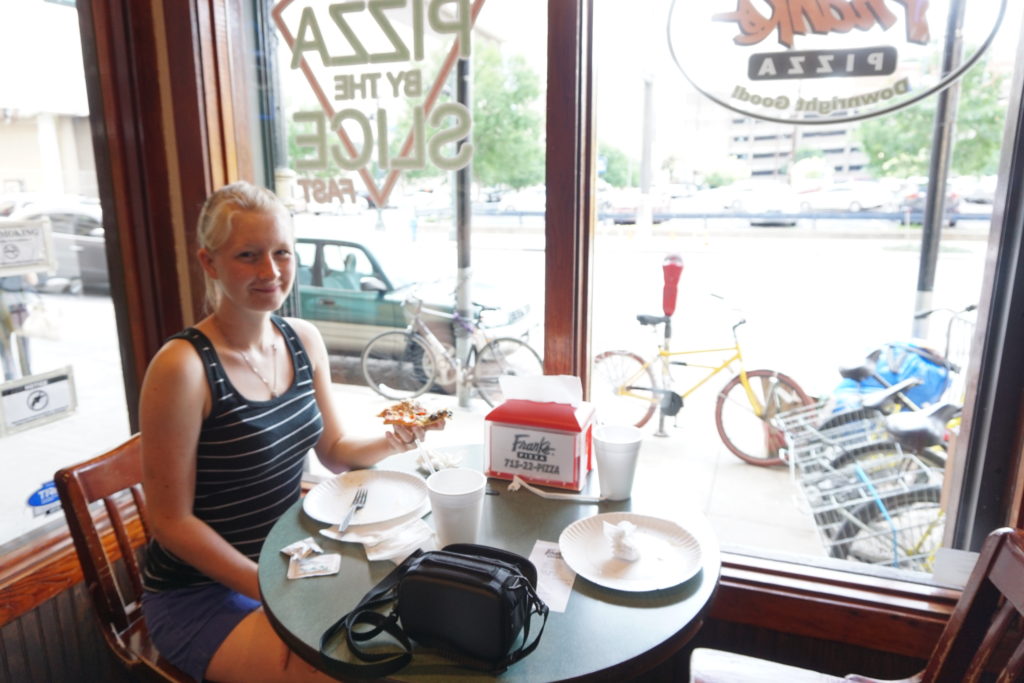 The pizza was fabulous, we loved this little window table, and the price was great! It was also so nice to be able to buy just one slice of pizza.
Frank's Pizza is literally right outside the JP Morgan Chase Tower, so that was really convenient!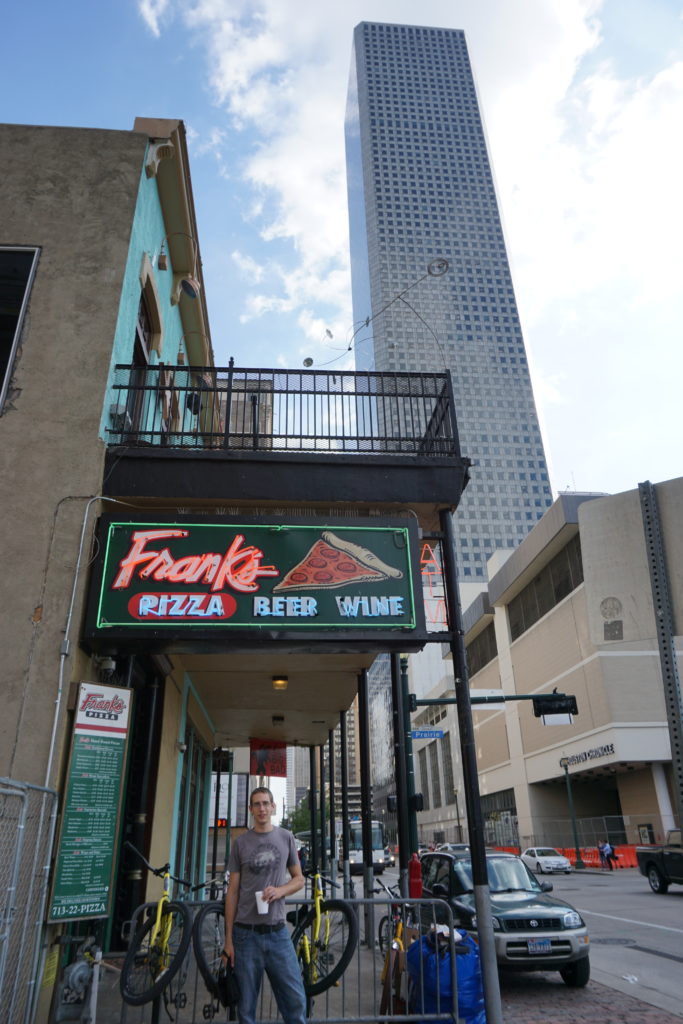 Now, onto the Kemah Boardwalk!
It was about an hour's drive from where we were in downtown Houston, and of course we hit rush hour traffic so it took a little longer. We enjoyed the drive and were getting excited to see the gulf and some super cute houses, as well as a little amusement park. We got there, parked, and started to walk around. We kept asking each other, "where's the boardwalk?" Every bend we went around, we expected to see a beach with a boardwalk crowded with people, business and food.
Um, nope.
This, my friends, was the entire Kemah Boardwalk.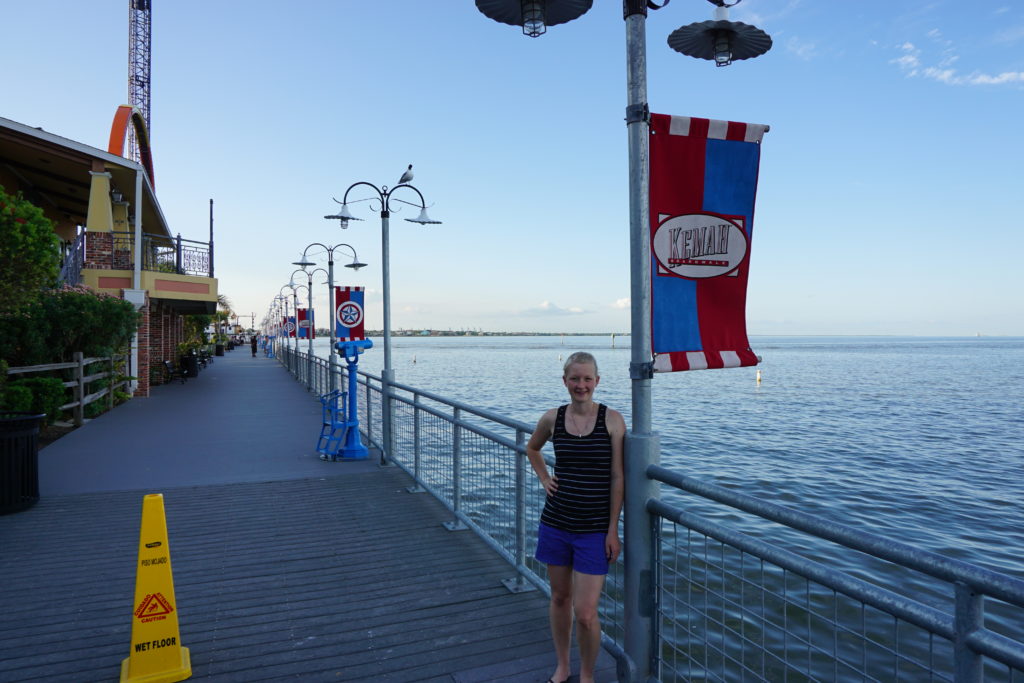 Ok, so granted it was fairly nice. But it just wasn't what we were expecting and we were bummed that we drove an hour for it. There was a little amusement park that had fairly affordable prices, but just watching the rides made me want to puke, so we skipped out on that. They had some food trucks/ice cream stands, but they were all CLOSED at 6pm on a Tuesday. We were really confused, and figured that things were really only happening on the weekends. But the amusement park was running, so that didn't make any sense.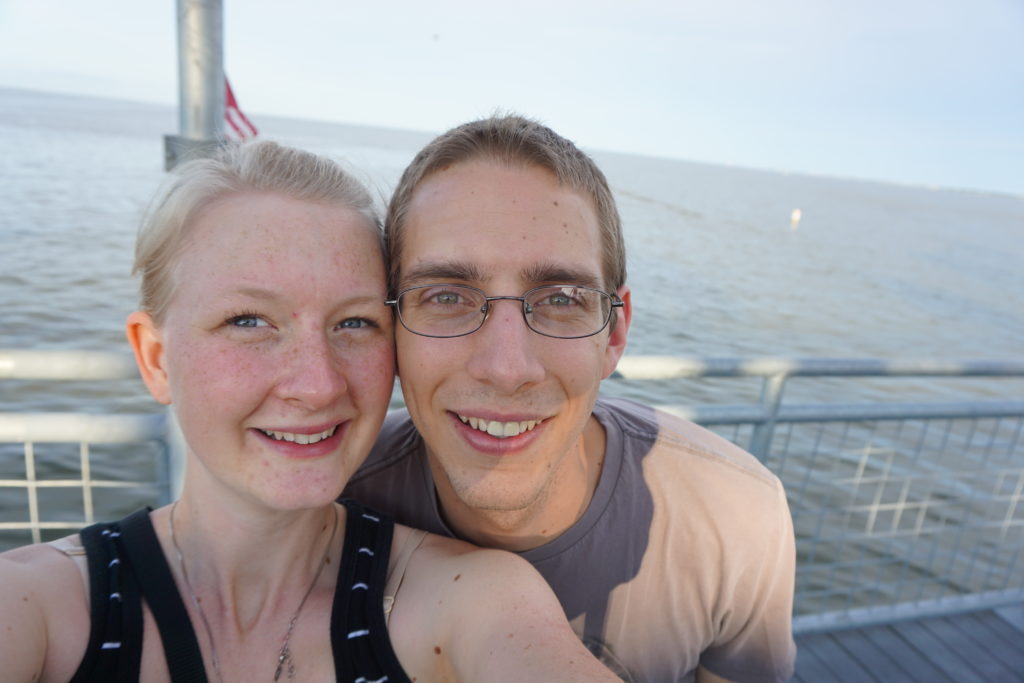 We took some pictures and watched some boats coming in and out from the gulf.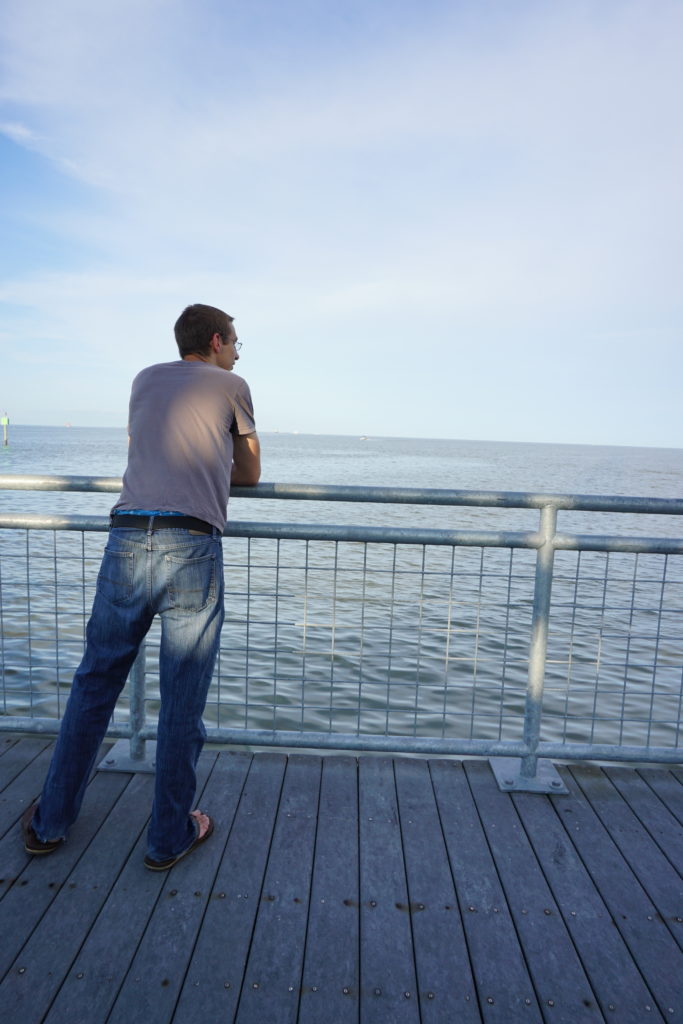 We were hot and frustrated and just wanted some ice cream, for the love…but there was none.
So we re-evaluated and decided to walk around the town a little bit. We didn't spend a lot of time walking around, but we walked along the road that has all the residential beach house. Um, WOW. I cannot imagine living in one of those homes, or even vacationing there. BEAUTIFUL! And so much character. It was such a quaint little town and there were tons of restaurants. I wasn't feeling well, so we decided to head back to our hotel and just get some food on the way.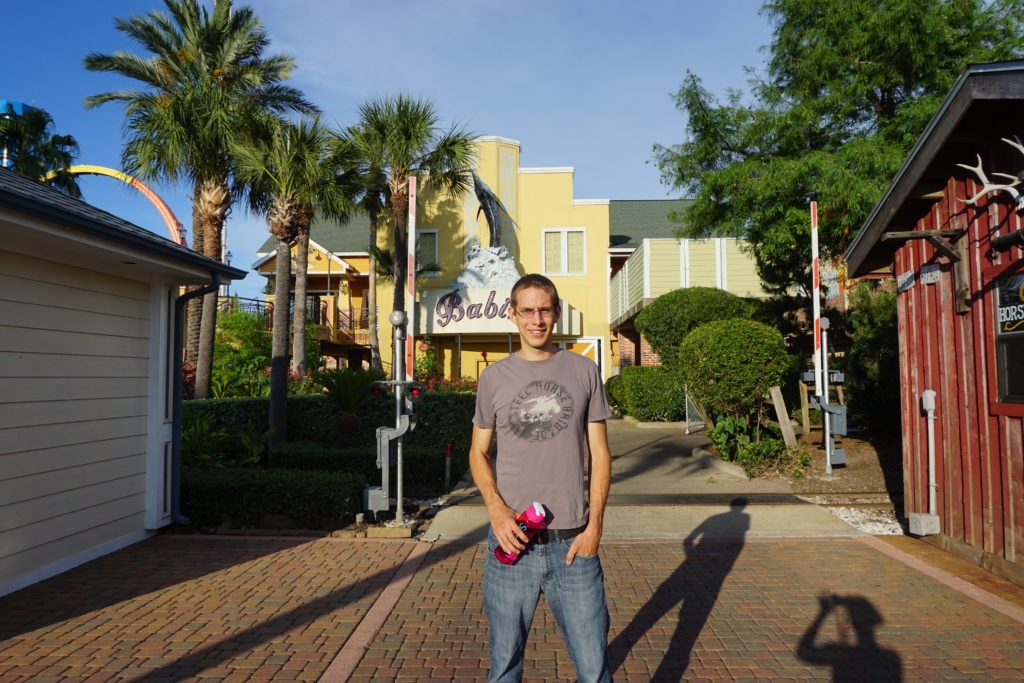 We ended up getting back to the hotel without any food and we were both so exhausted that we didn't feel like going back out. So we ate some snacks and crashed early again.
The next morning Theo had to leave early again, but this time he was able to come back to the hotel by 11 am! We were so happy for a whole afternoon together, and we were excited that it wasn't raining and the sun was even trying to peek out of the clouds!
We decided to do fast food for lunch, and I had heard lots of people rant about Texas Whataburgers, so we decided to eat lunch there!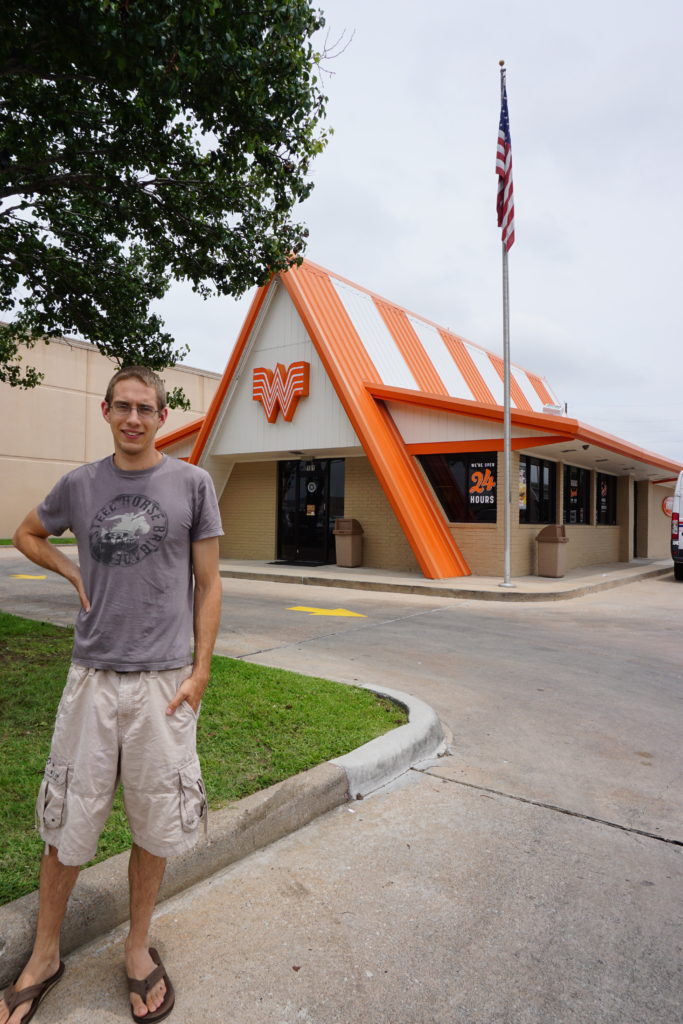 Apparently, they have the best burger, the best fries, the best chicken and gravy and the best cinnamon rolls. Eh, I don't think I can agree with all of the above, but it was a delicious meal! We both got burgers and they were pretty big. Theo said the fries were as good as McDonald's fries (he LOVES McDonald's fries). Later, we decided to stop at another Whataburger and I got a cinnamon roll. It was good, but nowhere near as good as those super gooey Cinnabon ones! So, Whataburger…I'd eat there again, hands down! But I'm not going to tell someone they NEED to get a Whataburger.
After lunch, we headed to AutoZone to buy some new brake pads for our car. During our long drive down, our car had started making some pretty scary noises. Based on where the noise was coming from (back right wheel), Theo deduced it was the brake pads. He also knew how to change those. AND, he had the ONE tool that was needed to get the job done.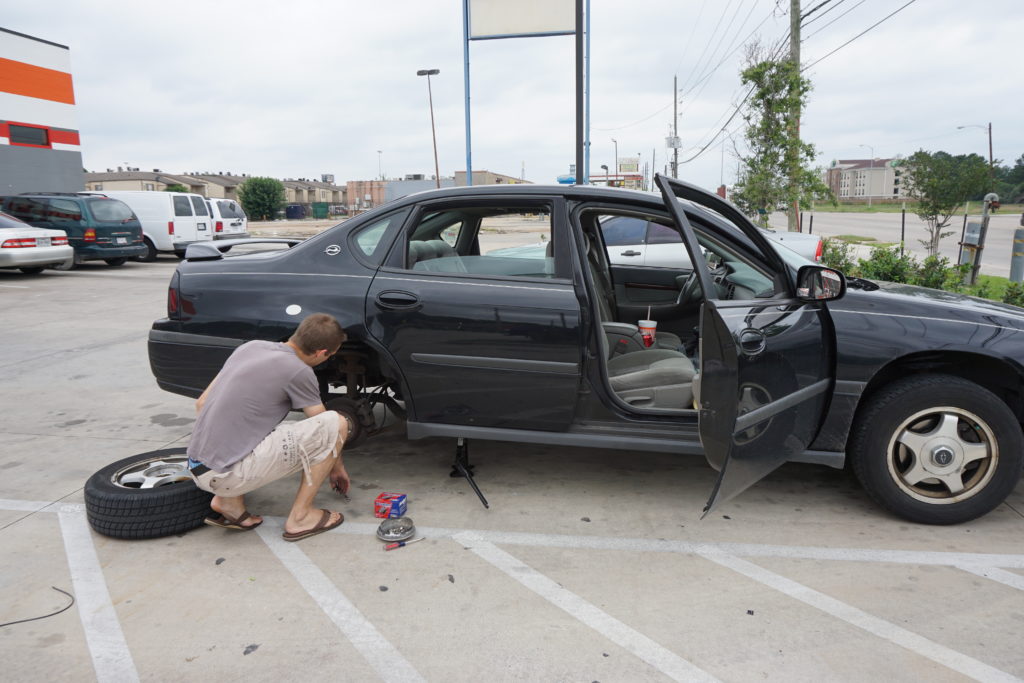 I sat in the car and read my book while Theo worked away.
This, my friends…is what was making loud noises. The brake pad on the left is a brand new brake pad. The one on the right was the right rear wheel brake pad #yikes!!!!!!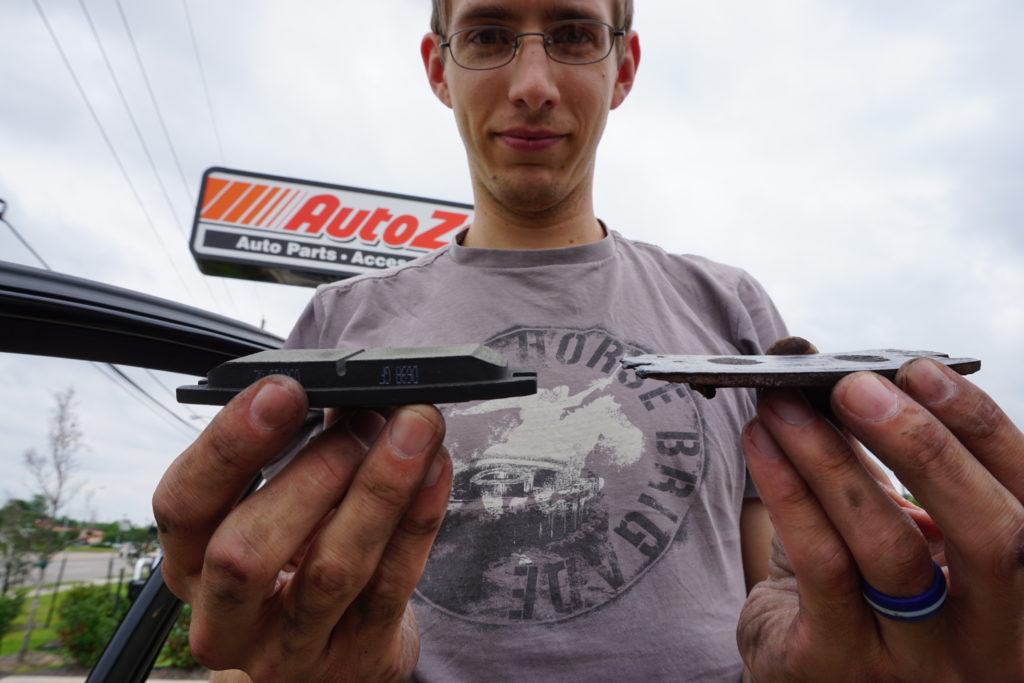 After Autozone, we really just needed a chance to chill at the hotel..together. I spent all of my mornings sitting around the hotel room, but Theo had yet to have a relaxing afternoon. The sun was trying to peek out, so we headed out to the pool.
I think I packed 6 swimsuits, and this was the only time I even put one on. Haha.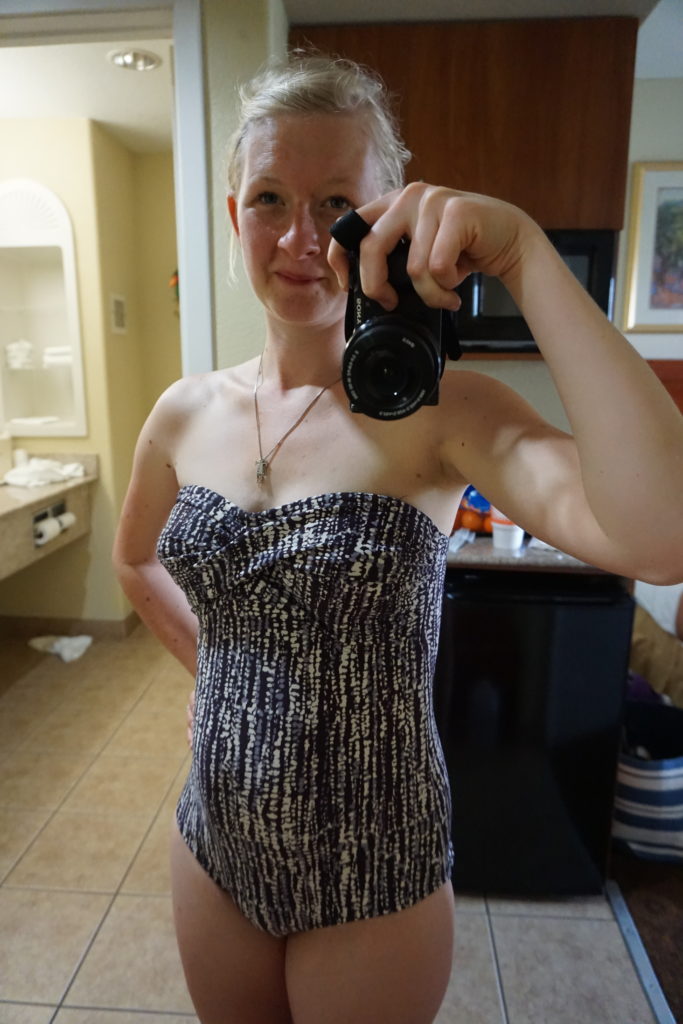 Spoiler alert: the sun did not come out. But at least it wasn't raining!
For dinner, we looked up authentic Mexican restaurants close to our hotel. We ended up choosing Los Campesinos (it doesn't have a website!). All the reviews were fabulous, and we were not disappointed!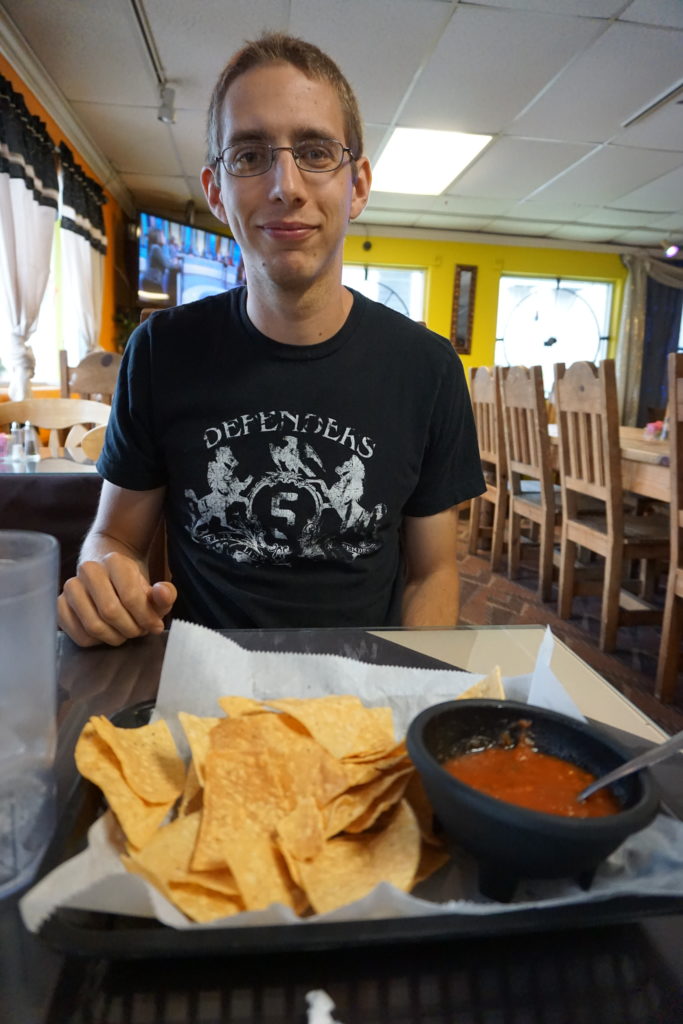 Everything was homemade. The chips, the salsa, the tortilla's.
I had already had a coke for lunch, and I was planning on just drinking water at dinner, but when I saw that they had Mexican coke in a bottle, I HAD to get me one!! It made me feel so at home!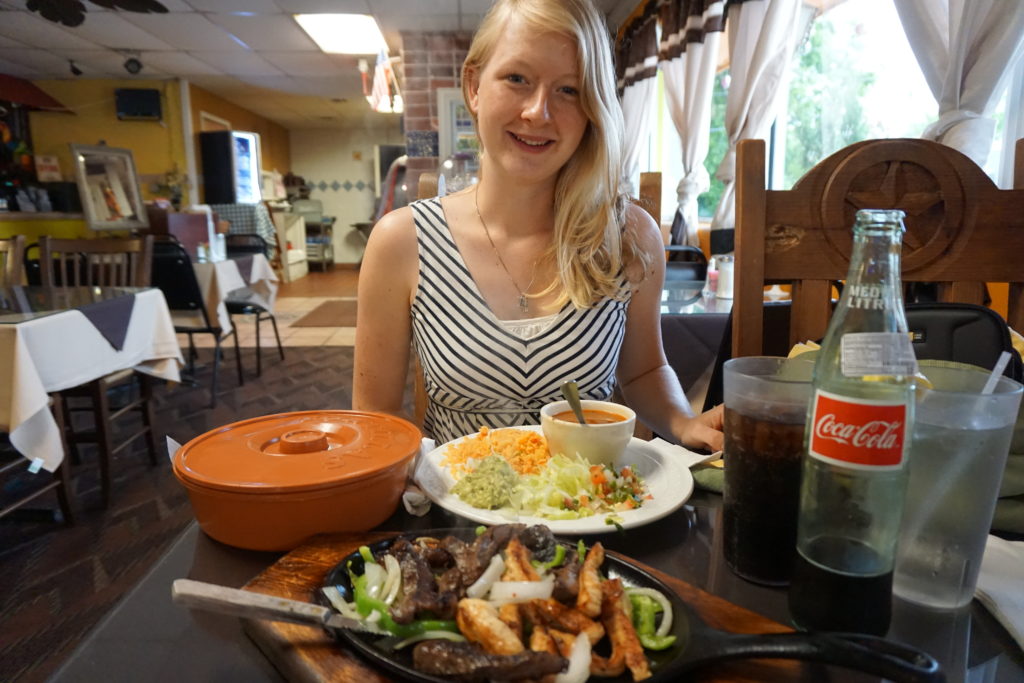 It was delicious, and we most certainly would have gone back there if we weren't leaving the next day.
Thursday morning, Theo woke up early and finished up the final portion of his interview process. Checkout was at 11, and at that point we still weren't sure if we would leave Thursday noon or just wait until Friday morning to hit the road.
Theo got back to the hotel around 10, and we decided we were ready to hit the road and get back to our girls.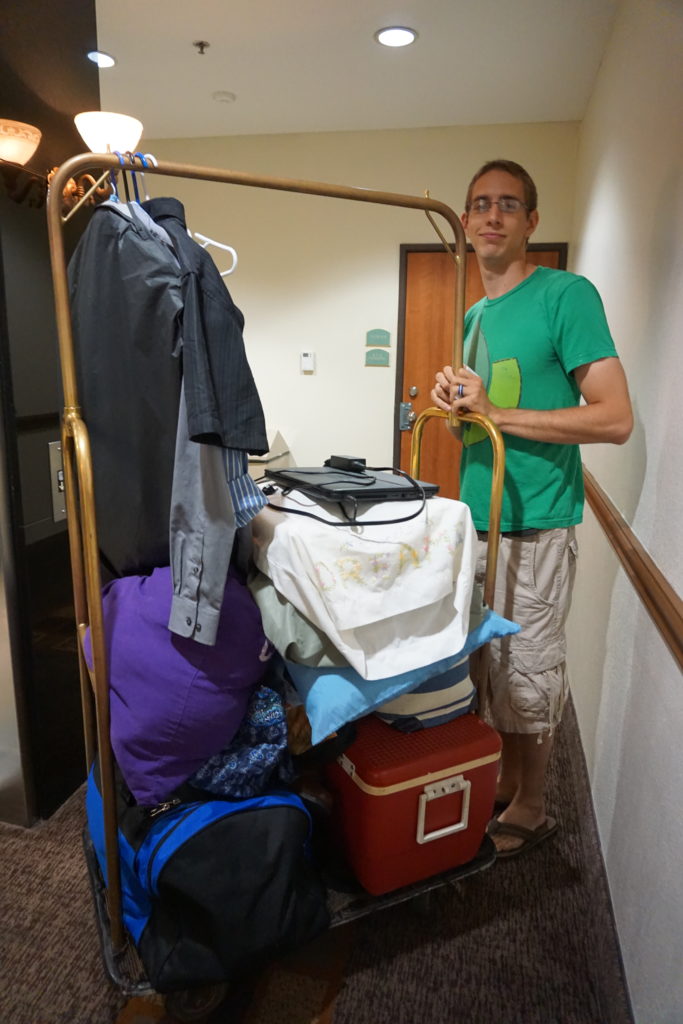 We left Thursday at noon Central Time, and began the 17 hour drive. The raindrops started to hit our windshield as we pulled out of the hotel, and it didn't stop raining almost the entire trip.
We stopped at one gas station in the middle of nowhere Arknasas (10 hours to go!), and they had this "pet" dog there. He was a stray and always hung out looking for handouts but one lady told us that he wouldn't let anyone touch him. He was the strangest dog I've ever seen, and looked like a very distinctive mix of 3 or 4 different breeds. I realize that is usually called a "mutt", but look at his appearance! He has some daschund, something with HUGE paws, and some Rottweiler maybe? He was a strange and beautiful creature and it was nice to add a little excitement to our otherwise boring trip!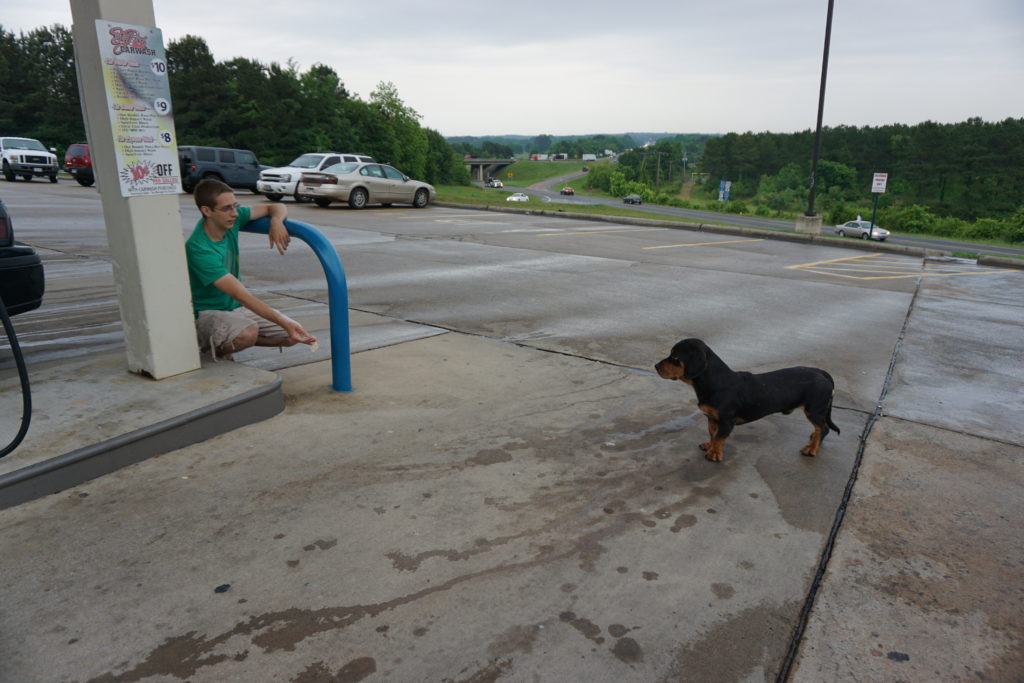 Reuniting with Tera was…fabulous. She had no idea when we were coming back, but as she as she saw us drive up, she yelled "DADDY!" and just started running! Yes, I cried. Little Miss was with her relatives for a few more days, but as soon as Tera hugged Theo and I she asked about Little Miss (she said her name over and over. I'm pretty sure she thought we had left her and taken Little Miss with us, poor thing!). She immediately clung to us and wouldn't let go! It was the sweetest thing.
After picking Tera up, we had about 40 minutes to get back to our own home sweet home. We had let Tera's babysitters borrow our truck while we were gone, so we were driving two separate vehicles. About 15 minutes down the road I noticed that Theo had a flat tire. I mean…a FLAT tire. The tire rim was riding on the road. I gestured for him to pull over and we pulled off to the side…but barely. We were on the busiest section of road and it was scary!
…not to mention that it was pouring.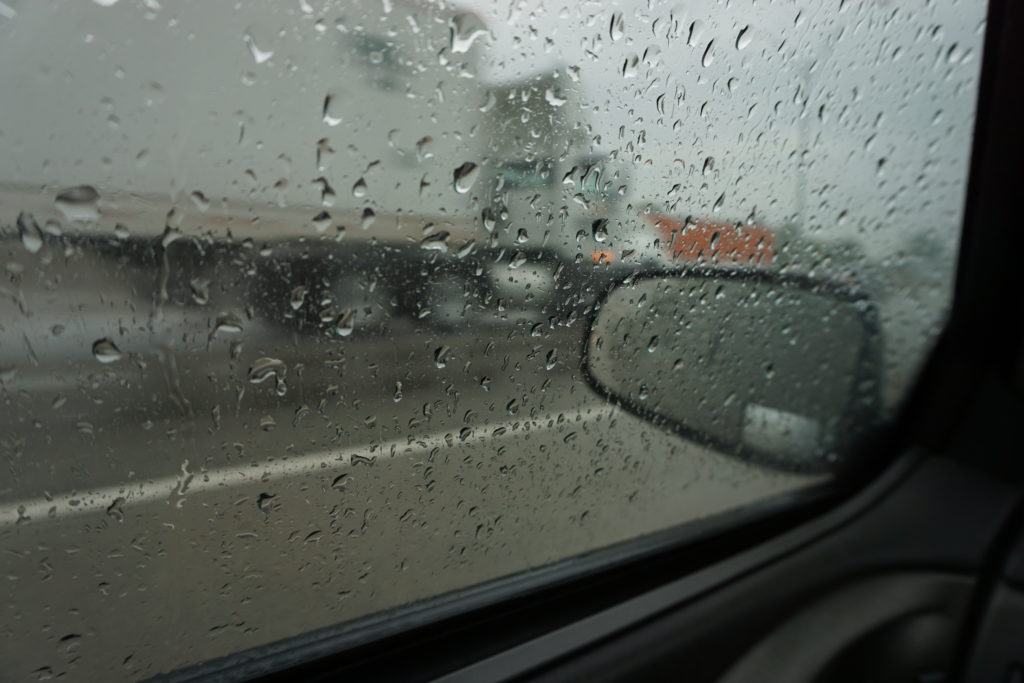 Tera and I hung out in the car while Theo changed the tire. Can you tell I hadn't showered in two days and had been in the car for over 30 hours?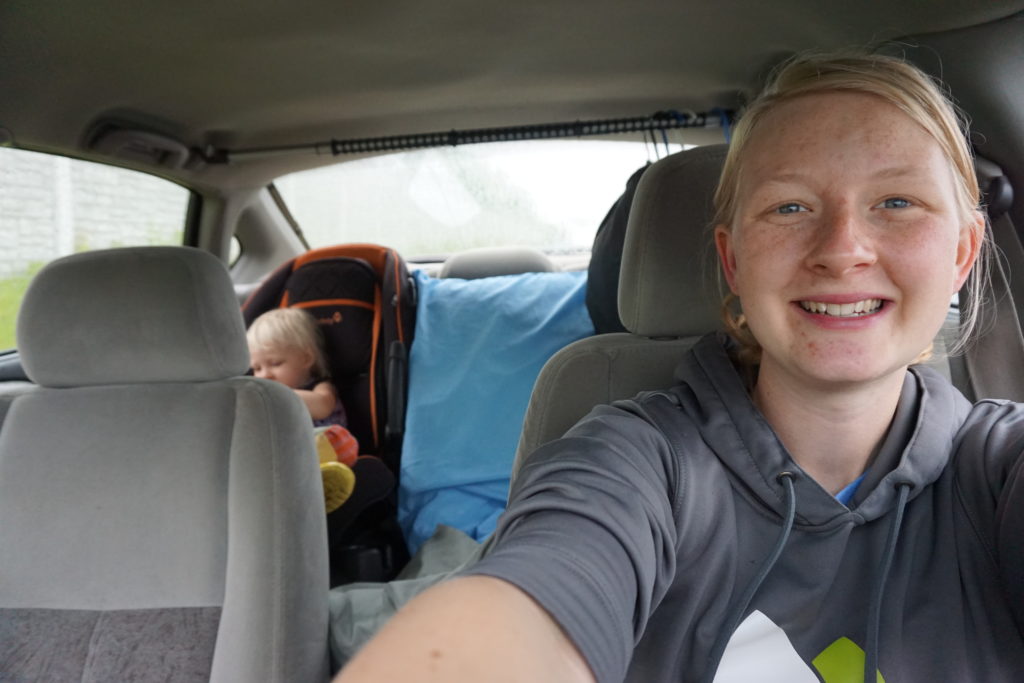 It was so good to be back in our home with our sweet Tera-girl. She would not let go of us!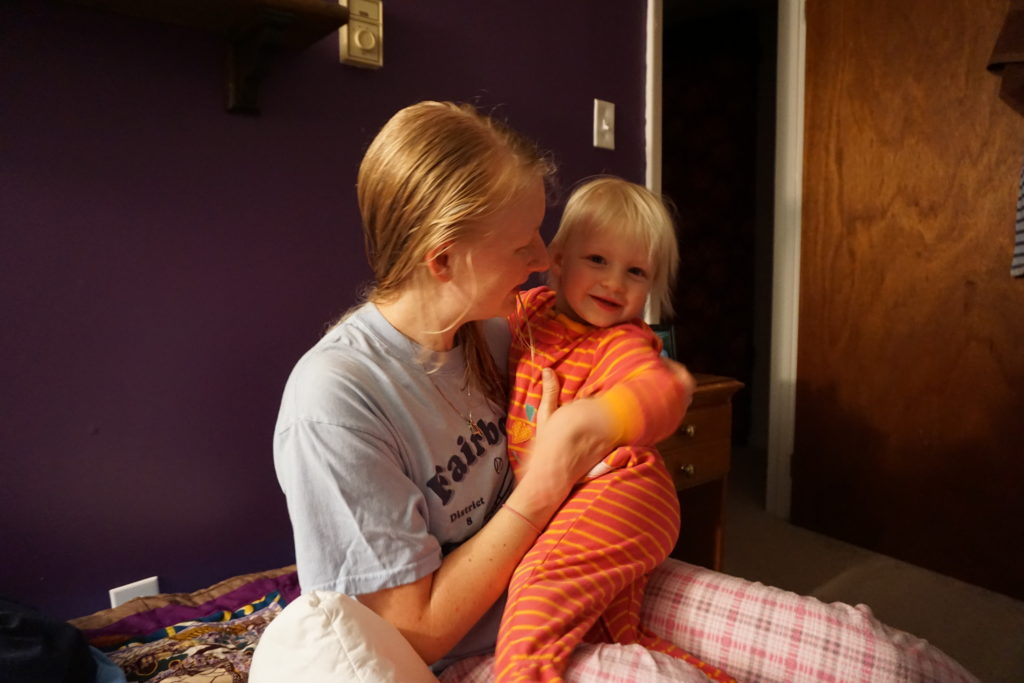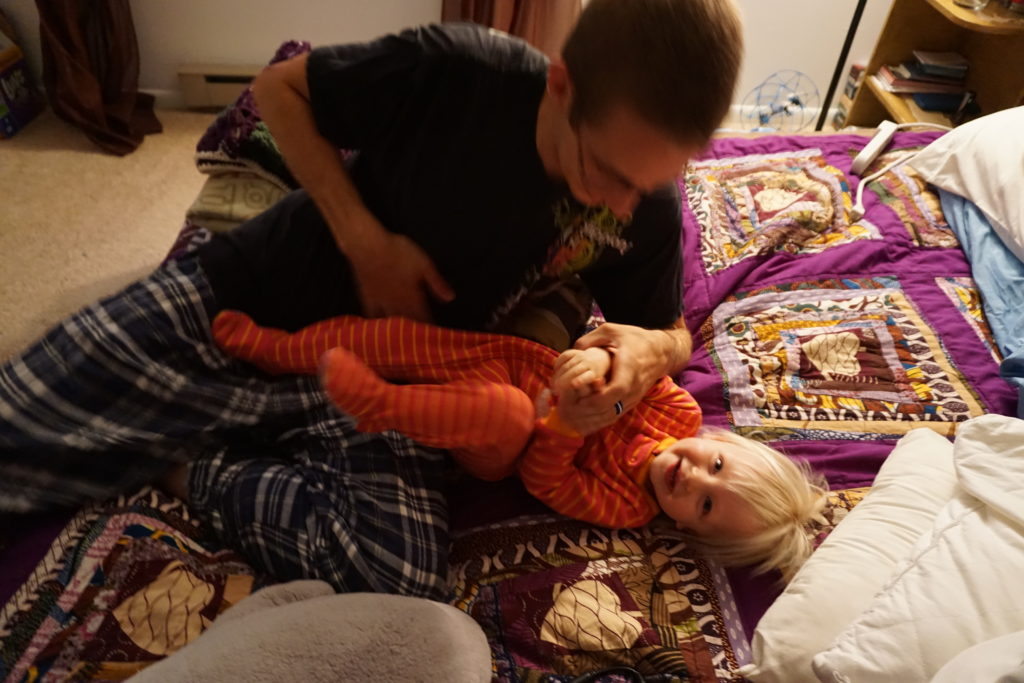 And that's a wrap! Our trip to Houston was a blast and such a blessing to us in this time in our lives. I am so thankful that we had such wonderful people/places to leave our kids and that we never once had to worry about if they were being well taken care of! It was great to have alone time with Theo without being interrupted every .3 seconds. And it was wonderful to get my much-needed sleep, especially with this pregnancy!
Stop back in tomorrow for a more general informational post on how we saved money, what I packed, and how we found so many free things to do in Houston, TX!