The Hines family gets together only 2-3 times a year- Summer family reunion, Winter family Retreat and then Thanksgiving or Christmas.
If you are new here, there are few things that you need to know about the Hines family:
We are a large group of people. Mom and Dad had seven sons, there are four wives and 12 grandchildren/cousins (with one on the way), all under the age of 12. Believe it or not, only 5 of the brothers were here for this get together!
I am SO incredibly lucky to have married into this family. Seriously!
We get together every February for an annual winter retreat. We usually all pack up and head to Northern Michigan for the weekend. Due to the travel constraints and work hours for two of the brothers (including Theo), we decided at the last minute to host it at our place!
On Thursday afternoon, all nine guest arrived at our house! We had people sleeping in every bedroom and on every surface of the floor….it was a lot of fun!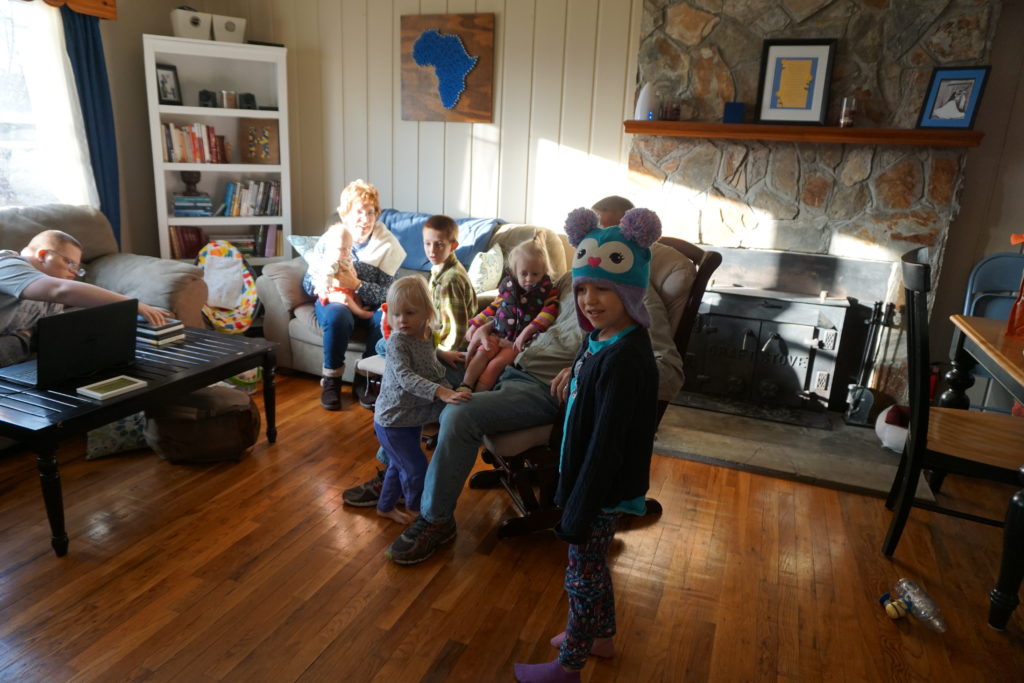 Grandpa brought his treasure box! Every day, his grandkids get to pick a "treasure" from the treasure box. The grandkids LOOOOOOOOOVVVE this tradition so much. Also…#somanygirls. Poor Kyrin. He need Kiah to grow up a whole lot faster!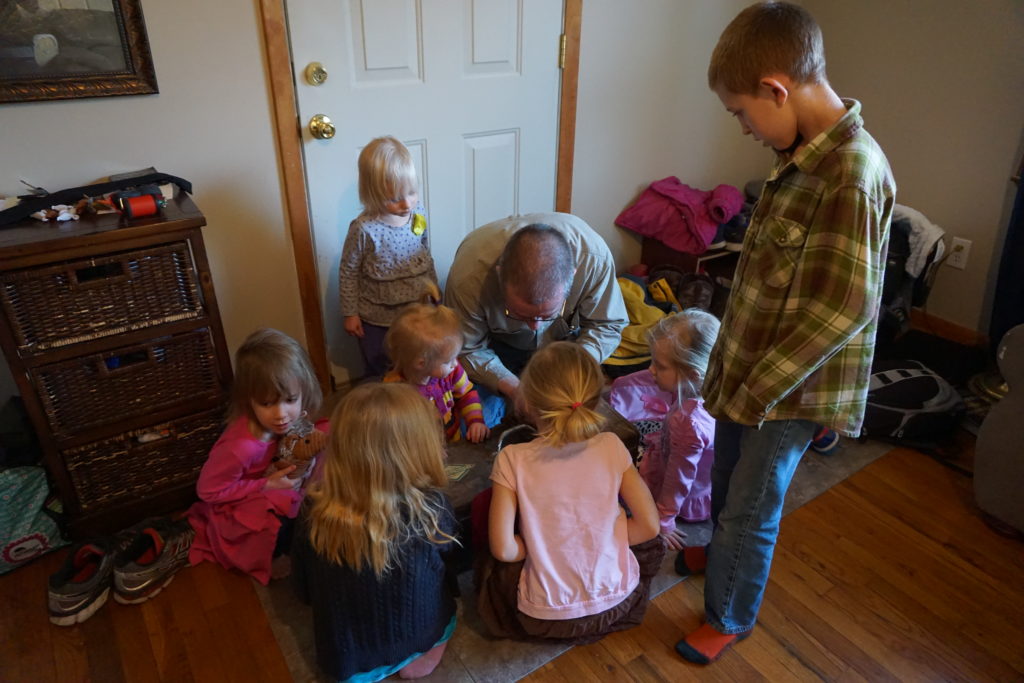 Most of the pictures I took over the weekend involve cuddling and family time… That about sums it up!
Grandma and Kiah. This woman raised seven boys and she is an absolutely FABULOUS Grandmother!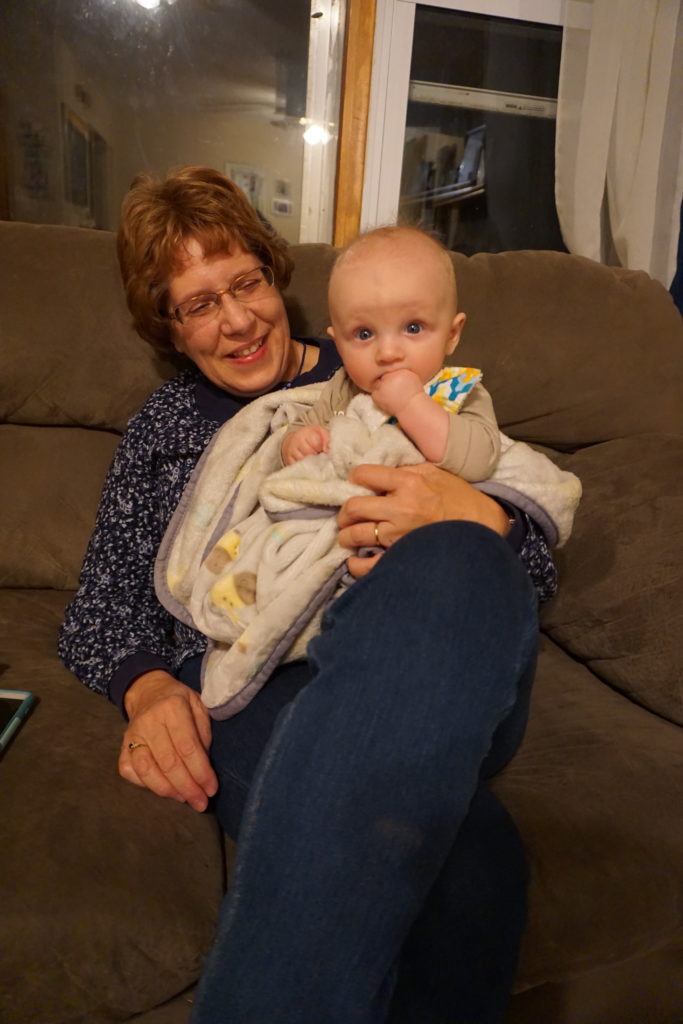 On Friday morning, we packed up a picnic lunch and headed to Learning Tree Farm! Our "winter" retreat happened to fall on a February weekend that was absolutely GORGEOUS…it was in the 50s all weekend!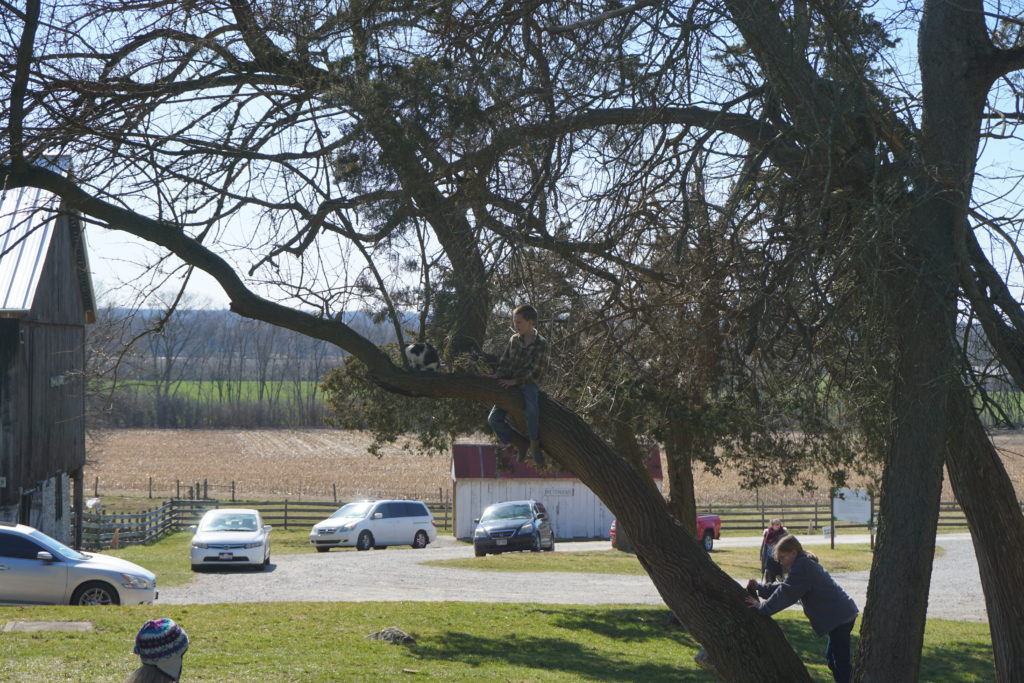 I didn't take as many pictures at the farm as I should have….oops. We saw all the animals, took a little walk in the woods and then had a picnic lunch while the kids ran around. Again… #somanygirls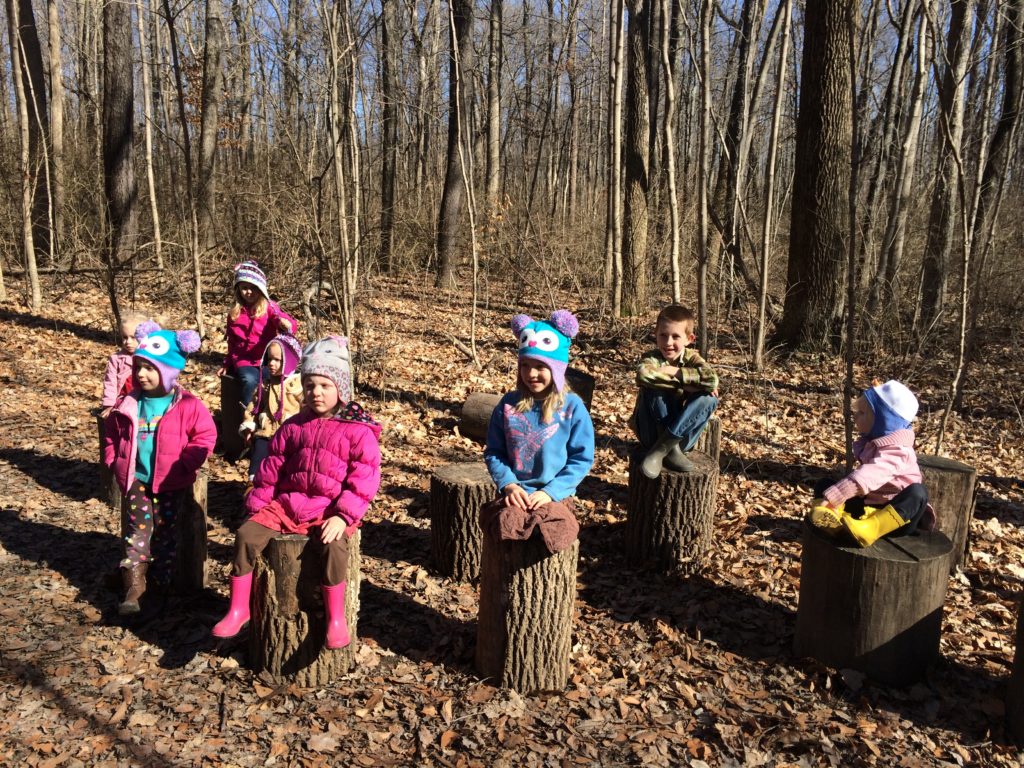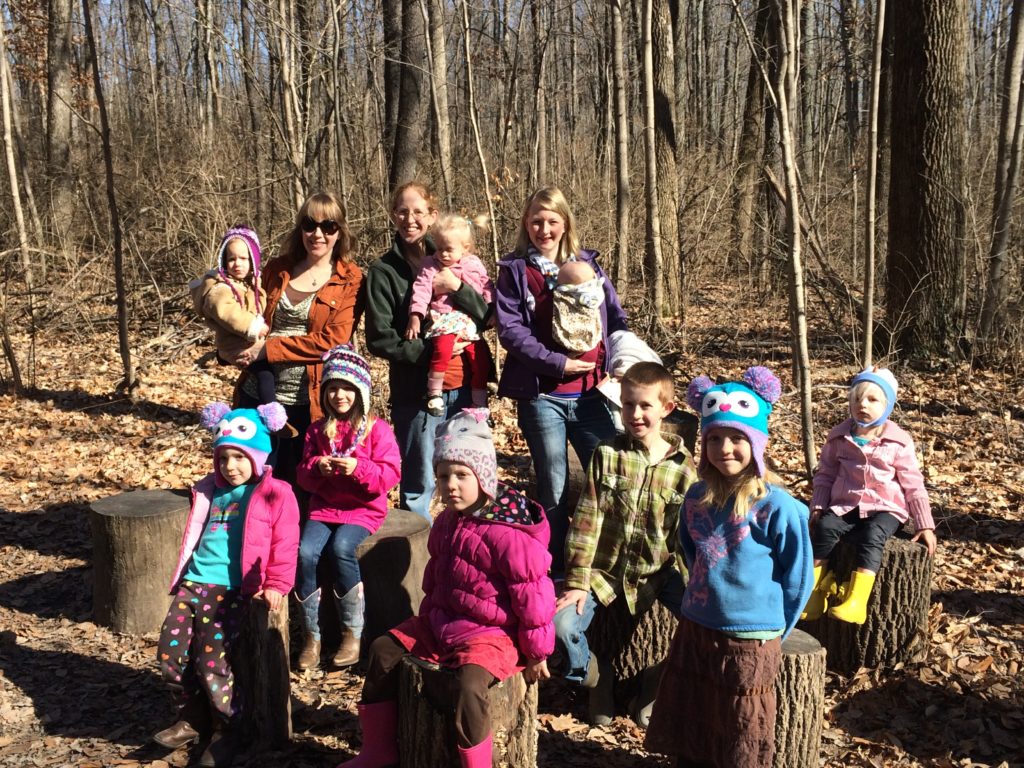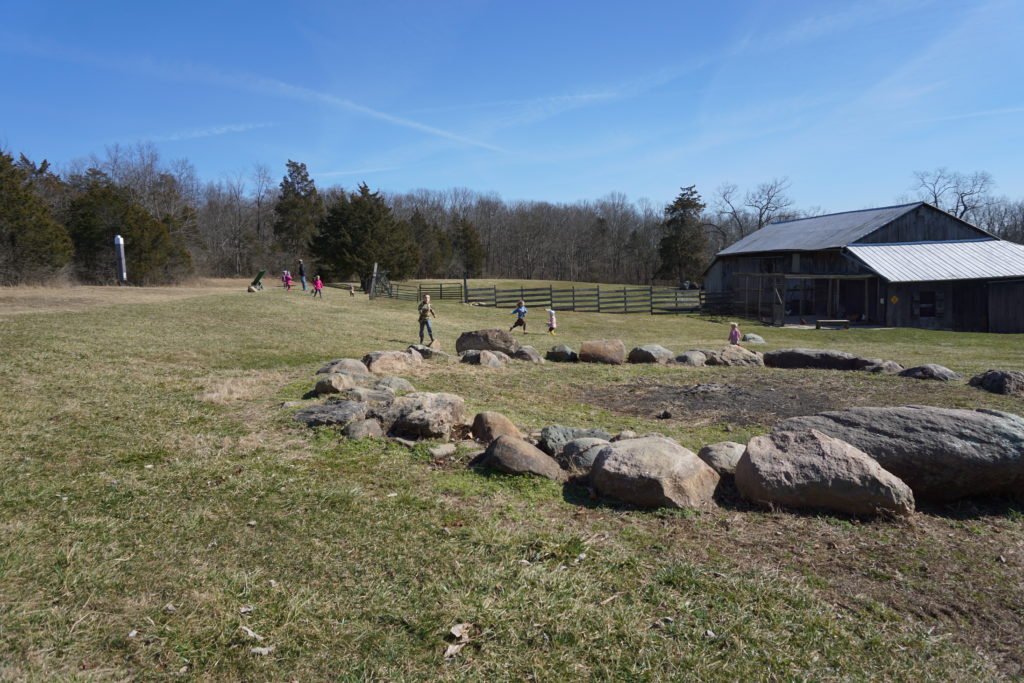 These rocks were a huge hit!
Tera…oh my word, this child. I told her to get her hat, and she chose this snowman hat (that is actually for Kiah). It looked ridiculous but she was not interested in switching or taking it off. Lol.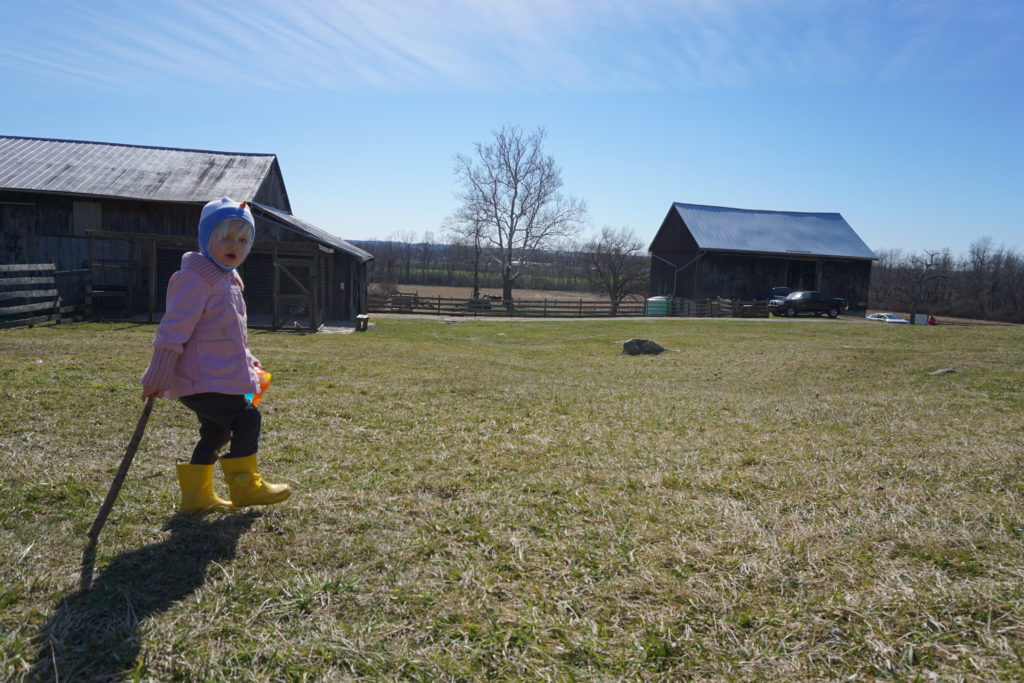 Kyrin and Kiah! The two boys…
Grandma brought these fun little crowns for all the girls.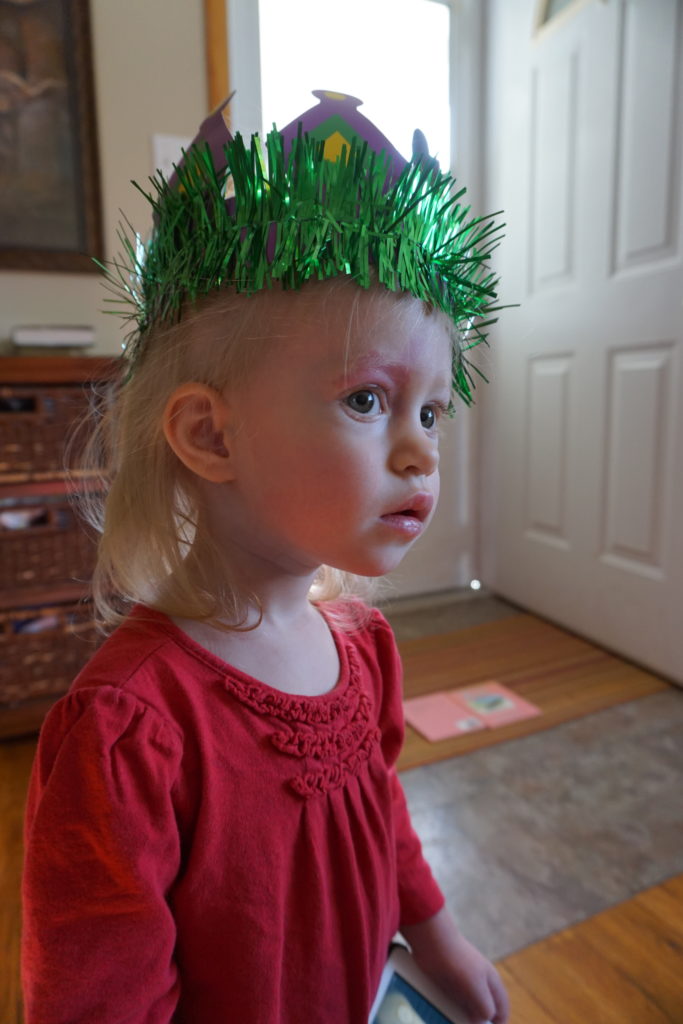 Some girls were really excited about the picture, some were not. Some were really tired from their nap, and one even refused to participate…that one would be mine.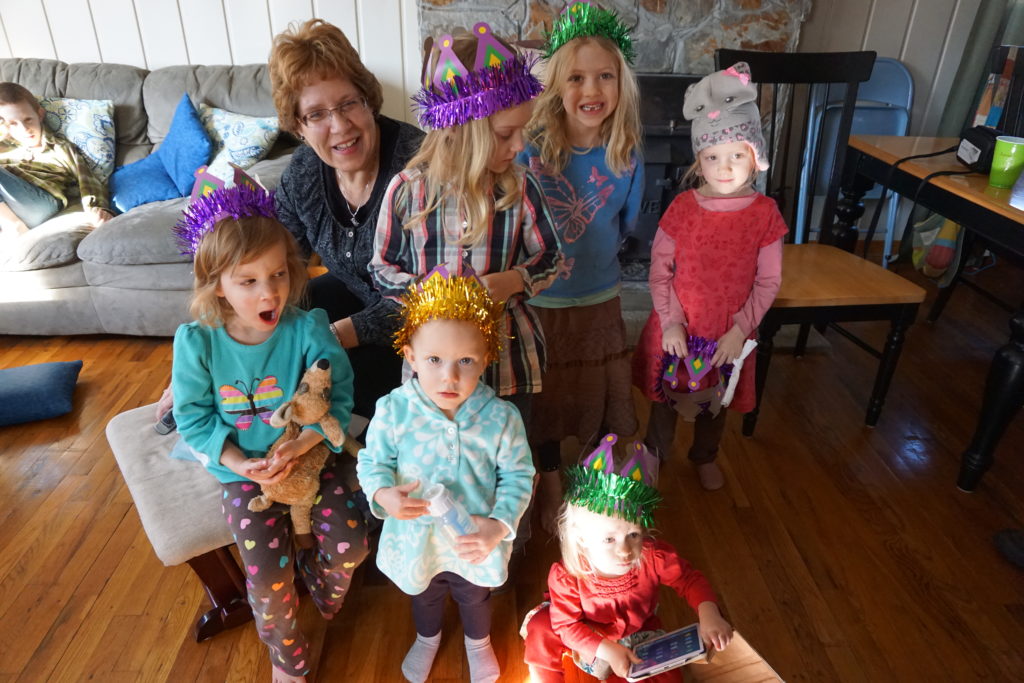 How many people can YOU fit in your living room? We were at 17 and look at all that floor space to spare!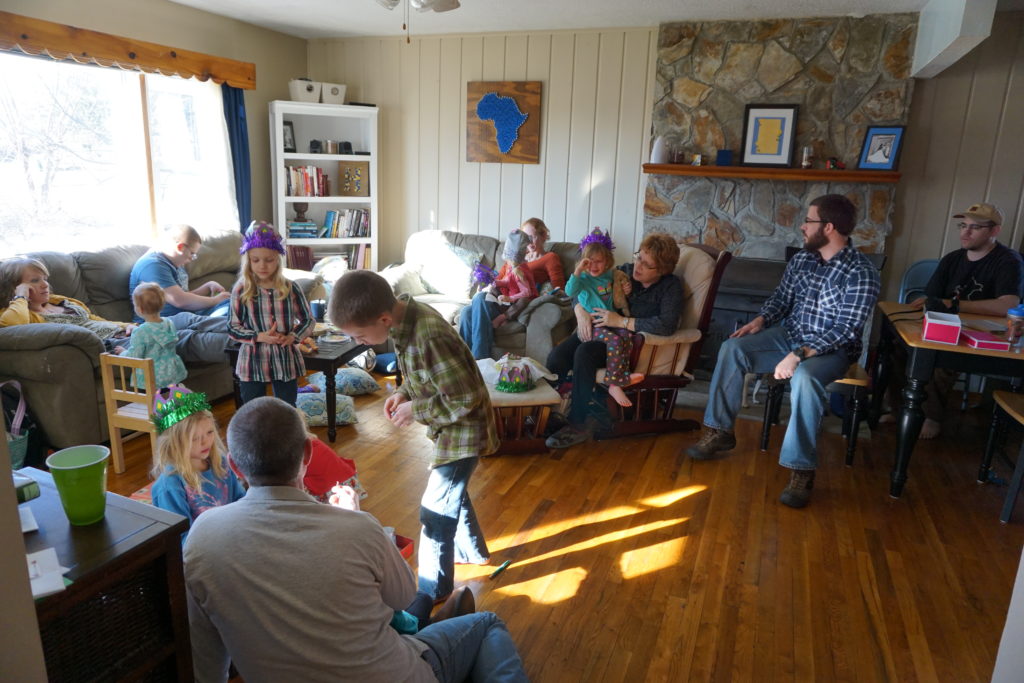 The weather being warm really worked out in our favor because we were able to send all the kids outside to play. We also kicked the Dads out to watch them.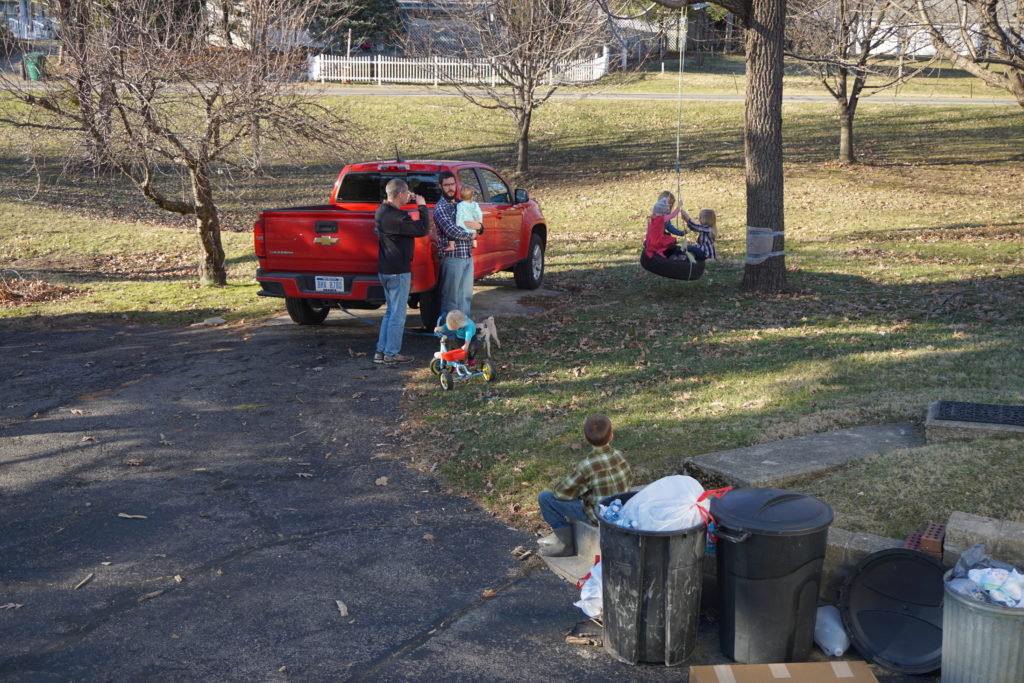 Tire swings and cousins!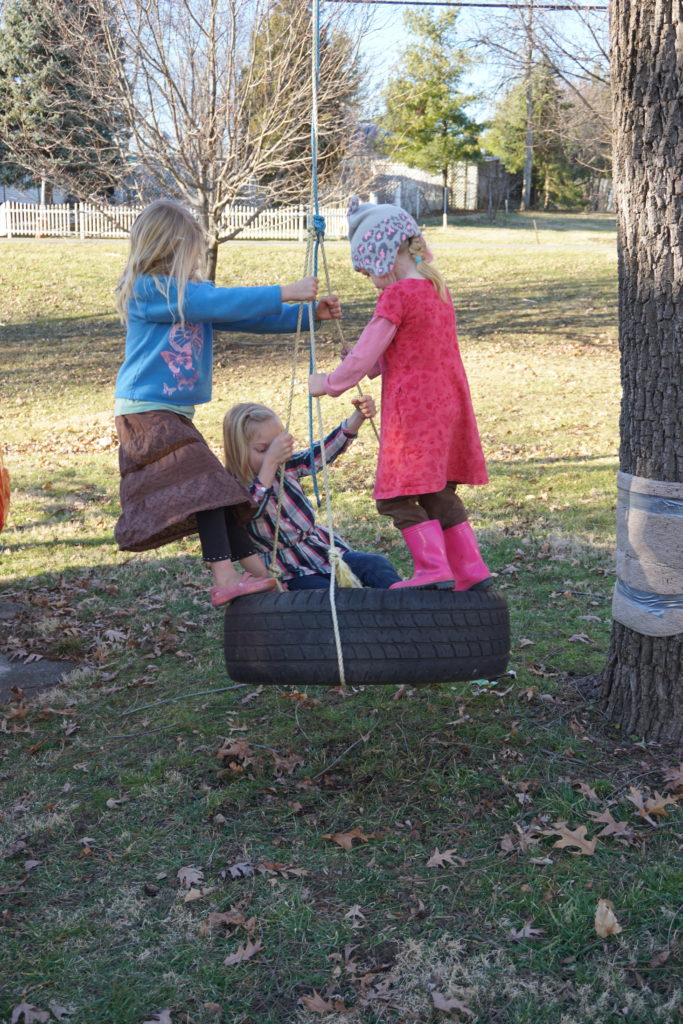 Oh, yeah…I forgot to mention the dog! Pug-Z. He's a huge favorite of all the grandkids!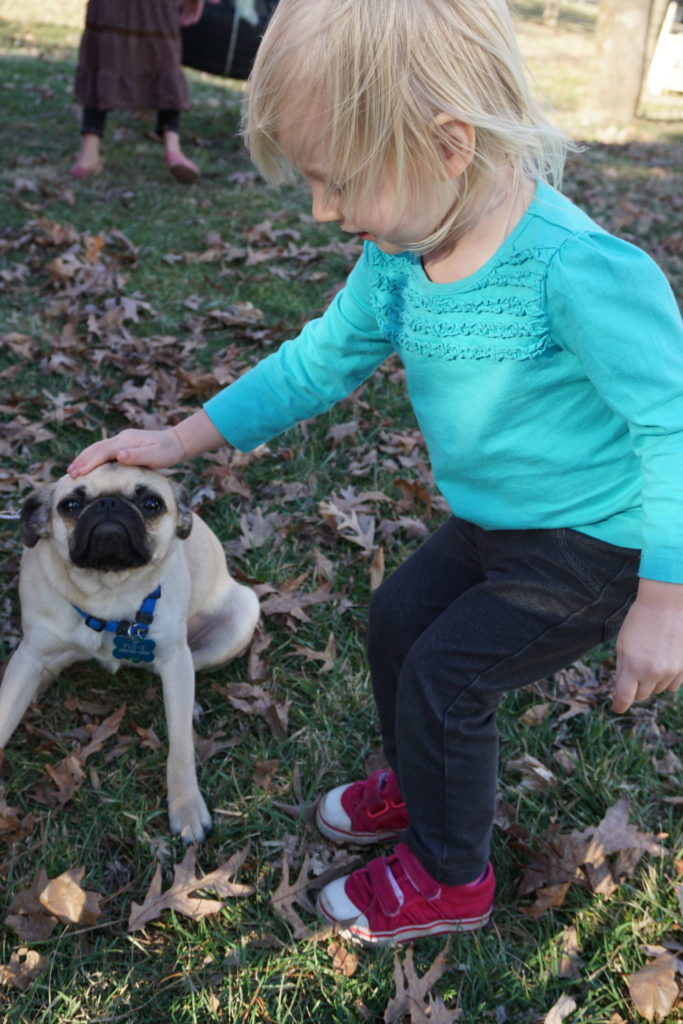 On Saturday morning, we headed out to Ethan and Kindrea's place. They have a much larger property with more outdoor things to do, so it was really great to spend a day up there! Again, the girl cousins have SO MUCH FUN together!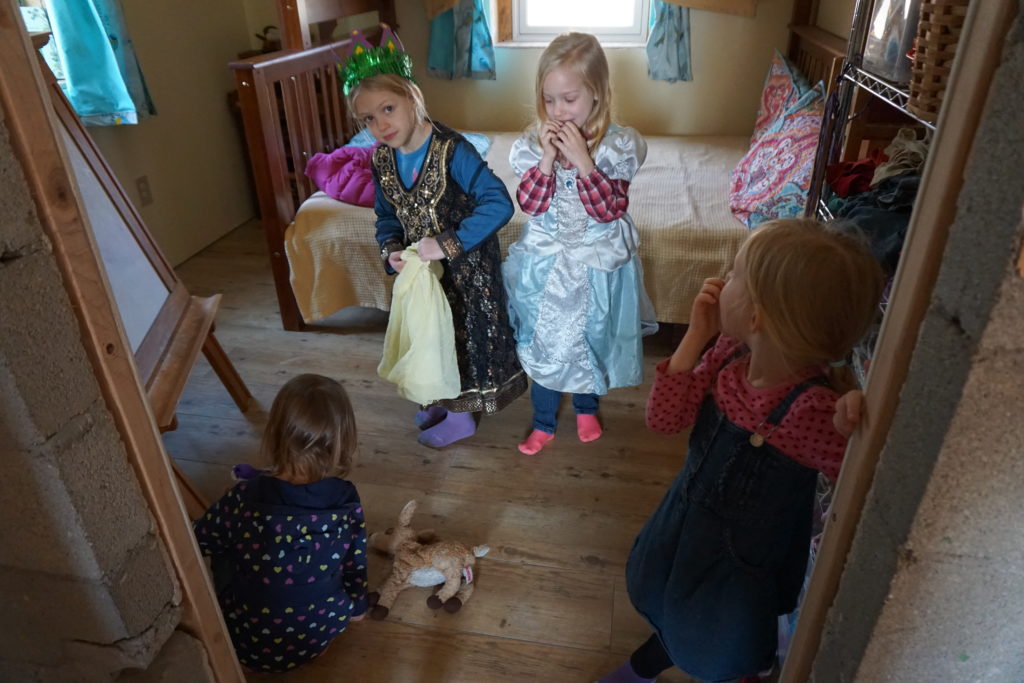 Grandma and some more girls. Seriously, #somanygirls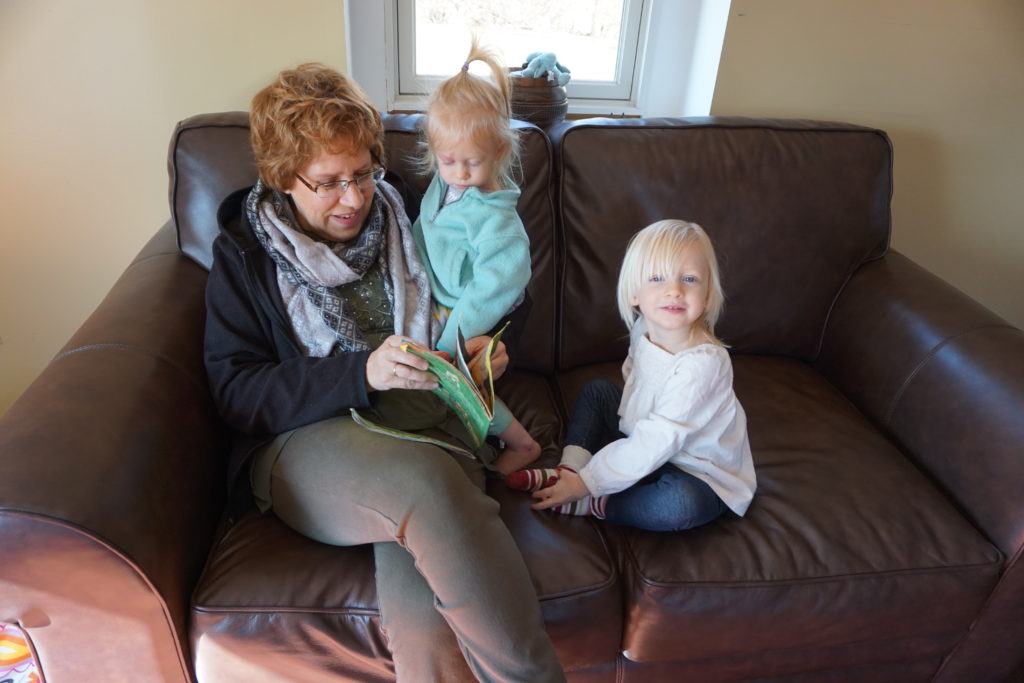 Lots of kids eating their sandwhich lunches before heading back outside to enjoy the gorgeous weather!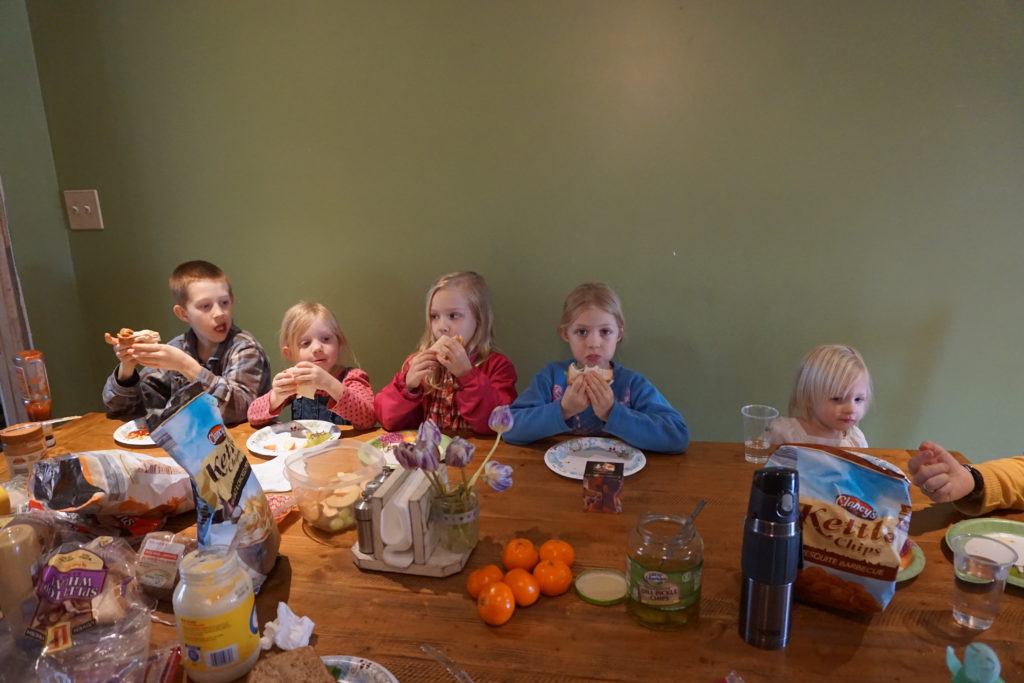 We did our best to make meals SUPER easy for almost 20 people on really short notice. We did sandwiches for lunches, CFA for dinner one night, pizza another night and tacos the third night. My SIL Kindrea did all the grocery shopping and then we all split the bill. It worked out so great!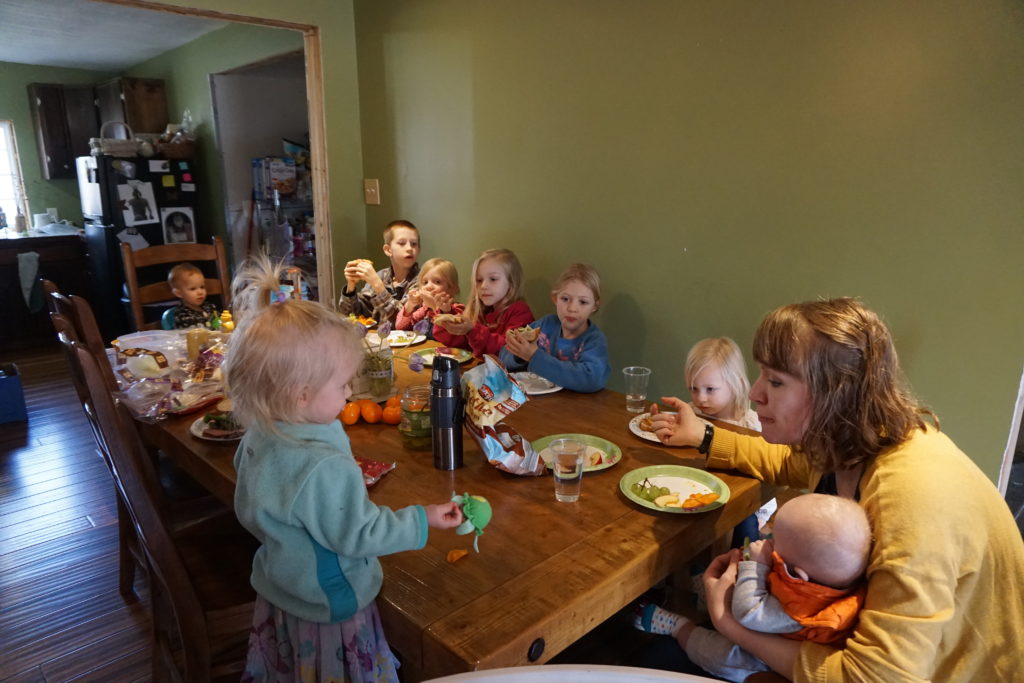 Sweet baby snuggles!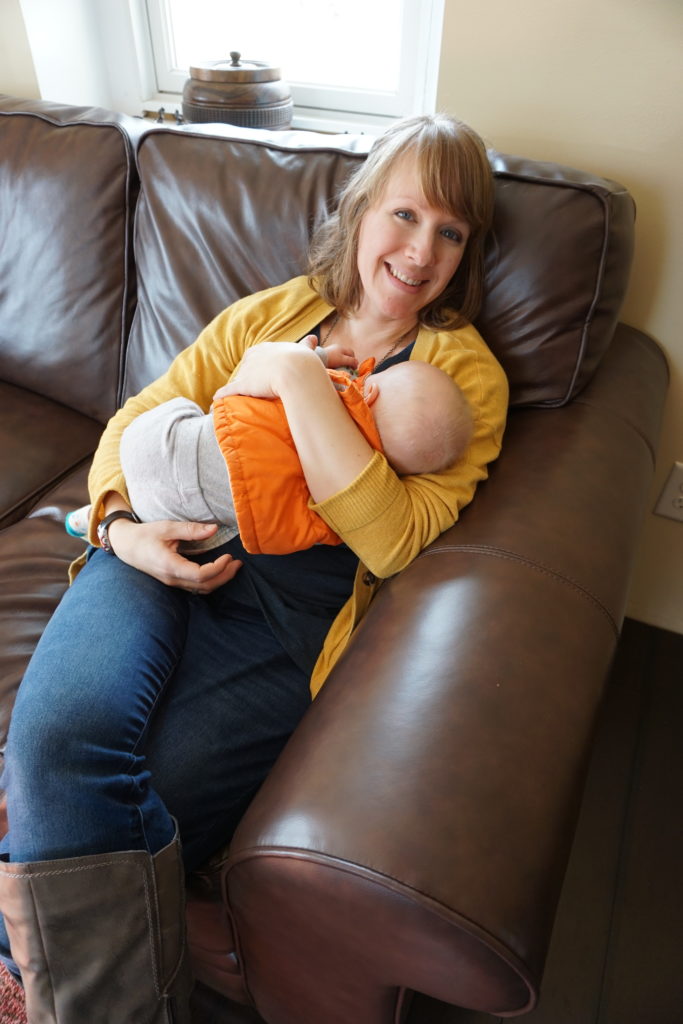 Tera and I took the lunch scraps out to the chickens. Let me just say something about my sweet girl. She is a people person, but she needs her alone time. She is ALL THE WAY one-on-one quality time and big groups of people wear.her.out. I looked for little moments during the weekend to sneak away with just her and fill up her tank a little bit.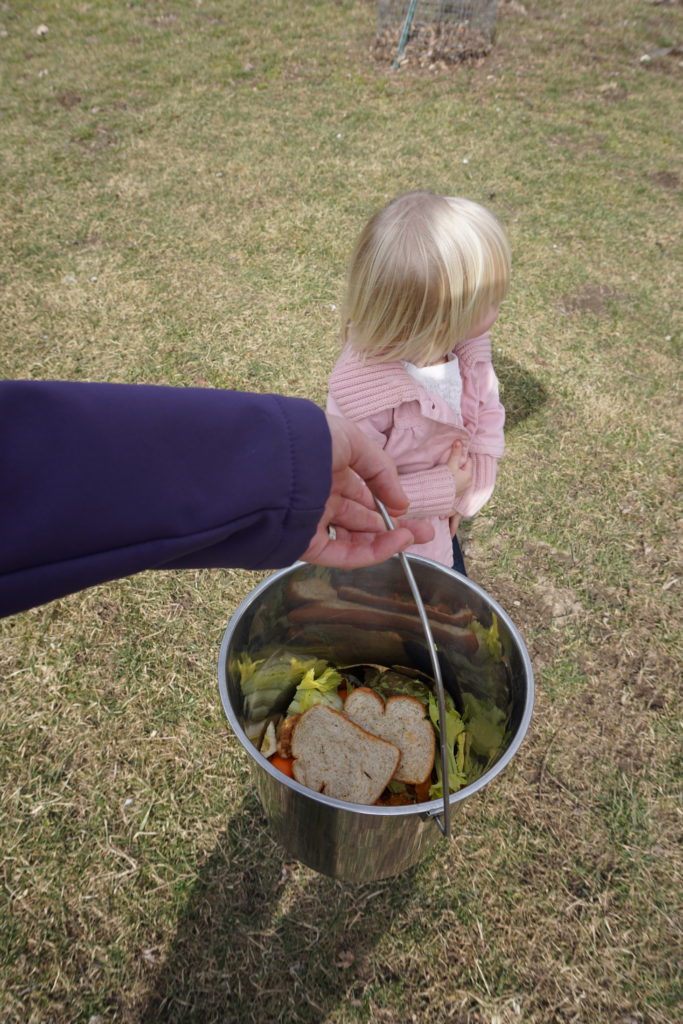 Ethan and Kindrea have 40+ chickens and Tera LOVES them!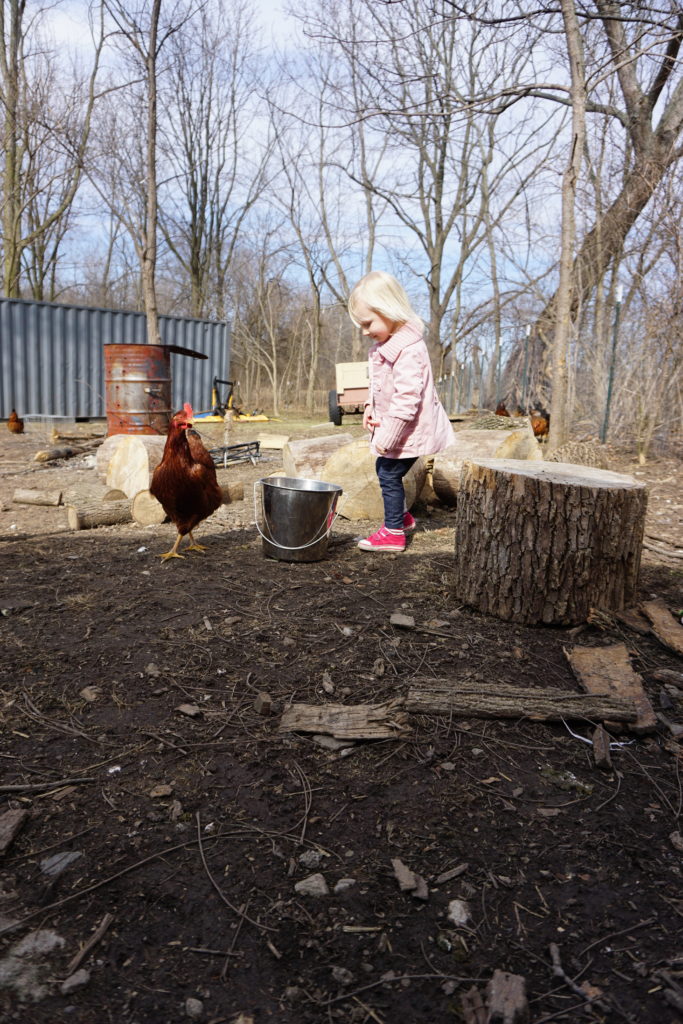 She even collected some eggs.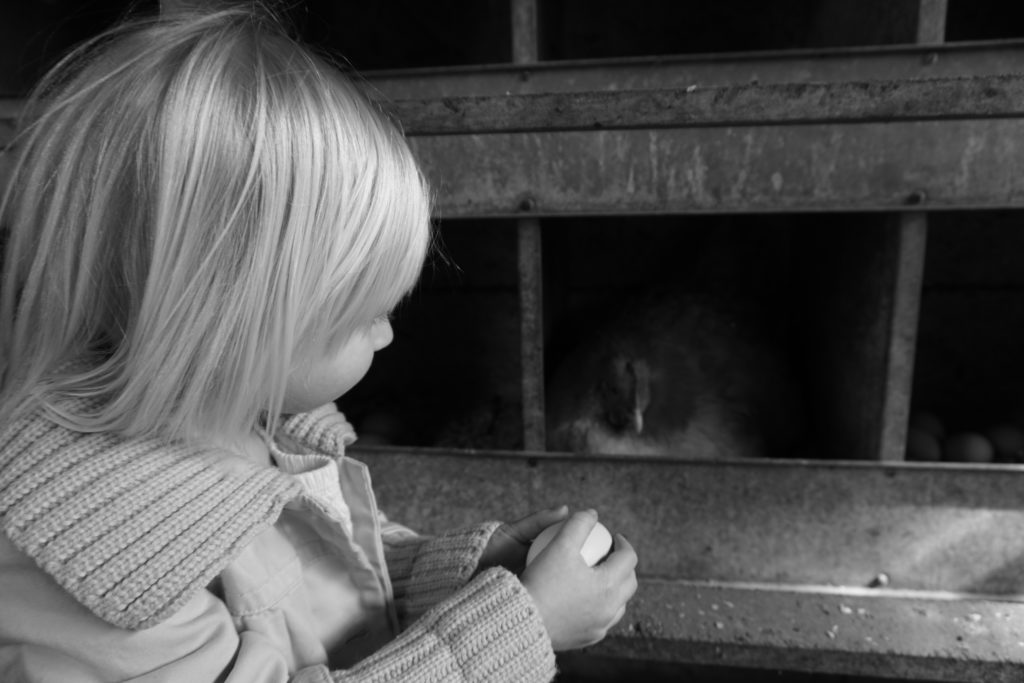 The men got out their firearms and spent some time at the shooting range. This is always a highlight of the family reunions for the men! The four of us ladies managed to convince them to take a break from their firearms to watch all the kids while we went out shopping for a few hours. Somehow I managed to not take ANY pictures of us sisters the entire weekend.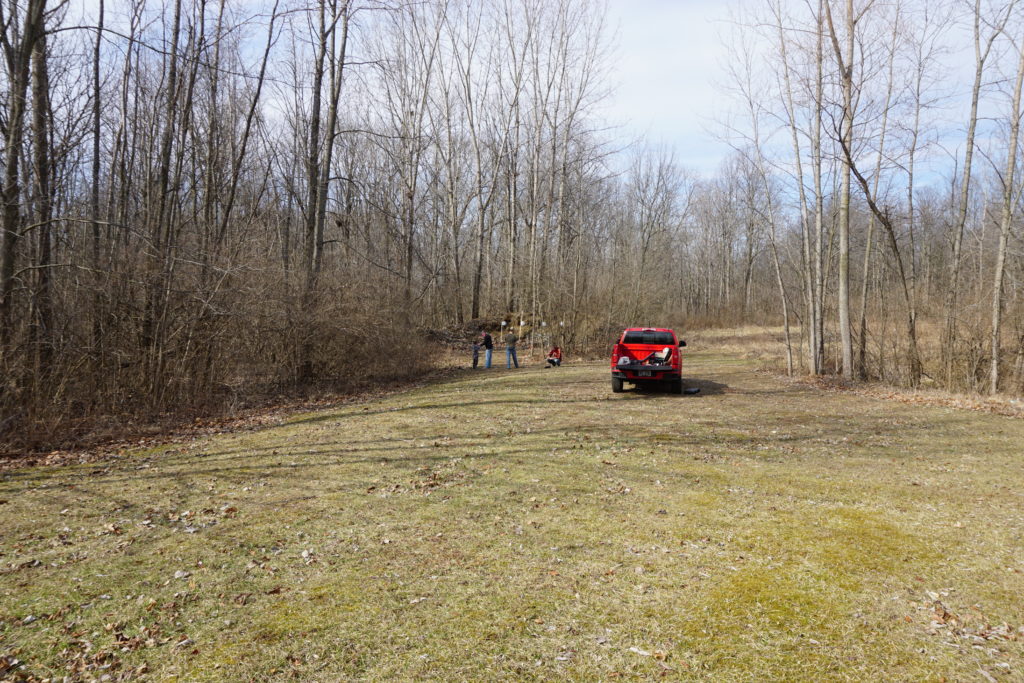 Theo wanted me to practice using a gun. Being married to a Hines who is also going to be a police officer, we do have guns in our house. Theo has been very diligently at training me in gun safety and teaching me how to shoot.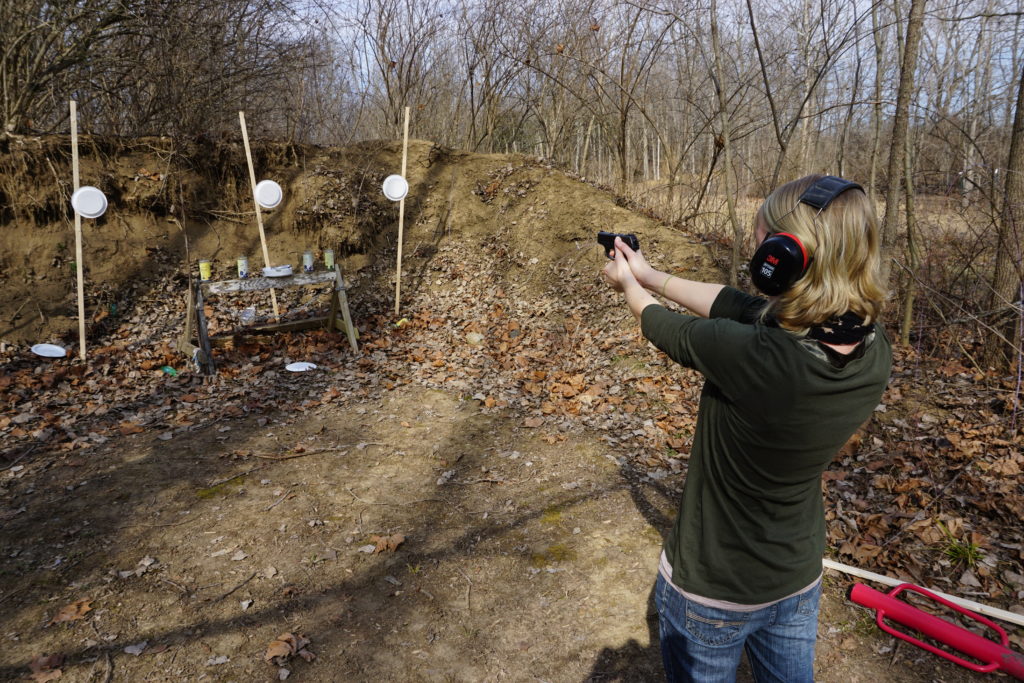 It's not my favorite pastime, but I do realize that it's a good skill to have!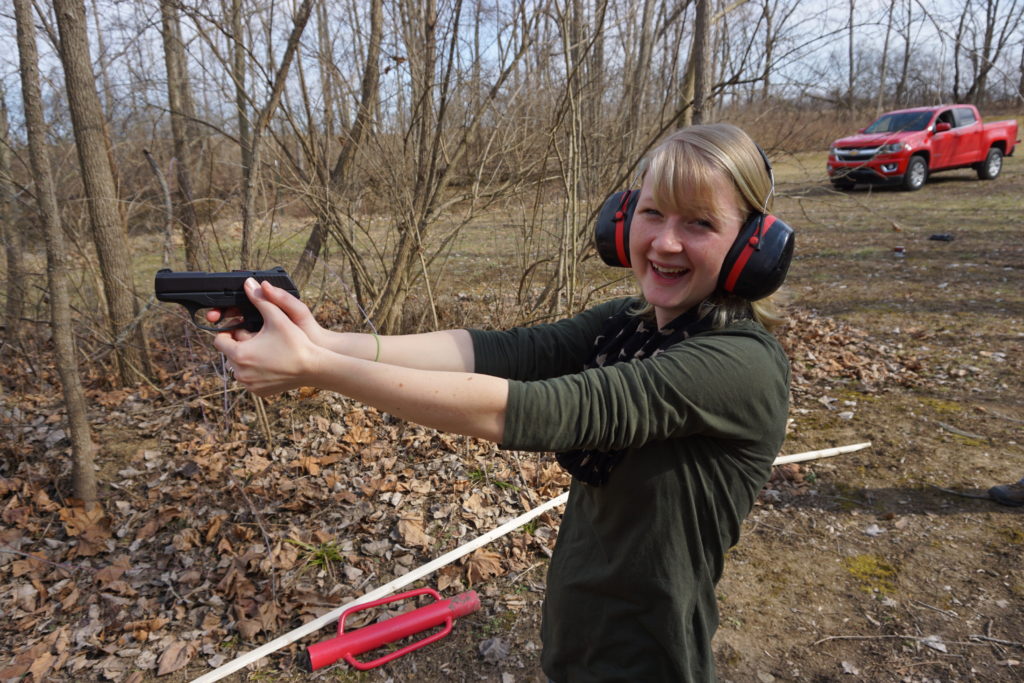 Saturday night was crazy town, but a blast.
We left Ethan and Kindrea's house around bedtime on Saturday night and crashed at home. The next morning we were planning on going to church, but all the kids were coughing, had runny noses and were running low-grade fevers, so we stayed home. We did hit up a restaurant for lunch and then enjoyed a relaxing afternoon of conversation and sunshine. The kids all played outside for hours and the adults got to have some good conversations! For some reason I didn't take any pictures on that day.
A lot of people would say it's crazy to host that many family members, and I'm not going to lie…it can be overwhelming. However, it is SO worth it. We only get to see this family every so often and it's so wonderful to see the cousins playing together. My sisters-in-law are amazing ladies and I soak up time with them and my mother-in-law. The cousins always spread way too many germs, and that is always difficult, but it is life after all.
We LOVED hosting the Hines Winter Retreat and I wouldn't mind at all if we did that again!