Well, I will always look back on May 2017 as an incredibly life changing month.
I met my twin nephews.
I celebrated Mother's Day by gaining a new daughter.
I turned 26.
I celebrated my 5th anniversary.
I'm tired.
I honestly didn't take too many pictures this month, perhaps because my world was spinning so fast I could hardly feed my kids breakfast, let alone find my camera and take pictures on it. Ha! But what I do have is special and I wanted to dump it here on this little online journal, mostly for my own sake but also for everyone waited with baited breath to hear how my month went (that's pure sarcasm, btw).
We kicked off May with some swimsuit modeling. Aren't my children adorable?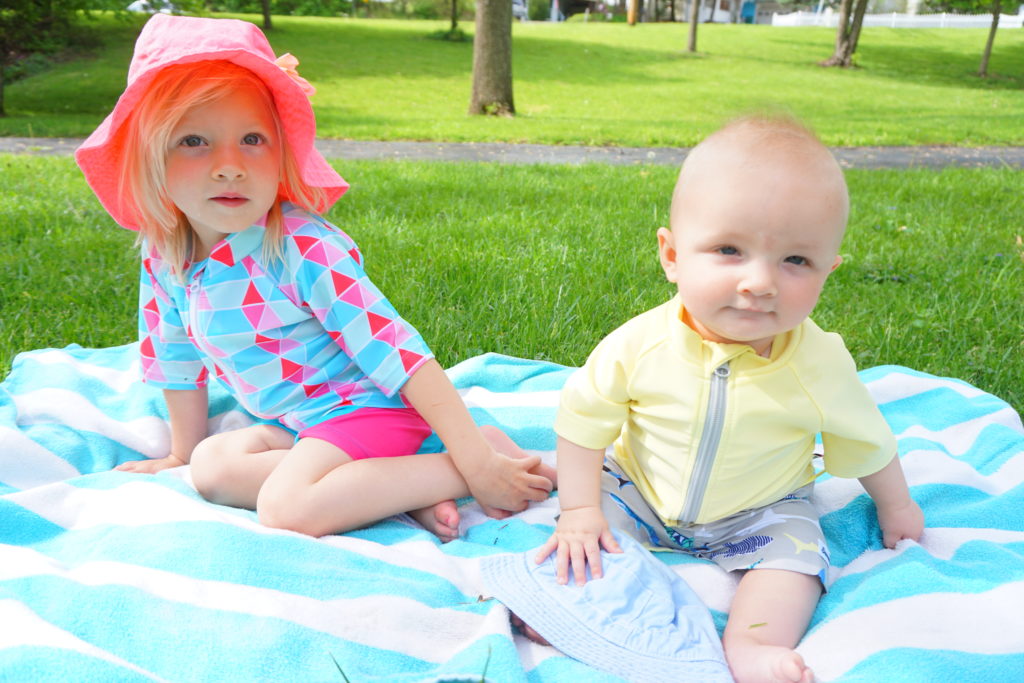 My kids should probably just stick with being cute and not go into the modeling business. Haha. These swimsuits are from SwimZip and in case you missed my blog post, we are LOVING them.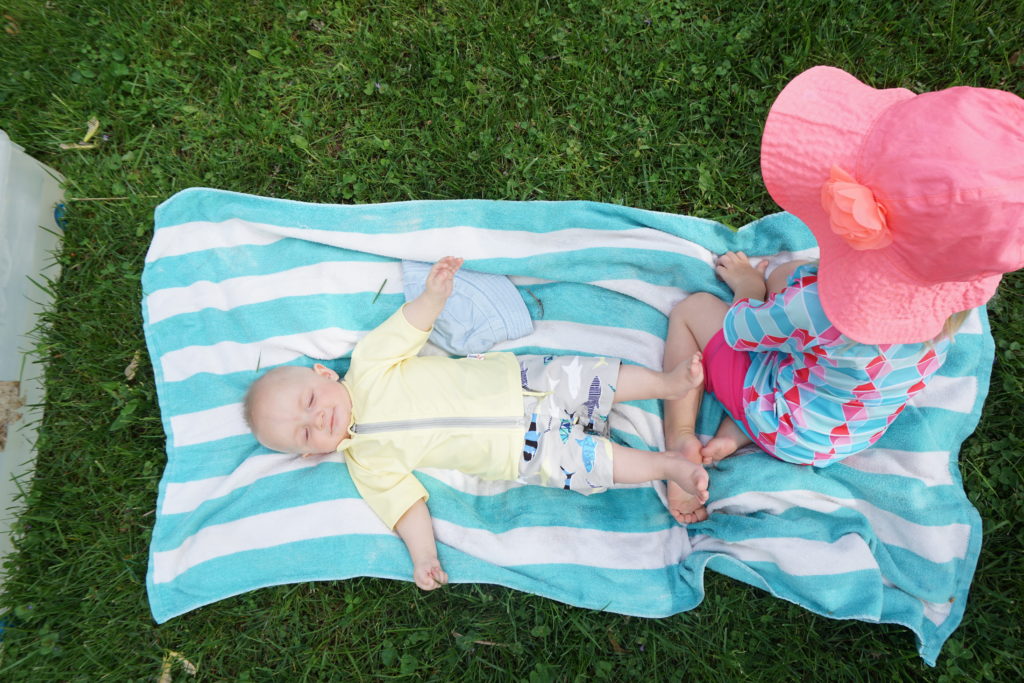 The highlight of my month was getting to meet my twin nephews, Levi and Everett.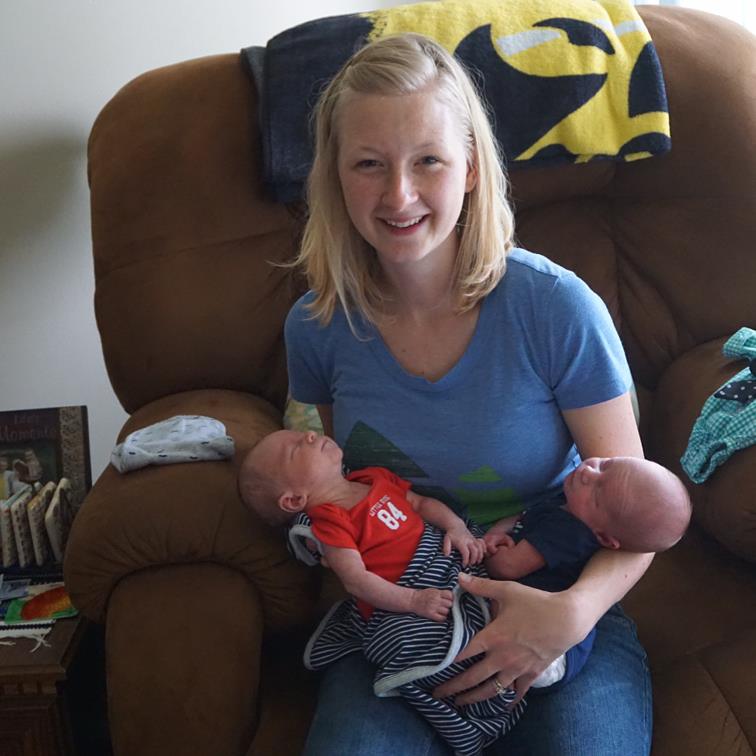 I'm so proud of my brother and sister in law and how they are ROCKING parenting. I could not wait to meet the boys, so I packed up the kids and drove up for a day trip (3 hours one way). We had matching clothes for all four of the kids and had a little photoshoot. It was quite challenging getting four kids to pose for photos. Kiah was barely sitting unassisted and kept toppling over. He also kept grabbing his own tie and both of the twins ties. We were laughing hysterically the entire time!
Best shot I got! I'd consider this one a framer: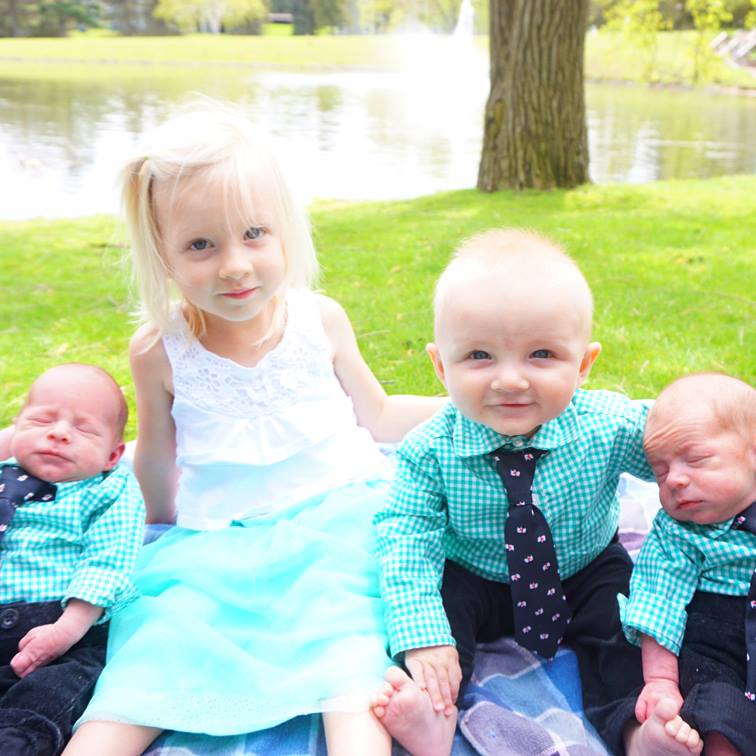 Kiah looked like a giant next to two-week old preemie twins! They were born at 36 weeks, so not too preemie, but they were just under six pounds when these pictures were taken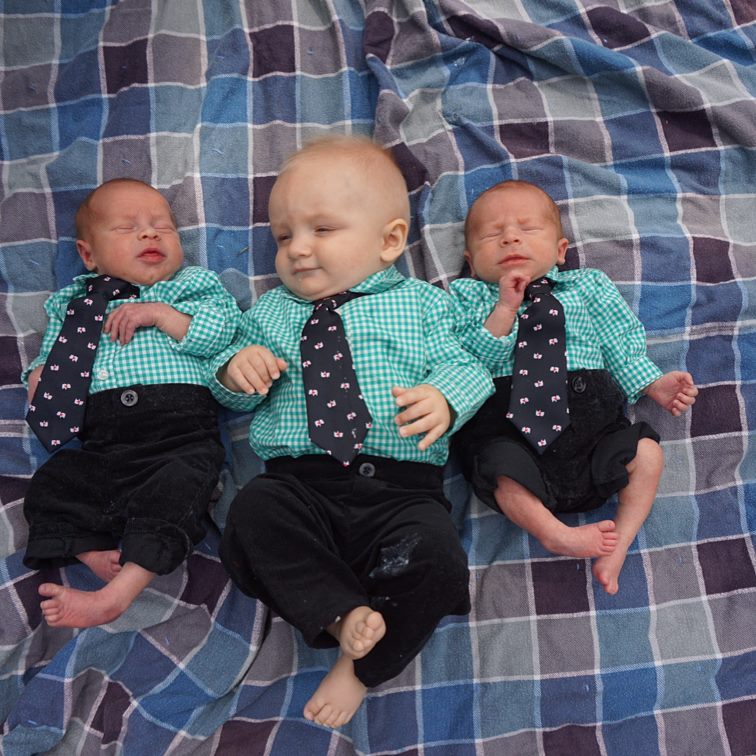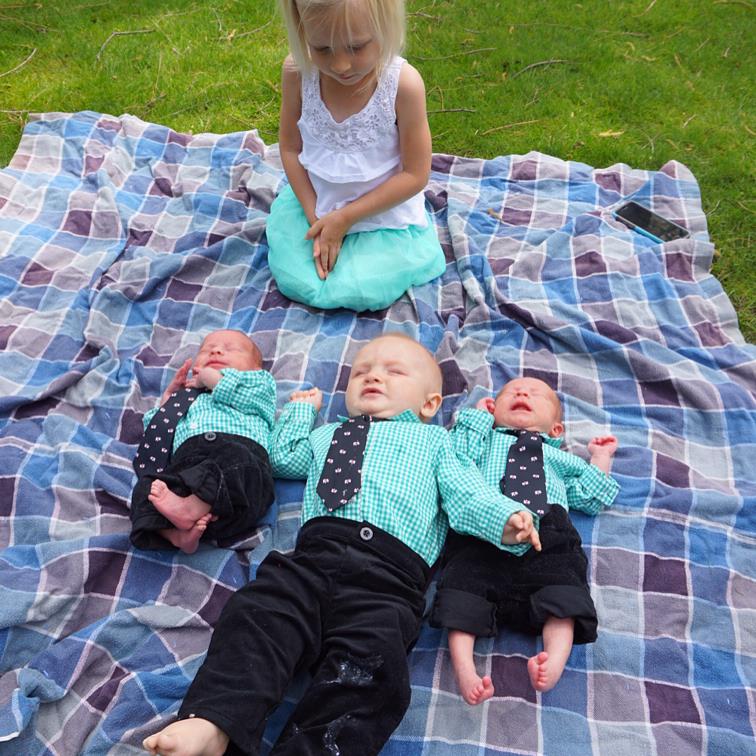 On the weekends, we like to find things to do that take us out of the house. Free is always the goal, and we somehow manage to find some awesome things around the Dayton area. On the weekend of the Kentucky Derby, Dayton held a Weiner Derby. No, I'm not joking at all. They had a dog parade (it was super boring and not very well managed), and then they had Weiner Dog races.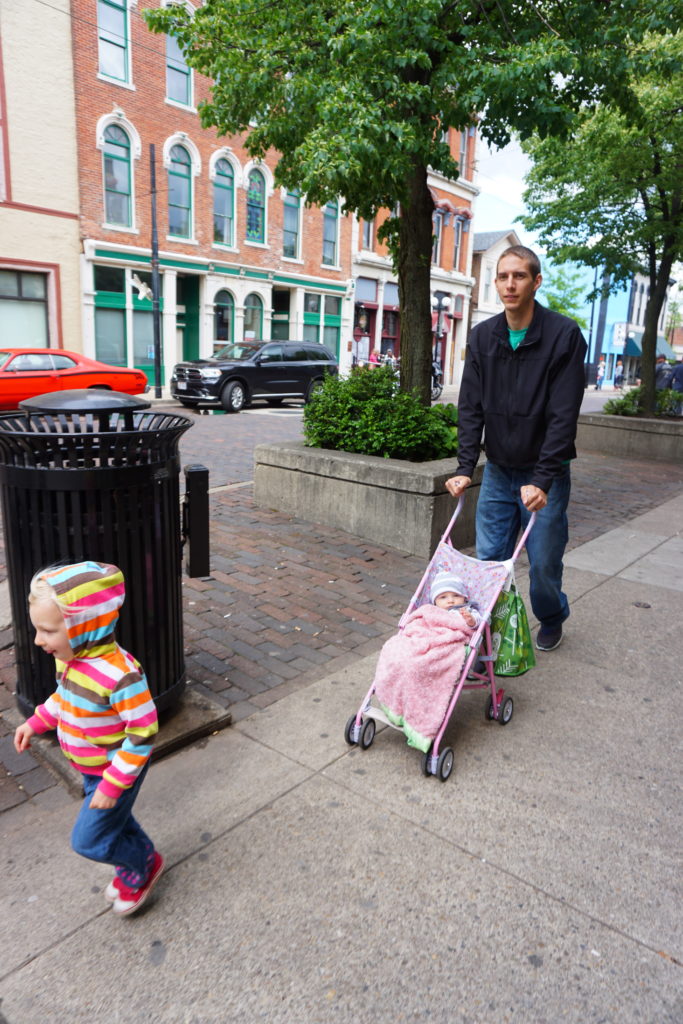 The dog races were so fun to watch, but unfortunately the crowd got a little pushy and we soon lost our view. I thought Tera would be way more into it, but I think she was confused as to what was going on.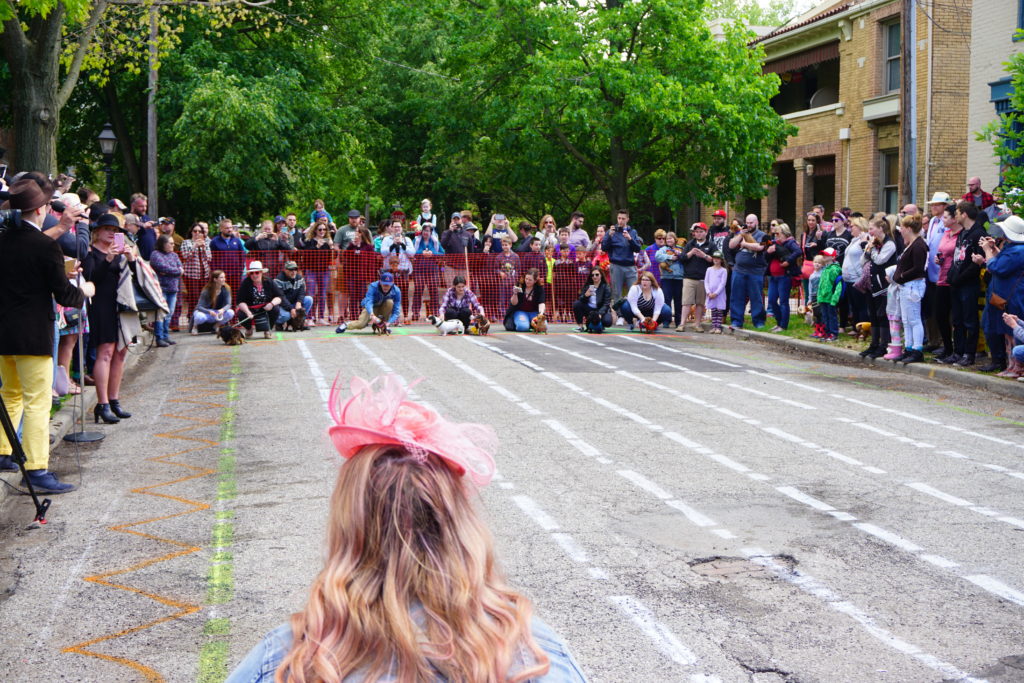 Kiah has finally started to actually consume some solids, but we really wanted to recreate a cute picture we have of Tera at his age.
Kiah: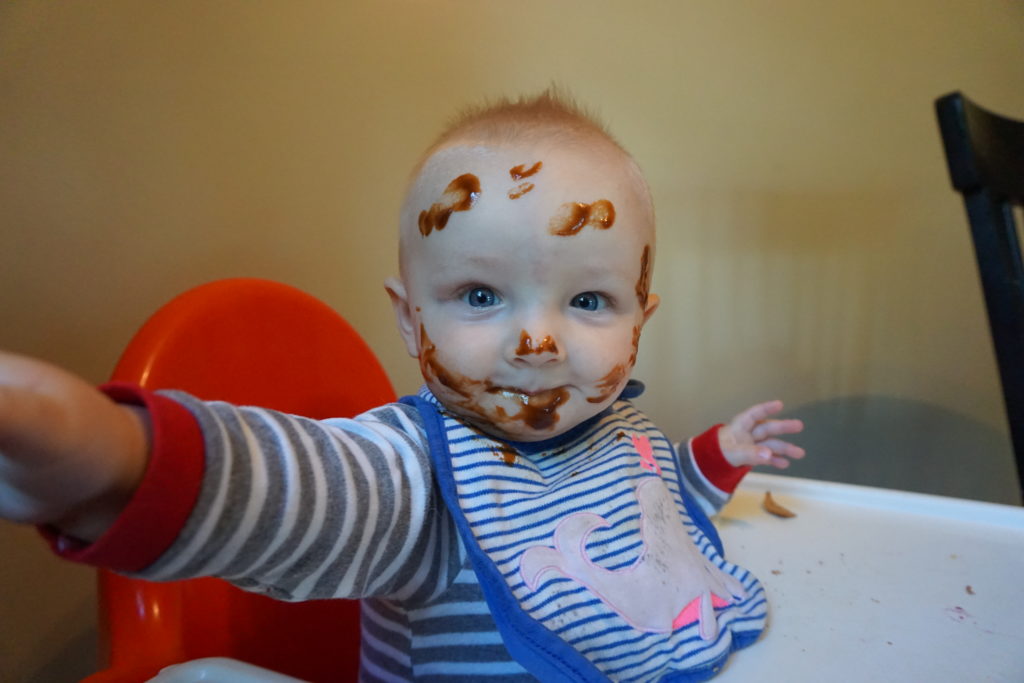 This month Kiah has mastered sitting up! He loves to sit in the playroom and just play with his toys. And Tera loves to snatch the toys from him. Sigh. Comeback is coming one day, I warn you now, sweet girl.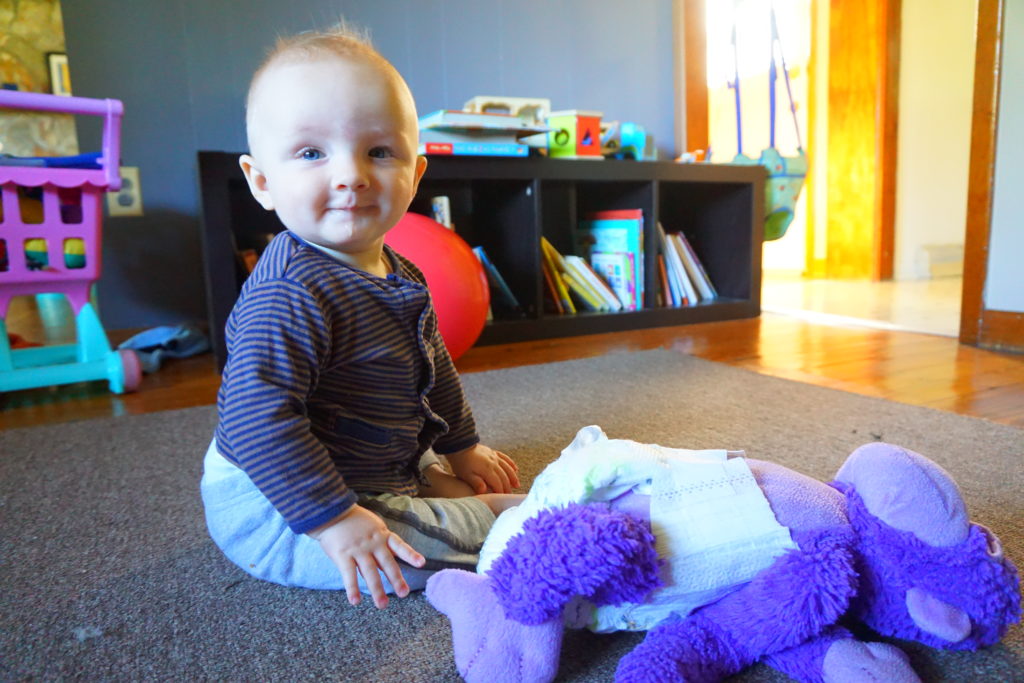 I made some granola bars for Theo to take to work, and these are SO GOOD.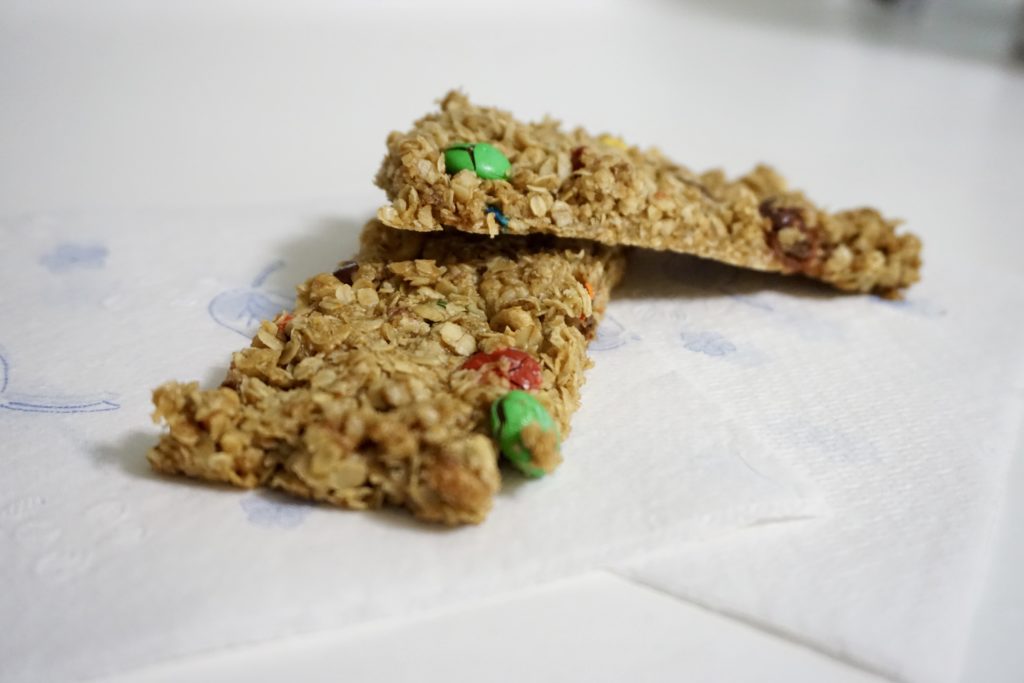 My counter space is being taken over by children! I'm. not going to be able to fit many more children on my counters while still being able to cook!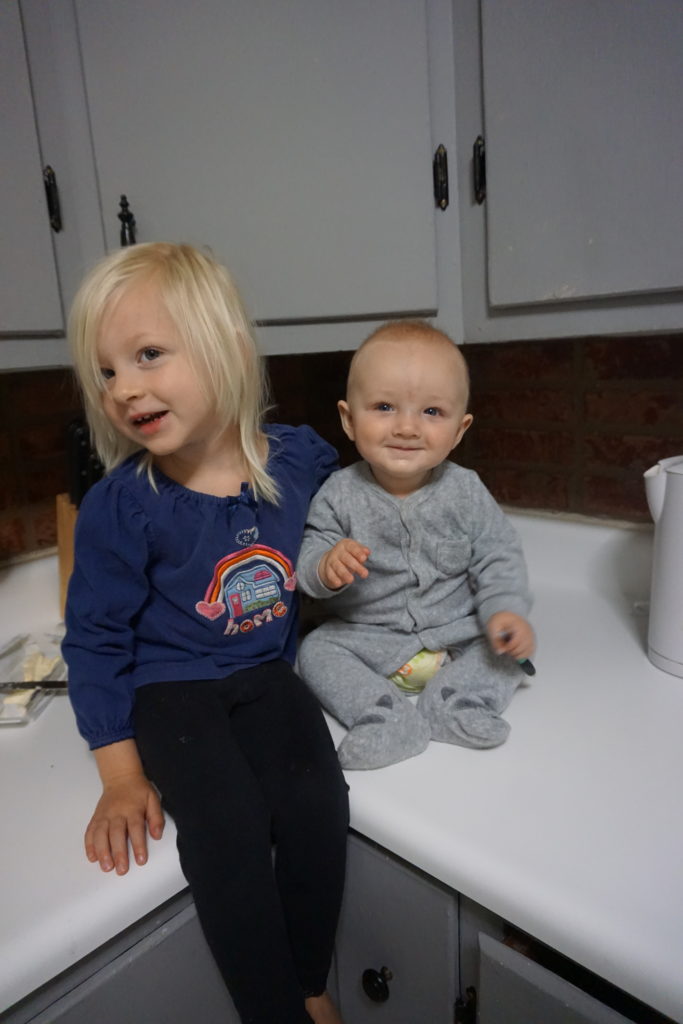 The weekend of May 13th was a big one for our family. On Saturday morning we participate in the Miami Valley Women's Center Walk for Life. Theo and I raised over $500 for the center, and there was over $96,000 raised for the center overall!
It was a simple two mile walk, but it was a powerful reminder to me that I need to take the physical, outward steps to support my words when I say that I am pro-life.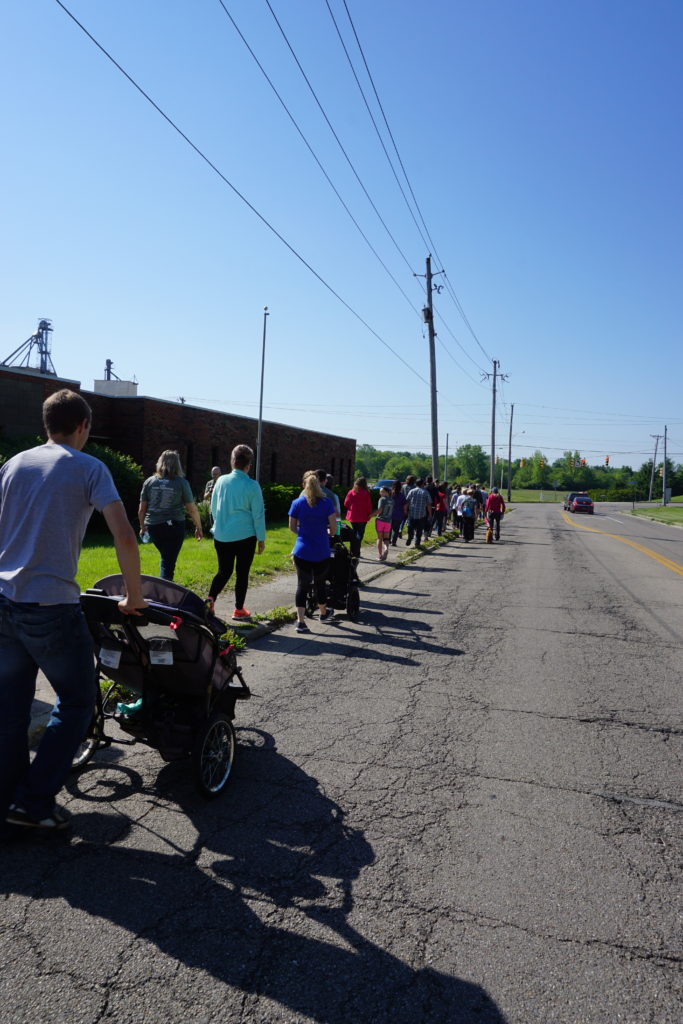 This is like the worst family picture, but there we are!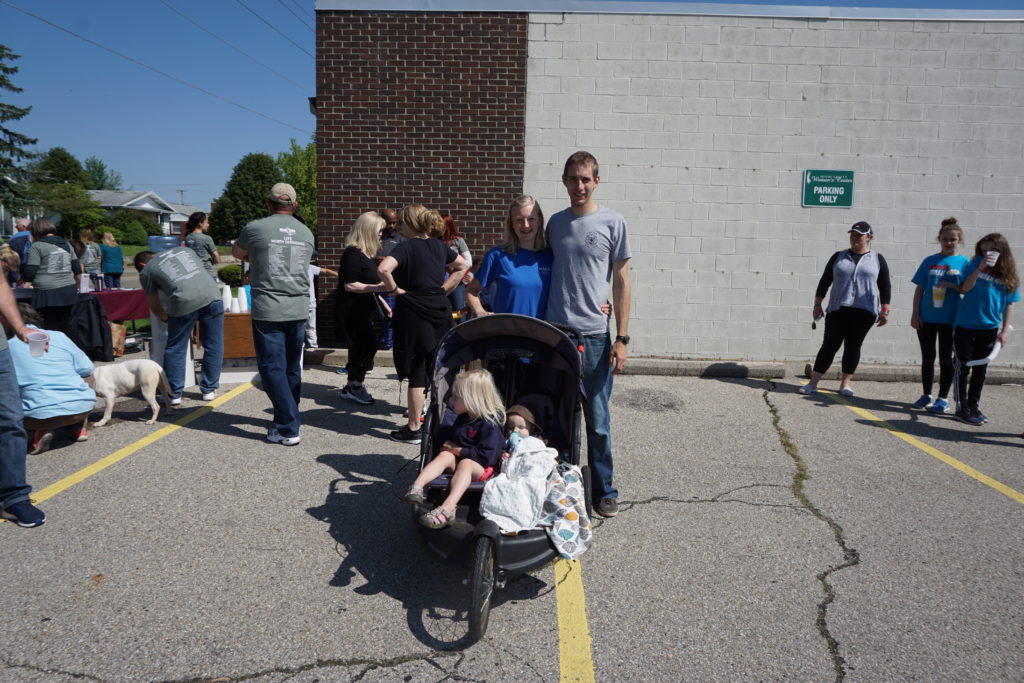 Little did we know that the very next day, Mother's Day, the 14th of May, we would have a totally different way of supporting life.
After church on Mother's Day we were talking about going out or going for a hike. I was just sitting in the living room relaxing and scrolling through Instagram when my phone rang. I answered and knew right away what was being asked of me. A 10 year old girl.
I wanted to say no. It would be so much easier to say no. What would I do with a 10 year old? What about behavior? What about Theo's potentially broken ribs that he needs to nurse back to health? What about my plans to travel some this summer? What about……
And then Theo said, "Why not? We will ALWAYS have a reason why it's not the exact right time. ALWAYS. Is there ACTUALLY any reason why not? Let's say yes."
So we did.
And she's been with us for two weeks. We are adjusting. We are figuring each other out and I'm learning how to mother a 10 year old girl who doesn't consider me Mom. It's tricky business, this balance that I'm hanging in between all the duties and responsibilities of Mom and the rules and stipulations of foster Mom.
I've debated coming up with a nickname, and I kind of avoided doing it because I won't be talking much about our foster daughter or her case. But since there are so many stories piling around in my head, I will be giving her a nickname for this online world:
Heavenly.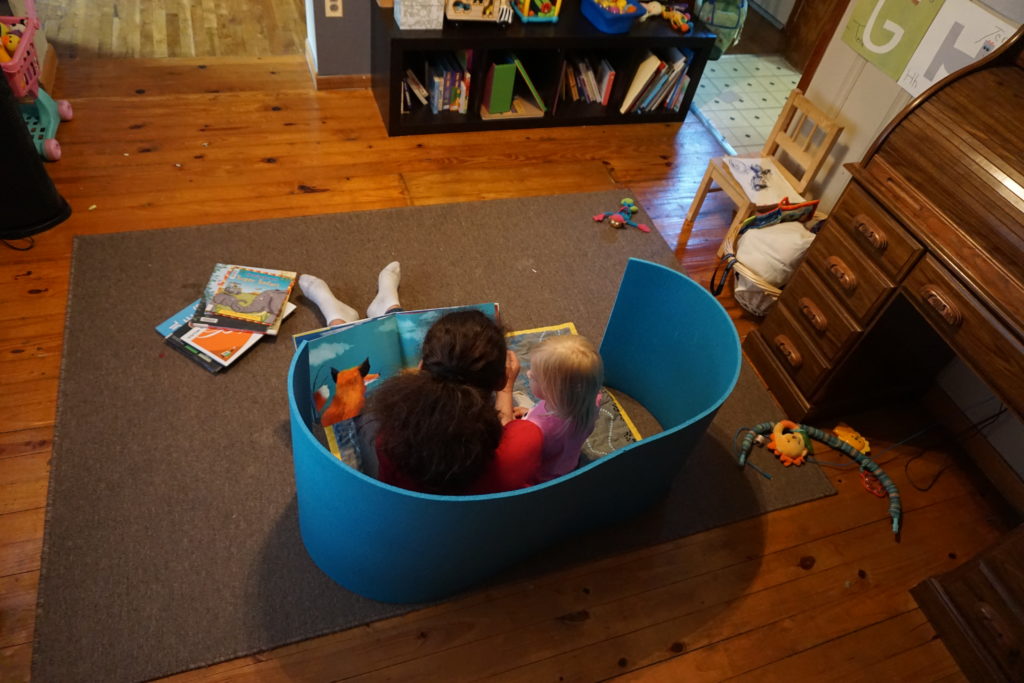 As always, that is not her real name and it's not even something we call her. But I do think that she deserves more than "foster daughter" or "10 year old" in my writing.
On Monday, the 22nd, I turned 26 years old! It was an amazing day and I'm so thankful for everyone who reached out to me to make it special. I had even forgotten it was my birthday with how insane it was adding a new member to our family! Theo, Tera, and Heavenly made me a cake and they all sang to me. I loved it, not gonna lie. I love birthdays!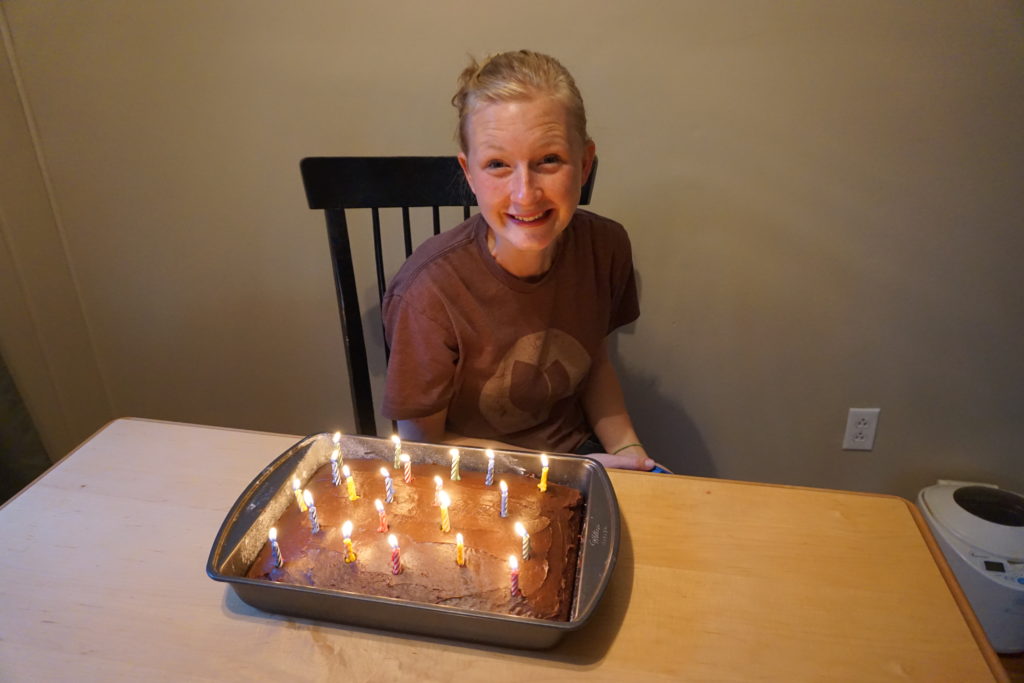 Kiah also turned 7 months old this month, and he is doing so great! I am so proud of him!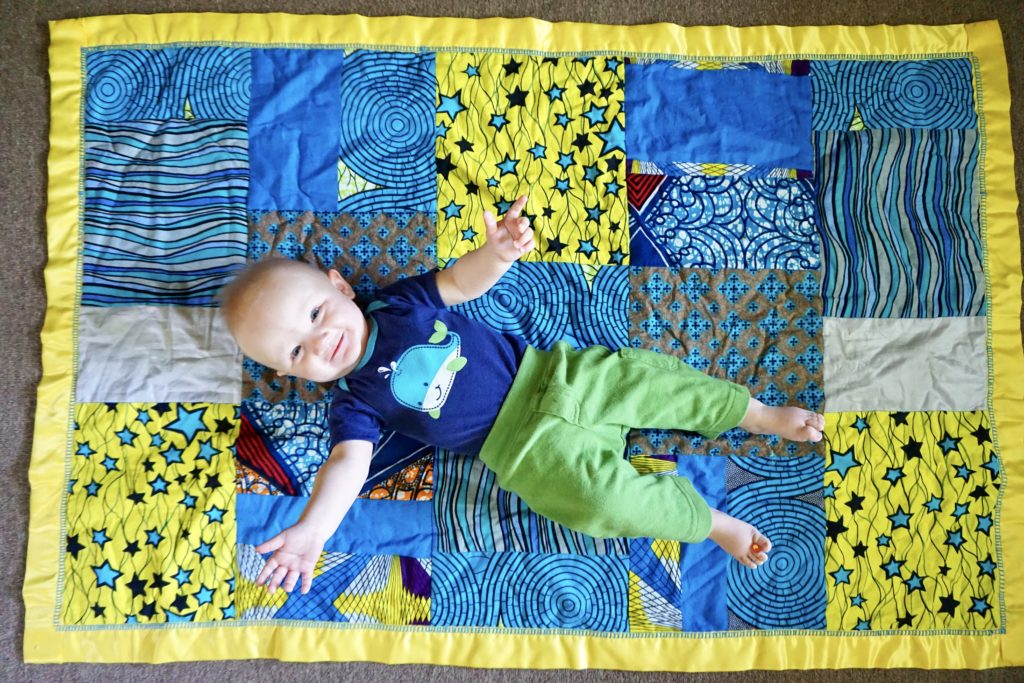 As always, my kids are champions at the crazy transitions foster care brings. It's been hard being woken up from sleeping and naps to get to the bus stop on time, and it's always hard sharing Dad and Mom's time and attention with someone, but both my kids love Heavenly and she loves them.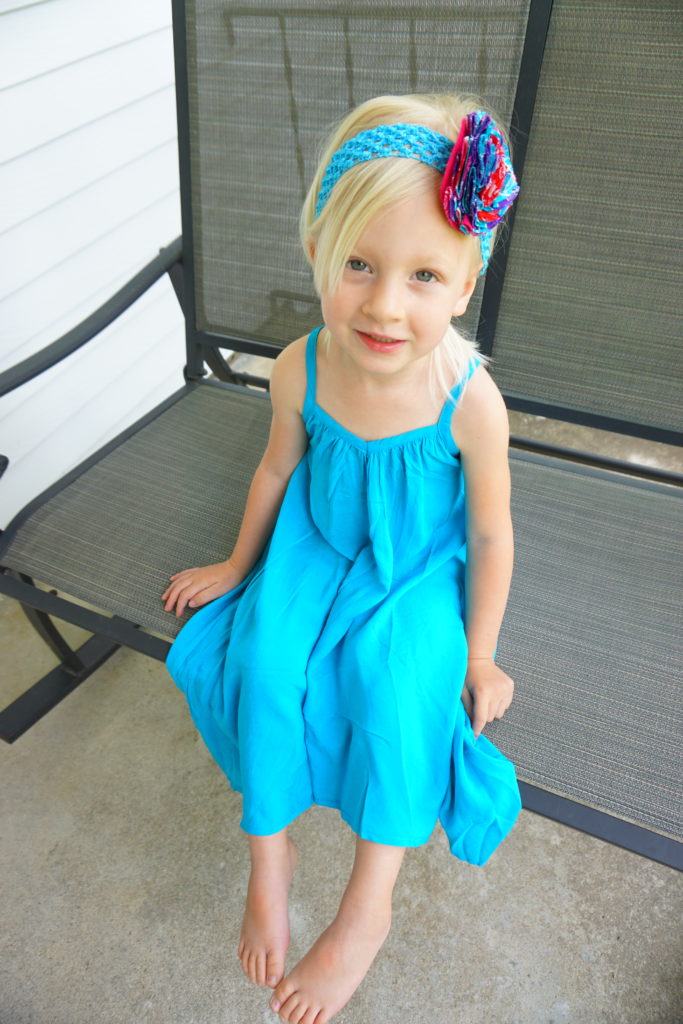 Believe it or not, the child with the most challenging behavior is not the pre-treen (so far). I shall not name names, but the child in question is two and is totally finding herself and seeing just how far the boundary lines really can go, and if the boundary line is still drawn in the same place with a new person in the house. It's exhausting.
We also enjoyed Memorial Day weekend with both Theo and FD having Monday off! I had wanted to go to a friends wedding in PA that weekend, but with the cost of traveling and not having anyone to help with the kids, I wasn't able to go. It was a super big bummer to me, but we tried to make the best of our weekend here with our kiddos. We went to a park and then had some friends over for hot dogs and s'mores.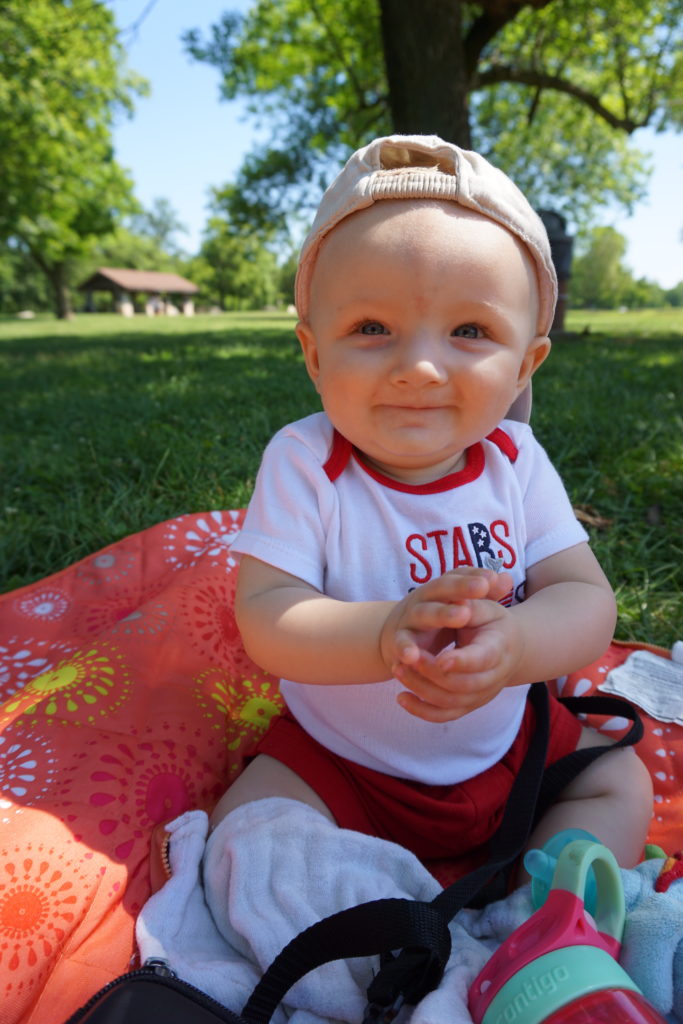 We are working on teaching FD how to do anything besides watch TV. It's basically a huge work in progress, but she has found some things that she really enjoys! So far her favorite pastime is talking. And I don't just mean talking like a typical girl. I mean…her favorite pastime is TALKING. Girlfriend just needs an ear within thirty feet and she's good to go.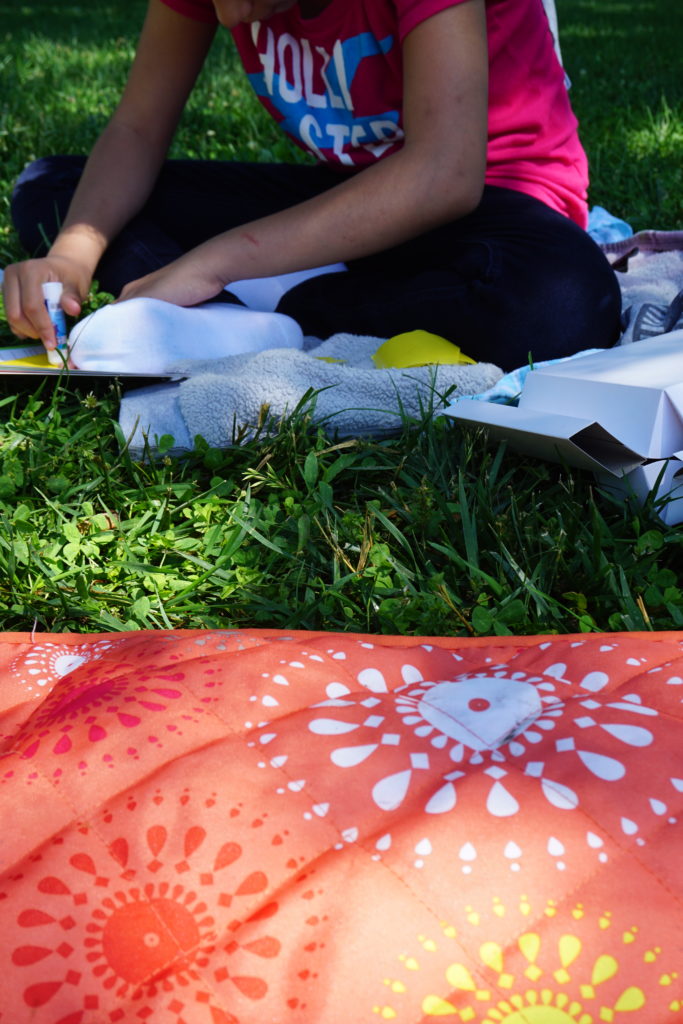 It was a gorgeous weekend! Have I ever mentioned that I LOVE summertime???
When we got back from the park, Kiah had fallen asleep in his carseat so we just put him on the porch and let him keep sleeping. After an hour or so, he woke up and Theo went out to get him. Well, it had been at least 6 days since his last poop, and he more than made up for it. We literally had to wash the car seat, hose off the porch and use about half a pack of wipes on the kid. Somehow the outfit was hardly even touched, so that was salvageable. It was pretty hysterical!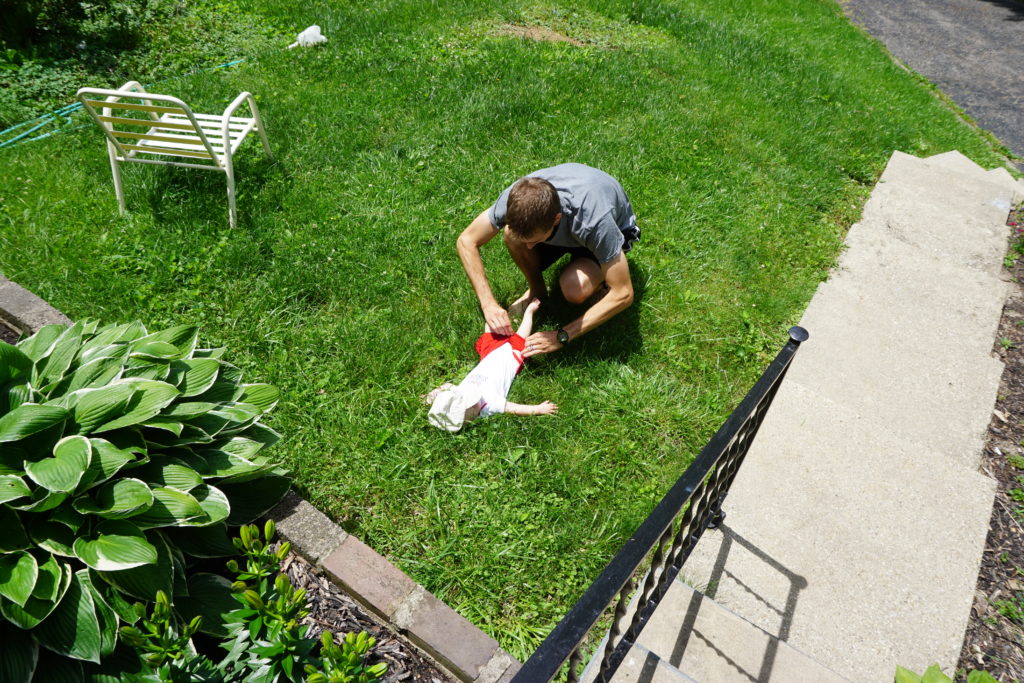 We had some friends over for hot dogs and s'mores over the fire. It was an absolute blast!
Tera roasting her first s'more!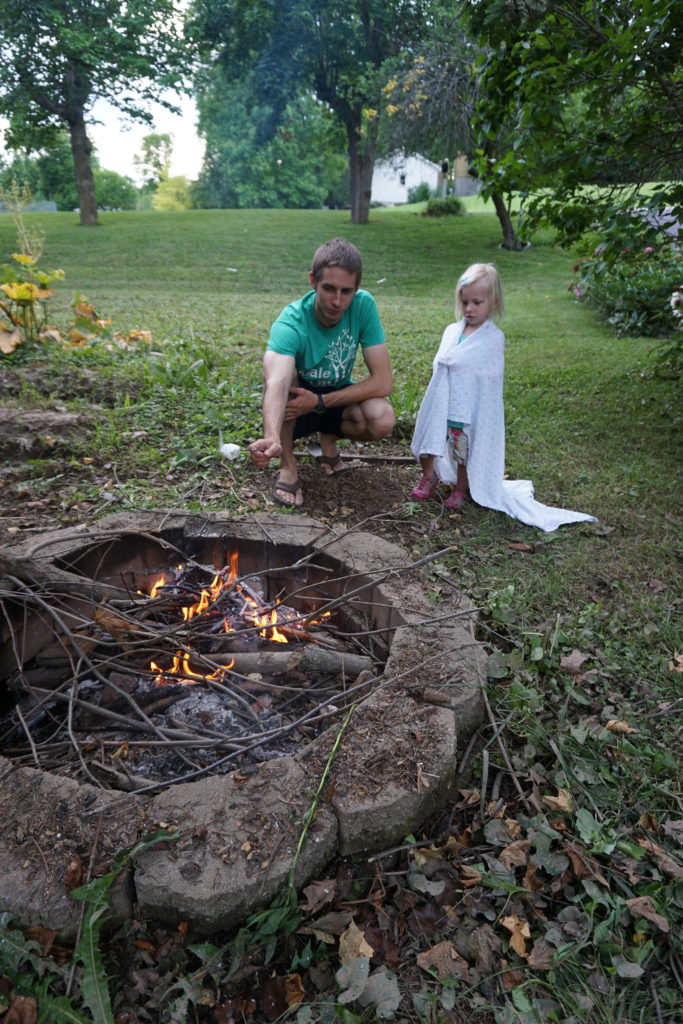 Pure sugar. Pure delicious. Pure summer.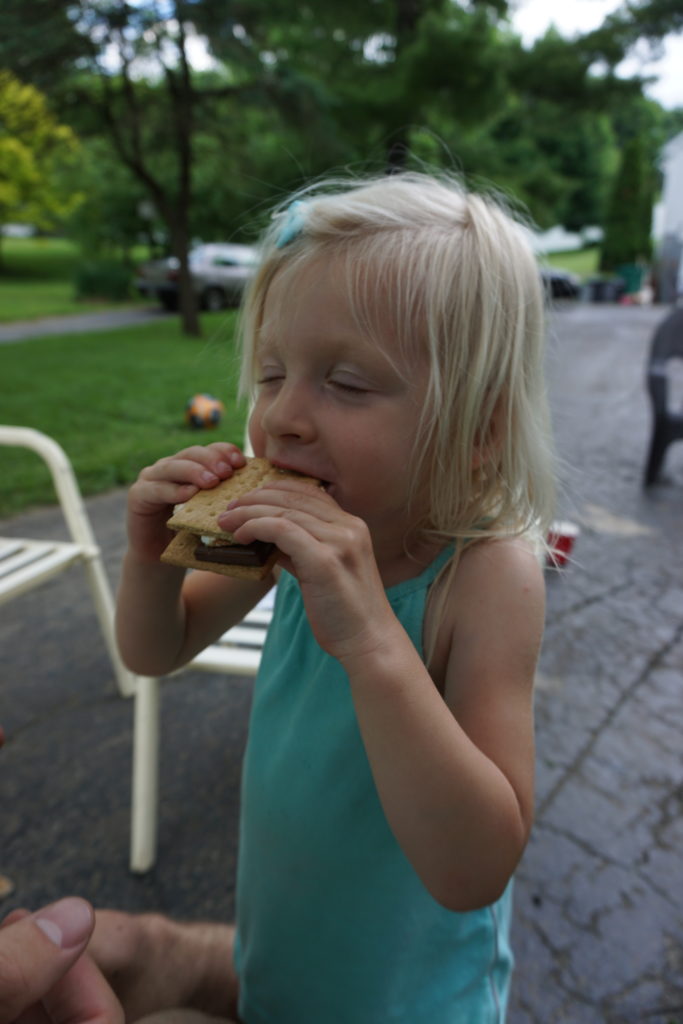 And that's a wrap on May! We have lots of little things going on in June, but it's looking like it will be a FULL and PACKED month!