I've gotten some questions over the last few months about how I menu plan.
I don't know if this is a good method or not, but it is what works for me. Every person is different and every family has different needs. I am still learning and growing and I am by no means an expert, but I thought I would at least share what I do to menu plan.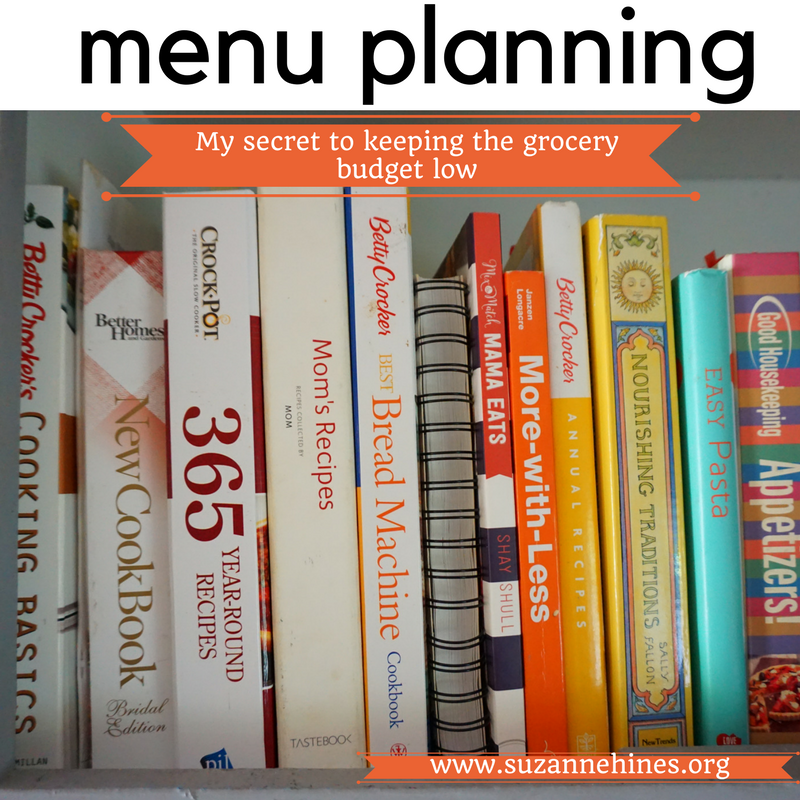 Now, to be perfectly honest since I have recently started tracking our expenses, I am finding that our grocery budget is not as low as I once thought it was. For our family of 5 (3 who eat adult portions, 2 kids), we typically spend between $500-$700 on groceries a month (about $150 a week). I personally include diapers, wipes, formula and other household toiletry items in that amount, too.
I'm not sure how that compares to what the average person spends on groceries, and I'd love to hear what you spend on groceries over the course of a month. This post will end up being a two-part series- the first on menu planning and the second on how I grocery shop and what I typically buy.
Sometime within the first few days of the month, I sit down and menu plan for the entire month. This usually takes anywhere from 20 minutes to an hour. It's a great chore to do in the evenings while watching a show on Netflix.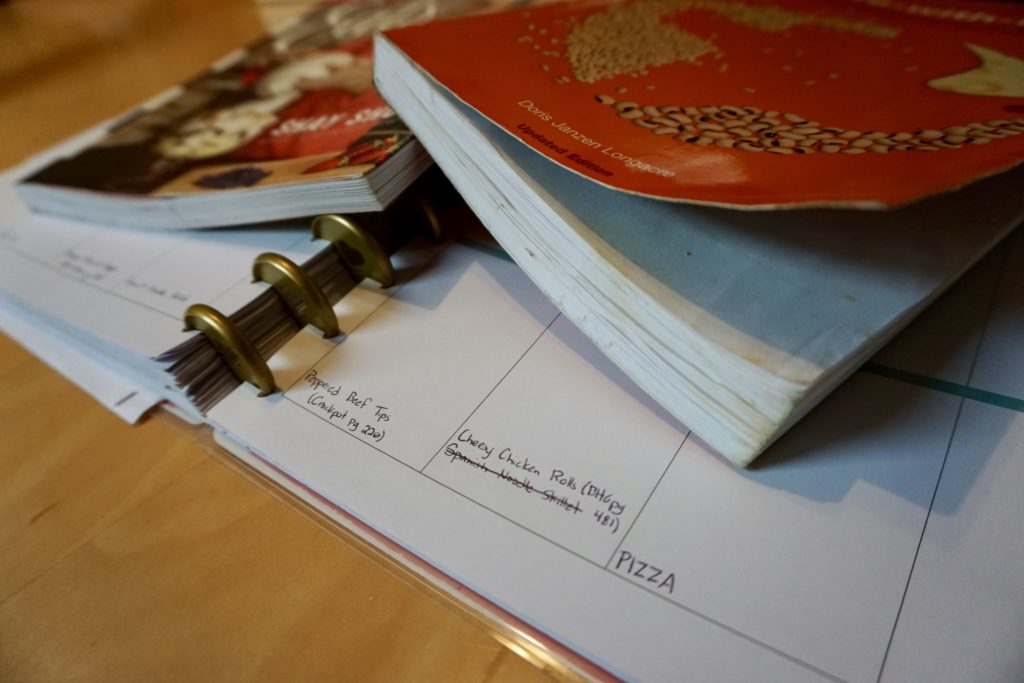 Call me old-fashioned, but I cannot stand cooking recipes from the internet. I LOVE me some real cookbooks.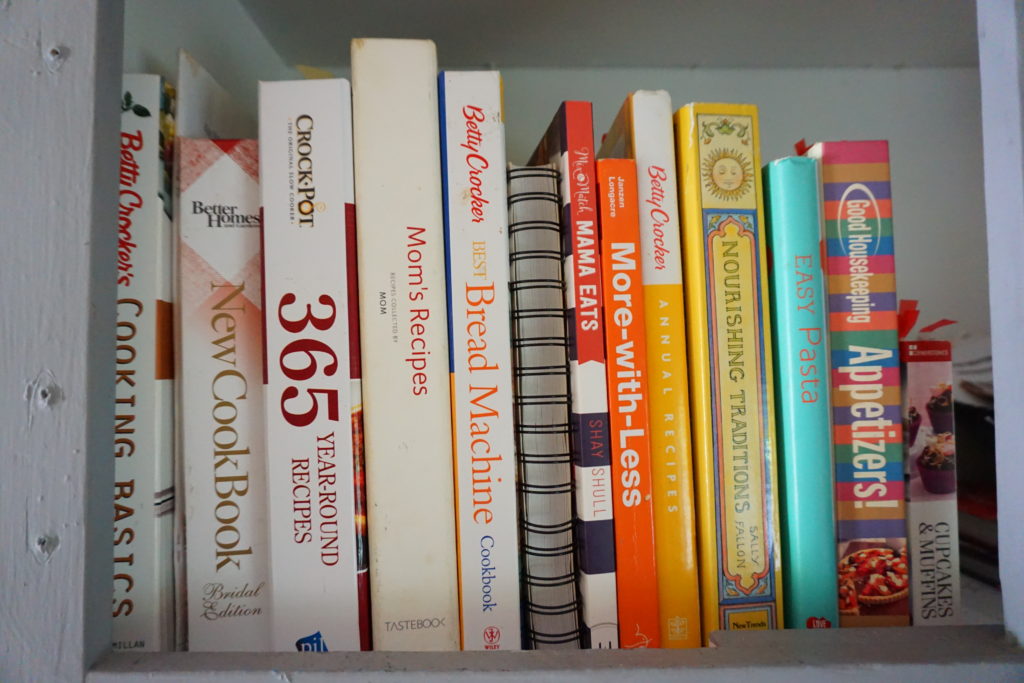 To plan out my menu, I sit down and pull out my calendar. I look for days where our schedule is pretty crazy (like Friday nights) and fill those in with super easy meal ideas (quesadillas, tuna casserole). Next, I look for days when we will be out of the house all day long and/or gone, and try to plan something for those nights that I can make ahead and freeze. I always plan for (homemade) pizza on Saturday nights. This usually leaves me about 20-25 meals to fill in for the month. I sit down with my stack of cookbooks and Cooking Light magazines and just flip through them until I find something that looks delicious. I pick a day to cook that meal and write it down at the bottom of my planner. Our meats are typically chicken and hamburger, and I try to alternate those two every day. I do cook with meat every single day. 3-4 times a month I will throw a more expensive meat (steak or fish) into the plan, but I don't typically use any other meats because of their price. I LOVE cooking new recipes and probably cook about 12 recipes a month that I've never tried. The rest are tried and true ones that I know we love. I know some people are great at experimenting and just coming up with stuff in the kitchen, but I need to have a hard copy of a recipe right in front of my face while I cook.
As I'm writing out my menu plan, I also keep a paper next to me that is my grocery list. While I have the recipe right in front of me, I write down all the things I need to buy for that month. I buy all meats and non-perishables on a monthly shopping trip to Aldi. The perishables (eggs, milk and vegetables) I shop for weekly or bi-weekly (or sometimes multiple times a week if I'm being real honest).
I usually cook 7 meals a week- one every night Monday-Saturday and one for Sunday lunch. It is a lot, but by having a plan I am able to do this. We very rarely eat pre-prepared/store bought meals, not because I have anything against them, but because they cost more money. When Theo and I made the decision that I would stay home, we knew it would mean scrimping and stretching and saving as much money as possible to live on one income. A lot of people think that SAHM's don't work, but this is my work. I work HARD to save us money so that I can be at home with the babies.
This has been my plan for all the years that I have been married, but there is still so much that I want to do better at.
Things I Want to Do Better: 
Shop Sales/Deals/Seasonally. I am so bad at this. I usually just go to the grocery store when I've made my list. I would like to work on picking recipes that contain seasonal food and making sure that I am hitting up the stores on days when things are on sale, and snagging multiples of things to freeze or store when there is an awesome deal.
Plan more meals using leftovers so I can avoid throwing out food. One thing that I love is to cook new recipes. Unfortunately, I'm not the greatest at planning my meals so that I use leftovers. For example, if I plan a rotisserie chicken for dinner one day, I need to plan something with chicken in it the next day to use up the leftovers so they don't go to waste. My MIL is a master at this and I need to learn to be more like her 🙂
Stock up my freezer with homemade meals so I can use those on days I can't cook. I have an entire chest freezer right now that is almost empty. When I have large amounts of leftovers, I need to be freezing those so it can be a whole meal later in the month (or next month).
Have an organized and stocked pantry. Having a stocked pantry makes cooking so much easier because I don't have to be running to the store 20 minutes before dinner needs to be served.
So what about you? I would love to hear all the nitty gritty details of your meal planning! How many meals a week do you typically cook? How do you plan these meals? What is your typical grocery budget? What are some things that you want to do better at in regards to meal planning?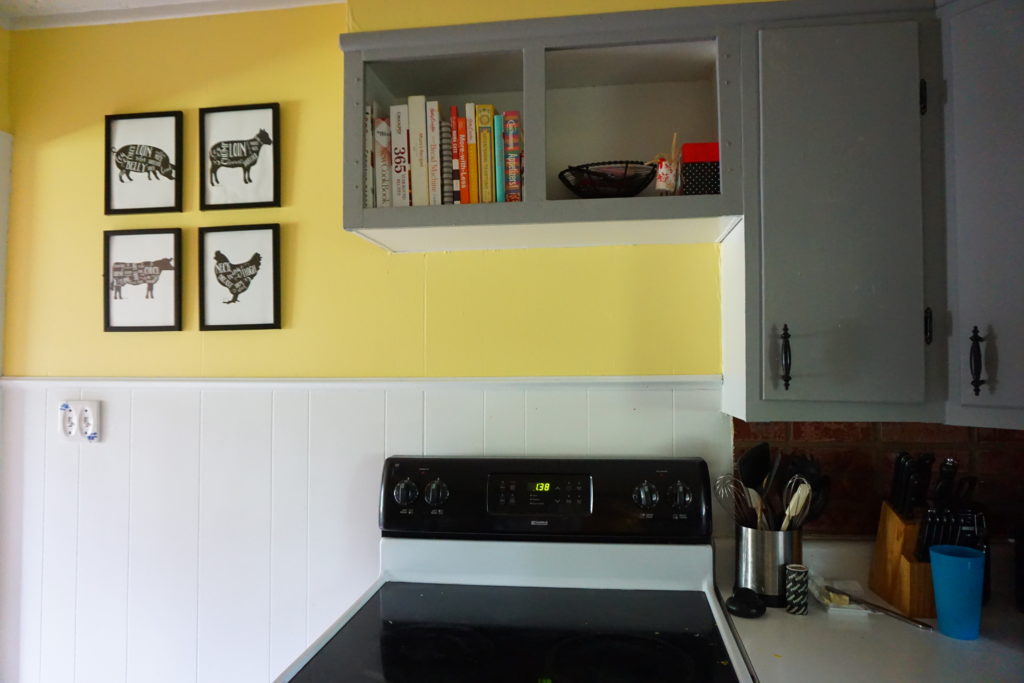 Here are my favorite cookbooks: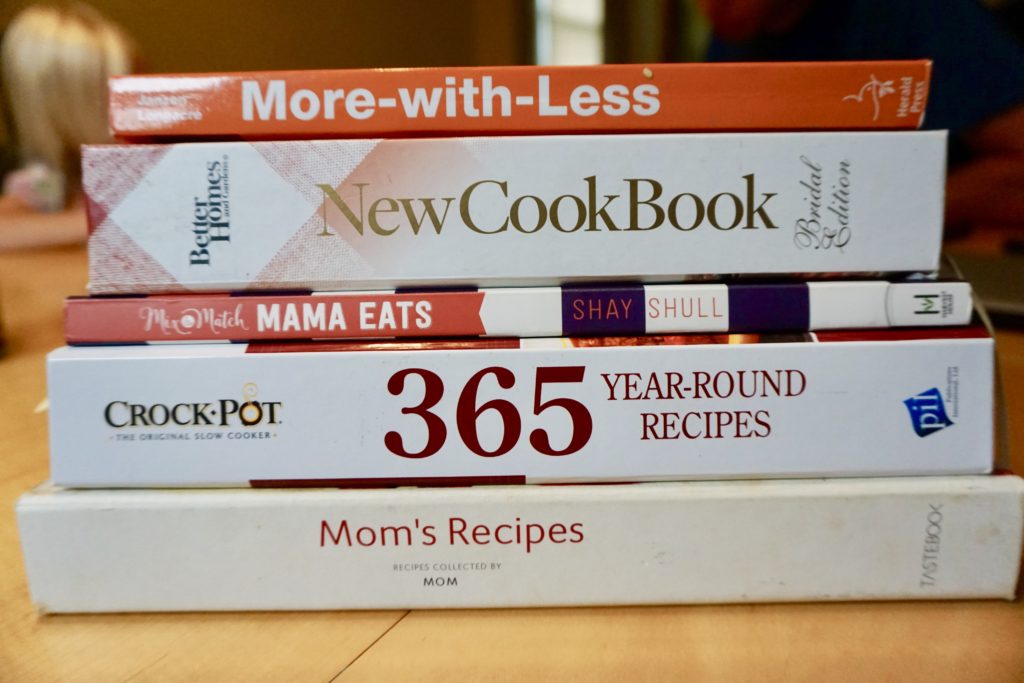 Mom's Recipes (a wedding gift from my Mom of our families favorite recipes)
365 Year-Round Crockpot Recipes 
Better Homes and Gardens New Cookbook Bridal Edition