I have gotten LOTS of questions about Airbnb, so I thought I would write out a post about our experiences so far.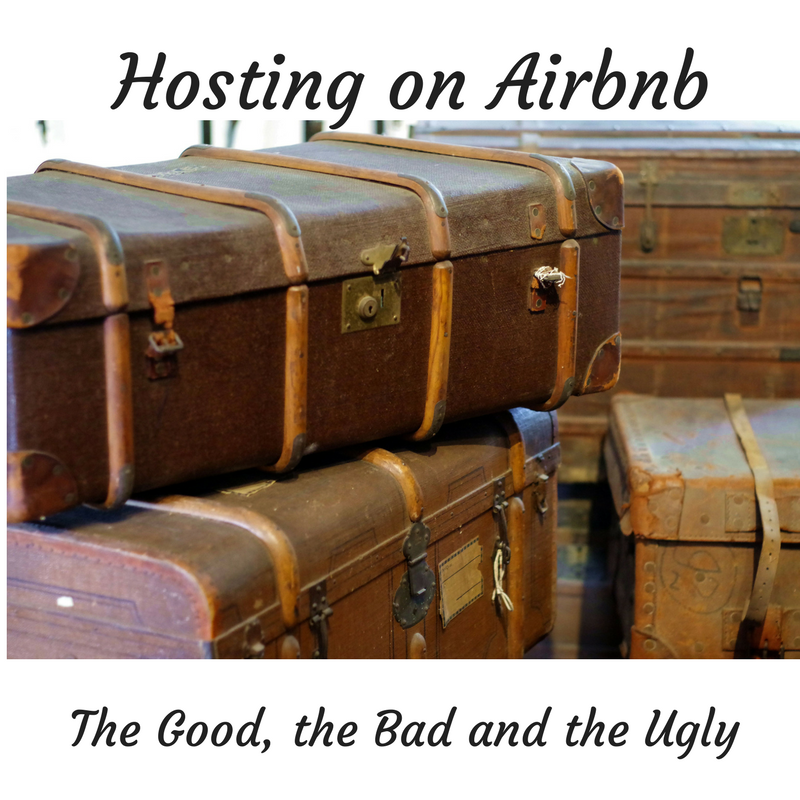 About a month ago, we finished renovating our basement apartment.
Our very first apartment was in someone's basement and although our first year of marriage was challenging, I have such great memories of the time that Theo and I spent there. We have always wanted to buy a house that has an option for an "in-law suite" or a rental income. In fact, when we first moved into our house we had four bedrooms and one child, so we rented out two of the bedrooms in our home to some ladies who needed a local place to live. It worked out great for us, but we weren't able to do t hat once Abby came to live with us.
When we first bought our house, we knew that we wanted to renovate the basement and turn it into more living space to use as a rental property for supplemental income. Since we live in an area that has many colleges and universities, we knew it would easy to find someone to rent the apartment out to for a year or so.
As our basement reno came to a close in October, we knew we probably weren't going to find a student renter, since it was already halfway through the semester. And that's when we got the brilliant idea to list our apartment on Airbnb. We figured we would give it a try and see how it worked.
The Good 
Airbnb is a FANTASTIC website/company to work with. They make everything so easy. Seriously- it took me maybe 20 minutes to list our apartment from start to finish. Airbnb takes a small cut of each guest staying, but it usually ends up being something tiny like $4-$7. They literally handle everything and keep everything secure. Guests don't even receive our phone number or address until they day they are arriving. I have nothing but good things to say about the Airbnb service. I HIGHLY recommend it for traveling or even if you want to host!
We have gotten so many bookings! We are on booking #5 after being open for less a month. We have two more upcoming bookings. In October, we were open for just one week and made over $100. In November, we are open for 3 weeks and will make close to $450. Our November calendar was booked solid and has only 4 days of the month that people are not staying.
We love having complete control over the space and the calendar. If we were renting out to a student, they would have the space for an entire year and we wouldn't have any access to it. With Airbnb, I can reserve the space for myself so that when my parents or friends want to visit, they can stay down there!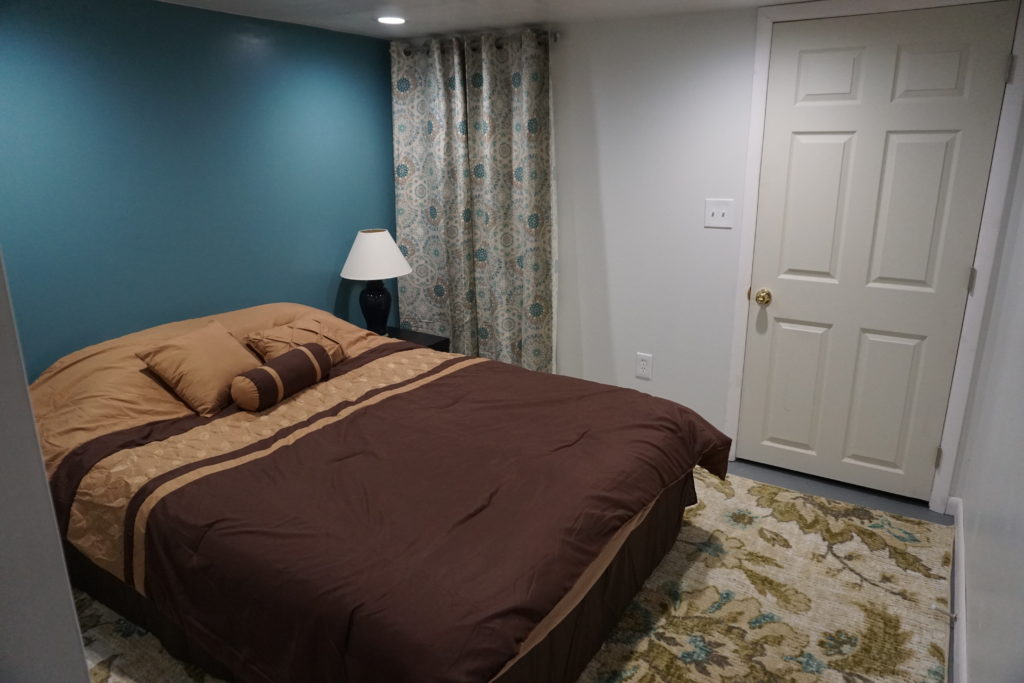 The Bad 
We clean each time. If we were renting our space out to a student, they would be in charge of cleaning. But since it's an Airbnb apartment, we clean it after each stay. It's not a big deal, but it is one more chore on my list, and it often has to be done right at a certain time between guests. We do charge a cleaning fee for each guest that stays, so I just tell myself I'm being paid to clean down there! It's also a little unnerving to know people and their stuff and their germs and who knows what else have been down there.
We furnish it. Along those lines, we are also responsible for furnishing the apartment. This means that we went out and bought a brand new TV, a new bed, new pillows, stove & fridge and rugs for the floors. We provide towels and washcloths as well as toiletries. It was a rather large start-up price, but we have already recouped most of the money spent on furnishings.
Our prices are so low, but the expectations are so high. Even though we are bringing in an income, the price of one night in our apartment is right around $35 (plus the cleaning fee). People are expecting a hotel experience at this very low price, and it often feels like a lot of pressure on me to make sure that they have everything perfect. I just have to keep reminding myself that they are not paying for a hotel and I don't manage a hotel. I mange my home, and it happens to have an Airbnb apartment in it. If people aren't happy with that, they can go stay in a hotel…for $100+ a night.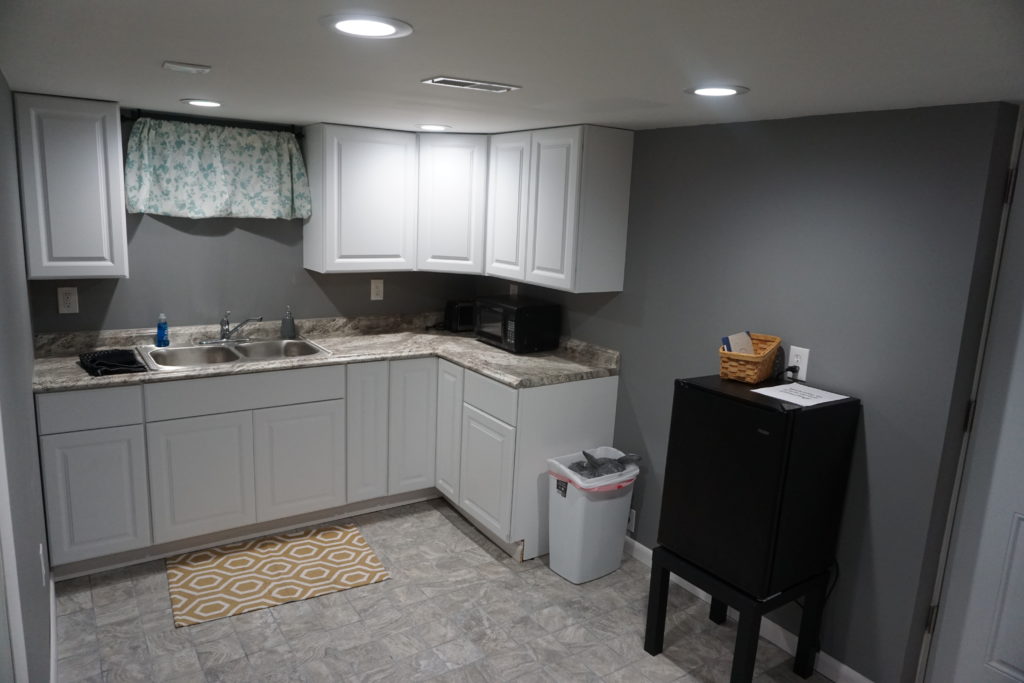 The Ugly 
If I'm not careful, it can run our lives. Airbnb runs on reviews. Bookings happen based on reviews for places. Reviews get the spaces listed on the front page. It's all about the review. As a people pleaser, I want to go above and beyond to make sure that people staying are going to leave an amazing review. This means I'm shushing my children, I'm not letting them run around the house, I'm keeping my kids upstairs in their rooms in the mornings and I'm always worried when someone drops a toy on the floor or starts crying. Here is the thing: I can't let the apartment run my life. My kids will cry, they will drop toys and they will run around the house. I worry about someone trashing the apartment, or getting sick and I have to clean it. Or bringing bedbugs into the house. Or just hating it and telling all their friends how horrible it was. I get that this is all my in my head and if I could just let it go, it wouldn't be a problem. But as a Type A planner, I do really struggle with this. It has brought a lot of pressure and stress into our house that I don't want to be there.
So overall, we are really enjoying our experience with Airbnb. It has it's challenges and it has had a very steep learning curve at the beginning, but I think we are finally starting to get the hang of it.
Do you have any questions about Airbnb or our experience with it? I'd love to answer any questions!
P.S. Family and Friends…you are always more than welcome to stay and we won't even make you pay! That is the beauty of having an apartment that we control the calendar. We are more than happy to host!